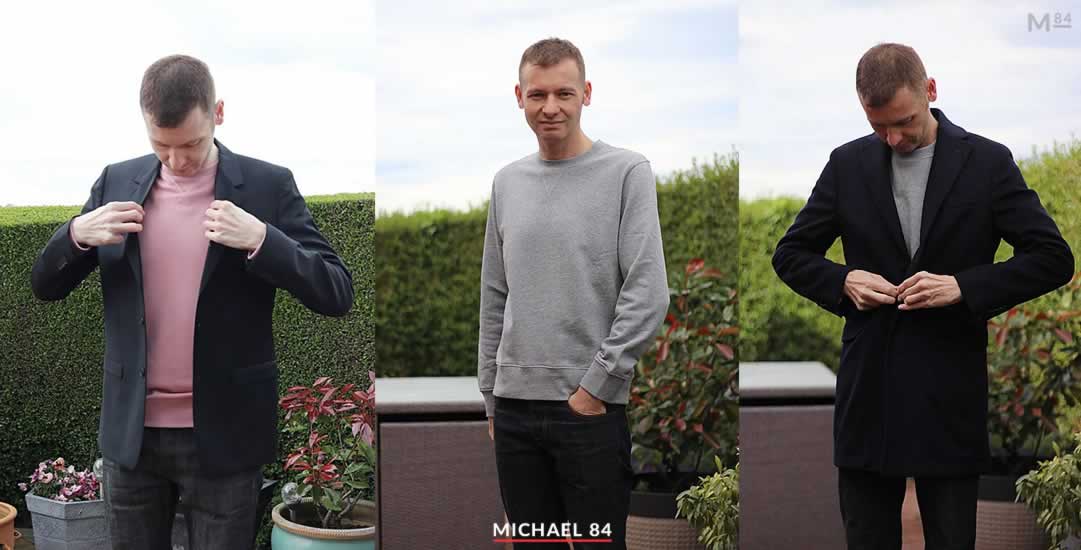 Feeling the cold? If you're not yet, you soon will be.
When the temperatures drops there's no doubt that a sweatshirt is a good option. I love sweatshirts, the laid back casual nature makes them such an easy piece to put on and wear.
If you're looking for how to style a sweatshirt with style this is the guide to be reading.
They're not just a laid back item when you want to relax, a sweatshirt can be much more than that.
From wearing on its own to layering with other pieces, there's plenty of ways to wear a sweatshirt this season.
With a large number of colours and types available, the choice is huge.
Here's some stylish ways to wear a sweatshirt and look good.
Sweatshirt Outfits
Wearing A Sweatshirt With A Leather Jacket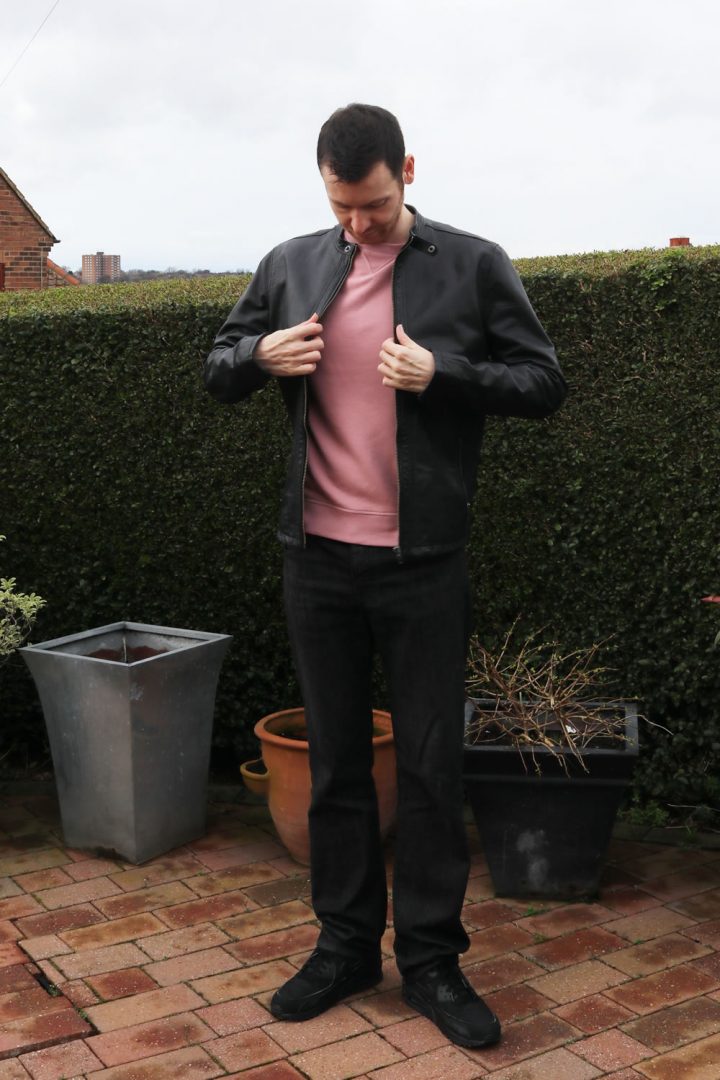 For an edgy style, you can wear a sweatshirt with a leather jacket.
Leather gives you a more rugged look. The casualness of the sweatshirt is elevated by wearing a nice and clean leather jacket.
Here I've combined my pink sweatshirt with a black leather jacket, and finished it off with black jeans. The pastel pink shines through as a stand out colour, and is complimented well by all the black.
Sweatshirt With A Bomber Jacket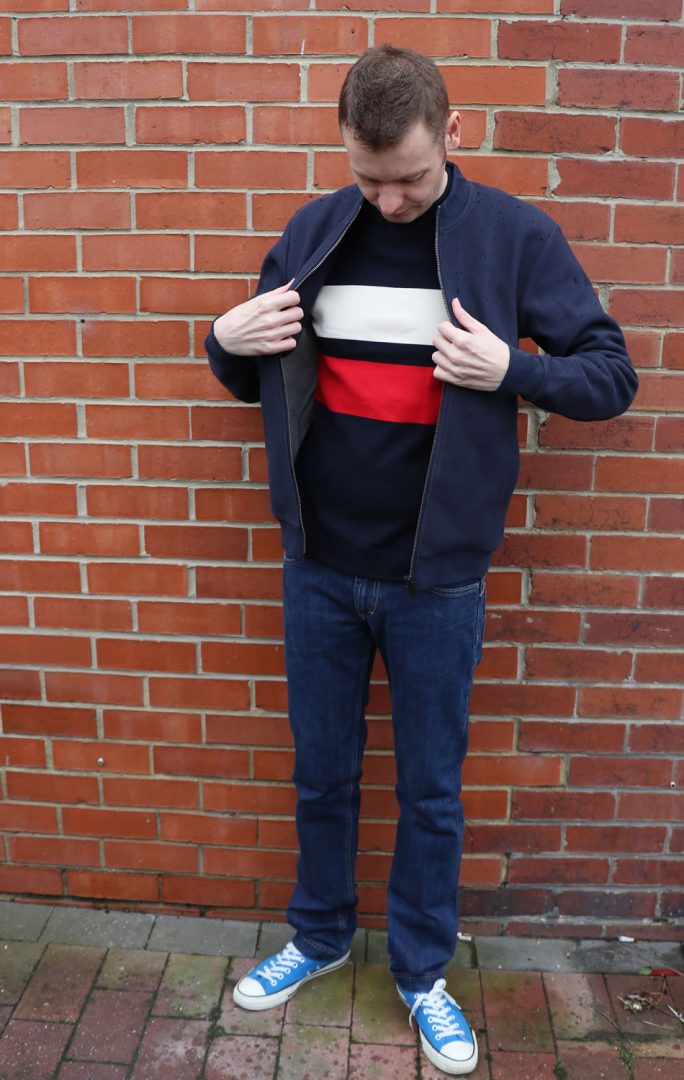 There's no doubt that one of my favourite styles of jackets is a bomber jacket. Bomber jacket outfits are so easy to pull off, and wearing a sweatshirt with a bomber jacket is so effortless.
When it comes to dress code, I'd put this into the slightly more casual side of smart casual. I picked out a plain bomber in navy which keeps the look minimal. This is combined with a stripe sweatshirt, blue jeans and blue pair of Converse.
Wearing A Sweatshirt With Jeans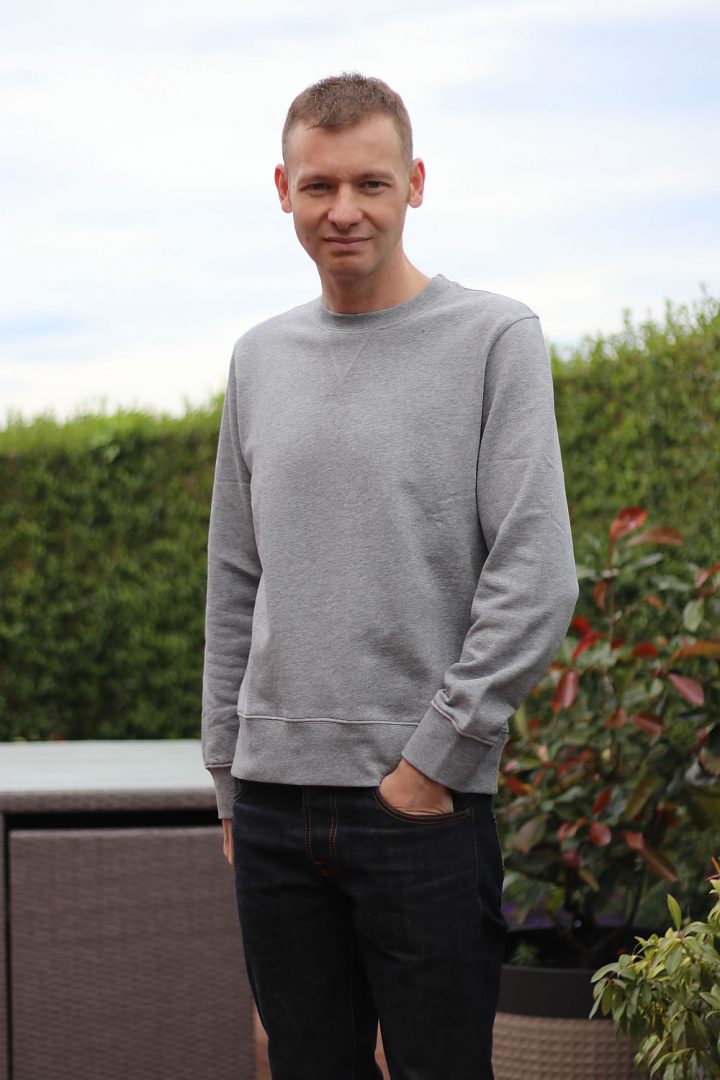 One of the most effortless outfit you can wear is a sweatshirt with a pair of jeans.
This can be anything from a casual look leaning more into smart casual. It all depends on the style of sweatshirt you pick out, as well as the jeans.
If you'll know from the types of jeans post, wearing plain dark solid colour jeans is a smarter choice. I've gone for smart indigo jeans with a plain crewneck grey sweatshirt, keeping the look tidy but fairly casual at the same time.
Sweatshirt With An Overcoat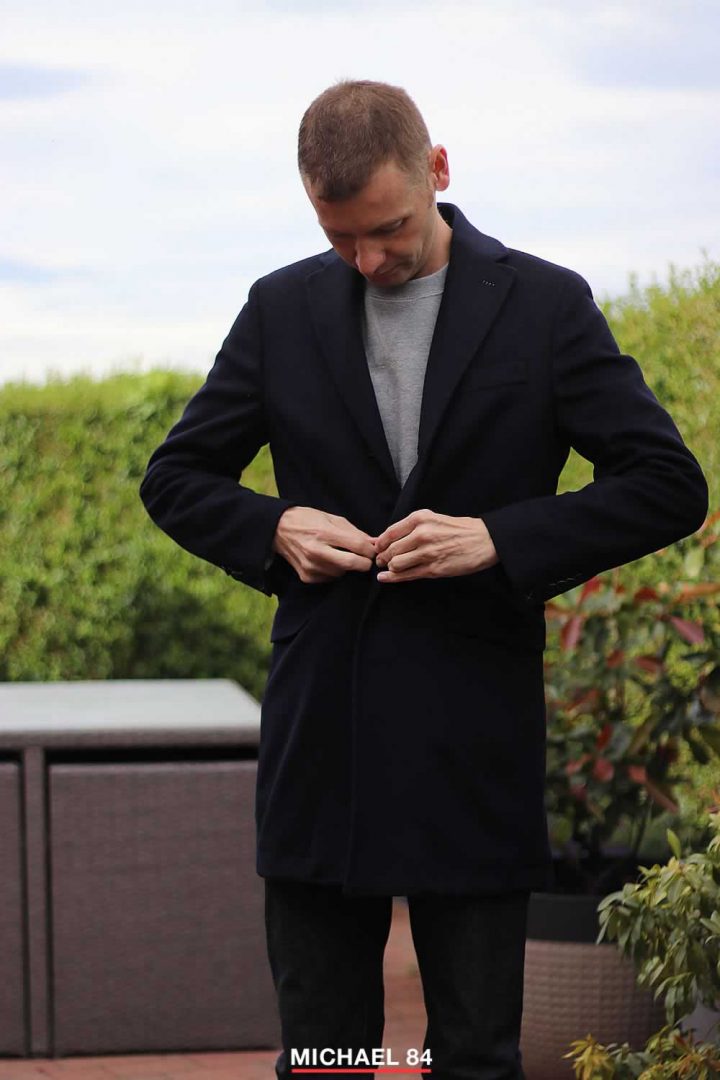 When it comes to wearing a sweatshirt in a smart style in the winter months, wearing an overcoat is going to get you there.
For a smart winter outfit an overcoat is an essential. They're masculine and a really nice piece to wear, not to mention being timeless.
Here I've worn my navy blue Massimo Dutti Overcoat with my grey ARKET sweatshirt. Two great colours that compliment each other well.
How To Style An Oversized Sweatshirt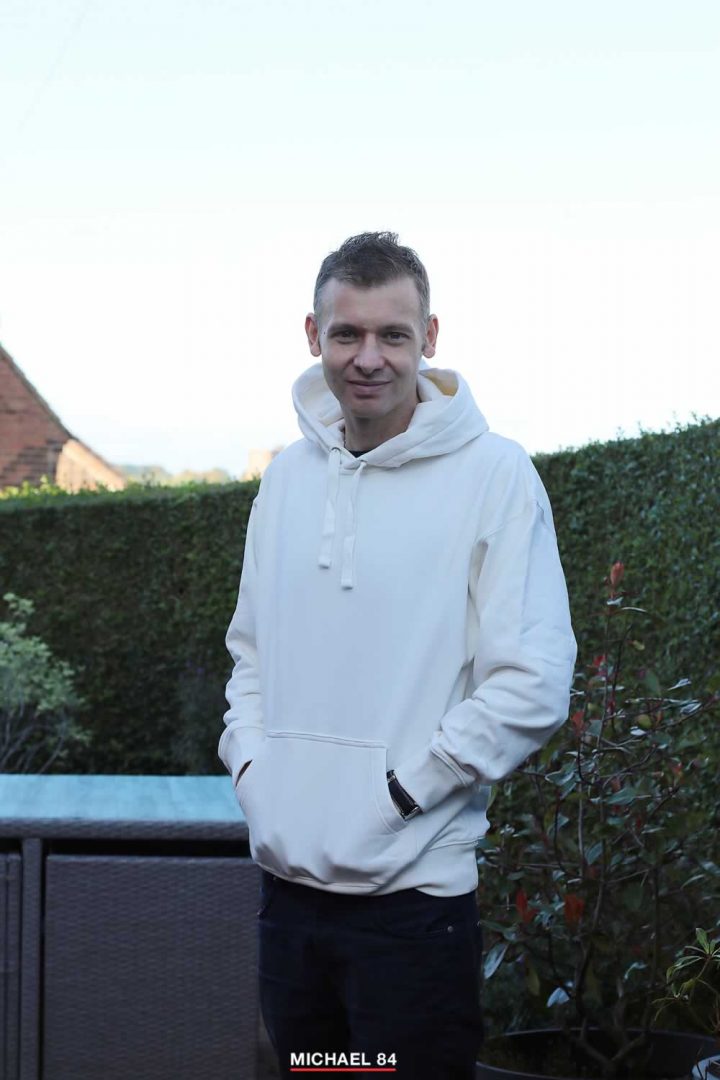 For a street style look, there's going to be nothing better than an oversized sweatshirt. It's an easy style to pull off, and is regarded as being cool and laid back.
For this particular look I've went for a hooded sweatshirt which is oversized, and in an off white colour. I've combined this with black on my lower half which makes each piece of the outfit really stand out.
This is my off white hoodie from the H&M Blank Staples collection.
Layering A Sweatshirt Over A T-Shirt
Wearing a sweatshirt over a t-shirt is going to be the go to move for most people. This provides an additional layer when it's cold, and is usually the done thing in colder weather.
You can wear this tucked in, or for some added casual and street style, leave your t-shirt untucked. This will make it visible and give you're style more of an edge.
Layering A Sweatshirt Over A Button Up Shirt
If you're looking for a smarter layering option, wearing a sweatshirt over a button up shirt is the way to go.
You'll see the collar of the shirt exposed, so picking out the right colour palette is a must. You can go for similar colours which go well together, or for some pop, pick out a contrasting colour.
How To Dress Up A Sweatshirt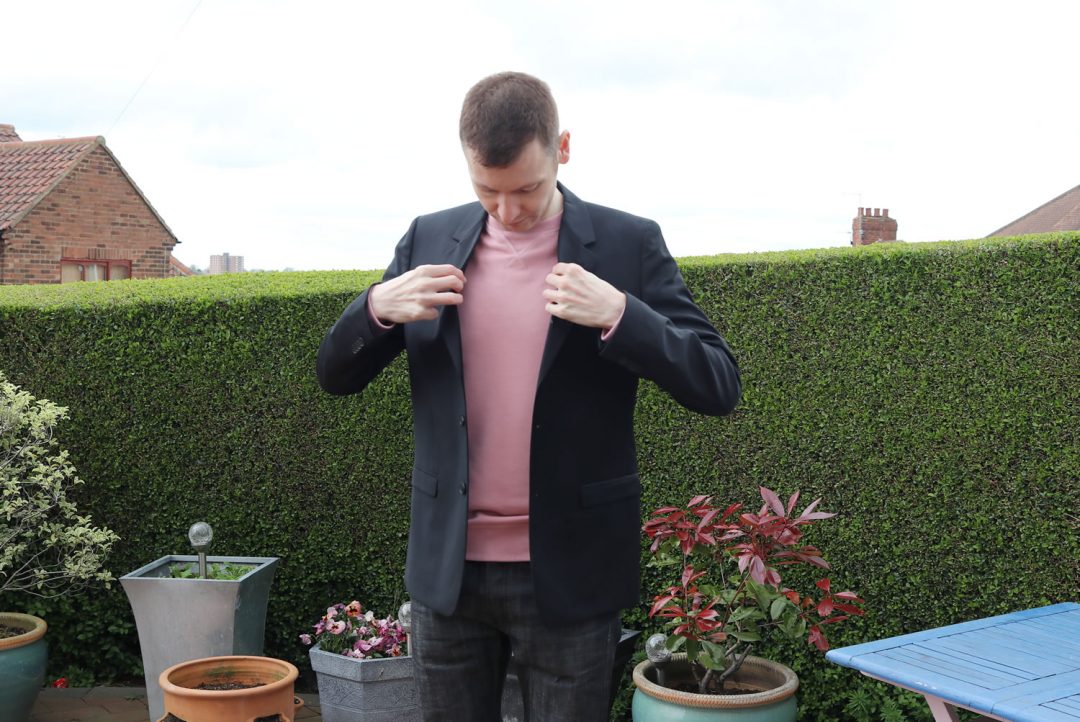 Dressing up a sweatshirt can be as easy as throwing a jacket over it. I've worn a blazer with a sweatshirt and it looks really good, giving off a nice smart casual look.
This is only achieved by wearing the right style of sweatshirt. It should be plain, not with lots of colours and definitely no large graphics or logos.
How To Wear A Sweatshirt In The Winter
Styling a sweatshirt in the winter is an easy thing to do. The fabric is quite thick, and is a piece of clothing which is designed to be worn in the colder temperatures of the winter.
As you've already seen, you can wear this with an overcoat if you're looking for a smart winter look. Sweatshirts can also be worn as part of a layered outfit, with a t-shirt underneath and a jacket over the top.
For a casual winter outfit, a sweatshirt is a good option.
How To Wear A Sweatshirt In The Summer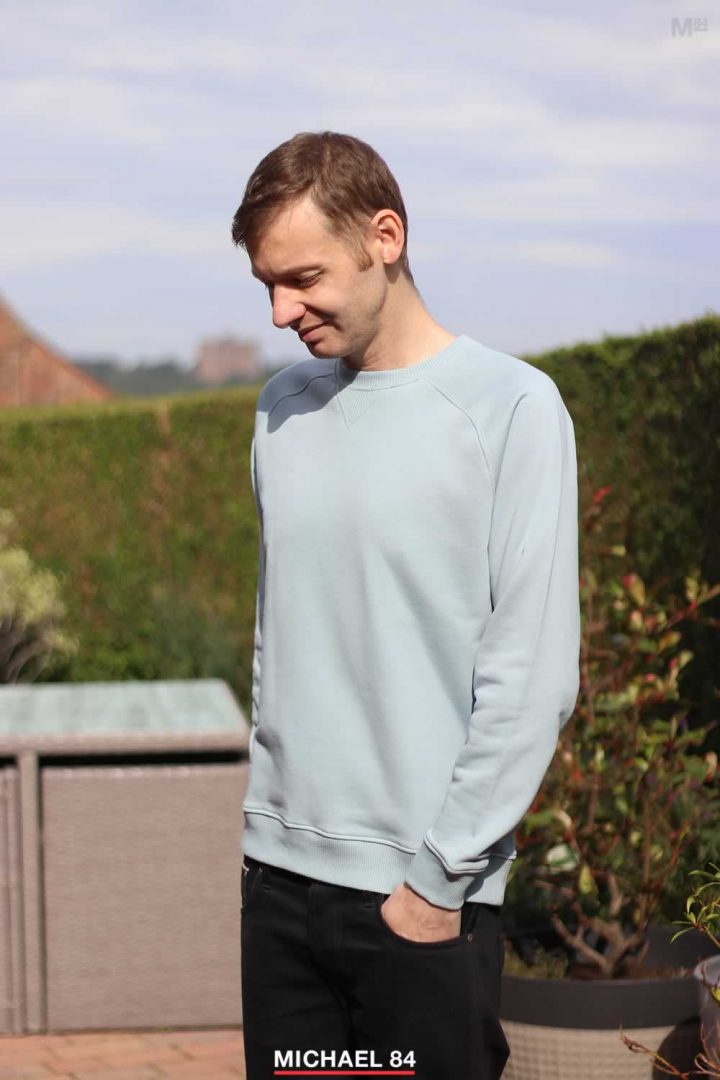 As you can see here, I've gone for a different colour sweatshirt for summer. This is a duck egg colour, a type of a green pastel colour which I think is great for summer.
Another factor in wearing sweatshirts in the summer is the fabric weight. Lightweight sweatshirts are the way to go in the summer,  and can be worn as seen above in chinos.
Wear A Sweatshirt With Shorts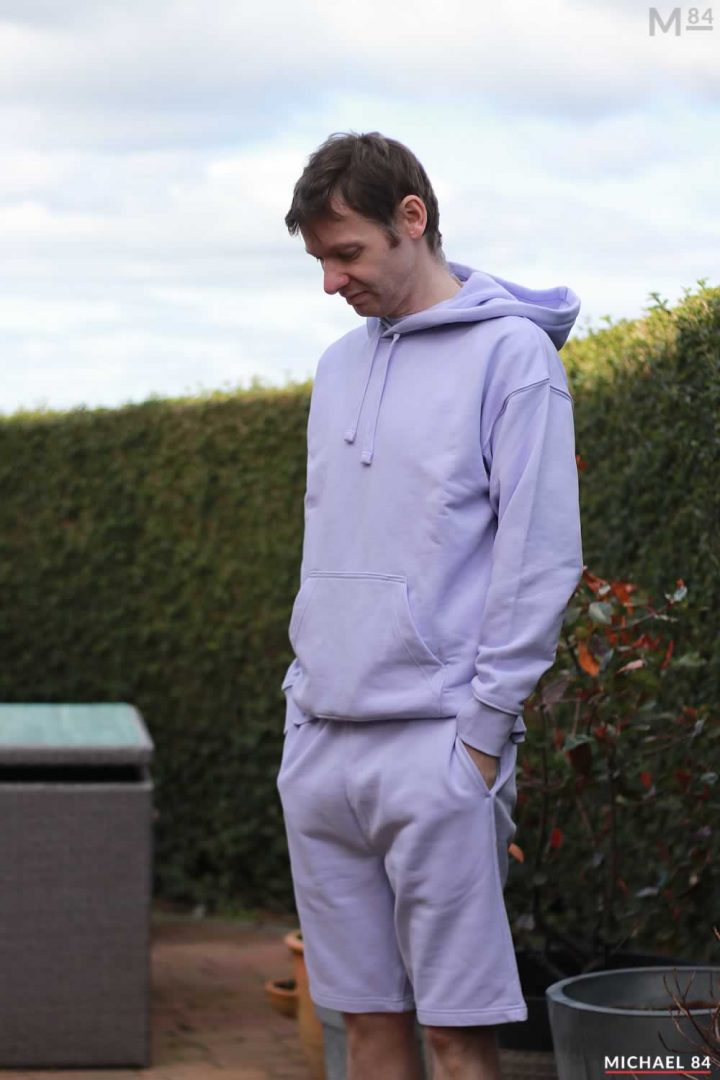 Another great outfit to put together in the spring or summer is a sweatshirt with shorts.
Combining a sweatshirt top with sweat shorts is one of the best go to outfits when you're relaxing. They can be worn at home, and are a great couple of pieces of clothing to wear when relaxing.
Sweatshirt Dress Code
Sweatshirts have typically been worn as a laid back piece of clothing, but there's much more too them than that.
The traditional and classic sweatshirt is a relaxed, usually loose fitting and seen as a casual thing to wear. The more modern fits are cut closer to the body, with contemporary silhouettes fitting the body a lot better.
They go with anything – Style with joggers or jeans and everything in between. You can go for a smarter plain and solid colour, a designer sweatshirt with a logo, or go for something with a pattern or print.
sweatshirts are embraced in streetwear, sports luxe and the most basic of fashion items. Now is the time to grab a sweatshirt, either your favourite one or a brand new top.
Sweatshirt Colours
One of the best things about sweatshirts is the vast array of colours they come in.
Since it's such a basic piece of clothing, there's so many brands which do so many colours, there really is something for everyone.
You can go for a staple colour such as navy, grey or black, add a pop of colour with yellow, bright blue or red. You can also get on trend with a light pastel colour such as pale pink, blue or green.
There's seasonal colours too, such as darker greens, reds and pink.
What's That 'V' Pattern On Sweatshirts?
Are you wondering what is that V pattern on sweatshirts? One of the trademark's of a sweatshirt is the triangle V stitching on the front, and sometimes back of a sweatshirt at the neckline in the centre.
It's called a V-Stitch or V-Insert, and was originally to stop the sweatshirt being over-stretched when putting it over your head. Now quality is so much higher, the V, or triangle lives on as a design feature, the sweatshirt remembers it's roots.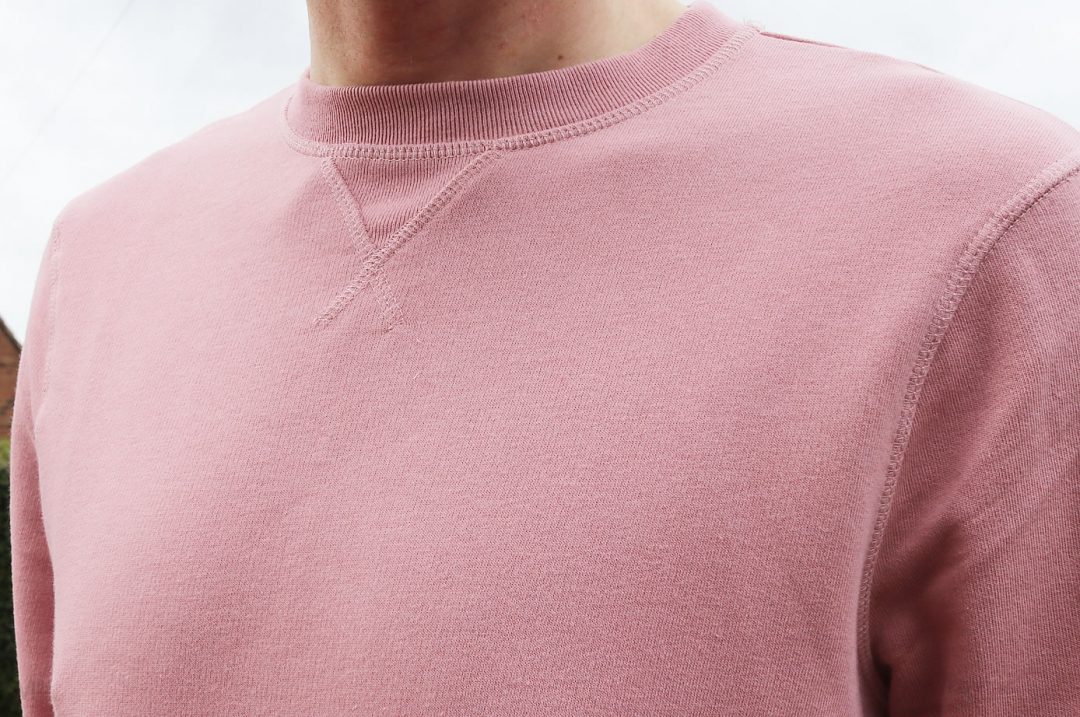 What Is Loopback
If you're looking for a sweatshirt one of the terms you may have heard or read is loopback.
But what is it?
It's quite simply the description given to a type of knit that features loops on the underside of the fabric. This comes from the term loop wheel, the machine used for knitting.
The term Loopback sweatshirt is commonly used, but not always, and is just to describe this style.
Sweatshirt Styling
Wearing a sweatshirt is incredibly easy to do, and is undoubtedly why it's a favourite piece for most guys during the colder months. A lot of men don't like jumpers, and find them itchy, stuffy, uncomfortable or simply too formal for their tastes.
The sweatshirt on the other hand, is the opposite of those things, and is usually worn in a relaxed and casual manner.
The Fit
Relaxed, Oversized And Loose Fit
One of the most popular way to wear a sweatshirt is a loose fit. Sweatshirts are synonymous with a laid back and casual style.
They're associated with an athletic environment if you're sporty, and if your not, the go to choice for when you want to just chill out.
You can wear this with a pair of sweat bottoms, pair of jeans or chinos, and keep your overall look relaxed. It's the perfect outfit for chilling out at home on a cold evening, or having a casual day out.
Smarter Fitted Sweatshirts
A sweatshirt does not have to be sloppy and baggy, in fact you can look pretty stylish in one, if you get a good fit. I always talk about fit is king, as does everyone in fashion, and for sweatshirts it's no different.
The oversized option is cool for street style and for a casual look, but how about a more fitted style?
A lot more fashion conscious brands now offer slim fitting and fitted sweatshirts for people who want the sweatshirt look for a smarter occasion.
You get the same feel, but now have a more fitted outfit.
How To Layer A Sweatshirts
With A Shirt
A really great idea if you'd like to go for a smart casual outfit choice is layering with a shirt, but keeping the shirt un-tucked.
As long as the shirt is not too long, it will sit nicely under the sweatshirt. You'll show off a bit of the un-tucked style which will maintain the laid back style with a bit of an edge.
Wearing a sweatshirt over a shirt is a cool laid back style. With only the collar showing, all you have to ensure is that the colour of the sweatshirt goes with the shirt colour.
Pairing up a white or light colour shirt with a dark sweatshirt works well, creating a contrasting colour style.
For a smarter look, wear a sweatshirt over a shirt. Your collar will be on show, which can add some contrast to your outfit, giving a smart plain sweatshirt some personality.
Different Styles Of Sweatshirts
As I've touched on above, there's different ways of wearing a sweatshirt, and there's different styles too, which will pull off different looks. From large graphics, logos and slogans, to smaller logos and good old plain sweatshirts.
Each different style can be worn, depending on the situation and the overall style you're hoping to achieve. From street to casual and smart, here's some tips on the dress code for sweatshirts.
Logo Sweatshirts – Casual Style
If you are going for street style or casual style, a logo or graphic hoodie will work well. You can have a laid back or street style look with a logo sweatshirt, with brands such as Adidas offering some great options.
Team the sweatshirt with some sweat bottoms if you're relaxing at home. If you're out, wearing with some chinos or jeans, and a bomber jacket is something to consider.
Smart Style – Plain Sweatshirts
A plain sweatshirt is the most versatile, and can be worn casually or as a smarter item of clothing.
Although seen as casual only, providing the fit is good, and you wear one with the correct menswear, it can be turned into a smart-casual piece of fashion. This can make it suitable for work, going out on an evening or in some cases an alternative to a traditional knit.
Layering as described above will work, you can pair up a sweatshirt with some smart denim, brogues and an overcoat which will look anything but sloppy.
Alternative Styles – Zipped, Hooded & Other Sweatshirts
There's alternative styles to sweatshirts, such as full zip options, hooded sweatshirts aka hoodies and even short sleeve sweatshirts.
These other options are usually reserved for a more casual laid back style. A full zip up sweatshirt can be an alternative to a jacket, if the weather suits.
There is of course ways you can dress up a hoodie, usually by layering it with some smarter outerwear which gives it a smarter edge.
Sweatshirt vs Hoodie
The very obvious difference between a sweatshirt and a hoodie that that a hoodie has a hood, whereas the standard sweatshirt does not. But is that all?
Well, the materials are the same. both a standard sweatshirt and a hooded sweatshirt are made from a heavyweight thick material. This is usually cotton, but polyester and mixes can be used.
When it comes to dress code, that's where the hoodie and sweatshirt differ.
A standard sweatshirt is a casual piece of clothing, but as I've mentioned above, it can be dressed up.
A hoodie on the other hand is almost always thought of as a casual piece of clothing. This isn't a bad thing, if you're looking for comfortable clothing or a streetwear edge, the hoodie is the way to go.
Sweatshirt or Sweater (Jumper)
What's the difference between a sweatshirt and a sweater?
Well first of all a sweater is a jumper, and a jumper is a sweater, those are just two names which have been given to one particular garment. You can read the sweatshirt vs jumper guide here.
You'll know these because they are usually made of wool, a wool mix or something which is supposed to resemble wool, such as acrylic.
You can find out everything you need to know about jumpers here.
A sweatshirt on the other hand, is usually made from a from cotton, or a cotton mix with something such as polyester.
They're usually a thick, soft cotton material, even getting the nickname "Sweatshirt material." The inside material being the same, or a fleece.
What To Wear With A Sweatshirt
Wear a plain fitted style for a smart casual look
Wear a logo sweatshirt with joggers for a more casual look
Combine with a pair of jeans for a cool city look
Wear with shorts in the summer and get the best of the hot and cold weather
Pair a sweatshirt with the same colour joggers or shorts for a co-ords look
On That Note
And so there you have it, all the different types of sweatshirts, and how to style them.
A sweatshirt is a great item of clothing to have in your wardrobe. Since we've got cold weather in the UK for a lot of the time, it's going to be a piece of menswear which you'll get plenty use out of.
You can wear a sweatshirt on chill night as well as going out for a smart casual occasion, so they're well worth the investment.
Now all you need to know is where to buy one. You can find the best sweatshirts to buy this season, which has plenty of options for all types of sweatshirts.
Whether it's plain, logo, graphic or retro, there's a sweatshirt that will fit the bill.