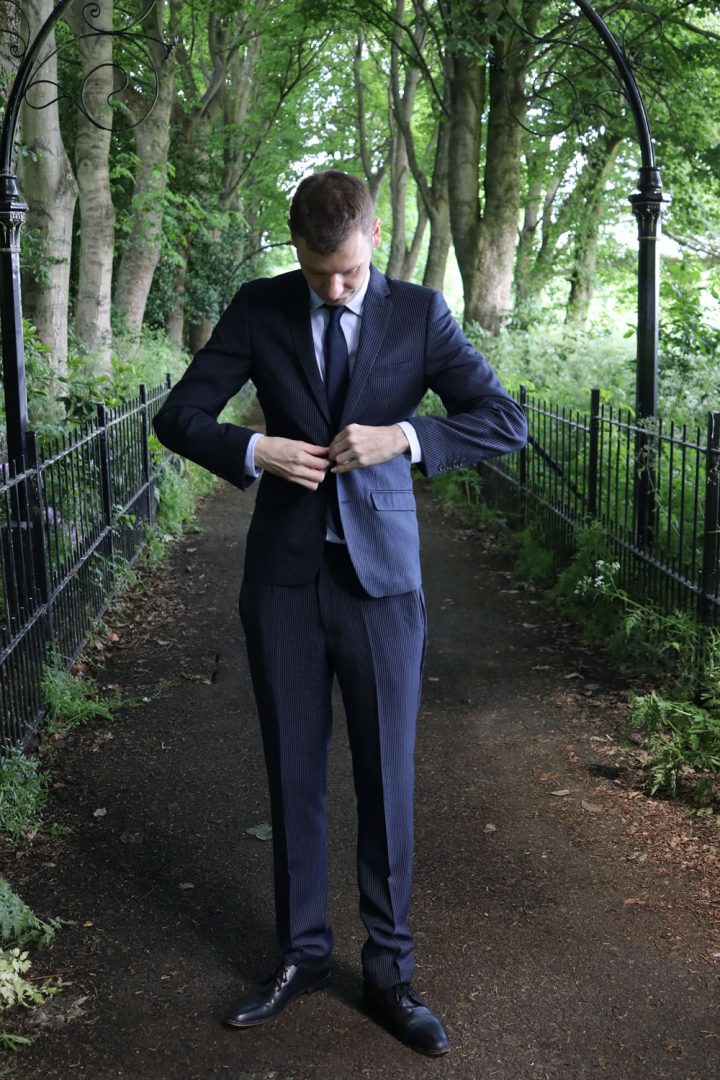 Sports jacket, blazer and a suit jacket. What are the differences? Are they the same?
They do look similar, but there's a few differences between the three smart tailored jackets that you might not know about, and that's OK.
You probably have a suit, which comes with a smart jacket. If you want to dress smart without wearing the full thing, you might ask yourself:
Can you wear the suit jacket as a blazer?
So, let's talk about these three jackets, all smart, but are all in fact different in a number of ways.
Here's the differences between sports jackets, blazers and suits.
The Differences Between Suit Jackets, Blazers And Sports Jackets
Like most guys, you'll look at these three jackets as something smart to wear.
We use the terms interchangeably, as if they are the same piece of clothing, however they're not.
They do all look very similar, but there's some key differences.
The difference between a blazer and a suit jacket is that a blazer is a single item of clothing, whereas a suit jacket forms part of a suit.
A suit is 2 or 3 piece, so the jacket and trousers match exactly. If it's a 3 piece suit, it will have a matching waistcoat too.
A Sports Jacket is a more sturdy and rugged jacket, originally worn as smart sporting attire. It will have a looser fit than the other jackets, as it's designed for more layering.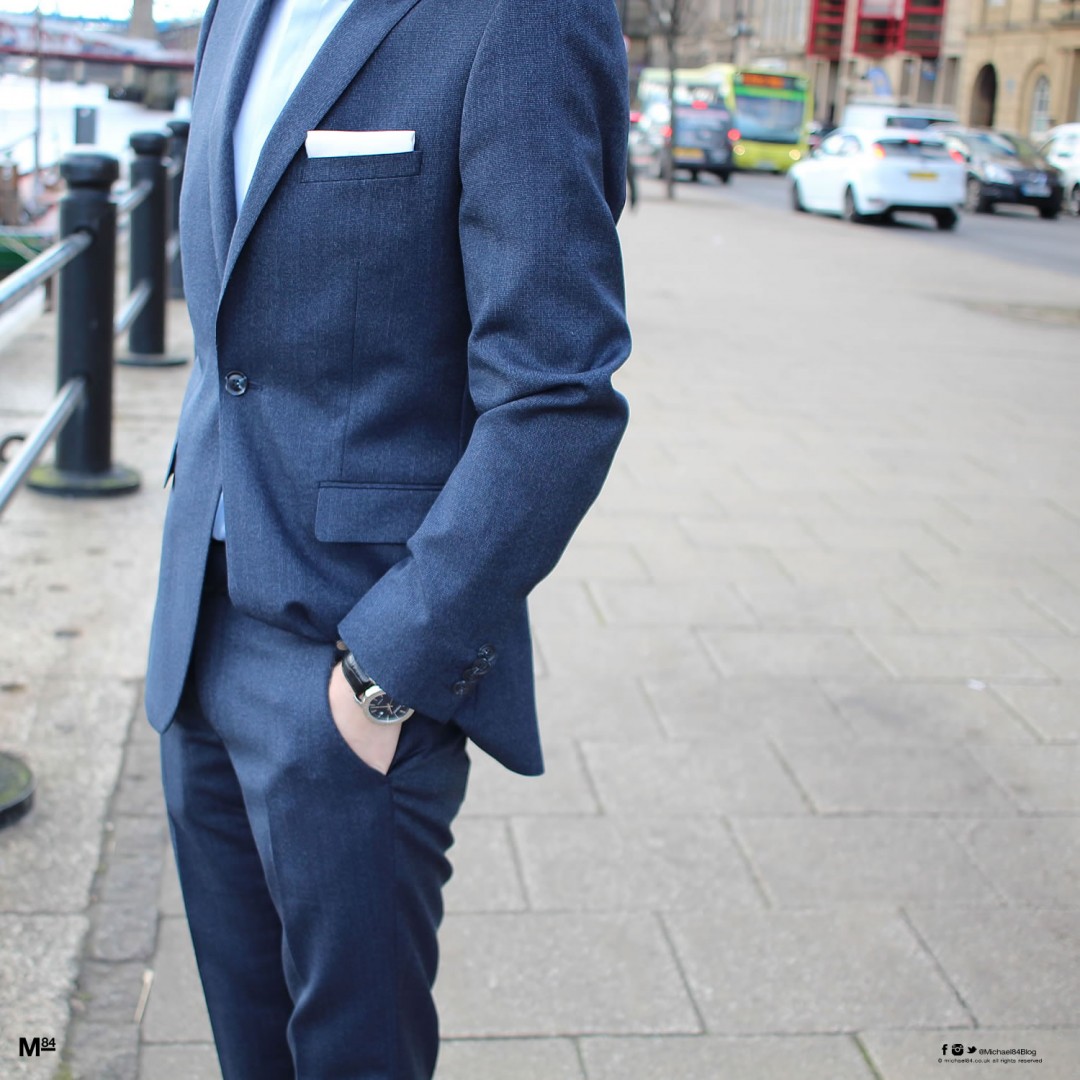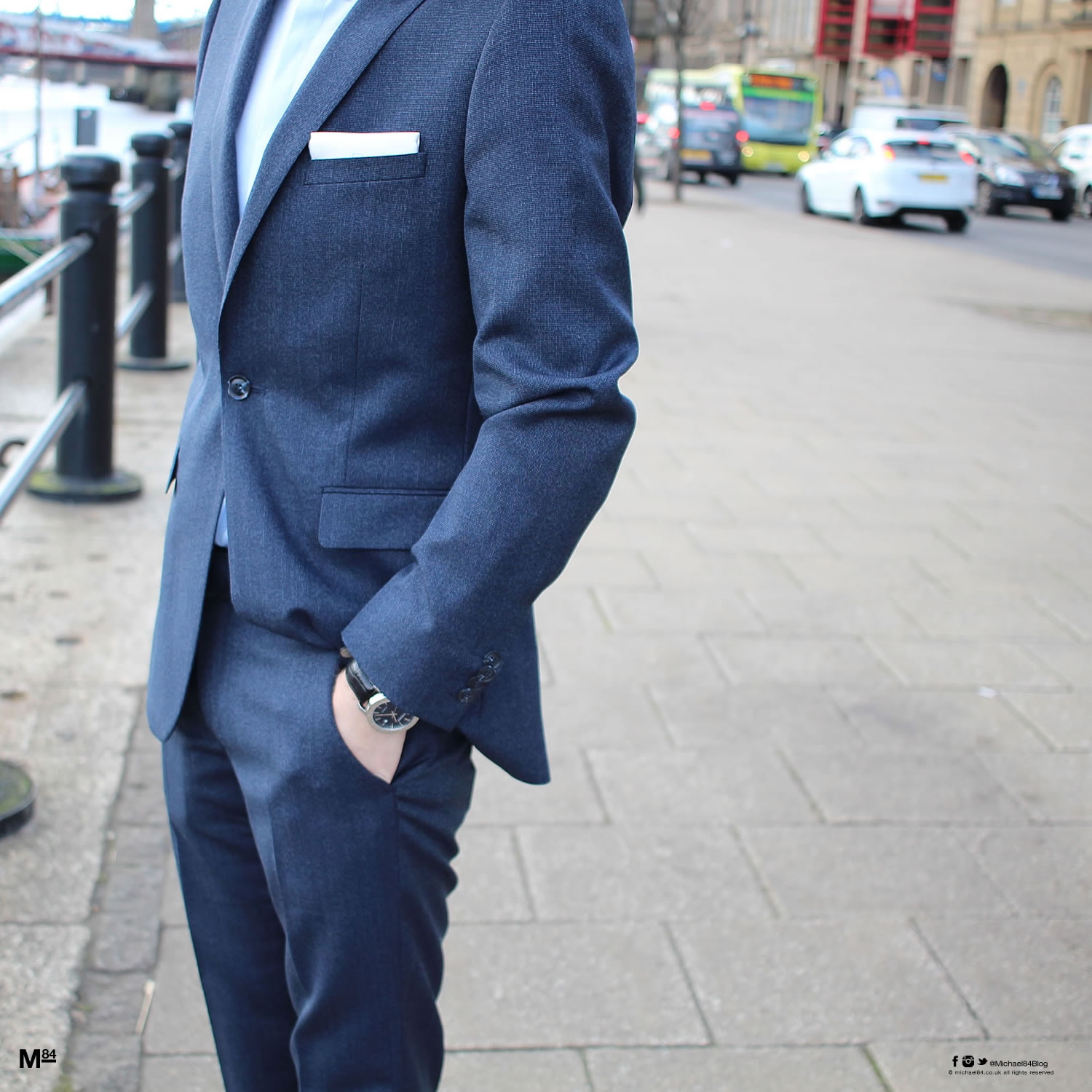 What Is A Suit Jacket?
A suit jacket, as the name suggests, comes with a suit. A suit is one complete piece, which means that the trousers, jacket (and waistcoat if a three-piece) will all match, exactly.
That means the exact same colour, pattern, style and fabric.
The key with this is that everything matches.
Fabric
Suits are generally made from fine material, which is light and elegant. They're usually plain in style, however you might be able to find some patterned suits available.
Wool is usually preferable when it comes to suits, with linen being the choice for summer as it's lightweight. Cheaper suits will be made from polyester or a mix.
Colours
Suit colours are usually muted and toned down colours. The most popular is navy, with other blue tones, charcoal and other grey tones and black being the other popular colours.
You'll also find dark hues of red and green, as well as tan and lighter hues for summer.
Fit
A good fitting suit is exactly that, it's made to measure. It should fit you well, which means it will be cut close to your body.
You'll find notched lapels or peaked lapels on the jackets, with notched lapels being more widely used.
As we've already discussed, you should not take off your suit jacket when you're at an event such as a sit down dinner at a wedding, so the fit is very important.
Function
A suit is the most formal of the three jackets. The idea is to wear a suit as one whole piece, the trousers and jacket, and it's usually styled as a smart formal piece of clothing.
A good suit is an essential pieces of clothing for most guys. You're likely to need one to wear to events at one stage or another.
If you're wondering what to wear at the races, a suit is one of the best options.
A suit jacket could be single or double breasted, with two or three button options being the most popular. (remember to follow the sometimes, always never rule when buttoning.)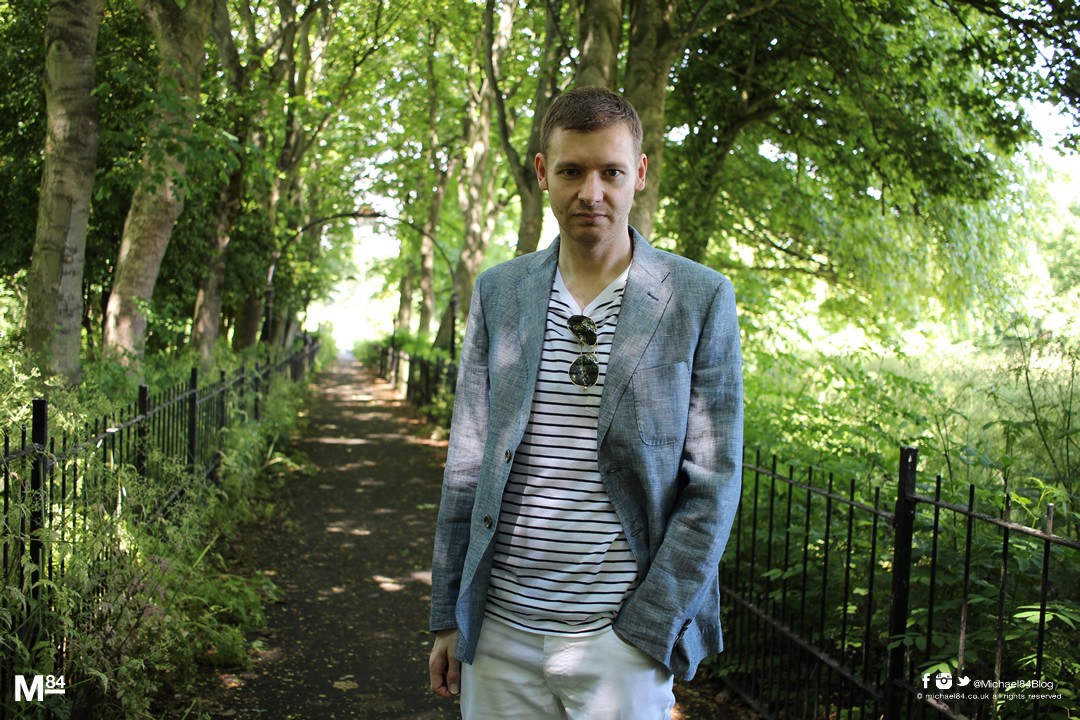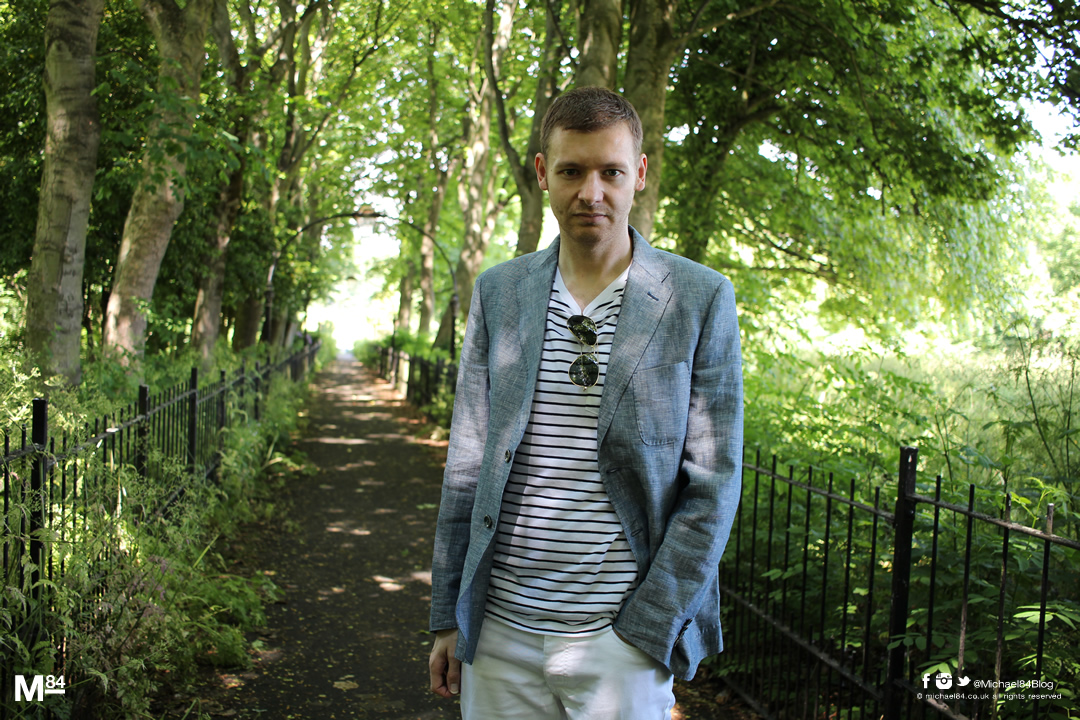 What Is A Blazer?
A blazer is a smart jacket, which has many of the same characteristics as a jacket from a suit. The biggest difference is however, that it comes as a stand alone piece.
The good thing about this is that if you want the smartest look without trousers, a blazer is going to get you there.
The bad point is that you'll have a really hard time to get an exact colour match on trousers, if you want to go the full formal route.
So you probably should not try to match up a blazer with trousers if you're going for a 'full suit look'. If you want that, buy a suit.
Fabric
Blazers are made from similar fabrics to a suit jacket, many being fine, delicate pieces of menswear. 100% wool blazers are usually best as an all season blazer, with linen being an option for the warmer months.
As with suits, at the cheaper end of the market you're likely to find polyester or mix blends of fabrics.
The lining can vary in a blazer. From fully lined to part lined and unlined, you'll find different options depending on the blazer you choose.
Colours & Patterns
When it comes to colours in a blazer, there's usually more to choose from than a suit, as well as patterns too.
Fit
The purpose of a blazer is to go over your clothes and it's a jacket, so it will have slightly more room than a suit jacket.
It should still fit of course, and slim fitting blazers are ever popular, giving you a nice silhouette.
Function
The idea of a blazer is usually when you want to add a touch of class to an outfit, go out smart casual and look sharp, without wearing a suit.
It's not as formal as wearing a suit, but wearing a blazer will give you that sharp edge in comparison to other jackets.
What To Pair With A Blazer
For your lower half, you can wear a few different pieces which will keep your style on point, and the blazer looking good.
Dark Denim – It's the smartest colour of denim, and a dark denim pair of jeans is going to keep you looking stylish with a really smart blazer
T-Shirt – You can pair a T-shirt with a blazer, which gives you a more casual and dressed down look to the blazer. It's still a smart outfit, but less formal than wearing a smart shirt.
Chinos – A nice smart pair of chinos will work well with a blazer. You can go for a separates look, pairing a different but complimenting colour of chinos with the blazer.
Brogues – One of the more informal pairs of shoes, brogues always look good and won't look out of place with a blazer
Derby / Oxfords – If you want to keep things classy, Oxford or Derby shoes will keep you looking smart.
Smart Trainers – If you want to be a little more edgy in your style, smart trainers are the way to go. Get a pair of clean cut trainers such as Stan Smiths, and add a bit of casual style into the outfit.

What Is A Sports Jacket?
Finally we have come to the sports jacket. This is the most casual and less formal of the three jackets.
It lends it's name from traditions where men would wear these jackets for sporting events of the time, such as shooting.
The name has stayed, although you can forgive yourself for not understanding why this would be called a sports jacket. They're not made for playing what would be considered sports of today.
Fabric
The biggest thing which sets the jackets apart is the fabric. Sports jackets can be made from tougher, more heavyweight materials, and are made to be more durable.
You can get finer styles of sports jackets, but their real trademark is that of a jacket which is smart, but tough.
Fabrics such as tweed and corduroy can be seen, as well as thicker wool and other fabrics which are sturdy.
Colours
When it comes to colours and patterns, sports jackets are the most varied. From herringbone to gingham, houndstooth to flannel, there's plenty of choices when it comes to patterns.
It's a similar story when it comes to colours. With brighter blues and reds being seen, neutral colours as well as the most standard and traditional colours from the other jackets.
Function
The idea of the sports jacket is that it's an outdoor coat, so it's built for that purpose.
It should be slighter more roomy than a blazer, with room for your other layers of clothing, which you will be wearing.
The extra toughness of the jacket means you should be able to take it off without worrying about it getting creased.
If you're attending an event where a suit is required, you shouldn't wear a sports coat in it's place, as this is wrong.
What To Pair With A Sports Coat?
Smart Knitwear – A sports coat will leave you plenty of room to pair some knitwear. Picking out the right jumper which compliments the sports coat will look good.
Dark Jeans – As above, dark denim works very well as a smart casual piece of clothing, and will work well with a sports coat.
Brogues – Wearing brogues will keep you looking smart, while giving you that little bit of a casual edge.
Can I Wear A Suit Jacket As A Blazer?
With that said, can you wear a suit jacket as a blazer? – Yes.
Should you wear a suit jacket as a blazer? No.
Why?
A full suit is one complete piece of clothing, with matching trousers and jacket as discussed above.
If you wear the jacket as a separate item, over time it will fade in colour, and no longer match your trousers.
There's also the possibility of damaging the jacket, which would then leave the trousers without the matching jacket.
If you want a really smart jacket to wear, then the best choice is the blazer. If you're looking for something smart to wear on a night out, it's the perfect piece. If you need a suit, then wear the full suit.
Suit Jacket vs Blazer vs Sports Jacket – Differences
As you've read, there's not a lot of difference in the jackets when it comes to looking at them. All three look similar, but they do have small differences, and are made for different occasions.
You can also check out how many jackets you need to own for a full and complete wardrobe to get you through every occasion in the year.
The Key Differences Between A Suit Jacket, Blazer And Sports Jacket:
Suit jackets are most formal, then a blazer, followed by a sports jacket
Suit jackets are usually finer, available in less varied colours and come with matching trousers
Blazers and sports jackets are stand alone jackets without matching trousers. They come in a wider range of colours and patterns
Each jacket has it's own advantages and disadvantages, and as with most clothing, the occasion usually dictates which one you should be wearing.
Take a look at the men's fashion guide if you're interested in more style tips and advice on dressing better.