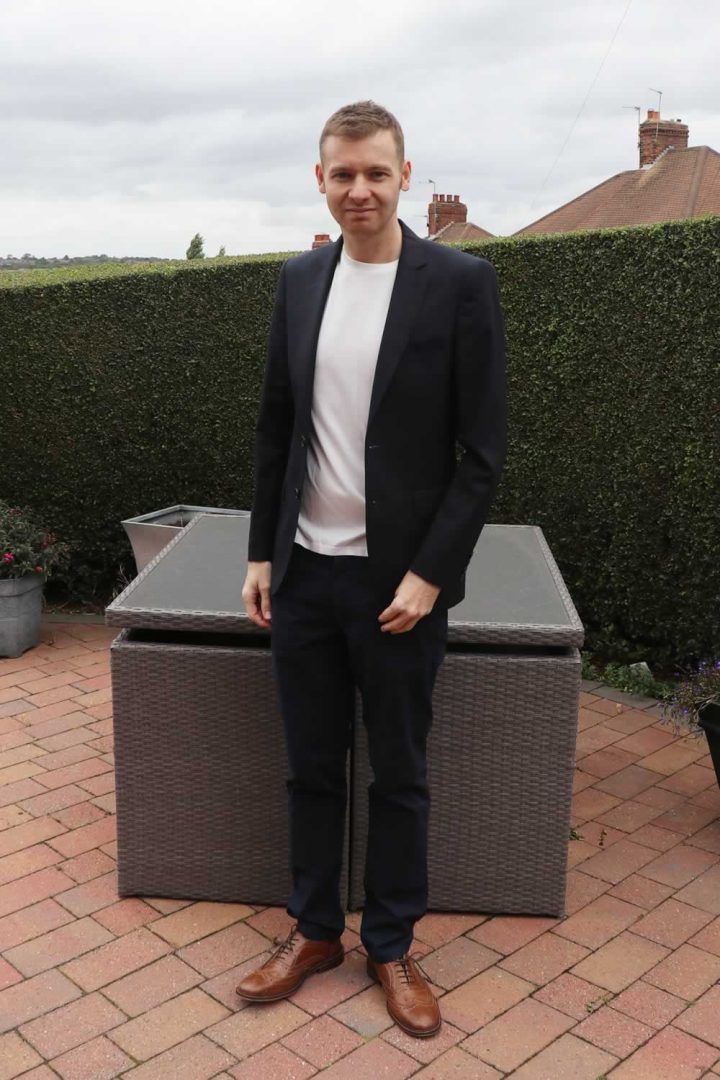 Can you wear a blazer with a T-shirt?
The answer is yes you can, and it can look really stylish. If you want to create a good balance between smart and casual, this combination is a way to do it.
It looks both smart and effortlessly cool, so if that's what you're going for, this is how to style a blazer and t-shirt together.
There's a few great things about this outfit choice. For one thing, it's really easy to accomplish, with only a small amount of knowledge required, which you can get reading this guide.
Another point is that you've probably already got a wardrobe full of T-Shirts with endless possibilities, so you're already halfway there. But perhaps the best aspect of this look is the versatility.
The blazer and T Shirt combo is one of the best, if not the best way to dress up a T-shirt. It transforms the most basic and casual item of clothing you own, into something much sharper and smarter.
The usual style for a smarter jacket would be to wear a shirt underneath, but for a more laid back look, a tee is perfect.
Blazer With Plain T Shirts
The plain T Shirt may be the most humble, but it works so well with a blazer.
If you want to wear a blazer with a t-shirt, the combination of a plain t-shirt in a solid colour with a blazer is the most stylish thing to wear.
Avoid large graphics, prints or other loud shirts. These are great but too casual, and a blazer t-shirt combo is a smart casual outfit.
Getting yourself a basic T Shirt and matching it up with a blazer will have you looking on point.
Remember to match up the colour of the blazer with a good complimenting tee. (Read the guide on everything you need to know about T-shirts)
A white t shirt will work wonders, they're inexpensive or you can really go out in style and grab a premium one which will make you feel like luxury.
You can go with a V-neck T Shirt or a round neck, depending on your own personal preference. I have a lot of round neck tees, so that's what I've gone for in this outfit.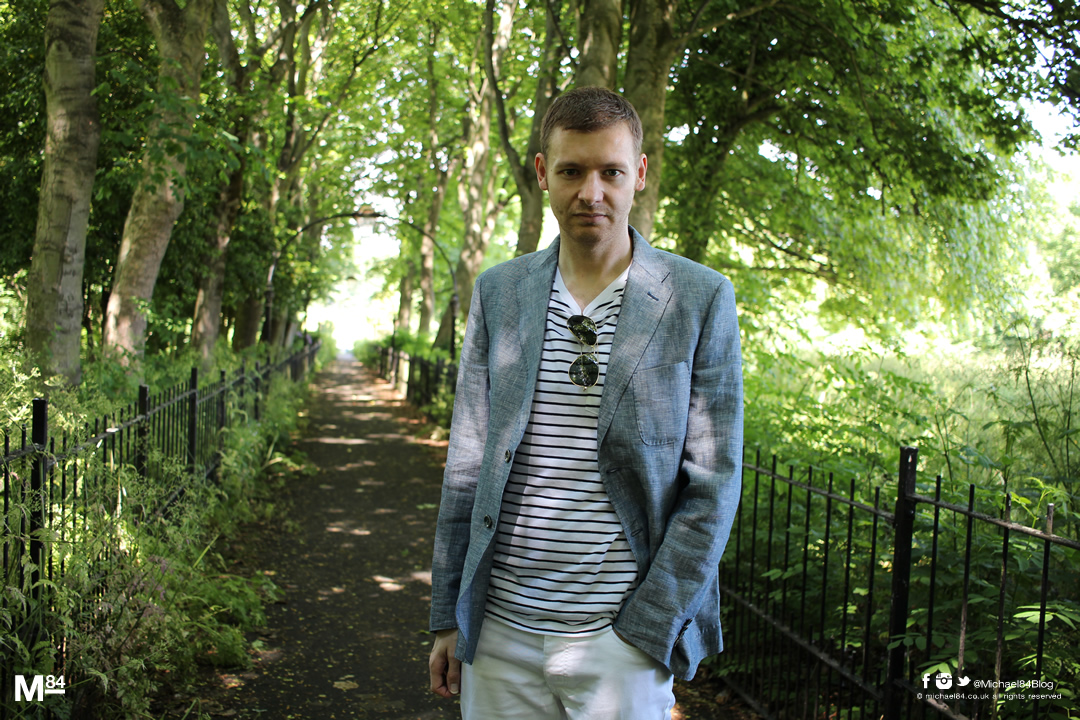 A Casual Blazer With A T Shirt
I have a love of striped tees, and nautical striped T Shirts are my favourite. There's plenty of different styles, and because they're quite minimal in terms of design, work incredibly well with a casual blazer jacket.
When going for stripes keeping it to a minimal is key. This is a really good outfit combination in summer, which has a smart and airy feel while still keeping things a little laid back.
You only want a maximum of two colours on show, if there's a third it should be virtually un-noticeable, and anything more will probably not work.
Avoid Graphics, Patterns And Logos
If there's one kind of T Shirt to stay away from for this outfit, it's graphics, patterns, logos and anything else loud.
These are strictly for casual wear, and if you wear something like this under your blazer, you'll ruin the smarter edge which you're going for, and it will end up looking out of place.
Save the graphic tees for another day.
Black Blazer And Black T-Shirt Outfit
A black blazer is completely timeless, as is a T-shirt, and the two go together so well.
When it comes to picking a colour to go with a black blazer, there basically is no wrong answer. Keep things simple by keeping it plain as we've discussed, and you can't go wrong.
Above I've chosen a black T Shirt with the black jacket. Black on black is a winner, and creates a nice simple and sleek look. Some may say safe or boring, but it will never look wrong.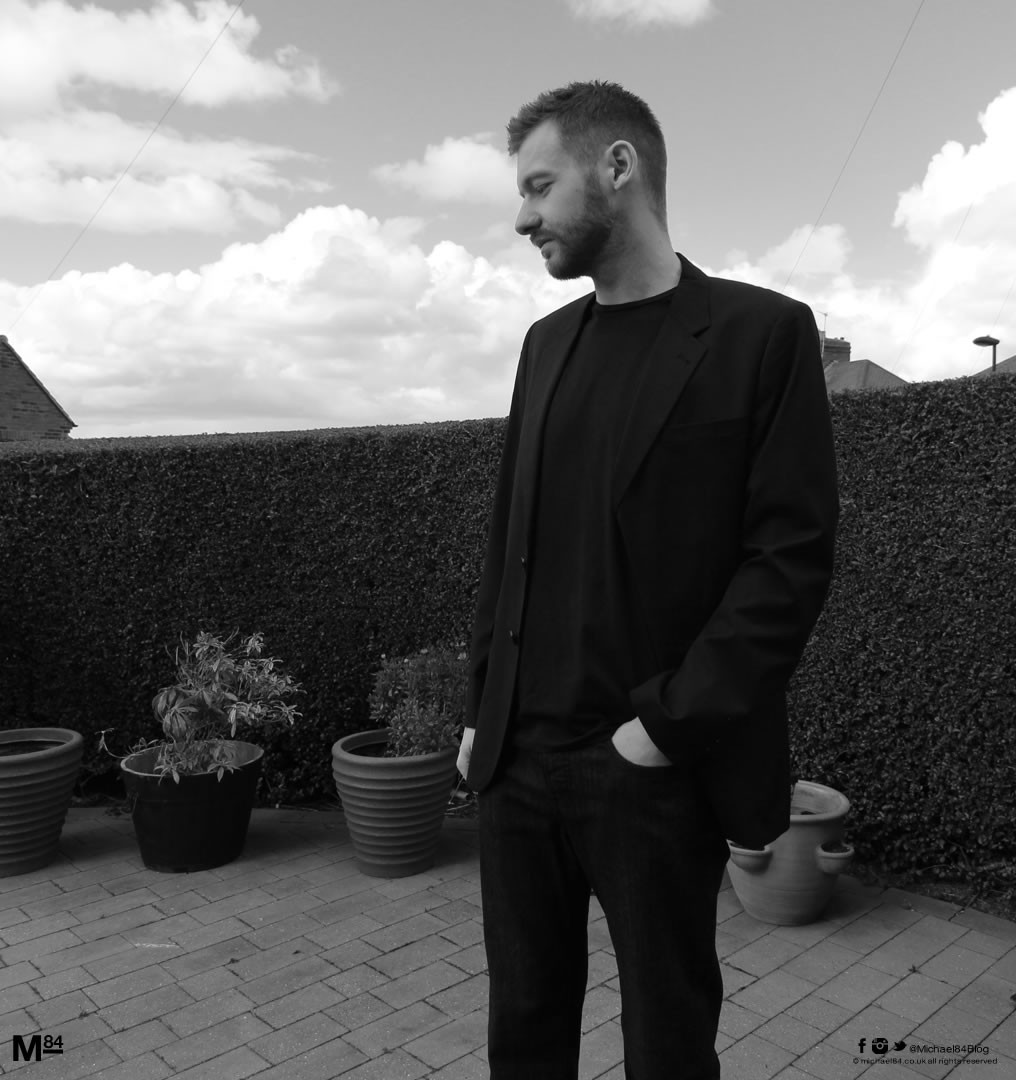 It's known to most as the most versatile colour blazer jacket you can get. Why? Because it's not as dark as black, but it's still a dark hue, and is smart enough to work for all occasions.
Pairing it up with a tee is really simple, and there isn't much wrong you can do.
I'd choose a grey or white tee to wear with this one.
Blue Blazer With A White T-Shirt Outfit
Other shades of blue are available in jackets, and I would say if you're going for lighter shades, to make sure your tee is darker, to create a nice contrast.
Having said that, white will still work the vast majority of the time, but introducing other light colours may be a mistake.
Suit Jacket vs Blazer vs Sports Jacket
A note on the blazers, suit jackets and sports jackets. At first glace they all look the same, and for this outfit, they'll have more or less the same desired effect.
But I thought it would be worth mentioning that the three do have their differences. It can get detailed, but basically:
Suit Jacket – This comes part of a suit, and will have matching trousers (Most formal of the three)
Blazers – This does not come with trousers, and is designed as a stand alone jacket (Moderate)
Sports Jacket – These are more sporty, and usually have a looser fit, to help with layering (Most casual of the three)
It's not uncommon or unheard of to wear a suit jacket as separates; That is wearing different coloured trousers as well as pairing it up with a tee.
Suit With A T Shirt
As touched on above, a suit is different to a blazer.
A suit is a jacket and matching trousers, is usually considered formal, and is usually worn with a smart shirt. But can you wear a suit with a T-shirt instead of a shirt?
You most certainly can wear a t-shirt and suit together.
I love the look of the suit with a T-shirt, and think it works well for when you want the formalities of wearing something sharp, but you don't want to appear rigid and stuffy. There is one rule to this:
Keep the T-shirt plain!
The only exception would be a striped T-shirt, but it should be clean, think nautical stripes, navy or black with white.
Never wear a graphic patterned or otherwise loud T-shirt with a suit.
Jeans Or Chinos
Can you wear jeans with a blazer?
The answer is yes you can.
When it comes down to it you're going to have to make a choice between chinos and jeans.
We can rule out dress trousers since you're wearing a T-shirt with the blazer, formal trousers will not work for this style of outfit.
Both chinos and jeans will work fine, it all comes down to preference.
If you want to keep things smart and simple, choose a pair of pain, clean, dark coloured denim, or chinos.
If you're looking to make a statement, you may opt for a bright, pastel or contrasting colour.
An example above pairs my light blue jacket with white jeans.
I think this is a smart look for Summer, the light pieces go together well.
For an evening or a smarter occasion, indigo or black jeans will be a smarter and more understated option.
Shoes: Smart vs Casual
Next up you'll need to select your footwear, and it's probably going to be a choice of smart or casual shoes or trainers. This will vary depending on the occasion and the look you are going for.
Casual Shoes (Smart Trainers)
If you want to dress down a blazer with a T-shirt and you've decided on wearing trainers, choose carefully.
To maintain the look, you'll want to wear a simple and minimalist pair of footwear. No sports trainers, and try to keep them one, or a limited number of colours.
Converse could work, or a pair of Adidas Stan Smith's.
Smart Casual Shoes
If you want something a little smarter, slip-ons such as loafers could do the job, or for an even smarter look, lace up brogues will get you there. When it comes to shoes you'll be able to be a little more expressive when it comes to colour, make sure they go well with your leg-wear.
Chelsea or chukka boots could be an option too, if you go this route the important thing is to get your pant length correct.
Dress Shoes
Black shoes will keep everything looking sleek, but it will largely depend on the jacket colour you choose.
Contrasting coloured shoes could add a sharp edge to the look if you get it right. A navy blazer with brown shoes is a great stylish option for a smart look.
Derby, Monk Strap and Oxford shoes will be your smart go-to option here.
Blazer With A T-Shirt: The Key Points
Make sure the colours compliment each other well
The fit is key – This is the number 1 style rule and definitely applies to this outfit choice
For most body shapes, a slim fit T-shirt and blazer is going to look better
Keep the outfit looking simple and stylish
Verdict
The Blazer with a T Shirt combination is both stylish and popular for when guys want to dress up a T-shirt, and it works so well.
From a night out clubbing with the lads to wearing it around the city, it's an outfit which is always going to keep you looking your best.
With just a few rules it's easy for anyone to pull off, and will having you looking sharp without looking like you're trying.
Let me know what you think of this look, and how you style a blazer with a T-shirt.
If you're looking to dress better you can find more in my men's style guide. It's packed with tips and tricks on dressing better and helping you look the best you can.