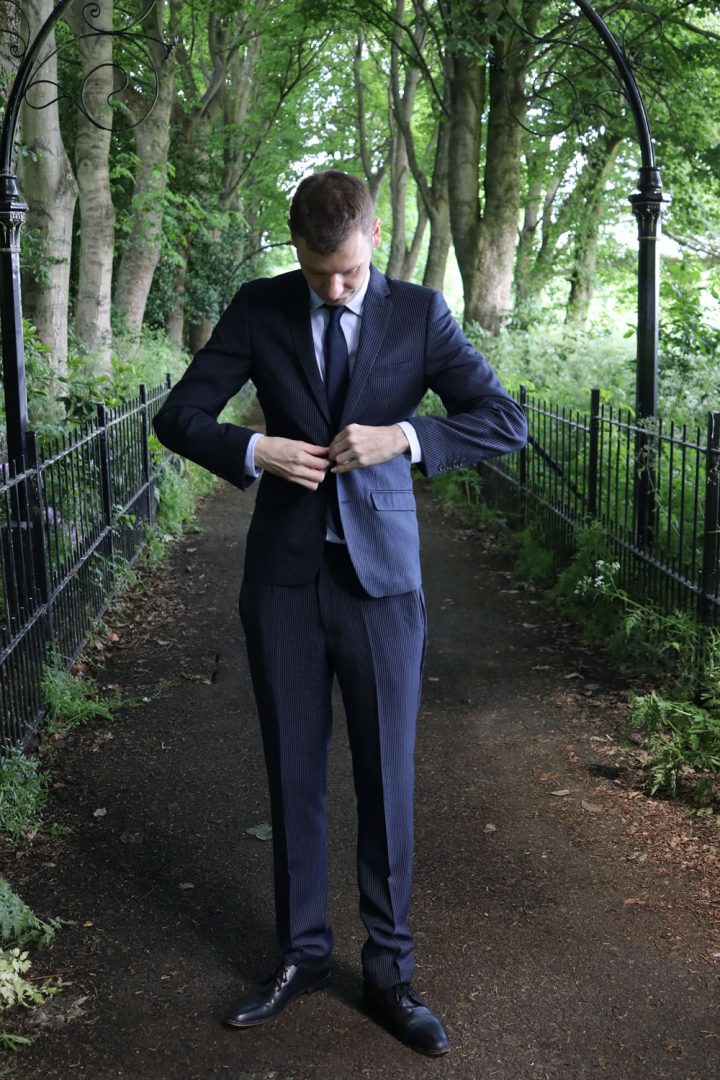 When it comes to buying a suit, the first question you'll be asking yourself is:
What colour suit should I buy?
It's a good question, and it can be hard to answer. If you've never bought a suit before you may feel intimidated by the sheer number of colours and shades which are available.
I've bought several suits over the years, as well as blazers and other formal wear.
If you're looking to buy your first suit and wonder what colour it should be, here's my tips for you.
A navy suit is a great first suit colour. Navy blue is a versatile colour which will go with almost any shirt combination, it always looks smart, and you can wear lots of shoes with navy suits.
You can wear a navy suit to almost any formal occasion. If you're looking for a summer wedding outfit, going to a job interview or night out with your mates or even to work if it's a smart dress code.
The navy suit is basically the Swiss army knife of suits. There's almost no occasion that a navy suit doesn't cover.
It can even be worn at a funeral, although tradition does dictate you wear black (more on that below).
Think About The Occasion You Need Your Suit
When you're buying a suit, think about the occasion you're buying for. Navy looks great in all seasons and all weather, it's stylish and as I've already mentioned, works for almost every occasion.
You may however decide to go for a different colour, and there are a few alternatives that you can try.
Don't Buy A Black Suit (Unless You Absolutely Need Black)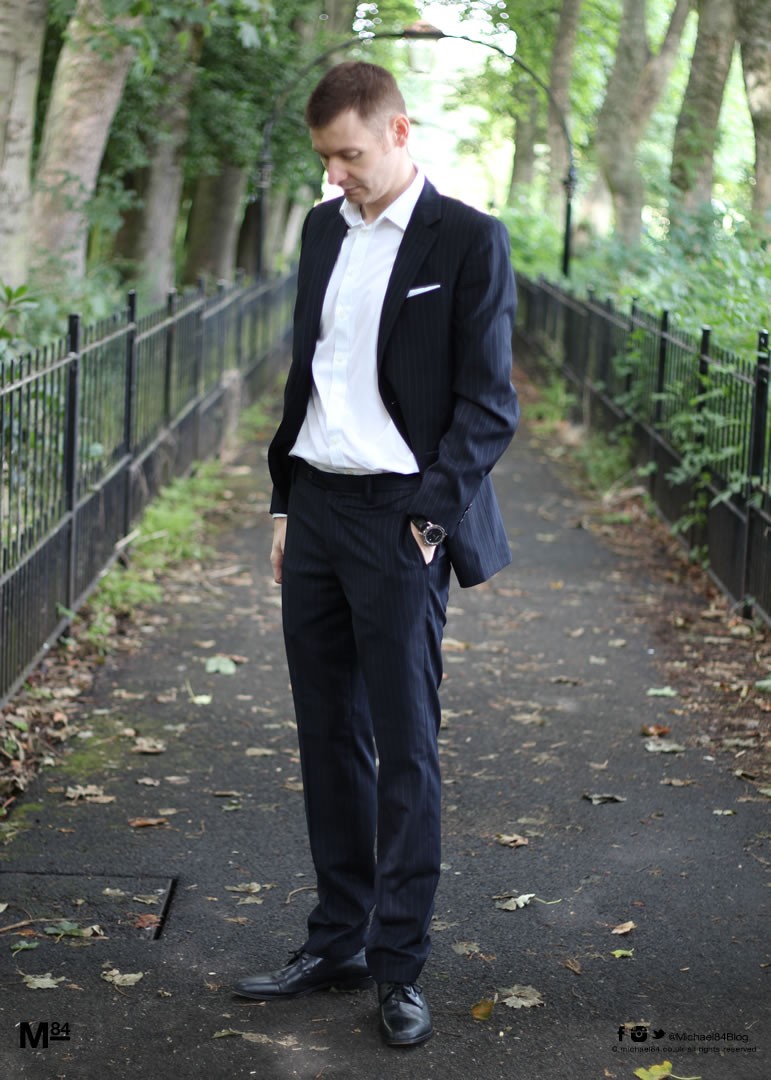 When it comes to a black suit, for many guys it will be the obvious go to. It was for me, but this was very wrong.
If you're looking for the dress code for a funeral, a black suit is tradition. Black suits are pretty standard for this, along with a black tie occasion.
But for basically everything else, you shouldn't wear black.
Why?
Well black is a obviously a really dark colour, which makes it very cold. It's not the greatest colour to wear in spring or summer, and even in the colder months, just looks too cold and formal.
When it comes to buying a second or third suit, you might want black as an option. Or as mentioned, if it's required you can buy, but it's generally not recommended for a first suit.
Grey Is A Good First Suit Colour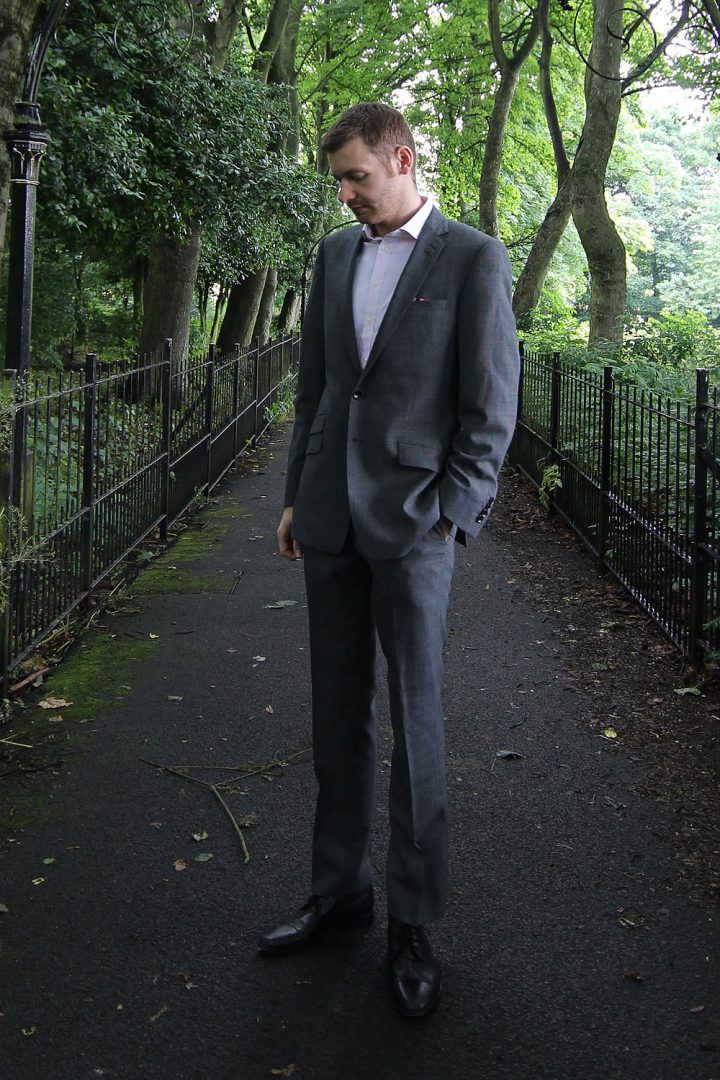 If you don't want navy, grey suits are another great option.
When it comes to grey suits, there's tons of shades, and yes, I'd say more than 50!
For darker greys, charcoal is a good colour, or there's always light and mid grey too.
Just like navy, grey suits are quite universal. You can wear them to almost any occasion, and it's easy to pair up your shirt, shoes and other clothing with them.
If navy isn't an option, grey should be your next go to colour.
Other Blues Are An Option
There are other blues which are available too. Mid to dark blues make good colour suits, but stay away from the light shades, as they're too striking.
The lighter shades and hues of blue you go, the more they will stand out. This isn't necessarily a good thing, and for the more formal occasions, you'll not want this in a first suit.
Blues such as royal which is quite bright and bold, or midnight which is even darker than navy are at each ends of the scale you should be looking at when it comes to first suit colours.
How Many Suits Should I Own?
Every man should own at least one suit. If you've already got one, like wearing suits and are working your way up the ladder, owning 3 suits could be seen as a good number. These would be navy, grey and black.
Once you've got those three colours, if you're really into suits and formalwear you can get other colours and delve into patterns too.
If you've taken a look at suits you'll already know that your options are pretty much endless. From styles to colours, patterns and more, if you get into suits there's so many to explore.
Summary: What Colour Suit Should I Buy? 
You should buy a navy blue suit as your first suit. There's some which will say charcoal grey, and to be honest that's not bad advice either.
So it comes down to personal choice between navy and charcoal grey, whichever you choose, it should be one of those first.
The most important thing is to have fun and look the part in your suit, whatever colour you go for.