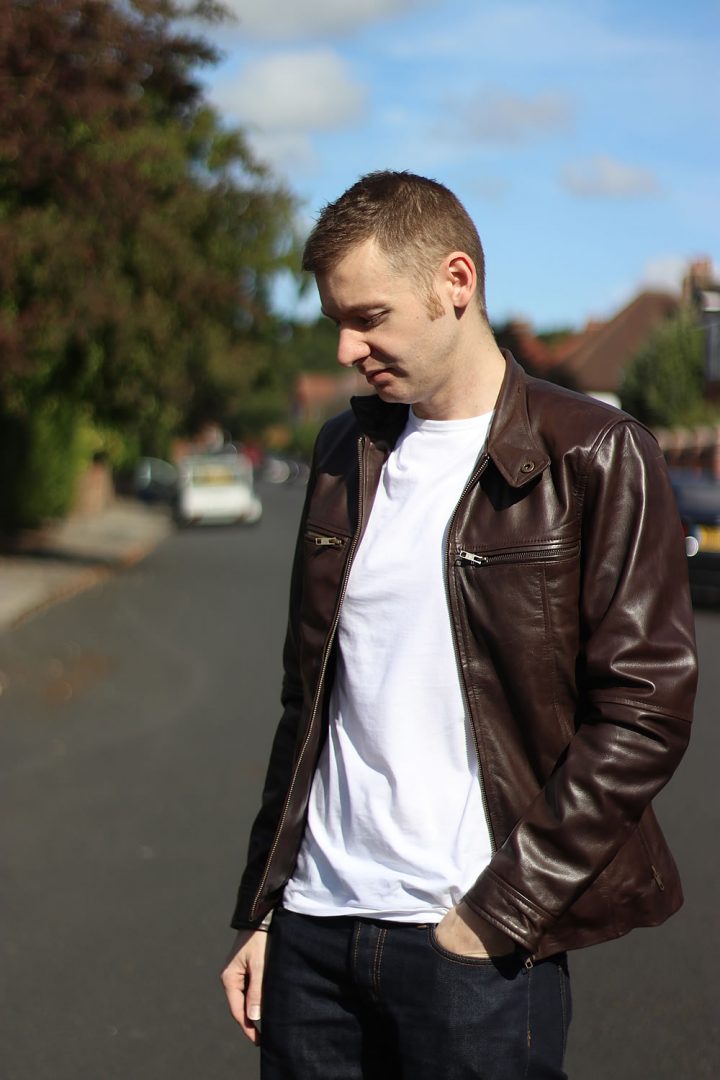 Can you tuck in your T Shirt?
Someone asked me this, and it is a good question. Are there rules about tucking in a T-shirt, and if so, what are they?
Well the answer is quite a quick one, there's no rules about having a tucked in T-shirt.
But that doesn't mean it's a good idea to tuck in your tee. Since there's no universal rule, if you ask people, you're likely to get a lot of different answers.
There can be some occasions where it looks good, and some where it doesn't.
Here's some tips on how you can decide whether to tuck in your T-shirt.
The T-Shirt
First of all we should talk about what the T-shirt actually is. A T shirt is  a casual piece of clothing. You can wear this virtually any time, any season, and can pair it up with almost anything.
True, it's not formal or at the cutting edge of smart, but you can dress them up. But most of the time, you'll be wearing this as a casual piece of clothing. (Read more on the best basic T-shirts here.)
We tend to think of fitted clothing as being smarter and formal, so keeping it un-tucked maintains the casual look of the top.
T Shirt Length
The vast majority of the time, the length of the T-shirt is going to be designed to be short to mid length, going just past your hips. You'd say, that by design, it's made to be worn untucked. So that's another vote for untucked.
---
How To Tuck In A T-Shirt
If you want to tuck in your T-shirt, there a few ways you can do it.
A loose tuck
This is tucking in the whole shirt, in a loose manner. Start by tucking in the shirt as you usually would, and then gently pull above, so the shirt does not look tight.
You don't want the shirt tightly tucked in so it looks like you can't breathe in it.
The Half Tuck
One of the favoured tucks for people who do like to tuck their T-shirt in is the half tuck. You've probably seen this before, and it's where the shirt is not tucked in, apart from a section at the front.
There's several ways you can do this. You can tuck in the very middle of the shirt. If you want to show off that designer belt, that's a way to do it.
I think a more stylish way is to tuck in slightly to the side. This looks less deliberate, more laid back and casual, but a bit edgy.
You'll know that it was done on purpose, but for the uneducated, it looks like a stylish mistake.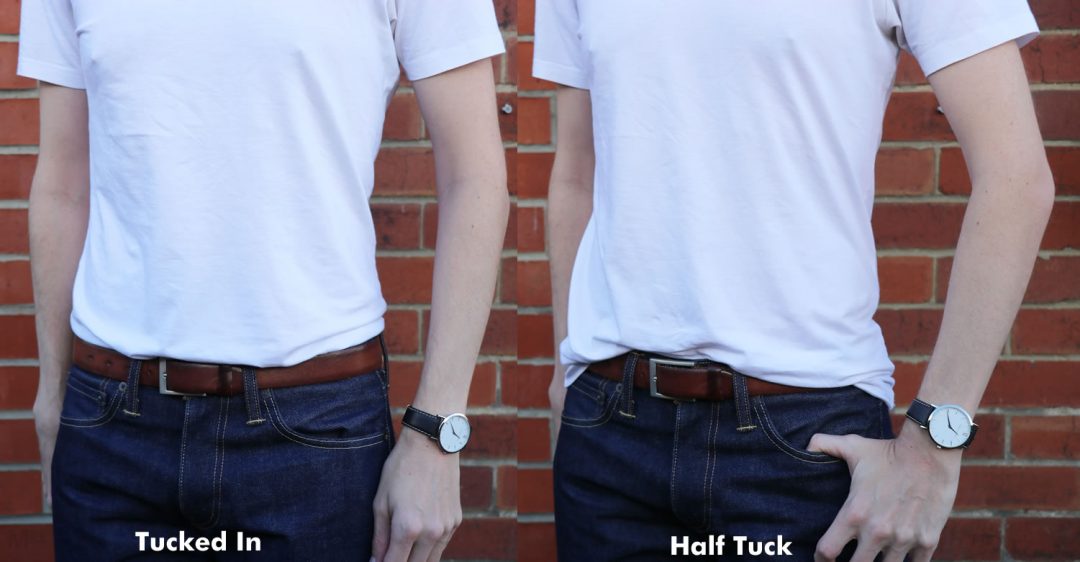 Here's my white t shirt tucked into jeans Both fully tucked in and a half tuck.
Layering A T-Shirt & Tucking In
There's no doubt that if you're adding an extra layer, it makes it easier to tuck in your T-shirt. If you're wearing a jacket or even a shirt, you might consider tucking in your Tee, as you have a layer over the top of it.
You can have it tucked with the tips given above, and it will look perfectly fine with a jacket.
A T-Shirt is a casual item which I would almost always wear untucked. Sometimes a half tuck can look cool and edgy, but even when dressing up a tee with a blazer, I'd opt for not tucking it in.
---
Tucked In T-Shirt Outfit
You can try this yourself. A good outfit combination could be:
Dark Wash Jeans
White T-Shirt
Brown Belt
Leather Jacket
Brown Brogues
Try this on for size with the T-shirt tucked in and see how it looks.
---
Verdict
Whether you're looking to show off that luxury belt you've just bought, or you just fancy trying out a tucked in T-shirt, it can be done. Choose the outfit, occasion and style of tuck carefully, and you should be able to pull it off.
There's lots of ways to wear a white t shirt, whether it's tucked in or loose.
If wearing your tee feels better loose and free, there's no problem with that either. It's a casual piece of menswear which can be worn a many ways.
If you're looking for more tips head on over to the style guide, where you'll learn other ways how to dress better.