Have you ever wondered what the term smart casual actually means?
When it comes to dress codes, I have to say that smart casual is my favourite.
If you ever see this on an invitation to an event, or someone just tells you they're going smart casual, here's what it means, and a guide on smart casual dressing.
The wording does spell it out: Dress smart, but also casual. That means something in between a formal suit and something you'd wear when you're out for a run or relaxing in front of a film. So that leaves quite a bit in the middle! Here's some tips and some of my rules for when going smart casual.
Smart Casual Dress Code Rules
To pull off smart casual you should always air on the side of smart. It is all about mixing up your clothing to give yourself a smart look, using some casual pieces in your outfit. It can be dressing something up, or dressing something down.
The key is that if it feels to casual, then it probably is, but if you're feeling smart, then you're probably on the right path.
Smart casual is not about a single piece of clothing, but the whole outfit. With that said, it's very hard to distinguish what is not acceptable, a T-shirt for example is quite a casual piece, but if you're wearing the right style, and pair it with the right clothing, it can be worn as part of a smart casual look.
No Sportswear
First thing's first, let's talk about what not to wear. No tracksuits or sportswear. Track bottoms and tops are strictly super casual, no matter if it's high street or luxe sportswear, these are casual items and would look sloppy for smart casual.
No Suits Or Ties
Just like a tracksuit is too casual, a full suit is far too smart. There should be no need for a tie either, and although there's casual ways to wear a tie (such as with a casual shirt) I would not bother considering a tie for a smart casual occasion.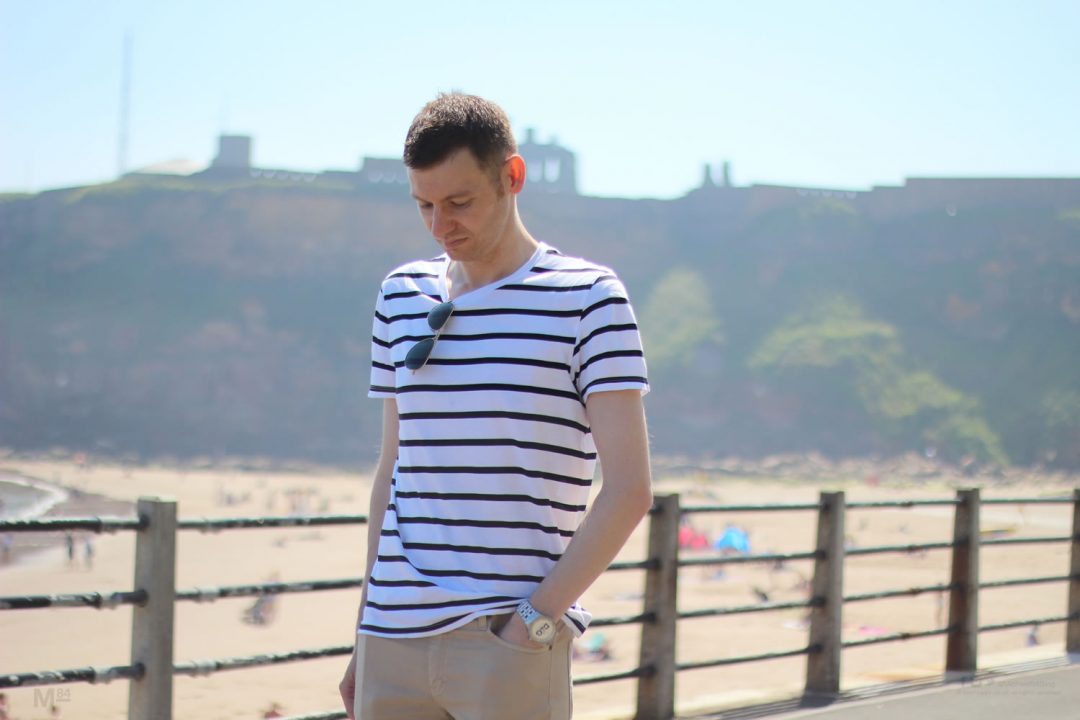 Smart Casual Clothes
There's plenty of clothes which can be considered smart casual. In fact, you've probably got a wardrobe full of them. The key is pairing up the right pieces of clothing together, to create a smart casual outfit.
Here's some of the items of clothing you'll have, what clothing could be considered for smart casual wear.
T Shirts
Are T Shirts smart casual?
The most common and casual piece of clothing you'll have in your wardrobe is the humble T-shirt.
Can you wear this as part of a smart casual outfit?
Yes, you can, if it's the right top. First of all, plain tees should be preferable, striped tees such as nautical can be worn too, usually in the Summer.
No graphics or large logos should be worn. You should stick to the classic colours; The white tee is classic, or you can wear something such as black, greys or even shades of blue which compliment the rest of your outfit.
Next up is the fit. This is important, and you should choose a fitted T shirt, and not a baggy or oversized option.
Throw A Jacket Over It
If there's one way to dress up a T-shirt, it's to throw a jacket over it. Wear a suit jacket or blazer with a T Shirt which turns the casual tee into a sleek, smart top.
Suit Jacket Or Blazer And Jeans
The most common item of clothing to wear to smarten up any outfit is a suit jacket or blazer.
They're perfectly acceptable to wear with a pair of jeans, a classic grey, navy or black blazer will work with most jeans, whether they're a shade of blue or solid black.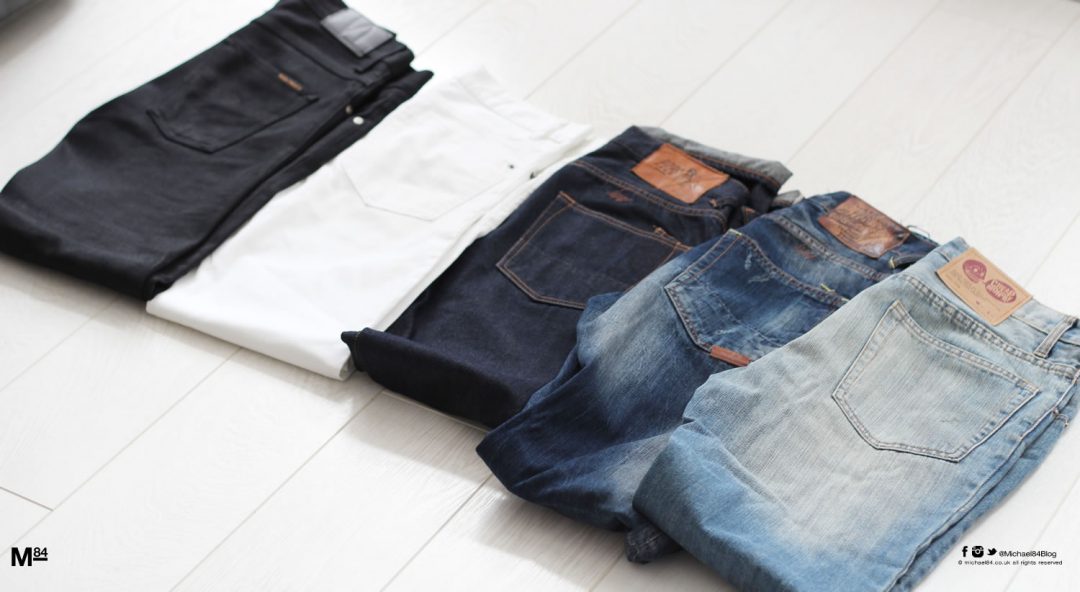 Let's Talk Jeans
Are jeans smart casual?
Jeans are fine to wear, as long as you wear the right type. I've already talked about the five pairs of denim you should own, so hopefully you have at least one of these.
You should choose the fit carefully, and it should be a slim leg, which is a much smarter cut. They should be plain and solid, i.e. no rips or distressing, with darker colours such as indigo and black edging towards smart, those colours would be preferable.
There's something really smart about a dark pair of jeans, pairing it up with a plain white tee and a bomber length jacket, while still maintaining the casual edge.
Plain Shirts
When you're wearing some jeans or other casual trousers on your bottom half, the best way to dress this up is what a smarter plain shirt for your top half.
You can keep it contemporary and classic with the usual white, black and lighter shades of blue, or wear something of a different colour to add a more casual edge which will differentiate your outfit to a usual office style.
Pastel colour shades like pink, purple and green could work well.
Patterned Shirts
A patterned shirt can look really laid back, but as long as the colours work well together and most importantly the fit is right, it can work well for a smart casual look.
You can wear a patterned shirt with chinos, trousers or jeans, long sleeves are always better. You can go for a gingham, check or buffalo print, make sure the colours compliment each other and there's no bright or loud patterns.
Whichever shirt you're going for, all shirts should be long sleeved. Short sleeve shirts are a much more casual way of dressing, so ensure that you're wearing long sleeves.
Chinos/Trousers
A good alternative to jeans are a pair of casual trousers or chinos. These look smarter, and a different colour palette can be chosen which can lighten up your outfit. Colours such as beige, sand, grey and ecru will give your look more colour.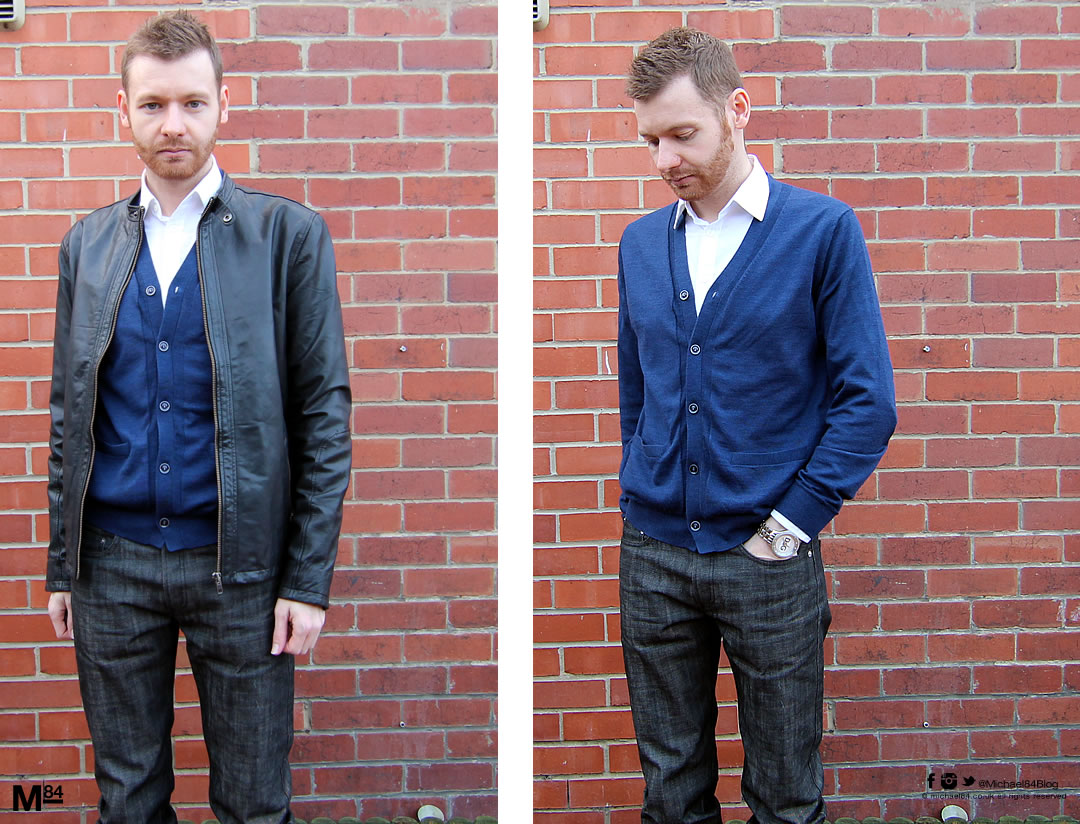 Knitwear
When the weather is cooler, you might want to think about wearing some smart knitwear. Jumpers and cardigans, especially solid colours look smart without looking too formal, and will keep you warm as well as looking good.
When it comes to jumpers, the two main styles would be a V-neck or a round neck collar. Another option would be a cardigan, which can be buttoned up or left open depending on what side of the smart casual line you're looking to be on.
You should wear a shirt underneath, it will be partly visible with a V-neck, and could be completely visible if you choose a cardigan, which is something to keep in mind.
Smart Casual Footwear – Shoes or Trainers
Your footwear choice should be dependant on the event or occasion you're dressing for. Everyone notices footwear, so make sure you get this correct. If it's an event during the daytime, smarter trainers, such as Converse could be acceptable.
Check out the guide on shoes every man should own, which covers plenty of footwear options for your smart casual outfit.
Inspiration – Smart Casual Outfit Ideas
Here's some outfit ideas from myself and inspiration from the major smart casual menswear brands.

The first outfit is a light blue shirt with a slim fit cotton-wool blend jacket, and bottle green chinos, along with smart black leather trainers.
The second look combines a green slim fit shirt with a military jacket, regular fit jeans and hi-top trainers.
Next up is a check pattern shirt with slim fit black leather jacket, navy chinos and leather trainers.
Last up is a fine knit jumper with shirt, casual shoes and tapered trousers.

A red check button-down shirt with navy casual trousers, a light zip-up jacket with some casual trainers
A light paisley pattern blue shirt with slim fit cotton chinos, a slim fit cardigan and more formal style shoes.
A yellow-blue gingham style patterned shirt with a slim fit leather jacket, stretch jeans and smart trainers.
A grey sweater with white pattern shirt, grey wash jeans and sand suede shoes.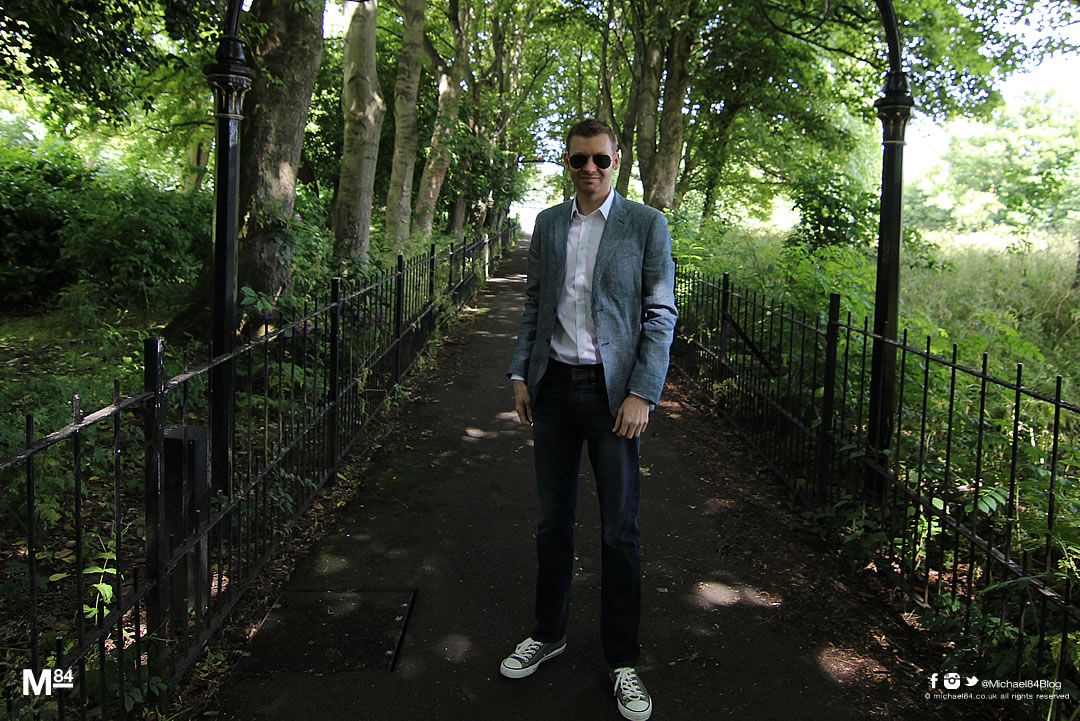 I am wearing a white shirt from Jaeger, linen jacket from Mango, Nudie Jeans and grey Converse.
Roundup: The Do's And Don't Of Smart Casual Dressing
With all of that said, here's a nice list of do's and don'ts when it comes to the smart casual dress code.
DO:
Embrace wearing smarter, plain pieces
Wear jeans, as long as they're a dark wash
Layer in the colder months with smart knitwear, or plain sweatshirts
If wearing a T-shirt, ensure it's plain, and perhaps throw a blazer over the top
Choose smart trainers or casual shoes for your footwear
Keep the colour palette neutral or colours to a minimum
DON'T:
Wear a tie
Wear anything super formal, such as a suit
Wear anything super casual, such as sweat or tracksuit
Wear large logos or graphics
Verdict
As you can see, there are countless possibilities when it comes to dressing smart casual.
Smart casual can mean a huge number of things, to a large number of people. The key principles are that you look and feel smartly dressed, without being over-dressed.
As we know, you should dress for the occasion, so one smart-casual outfit could be suitable for one occasion, but not for another. Like many things in style, it can come down to interpretation of the wearer.
As long as you stay away from the extremes of the stuffy-smart and sloppy-casual, you'll be able to find the right outfits and create a huge number of different looks with the clothing you already own, or add one or two new pieces which you'll be able to style and create brand new looks.