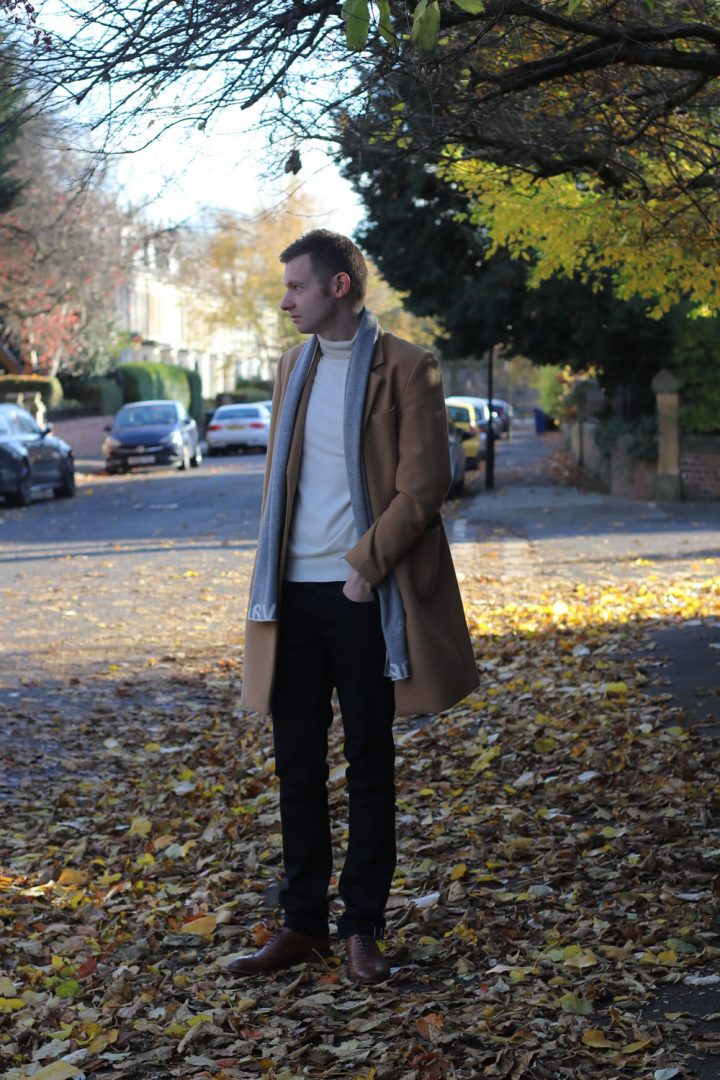 It's a phrase you've probably come across, whether it's describing your office attire or the dress code listed on an event you've been invited to.
The smart casual dress code.
We all know what smart and formal is, and then we've got relaxed and casual styles, but what about something in the middle?
That is where smart casual dressing comes into play.
It's a style which every man can master, and usually only requires items you'll already find in your wardrobe.
What Is Smart Casual?
Smart casual is all about easy to wear clothing which has a smarter edge to it. Smart casual clothes are the same pieces as every day wear, however they should fit well, and are usually muted and understated.
It's not just about choosing the right clothing but putting together an entire outfit. You can dress up casual clothing with something more formal, or dress down formal pieces with something more casual.
The fit is key. This is the number one rule for most style, and smart casual is no different. There should be no over-sized or super tight fitting pieces here. (check out how to measure yourself for clothes here)
At times it can be hard to pull off, but once you've mastered a few basic principles, it will leave you with a huge number of different styles you can create an outfit with.
Smart Casual is all about making simple pieces of clothing look smart. Dress up casual clothing or dress down more formal pieces to create an overall stylish outfit.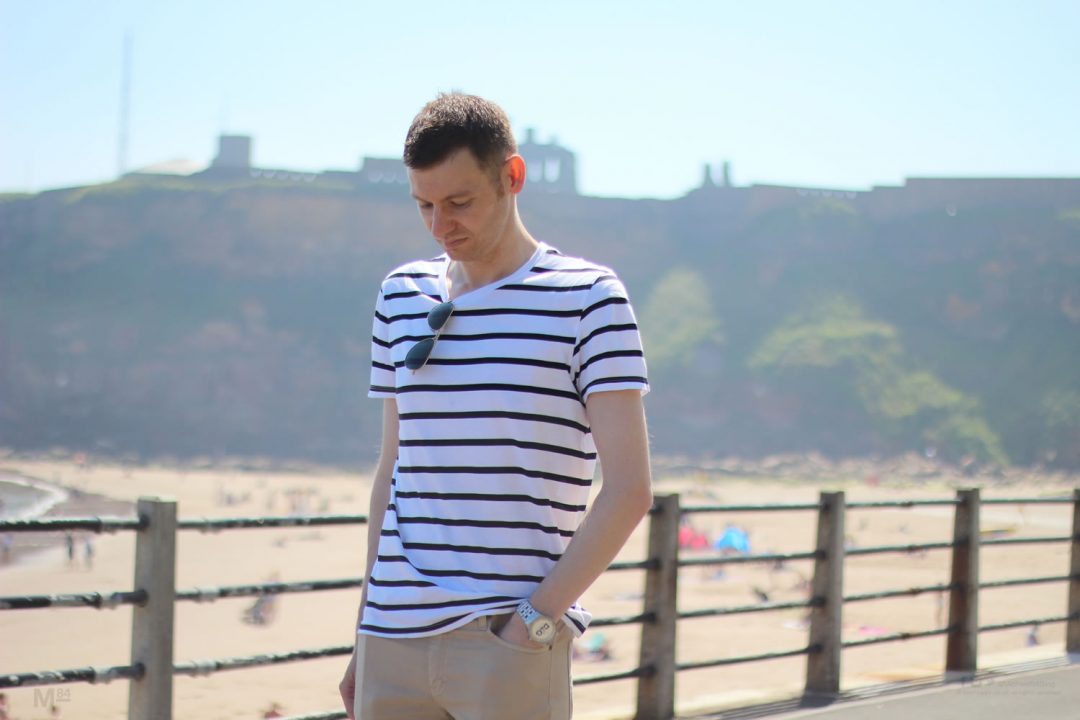 Wearing a smart nautical t shirt with a pair of sand chinos
Smart Casual For Men
When it comes to picking out smart casual clothing for men, most pieces can be considered, with a few caveats.
Virtually all clothing can be considered smart casual. However, there's certain styles of items which are too casual, and some which are too smart.
You should always remember to dress for the occasion. This is a critical part of getting smart casual right. Let me explain.
Smart Casual Outfit For Evening Drinks: Crisp Plain White T-Shirt, Dark Jeans, Smart Bomber Jacket, Brown Brogues
This can be considered a smart casual outfit. It uses a minimal colour palette and is contemporary. It utilises a casual T Shirt, however it's plain white which is classic and will look smart with a plain bomber and dark jeans.
However, if you've been invited to a wedding with a smart casual dress code, you will look under dressed.
Smart Casual Outfit For Wedding: White Shirt, Navy Blazer, Light Colour Chinos/Trousers, Brown Brogues
This is still a smart casual outfit, but for a wedding setting. This is more formal but keeps things casual, with no suit and tie but still smart thanks to a blazer over a shirt.
T Shirts
Are T Shirts smart casual?
The most common and casual piece of clothing you'll have in your wardrobe is the humble T-shirt.
You can wear a t-shirt as part of a smart casual outfit. You should choose something which has a very clean look to it. That means it should be plain in colour, or have tasteful stripes.
In the above picture, you can see I'm wearing a nautical T shirt which consists of navy stripes on a white tee. This is a simple and easy to wear piece, perfect for the summer.
You should avoid graphic t-shirts, or t-shirts with loud patterns or designs which really stand out. When it comes to your T-shirt, it should be understated. You can find out more in the ultimate t shirt guide.
Next up is the fit. This is important, and you should choose a fitted T shirt, and not a baggy or oversized option.
A plain T Shirt can be dressed up with other good fitting contemporary pieces to create a smart casual outfit.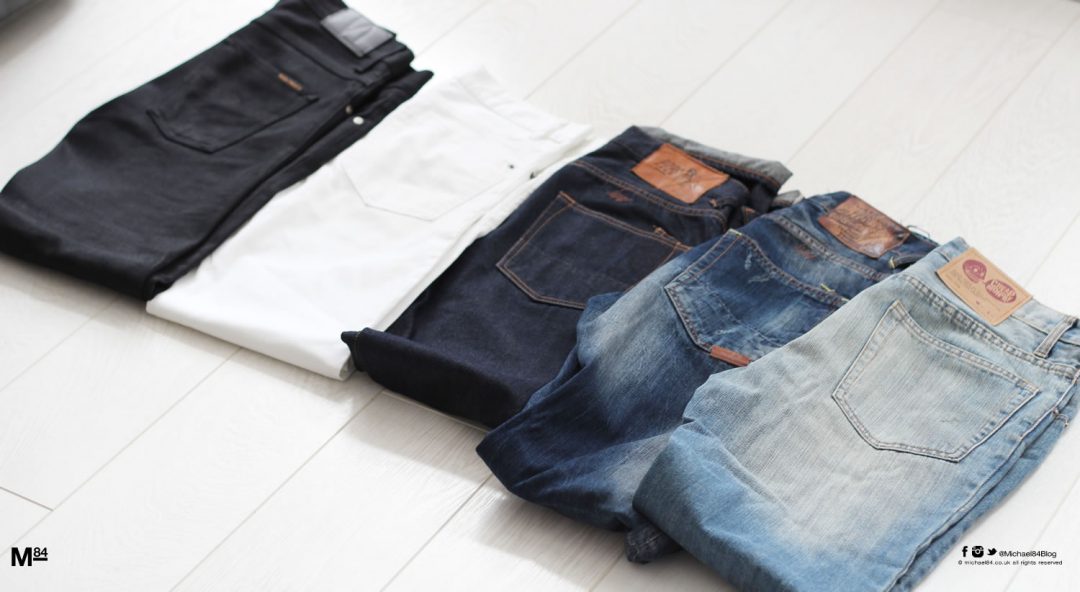 Jeans
Are jeans smart casual?
Jeans are fine to wear, as long as you wear the right type. I've already talked about the five pairs of denim you should own, so hopefully you have at least one of these.
If you're wearing jeans, they should be:
Plain and solid in colour (not distressed)
Preferably a dark blue or black
Light coloured denim works best in summer (but can be worn in other seasons if paired correctly)
You should make sure you wear the correct fit of jeans for your body type. For most types, a slim cut is a great fit.
A pair of dark blue jeans, indigo as they're know, are incredibly smart. You can wear black jeans if you want to go as dark as possible, which will bring out the colour in your other clothing choices.
Smart Casual Shirts
If you don't want to wear a T-shirt, another good option is a shirt. There's two different styles you can go for:
Plain Shirt
Patterned Shirt
When it comes to a plain shirt, you can opt to go for something classic such as a white or light blue shirt, or create a sleek dark outfit using black or navy. For more colourful options, pastel colours also work great too.
For patterns, there's a huge array to choose from. There's everything from pinstripe to regular stripes both vertical and horizontal, and various check patterns such as gingham and buffalo check.
When it comes to picking a pattern, it's all about taking a subtle approach for a smart casual outfit. It should be contemporary, so choose one which only contains 2 or 3 different colours at the most.
Whichever shirt you're going for, all shirts should be long sleeved. Short sleeve shirts are a much more casual way of dressing, so ensure that you're wearing long sleeves.
Chinos And Trousers
A good alternative to jeans are a pair of casual trousers or chinos.
If you're always wearing denim, a pair of cotton chinos are going to be a welcome break. Chinos look smart, and one advantage they have over jeans is that they are available in a large number of colours.
Colours such as ecru, white, beige and sand provide a nice light base for your lower half. You can experiment further with pastel hues if you really want something that's going to be different and stand out.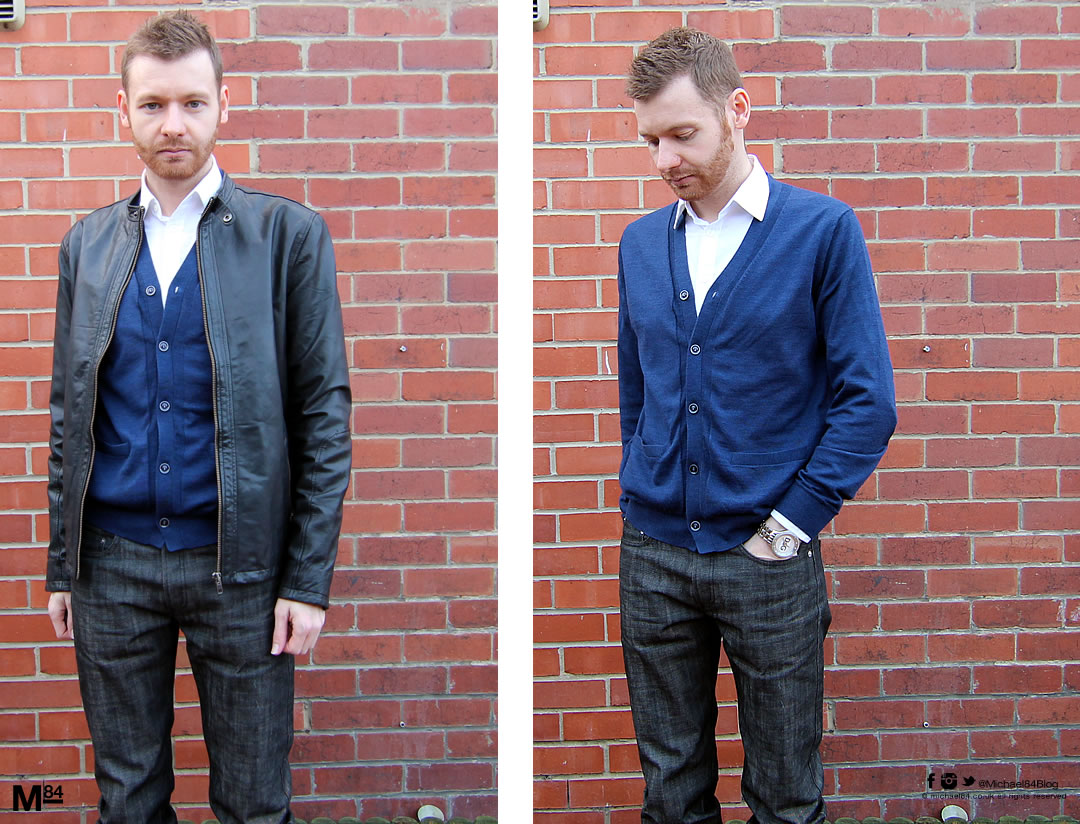 Wearing A navy cardigan, black jeans, black leather jacket and white shirt
Knitwear
When the weather is cooler, you might want to think about wearing some smart knitwear. The main choices are:
Jumpers and cardigans, especially solid colours look smart without looking too formal, and will keep you warm as well as looking good.
There's two main styles of jumper, V-neck and round neck. Both can be layered with an undergarment, with a shirt being preferable.
When it comes to a V-neck, part of the top of your shirt will be showing, whereas only the collar will show if you layer a round neck jumper with a shirt.
You should think carefully about the shirt and jumper colour combinations.
Another option would be a cardigan. I have always loved cardigans, I think they look smart.
You can also wear them a number of ways, buttoned up or left open. Once again you have to consider what to layer with the cardigan to keep the smart casual outfit looking good.
Finally and perhaps the smartest option is a roll neck, or turtle neck. Whatever you call it, a roll neck is stylish. You can layer this with a good jacket or coat and you'll look effortlessly fashionable.
In the colder months, a plain knit such as a sweater or roll neck will look stylish while giving you a casual edge.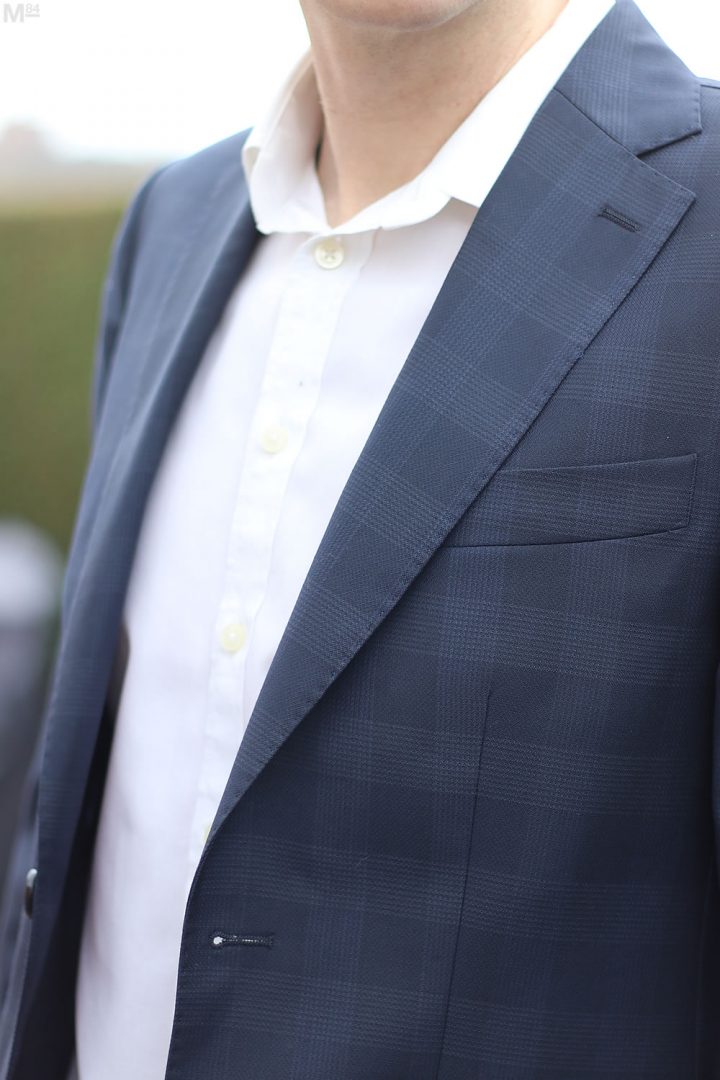 A more dressy option is wearing a shirt and blazer like above
Blazer
When it comes to throwing a jacket over everything, there's no smarter option than a blazer. Whether that's a light or linen blazer in the summer, or a darker wool option in the colder months.
You can instantly smarten up by wearing a blazer with a T-shirt, and create a really cool smart casual outfit.
You can of course wear it with a shirt too, which will always be on the smartest side of the dress code.
Throwing a blazer over any clothing makes it smarter almost instantly. You only need to worry about getting the combination correct, and when you do, your outfit will look well put together.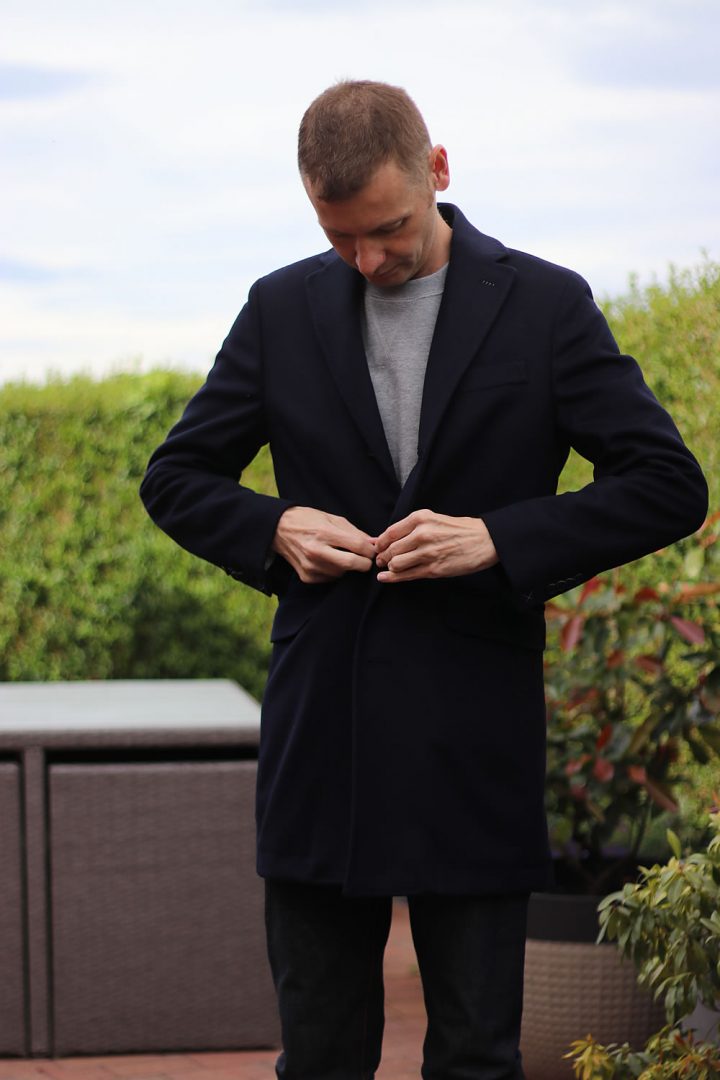 An overcoat with a sweatshirt make a great option for your winter fashion essentials.
Overcoat
When the winter hits and you need to wrap up, wearing an overcoat is going to be the go to coat.
I have a couple of overcoats now, including a camel coat, and I love it. Wearing this stylish piece means you can wear almost anything underneath and you'll still look on point.
My latest one is a navy blue colour you can see above. I've paired it with a plain grey sweatshirt. Otherwise a chilled and relaxed item, the overcoat makes the sweatshirt look as smart as ever.

Smart Casual Shoes
When it comes to smart casual footwear, virtually all shoes will be OK. If you're going for trainers, you'll want a pair of smart trainers.
What are smart trainers? They're ones which are clean, simple and look the part. A pair of white minimalist trainers can work, and you should avoid sports trainers.
Your footwear is important, and you should dress for the occasion. If a smarter outfit is required, wear a pair of brogues or other shoes. If you can go more casual, a nice pair of smart trainers will do the job.
Check out the guide on shoes every man should own, which covers plenty of footwear options for your smart casual outfit.
Watches & Accessories
You should never forget the small details. Utilising watching and other accessories in your outfit could be the key to making you stand out.
I have a minimalist watch which I think looks very good with almost everything. It's the perfect watch to wear with this dress code, and it really looks the part.
Other items you can wear to add a touch of class can be a simple pocket square. If you're wearing a blazer, add this in, and it creates a talking point.
Smart Casual Outfits
Here's some smart casual ideas for you to try yourself, or get inspiration from.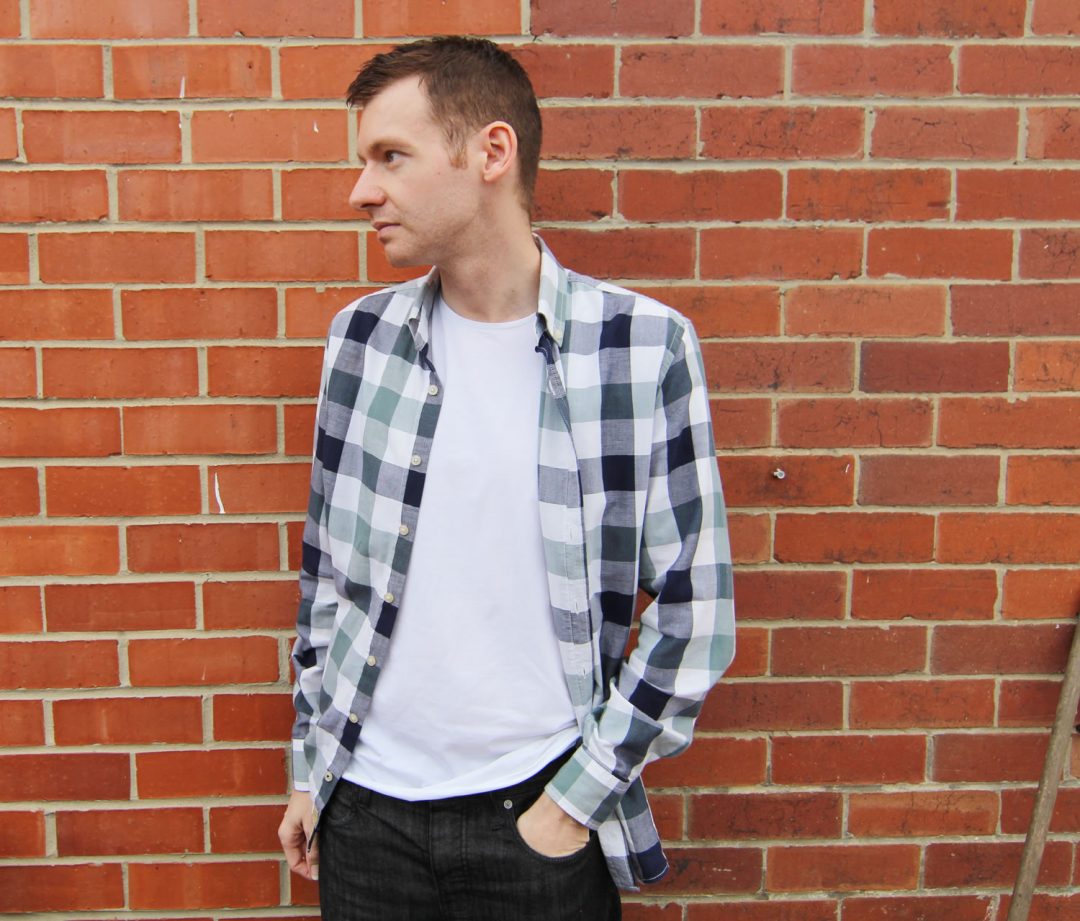 Smart Casual Spring Outfit
A great idea for Spring or Summer, layering a t shirt with a check shirt and wearing with black jeans.
White, green & Blue Check Shirt
White T Shirt
Black Jeans
Smart Casual Autumn/Winter Outfit
For this outfit, I have paired a cream roll neck with a camel overcoat.
These two colours work perfect for an Autumn smart casual outfit.
On the lower half I've gone for black jeans and a pair of brogues, and finished off the look with a scarf.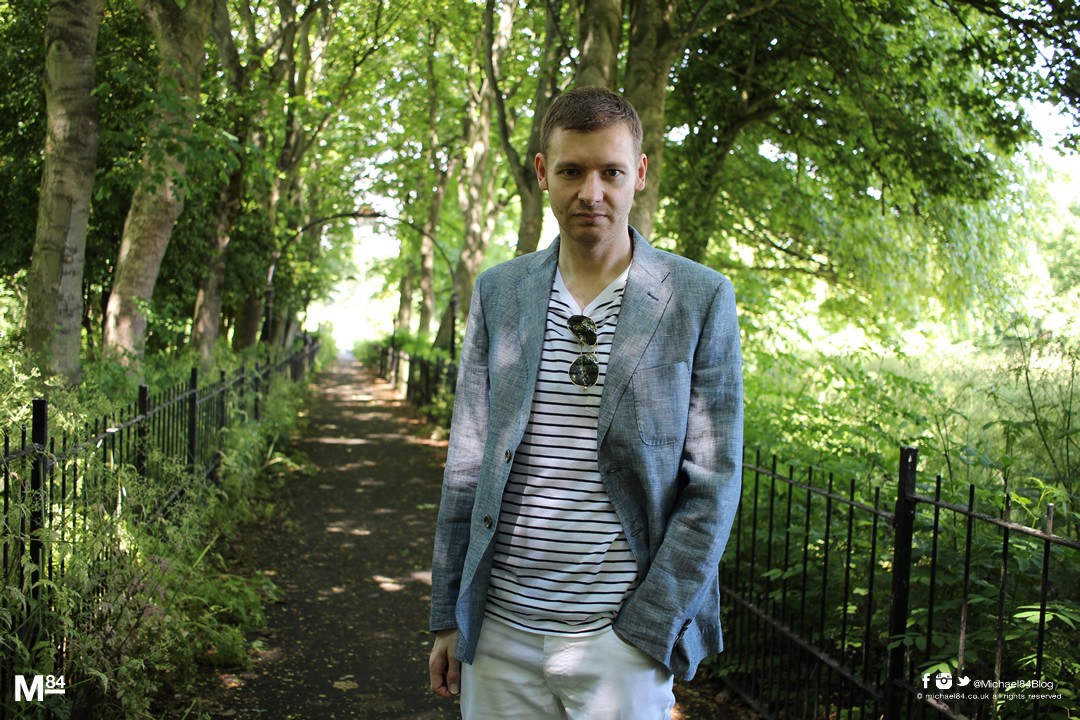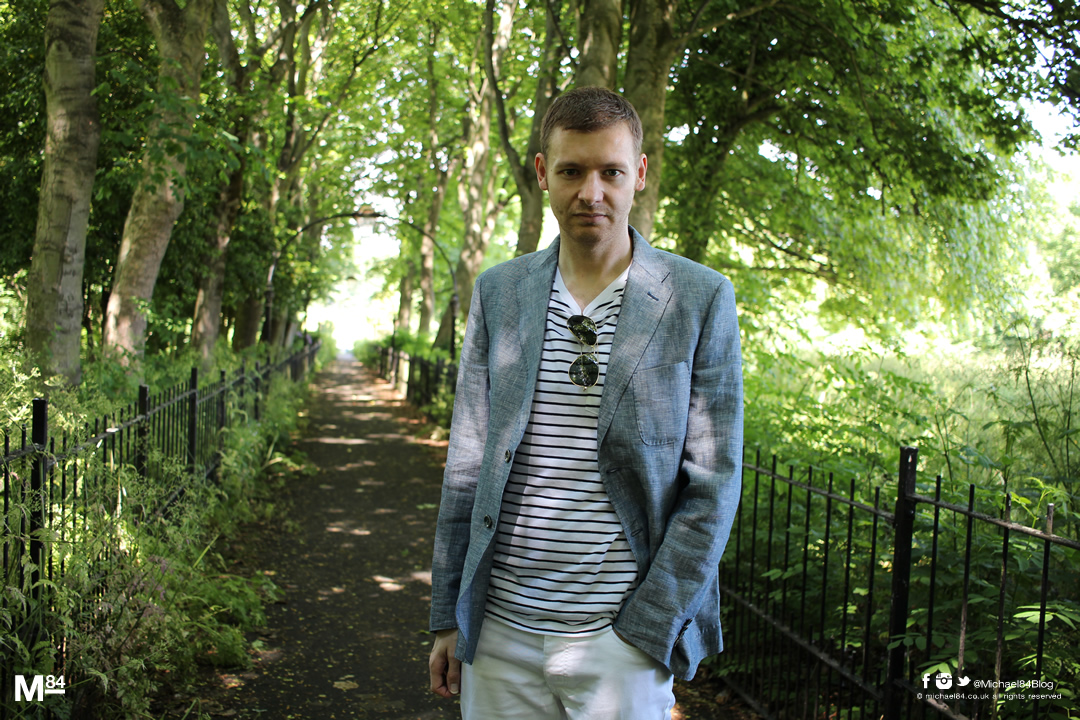 Smart Casual Summer Outfit
For a summer outfit, I've gone for a nautical t shirt with a pair of white jeans.
These are layered with a blue linen blazer, perfect for the heat of the summer.
Smart Casual Outfit Inspiration & Ideas
Outfit 1 – Black shoes, green trousers, light blue shirt, navy blazer.
Outfit 2 – Smart navy trainers, blue jeans, light blue shirt, blazer.
Outfit 3 – Smart trainers, navy trousers, check shirt, leather jacket.
Outfit 4 – Smart boots, dark grey trousers, grey knitted jumper, blue shirt
Outfit 1 – A red check button-down shirt with navy casual trousers, a light zip-up jacket with some casual trainers
Outfit 2 – A light paisley pattern blue shirt with slim fit cotton chinos, a slim fit cardigan and more formal style shoes.
Outfit 3 – A yellow-blue gingham style patterned shirt with a slim fit leather jacket, stretch jeans and smart trainers.
Outfit 4 – A grey sweater with white pattern shirt, grey wash jeans and sand suede shoes.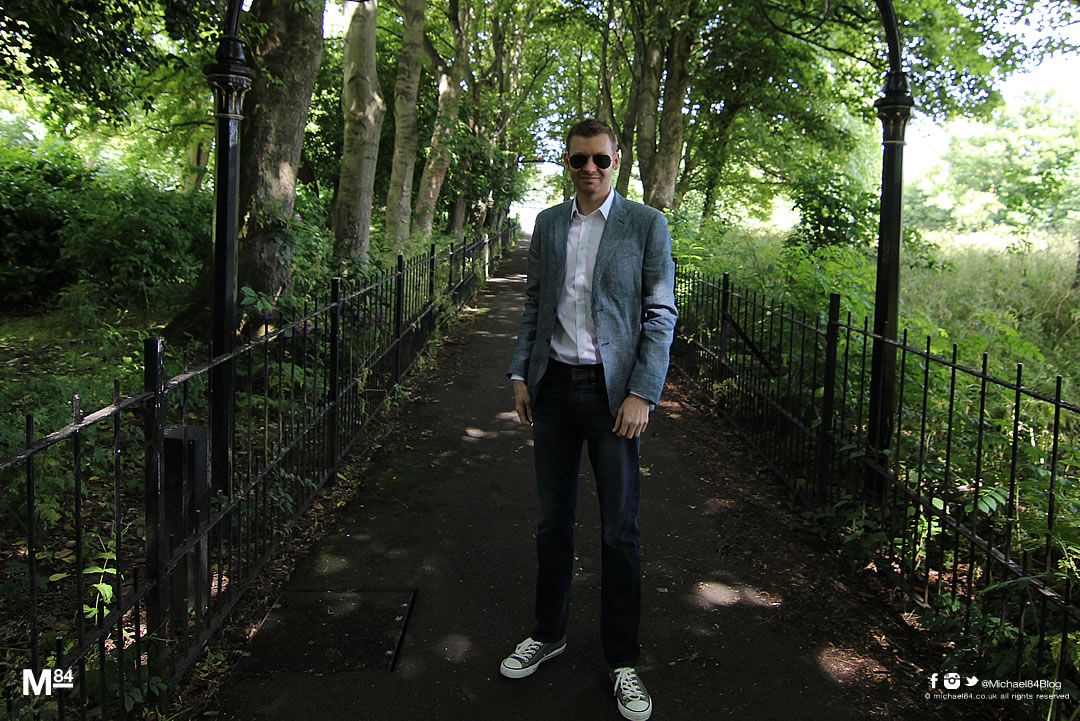 In this outfit I have paired a white shirt with a pair of slim fit denim. I have a linen blazer over it, adding to the smart look. To keep things casual, I wore a pair of grey Converse which works well in the colour scheme.
Smart Casual Faux Pas: Clothing You Should Avoid
No Sportswear
First thing's first, let's talk about what not to wear. No tracksuits or sportswear.
Track bottoms and tops are strictly super casual, no matter if it's high street or luxe sportswear, these are casual items and would look sloppy for smart casual.
No Suits Or Ties
Just like a tracksuit is too casual, a full suit is far too smart.
There should be no need for a tie either, and although there's casual ways to wear a tie (such as with a casual shirt) I would not bother considering a tie for a smart casual occasion.
You should avoid both sides of the extreme for a smart casual dress code. Stay away from sportswear and athleisure, and on the formal side, ties and full suits.
Smart Casual Dress Code Checklist
With all of that said, here's a nice list of do's and don'ts when it comes to the smart casual dress code.
DO:
Embrace wearing smarter, plain pieces
Wear jeans, as long as they're a dark wash
Make sure the clothes fit well
Layer in the colder months with smart knitwear, or plain sweatshirts
If wearing a T-shirt, ensure it's plain, and perhaps throw a blazer over the top
Choose smart trainers or casual shoes for your footwear
Keep the colour palette neutral or colours to a minimum
DON'T:
Wear a tie
Wear anything super formal, such as a suit
Wear anything super casual, such as sweat or tracksuit
Wear large logos or graphics
Wear ill-fitting clothes
Verdict
When it comes to a smart casual dress code, there's a huge number of options. The key is to combine the right pieces together, and not focus on a single item of clothing.
It is all about dressing well and being smart, without looking like you're trying too hard or over-doing it. You can get more in-depth reading in the men's style guide, which features smart and casual ideas for dressing your best.