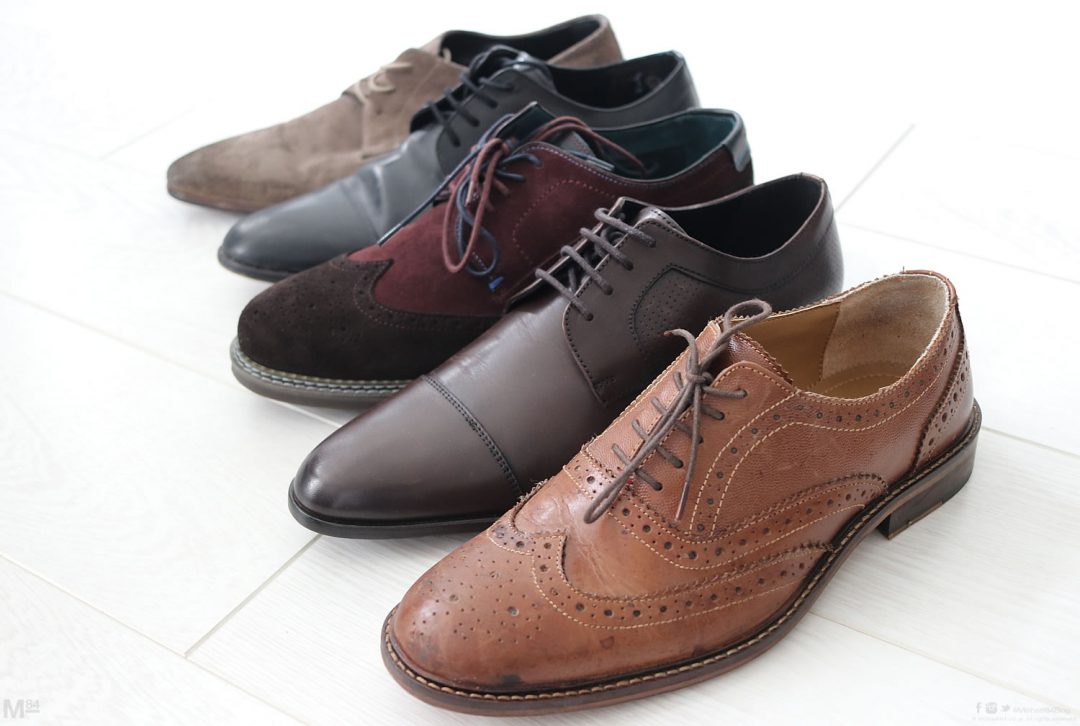 How many shoes does the average man own?
How many shoes should a man own?
Exactly which shoes, and which style are must have for any man's wardrobe? If you're thinking any of these question, you're in the right place. I am going to go through what I think are the shoes that every man should own, or to put it correctly, the footwear every man should own.
My shoe collection was terrible! I think we can all say we've been there at one stage or another, and maybe some are still there, but have no fear, this is the guide to help you. Back when I was younger I used to only footwear for 2 occasions; Smart and going out shoes, and then a pair for everything else.
This consisted of 1 nice, smart pair of shoes, which were usually derby or oxford, and then a pair of trainers for everyday wear. I hated shoes! This probably stemmed from having to wear them for school, walking around all day in uncomfortable footwear doesn't exactly get you to fall in love with them, not to mention teenage years being forced to do something!
But then as we all get older and develop style, I have found a love for shoes and footwear, not only a love, but an appreciation. It can be anything; From high end pieces to classic pop culture Converse, Made In England shoes with proper workmanship or street style, whatever your preference there's never been a better time to get into footwear.
With all of that said, what shoes does a man need in his wardrobe? Let's get into it!

Oxford Shoes or Derby Shoes
For going to more formal events, dos, weddings, nights out with the lads and every other smart occasion you can imagine, a pair of Derby or Oxford shoes will be the perfect choice. Since they cover a lot of different occasions, they're top of the list, and you'll want to get yourself a good pair of Oxford or Derby shoes.
There's plenty of styles and colours available, from a toe cap to a plain, and should be top of your list for when you want to add some smart footwear to your wardrobe.
Colours can range from the classic goes-with-everything black, to tan, brown or even something like Oxblood. If you're only going to be getting one pair and you're a fairly traditional guy, I'd recommend sticking with black.
For premium high end brands there's a huge choice available, and this style is timeless, so a good investment. Shoes above are from Loake and Church's.

Smart Casual Shoes – Brogues
When you want to wear a pair of shoes but you want something with a bit of a more casual edge while still remaining smart, you'll be looking to go with brogues. As far as shoes go, they're probably the go-to smart casual pair of shoes, with a lot of different variations available.
Brogues can range from a full brogue also known as a wingtip, to a semi or half brogue, quarter brogue and other modern styles. When you're looking to put together a smart casual outfit, brogues are a great starting point.
Talking about brogues deserves it's own guide as it can be a large subject, but know that you want to have a pair in your shoe armoury. If you're going for black dress shoes, you might want to mix things up a little in the brogues, go for tan or a shade of brown.
As seen above are Ted Baker and Church's

Smart Trainers
When shoes are just too stuffy and you want something more relaxed, but sporty shoes are too casual, you need a pair of smart trainers. Smart trainers are good, because they are comfortable, and smart enough to pass for a lot of your daily life style without looking sloppy.
Out in the daytime shopping? Going for a bite to eat, or a Friday night drink with the lads? Smart trainers could be your go to option. Key things to look for would be usually a leather upper, with absolute minimal styling, and one colour. High end brands are always a good go to idea when looking for a smarter trainer, with other cheaper alternatives also available.
Smart trainers shown: Hugo Boss, Common Projects, Kurt Geiger

Sports Or Running Trainers
The gym or working out is now ingrained into most guys lifestyles. Whether you're like me and you go on a run, you go to the gym or you do a bit of everything, you'll need to have a good pair of sports or running trainers.
Being active and keeping fit is something more and more people are taking seriously, and gone are the days when sports style is looked down upon, and today it's all about the classics from the brands who've been established in sports footwear for a long time, or going for the high end, sports luxe shoes.
Options shown here include Asics Gel Nimbus, Nike Air Max 2017 and Adidas Ultraboost

White Trainers
White trainers come and go in fashion, but in recent years they've certainly regained in popularity and that all important cool factor. They're perfect for the Summer, and white will go with more or less any colour you're wearing, and so are very versatile with the rest of your outfit.
One of the most popular options has been the Adidas Stan Smith, which was relaunched a few years ago by Adidas Originals, with other brands following this trend quickly.
The darlings of the street wear culture have been Common Projects, with plenty of sneakerheads preferring the £300 trainers over the Stan Smith's.
Trainers Shown: Common Projects, Adidas Stan Smith and Converse All Star

Chelsea Boots
It's kind of hard for me to put Chelsea Boots on this list, as I don't actually own any, but I've been looking to get a pair asap. Chelsea boots are cool, and they're a great go to pair of footwear when you want something which is kind of like a shoe in terms of style, but less stuffy, but smarter than your average pair of trainers. There's two particular types you can opt for in terms of their construction; Traditional leather or suede.
The suede option looks the best in my opinion, but these types of boots are better in the colder months, and of course suede and cold weather, in particular rain, don't exactly get along. You'll need to invest in some suede protector to keep them in good condition, but I think that a pair of suede Chelsea Boots will make a good investment.
There's so many colours available too, with brown, tan, grey and black being some of the best choices.
For popular boots, there's always a debate around Chelsea or Chukka. The way to think about it is smart vs casual, which is what both sides of the scale these boots lie on. As we know, it's easier to style down the smarter Chelsea boots then try dressing up some Chukkas.
Choices in the picture above are from Kurt Geiger and Saint Laurent.
How Many Pairs Of Shoes Does The Average Man Own?
If you've read the above you may be worried that you are lacking in the footwear department, but don't worry about that. Generally, the average man only owns 2 – 3 pairs of shoes, but this largely depends on lifestyle. Guys will usually have a smart pair, a casual pair and then an alternative.
This is usually an Oxford or Derby style for smart, then a pair of dress down shoes or smarter trainers, and then some sports trainers if it's an active guy.
Remember to check out my tips on what colours shoes to wear with a blue suit, if you're wondering which colours to wear in these styles of footwear.
It's always good to own a few pairs of shoes, one in each style, and mix up the colour. Good quality shoes should last a long time, and if you have a few pair, they'll last longer, as you'll inevitably be wearing each pair less. If you want to own only 4 pairs of footwear, this could be:
Black Oxford Shoes (Smart option)
Brown Brogues (Smart Casual)
Smart Trainers (Smart Casual / Laid Back Style)
Sports Trainers / Summer Trainers (Gym/Sports, or Summer Option)
The Oxford and brogues should have the most longevity as they're timeless classics, they'll not go out of style. Depending on the style of trainers you go for, these could come in and out of fashion, with the big brands Nike and Adidas always creating new styles and variations of their trainers.
If you have all of the above, you want to get some more footwear or you prefer a different style, there's other options to consider too.

Slip Ons
There's a vast array of styles and variations of slip on shoes, made from different materials with different looks. In regards to materials, leather and suede can be used. The styles and terminology you may come across are: Driving shoes, moccasins, loafers, penny loafers, tassel loafers.
What are the differences between moccasins and loafers?
Both are slip on shoes, however the main differences are that moccasins have a flat sole with no heel, they're made from soft leather (suede), whereas loafers can be made from suede or hard leather, and have a heel. Since moccasins are made from suede you should wear them in the seasons with fairer weather, they make a good driving shoe.
Typically men wear trainer socks or "no show" socks with slip ons, which give the illusion of wearing no socks at all. (Check my guide on how to go sockless).

Espadrilles
Espadrilles are typically made from canvas, and are a plain slip on shoe. They have no heel and a flat sole, and their classic style is a completely plain upper, with no strapping or laces, however some brands are now creating lace up options. If you go for espadrilles, go for the traditional look, a simple casual slip on.
Espadrilles shown above are from H&M, Havaianas and TOMS.

Boat Shoes
You may know boat shoes as deck shoes, and they're pretty distinctive. They have a rubber sole which is designed for grip and have the best water protection, since they're original principle design was for boating, the name is a give away. Another distinctive design feature is the laces which run around the topsides of the shoe. This was functional, but on many shoes these days it's just for tradition and is decoration.
Boat shoes above are from Sperry, Quoddy and Kurt Geiger

Chukka Boots
Boots in a low profile style, that's what the Chukka boot is all about. If you like the idea of a boot over a casual shoe, but don't like the high tops of the usual boot style, then a chukka is what you're looking for.
Chukka boots show are from Common Projects, TODS and Paul Smith
What's the difference between a Chukka Boot and Desert Boot?
It's kind of like the old discussion of what's the difference between a Wingtip and a brogue (If you don't know, all wingtips are brogues, but not all brogues are wingtips). Similarly, all desert boots are chukkas, but not all chukka are desert boots. The difference is that desert boots feature a natural crepe rubber sole which is usually rougher and thicker, with chukka boots having a leather or rubber sole.

Monk Strap Shoes
They are slip ons but deserve their own section because they are more smart than casual, we're talking the monk strap. It's where the smart Oxford meets a casual loafter, you get this. When you want a smarter shoe but want something which is an alternative to a lace up shoe, the monk strap is there for you.
There's plenty of styles available, ranging from a single monk strap to the double monk strap, and can come in a suede or leather construction.
When it comes to colour you can really go to town with this style, classics tan, brown and black are obvious choices, but if you really want to stand out a wine or oxblood colour look great.
Choices above from George Cleverley, Magnanni and Crockett And Jones

Patent Leather Shoes
One of the go to shoes for an ultra formal event or occasion, the patent leather shoe is strictly black tie. If you aren't familiar with the term, you've probably seen the shoes. Think high shine, glossy shoes, those are patent leather, and you can get these in a varitey of the styles listed above, the usual will be a derby or oxford.
Needless to say these are pretty formal shoes, you'll not be wearing them for any other occasions, and there's plenty of other shoes to cover a smart event. However, if formals are part of your usual life, then a good pair could be worth the investment.
All the patent leather shoes above are from Ted Baker.
Have I missed any? Yes! I probably have, as there's so many different styles, or variations on styles of men's shoes. But hopefully I've covered the basics and some of the most popular shoes you'll likely to need or encounter.
What's your favourite style of footwear or your must have shoe? Let me know.
Feel free to share the infographic below. Please remember to use michael84.co.uk as the source