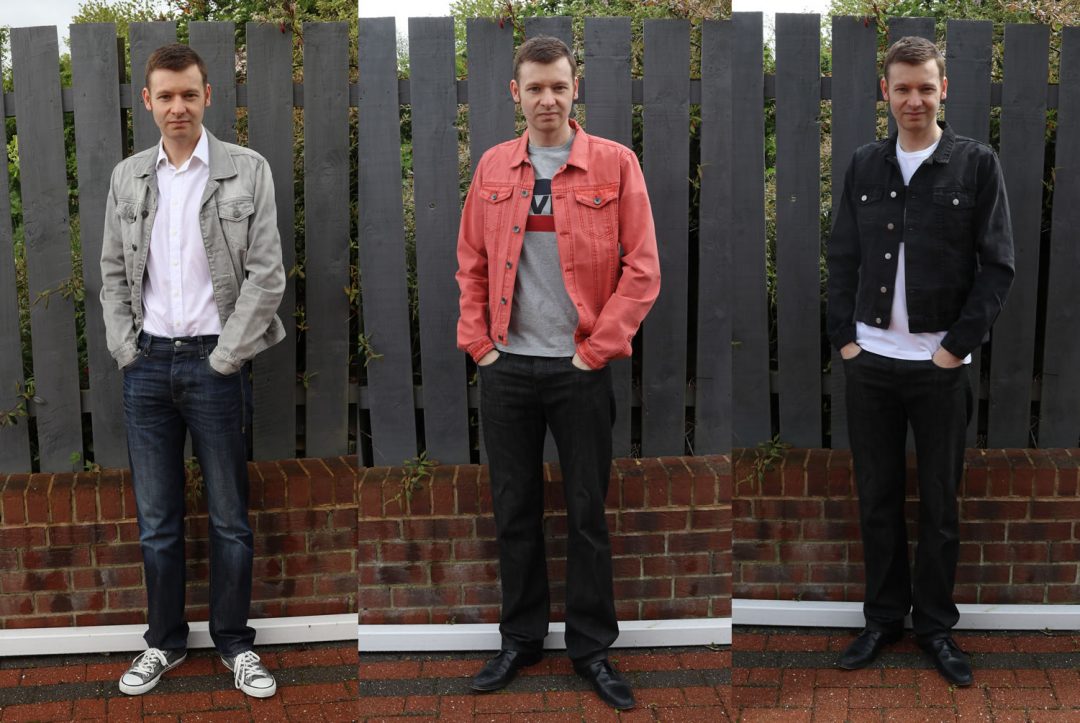 Denim Jacket Outfit Ideas – How I Style Different Denim Jackets
One of my favourite things about the warmer weather is the choice of different jackets which are available to wear every day.
When it comes to wearing something casual or even smart casual, a denim jacket is a great choice.
Jeans aren't just made for your lower half, jackets have been popular in fashion for years, and that's not going to change any time soon.
I'm sharing some tips on what to wear with one, with some outfit ideas and a guide on how to pull off this look stylishly.
Are you ready? Let's Go!
Personal Style: How I Wear My Denim Jacket
When it comes to wearing a denim jacket, personally I like to wear it as a smart casual piece of clothing. I usually team up my denim jacket with a pair of contrasting colour jeans, plain t-shirt and casual shoes such as brogues or smart trainers such as Stan Smiths.
Check out my guide below on when and where to wear a denim jacket, and some outfits you can create with this great staple piece of fashion.
Where To Wear A Denim Jacket
As already mentioned, a denim jacket is a casual item of clothing. You may be able to dress this up in more of a smart casual setting, but it will be on the edge of smart casual towards the more relaxed side of things.
There's plenty of places and occasions you can wear a denim jacket. These include:
As a casual everyday jacket in Spring and Summer
Going on a night out
Going on holiday – Sightseeing on a city break
Wearing On A Weekend
Dress Down Friday
What To Wear With A Denim Jacket
You have to consider what you're wearing on your bottom half when you're thinking about putting together an outfit with a denim jacket. These are some of your options.
Chinos
Chinos are a great idea for your lower half when it comes to pairing with a denim jacket.
Chinos are stylish, but perhaps their best quality when it comes to this outfit choice is the vast array of colours they come in. A lot of the time denim jackets will be blue in colour, and you'll want to avoid wearing jeans of the same colour.
That's where chinos come in.
Team up a pair of beige chinos with a denim jacket which will look the part. (Here's more ways to wear chinos)
Blue Jeans With a Denim Jacket
Indigo jeans are a really stylish item. If you're wearing a light blue wash jean jacket, or another colour, indigo jeans could be a way to go.
If you're wearing indigo jeans you'll want to avoid wearing the same colour jacket, otherwise you'll be doing the double denim trend. – Not something a lot of people like, but more on that later.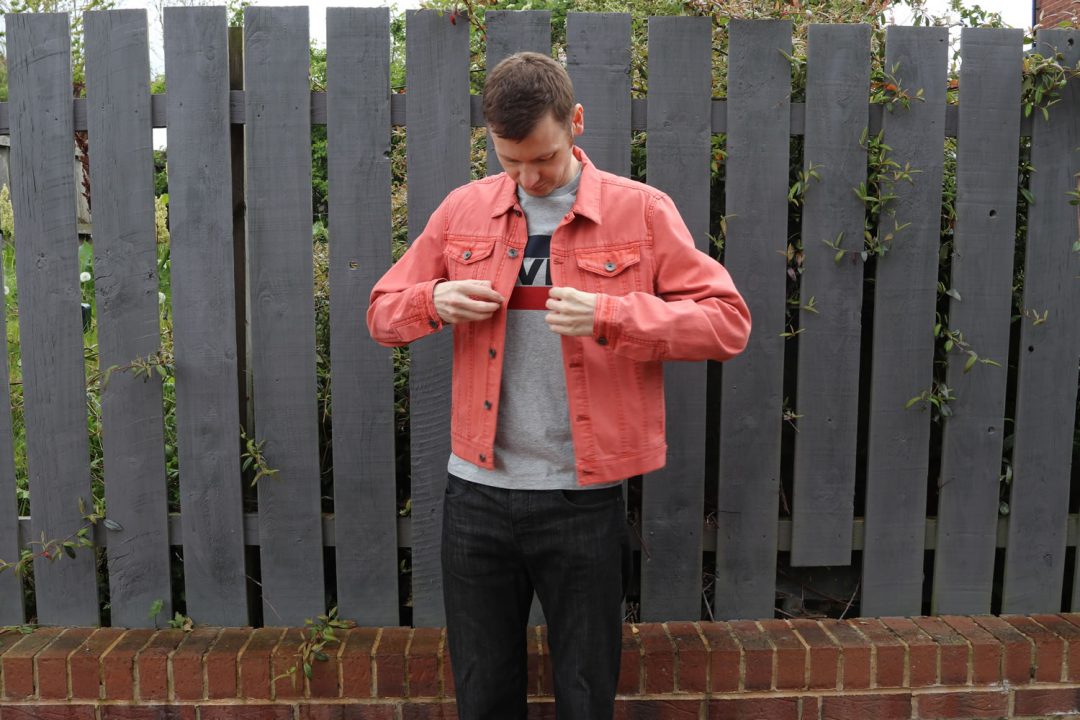 Here I'm wearing a denim jacket with black jeans and a grey Levi's t-shirt
Black Jeans
If you prefer jeans over other trousers on your lower half, black is the way to go.
Black always looks stylish, and you can wear a pair of black jeans with almost any colour jacket and it will look the part.
Even combining black jeans with a black jacket will be fine, giving you an all black outfit. (Here's more ways to wear black jeans if you're looking for a style guide)
Trousers With A Denim Jacket
To add an air of class to your look, wearing trousers with a denim jacket is a good way of going about it.
A pair of casual trousers in grey will work well with most colours of a jean jacket. Avoid similar colours together, if you're wearing a light grey shade of trousers make sure the jacket is a dark or otherwise contrasting colour.
With Joggers
If there's one item which you can wear on your lower half these with casual style these days it's joggers. The trend is current and joggers are fashionable.
You can wear a pair of joggers with a denim jacket for a cool casual outfit which is really laid back. Go for a pair of tailored joggers which will be a better fit, in a solid colour which compliments the jacket.
The best bottoms to wear with a denim jacket are of contrasting colour. Chinos or trousers are among the best to go for, as they're available in many colours. You can also wear a contrasting colour of jeans, for example black and blue when it comes to jeans and the jacket respectively.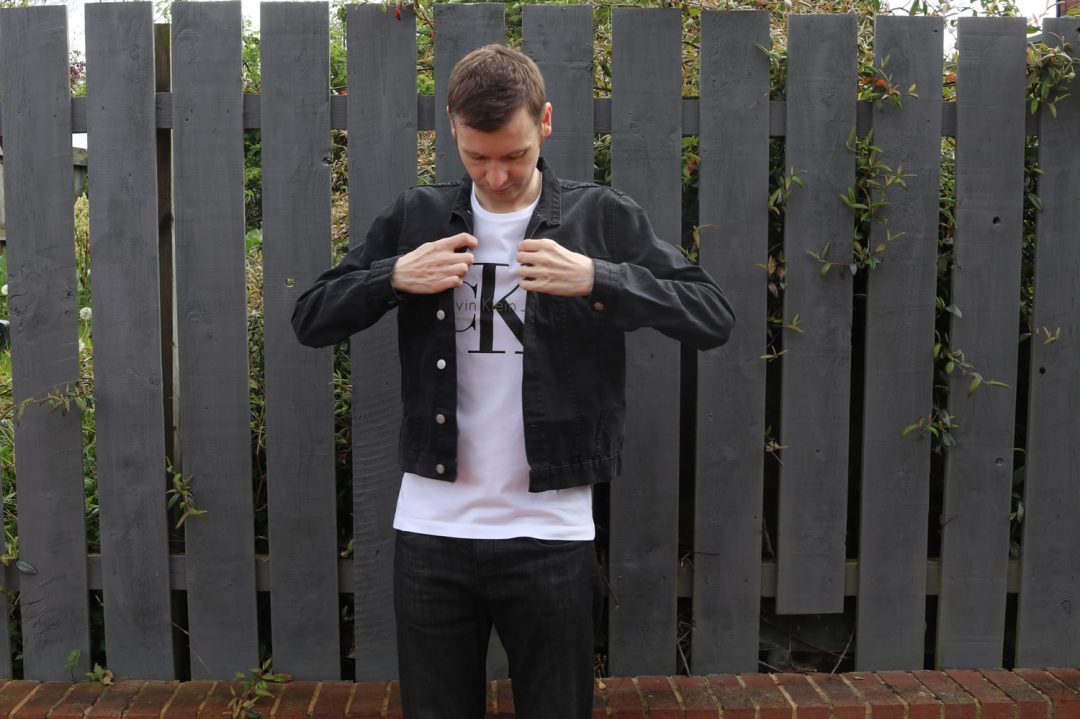 This is me wearing a black denim jacket with black jeans and a white t-shirt
With A White T Shirt
The absolute classic piece of clothing to wear with a denim jacket is a white T Shirt.
The basic white t shirt may be simple, but it's the foundation of many great outfits, including a white t-shirt denim jacket combination.
In the outfit above, I am wearing my black denim jacket with a white t shirt and black pair of jeans.
This gives a monochromatic look using black and white well, giving it a smart casual edge.
Check out the best white t shirts you can buy here.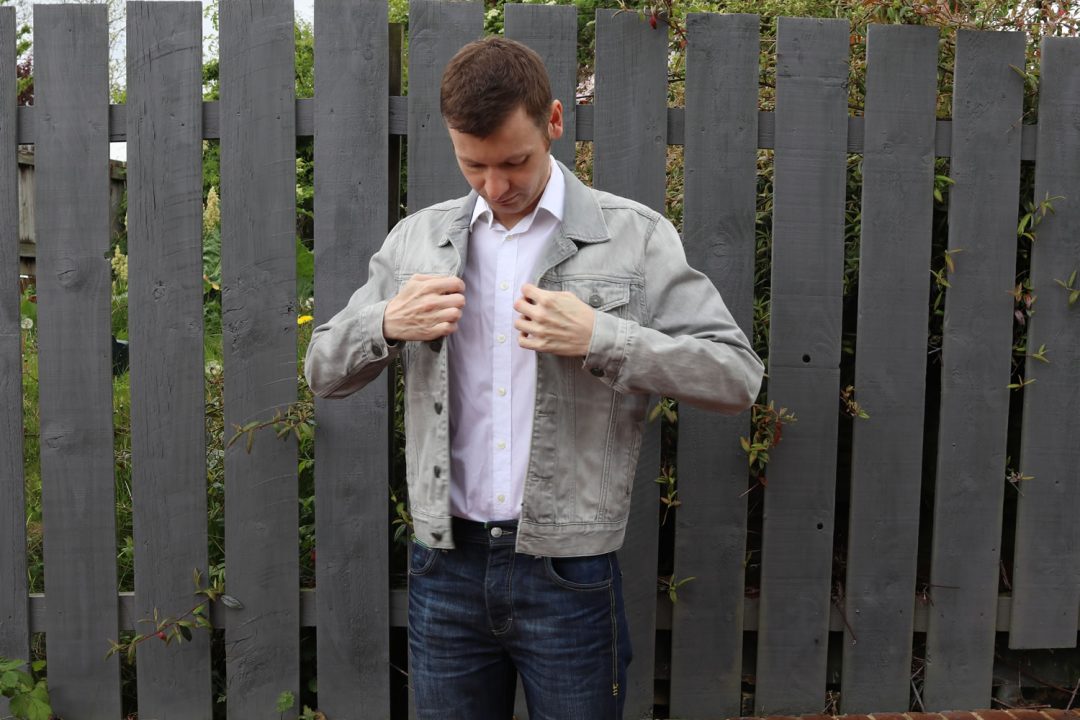 This is me wearing a white shirt with a denim jacket and blue jeans
With A Shirt
If you'd rather go for something a little smarter, wearing a casual shirt with a denim jacket is going to fit the bill.
Once again you can use the white shirt and denim jacket combination, this time with a long sleeve white shirt.
All types of shirts are good options, with solid colours being the most preferable.
A check or other pattern shirt could also work, but you have to ensure that there's no colour clashes with the jacket.
Here's more of what to wear with a white shirt.
Layering A Denim Jacket With A Hoodie
When the temperature drops a bit, you can still wear a denim jacket, layering with a hoodie.
As with all of the other options listed here, choosing the right colour combinations is imperative. Pairing a black hoodie with a grey or light blue denim jacket is going to work well.
The reverse contrast will work well too, wearing a black denim jacket with a white or light coloured hooded sweatshirt.
Layering With An Overcoat
Despite what some may say, you can wear a denim jacket in winter. Personally I would not choose a denim jacket in Winter, but if you love your denim, then it can be done.
One of the best ways is wearing with another, bigger coat. That's where the overcoat comes in.
You can layer this over the top of the denim jacket, which will have something underneath, creating three layers of clothes.
What Shoes To Wear With A Denim Jacket
When it comes to what shoes to wear with a denim jacket, you should opt for a casual or smart casual pair of footwear. This will keep the whole outfit looking on point, and keep within the style you're going for.
Brogues are always a good choice when it comes to smart casual footwear when you want to go for a leather shoe. Derby shoes can also be worn, and will keep the outfit looking sharp.
Wearing smart trainers are another good option when you want to keep the outfit on point. A simple, single colour all leather option is a good pick when it comes to trainers.
The all white Stan Smith trainers from Adidas will never disappoint in this look, and will keep your outfit looking fresh.
Not sure which shoes to wear? Check out the shoes every man should own here.
A Note On Double Denim
So you want to go for the double denim look after all?
It's not a hard look to pull off. It's as simple as matching up your denim jacket with a pair of jeans in the same colour wash, or a wash which is really close. Once that's done you're rocking the 90's double denim look.
Denim Jacket Colours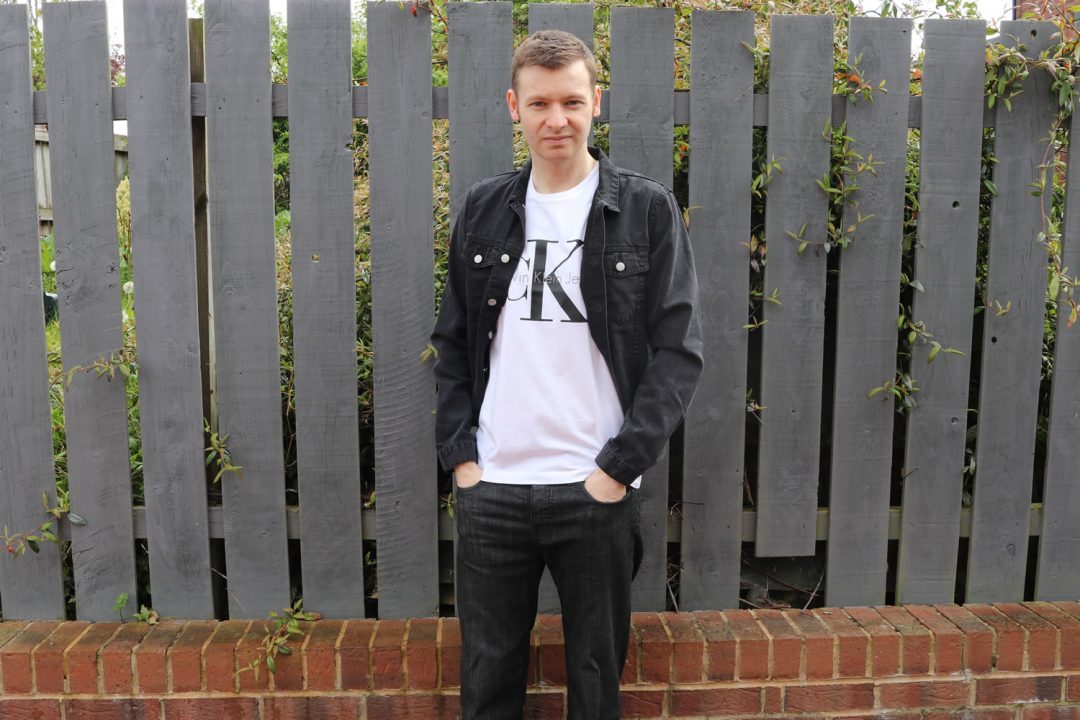 Black Denim Jacket
I think that a black denim jacket is a really good colour.
Generally speaking, black is a universal colour, and that's true when it comes to denim jackets. You can have a colour combination with anything on your lower half and it will look the part.
You'll be able to wear it with any pair of jeans or chinos and it will never look out of place.
If it's your first foray into denim jackets and you're looking for one which will work in any situation, black is not the classic colour, but one which will be the smartest and most versatile.
Blue Denim Jacket
The classic and most traditional colour for a denim jacket is a light blue wash.
When you think of jean jackets or any kind of denim at all, this is probably the colour which comes into your mind first.
If you regularly wear it on your bottom half you may want to take a miss on the jacket in the same wash, unless you're going for that double denim look.
Having said that, it can work well, and is the most synonymous colour when talking about denim, so will give you that classic look.
Pair it up with a white shirt and black pair of jeans or trousers which will give your look more dimension.
White Denim Jacket
If you want to go for the ultimate clean look, the white denim jacket will do that.
White jackets are usually quite a difficult item to pull off, you have to make sure that you're wearing the right combination of shirt and bottoms to ensure it doesn't look silly.
However as this is more of a casual affair, it will not look as outlandish as another style of white jacket may do. For a white out look you can wear it with a white tee, while a black or dark top will give a lot of contrast.
A light or pastel Summer colours will keep everything looking light without being too overpowering.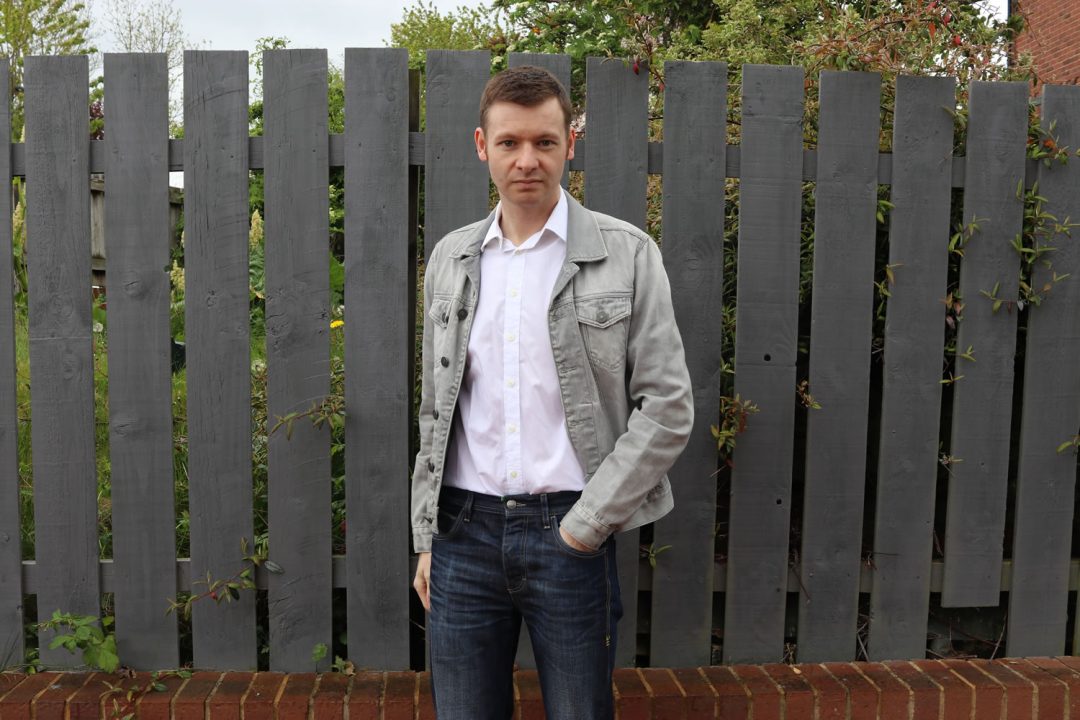 Me wearing my grey denim jacket along with blue jeans and a white button up shirt
Grey Denim Jacket
I bought this grey denim jacket from All Saints a couple of years ago and I love it. Even though it's a couple of years old now, it's a classic colour which is going to remain in style as long as a denim jacket is on trend.
I can wear this with pretty much anything. When it comes to throwing on a denim jacket this one is always my go to.
It's really great quality, practical (i.e. has pockets) and the colour goes with pretty much anything I'm wearing.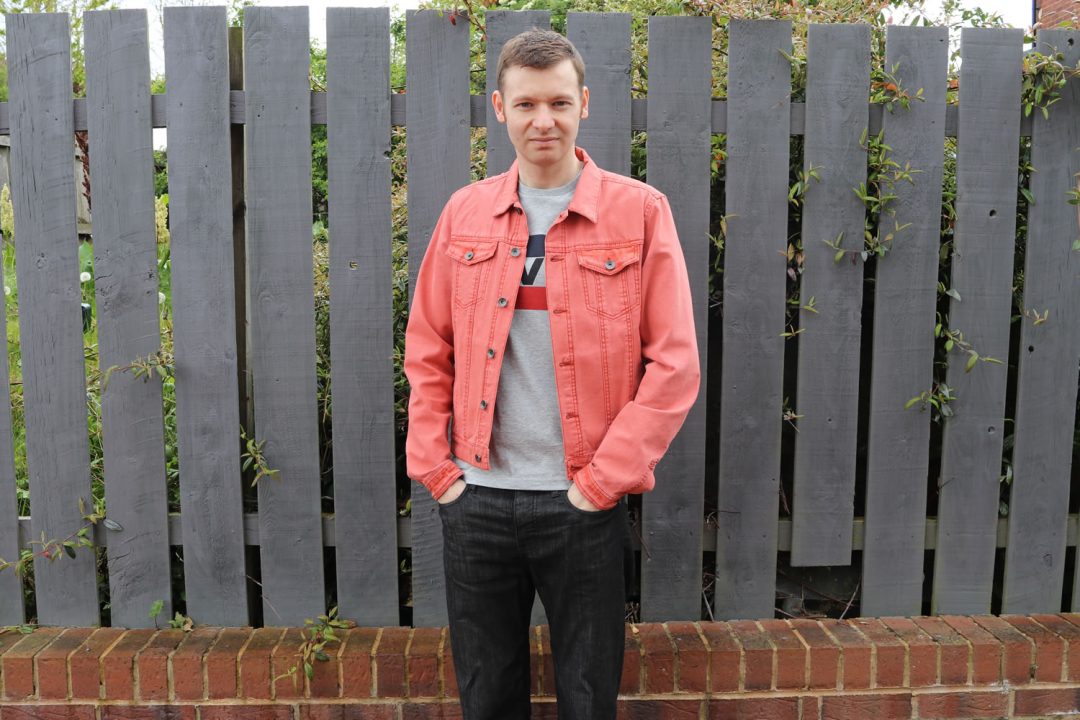 Wearing my rusty red/orange denim jacket with black jeans and a grey t-shirt
Red Denim Jacket
You can wear a statement denim jacket colour which will stand out and make your whole outfit. There's plenty colours to choose from, including red, orange, blues and greens.
This is my statement denim jacket, it's an orange rust colour jacket from minimal Danish brand !Solid.
I like it for it's individuality, which is something I like about style, it's unlikely there'll be someone wearing a similar jacket which you can't usually say about a lot of other pieces.
Since this is such a distinctive colour, I'll only wear staple colours which compliment this jacket.
That means nothing else too bright or loud, so I've gone for a grey T-shirt which compliments the jacket colour well.
Other Colours Of Denim
As with regular jeans, denim jackets are dyed and you can get every colour under the sun. There's pastel colours, bright bold colours which pop and more neutral tones.
If you want something which will last and stand the test of time I would go for a more traditional or classic colour such as a light wash or black, and stay away from the bright colours such as a bold red or blue.
There may be a time where they're on trend, but once that trend is over, your jacket will remain in your wardrobe unworn.
How Should A Denim Jacket Fit
As with everything in fashion and style, fit is key. This is how a denim jacket should fit.
There are different fits, as with most things, so in terms of that there's not really a right and wrong as such.
Most fashionable denim jackets are bomber length or slightly shorter, and if you're wearing an un-tucked T-shirt or shirt, it will almost certainly be longer than the jacket.
They should fit close to the body, not tight but not too loose or baggy. Although the jackets have buttons to fasten, they're almost always worn open, so never a need to fasten up the buttons.
Denim Jacket Outfits
There's so many outfits you can incorporate into a denim jacket. Here's some outfit ideas on what outfits you can create using a denim jacket.
Outfit 1
Black denim jacket
White T Shirt
Black Jeans
Black Derby Shoes
Outfit 2
Light Blue denim jacket
White T Shirt
Indigo Jeans
White Trainers
Outfit 3
Blue denim jacket
Navy T Shirt
Grey Tailored Trousers
Black Trainers
Outfit 4
Indigo denim jacket
White Button Down Shirt
Beige Chinos
Brown Brogues
How To Wash A Denim Jacket
Taking care of your denim jacket is something which you'll inevitably have to do. When it comes to washing, the usual denim rules apply, for me, and many, the key is to wash as less as possible.
You can air the jacket out, spot clean if there's a little dirt, but you should not wash it in the same way you may wash your favourite T-shirt.
Wash it in cold water on a short cycle inside out, and as mentioned, only wash when necessary.
How To Wear A Denim Jacket: Key Takeaways
Wear a denim jacket as a casual or smart casual jacket
Use a contrasting colour for the rest of your outfit
Wear with casual shoes or smart trainers
Chinos or casual trousers are good options for bottoms
Verdict On Denim Jackets
Denim jackets are perfect for Summer. When the sun goes down and it turns a little chilly, or you just want to add something to your T-shirt to give your outfit something extra, a denim jacket will do that for you.
With a range of colours and washes, there's plenty out there for you to check out. Whether you're looking to add to your collection or it's your first foray into this style.
You can find more style guides if you're looking for advice and tips on how to dress better.