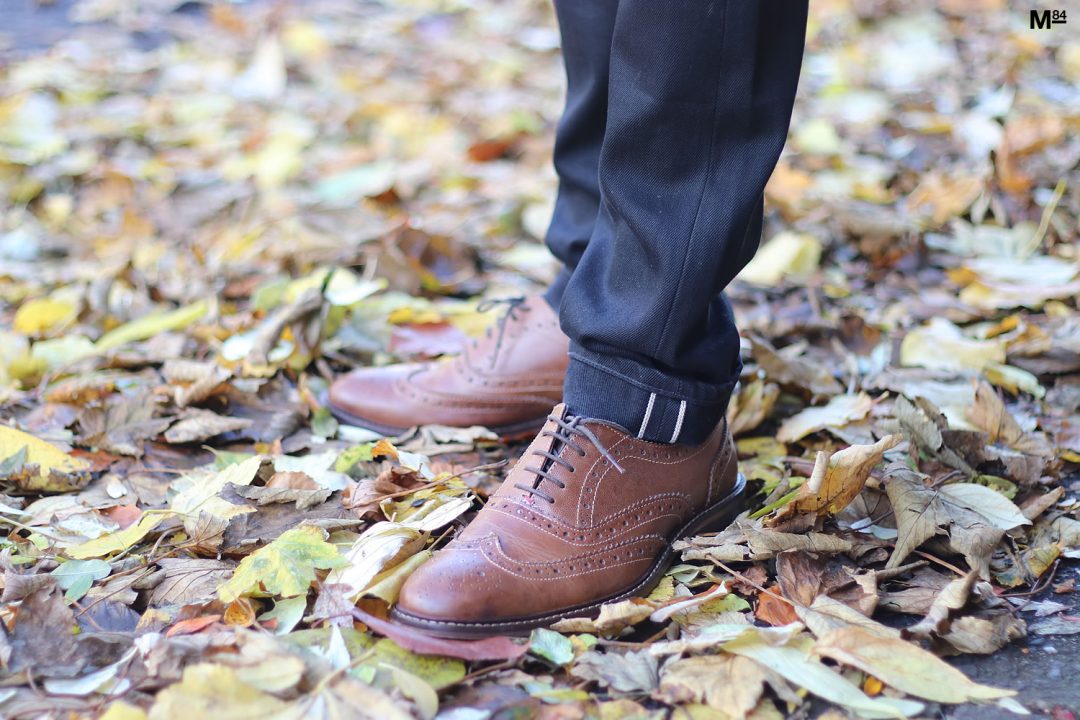 If there's one question that a lot of people ask about brown shoes, is that can you wear brown shoes with black pants?
It doesn't matter whether you're talking about trousers, jeans or even chinos, there can be hesitation when picking out a pair of shoes to pair with black.
However, you don't need to worry:
Yes, You can wear brown shoes with black pants, and here's how to do it.
Brown Shoes With Black: The Right Occasion
When it comes to pairing brown shoes with black, you have to ensure that the occasion is right. Pairing brown and black works well for a smart casual or casual outfit, and here's some of the situations which you might think about pairing them up:
Smart Casual Outfit
Office Wear
Going Out With The Boys
Date Night
Weekend Outfit
Casual Wear
A word on black tie: A black tie dress code is a strict dress code. This means that you should be adhering to that dress code, which means black formal shoes. Therefore brown shoes are unacceptable for this occasion.
Types Of Shoes
It's important to wear the right shoes for the right occasion, no matter what the colour. There's so many types of shoes, each one suited to different occasions. Typically, the shoe types you'll likely encounter are:
Oxford Shoes
Derby Shoes
Brogues
Monk Strap
Loafers
Chelsea Boots
Chukka Boots
There's also different materials being used too. The most common will be leather, with suede and material also being options, depending on the style of shoe.
How To Wear Brown Shoes With Black Pants
Here's some outfit ideas and how to wear brown shoes with black pants.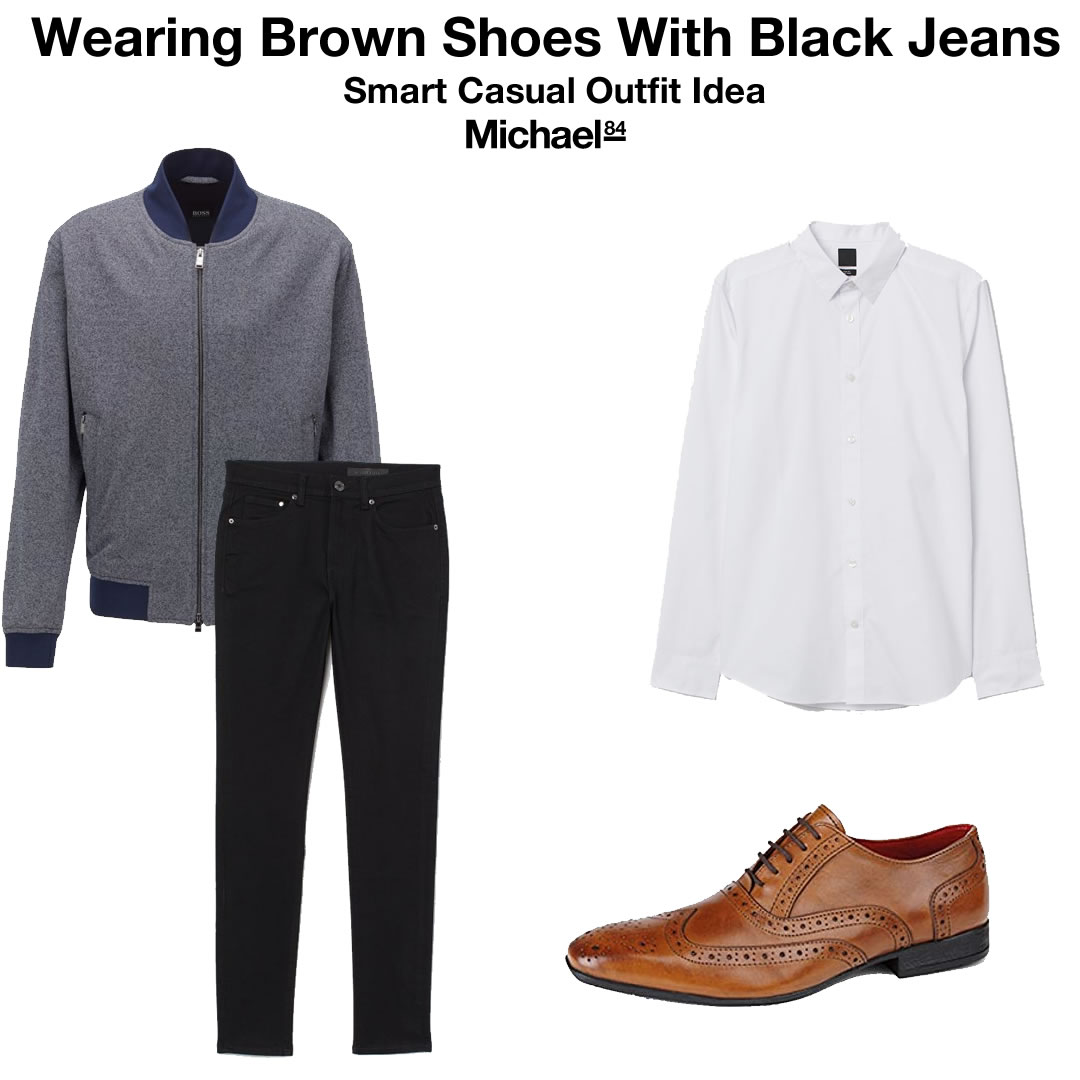 Smart Casual Outfit
When it comes to a smart casual outfit, I love to combine black jeans with brown shoes. I think that they look really cool, and add contrast to the darkest of denim.
A good pair of brown brogues work well with black jeans for a smart casual affair. You can pair these up with a white shirt, and finish the outfit off with a smart casual jacket in a dark or neutral colour.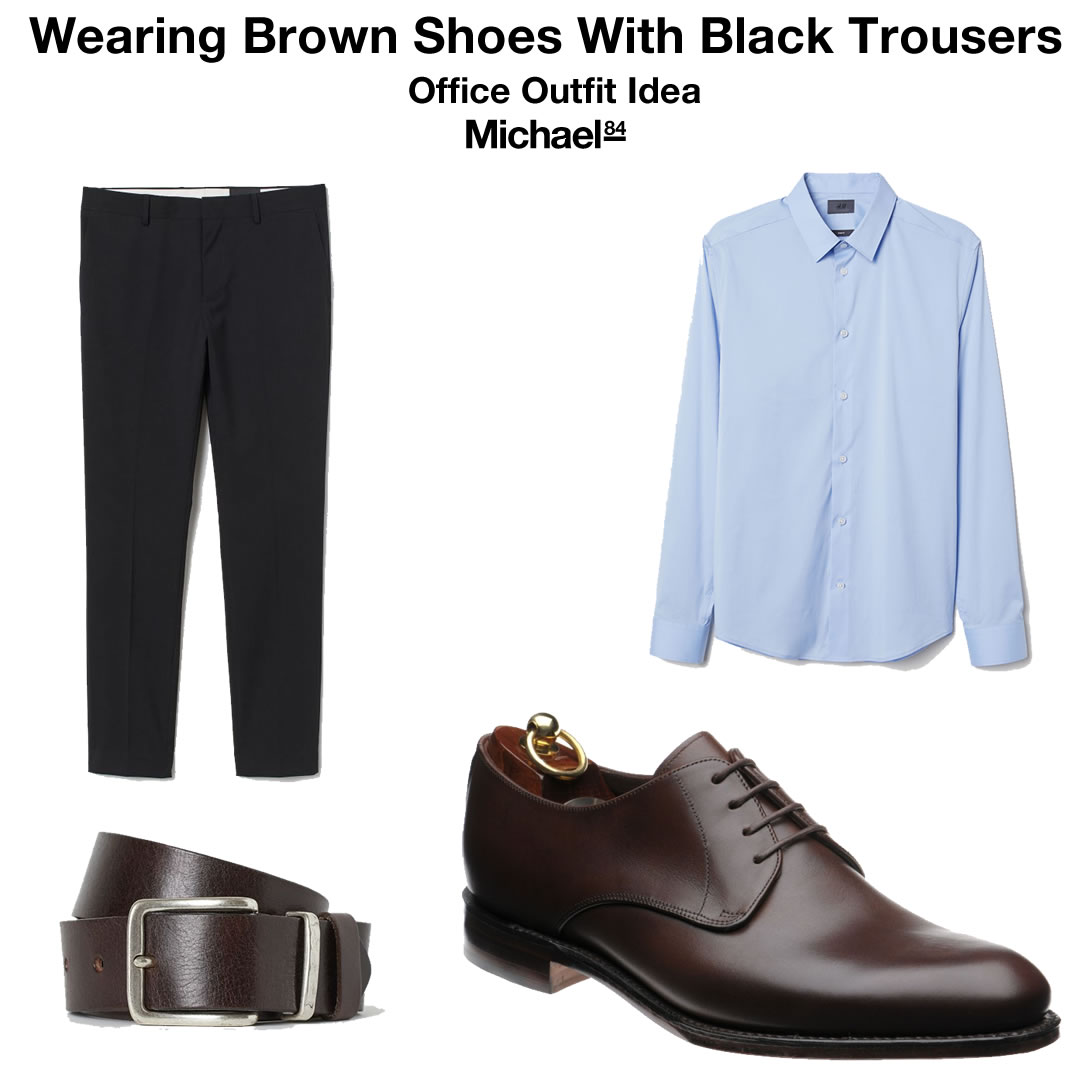 Office Wear
Thinking about wearing brown shoes to the office? If you work in a good smart casual environment, they'll look great. For this outfit you can wear a pair of brown Derby shoes with black trousers.
The two will work together well, and you can combine them with a light blue shirt to give the look a dash of colour. Remember you should match your belt to your shoes, which means wearing a brown belt with your trousers.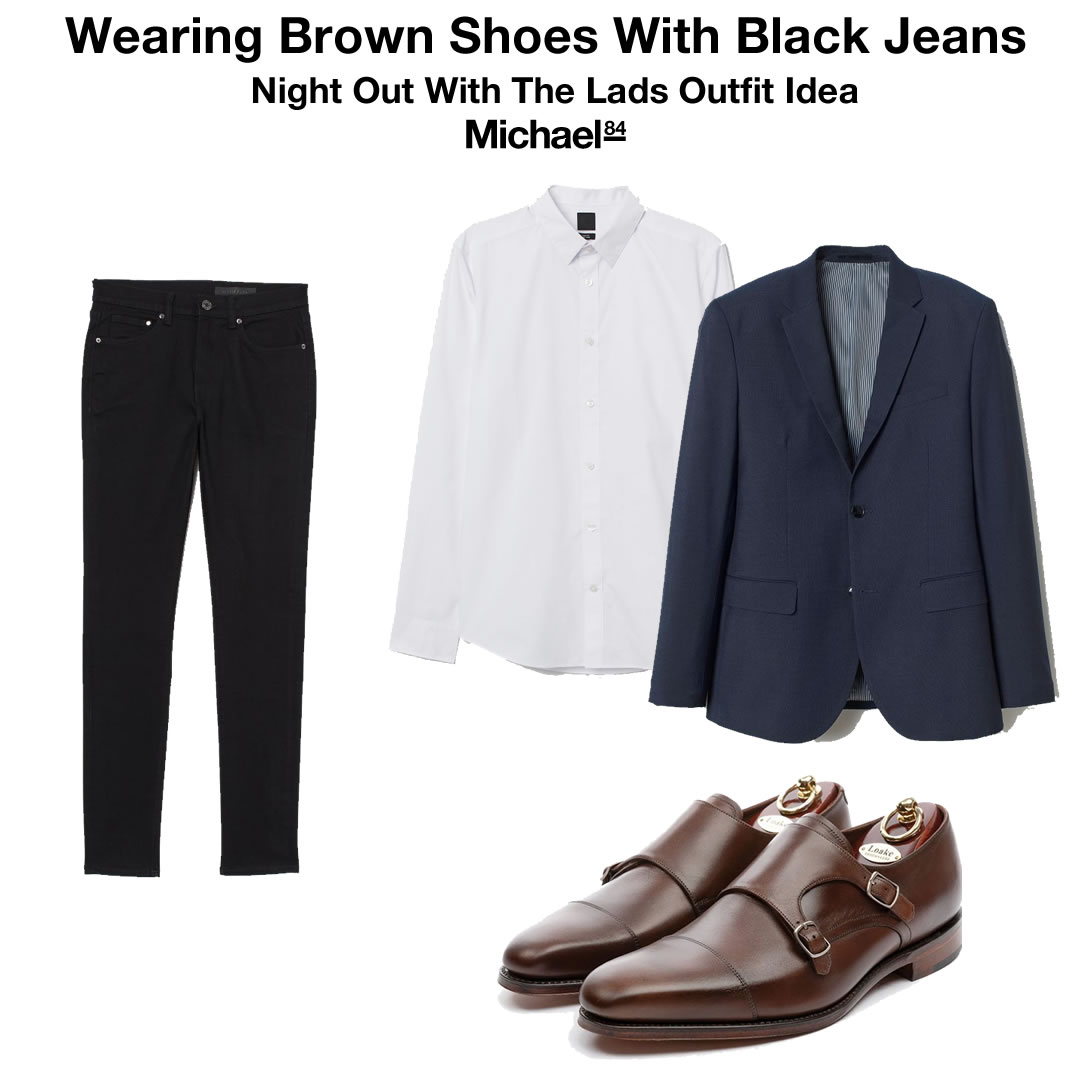 Going Out With The Boys
Off out with the lads? Dressing the part is always one of the most important things.
You can see the full guide on what to wear on a night out, but if you've already decided on brown shoes, you've made a good choice. Once again you can wear a smart pair of black jeans with brown shoes which will look really good on a night out.
The darker shades of brown keep the look sleek, whereas lighter browns and tan will make your shoes stand out. You could go for something such as a monk strap shoe which will create a talking point.
Oxford shoes are always smart with a Derby being slightly less formal, and brogues being more casual.
You can complete the outfit with a blazer and a good smart shirt.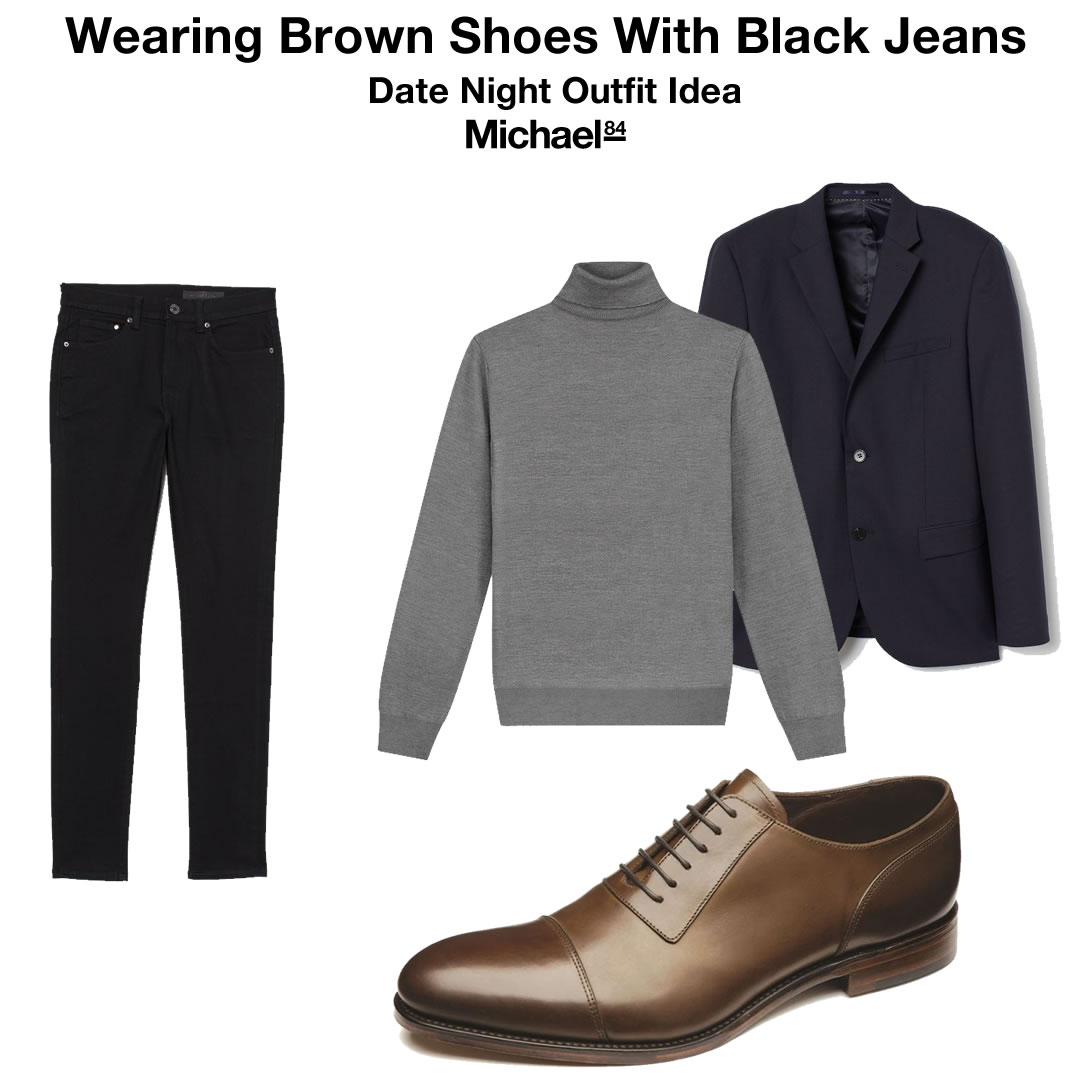 Date Night
When it comes to date night, or just out with a girl in general, you'll want to make an effort.
Women notice shoes, that's just a fact. Ask almost any girl, and she'll tell you that shoes are important, and even if they're not, she will notice what you're wearing on your feet.
A pair of brown shoes with black will not go un-noticed. The style you go for depends on the occasion. If you're out to a restaurant or something dressy, go for a pair of Oxford shoes. If it's a more casual setting, a pair of brogues will do. For a summer twist, a pair of leather loafers could work well.
You'll want to match up the dress code of the shoes with what you're wearing on your top half. For the smarter outfits you can go with a shirt, roll neck or smart jumper. If it's more casual a smart plain t-shirt with brogues could work.
A note on wearing a black suit: You can team a black suit with brown shoes. However you should ensure the shoes are dark brown. Dark brown shoes will go with a black suit better than lighter colours.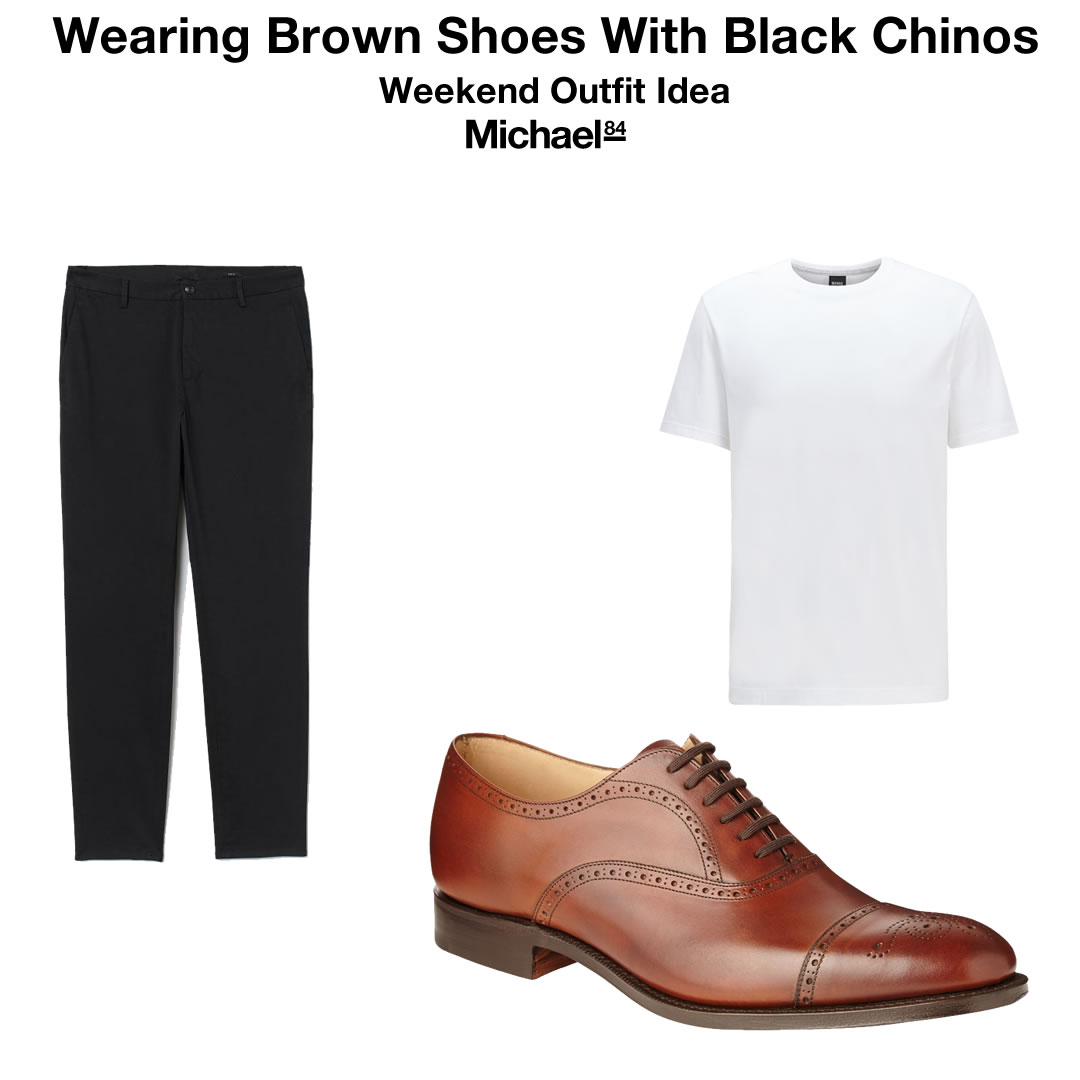 Weekend Outfit
When the weekend arrives, it's time to get a little bit more laid back and relaxed. When it comes to what you wear on your feet, brown shoes are a good option.
You can wear a pair of black chinos with a pair of light brown brogues, or if you're feeling even more casual, a pair of smart brown trainers. Teaming these up with a lightweight knit will work well,  maintaining a bit of casual style.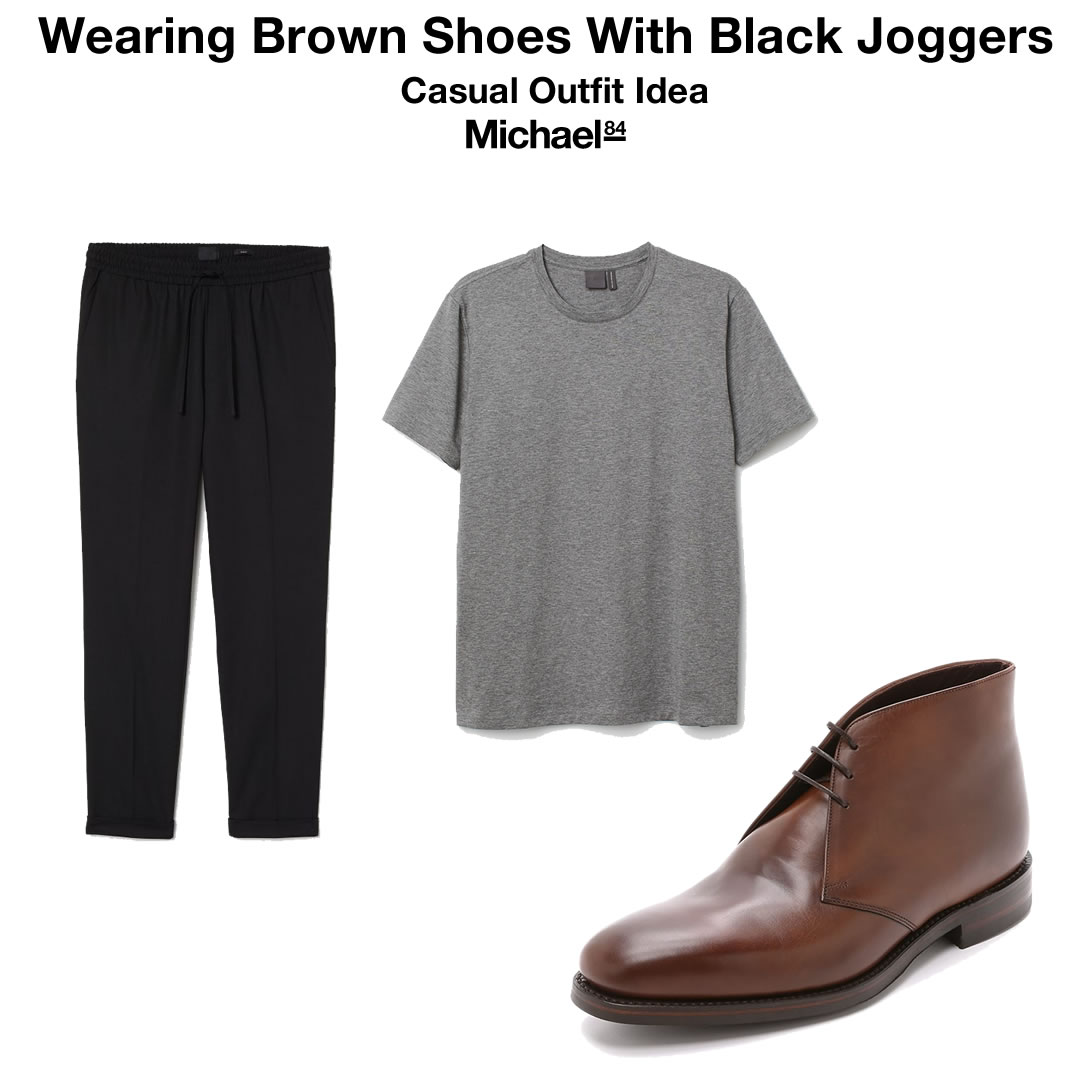 Casual Wear
When it comes to picking out footwear for a casual day or night, trainers always spring to mind. As already mentioned, you can opt for smart trainers in brown. There are however a few other options, such as boots.
I've already talked about chukka or chelsea boots, and the choice is quite simple. Chukka is more casual, whereas Chelsea is smarter. So for this outfit, wearing chukka boots would be the way to go, if you're thinking of boots.
You can wear these with some smart joggers for the ultimate in laid back fashion, or a pair of black chinos which will be really comfortable and more formal than joggers.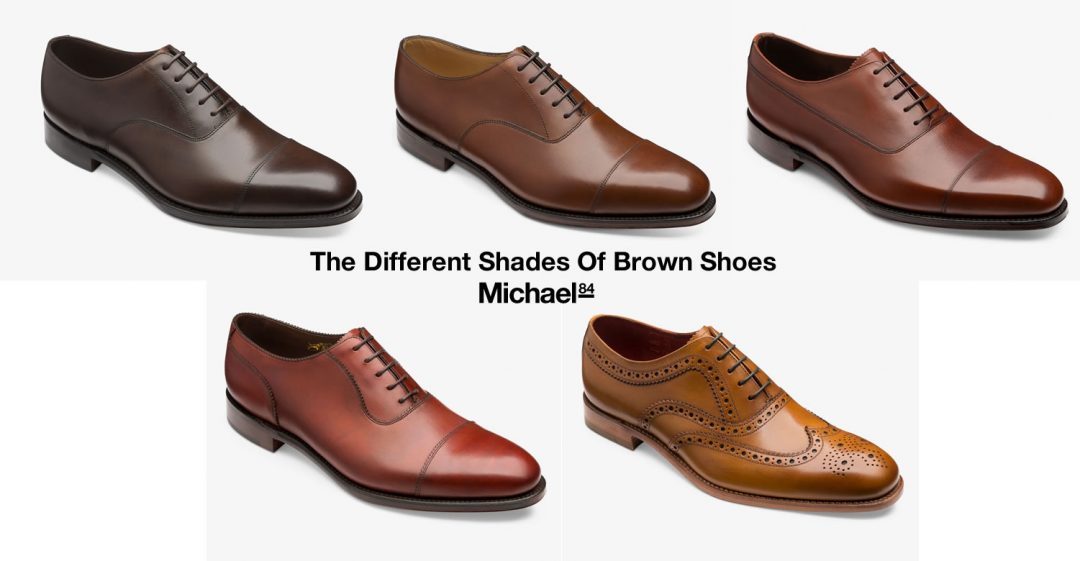 Different Shades Of Brown Shoes
It's important to remember that there's different shades of brown shoes. The general rule is that the lighter you go, the less formal it becomes. From dark brown to brown, tan to light brown.
Verdict
You can wear brown shoes with black trousers, jeans or other pants. They will add contrast to your outfit, and make it stand out. Ensure that the shoes you choose match the style and dress code of the outfit, and you'll look the part.
You can find more fashion and style tips here if you're looking for a guide on how to dress better. Brown shoes with black jeans or trousers can be a smart combination if you combine them well.