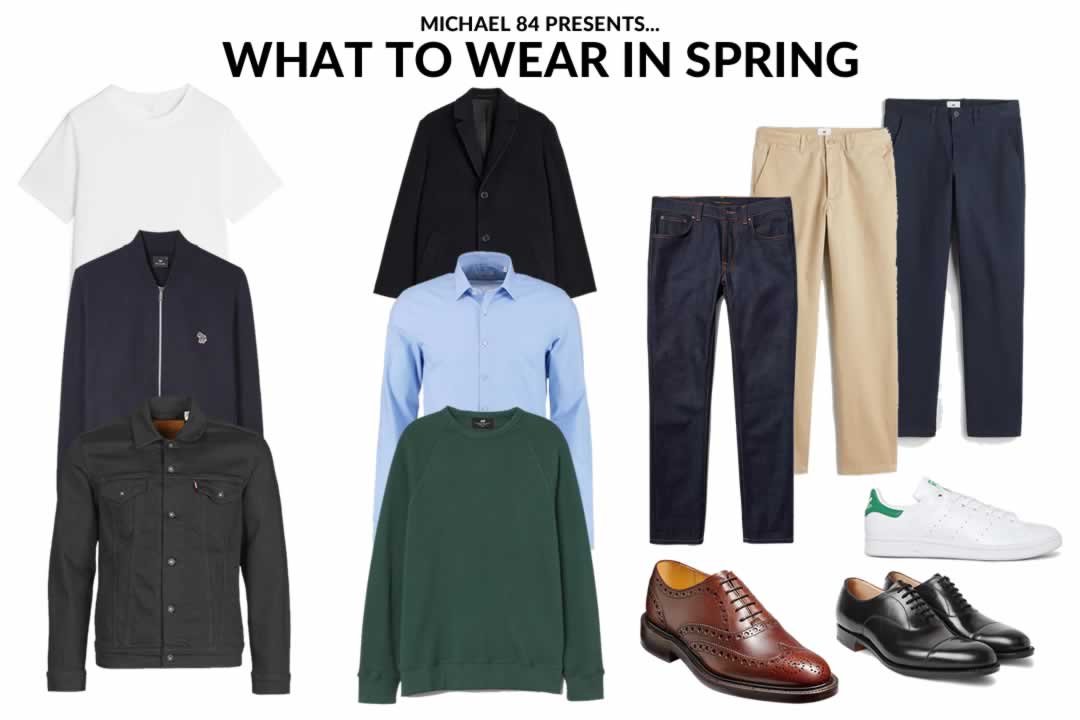 Spring is finally here! But when it comes to fashion the question is, what should you be wearing?
Spring is an interesting season. Similar to Autumn, it's in between Summer and Winter, meaning you need to have a wardrobe prepared for both cool and warmer weather.
Going from winter to spring clothing can sometimes be easier said than done.
Here in the UK it's still pretty chilly outside.
At the moment, wearing warm clothing is still essential. With that said, as the weeks go on, we'll be able to put the Winter coats away, and wear something more appropriate.
When you're putting together a spring outfit there's plenty of clothes you can consider.
It will depend on the weather, and of course your own personal style. Casual spring menswear is always a good option, and there's choices to be made when it comes to dressing smarter too.
Everything from this seasons best jackets to the perfect menswear for layering.
Here's some of the key trends you can wear and have in your spring wardrobe to easily put an outfit together this season.
Outerwear For Spring
First of all I have to start with outerwear, aka a jacket or a coat for spring.
It's definitely preferable to put on a jacket when you go outside in Spring. It's still cold in the early months, so wearing some form of jacket or coat.
When it comes to the best men's jackets to wear in spring, there are a few contenders. These are the options you should consider.
Bomber Jacket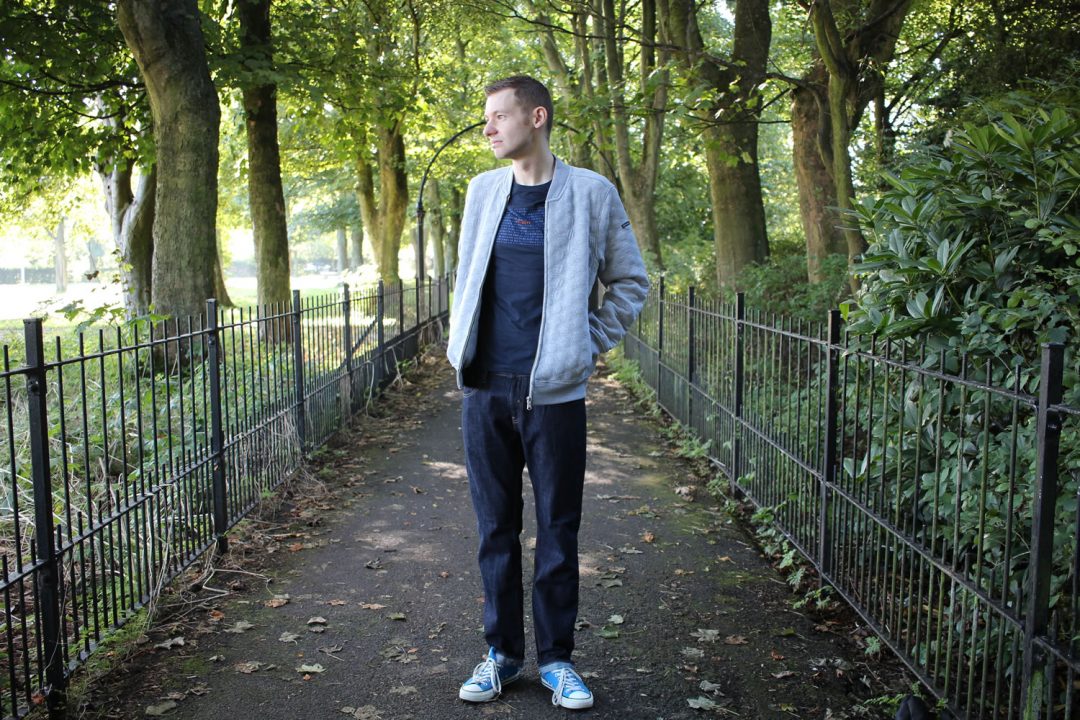 The bomber jacket. I love this kind of jacket.
It works in most seasons, and is perfect for Spring. A bomber can describe a whole host of jackets, as it usually just denotes the length of the jacket.
But for this purpose, I'm talking about a good cotton bomber jacket.
When it comes to the style, this will depend on the occasion you're wearing it for. A clean cut plain bomber will work in both a casual and smart casual setting.
Since they're not greatly substantial, you'll want to make sure you're wearing something under it which is warm enough. Suggestions are sweatshirts and jumpers.
You can learn more in the bomber jacket style guide which covers this style in great detail.
Dress Code: Casual and Smart Casual
The Best Colours: Grey, Navy, Black And All Neutral Colours
What To Wear With A Bomber Jacket: T-Shirt, Henley, Polo Shirt, Sweatshirt, Jumper. Jeans, Chinos, Brogues, Trainers
Denim Jacket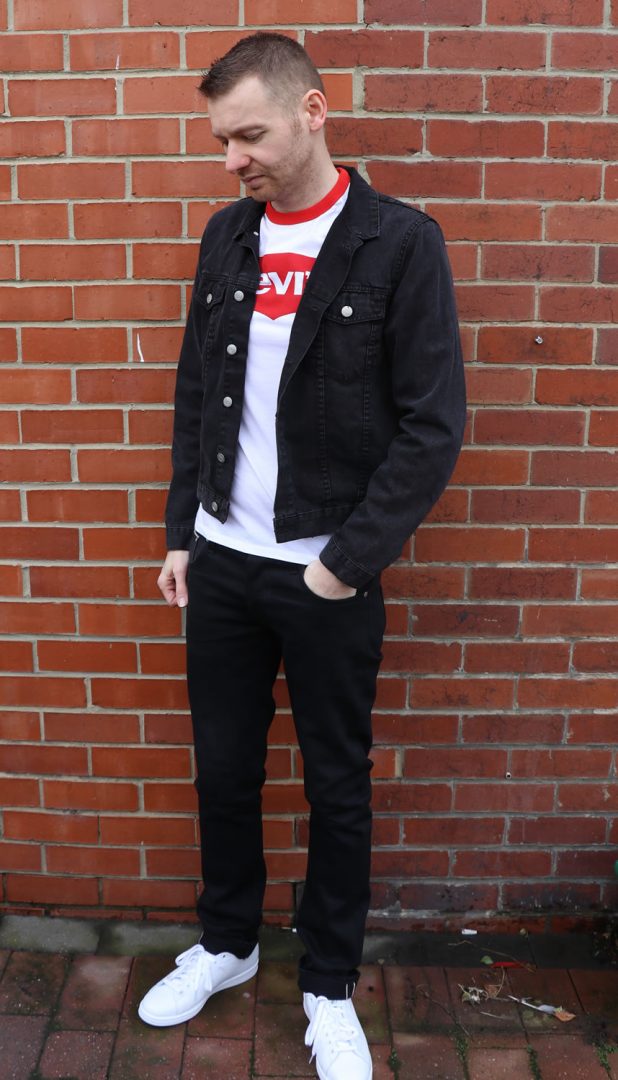 A denim jacket is a cool edgy type of jacket which is best worn for the warmer weather. If you want a casual jacket for when it starts to warm up a little, a denim jacket is a good choice.
You can see above I have styled my black denim jacket with a black pair of Nudie Jeans, which is worn with a white Levi's T Shirt to break up the clothes. To finish, a pair of white Air Max.
Since this is a casual jacket, you should wear this in a more laid back and relaxed setting. A denim jacket works around town, or on a night out.
A note on denim jackets – Be careful what you wear on your bottom half. If you're wearing jeans, you'll want to make sure they are different colour to your jacket.
You'll probably not want the double denim look.
An alternative could be a pair of chinos or casual trousers.
TIP – Check out what to wear with a denim jacket for some inspiration.
Dress Code: Casual
The Best Colours: Black, Blues, Grey
What To Wear With A Denim Jacket: Contrasting Colour Jeans, Chinos, T-Shirt, Brogues, Trainers
Overcoat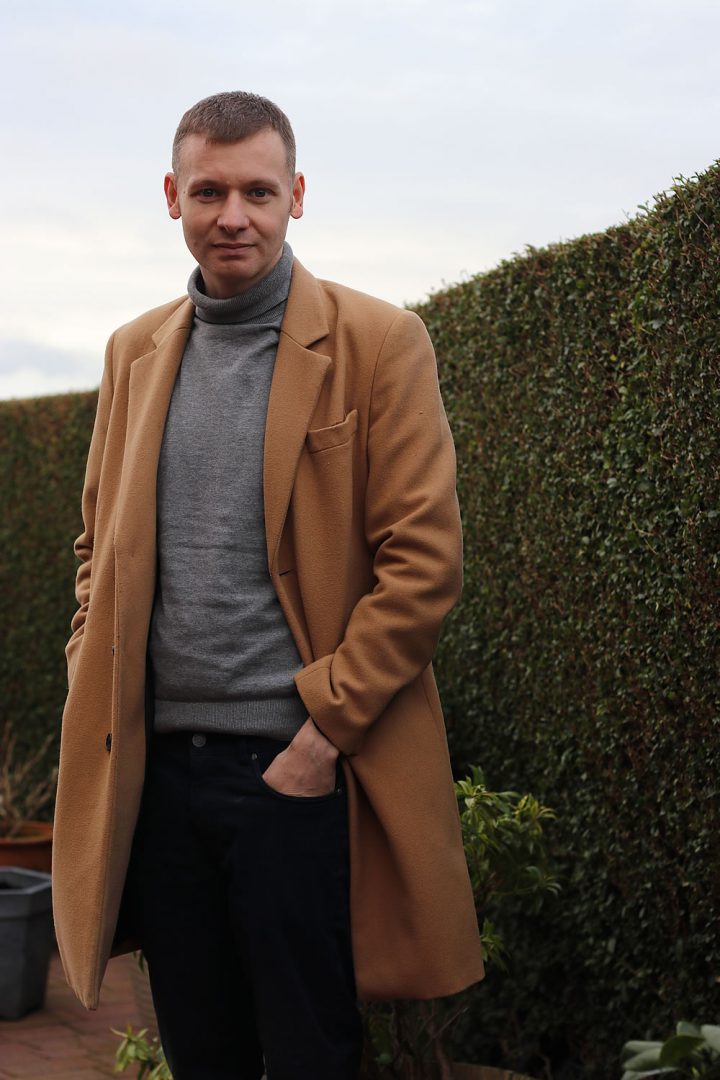 In the early months of Spring, such as March, something warmer than a denim or bomber jacket is required. This is where the overcoat comes into play.
If you need to wear something smart that's going to keep you warm, wearing an overcoat is the perfect option.
This can work on almost every level, with every dress code.
Wear it for a smart look with a suit. Combine it with smart casual pieces to create a stylish look. Combine it with relaxed pieces for a more casual outfit.
A good overcoat is a sound investment, and can be worn in all seasons when the weather dictates it necessary.
Dress Code: Smart, Smart Casual, Casual
The Best Colours: Camel, Grey, Navy, Neutral Colours
What To Wear With An Overcoat: Plain Knit, Roll Neck, Dark Denim, Smart Trousers, Casual Trousers, Chinos, Smart Shoes, Casual Shoes, Smart Trainers
Jeans

Jeans are a universal piece of men's clothing which work for any season, at virtually any time.
If you're looking to create a formal and smart outfit, denim is out. But for everything else, jeans are fine.
However not all denim is created equally.
There's different types of jeans suitable for different things. I love dark denim, which works well for every season, but as the lighter nights come in Spring, so too can your pair of jeans.
You can opt for a light blue pair of jeans if you're going for a more casual outfit. This could be a welcome break if you've worn dark denim throughout the Winter.
For a bit of attitude, distressed or ripped denim can work, but might be best left for the Summer.
The choice for me is always going to be solid plain dark denim, just because of it's versatility. Remember: Getting the right fit of denim for your body is important.
Dress Code: Smart Casual, Casual
The Best Colours: Dark Blue, Mid Blue, Light Blue
What To Wear With Jeans: Sweatshirt, T-Shirt, Jumpers, Bomber Jacket, Overcoat, Brogues, Trainers
Chinos
Bored of wearing jeans? The obvious choice is to wear a pair of chinos this Spring.
The obvious advantage of chinos is they're available in so many colours, rather than only shades of blue and black like denim.
If you're feeling adventurous you can opt for pastel hues which, when combined with the right colours, will look great.
You can go for more muted tones such as khaki, olive and stone which could be a welcome break from denim.
Chinos are incredibly versatile and can be worn with an endless number of clothes. For more casual outfits wear a T Shirt or sweatshirt, or go smarter with a jumper or shirt.
Dress Code: Smart Casual
The Best Colours: Navy, Grey, Black, Pastel Hues, Neutral Tones
What To Wear With Chinos: Shirt, T-Shirt, Jumper, Sweatshirt, Bomber Jacket, Overcoat
Slim Fit Joggers
When it comes to dressing casually, a pair of joggers is going to be a great choice. But not just any joggers, I'm talking about slim fit joggers.
Jogging bottoms have become fashionable. There's so many styles available right now, from pattered to plain (check out the joggers style guide) and they're very much on trend.
Getting a pair for Spring is something you should seriously consider, if you haven't already.
You can wear them around the house, but they're stylish enough to wear out and about too. If you want something more relaxed than jeans, joggers could be your go to.
Dress Code: Casual
The Best Colours: Neutral Colours, Staple Colours, Muted Patterns
What To Wear With Joggers: Sweatshirt, Jumper, Bomber Jacket, T-Shirt, Trainers
T-Shirts
The classic item that we all own a hell of a lot of already, it's T Shirts.
There's tons of different styles and types of T-shirts, and you probably already have many of them.
From logo tees to plain, striped and graphic, there's so many to choose from. A classic white t shirt is timeless, but there's so many other colours to choose from that work well in Spring.
They're often thought of as a casual piece of clothing, but you can dress them up. Wearing a T-shirt with a blazer works well and dresses up the simple garment to meet a smart casual dress code.
When it comes to Spring, the best way to wear a tee is to layer it. The weather in the early months is still too cold to wear on it's own so layering will be required.
As it warms up, you'll be able to wear it on it's own.
Dress Code: Casual, Smart Casual
The Best Colours: Staple Colours, Neutral Colours, Most Colours. Plain Styles For Smarter Occasions, Patterns & Graphics Are More Casual
What To Wear With A T-Shirt: Sweatshirt, Jumper, Bomber Jacket, Denim Jacket, Joggers, Chinos, Jeans
Shirts For Spring
When you want to add a bit for formality to your outfit, a long sleeve shirt is going to get you there.
There's two choices for Spring: Smart and casual. You can go for a smarter button up shirt, usually in a solid colour.
Another option is button down. With the button down collar this is usually a more casual shirt. (read about the differences between a button up and button down shirt) There's plenty of options including checks, stripes and plain weaves too.
If you want something different to the usual blue or white shirts, you can opt for a pastel colour. Greens, purples and pinks work really well with most clothing.
Dress Code: Smart, Smart Casual
The Best Colours: White, Shades Of Blue, Pastel Colours
What To Wear With A Shirt: Blazer, Suit, Bomber Jacket, Trousers, Jeans, Brogues, Smart Trainers
Sweatshirts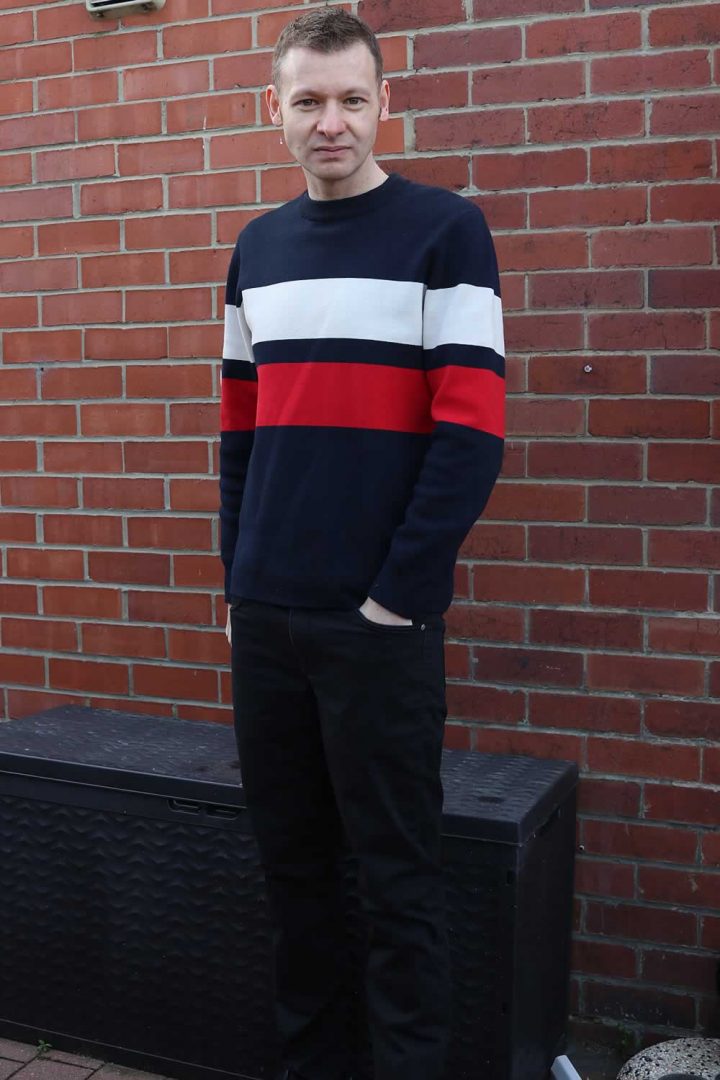 When it comes to wearing something warmer in the cooler Spring months, a sweatshirt is great for casual wear.
They're comfortable, warm and stylish, and you can wear with with pretty much anything.
The difference between a sweatshirt and jumper is that a sweatshirt is more casual whereas a jumper or sweater is more formal. Both are great, but there's something about a sweatshirt which works so well in spring.
The plain styles will look smarter, and are more preferable. Logos and graphics will give off more of a relaxed look, which is fine if that's what you're going for.
Dress Code: Casual
The Best Colours: Staple Colours, Pastel Colours
What To Wear With A Sweatshirt: Joggers, Chinos, Jeans, Bomber Jacket, Trainers
Hoodies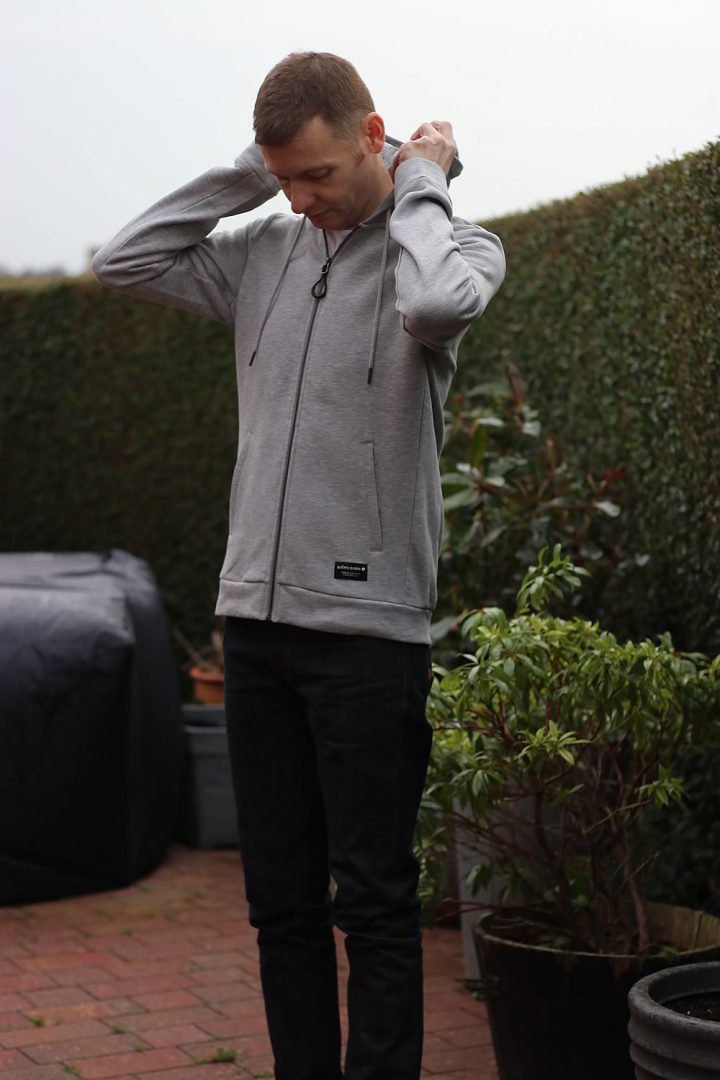 An alternative option to the standard sweatshirt is a hoodie. The obvious difference is that this variant is a hooded sweat, but there's other options too.
You can get a zip up hoodie, which can act in the same way a jacket does.
Pair together a zipped hoodie with a T-shirt to create a casual layered look.
I love wearing hoodies when relaxing. They make a great comfortable outfit to wear at home when you're just lounging around and watching a good box set or film.
Dress Code: Casual
The Best Colours: Staple Colours, Pastel Colours
What To Wear With A Hoodie: T-Shirt, Bomber Jacket, Jeans, Joggers, Chinos, Trainers
Footwear For Spring: Shoes And Trainers

When it comes to shoes and trainers, most are pretty versatile and work in Spring as well as the other months.
Since the weather is better, we can take a look at the lighter colours, and get them out of the wardrobe.
When it comes to your footwear choice, trainers vs shoes for Spring, it depends on the occasion and the dress code. Smart vs casual.
Trainers For Spring
As we edge towards Summer, white trainers are a good choice. I bought a pair of Stan Smith's and I love them.
You can check out my list of the best white minimalist trainers here, there's so many to choose from.
Minimalist trainers are casual to smart casual. You can wear them for multiple occasions, although some may still see white as a more edgy casual option.
Shoes For Spring
When it comes to shoes, there's the option of smart casual and smart aka formal. A pair of brogues or loafers would be more on the side of smart casual, while Oxford's would be smart.
A good in-between shoe is a pair of Derby's, which I personally love.
When it comes to pairing up shoes for an outfit, you really need to focus on the dress code. Wear the correct footwear for the occasion.
Dress Code: All
The Best Colour Trainers: Black, White, Navy, Brown, Grey
The Best Colour Shoes: Black, Brown, Tan, Oxblood
What To Wear With Trainers: Casual & Smart Casual Clothing
What To Wear With Shoes: Smart Casual Or Formal Clothing
Layering Clothes For Spring
When it comes to Spring, layering is going to be something you'll want to do.
What is layering?
Layering is exactly what you think it is. Layering is wearing a combination of clothes, wearing one on top of the other. You are creating a layer of clothing.
A simple layer could be a T-shirt with a zipped hoodie, along with a jacket.
All the layers don't need to be visible. It's about combining the right clothes together to not only have you looking stylish, but keeping you warm too.
You can wear a T-shirt, jumper and then a jacket along with appropriate shoes and jeans to create a layered outfit.
As with most clothing, getting the fit is important. Knowing your body type is key to this. Get the right fit of shirt for your body shape.
The Best Colours To Wear In Spring: Go Lighter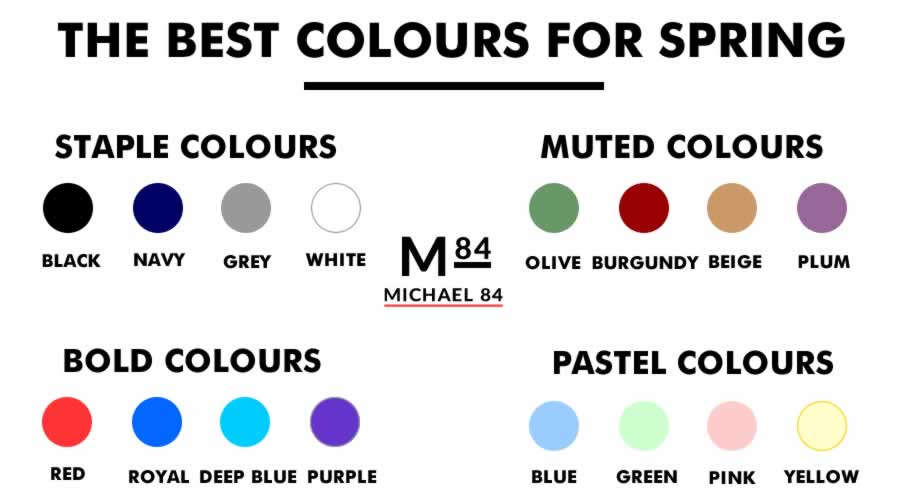 When it comes to Spring, there's a lot to be said for pastel colours and hues. I love them, and this is the best season to add some toned down colour to your outfits.
There's plenty of colours which fit into this category. Green, purple, pink, yellow, blue and red all have pastel hues, and add a lightness to whatever you're wearing.
You may be thinking, what colour combination goes with pastel hues?
To keep your style simple, combining staple colours with a pastel hue should usually work well. The staple colours are black, white, navy and shades of grey.
Having contrast is good, so you might want to keep white and the lighter shades of grey away from the incredibly light pastel colours.
Depending on the colour this can still work, however it will create a very light colour palette.
Verdict
And there you have it, that is how to dress this spring. The key things to remember while transitioning from winter to spring is to wear lighter clothing and add layers. Don't be scared to use more colour in your outfits, muted colours will work great.
If you enjoy this outfit guide you'll find more style tips here for all occasions and dress codes.
Let's take a quick look at everything from above in an easy to read checklist.
Men's Style Tips: What To Wear In Spring
Layer your clothing to create interesting outfits
For a smart formal look, try trousers, shirts and Oxford shoes
For a smart casual look, try jeans, chinos, shirts and brogues
For a casual look, try slim fit joggers, T-shirts and trainers
Wear lighter materials and swap dark fabrics for light ones
For colour, use pastel hues in basic clothes such as sweatshirts and T-shirts