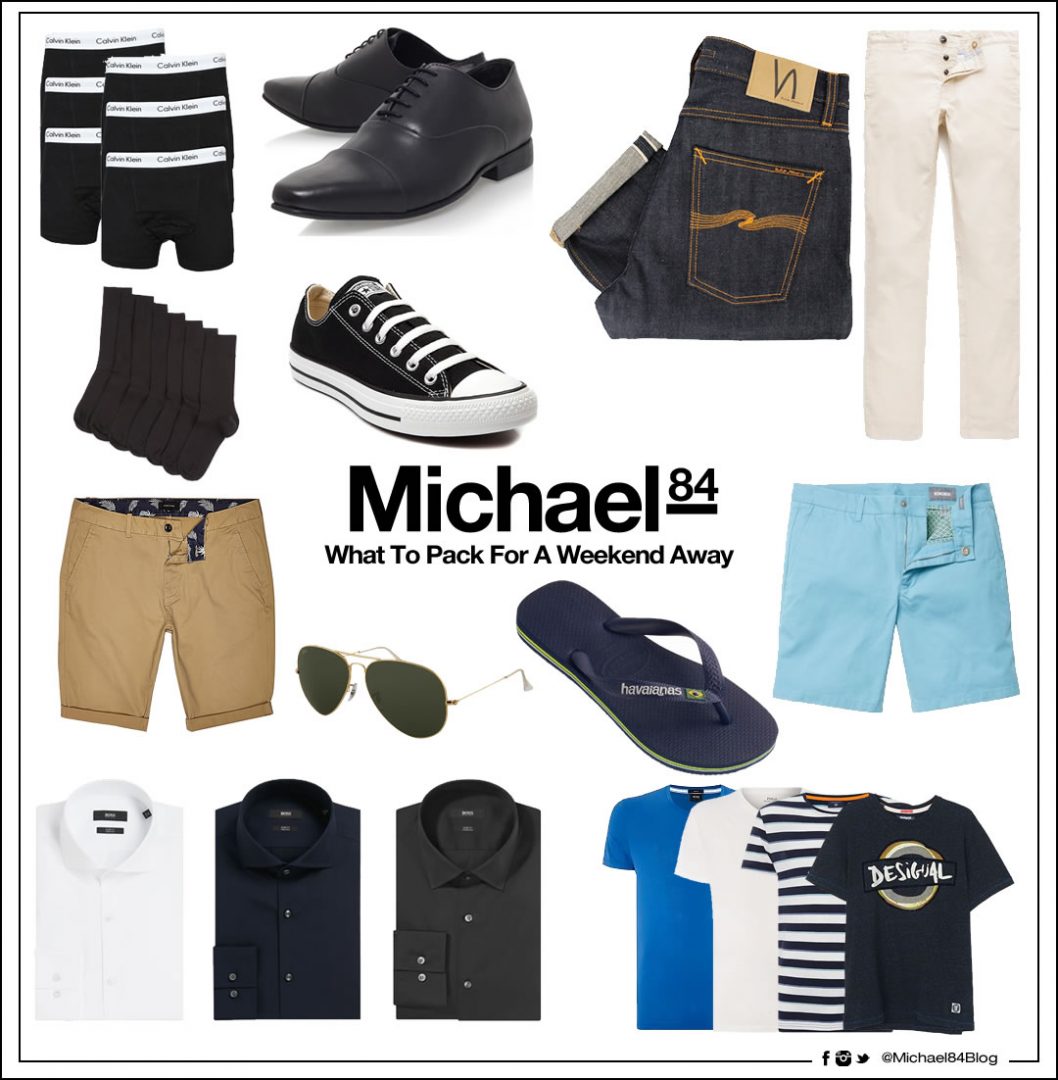 I've now had myself a fair few weekends away, from staycations in London to long weekends in Barcelona, Reykjavik and super fast weekend getaways to places like Copenhagen.
Packing for these short journeys can sometimes be a bit of a head scratching issue…What do you take, and in terms of clothing, what do you pack?
It comes down to a couple of things, where and when you're going, your general lifestyle and your budget.
What To Pack For A Weekend Away – Quick Checklist
A Comfortable Airport Outfit
Smart T Shirts
Casual T Shirts
Smart Shirt
Casual Shirt
Pair Of Jeans
Sunglasses
A Light Jacket
Chino Shorts
Swim Shorts
Underwear & Socks
Grooming Kit
Money, ID, Passport, Documents
Hand Luggage Only
If you're only going away for a weekend or even three days, you may be able to get away with hand luggage only. The key here is to use the biggest possible case which is counted towards hand luggage, and packing smartly, effectively and as light as possible, only taking the bare essentials.
Different airlines allow different size hand luggage, so it's always best to check with your airline provider, but the general sizing is: 56x45x25cm Skyscanner actually have a really good guide for the airlines which you can see here, but if in doubt, check on the official airline website or contact them direct.
Using only hand luggage may mean losing out on taking some luxury items such as electronics. I am a gadget geek,  (not to mention a blogger!) so I can't be without mine, I always take my big DSLR camera and maybe an extra lens, iPad, compact camera and a few other bits and bobs, so I have never gone for only hand luggage, but if you're only taking clothing, it's definitely possible.
Take A Small Suitcase
I would recommend taking a small suitcase. The biggest downfall of this is the cost. Airlines charge for everything these days, that usually includes the cost of a bag stored in the hold.
The good news is that you usually get more allowance than you'd actually need, so you'll have plenty room, and if you really want to save money, share a case with a mate. Taking a one with wheels is a given these days for obvious reasons, you'll have to carry it around with you.
Know The Climate – Check The Weather
The weather forecast is never right, but it could give you at least a bit of a hint. If it says it's going to be sunny for a week, it's unlikely to rain, and vice versa. You should also know the climate of where you're going, and pack accordingly.
Going to Scandinavia in December and going to the South of France in August is going to be completely different and you'll obviously be packing different things.
Consider What You'll Be Doing & Activities
If you're going hiking, or even just a lot of walking, you'll want a good pair of footwear such as trainers for walking around.
What if you're going out somewhere posh or nicer on an evening such as a restaurant?
You'll want some smarter footwear. If there's a beach which you plan on going to, then you'll need to get some flip flops and swim shorts, and don't forget a towel.
The Bare Essentials
What should you be taking with you no matter where you go? Here are the bare essentials you should be taking with you.
Underwear & Socks – Very easily forgotten, but should never be. Underwear and socks are quite obviously the most bare essential you could think of, and something you should be putting in your bag. My advice would be taking a pair for days and a pair for nights, as well as one spare.
This is especially true if you're going somewhere where you'll be hot and sweaty. That means 7 pairs of socks and 7 pairs of underwear for a 3 day weekend. Remember even if you're going sockless for summer you should be wearing invisible or trainer socks.
Grooming & Hygiene – You'll need deodorant, toothpaste & toothbrush, razor and shaving products, your favourite aftershave and shower gel. You can get travel size products to save yourself some space, and if you're staying in a nice hotel there's usually products provided for you. The best thing to do is put together a DIY Grooming Kit, which contains all your essentials.
Documents, Money, ID, Passport – Don't forget these essentials! You'll not get very far without your passport, money or travel documents. Also remember to take out adequate travel insurance, and have your EU health card if you're travelling within the EU.
Travel Packing Ideas – The City Break In The Summer
Going away for a city break in the summer is such a great experience. You can stroll around a city in the day time, taking in all the sights and everything which the city has to offer. By night you can check out the nightlife, maybe go to a restaurant, bar, or go clubbing. If you go somewhere coastal there's always the possibility of heading to a beach too. Here's my recommendations for what you should be taking for a summer break in the city.
Remember you'll already have the clothes you'll be travelling in, so if you get your airport style right you could save a bit of valuable space in your case.
An Extra Pair Of Jeans Or Chinos – You'll probably be travelling in a pair of jeans or chinos, so you can take an extra pair if you need to. You can mix this up, so if you're travelling in jeans, take a pair of chinos in a different colour, or you can do things the other way round.
Chino Shorts – Chino shorts are smart, and will not look out of place strolling around the city, as well as keeping you relatively cool you'll get your legs tanned too.
Smart T Shirts – Smart plain T-shirts are great because they work through the day strolling around in a casual setting, and will be smart enough to wear out during the night, depending on where you're heading to of course.
You can smarten the look up a bit more by wearing a polo top instead, or if it's a cooler night, pack a smart jacket and wear it with the tee. I would advise taking 3 or 4 T-shirts of various colours, possibly packing a nautical tee which look really good in the summer.
Shirts – Unless you're going to be doing something for business or super formal, I think packing shirts should be done sparingly. If you're having a big Saturday night out then you might want to pack one smart shirt, you can also add in a casual shirt to give yourself an option for a casual day or evening.
A Jacket – To Take Or Not To Take – It's always the conundrum, do you bother packing a jacket when you're heading for a warmer climate for only a couple of days? I think it will depend on what you plan on doing and exactly where you're going. If you are going to be doing more formal things or attending dressy occasions, then taking a blazer or smart jacket could be required. If you're not, then you might decide to leave it at home.
The Footwear – Shoes – I would imagine you'll be travelling in a pair of trainers, they are far more comfortable to wear for travel, which is what you'll want. If you're heading out on an evening, then a pair of shoes may be preferable, so take a pair.
Sunglasses – How can you forget a pair of sunglasses? You can't and shouldn't. My personal preference is always Ray Ban, and it's usually a case of deciding whether you prefer wayfarers or aviators. They're both classic and timeless and will look the part for this getaway and many more in the future.
The Beach Holiday
If you're heading for a few days in the sun to relax and chill in the daytime, and party the night away, there's a couple of things you'll need to remember to take. These types of holidays to places like Ibiza are usually a much more casual affair, and it's about chilling out and relaxing during the day, and going to bars or clubs on a night.
Swim Shorts – They can double up as shorts through the day, but they're made for chilling by the pool and going in when you need a dip, or going to the beach and in the sea. A few pair of swim shorts should be taken, they're small and light, so it's not going to eat into your suitcase space.
Graphic Tees – There's no need to be super smart when relaxing by the pool, you'll probably not be wearing your tee for very long anyway if you're sunbathing or you're in the pool or sea. Still, you'll want to keep it reasonably tidy, but there's no need for formalities.
Smarter Tees & Shirt For Going Out – If you're off out to bars or clubbing  on an evening dress how you would do back in the UK in Summer. It could be a going out shirt or smart tee, you'll want to make sure you look good, but not over doing it. Smart-casual for summer is the best way for describing it, and remember the higher end clubs abroad may have a dress code just like the UK ones do.
The Winter Getaway
If you fancy a skiing holiday or just a getaway in the Winter and prefer the cold cool countries to a hot humid city, you'll definitely want to take a suitcase, because there's a lot more to take.
Winter Coat – You'll need to take a winter coat, and I would suggest wearing this for travelling to save space in your luggage.
Hat, Scarf And Gloves – Depending on how cold it is and how warm you want to keep, you might want to make sure you've got a few winter essentials which you probably would have in the UK.
Sweatshirt & Knits – You'll want to replace most of the T-shirts from the Summer ideas with sweatshirts or knits. The key with Winter clothing is layering, so you'll not want to abandon T-shirts altogether, but they'll be used more as an undershirt rather than be on show, depending on the temperature and weather of course.
Verdict
Going away for the weekend, especially abroad is brilliant, so I hope these tips for what to pack on your epic weekend away takes the stress out of packing, remember to have fun, make memories and pack smart, because you don't want to be looking back at your holiday snaps thinking, "what the hell was I wearing!". 😉
For more tips and advice, check out the men's travel blog right here on Michael 84.