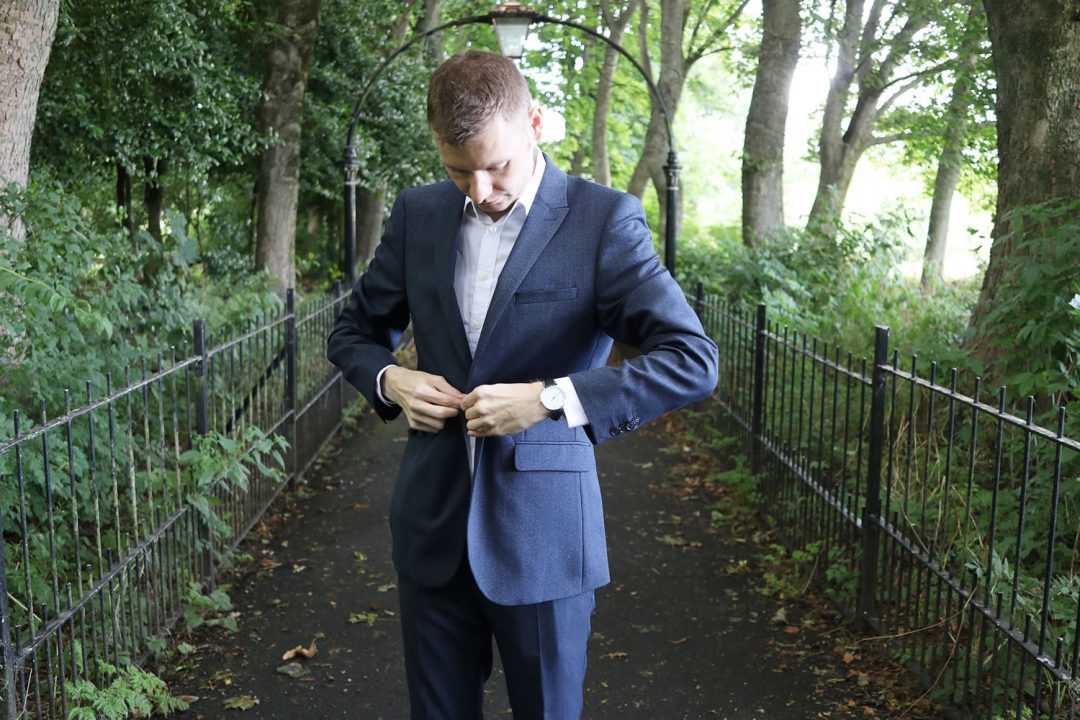 Guys, you've got that first date you wanted…Congrats!
Now you're thinking, What do I wear on a first date?
Going out with a girl for the first time can be exciting and nervous at the same time.
There's a lot to think about, and one of the most important things to know is what to wear on a first date.
If you're looking for a little bit of style advice, have no fear, there's plenty of tips here to have you looking your best.
When it comes to dressing well, you'll want to wear something which is practical for your date, something which is going to look smart and the part, and also something which is going to keep you confident at all times.
Making a good first impression is incredibly important, and your clothes is going to go a long way to making sure you get a second date.
Here's some outfit ideas for all guys and every type of date you could be going on.
What To Wear To Drinks Or A Restaurant Date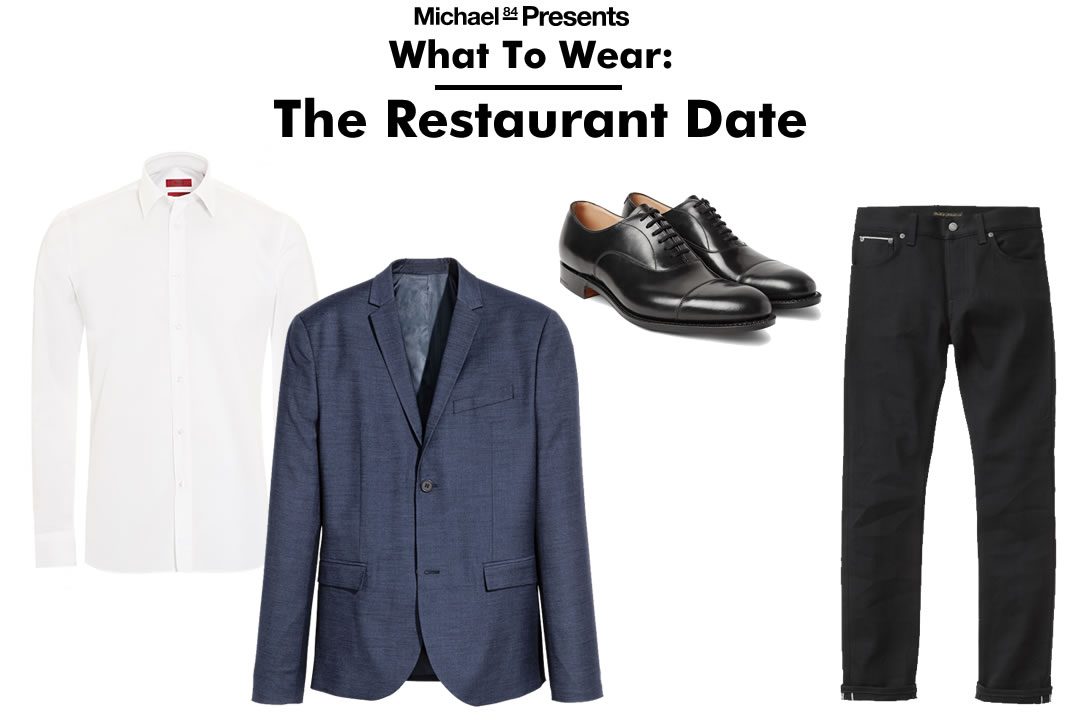 Restaurant Date Outfit
Dress Code: Smart Casual
White Shirt
Navy Blazer
Black Jeans
Black Shoes
If you're going out for posh drinks or to a restaurant on your date, you're going to want to dress up. It's not a case of smart casual, but more of a case of smart, edging on casual.
That means wearing a shirt is going to be preferable, with some dark denim or casual trousers.
You can go for the full blown suit, but only if the restaurant dictates.
You need to think about a couple of things if you're going to go a more formal route, which are largely the lady in question and place you're going:
Will you be overdressed for the place, and will you end up looking too stuffy for her?
For the footwear I would recommend shoes, which can be the smarter styles of brogues, Oxfords or Derby shoes.
You'll want to stay clear of casual trainers for many reasons, which I'll go into below.
If you're looking for an outfit for a night out then the same rules apply. Stick to smart casual unless it's a formal affair, then go for a suit.
What To Wear On A Date To The Cinema
Cinema Date Outfit
Dress Code: Smart Casual
Dark Denim Jeans
Fine Knit Sweater
Bomber Jacket
Brown Brogues
In comparison to a restaurant, the cinema date is going to be a less formal affair, and you're able to dress down a little more.
Dress down, but not sloppy, there's a world of difference. What's the best thing to wear to a cinema date?
Keeping with the theme of a shirt, it's always going to be a good option. There could be the option of a T-shirt, but it should be plain, minimal and smart.
In the cooler climbs you might opt for some knitwear:
A merino wool jumper will work well, or for a super cosy hug-gable top, the cashmere sweater is the one to go for.
As for the bottom half, you can wear anything from jeans to chinos, but it's still preferable to ensure they're not too relaxed, a smart casual pair will work.
For footwear, a smart pair of trainers should be OK, brogues and smarter footwear will not look out of place, providing you're wearing something on your lower half which matches up.
What To Wear On A Bowling Date (And Other Light Activities)
Bowling Date Outfit
Dress Code: Casual or Smart Casual
White T Shirt
Bomber Jacket
Dark Chinos Or Jeans
Smart Trainers
There's plenty of date ideas which you can do, and I can't cover the style of them all, but for most light activity types, it should be fairly similar.
There's some traditional ones, such as mini-golf, bowling or going to a gig.
When it comes to these types of dates, it's usually better to air on the site of casual, while keeping everything sharp.
Wearing a plain T-shirt, or polo shirt will keep your style simple and casual, but will not look sloppy.
When going for a more casual style, the fit becomes arguably even more important, as very loose pieces are more prone to looking too relaxed.
The lower half can be light or dark denim, as well as chinos in a staple of complimenting colour.
As for footwear, some smart and casual trainers will work fine, Converse, Vans or Adidas work fine, but no active sports trainers.
What To Wear On A Date During The Daytime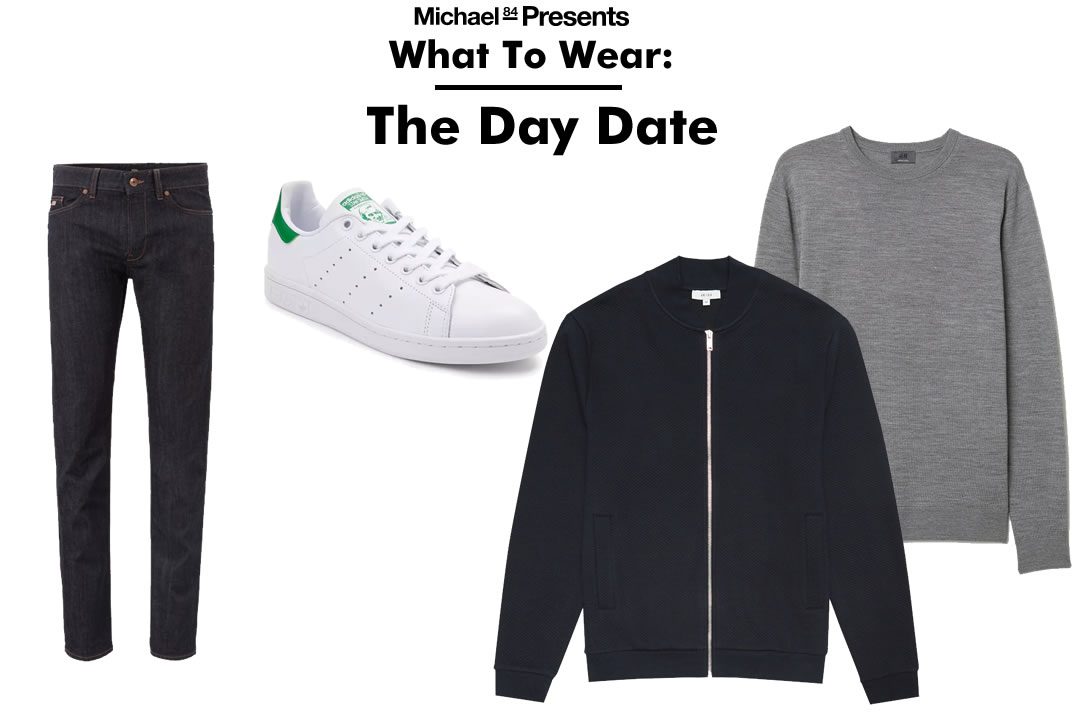 Day Date Outfit
Dress Code: Smart Casual
Light Grey Merino Wool Sweater
Bomber Jacket
Dark Denim Jeans
Smart Trainers
A day date is usually more relaxed, and less formal, which means you can dress a little more casually than you would if you were going out on an evening. Casual, but still well dressed, it's where the phrase smart casual will work wonders.
There's plenty of day date options, from grabbing a coffee to going for a drink or two, or even a light bite to eat, and they're usually of a more relaxed affair.
When it comes to wearing something on top, a shirt is always going to be a good choice, preferably plain.
A white long sleeve shirt will look sharp, which can be paired with a smart pair of denim, smart trainers or your favourite pair of shoes.
In the colder temperatures, a jumper will work well, it's always going to be smart, but is also understated.
Here's all the things you need to consider, and how you can dress to impress without looking like you're trying too hard.
Why You Should Dress Well For Your Date
You may be thinking, why should you dress well for your date? Well there's plenty of obvious answers, but we'll go though a couple anyway
You Need To Look Good – Whether you're physically attractive, not blessed in the looks department or everything in between, a bad outfit can ruin it all.
Making The Effort – The lady will almost certainly have made the effort, and so should you. Dressing up will show that you're out for a date with her, and not that you've just came from work.
Date Mode – Getting dressed up gets you in the date mood.
You're Being Judged – If it's your first date then she'll not know much about you, so there's going to be a bit of judging going on. Making sure you look the part is important.
Dress For The Occasion
As we know getting the right fit is the most important part of looking good in any clothes. But when going out on a date, dressing for the occasion is also critical.
Many people will tell you to dress up, and being overdressed is better than under-dressed, but it all depends on the date.
A suit or even nice blazer is going to be good, but it's not going to be good if you're going on an active date; Bowling, mini-golf or Go-Ape;
Just three places where you're smart style is going to look over-done. This is similar to going to a restaurant in a pair of shorts; It's not going to make a good first impression, you probably wouldn't even get in.
Personal Style: Stick With The Classics
As they say, it's all about the confidence, and keeping your own personal style is going to give you that confidence.
There's a time to experiment with style, but a first date is not that time. You want to show off your own personality, so stick to your own personal brand.
If that fails, stick to the classics of fashion and style, which are key staple pieces and colours such as black, white, navy and grey.
Grooming
Along with your clothing, you need to have your grooming sorted.
If you look shabby and not well maintained, that could send out the wrong signals.
Make sure that you're looking and feeling fresh and clean (check out some shower gels) and don't forget the rest.
Make Sure Your Hair Looks Good
You'll want to ensure that your hair is sharp and smart, and looking it's best. Pick out your favourite hair product, and style it however you usually do. If your hair is looking past it's best, it could be time to visit the barber or hairdresser.
Shaving
Whether you've got facial hair or not, shaving before the big date is very important. If you've got facial hair such as a beard or 'stashe, make sure it's taken care of, or if you're clean shaven, ensure you're smooth.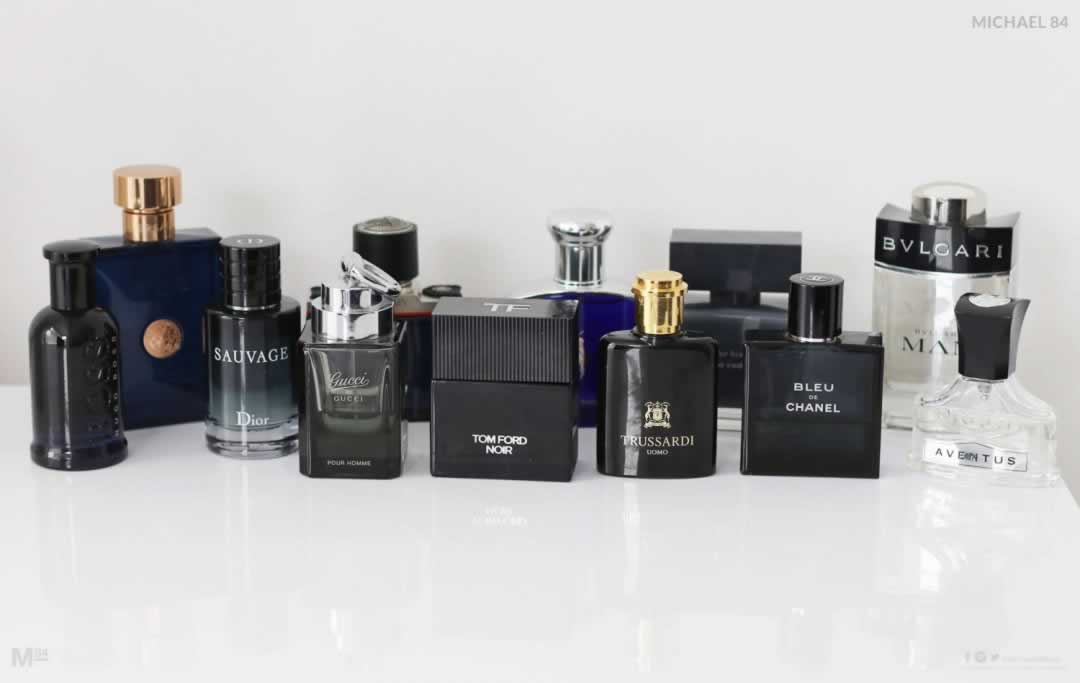 The Scent
Wearing the perfect scent is also important, girls like guys who smell nice.
There's plenty of attractive fragrances you can wear, but it can also depend on the time of the date, and season.
If it's a day date, go for something fresh or citrus, if it's an evening, try something seductive and sensual.
Check out these men's fragrances which girls love and you'll probably get a compliment on how good you smell.
Skincare
You'll want your date to look at your face, so making sure it's looking it's best is a must.
Having a good skin care regime can go a long way. Make sure you've washed and moisturised it, you'll want your face looking as fresh as possible and have the best skin you can.
Key Pieces Of Clothing For Dating
So far you've learned a couple of items which you can wear depending on the date you go on, but there's a huge amount of styles and variations.
A shirt is going to be a great choice, but there's a world of shirts, and wearing the wrong style can be as bad as wearing the wrong thing.
The clothing doesn't necessarily need to be expensive, as we know in style, the fit is everything.
There's plenty of affordable menswear, and well fitting clothing is going to be better than something which is expensive but un-stylish and ill-fitting.
Here's some key pieces which you consider wearing, and the best options in each item of clothing.

A Good Fitting Collared Shirt
The most obvious item you can throw on is a shirt. I really loved the idea of a going out shirt, it was a big thing back in the day where guys would have one incredible shirt they'd wear on a boys night out.
Those days are kind of gone, but you should still have a good shirt, and if not, you can get another which will never come in wrong.
That's because the go to shirt should be a plain cotton shirt. The perfect choice would be a crisp white shirt, but other colours, such as blue and black can work well too.
When it comes to button up or button down shirts, think about the occasion and dress code. Button down means more casual, button up means more formal.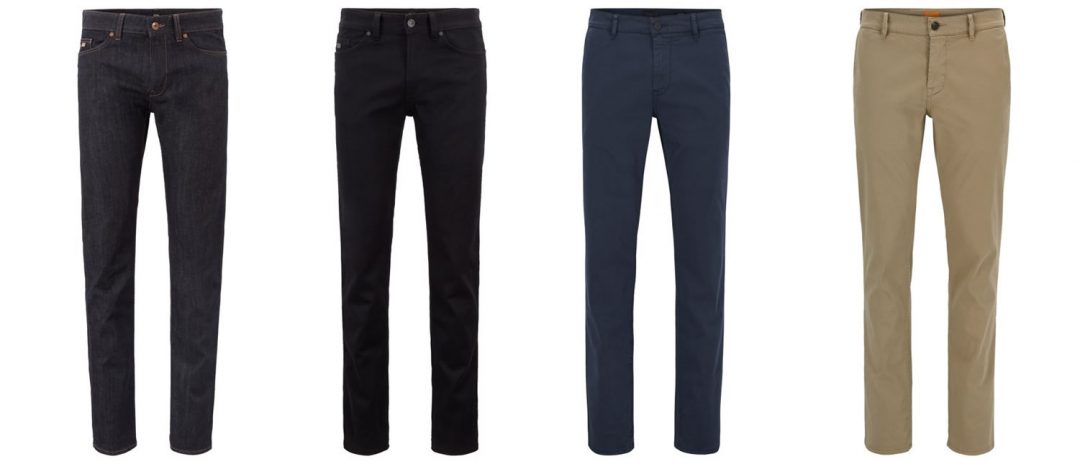 Jeans
Denim is going to be another core item which you can wear.
When it comes to making denim look smart, the best colour is always a dark wash. That's black or indigo blue, the darker the better.
It should be obvious that the denim should also be smart and plain – No whiskers, distressing or holes, just nice, plain denim.
Chinos
If jeans are not an option, chinos are a good alternative.
The great thing about chinos is that they're usually smarter than your average pair of jeans, but not as formal as a pair of trousers.
In the Summer, you can make use of a large colour palette, for most other occasions, the staple colours of khaki, black, grey and navy will be fine.

Shoes
Shoes are incredibly important, in fact, they could be the most important part of your outfit. Ladies like shoes, in fact, many will say one of the first things a girl notices about a guy is his shoes.
When it comes to footwear, you should almost certainly be going for a pair of shoes.
On an evening, this could be Oxford or derby shoes, which are smart. These would be preferable on a restaurant date in the evening.
An alternative could be brogues, which are also smart, but less formal, more suited to drinks or any other occasion.
Smart trainers is a good option when the date is more casual, and during the day.
Wearing A Suit On A Date
A suit is a good choice if you're going to a posh restaurant, or an event which requires smart attire.
You may think, I want to look smart, a suit is a must – But actually, this isn't the case.
Most people these days are more casual than that, especially when it comes to a first date.
As already mentioned, you'll need a read on your date, and also the place you're going to see if there's a dress code.
Usually if you want to dress up, wearing a blazer with a shirt is going to look incredibly dapper, and possibly the smartest you'll need to be.
Having said that, the ladies do love a man in a good suit, so if the situation dictates, you can always wear a suit.
Wearing A T Shirt On A Date
The humble T Shirt has come a long way, and it comes in many different forms.
They are quite a casual item, but that doesn't mean that they can't be smart. There's plenty of ways you can dress up a T Shirt, the best way is to wear it with a blazer or suit jacket.
When it comes to the style, you'll want to keep it plain.
The plain basic T-shirt may sound boring, but it can create a statement which shows a minimal but smart outlook on life.
The core colours of black, white, grey and navy work well, and as long as it's worn with a smart jacket for a smarter look, or paired with an open shirt for a casual day date, it will work.
The Details
The details matter. Women notice all the small things, and little details within your own style can go a long way.
There's plenty of men's accessories you can wear, but you don't want to over-do it. Don't wear something to show off.
If you add accessories, they must make sense. A good tie will be suitable for a suit, and you can add in a tie bar which is just a tiny detail, but it will not go un-noticed.
A pocket square is another brilliant addition which seems so small and simple, but once again, it's that little bit of detail which will be noticed.
What Not To Wear On A Date
So we've talked about what you can wear, but what about what you shouldn't wear. There's a few things you'll definitely want to stay clear of, these include:
Graphic T Shirts – You don't want T Shirts with large prints, graphics or massive prints
Sports Trainers – I Love my Nike Air Max, but there's a time and a place, and a date is probably neither (Unless it's active)
Tracksuit/Sportswear – Unless it's an active date, save your sportswear for the gym or your sporting activities
What you usually wear to work – Especially if you're going out with someone at work. You don't want to look like you do every day, you want to dress up for the date.
Summary: What To Wear On A First Date
When it comes to picking our your clothes for your first date, it's always better to go with the smarter option rather than the relaxed if you're struggling for ideas.
It's almost always better to be a little over-dressed than a lot under-dressed. If you're in any doubt, stick to the classics above, which have worked for years.
The clothes don't make the man, the man makes the clothes…But the clothes do play an important role, and they do make the man look good, so making just a small effort will go a long way.
p.s. – Worried about who foots the bill? Check out my guide on who pays for the first date these days, you might be surprised!