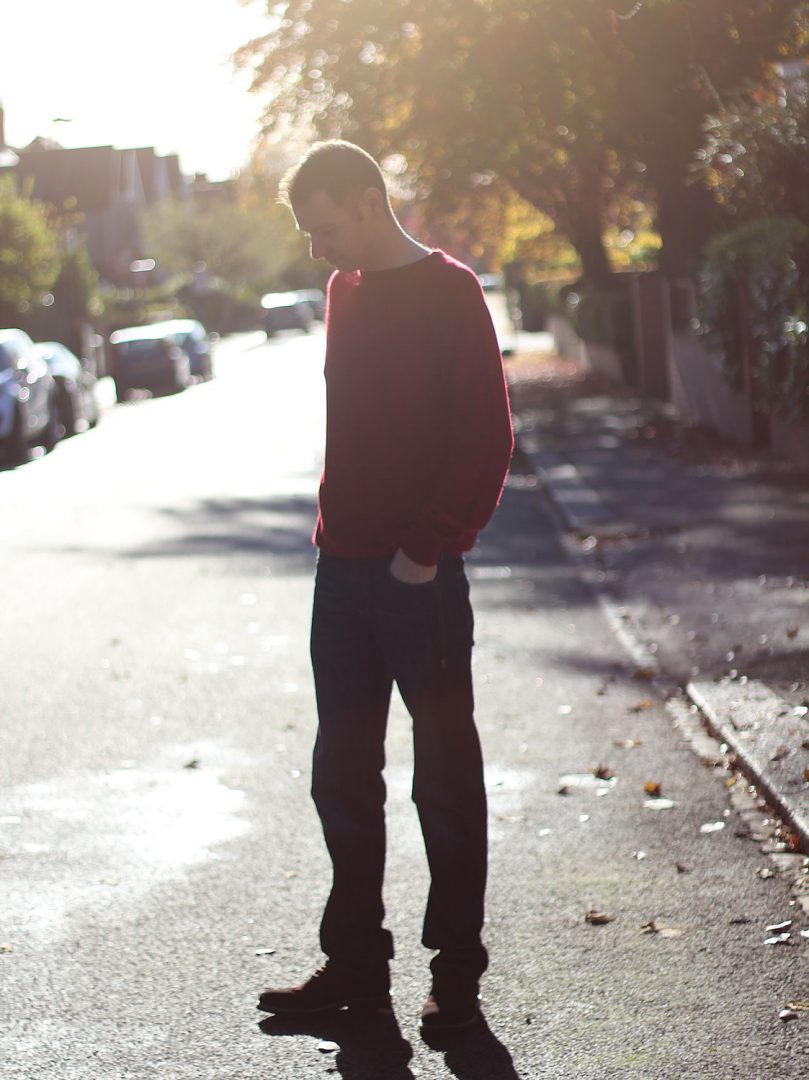 It's one of the most luxurious pieces of clothing you'll wear when it gets cold, it's the cashmere sweater.
But is cashmere worth the money?
If you don't own any cashmere you've heard of it, and you probably also associate as a soft and expensive wool, which it is.
If you're a regular reader of Michael 84 then you'll know I love cashmere. I own a couple of cashmere jumpers and think they're great.
But here's the question, Are cashmere jumpers and sweaters worth a premium?
Cashmere is worth the high price tag because of what it is. It's a luxurious wool, soft to touch and is usually made to last. If you buy a good quality cashmere sweater or knit, you'll have a piece of clothing which will last several years.
What Is Cashmere?
Cashmere is a wool which comes from the cashmere goat or down goat, which is finer and softer than the wool of a sheep.
It comes from the undercoat, and a cashmere goat has been specifically bred for the production of the high end wool.
The word cashmere is an old spelling of the Kashmir region in northern India. It's where cashmere has been produced for thousands of years, as well as other places in the world.
Now it's produced all over Asia, including China, which is currently the biggest producer.
Coarse hairs and down hairs are separated, fibres should be long in length (5cm) with a diameter of less than 19 microns.
If you're looking for the best winter jumpers, having one made out of cashmere is definitely a luxury option.
What Makes Cashmere Better Than Other Wool Or Alternatives?
Cashmere is pretty coveted, and a lot of people use this as a measuring stick of quality when talking about their knitwear and jumpers. "Is it as soft as cashmere?" Is a common thought or question when someone is buying a knit.
It's usually more expensive because the production and raw material costs are higher, and so greater care is usually taken when making the final product. Jumpers, scarves and other woollen garments.
With that said, as long as it's cared for correctly, it also usually lasts longer too. That means you're going to have your favourite jumper longer, which is good for sustainable fashion.
Lastly among the main reasons why people love it so much, it's warm! It's a really good insulator, which makes it perfect for Winter, and works equally well in your Autumn wardrobe and Springtime too.
High Street Cashmere
There's plenty of high street brands offering cashmere knits. With jumpers, cardigans or other cashmere accessories such as hats and scarves being on offer.
As with everything else on the high street, there's  varying quality and price-points.
Good high street cashmere will run at around £100. Expect to pay £80 – £120 for cashmere from high street brands.
There's some high street brands which will offer cashmere below £50, but this is likely to be a blend. This means that the cashmere wool is mixed with other fabrics.
It's not uncommon to have only 5% cashmere and the rest made up of other wool, polyester or acrylic.  So it's important to check what it's made from.
Premium Cashmere
There's plenty of premium choices out there, but you should always be careful when buying premium.
There's some brands which will add a premium because of the label/brand, some because of the craftsmanship, and some because of both.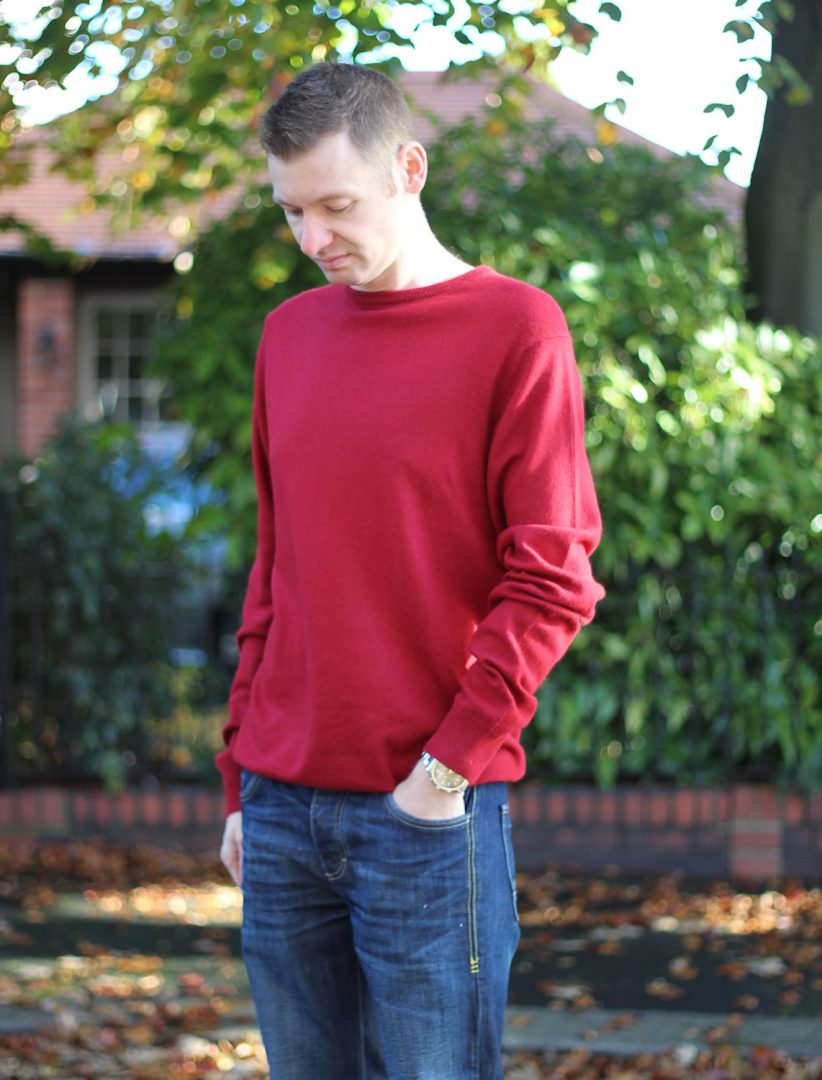 Buyers Guide Checklist
Check The Label – Where was the garment made? Is it "pure" cashmere or just a blend?
Test Out The Jumper – You want to try the garment if you can, and make sure the fit it good.
Feel Test – How soft is it? Are you happy with the quality.
Weight & Thickness – Unlike some ultra fine wool like you can get with merino, cashmere should be fairly thick. Not only soft but have a luxurious feeling, and usually be 2-ply or 3-ply.
Care For Cashmere – How To Wash
Since you've probably gone out and spent a lot of money on your cashmere sweater, you'll want to know how to care for it properly.
First of all, if you want to wash it properly and give it the ultimate caring treatment, you'll need to wash it by hand.
It does not matter if your washing machine has a wool setting, you should always wash cashmere by hand using cold water and a delicate washing detergent. Alternatively you can opt for a specialised cashmere shampoo.
Get a bowl of cold water and add the detergent, turn the jumper inside out, and submerge it into the bowl. Spot clean any areas which may need it, rinse and repeat if necessary and allow the sweater to soak for 10-15 minutes.
Drain and rinse the sweater, and press out the excess water gently. Dry the jumper by laying it flat on a towel, making sure you have smoothed it out and laid it to it's original shape.
You should never wring or twist it.
Storing Your Cashmere
Once dry, you'll want to store it. You should store it folded, rather than hanging it up in your wardrobe on a hanger.
Hanging it up for long periods may stretch the jumper, it may loose it's shape. Don't hang up your expensive cashmere. Instead you'll want to store it flat, neatly folding it and keeping in a draw.
Styling – What To Wear With Cashmere
When it comes to styling and putting together an outfit, cashmere is similar to other jumpers and sweaters which you'll own.
The best seasons to wear it are Autumn, Winter and early Spring. Summer is usually too hot to wear any kind of wool primarily designed to keep you warm.
Layering is usually the key since the weather is colder.
If you're wearing a V-neck knit then a shirt is usually preferable. A round neck will mean your undergarment will be covered, so a T-shirt would suffice.
A shirt could still be worn if you want to feel more dressed up, with the collar showing.
As for colours, the staple colours of black, different blues and greys are always a good idea.
You can pair these with a variety of different shirts. If you're going for a coloured knit, make sure your shirt compliments it.
It's usually safe to go for a white shirt with almost any colour knit (other than white!).
The Best Cashmere Sweaters You Can Buy Right Now
Affordable Cashmere Sweaters
John Lewis Made In Italy Cashmere Knit In Duck Egg – £85
Uniqlo 100% Cashmere sweater in navy – £89
M&S Autograph 100% Pure Cashmere Crew Neck Jumper – £89
Premium Fashion Cashmere
Thomas Pink Kender Jumper In Blue – £195
Reiss Blackjack Roll Neck Cashmere – £189
Reiss Hamilton Crew Neck Jumper – £175
Aquascutum Lyndon V-Neck In Grey – £250
Ted Baker COHEN Crew Neck Knit In Teal – £225
Johnstons Of Elgin Slim Fit V-Neck In Boysenberry – £229
Luxury Cashmere Sweaters
Alexander McQueen Charcoal Cashmere Knit – £470
Hugo Boss Tailored Cashmere Sweater – £350
Emporio Armani Cashmere Jumper – £410
Burberry Cashmere Crew Neck – £395
Tom Ford Crew Neck In Red – £750
Pringle Cashmere Knit with Suede Elbow Patch – £550
Final Word
Cashmere is a great investment piece. If you buy a good colour, fit, and look after it, it's a real men's wardrobe staple. It should prove to be a much loved and much worn piece of clothing that you'll ever own.