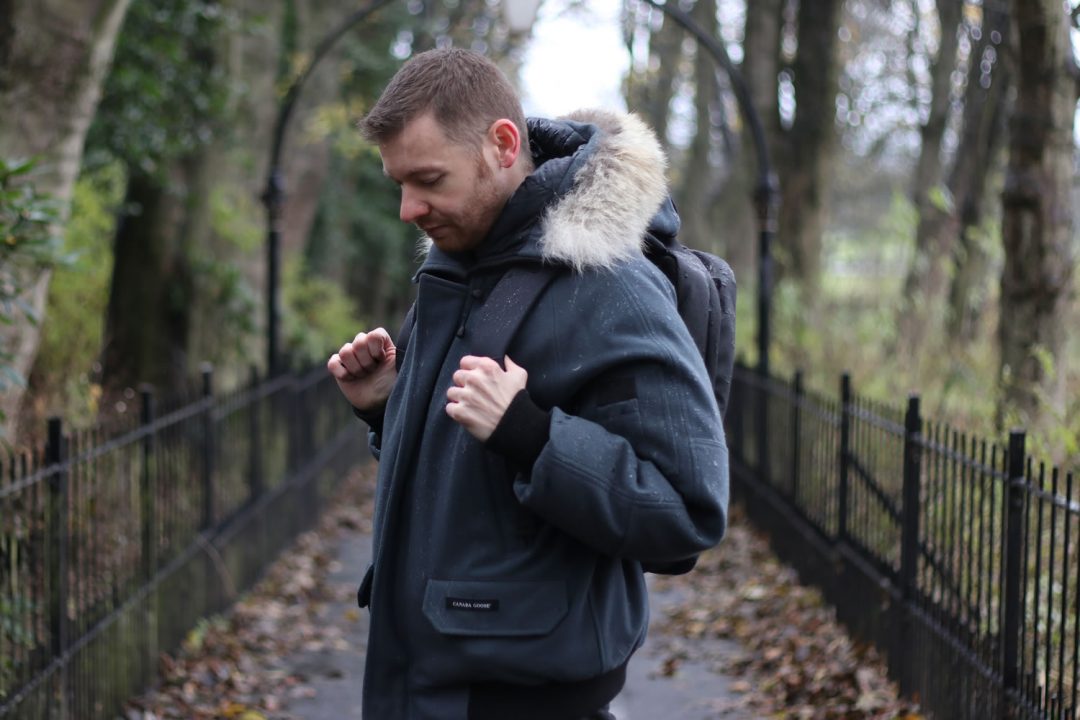 UPDATED FOR 2018
Brrr it's getting cold in 'ere! Winter is here, or coming, depending on where in the world you live and when you're reading this post 😉 One way or another you'll be experiencing the depths of winter sometime soon, so you'll need a winter coat or jacket to get you through a few horrible months of the miserable British winter weather.
Buying a good winter coat is not only important for the first year you purchase it, but it can become a good investment piece, lasting a good few winters before you need to splash out and buy another.
With that said, investing in a good jacket is not only worth it because you'll be getting much better quality which will be noticeable when you wear it, as well as it lasting longer than a cheap and cheerful coat.
My winter coat and jacket collection has grown over the past few years, and I have quite a few of the bases covered with quite the selection, including my Pull and Bear Parka, Barbour Chelsea Quilted Jacket, Adrian Hammond padded jacket and of course the daddy of them all, my Canada Goose.
The Canada Goose Is Hands Down The Best – Buy One!
I would love to advise you to go out and spend over £600 on a Canada Goose jacket, but things are not that simple. In my opinion if you need a coat for a harsh winter there is simply no better than a Canada Goose.
I got a Chilliwack Parka a few years ago, and it was a godsend for 2 bad winters we had. It does come with a few problems in the UK though. For example, last winter was so mild I never actually wore it! They are amazing for harsh weather, and if it's freezing cold, if there's wind chill, or if it's snowing, then wearing one will keep you toasty.
However if it's a mild winter and not really sub-zero temperatures, you'll literally be sweating in one; They are not really designed for mildly-cold winters. There's the price too, at around £600 it is rather expensive.
So what are the other bits of fashion advice  when looking to buy a winter coat this year? Well there are a few options, and I will go into the different styles of jackets which are available at the moment.


Quilted Jackets
Quilted jackets usually have a diamond or squared pattern to them, and they are usually quite light, made of polyester and will keep you warm enough providing it's not super freezing cold and your other layers under your coat are substantial enough. Be careful when buying a quilted jacket, as you can get some paper-thin ones which are usually at the cheaper end of the market.
Unfortunately it can be hard to tell by simply looking, so I would advise going and trying out a couple of brands in a store to check out the quality and see what you get for your money. Out of all the jacket types they are not the warmest, but they probably are the smartest, stylish and most versatile.
The biggest plus point about a quilted jacket for the winter is that they are smart. You can wear them to work, out to lunch, around the city or on a night out. A good stylish quilted jacket will never look out of place.
Lacoste Short Down Jacket – £235 – here – This Lacoste jacket comes in a dark navy blue, has a point collar and is made from cotton and polymaide which provides great water resistance.
GANT Quilted Windcheater – £185 – here – A simple design with a showing zipper, the Gant windcheater will keep you dry and is lightweight, made from 100% polymaide.
Joules Hawksfield Quilted Jacket – £129 – here – This quilted jacket from Joules comes in a mid length made from polyester, and has more than enough storage pockets to keep everything warm and dry.
Barbour Powell Quilted Jacket – £159 – here – The Powell quilted jacket from Barbour is smart and sleek, with a nice feel, and faux leather trim for a premium look.
Tommy Hilfiger Stripe Jacket – £147 – here – This quilted jacket from Tommy Hilfiger comes with a distinctive trademark stripe on the collar, and is made of pure polyester.
Jack & Jones High Neck Jacket – £56 – here – The Jack & Jones quilted jacket is a great budget option which is under £60, and comes with a zip collar style.


Parkas
Parkas are usually that little bit longer and can come with faux-fur (or in some cases real fur) hoods. They are good for the winter, and stand up to cold, harsh weather well. Typically they're waterproof or resistant, so whether you're faced with snow, rain, wind or all three, you should be in good shape with a parka.
There are some really expensive options at the higher end of the market, with some more reasonable priced offerings at the other end. Brands like The North Face, Canada Goose and Woolrich offer protection against the coldest weather and have really strong brand qualities.
I have selected some parkas from different brands and from different price points; These include some high street brands at a premium price, along with high end luxury labels which have made some great coats for this season.


Padded Jackets
Padded jackets, puffer, down filled, whatever the term you use to describe them, padded jackets are quite a popular choice for a winter jacket. They're light, often made of nylon & waterproof and come in bomber, mid or longer lengths.
One of their big selling points is that there is a wide range available in terms of price, as well as an abundance of different styles and colours. You can get super light weight bomber lengths from the high street brands, or get something more substantial from luxe-fashion labels.
There's a large choice in padded jackets. The advice would be, as with quilted jackets, to test drive a few before you buy. Usually with a padded jacket you get what you pay for, and of course getting a higher end label will result in a higher price tag, but not necessarily better at keeping you warm.

Waxed Jackets
Waxed jackets are made from waxed cotton which is water resistant, and were originally made for outdoor activities such as fishing, hunting and shooting. They've recently became popular in modern mainstream fashion, and when you think of Waxed jackets, Barbour is the brand that is synonymous with the style.
They now have a wide range of styles available, including a collection inspired by Steve McQueen. One of the best aspects of the Barbour waxed jackets is that they are still made locally, near my neck of the woods, in South Shields.
Final Word
Whatever style of jacket you go for make sure you buy a good one which will last you for the entire winter, and hopefully many more to come. Go for a timeless colour, I recommend something dark such as dark blues, greys and black, these colours never go out of style.
If you can afford it I would advise getting a smart jacket for more formal occasions and times where you need to look a bit more sharp, and another for the really cold winter mornings going to work, and the more general cold conditions where keeping warm slightly overshadows looking super smart.
My picks would be a quilted jacket and a parka. Layering up is always a good idea, so remember to have a read of my men's Autumn/Winter knitwear guide and get yourself a warm, smart jumper or cardigan to pair with your Winter coat of choice.