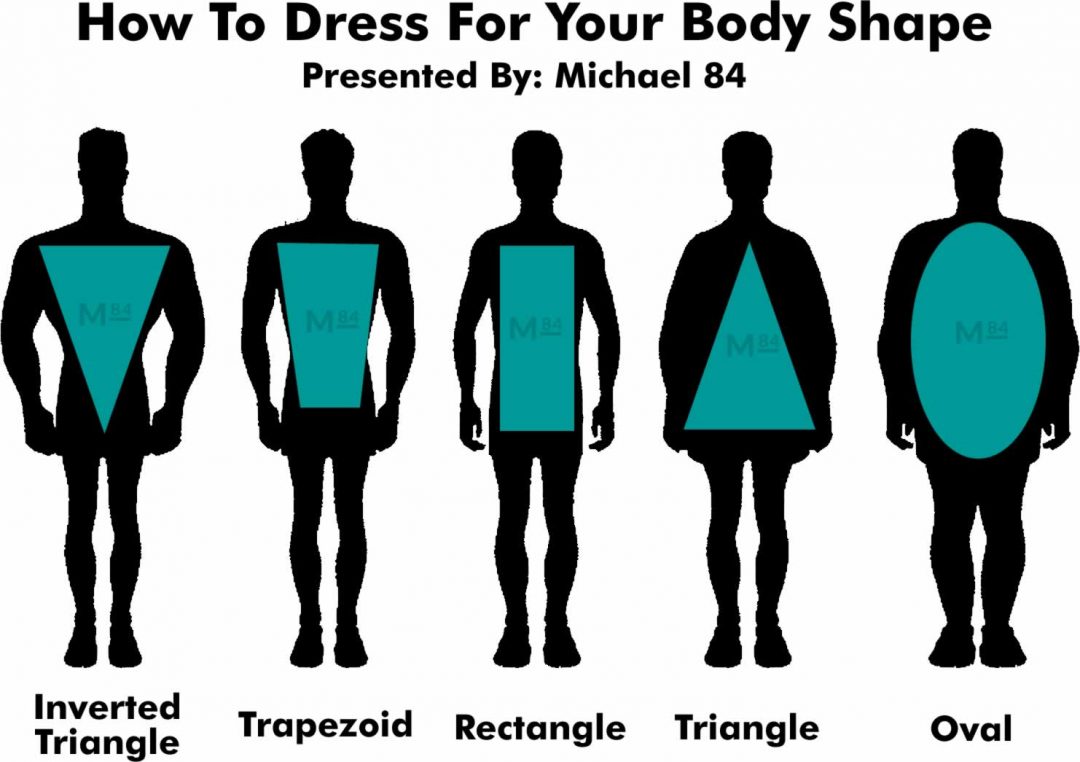 Have you ever saw some guy wearing some clothing and thought it looked good, so you've went out, bought the same clothes, and it looks nothing like how you imagined it?
You're not alone, it happens to us all.
This can be put down to many things but one of them, is body type and shape.
You've flicked through a magazine, watch a film or TV show, or just seen something from a menswear website online and thought it looked good. You try it on only to find that when you've attempted to pull off the same look, it just isn't the same.
So what can you do? Fortunately you can dress better by wearing better clothing more suited to your own body type.
Male Body Types
Men come in all different shapes and sizes, but there's 5 main body types which you're likely to encounter, and you may be more than one at various stages of your life. These are:
Inverted Triangle
Trapezoid
Rectangle
Triangle
Oval
It's really important to know what body shape you are, or at least know what your close to.
Here's more details on each body shape.
Inverted Triangle
Spend a lot of time down the gym pumping iron and lifting weights? If you're top is a lot wider than your lower torso, then you're the inverted triangle.
Wide broad shoulders and a narrow lower half could be desirable to some, but it's a little top heavy when it comes to fashion.
Not to worry, you can continue smashing it at the gym while looking stylish too. After all, you'll want to show off that body you've been working on.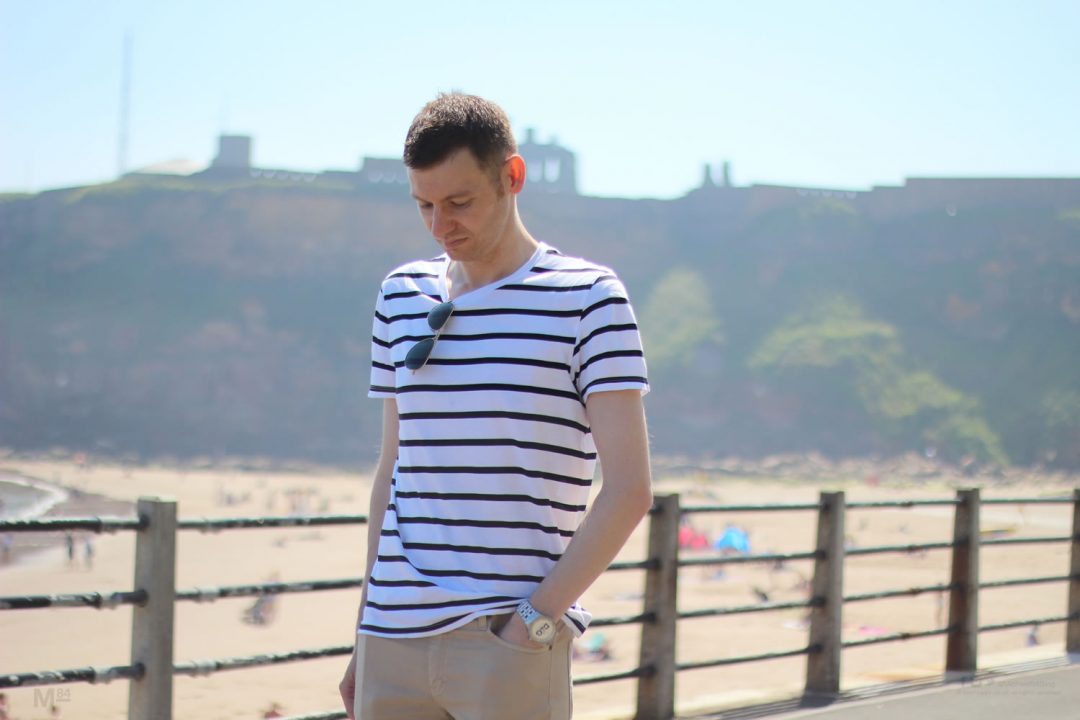 Clothing For Men With Inverted Triangle Body Shape
Slim fit shirts – Not extreme skinny fit so they're too tight. You want a nice slim fitting shirt which is cut close to the body, but doesn't look like it's too small. You may want to size up, so it has the perfect fit.
Regular V-neck T Shirts – Don't go crazy and get the deep v-neck tees which are plunging down because you think that will show off your chest, they look terrible. Instead, opt for a standard v-neck tee which will look far better.
Jeans – When it comes to jeans, you can wear slim or straight leg jeans. Since your lower half is more slender than your upper, you should have no problem with this fit of jeans.
Slim Fit Jackets – When it comes to wearing a jacket, a bomber jacket would be perfect with a nice short length, and for others, a slim fitting jacket will work fine.
Horizontal Stripes – Horizontal stripes can make you appear a bit wider, but if you can find a design with stripes nearer the bottom with none or less at the top, this would be a great choice.
What To Avoid
Deep necklines – Don't go for the massive O neckline, scoop neck or deep V when it comes to T-shirts, as they will make your body look out of proportion.
Loose fitting clothing – Especially the jeans or other clothing on your lower half. The excess fabric will be noticeable.
With this body type you could could consider muscle fit. But don't fall into the trap of wearing clothes too small to try to make yourself look more jacked.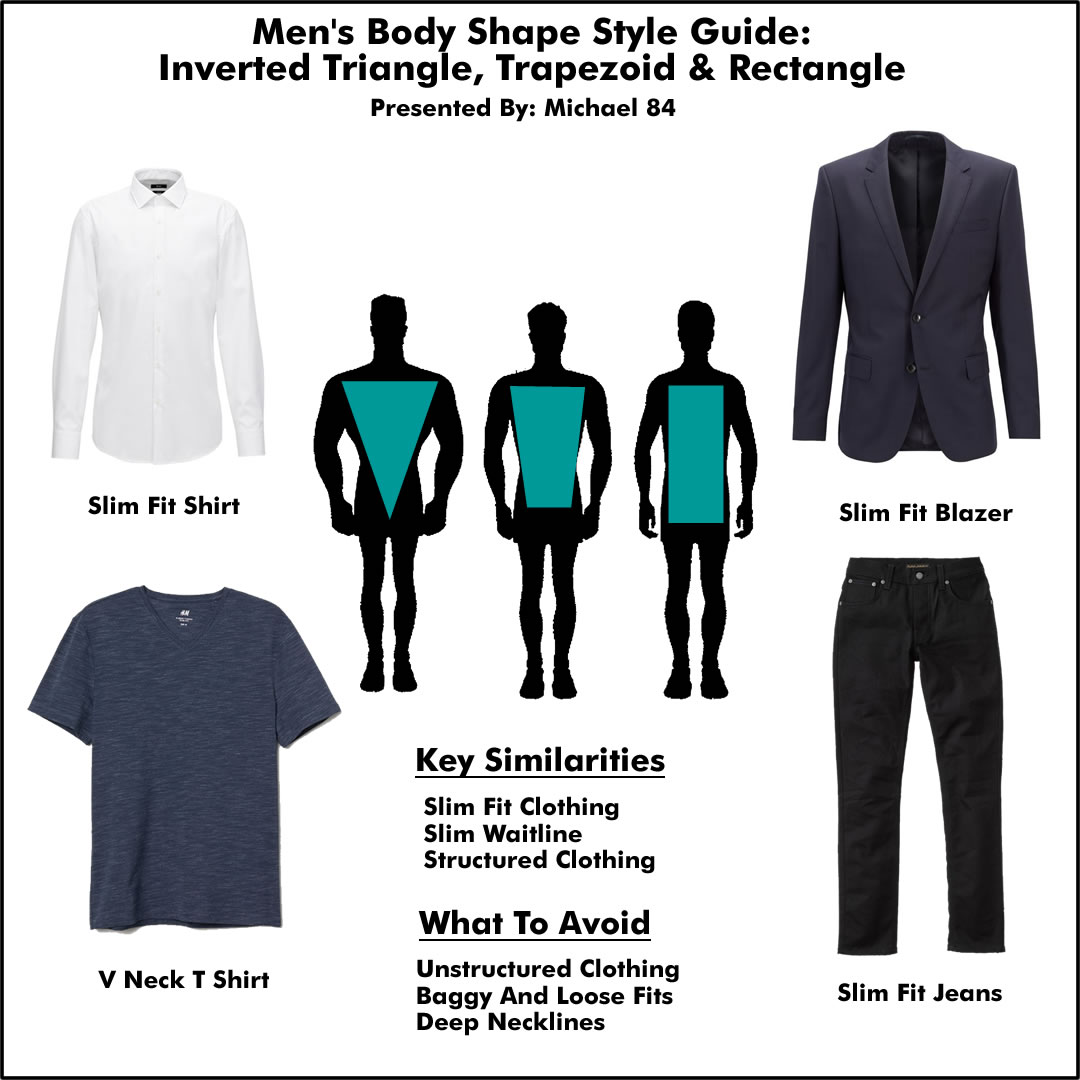 Trapezoid
And the award for the best body shape goes to…YOU!
Yes, the Trapezoid can be considered the best body shape, especially when it comes to style. you could be toned, have slightly broader shoulders and your body tapers down to your lower torso in a nice sweeping way.
This body shape is usually what is in mind for most clothing brands and manufacturers, especially the more higher end and fashionable labels. For that reason, there's a lot of clothing which is going to look good on you.
Clothing For Men With The Trapezoid Body Shape
Shirts – As your body is a slim shape, a slim fitting shirt is going to fit you well.
If you're short, you can look taller by wearing vertical stripes. If you're tall and want to add a touch of width, checks and horizontal stripes could work. Plain shirts are always stylish.
Jeans – Slim fit jeans would be the perfect fit for your body.
Trousers/Chinos – The same goes for chinos or trousers. Wearing a pair of slim, nice fitting chinos will look great with the right top on your upper half.
Jacket – Once again, a well fitted, slim jacket is going to be your go to option. Whether it's a fitted blazer, leather jacket, bomber or denim jacket, it's going to look good on you.
What To Avoid
Oversized Trends – The oversized trend is popular in some sub-cultures, but wearing clothing which is clearly too big for your body is not going to give off a good sense of dress vibe.
Super Skinny Trends – Whether it's super skinny spray on jeans or the tightest of tight T-shirts, it's always to be avoided.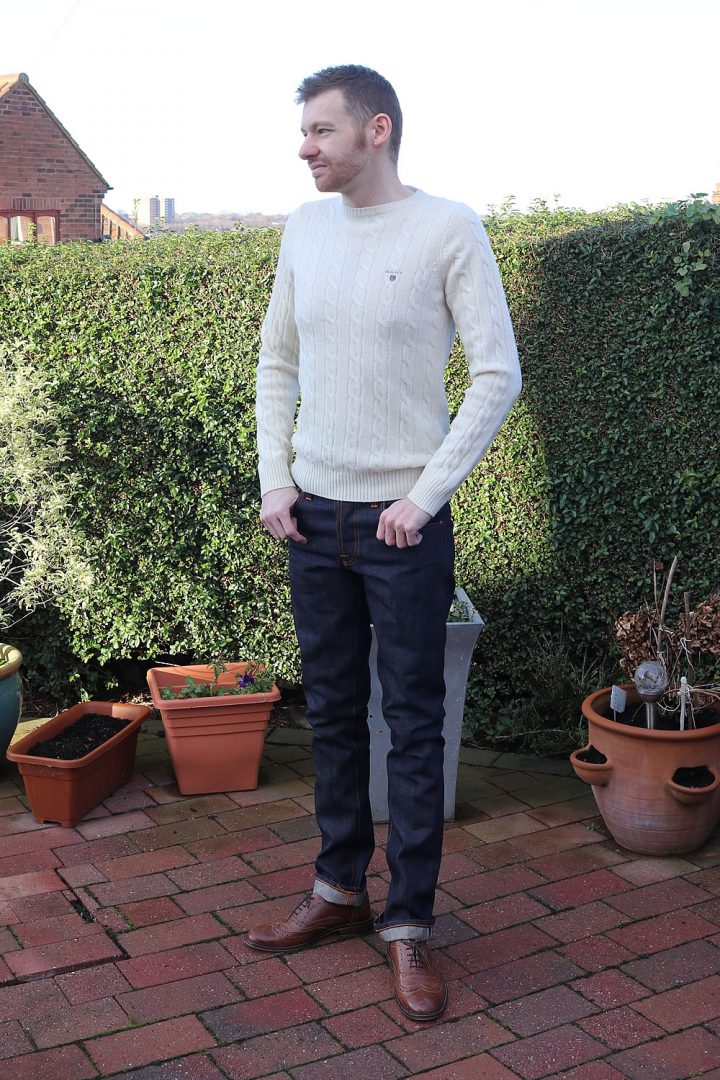 Rectangle
The skinny, up and down, nothing but straight lines frame body shape, this is the rectangle body shape.
Typically this kind of body shape is seen mostly on guys who are tall or taller than average, and give off a skinny appearance, and appear longer than wide.
Well fitting clothing is once again important. Wearing something too big will drape over your body, and wearing something tight will only make you look even thinner.
Clothing For Men With The Rectangle Body Shape
Layering – Layering is a good idea, as it's adding more clothing to your body, giving you a wider appearance. You can layer with slim fitting clothing, which will ensure you keep your body shape, without looking like a beanpole.
Horizontal Stripes – Horizontal stripes can also help you look that little bit wider. My favourite nautical stripes will work well in this case, not only a great idea to wear, but also a brilliant option for the Summer.
Colours – Using colours in your shirts or tees is a great idea, and with bright colours which pop you'll give off a more dynamic look.
Tailored Suit – Get a suit which is tailored, and has plenty of structure to it.
What To Avoid
Unstructured Clothing – Suits and other garments which are hanging off you will not look good, and look like they don't fit.
Oversized Trends – Once again, oversized trends will not be a good idea to work with a rectangle shape.
Vertical Stripes – This depends on your height, but adding even more height using vertical stripes could be something to avoid.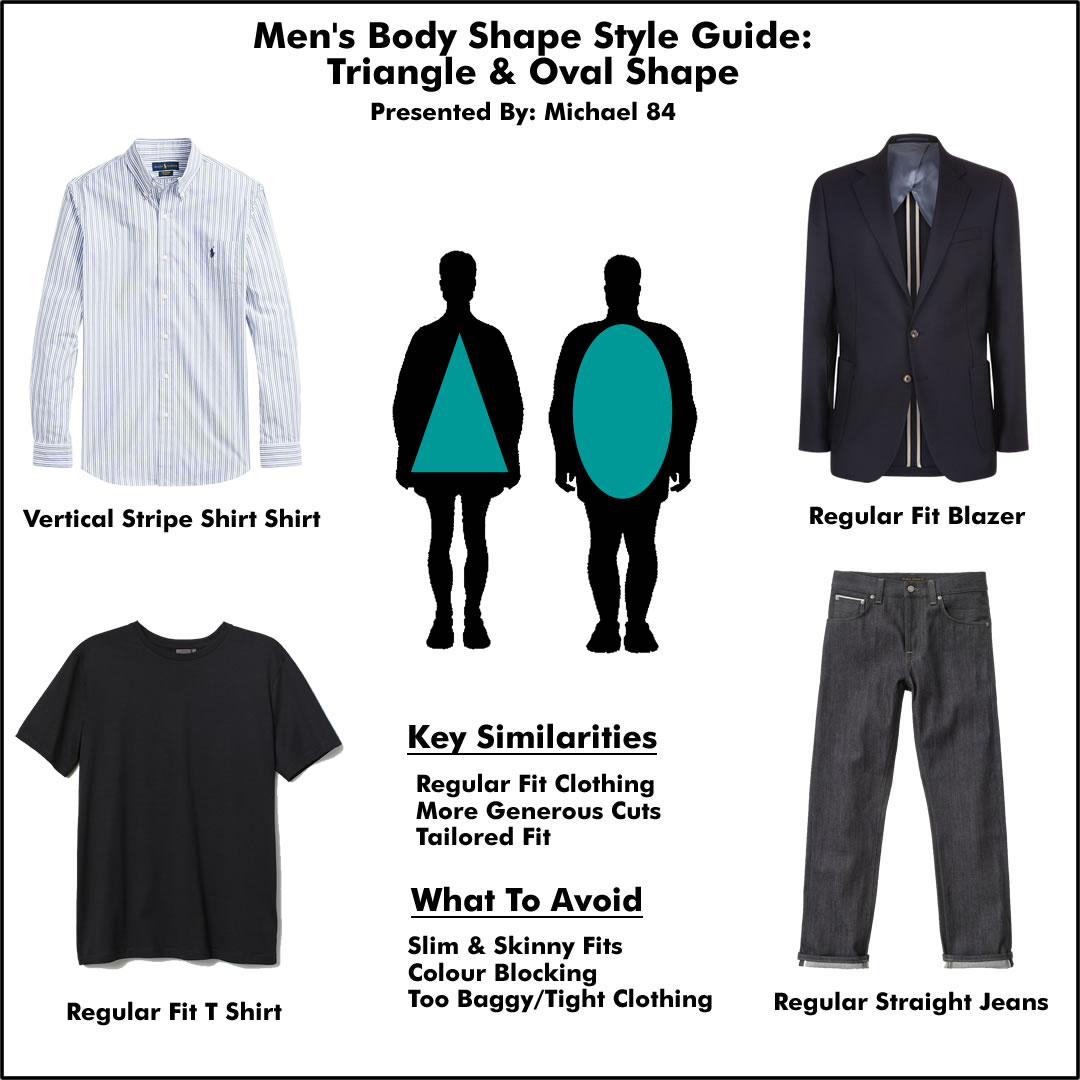 Triangle
Wider at the bottom of your torso around the hips and narrower as your get up to your shoulders, that's the triangle body shape. This could be considered to be a bit of a dad bod, as we age and get older and care less about staying fit.
We enjoy the finer things in life, good food and drink, and this can show in the body.
The triangle is a pretty natural body shape, and probably one we've all had, or will  have.
Clothing For Men With A Triangle Body Shape
Vertical stripes – Stripes going up and down add height and take away a bit of width, that's the illusion at least.
Structured jackets – Jackets with structure in them such as a structured blazer will give you a nice shape and keep you looking smart.
The right fit – Having the right fit of clothing is very important for the triangle shape, as something too big will look sloppy, while something too fitted will look too tight and wrong.
Getting the fit right, whether it's T-shirts or shirts is incredibly important. Get it tailored if you can.
Jeans – Straight leg jeans are going to be the go to, with a slim leg pair of denim being optional, depending on the size of your lower half and your proportion.
What To Avoid
Horizontal stripes – Horizontal stripes will make you look wider, which is no good for around your stomach.
Too loose/tight clothing – Don't try to size down or size up. Whatever you wear, make sure it fits. You'll want the clothing to be slightly fitted, but with a bit of room.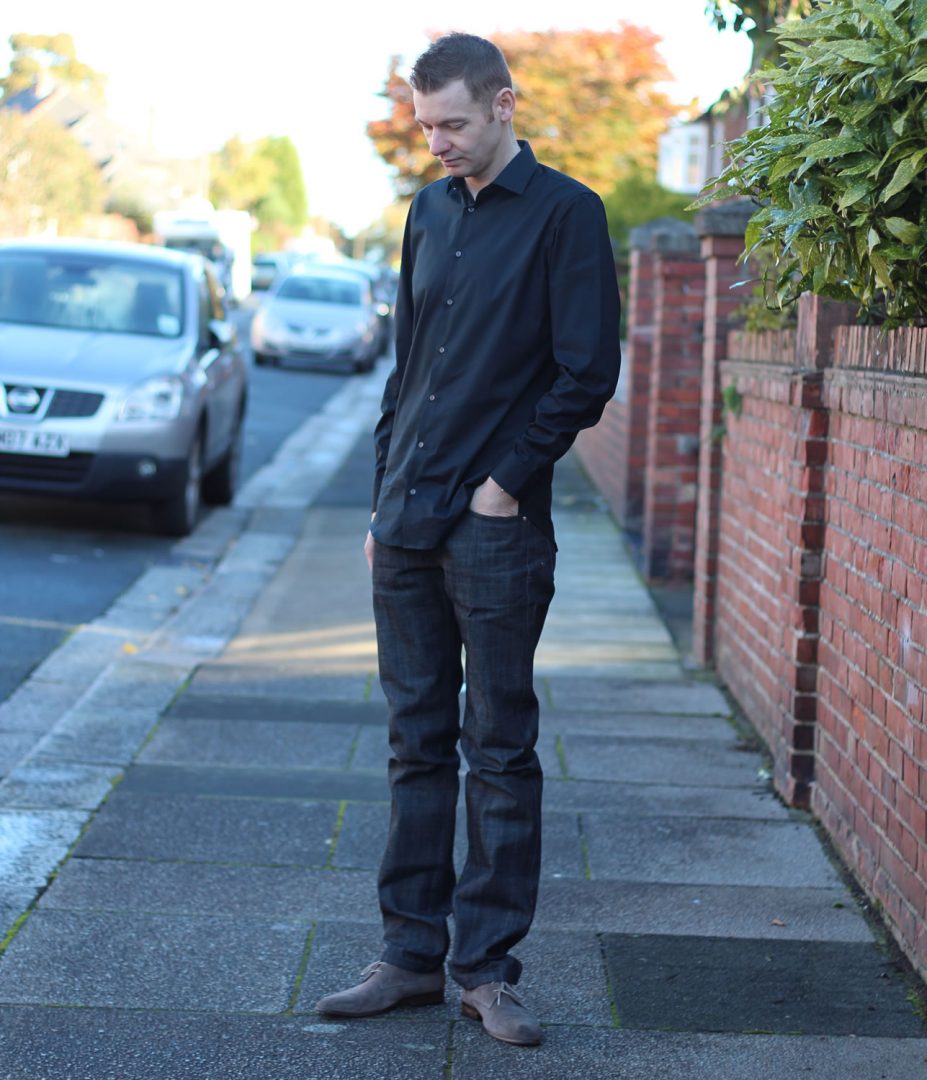 Oval
If you're carrying a bit more timber, especially around the belly area, you're going to be the oval body shape. If you've got a round shape body you can wear clothing which compliments your body shape and makes you look the best you can.
The oval can depend on your body proportions. Taller guys will be able to carry this off better, with shorter guys, especially with shorter legs, look rounder.
Clothing For Men With An Oval Body Shape
Vertical stripes – As we've already covered, vertical stripes will add some height to your body, elongating it and taking away as much width as possible.
Jeans – A straight leg fit is going to be preferable, with a possible mention for tapered style of denim, depending on your leg width and ankles.
Shirts & T Shirts – A regular fit is possibly going to be what you're looking to go for, if you're unable to get a tailored fit.
Jackets – longer length jackets are preferable, especially in the colder months when you can wear them. This will add more length to your body. Trenches, overcoats and mid-length Winter coats are good to go for.
Similar colour clothing top to bottom – A nice trick to elongate your body and therefore reducing the width to a minimum is to wear the same colour top to bottom, or very similar colours. Navy and black, dark grey and black, white and light grey.
Whatever the colours are, if they're similar, it will create a long silhouette of your frame.
What To Avoid
Colour blocking – If you're a shorter guy which is oval shape, definitely avoid colour blocking. It will take even more height off you, without taking anything off your width.
Tight fitting anything – Whether it's skinny jeans or muscle fit t-shirts, tight fitting clothing is to be avoided if you're a round shape.
Baggy clothing – The standard go-to for guys who think they're big is to try to hid it with baggy clothing.
This is possibly the biggest mistake, as your wears will just drape off you, while still being a larger guy. You should still wear things which fit, with a little room to breathe.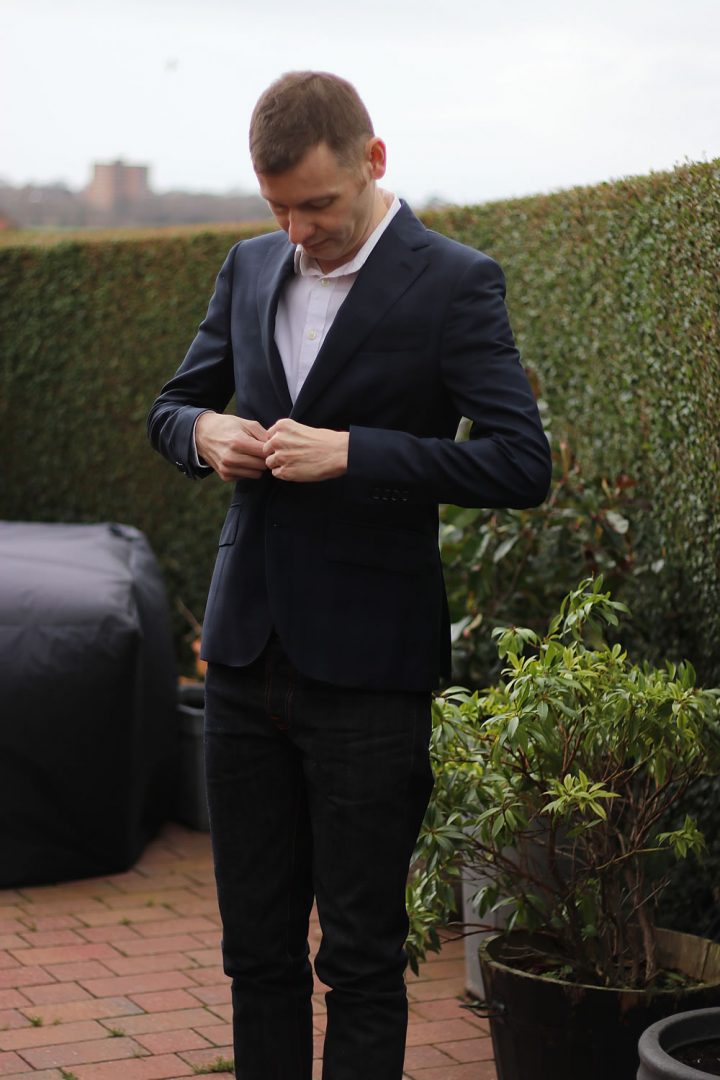 Quick Fashion Tips On Looking Your Best In Clothing
Now you've discovered your body shape, there's a few quick tips on how to look good in the clothes your wearing. Wearing the right clothes and getting the perfect fit is easier with these fashion tips. 4 key things to think about are:
Trends
Plain Ahead
The Fit Is Key
Get A Tailor
Trends
Trends are cool, but more often than not, they don't suit every body type.
Wide jeans are a big trend, but will look too big for most guys. Skinny jeans are trendy too, but will be no good for bigger guys. (read the best fit jeans for your body type)
The purpose of this is to look better in your clothing, not follow the latest trend.
Plan Ahead
Going on a diet? Heading to the gym? There's no point in going out and buying lots of new clothes for them to not fit in a few months.
If you're changing your body type, simply wait. If you're just living the usual healthy life and you think your body won't dramatically change, that's fine.
The Fit Is Key
It's the number 1 style rule for a reason. Make sure you're buying the right size in the first place. Not all brands are the same size, and not all clothes fit the same. (TIP: Read the how to measure your body post for the perfect fit of clothes every time.)
Get A Tailor
There's no better way of getting clothing to fit better than to have your finest pieces tailored. If you can't buy bespoke, take your favourite garments to a tailor for the perfect fit.
Most of the time this isn't necessary, but if you've got more formal or expensive pieces, it should be considered.
Conclusion
And that's a wrap! That is how to dress better and look more attractive by wearing the right clothing for your body type.
Once you've discovered your body type, wear the clothing which is best suited, and you'll always look effortlessly stylish.
You can check out even more fashion tips in the men's style guide. Get some advice on menswear and how to dress correctly.