If you're wearing jeans you'll know that the waist fit you as that's the go to measurement when you're on the hunt for a new pair of denim.
But what about the length? How long should jeans be?
Jeans should be long enough to cover your ankles to the top of your footwear. This can depend on the footwear you're wearing, but generally speaking if you're wearing shoes or trainers your jeans should be touching the tops of those. You shouldn't be showing much sock or ankle, if any.
There are of course some exceptions to the rule. This largely depends on three things: the type of footwear, the fit of jeans and your personal style.
You should also make sure you're wearing the best fit of denim for your body, which varies depending on your shape. Check out the men's jeans fit guide.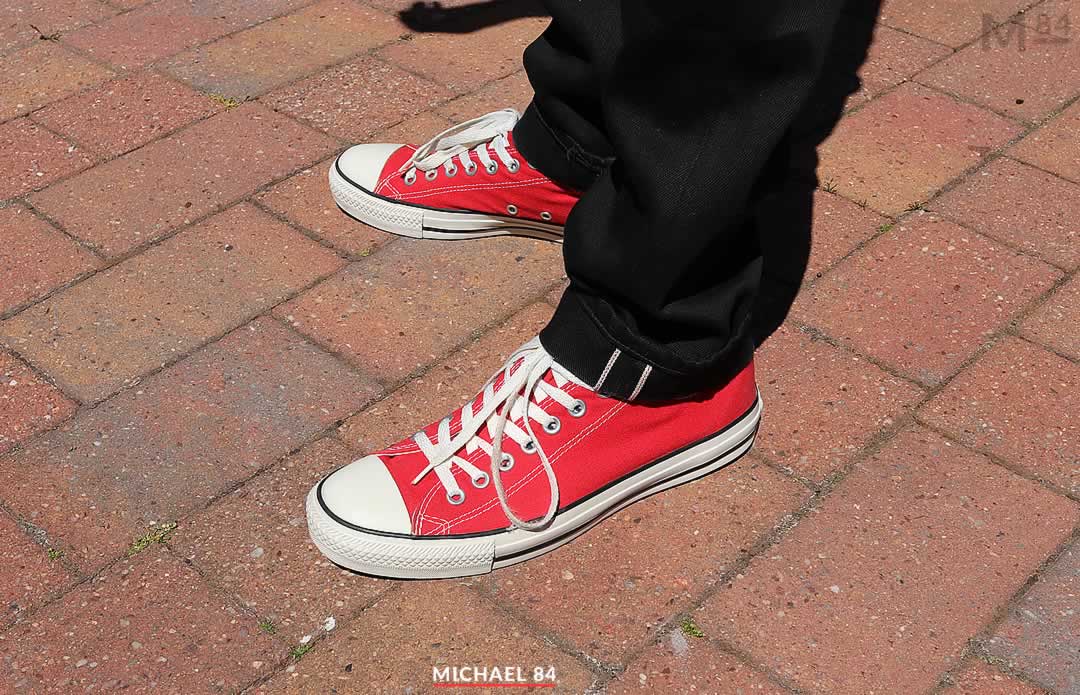 What Length Of Jeans Should I Get?
Jeans are most commonly sold in 2 length sizes: Regular and long. These are 32″ and 34″ respectively. You can get other sizes, such as extra short, short and extra long. These will be 28″, 30″ and 36″ respectively.
There's also plenty of high end denim producers which will only manufacturer one length of denim. This is usually long.
The idea here is that you'll get these tailor cut so they fit you perfect. If you're going to buy expensive jeans you'll want them to fit perfectly after all.
When you're buying jeans online you might see 2 numbers. This will be the waist and then the leg length. An example could be 30×32, which means 30″ waist and 32″leg.
If you're wearing selvedge (or even if you're not) you can roll them up. This doesn't just make them shorter, but adds a little bit of style to your outfit too. (Check out some Selvedge denim outfits here)
Skinny Jeans Trend And Showing Ankle
You may have notice some guys wearing skinny jeans and showing a bit of ankle. It looks like they're not wearing socks (They likely are, here's how to wear jeans without socks).
Skinny jeans and showing ankle has became somewhat of a fashion trend. There's a love-hate relationship going on with this one.
Since skinny jeans are tight, many are created with a shorter leg than standard. That means you'll be showing off some ankle. This has been embraced by guys who have taken the style another level and worn trainer socks, giving the appearance of not wearing socks at all.
As I already said, this has been a bit of a trend which some like and others don't.
If you're going to go down this road, you'll want to make sure the jeans aren't too tight, and aren't too high. The length should end just above the tongue of your trainers or shoes.
You should also note that since this is a bit of a casual style, it's best done with trainers or casual shoes such as loafers.
The Best Length For Baggy And Loose Denim Jeans
The opposite happens when you've got a pair of loose and baggy jeans. If they're long, they can be too long, covering your trainers for you to walk on. Once again, this is not good.
For wide leg, loose or baggy jeans, you'll want the length a little longer, to almost cover the trainers but not go over.
Just like with standard fit jeans, you'll have the option of rolling up the jeans.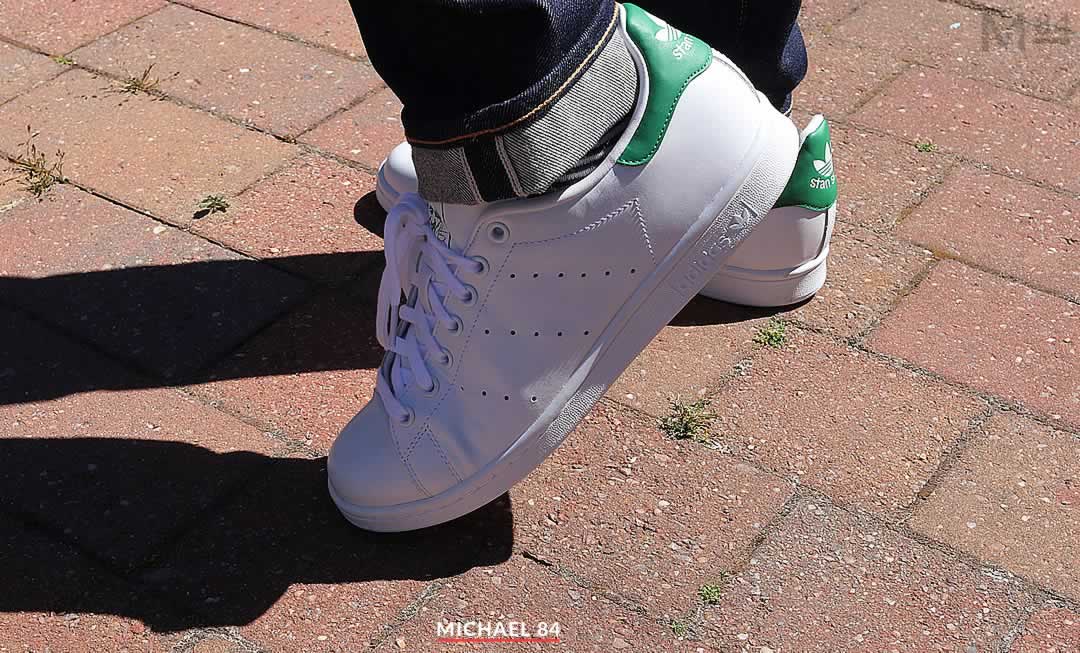 The Best Length Of Jeans For Your Footwear
Your footwear and denim choice will come down to the dress code of your outfit. Are you going for a more casual look or smarter? You should be wearing shoes to match, so to make sure you've got the right length of jeans, you should follow this guide.
Boots & High Tops
If you're wearing boots, your jeans will go over your boots quite a bit. This of course depends on the style of boots, but in general you'll want them covering most of the top half.
Dress Shoes (Oxfords, Derby, Brogues)
Dress shoes are the smartest choice. You'll want your jeans to fit absolutely perfectly for this reason. The bottom of your jeans should hit the top of the shoes, keeping your look smart.
Casual Shoes (Trainers, Loafers, flat shoes)
The rules for casual shoes are the same as dress shoes. However, if you want to embrace the short jean leg trend and show ankle, these would be the footwear to do it in.
When it comes to matching footwear to jeans leg length, a good rule of thumb is: The lower profile the shoe, the shorter leg you can go.
On That Note
And there you have it, that's how long your pair of jeans should be. Just like everything else in fashion, there's no hard and fast rules, with people opting for their own personal style. But as mentioned above, if you want to go the traditional route, your jeans should be covering your ankles to the tops of your footwear.
Don't forget to read more of my fashion tips in the men's style guide if you have any other style questions.