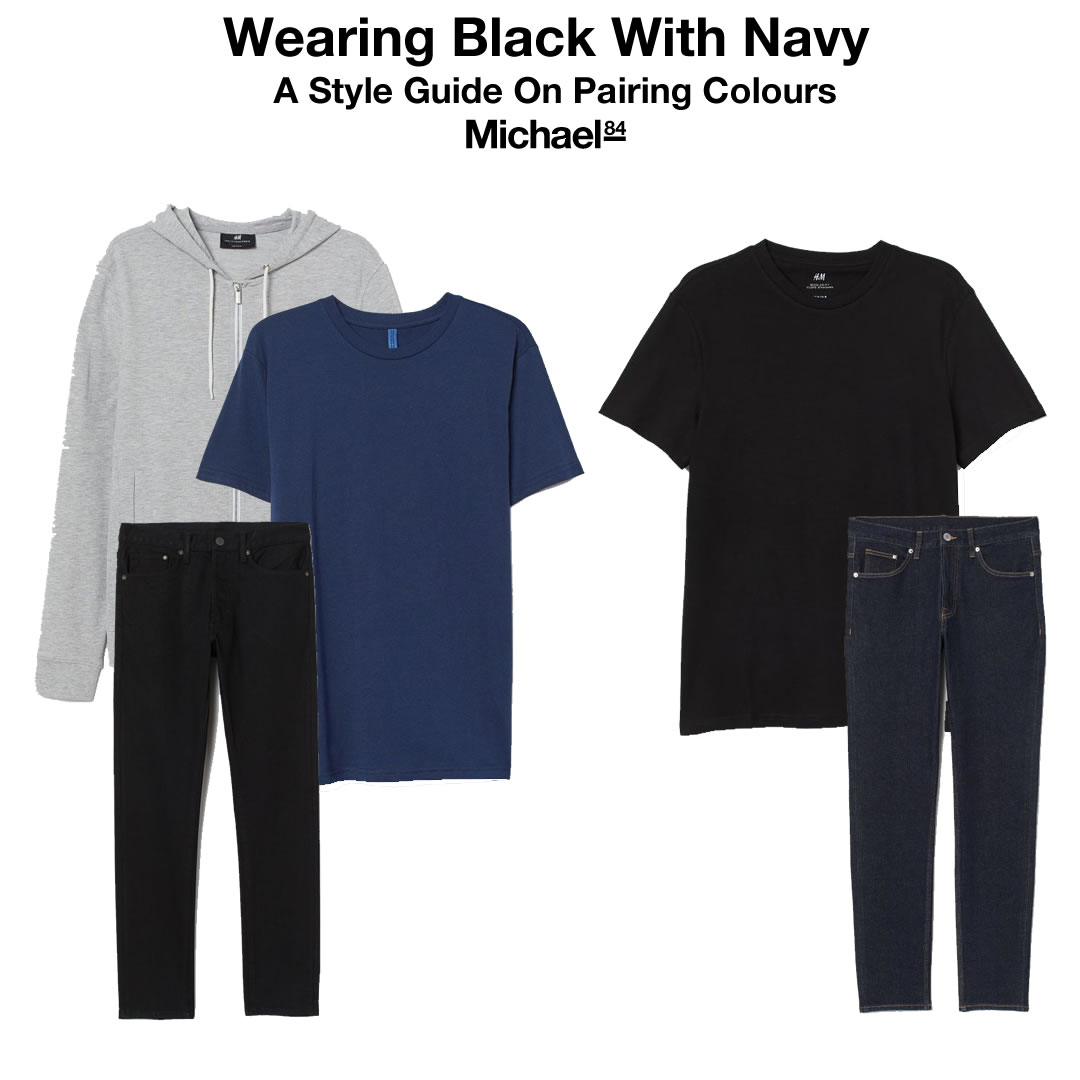 A question which gets asked quite a bit is:
Can I wear black and navy together?
It's a reasonable question to ask. You probably have a lot of black clothes, and lots of navy options too. Can you wear them together?
Yes, you can wear black and navy together.
Here's how to do it, and everything you need to know.
When it comes to style, there's plenty of colour rules that you've probably heard. "Blue and green should never be seen" and "Don't wear white after Labor day" spring to mind. The white rule does not really make any sense to us in the UK, as this is terminology from the USA who celebrate Labor Day in September.
This rule actually comes from new money vs old money, but that's another story.
When it comes to pairing black and navy, there's no doubt your outfit is going to have a dark tone to it. Black can be very harsh, so wearing a slightly lighter tone such as navy can actually brighten up an otherwise cold outfit, even if it's just a little.
Wearing black with navy should be considered a more casual colour pairing. Great to wear on the weekends and even around town, but it's not a colour pairing you'll want to wear to the office.
Black And Navy Outfit Ideas
There's plenty of different outfit combinations you can wear with black and navy pieces. Here's a few example outfits using black and navy clothing that you're likely to put together.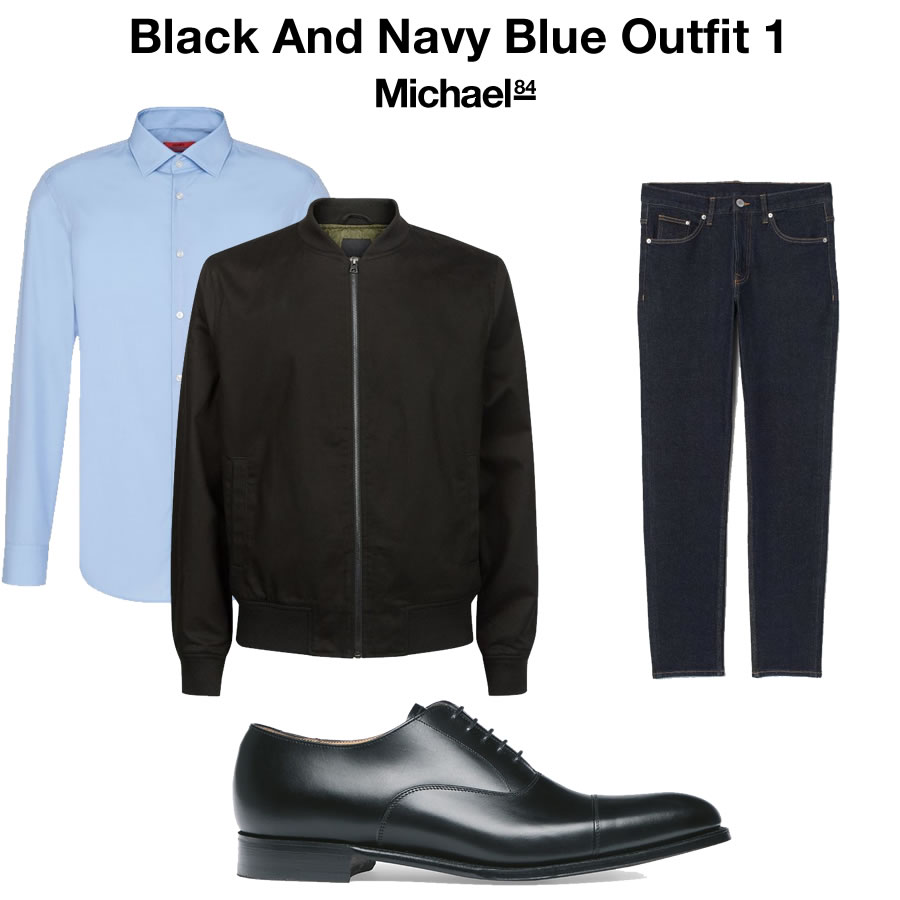 Night Out
Outfit 1
Indigo (Navy) Jeans
Light Blue Shirt
Black Shoes
Black Socks
Black Bomber Jacket
For The Casual Weekend
Outfit 2
Black Jeans
Navy T Shirt
Brown Shoes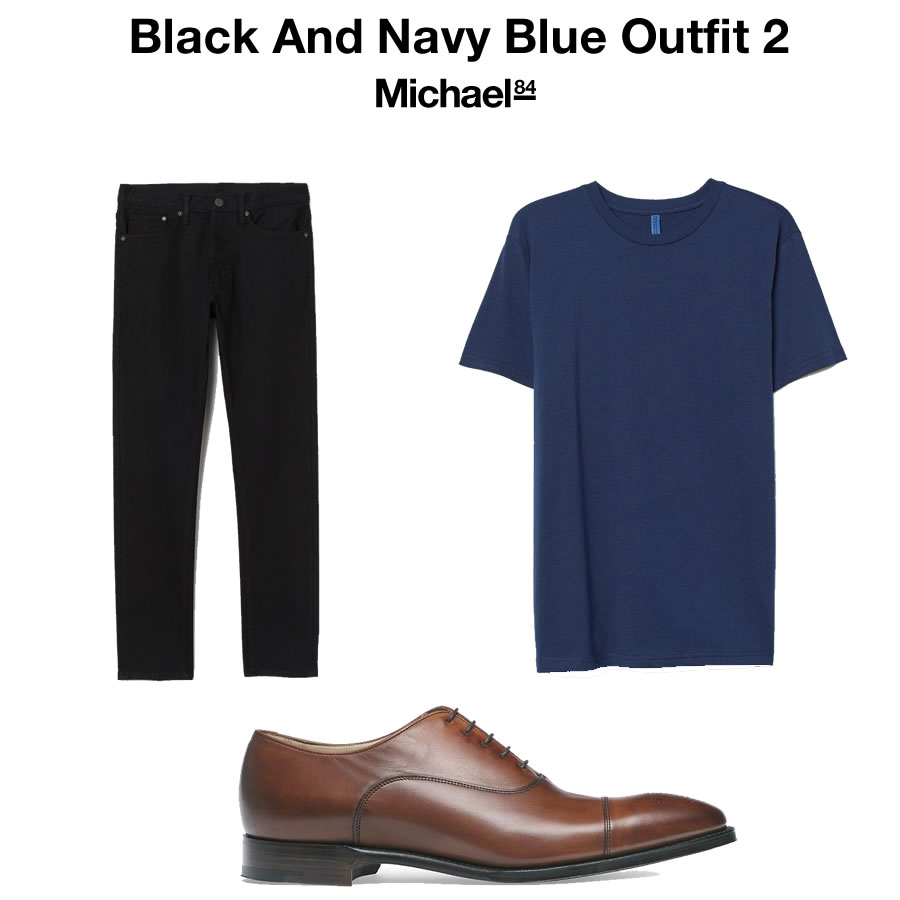 A Note On Patterns And Stripes On Shirts & T-Shirts
When it comes to picking out a black or navy shirt or T-shirt, it doesn't have to be plain. However, you should choose something which is contemporary. By this, I mean if there's stripes, patterns or something else, the colours should be subtle.
A pinstripe shirt for example would be a good choice. A tasteful nautical T-shirt in navy would be fine with a pair of black jeans as a casual combination. However a navy shirt with a colourful pattern would be a bad choice with black (and in fact with most things!).
Black Jeans With Navy
There's no doubt that I like black jeans. But I have a lot of navy clothes, from T-shirts to shirts and even a navy overcoat. I think that pairing black jeans with something navy above it works perfectly fine.
I prefer keeping the darker outfit combinations for Autumn and Winter nights, where I think the colours look the best. You can read more of how to style black jeans here.
Dark Navy Jeans With Black (aka Indigo Jeans With Black)
When it comes to dark navy jeans, i.e. indigo, you can pair them with a black top. This can be a black shirt, T-shirt, jumper or something else on your upper half. Indigo denim is the go to colour when you want jeans which look smart, and combining with a black top will give them a casual edge.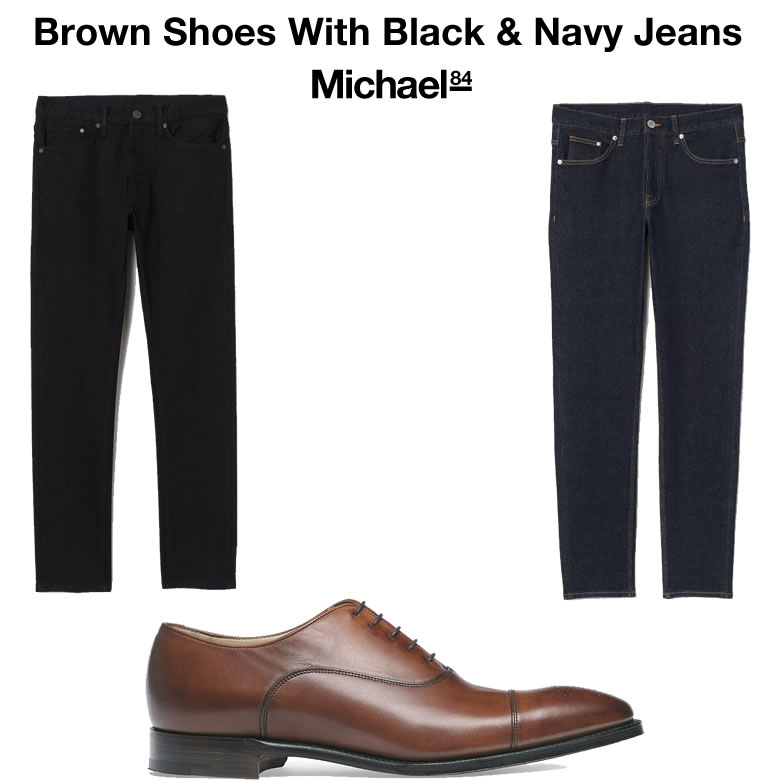 Other Colours To Pair With Black And Navy
Can you wear other colours with black and navy, for example brown shoes? (Yes!, here's how to wear brown shoe with black jeans)
When it comes to introducing more colours to your look, you should be careful. You should only use a maximum of 3 colours in your outfit. This is the primary (main) colour, a secondary colour, and if desired, a third colour.
The third colour should be use sparingly, as an accent to your outfit, and go with your other colour choices. This could be a pair of brown shoes or a neutral colour jacket to go with your navy and black.
Verdict
And there you go, yes you can wear black and navy together, and there's some ideas on how to do it. The usual pairing for navy and black would be to wear each of these in separate outfits, wearing other colours with them.
You can however wear both colours together in an outfit, which is usually going to be for a casual occasion.
Check out more from the style guide for men if you're looking for tips on how to dress better, or ideas on how to put together an outfit.
Thanks For Reading...Want More? 🙌
Hi, I'm Michael 👋 I'd love you to subscribe to my newsletter for exclusive content & updates on my blog straight to your inbox. (No spam, I promise!)