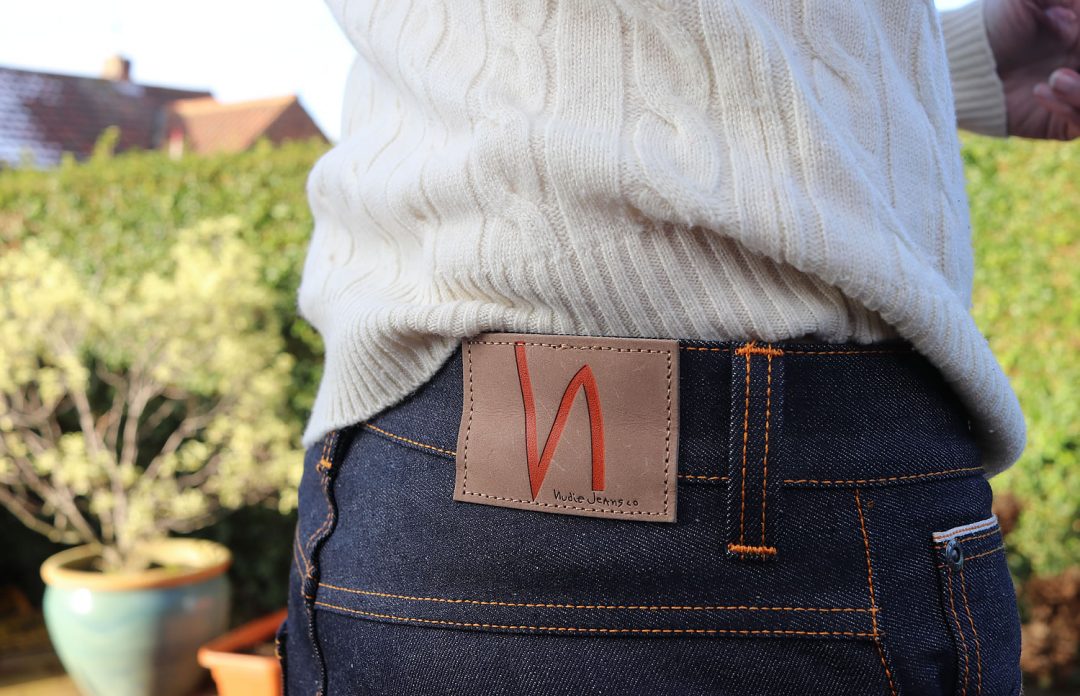 If you're wearing denim, you might be thinking about what the best fit of jeans are for your body shape.
Are you wearing the best fit of jeans for your body?
When it comes to wearing jeans, I think we can all agree that it's one of the fundamental items of clothing we should all have in our wardrobe, right?
I've already spoke a bit about how in my younger teenage years I hated denim. Back in those days the fits were limited and the styles were always uncomfortable, but not today. Now you can get so many styles, and yes, in a lot of different fits.
Buying the right fit for your own body will make you love your jeans, and really enjoy wearing them.
They're one of the items which you can dress up as well as down, from laid back to smart casual, it's probably the most universal piece of clothing every guy owns, and wears on a regular basis.
So, what fits are available today? There's a ton, so many in fact that it can be overwhelming. But not to worry, because in this article I'm going to break them down.
The Denim Fits
The fits available, from tightest to most loose, are:
Spray on jeans aka Super Skinny – As the name suggests, the skinniest of the lot. They are extremely tight, and get the nickname 'spray on', because they look like they've been sprayed on they're so tight.
Skinny jeans – Still skinny as above, but with a little bit of a give. They hug the legs, but are not as tight as the spray on's as mentioned above. Skinny jeans usually come with a bit of elastane/elastic for stretch.
Slim fit – In my view the best fit and most fashionable for most guys are the slim fit. They are generally straight slim cut, with a narrow leg opening and a mid rise.
Tapered/Carrot – Plenty of names, carrot sums it up well, and we all know the shape of a carrot. Wider at the hips and top of the legs for average build guys, but narrow at the ankles for a more fitted look.
Regular/Straight – Regular jeans are a straight leg, easy on the hips and thighs and usually with a mid-rise, and fairly large or mid leg opening.
Relaxed – A loose fit from top to bottom which tends to be straight leg. The leg opening will probably go over your trainers or shoes.
Loose/Wide – There's going to be a lot of room in these, with a lot of fabric. They tend to be low or mid rise, think of the hip-hop era of the late 90's to 00's.
Since there's so many denim brands and clothing labels out there right now, there's also plenty of fits which are in-between or at even more extremes, but there are the main fits you're likely to see in a store or online.
The 4 main fits you're likely to encounter are: Skinny, Slim, Regular, and Loose. Different brands may have different names for the fitting, depending on their own branding and marketing, as well as slight variations.
The more extreme fits are usually from designer brands which focus on the trend fits, whether that's extreme skinny or extreme wide.
The Rise
The rise is the measurement from the crotch to the top of the waistband. To put it simply, it's where the jeans are supposed to sit on your body. High rise is further up, with the lowest being really far down. Typically, you'll find the following:
High Rise – The jeans are at or above your belly button.
Mid Rise – The denim sits at just below your belly button. – The best, most versatile and most common place for your jeans to be.
Low Rise – The jeans sit low on your body, well below your belly button
Drop Crotch – Also called low crotch, it's a super relaxed, some would say sloppy look. Reminiscent of the times where you'd see guys Calvin Klein's, it was popular in the hip-hop days gone by.
Jeans Sizing Explained
Have you ever seen 32×32 and not know what it means? Well it's really simple. This is the measurement of the waist and leg length of the jeans. The first number is the waist, followed by the leg length.
These measurements are in inches (which uses two inverted commas like so: ")
Waist Size & Leg Length
Typically, there's 3 leg lengths: Short (30″), Regular (32″) and Long (34″). Specialised denim shops or specialised lines or collections may stock other leg lengths, such as 28″ for shorter guys or 36″ for taller gentlemen. (Check out how long should jeans be)
It's not uncommon to only see the waist size. Many brands will just opt for their own standardised leg length, which can be anything from 32 – 34.
If it's too long, the idea is that you get this cut or tailored to suit yourself, so you have the perfect size denim for you. You can check how to to measure yourself for jeans here.
So, what are the best fits for body shape? Well…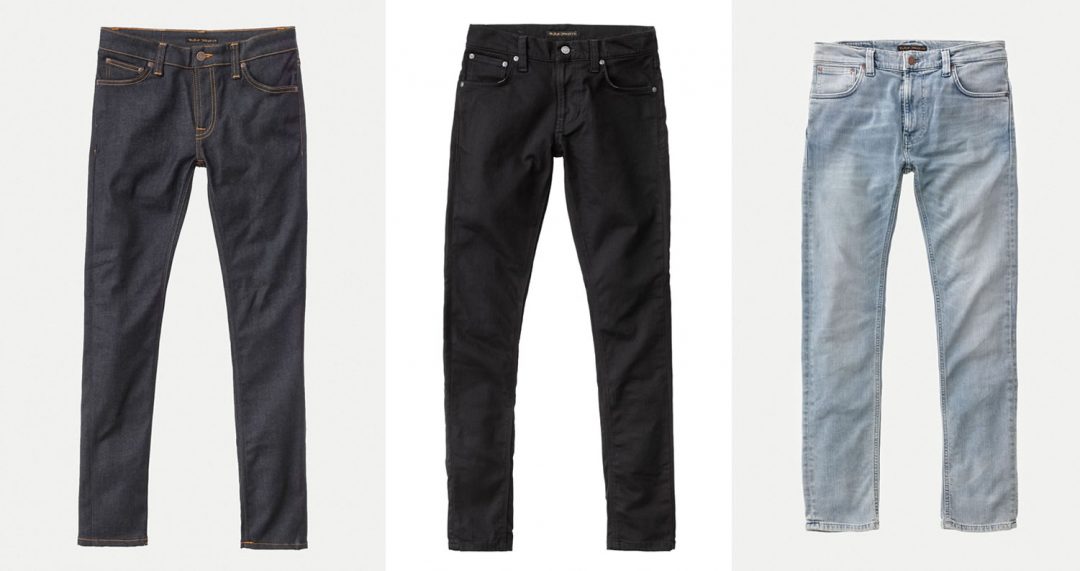 Skinny Guys
Best Jeans: The best jeans for skinny guys to wear are skinny and slim fitted jeans with a mid rise. They are the most suited to a skinny body, and will appear to have a nice fit.
Avoid: Relaxed and loose fit jeans are to be avoided. There will be too much denim fabric, and these will look incredibly baggy and sloppy.
Slim Guys
Best Jeans: Slim guys can wear skinny jeans, but a slim fit is by it's nature, going to be the best fit. Tapered jeans will be fine, and most regular or straight leg jeans will be fine too. A mid rise will look best.
Avoid: As with the skinny body type, relaxed or loose fitting jeans are to be avoided, as they will have too much denim fabric, and always appear to be too big, even if they're the correct waist and leg fitting.
Average Shape Guys
Best Jeans: The best jeans for average shape guys are going to be regular straight leg jeans with a mid rise. You could also opt for a slim fit, which will give a fitted look to your lower half, or a relaxed fit, for a more generous fit.
Avoid: Skinny and super skinny jeans are to be avoided.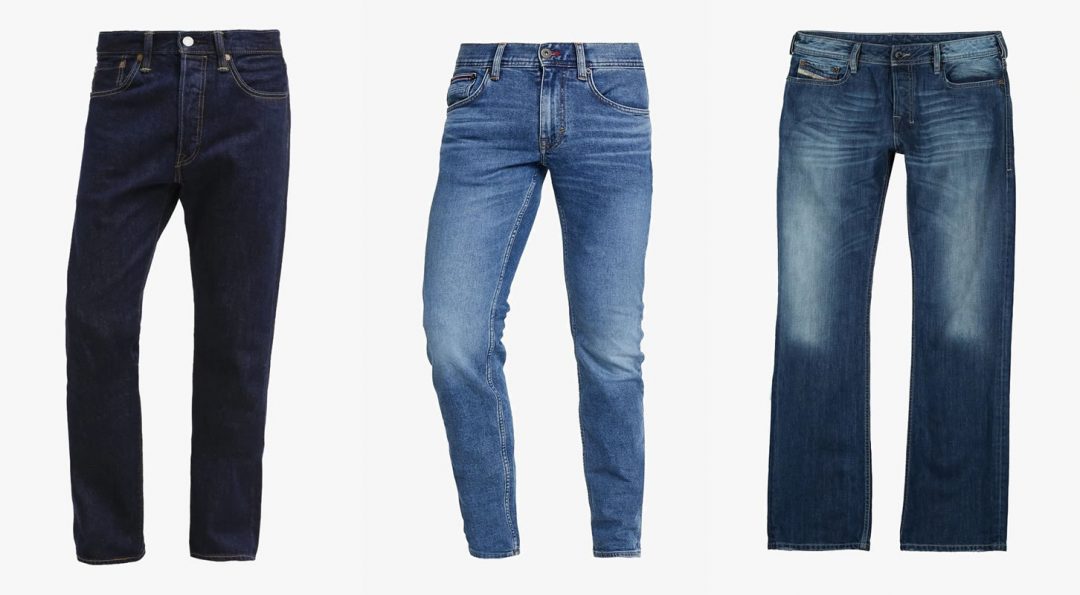 Slightly Larger Men
Best Jeans: Regular or relaxed fit will be the best jeans to go for, with a mid or mid-to-low rise. For a more baggy fit, a loose pair of jeans may also work for a casual setting.
Avoid: Super skinny, skinny and slim fit jeans.
Athletic Guys
Best Jeans: Slim fit will still look good on an athletic build, depending on how your leg days have been going. A tapered fit should give you room in the waist and hips while tapering down to your ankles for a good fit.
Avoid: Super skinny and skinny jeans, as well as the looser and larger fits of denim.
Big Guys
Best Jeans: A relaxed fit is going to be preferable, with a loose fitting jean also working well. A straight leg regular pair may also do a good job, giving off a more fitted look for the bigger guys.
Avoid: Super skinny, skinny or slim fits. These will be too tight for most big guys.
Getting the perfect fit of jeans is an important style factor for all men. The right fit can elevate your outfit and overall look, while the wrong fit can look sloppy or just wrong. Make sure you wear the right fit for your body type, and dress for the occasion.
What Denim Fits Should We All Avoid?
In my opinion, the extreme fits are the ones to be avoided for the vast majority of men. That means the super skinny, spray on jeans, along with the loosest, most baggy of the loose fit jeans too. Everything else in between can be worn, providing you have the right body type for it.
The fits which are in the middle are going to be the most universal, but moving that little bit tighter or looser depending on where you sit, is going to make you look and feel better.
Conclusion
Getting the right fit of denim is not only about the right fit for your body, but also the right occasion.
The slender or average guy might be able to get away with a relaxed fit, but only in a casual setting, and it will look too big for the majority of occasions.
As we know from fashion, the biggest style tip has always been getting the fit right, so ensure you are wearing well fitted jeans for your body type, and you'll look smarter than ever before.
If you want to learn more about denim, you can check out the selvedge denim guide, What is Raw Denim and also how to style black jeans, which will give you all the information you need for dressing well in your jeans.