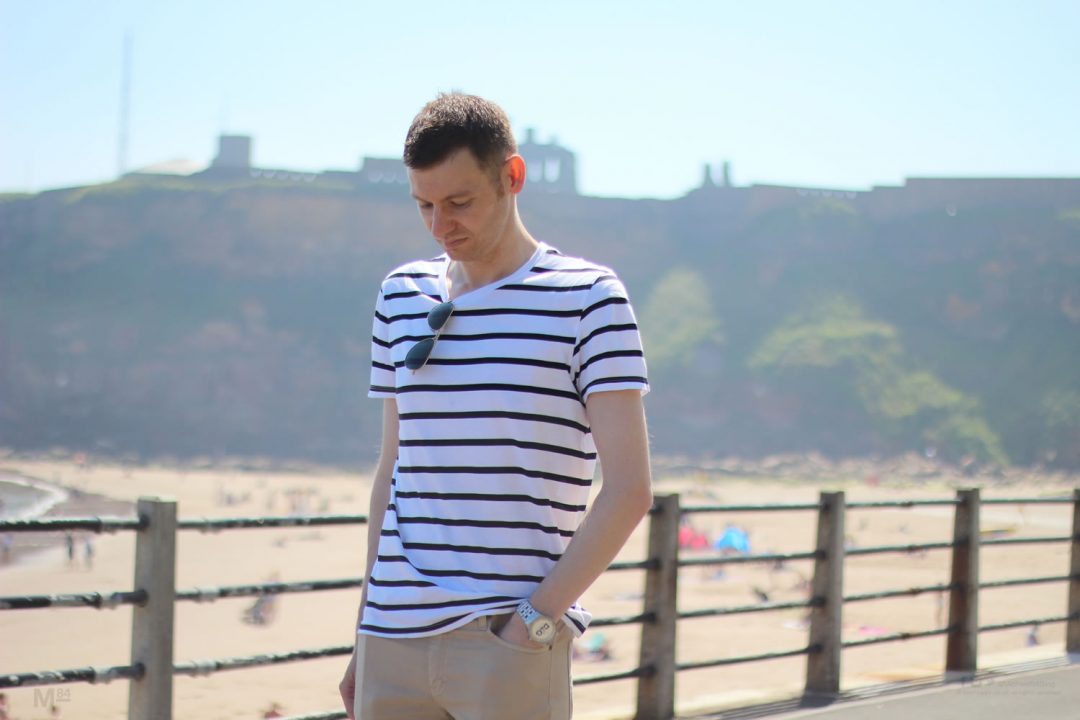 Are you sick of the heatwave we're having in the UK right now? Of course you're not! We love the sun, but at times it can get uncomfortable, so you want to know what clothes you should wear in the heat, right?
If you're sick of the humid, close, sticky kind of feeling you're getting this Summer and your clothing is feeling unbearable, make sure you're wearing the right stuff. There's plenty of ways you can look stylish and stay cool.
Other countries seem to do fine, but here in the UK we seem to panic when we get more than 2 continuous days of sun.
What should you be wearing?
Here's some quick tips on how to dress which should keep you cool.
Linen Shirts
Linen is the fabric for Summer tailoring, and it's the perfect choice if you need to look smart while keeping cool at the same time. I've got myself a brand new linen shirt which I wrote about a few weeks ago, and it's proving to be a good buy this season.
Linen is very thin, it's very fine and therefore good for the heatwave we're currently experiencing. There's plenty of options available, with high street brands such as ASOS, H&M and Uniqlo all offering great options, as well as higher end brands too.
Cotton vs Polyester: T Shirts
T Shirts are the obvious choice when it comes to wearing something on your upper half, but there's a bit of a problem when you want to keep cool. You have a choice between a blend, or something which is either cotton or polyester.
Both are good in their own ways, and for most scenarios you'd pick cotton. But we're talking about the phenomenon of a British Summer here, so it's a little different.
Cotton – It is a more breathable fabric, and can keep you cool. However it will absorb water, i.e. your sweat. This is obviously not good, and you'll end up with a soaking wet T-shirt, that's soaked in your sweat. – Not a good look, or a good smell either.
Polyester – There's a good reason why gym wear, football shirts and athletic wear is usually made from polyester; It deals with water, or this case, sweat, well. The wicking properties draw sweat away, and definitely leave you feeling much more comfortable than a cotton T Shirt would.
Ultimately the choice is yours; If you're prone to sweating you may opt for polyester, if you're hot but it's not causing you to sweat a great deal, you may be able to get away with a thin, light cotton tee.
Brands to consider in this one would be the sports brands; Think about Nike, Adidas, New Balance, Reebok and Puma.
Wearing the right pieces made with the right materials is key to dressing smart in a heatwave.


Smart Chino Shorts
I know what you're thinking, you don't wear shorts in the UK, only on holiday right? No! It's perfectly acceptable to wear chino shorts in your usual day to day life. When it comes to work, you may want to check your dress code, but chino shorts are smart, and should be acceptable in a smart casual environment.
Light Chinos Or Trousers
So you may be asking the question, I don't want to wear shorts, what should I wear? Well the answer is chinos or light trousers. When I say light, I mean it in every sense of the word. Light in colour and lightweight.
When you're thinking of colours think White, sand, light grey and beige. If you're feeling particularly colourful, you may want to add in some pastel colours into your wardrobe too.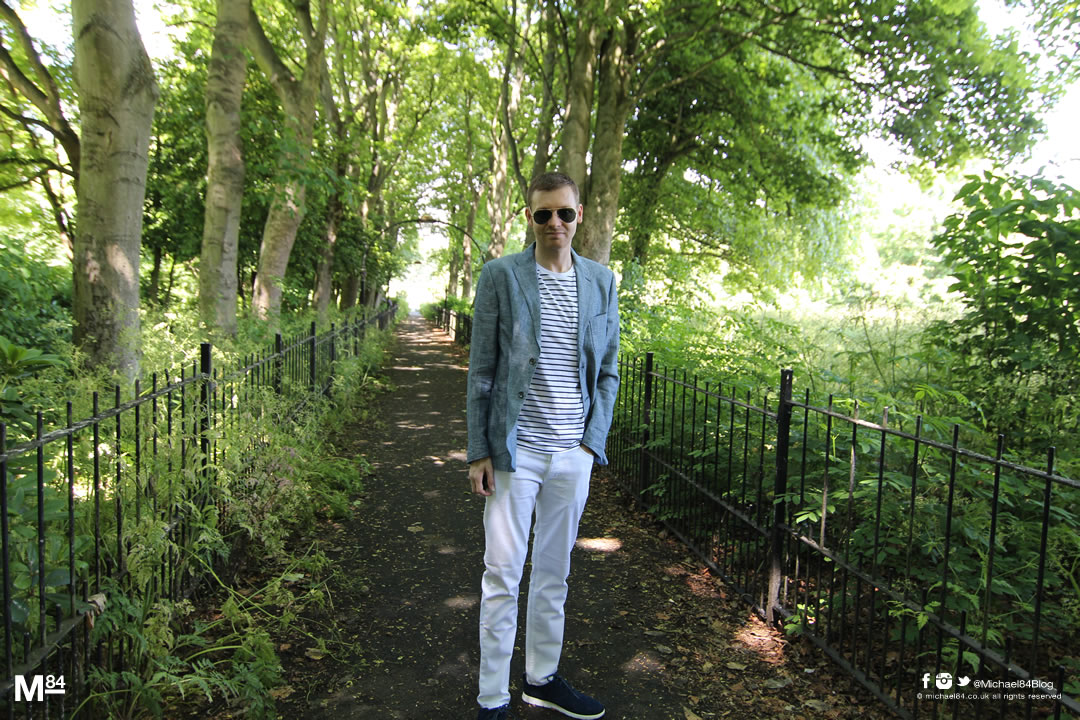 Denim Jeans
If you're looking at wearing jeans, then you should wear light colours, and also make sure they're super light weight. Ripped denim will give your legs a bit of extra cooling, and of course white jeans style is always a good thing, as you'll know I love that trend for Summer.
I styled mine above with a nautical T Shirt, as well as a linen jacket.
Wear Light Colours
Continuing on from above, you should embrace light colours in all the clothes you wear. Light colours absorb less heat from the sun, whereas darker colours absorb more heat. So if you're thinking about wearing that brand new black fitted T-shirt in the blazing sun, you may want to think again, and swap it for a crisp white tee.
Outfit Ideas For Dressing In The Heat – Smart Casual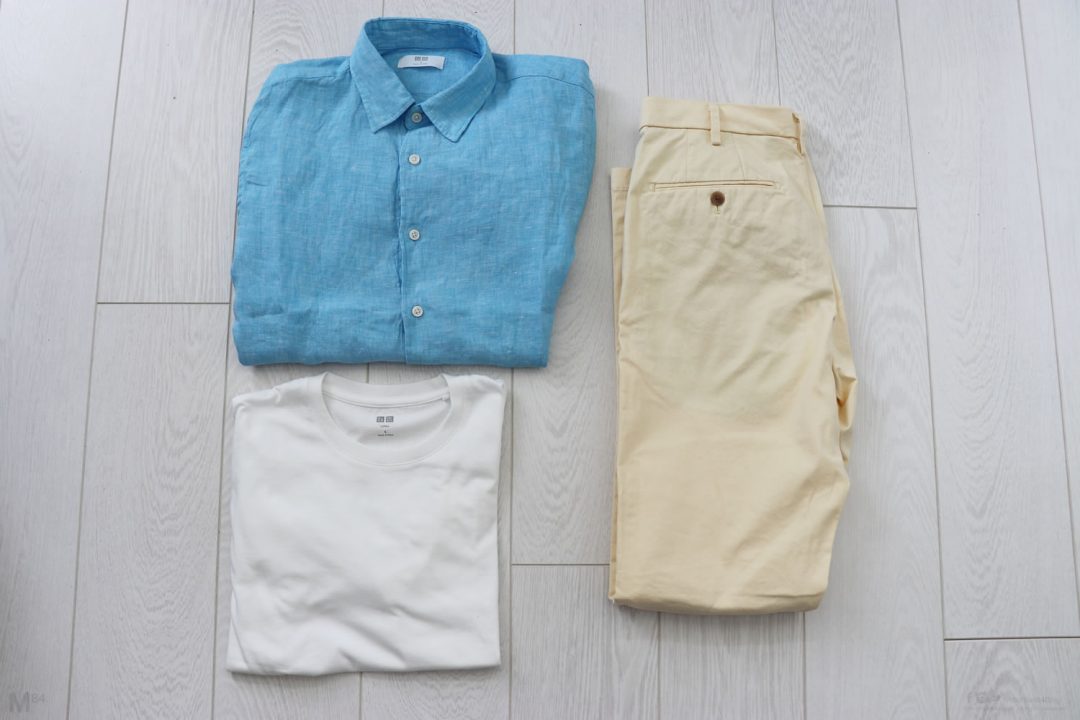 I really love my linen shirt, and also a white cotton tee along with some light coloured chinos. The shirt can be worn buttoned up on it's own, or layered with the tee, but when it's so hot, I'd probably skip the layering.
How are you coping in the heat?
What do you prefer wearing in the uncomfortable sticky hot weather?
Let me know what you think of these ideas on what to wear in the hot weather, and if you've got your own tips on how you're coping, let me know in the comments.