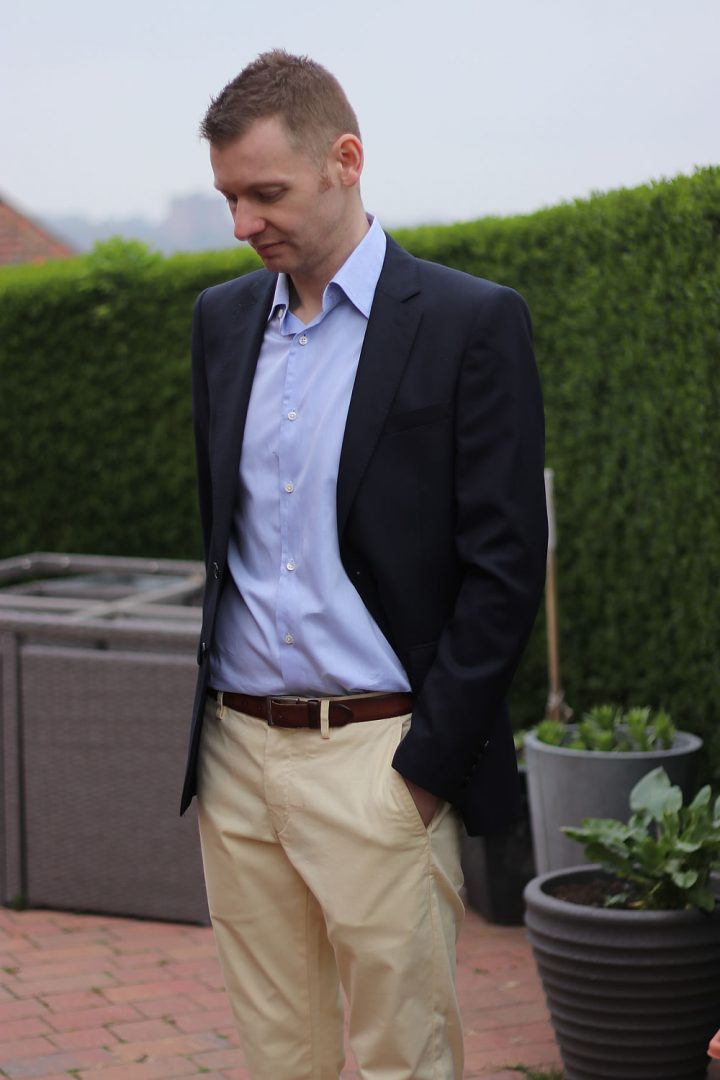 Have you ever been in a situation where you want to wear something different from your favourite pair of denim, but don't know where to turn? Traditional trousers are too formal, and sweats are too sloppy. Where do you turn?
You need a pair of chinos. These trousers are incredibly versatile, and can be dressed up as well as dressed down, and will work with virtually anything.
If you're looking for a smart casual outfit, to add some colour to your usual look or want an alternative to jeans, a good modern pair of chinos is possibly the best option you have.
You can definitely make these a wardrobe essential, and build so many of your outfits around a good pair of chinos.
What Are Chinos?
So you might be asking yourself, what are chinos? Well it's pretty easy to answer.
Chinos are casual trousers which you can pair with almost anything. While suit trousers or formal trousers are usually saved for a dressed up occasion or event, chinos can be worn every day.
They're usually made from 100% cotton. This can be a light fabric perfect for most seasons, or a heavier twill more suited to when the temperature drops.
Personally, I think the lighter, soft cotton style is the most fashionable to go for, and can go either way in terms of smart or casual.
What To Wear With Chinos
When it comes to building a smart casual outfit for every day wear, chinos will go with anything.
But what's good to wear with them?
There's plenty of classics which you can match with the chinos. It's as simple as picking them out of your wardrobe, ensuring you get the colour palette right.
Chinos With A White T Shirt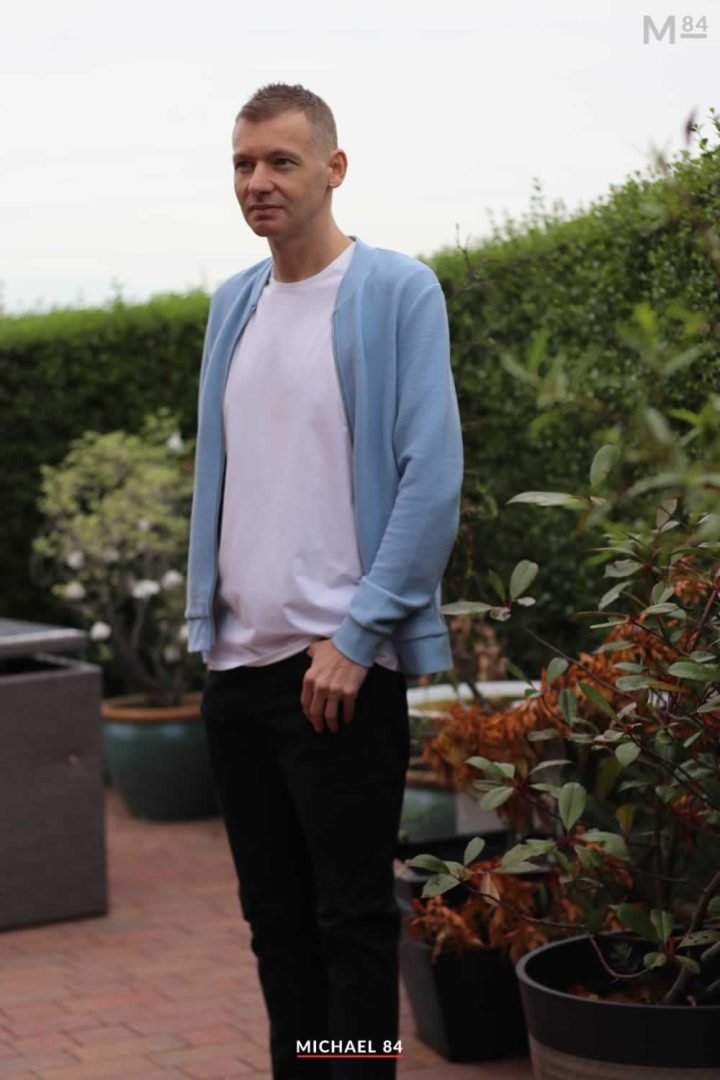 When it comes to short sleeves for a laid back outfit, the humble plain white T Shirt is the perfect go-to option.
Chinos with a white T Shirt is possibly the most simple and basic look, but that's the point of the two pieces.
Here I am wearing a white T Shirt, chinos and layered a light blue cardigan over the top.
If you're going for a low-maintenance and easy to wear look, this one is a good option. A navy pair of chinos will work well with the white tee.
Related: Check out the best white t-shirt brands you can buy here.
Chinos With A White Shirt
Heading towards a smarter look, the button up white shirt is once again another clean and crisp item which you can pair with the chinos.
A pair of navy chinos will be a great colour to match, but there's a lot of scope for other colours.
These include sand, beige, green and sky blue for a light Summer look.
Check out other ways men wear a white shirt and look stylish here.
Chinos With A Suit Jacket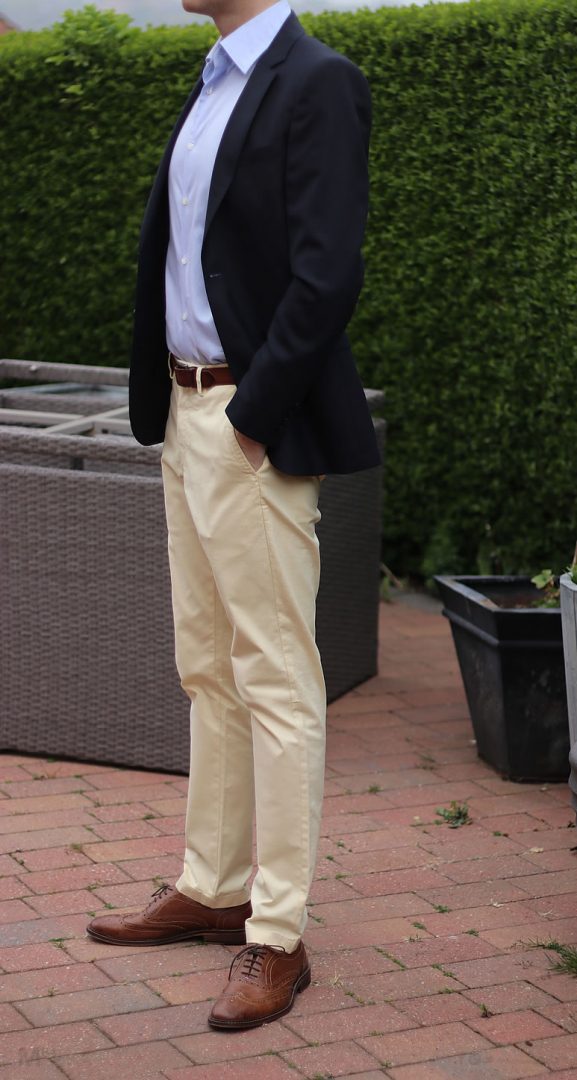 For the smartest option of dressing up, a suit jacket or blazer with chinos is going to be what you choose to wear.
Whether it's a night out, wanting to look sharp through the day or anything else, the blazer is always the number one choice when it comes to dressing almost anything up.
You should consider the colours carefully when it comes to pairing up a blazer, along with other pieces to go with the chinos.
As we've already mentioned, navy is a great colour, when it comes to Summer or if you want a lighter colour for any reason, sand is one of my favourites.
Chinos With A Jumper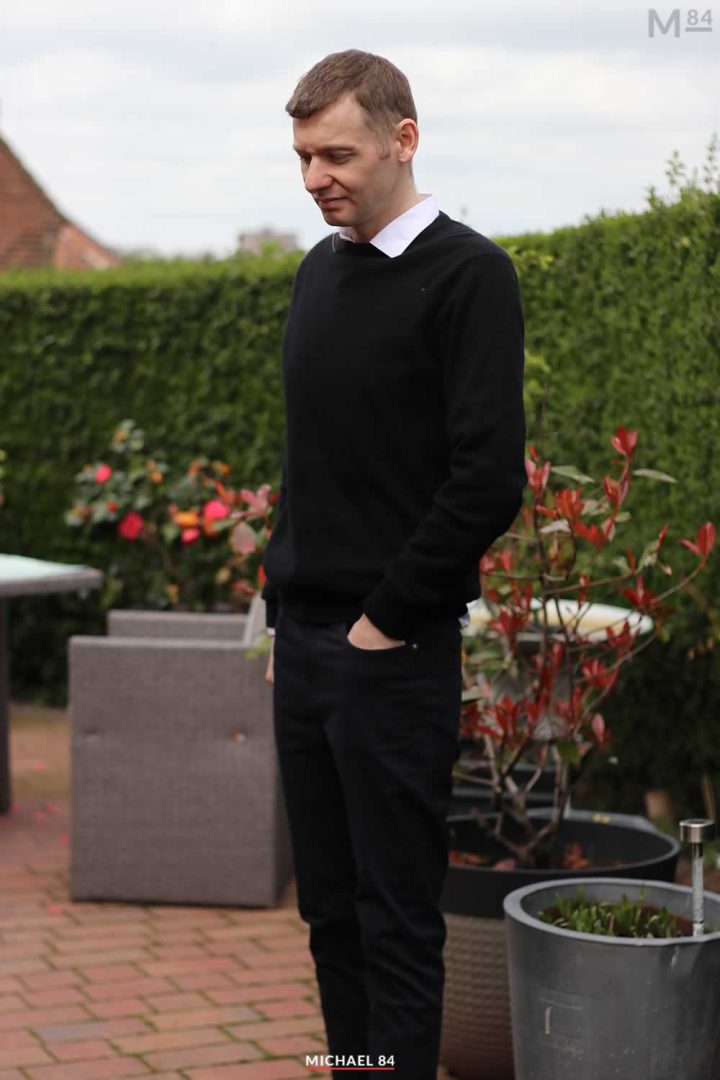 Chinos can be worn when it's cold too, they're pretty universal like that. Here I am wearing a pair of navy blue chinos which I got from H&M, alongside a black jumper over a button up white shirt.
The dark colour palette works well in the colder months, and the chinos make a good break from wearing denim.
How To Wear Chinos
There's really not any rules to wearing chinos, but there's a couple of things which I do and don't like about how to style them.
Here's a quick cheat sheet for some of the things you should be thinking about when wearing them.
Roll Up Trousers Are A Summer Thing – You can wear them all year round, but rolling up is usually a Summer thing, when you're wearing them with casual shoes such as loafers
No Pleats Or Creases – These are casual trousers, so there should be flat with no pleats or creases in them. Don't iron them in, and if you buy pants with them in, then they're not proper casual trousers.
Stick To Smart Casual Pairing – Know what types of clothing is smart casual – You don't want to wear them with sports clothes, and they aren't supposed to replace tuxedo trousers either.
Use Colour – You can wear a lot more colour in this style of pants than you can in almost any other. Take advantage of the colours available.
The Fit
As with everything in fashion, we know that the fit is the make it or break it when it comes to whether something looks stylish or not.
Chinos should be fairly fitted, which means not loose, and in the leg length, not too long. The general fit rules are:
A quarter or no leg break
Slim or straight leg
Not tight, not loose
Slim Fit Chinos
For my build, I prefer the slim fit chinos. For the average, slim or skinny build, I think that a slim fit works best, and there's plenty of options out there.
Straight Fit
When it comes to guys who have a larger build, there's no need to worry. The standard straight fit chinos will be fine.
Chinos For Work
Depending on your workplace dress code, you may or may not be able to wear chinos to work. If you work in an office environment, then most places are quite relaxed these days, and a smart casual dress code is expected.
This means that chinos are perfect for your work outfit, and you can wear them instead of jeans if you're dressing up, or smart trousers if you're dressing down.
What Shoes To Wear With Chinos
When it comes to footwear, there's plenty of different options which you can choose from. Once again, it comes down to what kind of outfit you are going for, the style, and the occasion. Some footwear you might consider could be:
Loafers – You'll see so many guys rocking a pair of loafers with chinos in the Summer, they go so well together. If you're going sockless, it's a case of rolling up the chinos, and showing a bit of ankle.
Brogues – My favourite pair of shoes when you want something more casual than a pair of dressy lace-ups. Brogues are effortlessly cool, and as long as you get the colour pairing right with the chinos, you'll look the part.
Oxford & Derby Shoes – If you really want to dress up a pair of chinos, then a pair of lace-ups is going to be the way to do it. Oxford are the more formal of the two, although a good pair of derby shoes is still going to be incredibly sharp.
But what about something more casual? Well…
Can You Wear Trainers With Chinos?
It all comes down to the types of trainers you're talking about.
A clean, smart pair of trainers are perfectly fine to wear with chinos. They give off a more casual and laid back look than a pair of shoes would.
When it comes to stylish trainers, think of clean lines, solid colours and not too much going on with the design.
Minimalist trainers such as the ones from Common Projects, or everyone's favourite, Stan Smith's from Adidas work so well as an option for smarter trainers.
How To Style Chinos: Outfit Ideas
Smart Casual Outfit 1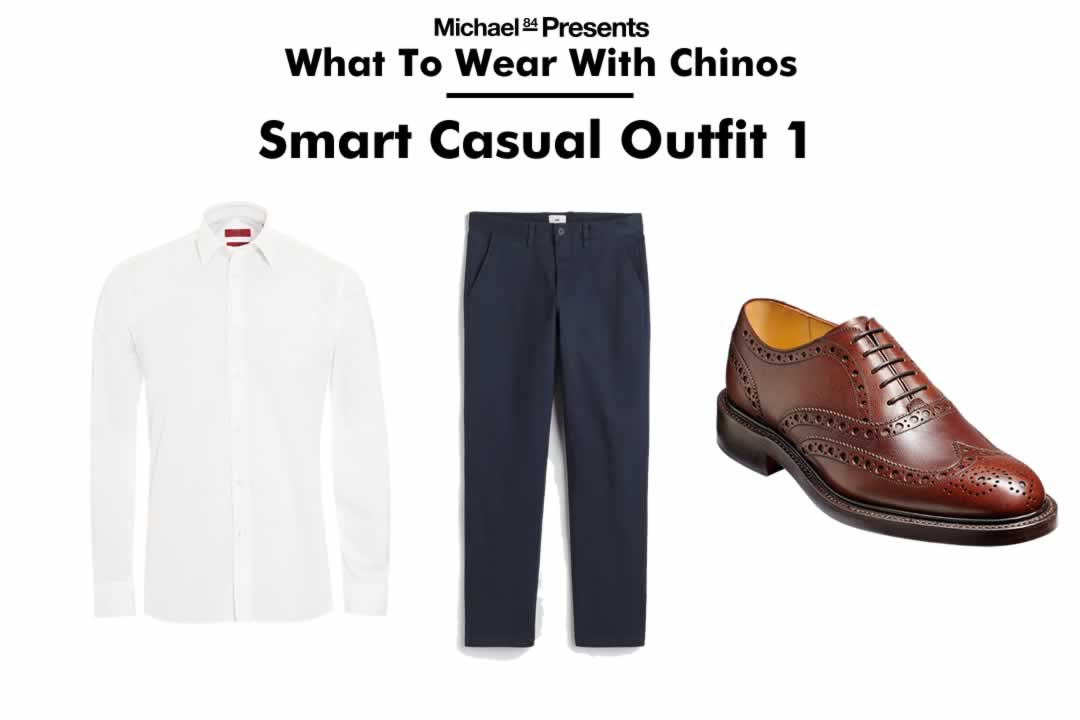 Navy Chinos
Button Down Shirt
Brown Brogues
Wearing a pair of navy chinos with a button down shirt and a pair of brown brogues is a killer smart casual outfit.
Perfect to wear for a more casual day at work, or roaming around the city, it has a balance of keeping smart while also having that casual element.
Smart Casual Chinos Outfit 2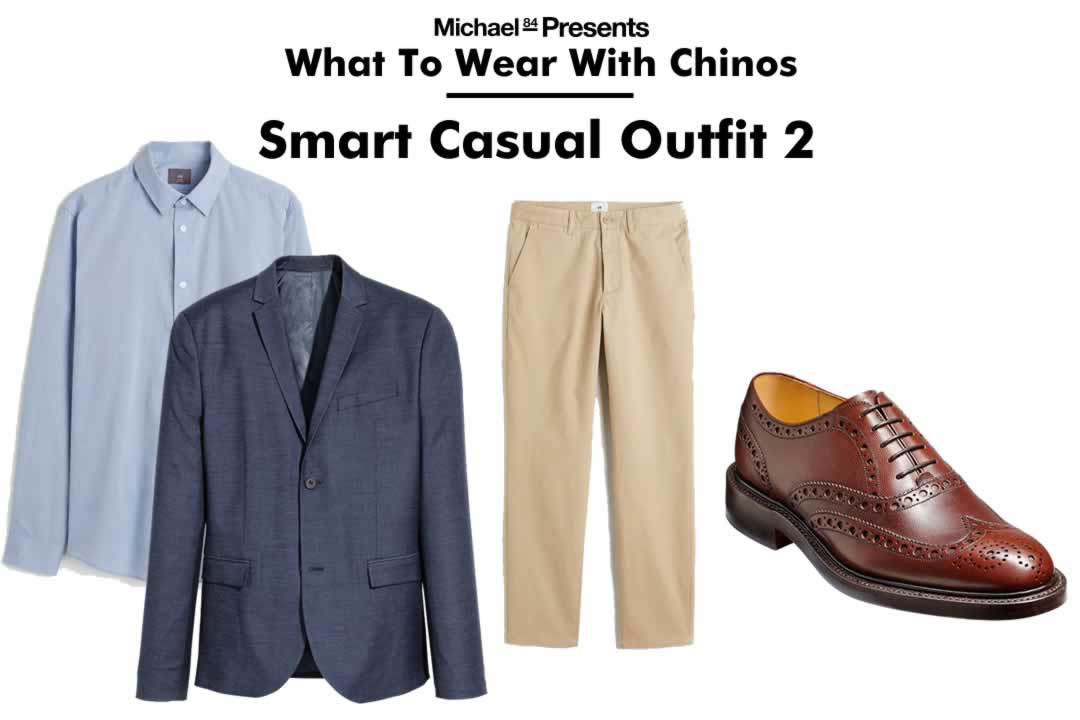 Beige Chinos
Light Colour Shirt
Blazer Jacket
Brown Brogues
A really nice look which works all year round is a lighter look. Combining a pair of beige chinos with a light shirt, such as white or light blue, gives off a really airy and light look.
Throw a blazer or suit jacket over this to give it a smarter feel, and finish it off with a pair of brogues.
Smart Casual Autumn/Winter Chinos Outfit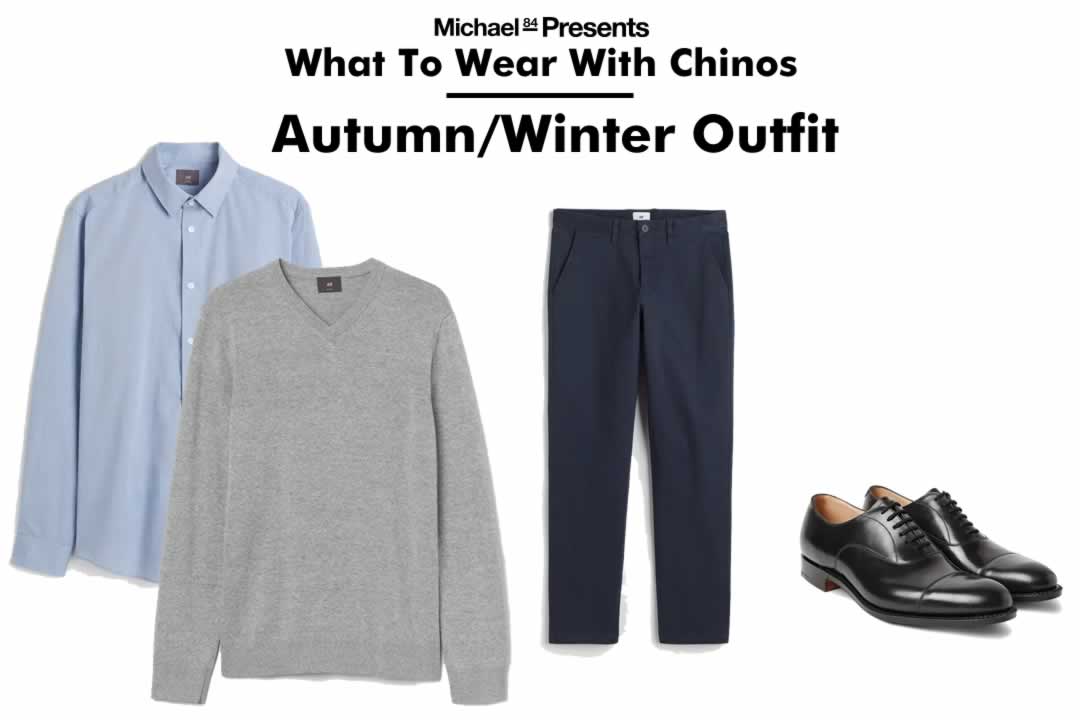 Navy Chinos
Plain Shirt
Grey Smart Knit Jumper
Black Oxford Shoes
When you need to layer up in the colder months, you can wear a pair of navy chinos as part of any outfit. Team them up with a shirt and smart knitwear such as a jumper over the top, with grey being a good choice.
You can finish off the look with your choice of footwear, I've gone with a pair of black Oxford shoes which are a classic.
Stylish Casual Outfit With Chinos
Navy Chinos
Plain White T Shirt
Bomber Jacket
Smart Trainers
If you prefer to keep things more casual, but still want to look the part, this edgy casual outfit is perfect.
Combine a pair of navy chinos with a simple white T-shirt, along with wearing a plain bomber jacket.
The jacket colour should be dark to compliment the T-shirt, I've gone for this navy blue jersey cotton bomber from Paul Smith.
Finish off the look with a pair of smart trainers, a pair of minimalist white trainers will really keep this outfit looking good, while maintaining the casual aspect. For this I've picked out some Adidas Stan Smiths.
Chinos vs Jeans
Chinos make a great alternative to jeans. I love my denim, and even though I have a lot of different styles and washes, it can be good to change thing up a little, swapping jeans for chinos.
The most obvious difference between the two is that generally speaking, chinos are going to be on the smarter side as opposed to jeans.
I love my indigo, black and dark wash denim, they look smart, but there's that added smarter touch which you get from chinos.
Generally speaking, chinos are a lot lighter than jeans, and also usually come in a bigger range of colours, but more on that later.
Chinos are much easier to wear and live with then denim. If you're sitting at a desk, you'll probably notice the difference, and when you're away from the desk, you'll be looking stylish.
Read more in-depth on chinos vs jeans here.
Are Chinos The Same As Khaki's?
You may have heard some trousers referred to as khaki's, and this is kind of wrong.
A lot of casual trousers were a khaki colour, which is a kind of green. This was popularised by the military so much so, that many people mistakenly call all casual trousers, "khaki's", even if they're not that shade of green.
This is of course incorrect, as the term only refers to the colour.
That said, all khaki's are chinos, but not all chinos are khaki's. You can read my Chinos or Khakis guide which covers this in more depth.
Formal Chinos vs Casual Chinos
Yes, there is a slight difference in chinos, and there's two styles you'll likely encounter – Formal and Casual. The differences are quite noticeable, and easy to explain:
Formal Chinos – Slanted pockets to the sides, usually a button pocket(s) on the back. Can come pleated or with creases. More light traditional formal trousers, but twill cotton instead of wool.
Casual Chinos – straight pocket style trousers (usually 5-pocket), rivets, flat to the front. More like jeans, but made from soft cotton twill instead of denim.
Personally, I prefer the casual chinos with a straight cut, 5 pocket style. I feel they are just the right level in between formal and casual, as well as less chance of things falling out the pockets.
The Best Chino Brands For Men
When it comes to wearing chinos, I've tried a few different brands. The following brands are some great ones which can get you straight into wearing chinos as part of your daily outfits:
Verdict: How To Wear Chinos
And there you have it, everything you need to know, and how to wear chinos.
A good pair of chinos are a key piece of menswear every guy should have in their wardrobe.
Chinos make a good alternative to jeans, and can be dressed up and down depending on your own preference and style choice.
Check out everything you need to know about looking good in the mens style guide. You'll learn how to dress to impress in these easy to follow guides.