When it comes to dressing for your lower half, you might be thinking: Chinos vs jeans, which are better?
As I've mentioned on the blog countless times, I've really grown into loving chinos. On the other hand, I do like my denim jeans too.
The truth is there's always a time and place for both. I'm going to go into when you should wear chinos or jeans, and what style and dress code suits them best.
What Are Chinos?
Chinos are a smart casual style of trousers made of cotton. They are quite soft to touch, and usually one solid colour.
In terms of formality, chinos sit right between formal trousers and jeans. That makes chinos one of the best trouser styles to go for when you're looking at a smart casual dress code.
Chinos can be paired with almost anything on top, from a clean t-shirt to a polo shirt, casual shirt or dress shirt. There's plenty of ways to wear chinos with things in most men's wardrobe.
In terms of footwear it's a similar story. You can pair smart trainers or casual shoes with a pair of chinos, and they'll not look out of place.
The fit of chinos is usually regular or slim, and they fit true to size.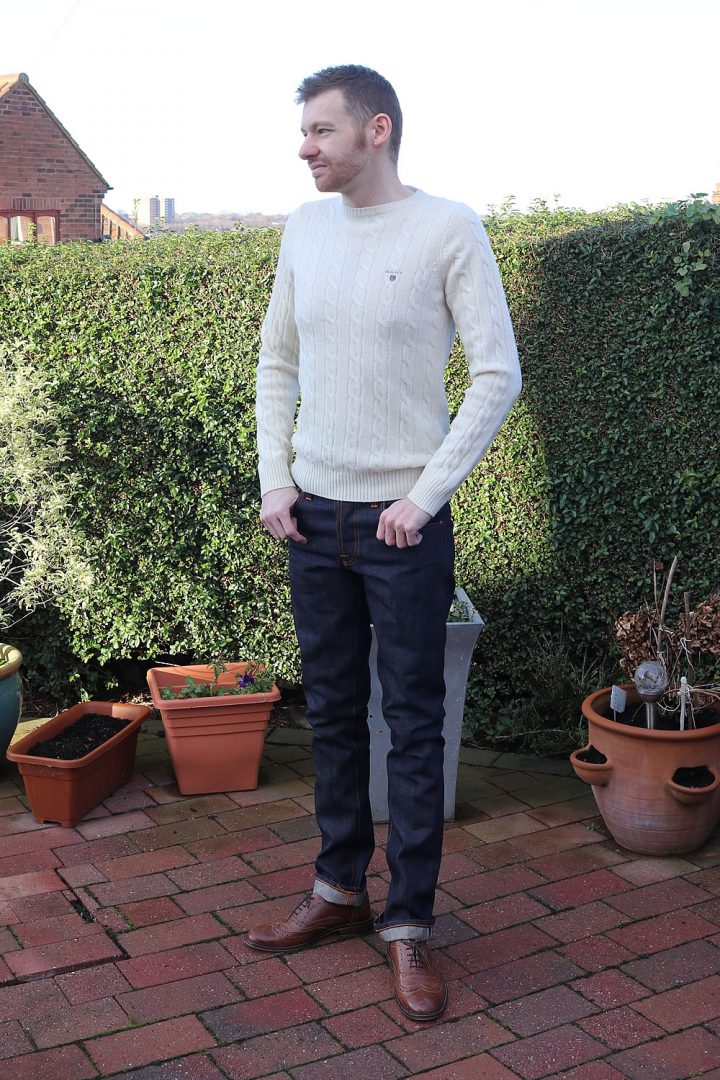 What Are Jeans?
Jeans are made from cotton, but are denim. It's a strong and tough twill fabric, very sturdy and tends to be a more heavy weight trouser style than chinos.
Jeans come in a huge range of styles, and so the dress code for these is varied. Ripped or distressed jeans can be seen as casual, as can the lighter blue denim colours.
Solid dark blue colours such as indigo and black can be worn as part of a smart casual outfit.
Like the style, jeans have a wide range of different fits. From skinny and slim to relaxed and loose fits, there's plenty of different fits to suit individual style.
Chinos vs Jeans: The Differences Between Chinos And Jeans
There are some key differences between chinos and jeans, which may determine if or when you should choose between them.
Let's take a look at some situations and see which performs best.
Choice Of Colours
If you want a wide range of colours, Chinos have more colour choices than jeans.
Chinos are available in a whole gamut of colours. From black to white, bright colours, pastel shades, muted tones, neutral colours. Whatever colour you're looking for, you'll find it in a chino if you look hard enough.
When it comes to jeans, there's choices, but they're limited. You'll usually have black or white jeans, with various shades of blue and grey in the middle. Other colours may be available, but they'll be harder to find.
In terms of colour choices, chinos is the winner.
Best Choice For A Smart Outfit
Chinos are the best choice for smart trousers. Although they are considered casual trousers when comparing to a formal version, they're smarter than denim jeans.
But as I already mentioned, jeans can be worn in a smart casual outfit as long as you pick the right pair (that is dark solid colours that fit well).
Chinos can also be counted as smart casual or business casual too, so you shouldn't rule them out if that's the style you're going for.
Best For A Casual Outfit
Jeans are the best to choose from when going for a casual outfit. Chinos can of course work, depending on what you wear on your top half. But jeans are the go-to for casual, as they will go with far more clothes and look the part.
Best For An Edgy Or Cool Outfit
Chinos may look a bit too stuffy when going for an edgy or cool outfit, so jeans are the best choice for an edgy outfit.
If you're looking to pair up a leather jacket or cool pair of trainers, jeans will be the ones to go for.
Which Are More Versatile?
Although I like chinos, jeans are more versatile than chinos. They can be worn casually as well as being dressed up, can be worn on so many occasions and in all weathers and seasons.
Which Are More Comfortable?
There is little doubt that chinos are more comfortable than jeans. Denim is more rigid and less breathable than the cotton which is used in chinos.
If you're doing a lot of sitting or moving around, chinos will feel better. These days you can get really soft denim as well as denim with stretch which aids comfort, so they aren't too far behind.
Which Is The Must Have For Your Wardrobe?
It all depends on your own personal style what is the must have for your wardrobe, chinos or jeans. You can and should have both, if you want to have a complete wardrobe containing clothes to cover every occasion.
There's no winner here, both chinos and jeans have their own merits.
Summary: Chinos vs Jeans
And there you have it, the best of chinos vs jeans. Which is the best? Well that depends on your own personal style.
If you sway towards a smarter style, you might opt for chinos, whereas if you prefer a more casual and edgy look, jeans are the way to go.
If you want the ultimate in versatility when it comes to putting together an outfit, it's a good idea to have both chinos and jeans to choose from.