It's a term which has been coined for a couple of years, but you might be thinking: What is athleisure?
Athleisure is comfortable and casual clothing designed to be suitable for every day wear, as well as wearing to the gym or for working out.
It is a modern take on wearing sportswear as your daily outfit.
In the age where a lot of guys are going to the gym, sportswear is very much in, and not only worn when working out, but also as casualwear.
Here's everything you need to know about athleisure: how to wear it, key pieces and what it all means.
A Brief History On Athleisure
Going to the gym, working out and generally taking care of yourself is something most guys do nowadays.
The modern man takes pride in how he looks, and this means not only having the good body as a result, but you need to look good with that too.
If you're taking selfies at the gym for Instagram and social media, you need to look your best.
That's where the clothing comes in, and athleisure fashion is all about. Clothing which not only works as comfortable piece of kit while working out, but also looks good.
That's where the term comes from, however you don't need to go to the gym to wear or pull off athleisure. It's all about wearing stylish but relaxed pieces, which are usually sweats, solid colour clothing with a casual edge.
This is fashion overtaking function, slightly.
Athleisure: Key Pieces
There are a few key pieces you need in your wardrobe for athleisure. These are:
Sweatshirts / Hoodies
Joggers
T-Shirts
Trainers
Light Bomber Jacket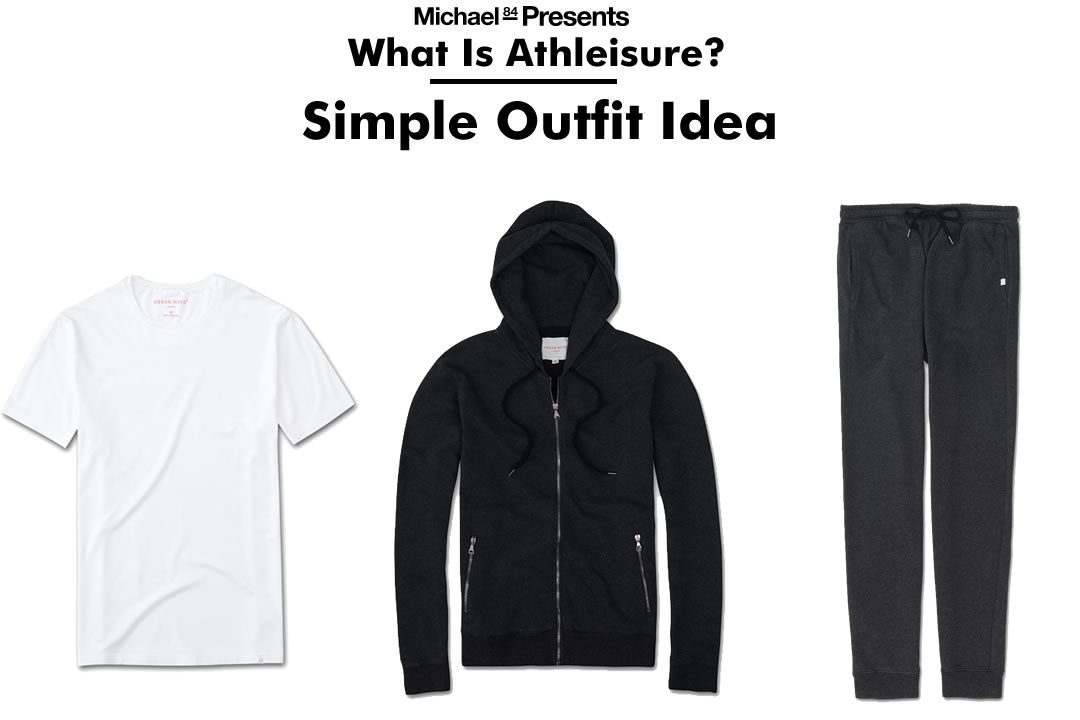 Sweats are a key part of any outfit when you're going for an athleisure look.
They are relaxed, and an easy to wear item. You can choose between a sweatshirt and hoodie, depending on your preference.
Joggers are another must have part of an athleisure look. They can be of a slim fit, and will usually be cuffed at the bottom.
The key with both the sweats and joggers are that you should opt for plain and solid colours which compliment each other well.
You can go for a co-ords style with them being the same colour, or just wear 2 colours which compliment each other well.
A T-shirt is always going to be an option, and the key to the type or style is that it should be understated.
Plain simple tees, or those with small branding work best for pulling off this look. It can also be worn as part of a layered look.
When it comes to footwear, trainers are something you can wear. They can be smart, such as a pair of white minimalist trainers, or you may opt for something a little bit more sporty.
When it comes to a jacket, a light, bomber jacket is going to be preferable.
This can be a sweatshirt material cotton type of jacket which goes with your outfit. If you need a jacket, you can go with this, which will pull the outfit together. If the weather isn't bad, you can skip the jacket.
How To Wear Athleisure
When it comes to breaking down the pieces, these are the key things you want to take away:
The fit is key – Even in laid back style, getting the fit right is still important
Opt for slim fit joggers over something loose and baggy
It's all about comfortable clothing
If your wallet let's you, invest in expensive, high quality sweats – You'll feel the difference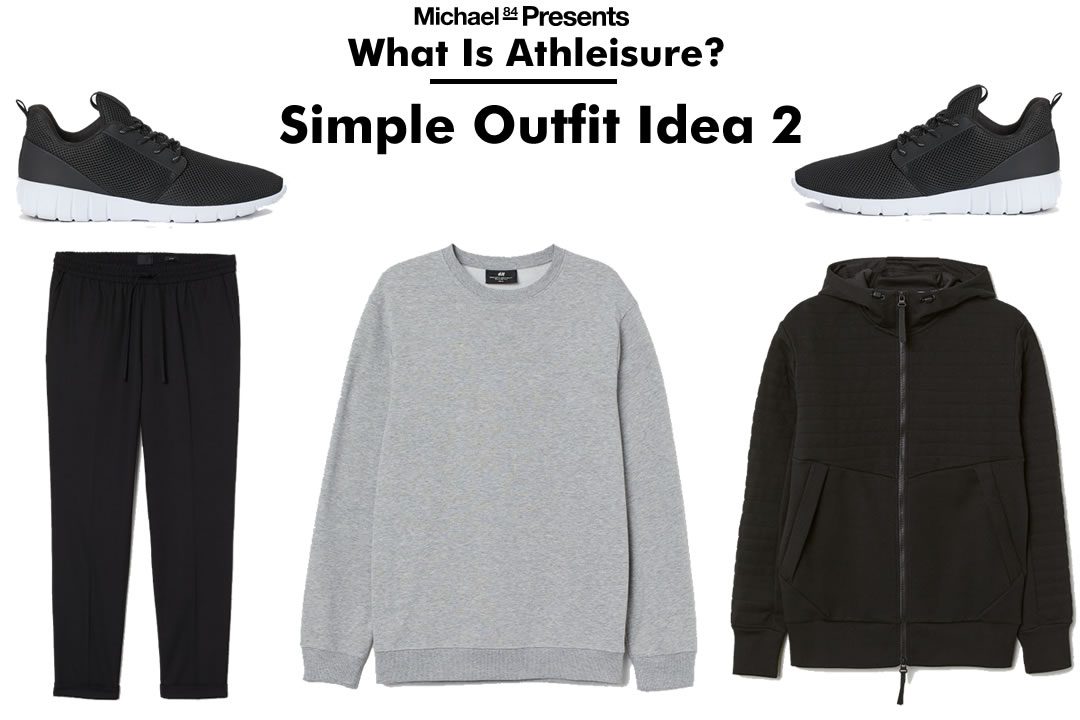 When To Wear Athleisure
Dressing well comes down to occasion. You don't want to be under-dressed, or over-dressed for the occasion. Athleisure can be categorised as being laid back casual clothing.
That means you should wear it in casual situations.
This can be going to and from the gym (and at the gym), around town, wearing at home, and other occasions in which there is a relaxed setting.
Can You Wear Athleisure To Work?
A common question is can you wear athleisure to work? The answer is usually no.
Athleisure is usually not an acceptable form of dressing for work. It a comfortable casual dress code, with most workplaces having a smart casual or smart dress code.
If you work in a place which has a super relaxed dress code and the vibe is chilled out and laid back, it may be acceptable, but not necessarily something you'd want to wear.
It does however make a great outfit for when you want to wear comfortable clothing at home. If you're sitting back and relaxing, it's a great choice of dress.
Verdict
That is basically all you need to know about athleisure. It's not a trend for everyone, but if you prefer a laid back casual style over smarter pieces of clothing, it could be the one to go for.
As long as you choose the right pieces as highlighted in the guide, you can get the perfect balance of style and comfort.
Check out more men's fashion tips if you're on the look out for advice on how to dress your best.