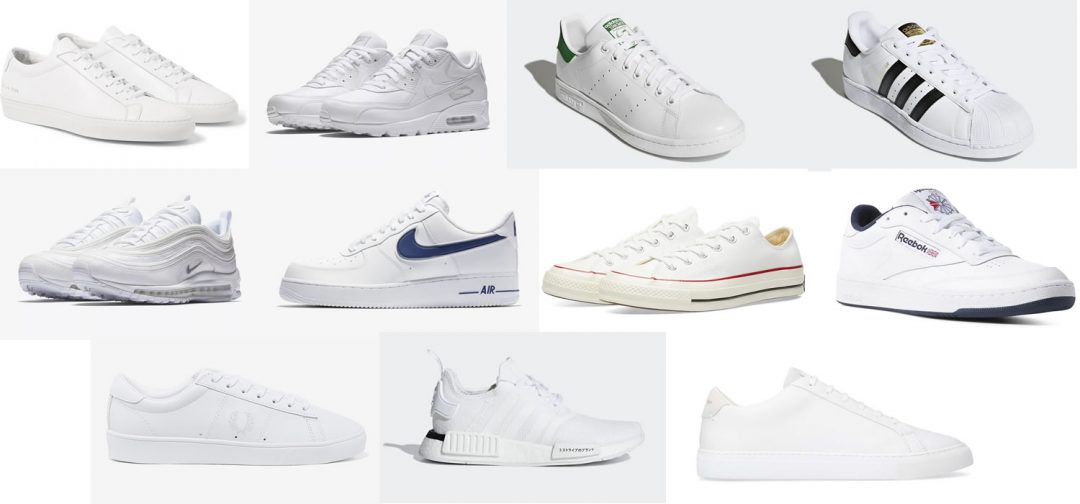 If you're looking for that ultimate minimalist and clean look in your footwear, look no further than a crisp pair of white trainers (or sneakers if you're American).
They are effortlessly stylish, and there's plenty of brands which will fulfil your white footwear needs.
Whether you're looking for your first pair of white trainers, your looking for a refresh or just want to know what's currently out there right now, here's the best white trainers for men on the market for every budget.
The Best White Trainers For Men
Common Projects Low Achilles – White Trainers For Going Out
The Achilles trainer from Common Projects is a firm favourite amongst street wear connoisseurs, and considered a must have by many.
The low profile lace-ups look smart, with the trademark foil serial number printed to the back of the wall of the trainers.
£290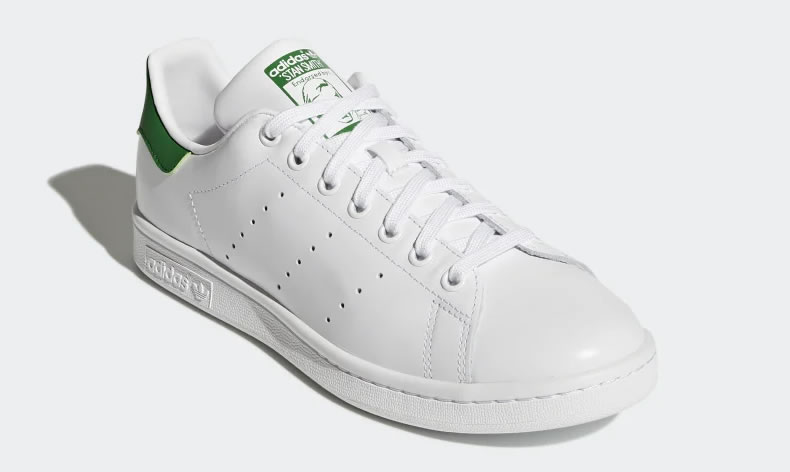 Adidas Stan Smith – White Trainers For Smart Casual Outfits
Are the Adidas Stan Smith's the king when it comes to white trainers? Many would say so, and I wouldn't disagree.
I bought a pair of Stan Smith's and I love them, and for good reason. I wanted a pair of minimalist white trainers, and the Stan Smith's fit the bill perfectly.
The classics have a lot of history, and come with the traditional green tab back, with other colours available.
For the money, you can't go wrong with a pair of these timeless trainers.
£75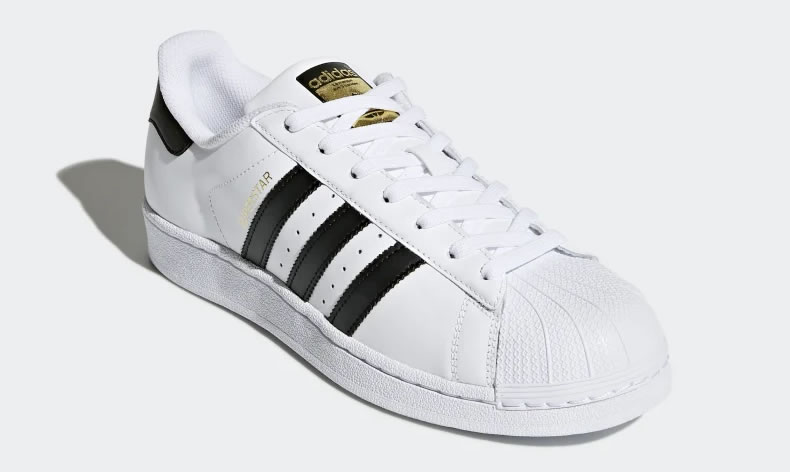 Adidas Superstar – White Trainers For A Casual Outfit
Back from the 80's with it's iconic 3 stripes to the side of the trainer, the Adidas Superstar is another classic. With a full grain upper, the detailing is available in a range of colours, with black being one of the stand outs.
£80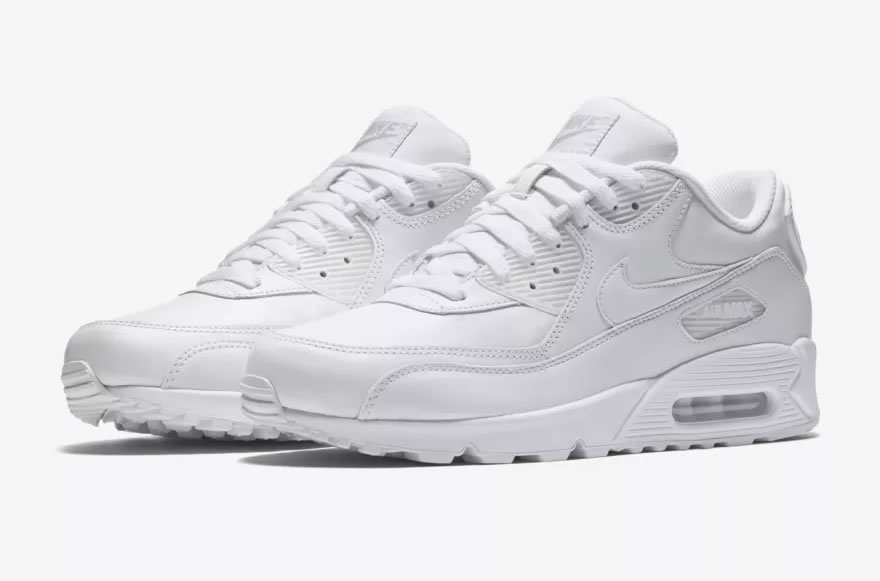 Nike Air Max 90 – White Trainers For Athleisure Outfits
When I was looking for a pair of all white trainers for the Summer, I got myself a pair of Air Max 90. All white, they're minimal, but with the air cushioning, they're super comfortable too.
Much like the triple black, the all white Air Max 90 is sleek enough to go un-noticed as a sports shoe, and you can enjoy wearing them in the Summer.
All leather or mesh upper options, they're a great choice to have in your wardrobe.
£100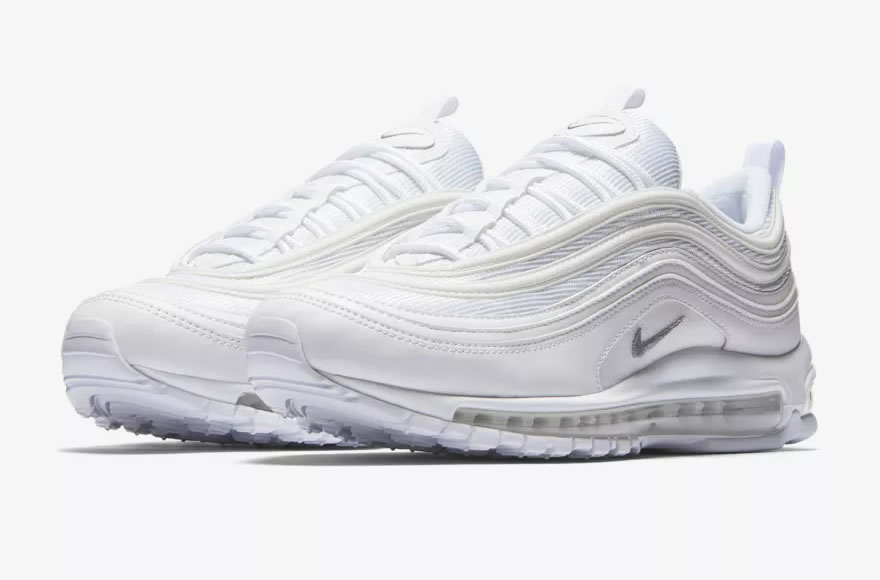 Nike Air Max 97 – White Trainers For A Premium Sporty Look
For an all round white design with sweeping tonal lines, the Air Max 97 is something to think about. Loved in the street style game, the 97 has a full air unit for the ultimate in comfort.
£145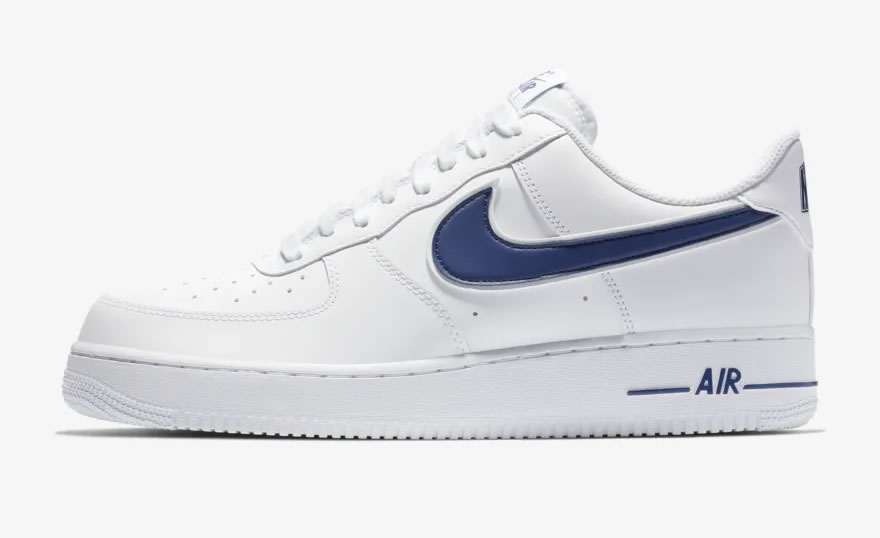 Nike Air Force 1 '07 3 – White Trainers For A Casual Outfit
The Nike Air Force 1 '07 trainers are here when you want something which is in the middle of sporty and contemporary, and are yet another legendary trainer from Nike.
With a white on white available, I think these look their best with the blue detailing on the swoosh and other accents.
£75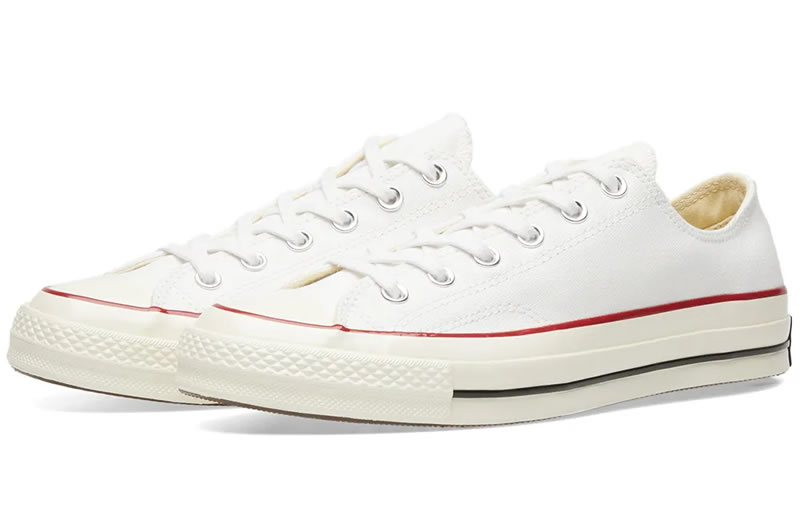 Converse Chuck Taylor 1970s Ox – White Trainers To Pair With Jeans
The beautifully classic Converse Chuck Taylor 1970s Ox look incredible. The white uppers and out sole are complimented by a red and black line detailing, which really makes them stand out.
For a pair of smart casual low profile trainers, these are something you need to seriously consider.
£59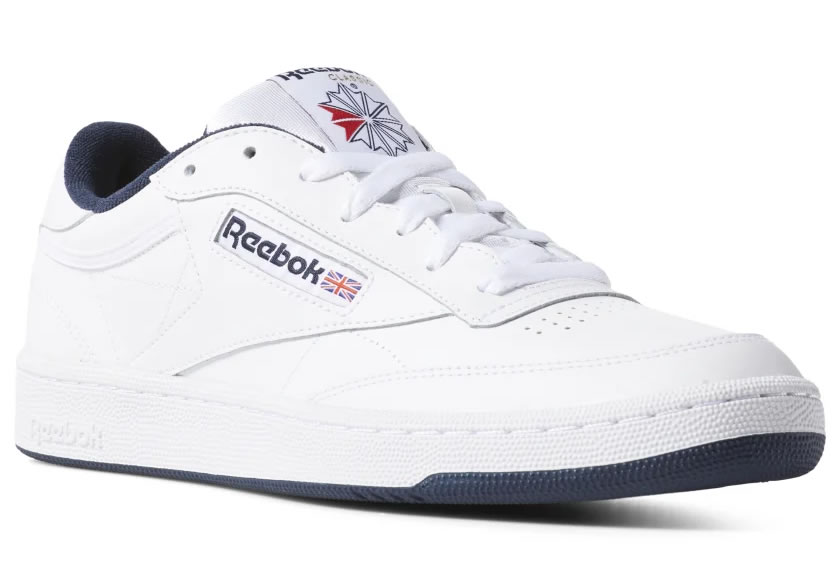 Reebok Club C 85 – Classic Clean White Trainers With Retro Style
The Reebok Club C 85 are a super clean looking white trainer, with the navy blue detailing which really makes them pop. A very smart trainer which can easily be worn, you get the trademark Reebok window box logo to the side, maintaining that classic vibe.
£65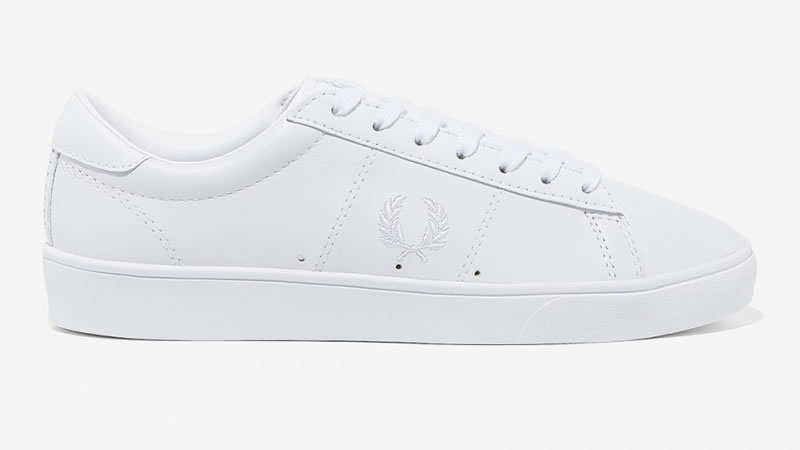 Fred Perry Spencer – Clean Minimalist White Trainers
When an all white, smart, low profile trainer is what you're looking for, Fred Perry has you covered with the Spencer. With the Fred Perry logo stitched in tonal white to the side of the shoe, they're the cleanest looking pair of lace-ups you're likely to own.
Great trainers to wear at a BBQ in the Summertime,  or any time for that matter.
£75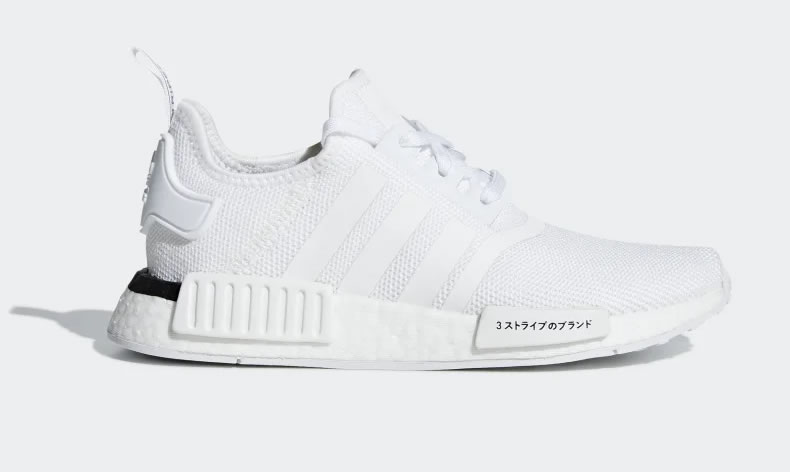 Adidas NMD_R1 – Modern Athletic White Trainers
Taking a leap into the future with something futuristic yet retro, the Adidas NMD_R1 are to be considered if you're a runner looking for some athletic trainers which stand out.
The NMD line-up has been going strong for a number of years with a cult following, loved by many.
£110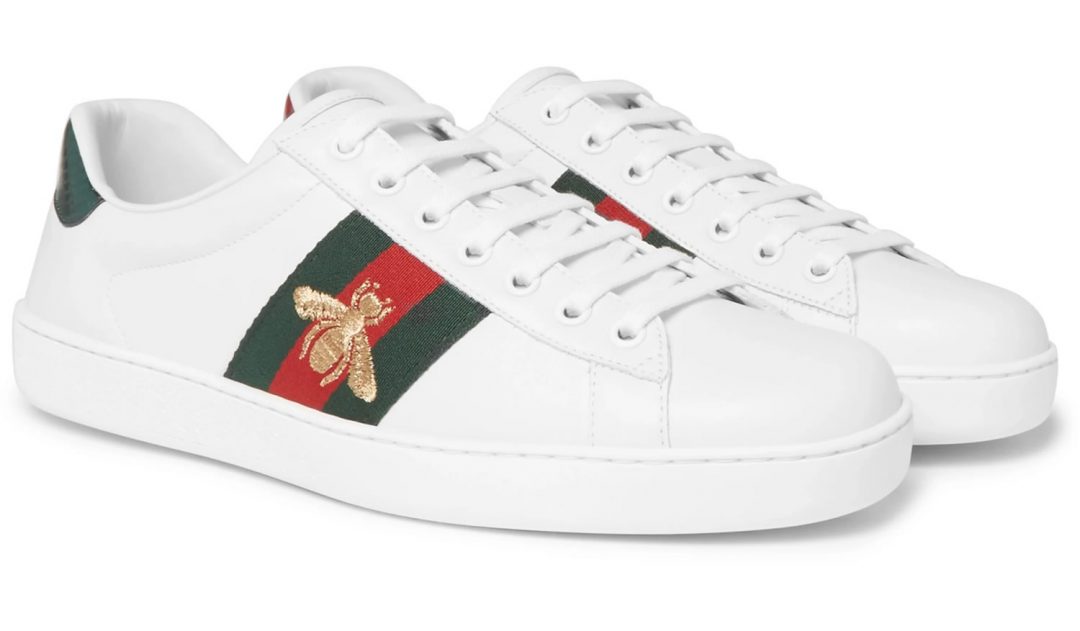 Gucci White Ace – Sports Luxe White Trainers
The Gucci White Ace trainers have became increasingly popular in recent times, despite their large price tag.
They come in a white leather with the red and green colours the brand is famed for, along with a golden bee graphic within the stripes.
£450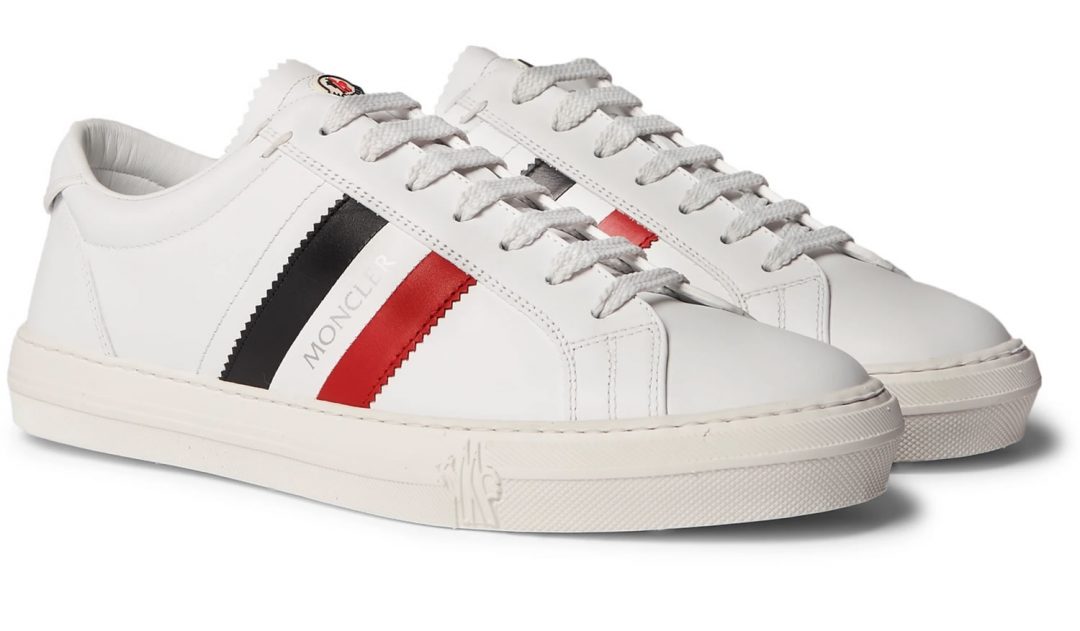 Moncler Monaco White Trainers – Luxury Sports White Trainers
Another pair of smart white trainers, the Moncler Monaco are simply beautiful. All white leather with a black and red stripe down the side with the Moncler wording in the centre.
They're an incredibly clean pair of sneakers, with the red and black being a really nice accent to set off the design perfectly.
£320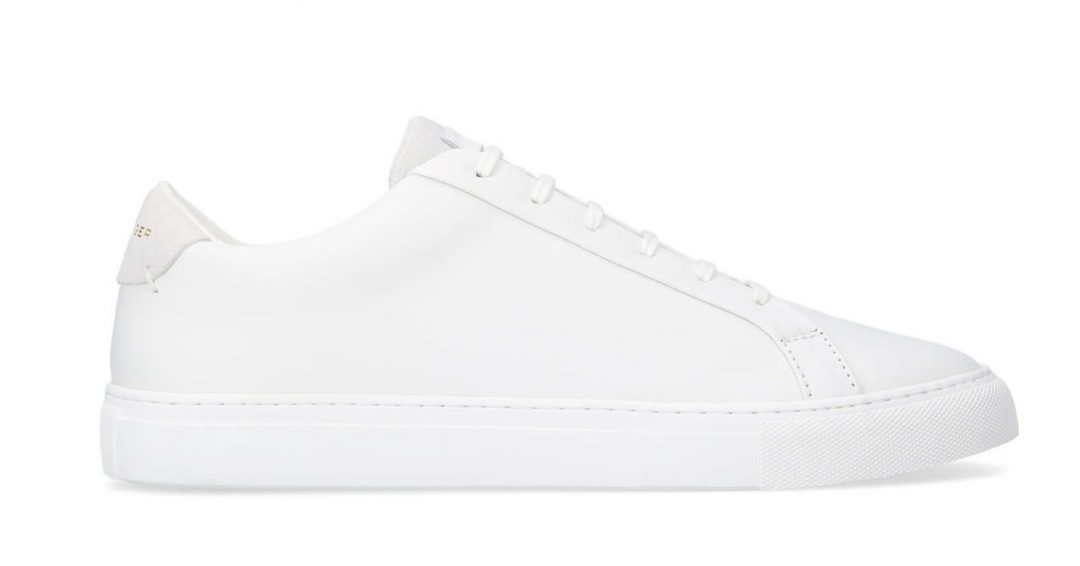 Kurt Geiger Donnie – All White Casual Trainers
An all white super sleek silhouette with a low profile, the Donnie from Kurt Geiger is becoming a favourite with it's simple smart looks and an affordable price tag. A nice smart casual trainer which will do you well.
£99
Conclusion
And there you have it, 11 of the best white trainers you can buy right now. If there's one pair of footwear you know will be stylish this Summer and for years to come, it's the white trainers.
Timeless and classic, they're an investment piece you can enjoy for a long time.
You can find the latest coolest trainers right now if you're looking for a refresh on your footwear.