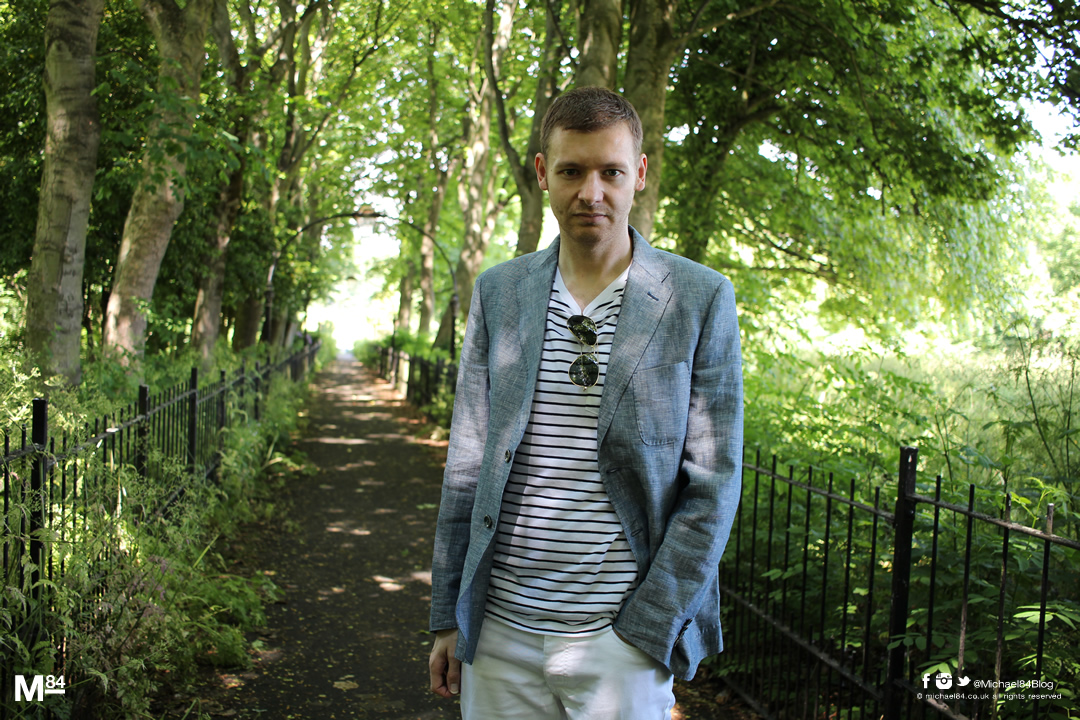 Are you looking to make a statement this Summer? White jeans could be the way to go.
When it comes to our lower half, guys tend to wear various shades of blue or black, but white is available, and is a great option. For one thing it will set you apart from the rest, wearing white denim is definitely going to get you noticed. Another great reason to go for this trend is that white is a colour which can be paired up with so many other colours, giving you a lot of options when it comes to putting together an outfit.
If you're struggling with ideas or need some advice, here's the low down on white jeans.
White Jeans Are All Season – Not Just Spring And Summer
White jeans for summer is obvious, and Spring time too. However they can be worn in any season, you just better check that weather forecast and pray it doesn't rain. White denim looks good in any season, as long as you pair it up properly (more on that later). You are more likely to wear it in the summer, especially in the UK, since we get quite a bit of rain, and wearing white bottoms are not a good thing to be seen in when it pours down.
Colour Blocking
Colour blocking and wearing bold opposite colours on your top half will break up an outfit nicely and draw less attention to your whites. It works for your footwear too, so make sure you're pairing up footwear which works with both the top you're wearing but more importantly the white jeans.
Light Colours With White Denim
If it's the summer then it's perfectly acceptable to wear a very light colour palette when it comes to your outfit. You could mix up sea blues or greens, other pastel colours with your white which will create a real summer vibe. Great for on a holiday, BBQ or other summer activity or event you may be going to.
All Whites In The Summer
Who said all white was bad? It's not just for P.Diddy and a white party. It is, however a summer trend, so it's best to keep it in the warmer months, if you're going to go for this.
Slim Fit White Jeans
You should opt for a cut which is quite slim fitting. Relaxed or loose fitting white denim is not a good look, fortunately most clothing brands and fashion labels already know this, so skinny or slim fitting legs are usually the only cuts available. As with everything the fit is always key, so make sure they do fit you well.
Dress It Up With A Blazer Or Jacket
White jeans can look incredibly smart if you dress them up well. Wearing a navy blazer will do the trick, and even wearing a really good fitting Shirt will add class and some smart sophistication to your outfit. There is always the option of a T-shirt too, throwing a blazer over this still keeps the smart style you're going for. Make sure The tee or shirt compliments the jacket well.
Keep It Casual
You can create a casual look by dressing down your white denim with a T-shirt, a more casual jacket or a sweater if the temperature dictates it. Go for a shirt with rolled-up sleeves or nautical tee and forget the jacket for a smart but laid back look which should go down well.
There are a couple of drawbacks
First of all, it's not like every guy is walking down the street in a pair of bright, white bottoms, therefore, a certain degree of confidence is needed. Second, white shows up everything, stains, mess and all. It is not all bad, and actually white jeans are a really good fashion piece to own and wear.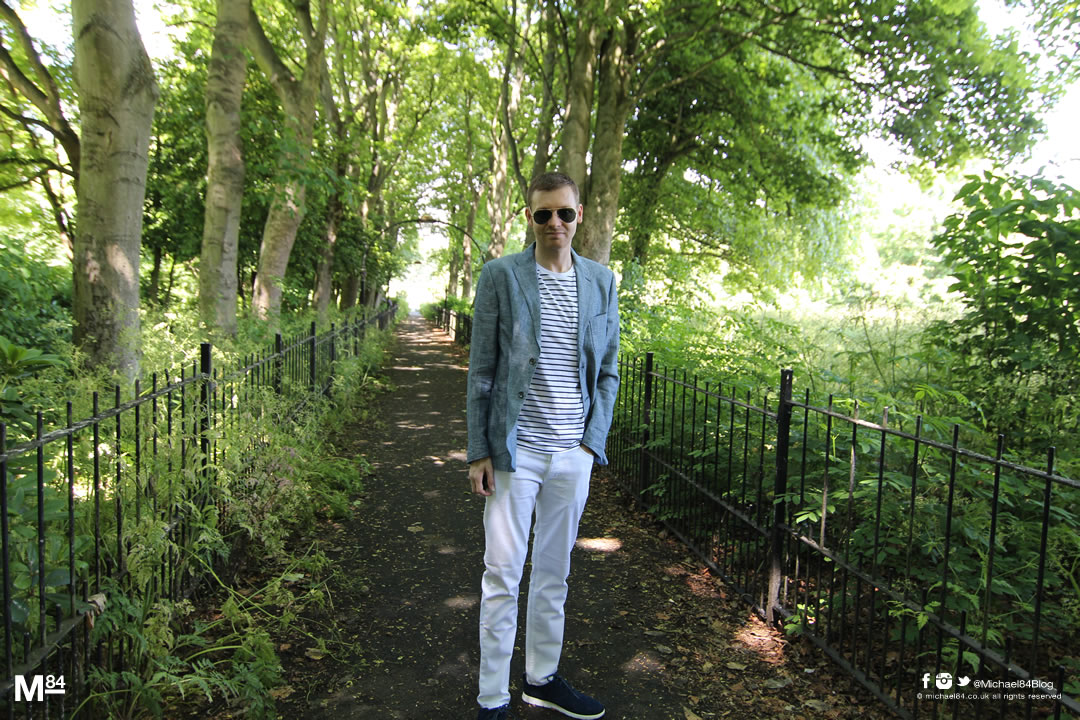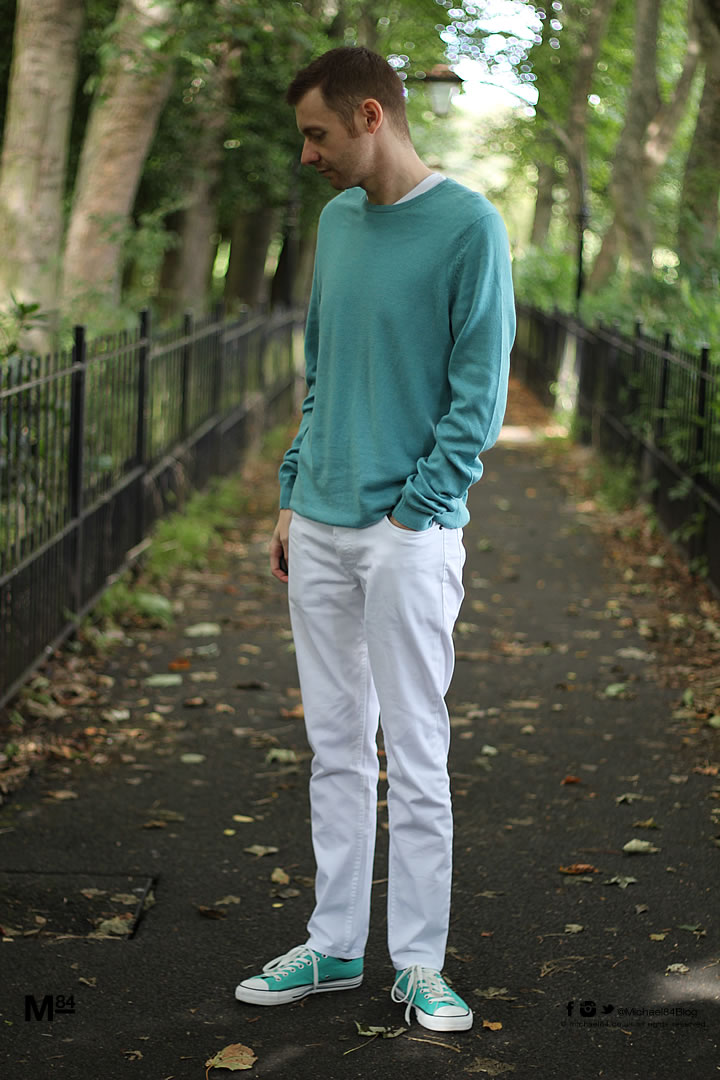 White Denim Buyers Guide
I will always profess to buying really good denim which feels great, fits well and looks good. If you're trying out white jeans for the first time, you may want to go for a less expensive option than you're standard jeans you can wear all the time for months and years to come. White denim is a trend, and you'll only look good wearing it if you wear it sparingly, so I can appreciate that you may not want to spend the same money as you would if you were buying a pair of indigo Selvedge jeans.
Buy a pair of high street jeans for your first time out. Brands like TOPMAN, ASOS and H&M do some really nice white denim, with a few different choices. If you can, you should go into a shop and try a pair on. Remember to wear a shirt, T-shirt and/or jacket which you can see yourself wearing with them, that way you can see how you will look before actually buying white denim. If you start to really like this look, you can then invest in a better pair of jeans.
Verdict
I hope you have enjoyed reading the tips on white jeans and they've given you plenty of ideas. Don't be afraid to experiment with mixing up smart and casual, as well as different colours to see what suits you best. Try a few combinations if you've never worn white before, so you can get an idea of what it will look like on.