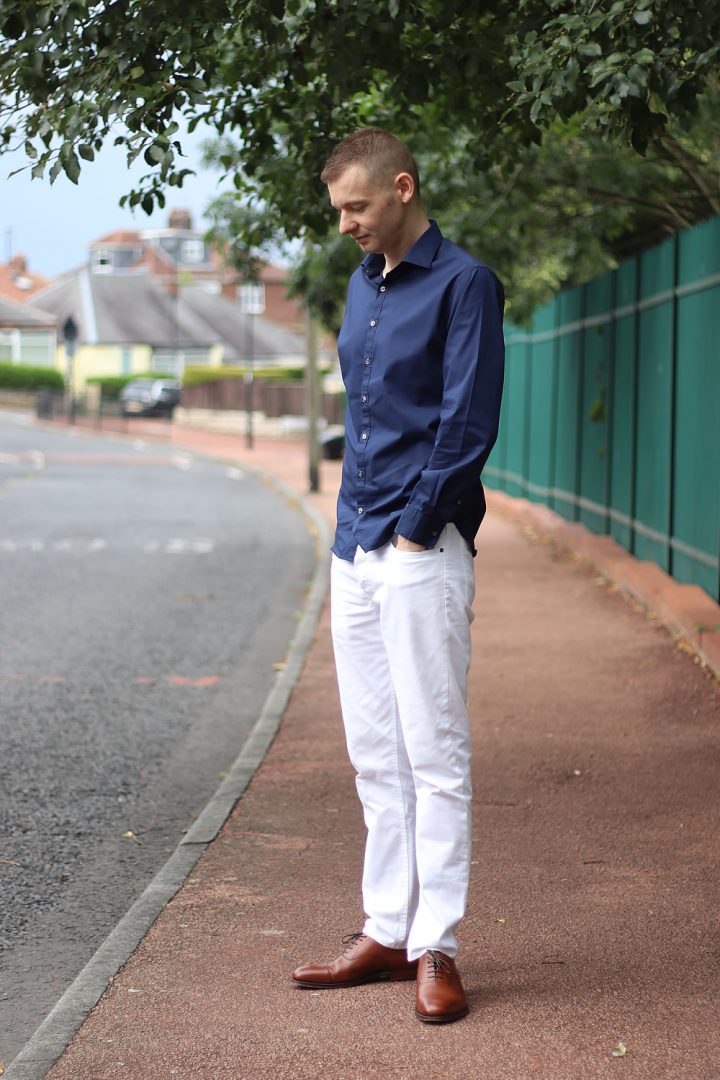 There's one item of clothing I really love to wear, but don't do it so often. It's a pair of white jeans.
I know a lot of guys would love to wear them too, but I hear the same question all the time:
What do you wear with white jeans?
So I'm going to show you some outfits which I have worn, and give some tips on the best clothing combinations for white jeans.
There's no doubt that they can be a daring thing to wear, with most guys opting for darker colours on their lower half.
But if you do it correctly, wearing white jeans is something that can make you stand out and set you apart from the rest. They give you that stylish edge, and they look crisp, clean and cool.
As with most clothing choices, nailing the look correctly means wearing them with the right combinations of clothes. From the right shirt or tee to the right pair of shoes on your feet.
From the right shirt combinations right down to your shoe colour, here's what to wear with white jeans so you'll look effortlessly stylish this season.
White Jeans Outfit Ideas For Men
A good pair of white jeans can be a brilliant choice for your lower half.
They work in every season, but are mostly seen as a summer option. You can dress them up with a blazer for a smart casual outfit, or dress them down with a tee and a leather jacket.
Here are some outfits with ideas on combinations on your clothing, and what essentials you should be pairing with them.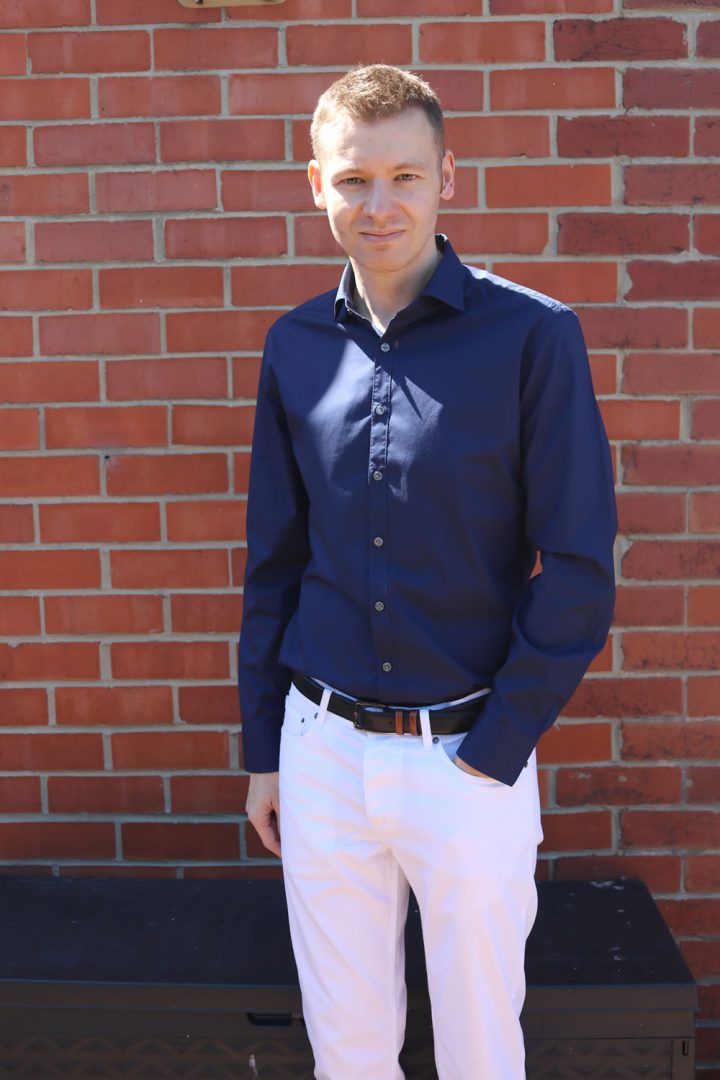 White Jeans with a navy shirt and black belt
White Jeans And A Shirt
Putting together white jeans and a shirt is a look which is going to be very smart. You need to pick out your best shirt to pull this look off. There's plenty of options.
Which colour shirt goes well with white jeans?
A dark option such as a navy shirt or black shirt with white jeans looks pretty cool. You have the contrast of the white with the dark colours of black or navy, making each piece stand out in it's own right.
Another good choice would be a light colour, to keep your overall outfit looking light and airy. This works best in the summer months. A light blue shirt or light green are two good colours to opt for.
You can also explore other pastel hues. Stripes can also work, but usually only if they're subtlety done.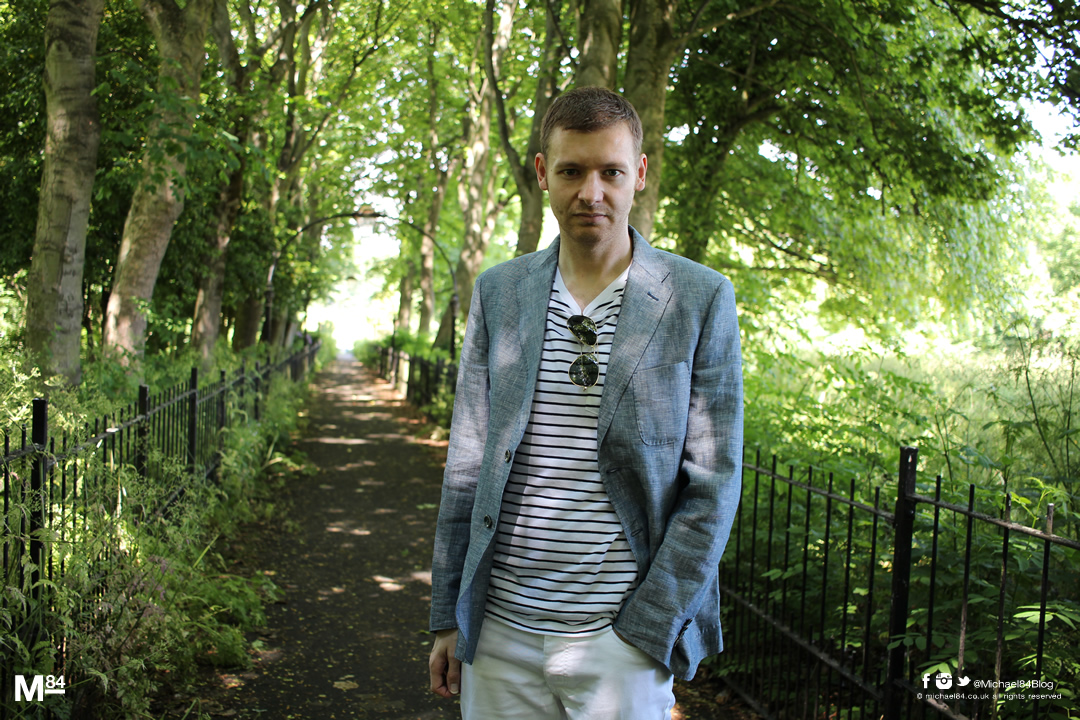 White Jeans And A T-Shirt
Going down a more casual style route, combining white jeans with a t-shirt is another good fit.
There's nothing easier to wear than a simple plain T-shirt, and teaming it up with white denim gives you a good alternative to your usual denim.
The same rules for tees apply as they do for shirts. You can opt for darker colours to create a distinctive difference from your bottom and top half, or go for something lighter.
Since T-shirts are more casual, you'll be able to use other colours too, and wearing a red or blue t-shirt is going to pop, and not look out of place.
One of my favourite styles of T-shirts to wear with white jeans is the nautical T-shirt. These have either a dark or light base with horizontal stripes, and always have a smart casual appearance to them.
All White Outfit
If you're really feeling daring, you can go for an all white outfit. This will mean pairing up your white pants with either a white shirt or T-shirt.
This style is seen more at something like an all white party or on a yacht. You can get around the one colour look by wearing a different toned jacket over the top.
This gives an all white outfit a bit of dimension.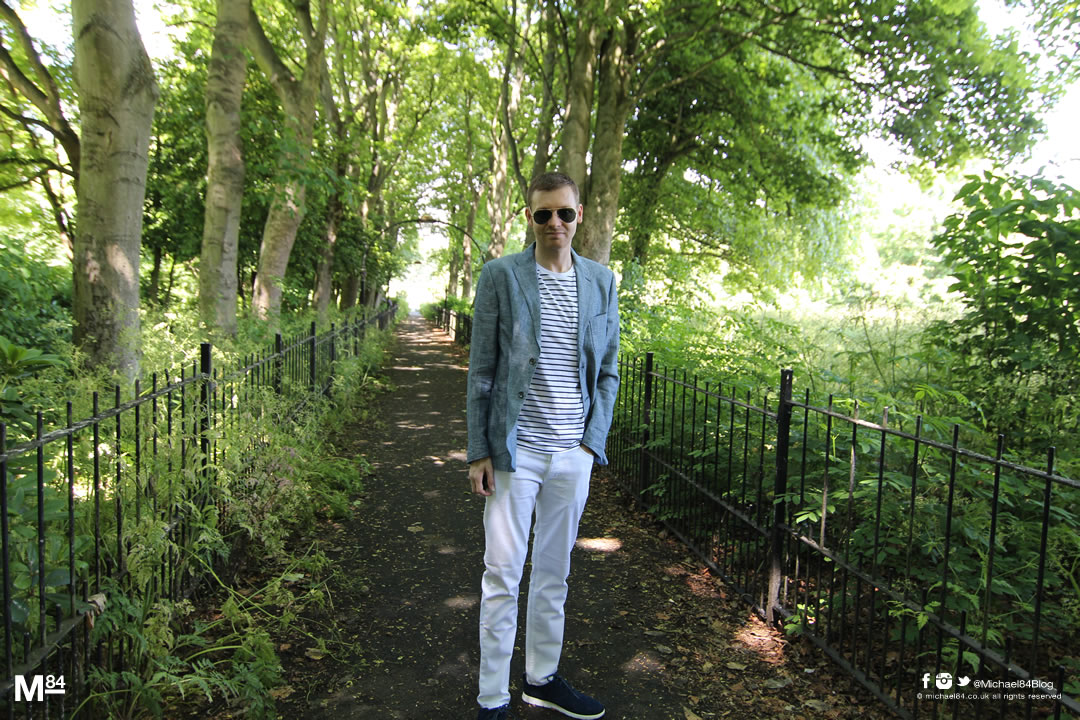 Wearing white jeans with a blazer and a t-shirt
White Jeans With A Blazer
As I always say, you can dress up an outfit with a blazer. Wearing a blazer with white jeans is a cool combination in summer.
The good thing about a blazer is that you can wear this jacket over a t-shirt, and it will still give you a sharp and smart edge. Wearing with a nautical or plain t-shirt is going to look the part in the summer.
It's important to get the colours right. A navy blazer will look perfect with a light blue shirt and white jeans. A lighter blue jacket will work with a darker colour shirt or tee.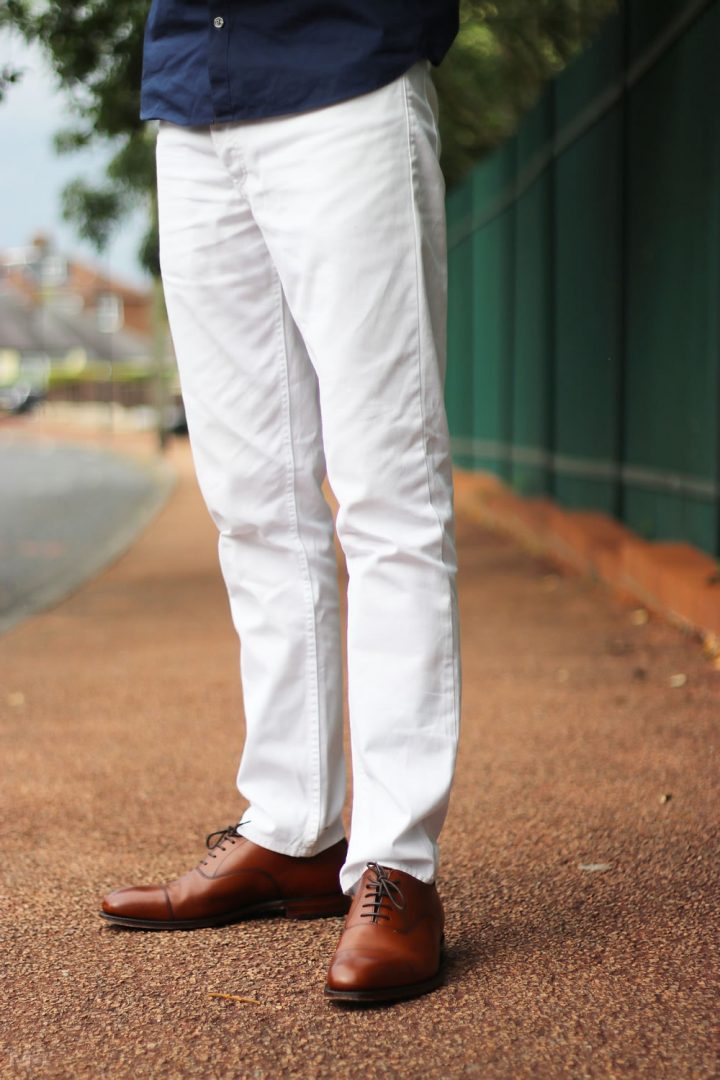 Shoes To Wear With White Jeans
When it comes to choosing the right footwear, almost everything works with white denim.
You might be wondering, what shoes are best to wear with white jeans?
Going for a smart look, and there's the options of brogues, oxfords, derby shoes and loafers. If you prefer trainers, there's plenty of minimalist trainers that will keep you looking smart casual.
It's very hard to get this one wrong, and the only styles you want to avoid are sports shoes and anything white which will clash.
Check out which shoes to wear with white jeans.
What Colour Shoes To Wear With White Jeans
When it comes to picking out the colour of shoes to wear with white jeans, it's best to go with a contrasting colour.
When it comes to smarter shoes, black shoes will work very well, if not giving the look a bit of cold temperature. My pick would be brown shoes with white jeans. They look cool, smart and brown shoes go very well with white jeans.
When it comes to smart trainers or casual shoes, the same applies. Other colours can include blue and especially navy, which can look smart in footwear.
Which Colour Belt To Wear With White Jeans
To add some contrast to your top and bottom, you can use a belt as a divider. But what colour belt do you wear?
There's the old rule that your belt and shoes should match, and it's a good idea to match your leather. But sometimes rules are made to be broken.
This comes down to personal preference, but usually I would stick to matching your belt with shoes if possible.
A black belt with white jeans looks cool, as does a brown belt.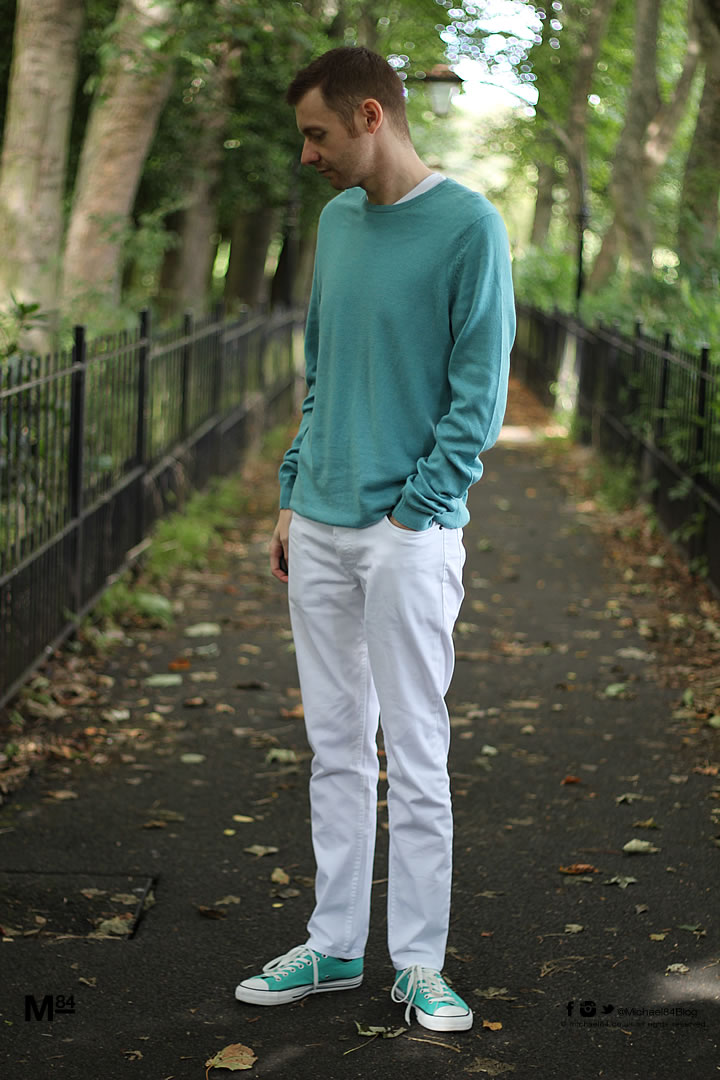 Wearing white jeans with a jumper
Slim Fit White Jeans
When it comes to choosing the fit of jeans, you should choose the best fit for your own body. I think that the best fit for most guys is a slim fit jean. If you're a bigger guy, you may want to opt for a straight leg fit.
White skinny jeans are to be avoided, as are skinny fits in general.
White Jeans In The Summer
There's no doubt that white jeans are in style and fashionable this summer. They're a timeless piece of menswear which work perfectly this season.
When it comes to a dress code, white jeans can be seen as a casual or smart casual item. They're not going to be the choice for most formal wear, however they're also a very smart item in the casual ranks.
If you're off out on a night out, you'll stand out for all the right reasons wearing white denim as an outfit choice. Since most guys don't wear them you'll look like the stylish gent in the room without too much effort.
A perfect outfit for going out could be a pair combined with a light blue shirt and navy blue blazer. Finish off the look with a pair of brown brogues and a brown belt, and you'll look effortlessly classy.
They work in most casual and smart casual events in the summer, from the bar terraces to a going to a BBQ, there's not too many places they don't work.
You can wear white jeans as part of a winter outfit too.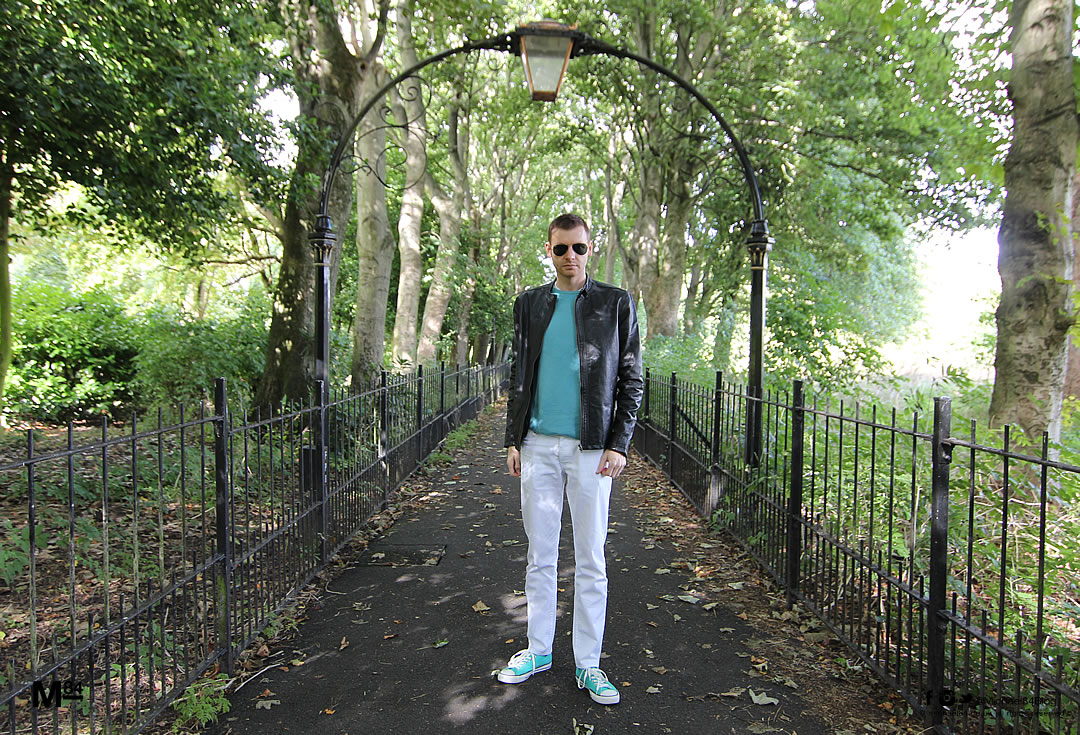 Wearing white jeans with a leather jacket
Keeping White Jeans Clean
White jeans are the enemy when it comes to dirt and stains. The obvious answer is to be careful, but they can be prone to stains.
You can spot clean the jeans if you're in a tough situation, and if you're out and about this can be done by dabbing with a dry cloth, and using sparkling water.
When it comes to washing jeans, you can do this by hand. Although I don't usually advocate washing jeans in the machine, it is a viable option.
The Best Denim Brands
Now you're into white jeans, you'll want to know the best brands to buy from. Three's a few different options, and this largely depends on your price point.
If you're looking for a pair of cheap white jeans, high street brands are going to be an option. I have a pair from H&M and I think they're great. They're super soft, comfortable and slim fit.
Other high street options in this price range are brands such as Zara, Mango Man and Topman.
If you're looking at fashion brand, I can recommend Tommy Hilfiger, as I own a pair of these too. Other brands include Levi's and Nudie Jeans.
Clothes Which Go With White Jeans
What goes with white jeans? Here's some examples:
Black Shirt
Navy Shirt
Light Blue Shirt
Pastel Colour Shirts
Blazer Jacket
Bomber Jacket
Leather Jacket
Black Shoes
Brown Shoes
What To Wear With White Jeans
Wear white jeans with a shirt combination for a smart look
For a more casual outfit, wear white jeans with a plain T-shirt
Nautical T-shirts are a great choice for summer
Go for a slim fit cut of denim
Choose black or brown shoes for smart footwear
Pick a clean colour of trainers if you're going casual
White Jeans FAQ
Are White Jeans In Style?
Yes, white jeans are in style in 2022. They're a good choice of trousers to wear particularly in the summer and warmer months, but as already mentioned can be worn in winter too.
Can I Wear White Jeans On A Night Out?
White jeans are a great choice for men on a night out. Summer nights are brilliant nights out, it's light, warm and there's just something in the air. Wearing a pair of white jeans at night will set you apart from most guys who'll be waring the usual dark colours.
Are White Jeans Good On Guys?
White jeans look good on guys. As you can see in the photos above, I've gone for some white jeans in slim fit, and they look and feel great. As already mentioned, they will set you apart from other guys, especially on a night out.
Verdict
White jeans are a brilliant option to have in your wardrobe, and fashionable to wear. The most important thing to remember is to get the colour combinations right. Stay stylish.
If you're looking for more, check out my fashion tips over in the style guide. There's easy to follow steps on how you can dress better for every occasion.