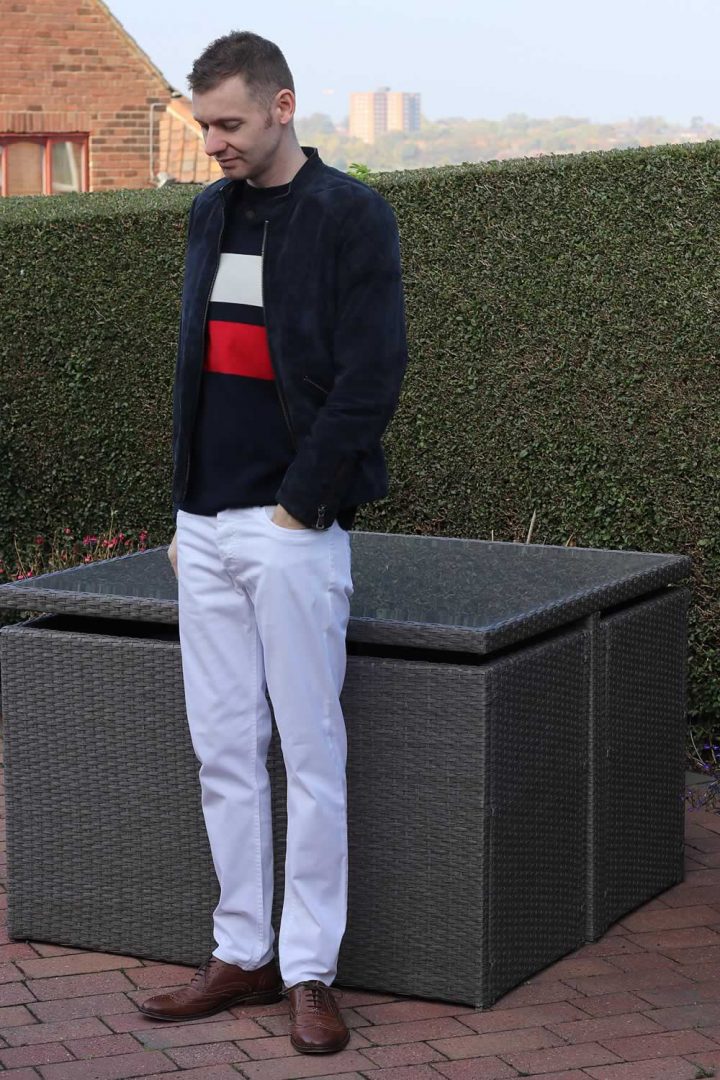 White Jeans Winter Outfit
If you're a regular reader, then you'll know that I love wearing white jeans. They're usually a brilliant item to wear in the Summer, since they're light, and something different for that season.
But what about Autumn and Winter? Can you wear white jeans in Autumn and Winter?
The answer is yes you can!
You can wear white jeans in cold weather. Not only that, you can look good wearing white jeans in cold weather.
You can see my white jeans winter outfit above. I have paired my white jeans up with a navy sweatshirt with red and white block pattern, along with my navy suede jacket and to finish off the look, my brogues from Kurt Geiger.
There's plenty of other outfits which you can create with white denim, so let's get into why you should definitely consider white jeans for Autumn and Winter when it comes to combining your clothes to make your outfit.
First of all we should talk about why you should wear white jeans – They're different.
They will make you stand out, and for the right reasons providing that you dress them up with the right clothing.
If you're sick of wearing the same old jeans or chinos which will probably be dark, and you want something fresh, this is definitely the colour to go for.
I've already talked about the denim you should own, and a good pair of white jeans is something you'll want in your wardrobe as an option.
Pairing The Right Colour Is Key
Once you've got your heart set on wearing a white pair of denim, you'll need something to wear with them. This is crucial, not only the correct item of clothing, but the colour too.
In the Summer months, pastel colours work well and give a real airy feeling to your look.
In the cooler months, toning it down with staple colours works really well, or using one bold colour to pop also has it's merits too.
My personal favourites are navy and black. Black is very dark and cold, but works well, but the number 1 colour for me at the moment is navy.
That's what I've gone for in this look, with the jacket being the key piece of it all.
I can highly recommend wearing navy or dark blue with white, it just works really well. What do you think?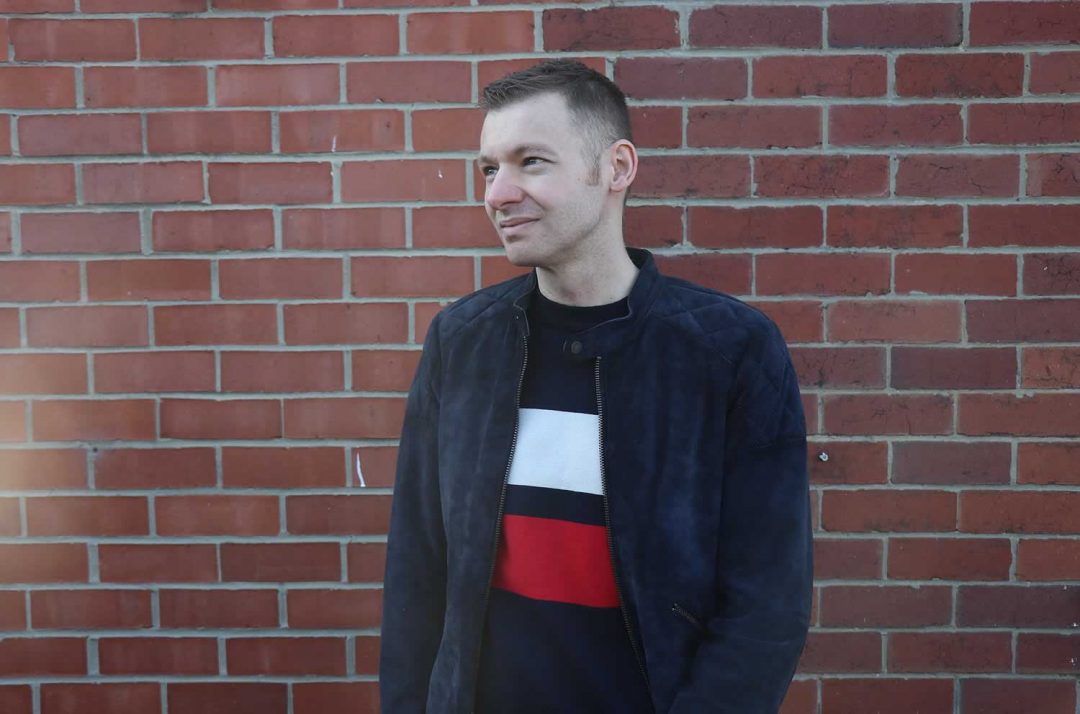 Getting The Right Fit
Of course as with everything we discuss in style, the fit is key, and getting the right fit is always important.
I see white jeans as quite a smart option when it comes to every day style, so having a proper fit is the way to go.
By that, I mean fitted, and not loose or baggy.
My white jeans which I've featured above are slim fit, which is the one I usually go for, and really like that kind of fit.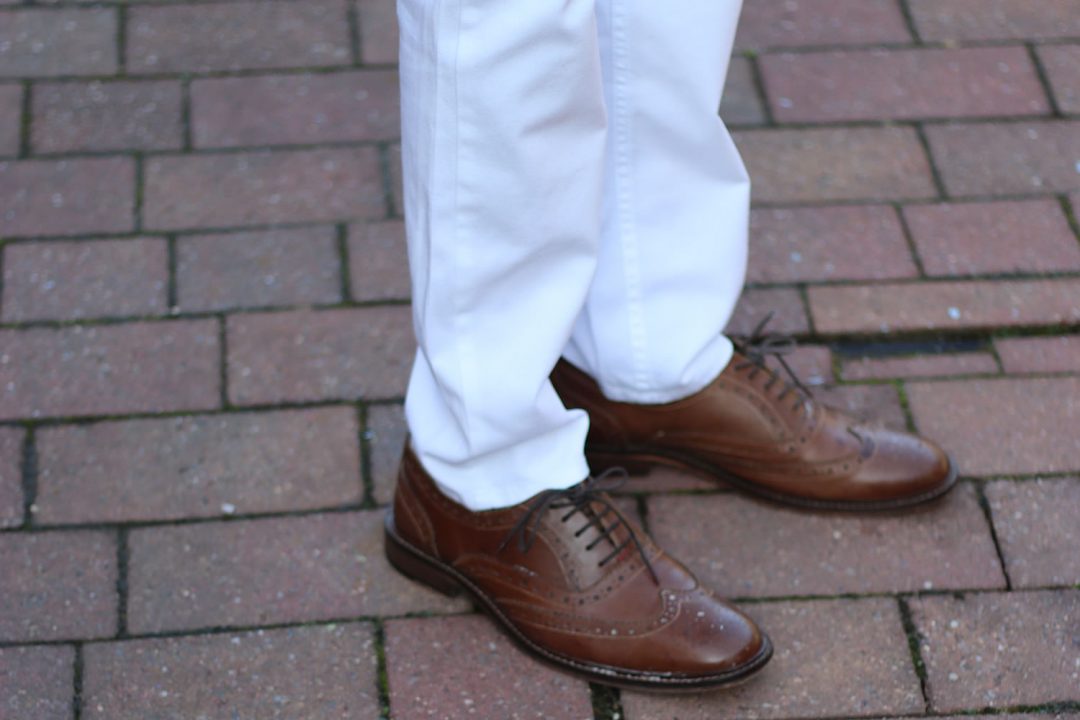 What To Wear With White Jeans In Autumn & Winter
So now you've decided that you're going to go for a pair of white jeans, what are you going to wear with them?
I've already talked about the colour, and I think going for a navy, black or even dark grey is a good way to go.
Since we're talking about the colder seasons, layering is going to be an option, and wearing something which keeps you warm is another consideration.
I think the following clothing is perfect for pairing with white denim.
Round neck jumper – A plain knit is going to look effortlessly stylish and keep you warm at the same time.
V-neck knit with a white shirt – Layering a dark colour V-neck jumper with a white shirt
Navy shirt – Just like a navy jumper, a navy shirt looks incredibly stylish when paired with white denim
Dark shades of colours – Wine red jumpers, dark subtle greens and other dark hues work well
Jackets – Denim, Bomber, Suede – When it comes to a jacket, throwing almost anything on is going to work, providing the colour works too. For the edgy look go for denim, for a more casual and relaxed statement, a cotton bomber will work well.
Shoes – The great thing about white is that almost any colour shoe will work. (Check out the shoe guide) Brown, black, tan, oxblood or blue, they'll all compliment the white of the denim well. The style of your footwear will depend on the outfit choice, but I can recommend going for a smart casual shoe or smarter trainer to keep everything looking tidy.
Avoid all white – When it's the Summer you may get away with an all white outfit, but that's where it should stay. Pairing with white shoes is a no-no, and a shirt should also probably be avoided, unless you're wearing a jacket or layering which covers up most of the shirt.
Be confident and go for pair of white jeans for Autumn and Winter, it will set you apart from everyone else, and you will look smart, sharp and stylish if you follow these tips and advice.
You can check out what to wear with white jeans this summer, and all the other seasons too. There'll be no need for layers, and usually a T-shirt with a casual or smart shirt will be on the cards.