Going to a funeral is the last thing anyone wants to do, but it's a sad fact of life that we'll probably end up having to go to a few. The last thing on your mind is probably thinking of what you have to wear, but if you've never been to one before you may be wondering how to dress for a funeral.
A funeral is not only the place to pay your last respects, it's a place to show respect, and of course, dress respectively. It's not a place to show off your personal style, but the opposite, and you should be dressing how the occasion dictates, or how the friends or family have chosen if there's a dress code.
The usual and traditional funeral clothing for men will be:
Black Suit (Or Black Blazer/Jacket)
Black Trousers
Black Shoes
White Shirt
Black Tie
Traditional Funeral Clothing
As we've already discussed, the traditional funeral clothing in the UK for men is a black suit, white shirt, black shoes and a black tie. Funerals are usually sombre and sad occasions, so you should adhere to this dress code and keep things simple and traditional, and not draw attention to yourself.
A suit does not necessarily need to be a full matching suit from a shop. A simple black pair of trousers with black jacket will be fine, if this is all you have, it does not need to break the bank. If you are a suit type of guy then you probably already own one, or you can invest in one which will come in for a number of different occasions.
When it comes to footwear you should wear smarter shoes, Oxford or Derby style formal shoes and not trainers. A plain white shirt and black tie will complete the outfit.
The colours should be dark. You may be able to wear a dark grey suit or very dark blue if that is all you have available, but black will always be preferable. You should avoid bright colours and bold outfit choices, unless directed otherwise, see below.
You do not need anything fancy, dressy or showy, no bling cufflinks or accessories, and you can probably leave the pocket square at home too.
What To Wear If You Don't Have A Black Suit
If you're going to a funeral and want to know what to wear if you don't have a black suit, you should still dress conservatively. You should really get a black dress jacket or blazer, with black trousers, which can be bought for little money.
If that is still out of the question, you should keep things as simple as possible, wearing a smart dark jacket which is preferably black and a smart, plain shirt. As already mentioned, if you have a dark grey suit and don't or can't get a black one, this should be acceptable.

Follow The Dress Code
If you have not been told the attire, you should wear the traditional dress as above. However some people don't want a sad and dark funeral, and want people to be dressed a certain way, sometimes bright colours are requested, sometimes in their favourite colour, some may want to wear a flower. Find out before hand if this is the case, and if you have not heard otherwise, then it's probably more formal and traditional.

Dress For The Weather
Funerals can obviously happen any time of the year, and in all weather conditions. If you are wearing a suit and it's cold, you may want to wear an overcoat and even a dark scarf, as there could be some standing around to do, depending on the funeral. If it's warm or hot in the Summer, a suit should still be worn, a shirt and tie without the jacket will not look very smart and breaks from tradition.
Where To Shop
There are plenty of shops on the high street and online to shop for the clothing you need. If you're in a hurry and buying online, many offer next day delivery, but remember that buying online means you'll not be able to try anything on (without sending it back and wasting time). Some places which sell inexpensive suits if you are in need of one and don't want to spend a lot. Here's a small list of places where you can go.
Hopefully this will give you one less thing to worry about for the day. As always you can check out more style advice over here in the style blog for tips on how to dress for any occasion.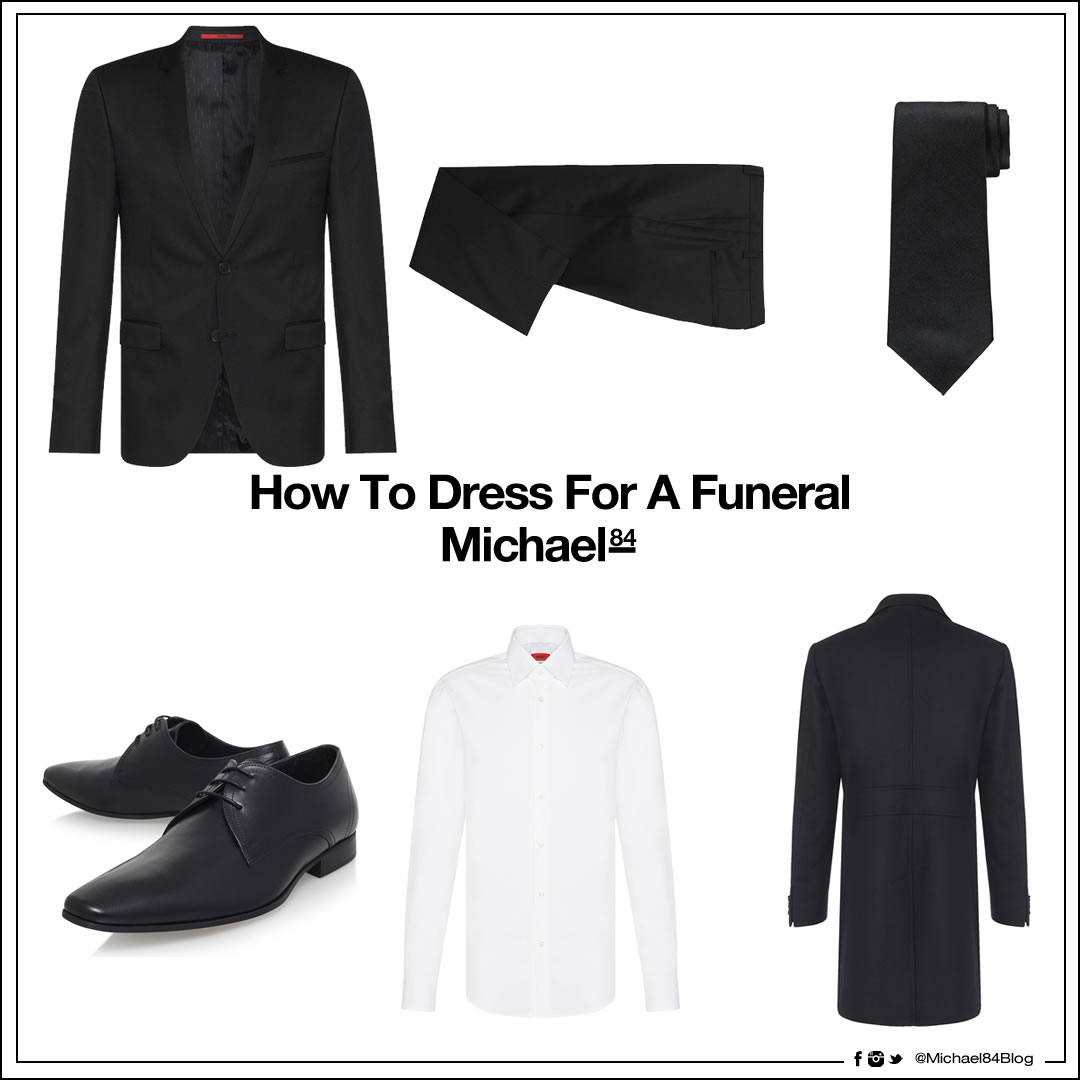 Outfit Ideas
Going for a traditional look means there are not too many options to worry about. Wearing the simple black suit, white shirt, black tie and smart shoes will be the go to outfit for the vast majority of people attending a funeral.
Key Points
Be respectful in your clothing choices
Wear dark colours unless otherwise told
Wear smart black shoes
In Winter, it's fine to wear a smart coat such as an overcoat over your suit
On That Note
A funeral is a place to dress respectively, and if you do that, you should be fine. It is not a dress code you're likely to get wrong if you stick to the basics.