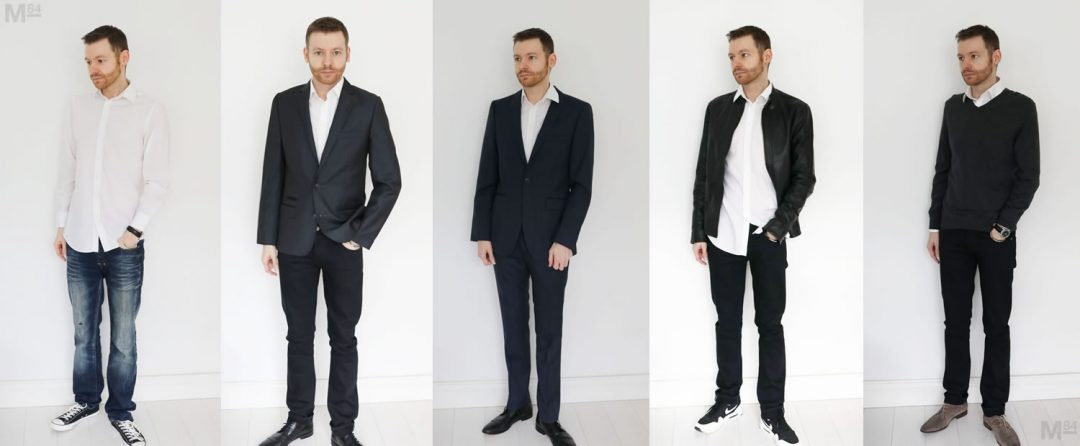 A crisp white shirt. Is there a better feeling than putting one of these on?
It's one of the most simple and basic items of any guys wardrobe, and is completely universal. It may be simple, but it's also elegant and classic, and can be a key component to dressing well.
I love a good white shirt, but when it comes to creating an outfit, you might be wondering:
What should I wear with a white shirt?
Here are 8 ways to wear a white shirt that any man can pull off with ease.
Men's White Shirt Outfits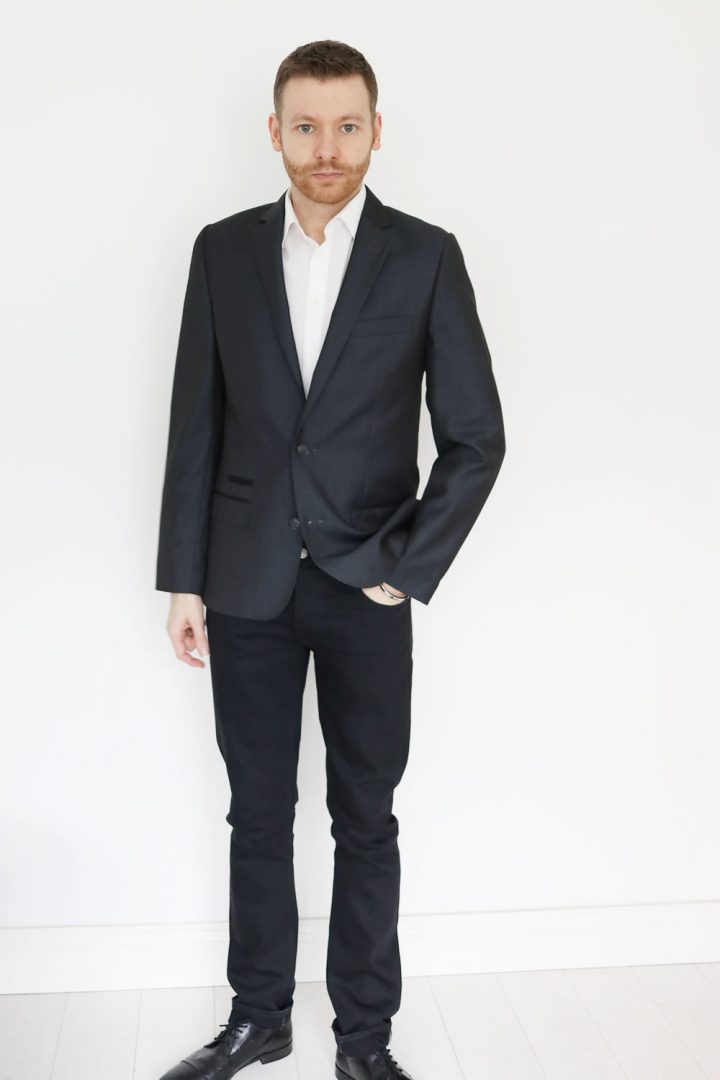 White Shirt With A Blazer
Button down white shirt
Charcoal Grey Blazer
Dark Blue Jeans
Black Shoes
If you're looking for how to wear a smart white shirt, teaming it with a blazer is a great idea.
This becomes a smart casual outfit by wearing the white shirt with jeans. I have finished off the outfit with a pair of black shoes to keep the smart edge.
Since there is no tie, I have left the top button undone, keeping everything on a casual level.
Don't forget the suit button rules, and leave the bottom button unfastened when you're wearing the jacket standing up.
This outfit choice should be a go to for most guys who are looking to be smart without feeling over-dressed.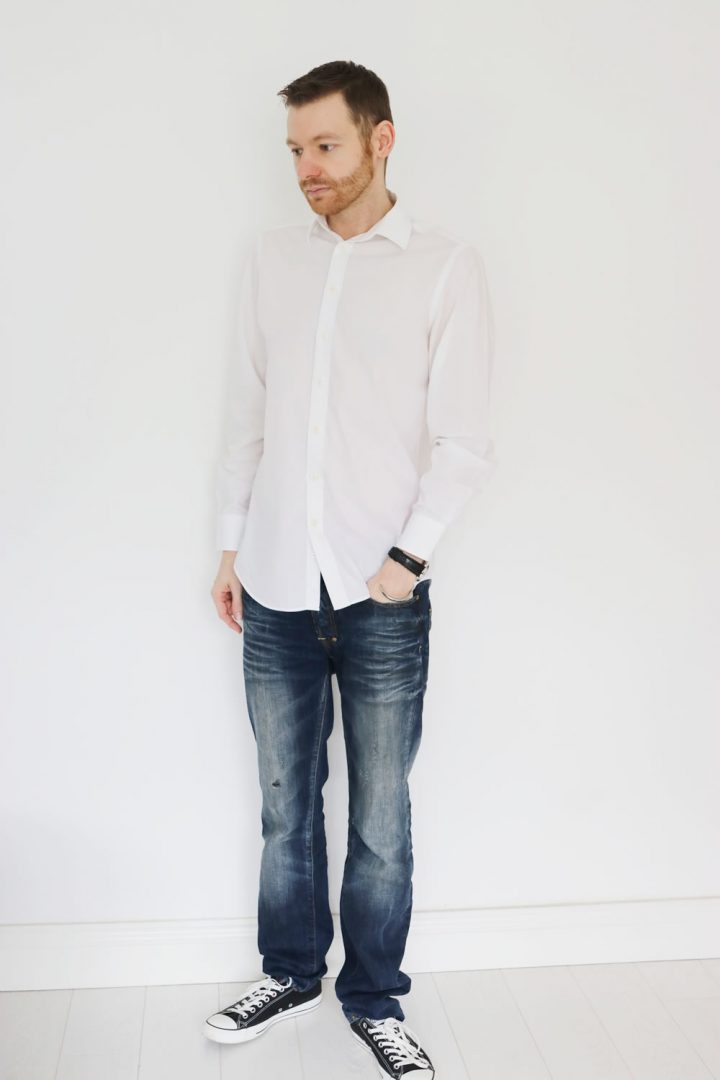 White Shirt With Blue Jeans
White Shirt
Mid Blue Jeans
Converse Trainers
A button down white shirt with blue jeans is an absolute classic outfit combination. If you want to wear a white shirt casually, this is a good go to outfit. (check out the differences between a button up and button down shirt).
I have went for an un-tucked shirt which some people may not agree with, but the purpose of this look was to be more casual.
It works well in most weathers, and is pretty universal. I've worn it with some black and white Converse to keep this as casual as possible.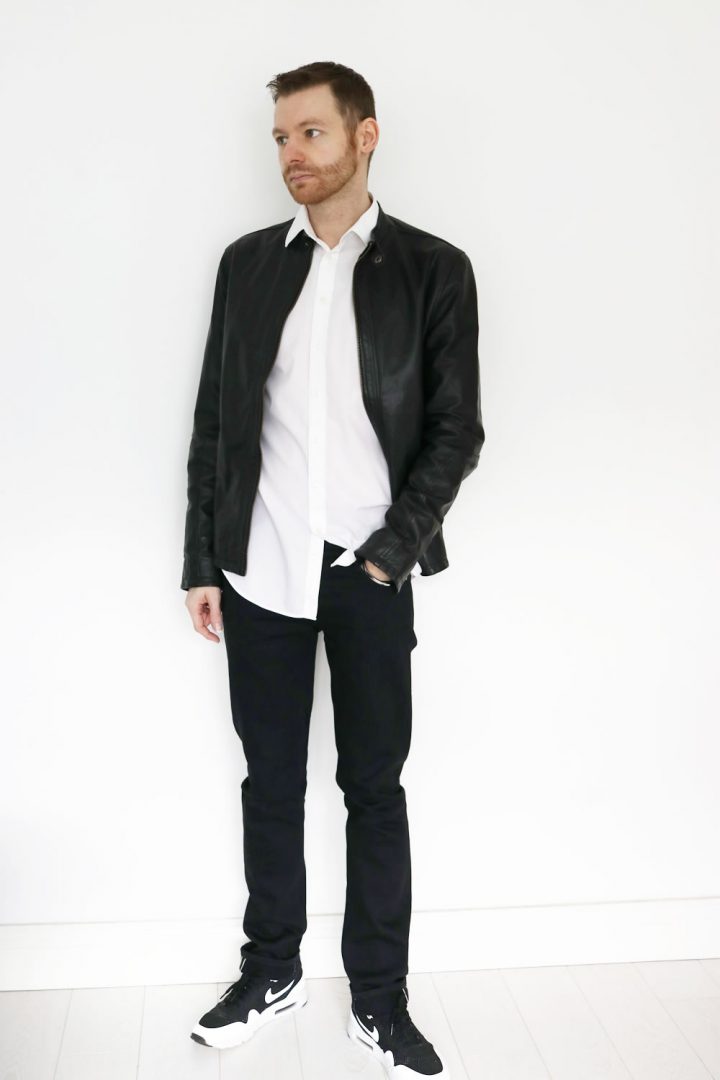 White Shirt And A Black Leather Jacket
White Shirt
Black Leather Jacket
Nike Air Max Trainers
A white shirt and black leather jacket go together so well.
This is a more edgy smart casual outfit, and hits all the right notes. It has more of a rock style to it, but I have paired it with some Air Max trainers to give it a more sporty style.
You can give this a smarter look by swapping out the trainers for some casual shoes. This would make a good outfit for going out to a bar for drinks.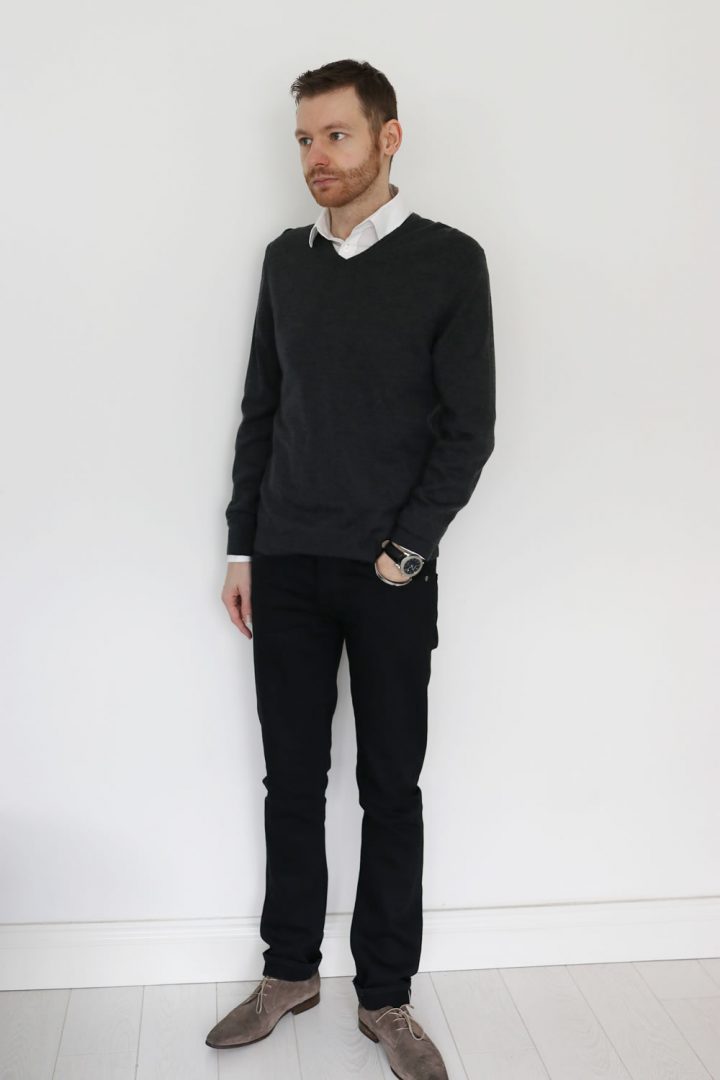 White Shirt Under A V-Neck Jumper
White Shirt
V Neck Jumper In Grey
Black Jeans
Grey Derby Shoes
A V-Neck jumper over a white shirt is a good combination when then temperature drops.
You can layer the white shirt with a good complimenting colour sweater. In this outfit I have chosen a dark grey sweater to go with the white shirt.
The two colours go together well, and for my lower half I've selected a pair of black jeans.
When it comes to the footwear I have gone for my favourite grey suede Kurt Geiger derby shoes.
I really like this outfit and think that the smart casual nature works well when dressing smart casual to a restaurant.
White Shirt With Black Jeans
Another classic outfit is to combine a white shirt with black jeans. The two go together so well, with the ultimate in contrast of the black and white working well together.
As shown in the above images, you can throw a jumper or even a jacket over the shirt if you want a more layered look.
This is once again a great smart casual outfit choice. Wear this look around town all year round.
White Shirt With A Suit
Charcoal Grey Suit
Button Down White Shirt
Black Shoes
Wearing a white shirt with a suit is the most formal way of going. You can choose to keep a casual edge by leaving the tie out and going with the top button undone.
I am far more of a smart casual guy than a formal one. If you want a formal outfit with a white shirt, wearing a suit along with a tie is the way to go.
The best which go with a white shirt would be blue or charcoal which work in most situations.
A black suit should be reserved for very formal events or funeral attire.
To keep the look smart you have to go with some smart shoes, and I've gone with my black derby shoes from Kurt Geiger.
If you are a guest at a christening, or even godparent, this would be a great choice of clothing. You'll definitely look the part.
All White Outfit With A White Shirt
Do you dare to go all white?
A complete white out would be very brave, and is usually only reserved for the summer. If you're attending an all white party it's the way to go. It might also be acceptable for a stroll along the beach.
One thing is for certain, this is a very casual way of wearing a white shirt. This outfit would usually be worn with a lightweight white shirt such as a linen shirt.
If you're looking for outfit ideas for white jeans, pairing up with a white shirt is an option which will stand out.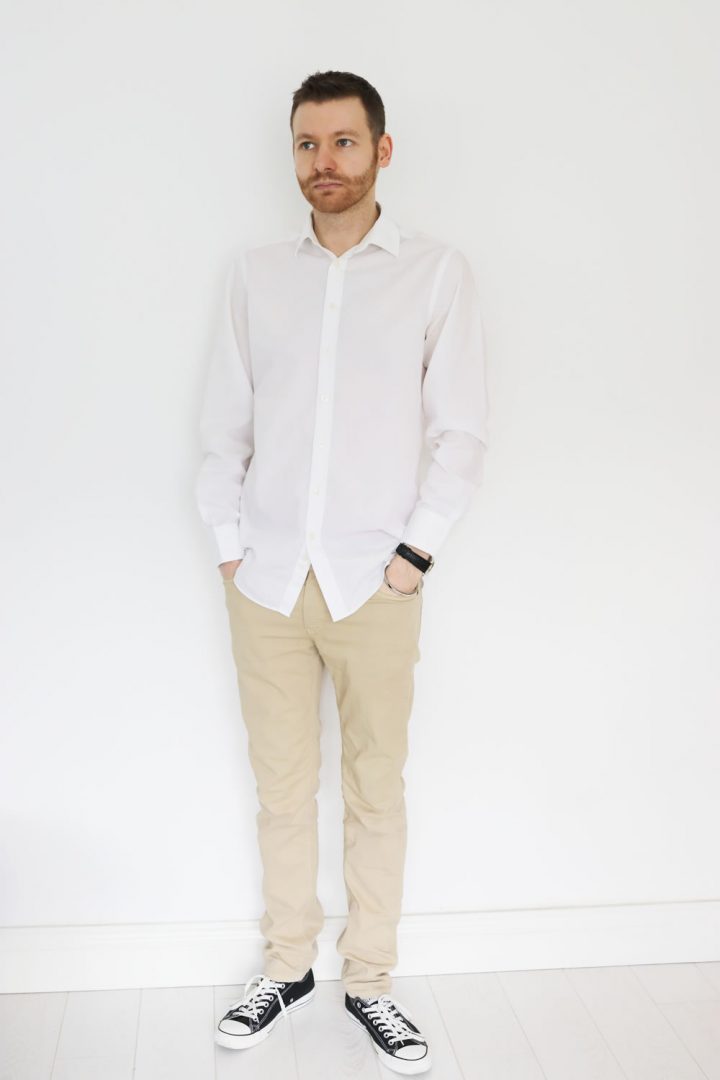 White Shirt And Chinos
Finally the last Summer outfit with a white shirt is to wear it with a pair of chinos.
There are many  ways to style chinos, and they make a great alternative to denim jeans.
You can also get chinos in an array of colours, all of which go perfectly with a white shirt. I've picked out a beige pair of chinos which gives off a summer and airy feel, perfect for warmer months.
The outfit is finished off with a pair of Converse trainers.
Should You Tuck Your Shirt In Or Not?
Should you tuck your shirt in, or not?
Did you know that some shirts were designed to be tucked in, and others to be worn untucked.
This is not a hard and fast rule, but is a really good guideline on whether or not you should tuck in your shirt.
If the hem is quite short and cut straight, this is usually a sign it was designed to be untucked.
If it's a curved hem and it's quite long, it's definitely supposed to be tucked in.
However the biggest factor on deciding whether or not to tuck your shirt in is the occasion.
For a smarter dress code you should tuck it in.
If you've gone for a more casual or smart casual look, you may want to leave the shirt untucked.
When you're wearing a blazer with a shirt, you should almost always tuck in your shirt.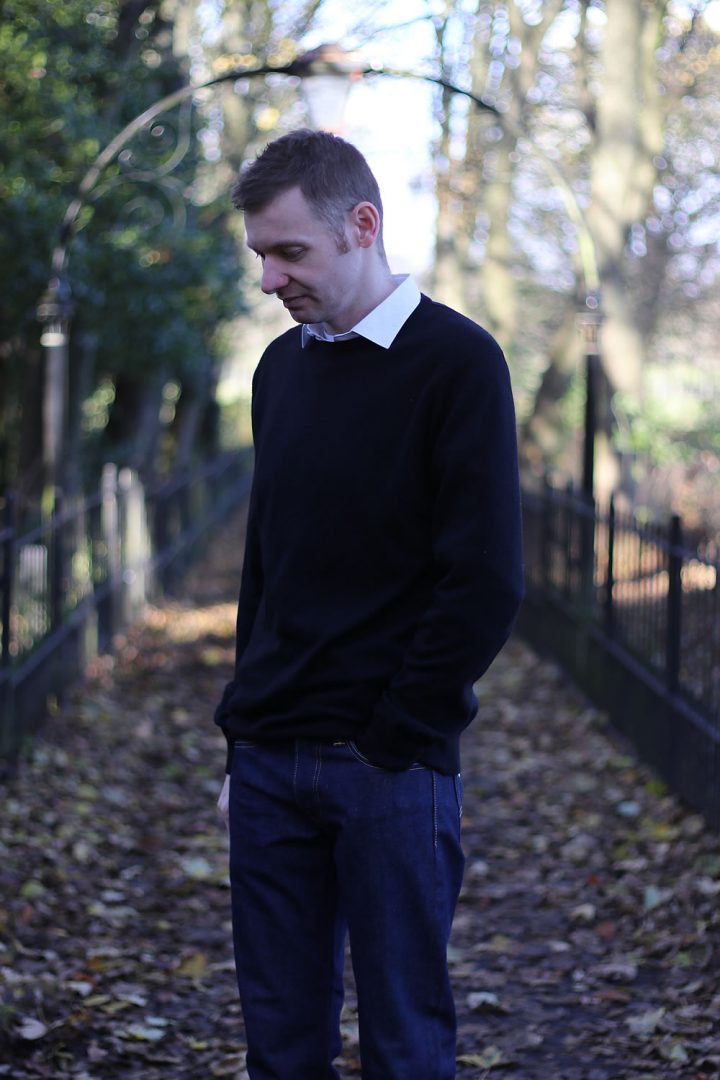 How To Wear A White Shirt: A Checklist
Button up the shirt for a more formal look, as you un-button the more formal the look gets
Get The Right Fit For Your Body Shape – Skinny, slim, standard, tailored, or loose.
Long sleeves are almost always better, and can be stylishly rolled if needs be.
Ensure the rest of the outfit is complimented well with each other
Make sure it's ironed – A crispy white shirt looks and feels it's best when it's ironed
Make sure it's clean – It's white, so imperfections are easier to notice. Make sure it's fresh and clean when you put it on.
How A Shirt Should Fit
As always in fashion, the fit is key. Knowing your body type is a good starting point to getting the right fit.
Here's how a shirt should fit.
First of all check the shoulders, make sure the fit is good at that point.
Next up make sure that there's slight room in the collar. You should be able to fit your fingers around the collar, but there shouldn't be enough room for much else.
This ensures a nice fit around the neck, not baggy and not too tight.
Lastly make sure the front of the shirt is a nice fit. You don't want the buttons to be bulging, and you don't want to be able to grab vast amounts of the shirt and it looking baggy.
The different kinds of fit you're likely to encounter are:
Skinny Fit
Slim Fit
Tailored Fit
Classic
Contemporary
You should make sure you get the best fit for your body type. A slim fit works for most body types, while the tailored and classic works if you need a little extra room.
There are plenty of different types of fits for shirts, each brand will fit slightly different. Check out the Men's Wardrobe Essentials series for more must have clothing.
What To Wear With A White Shirt
For a formal outfit pair a white shirt with a suit
Throwing a blazer over a white shirt will create a smart casual look
Wear chinos and experiment with different colours
Pair with shoes for a smarter edge
Wear with a pair of trainers for a more relaxed edge
Learn how to dress better by reading the men's style guide. Here you'll find lots of my fashion tips which will help you dress better for every occasion.