If there's one piece of clothing which you should own, and probably already do, it's the humble white shirt. It's that classic go to piece of clothing when you want to wear something smart without having to resort to the latest fashion trend, it's timeless and you can wear one of these with pretty much anything, all year round.
How To Wear A White Shirt
Since it's such a classic piece there's not really a wrong way to put on a plain white shirt, and it can be worn for every occasion imaginable. I'm going to go through seven different ways you can style a white shirt, and you can see just a few ways which items of how I dress them.
Are you ready? Check out the 7 ways I have styled the white shirt below.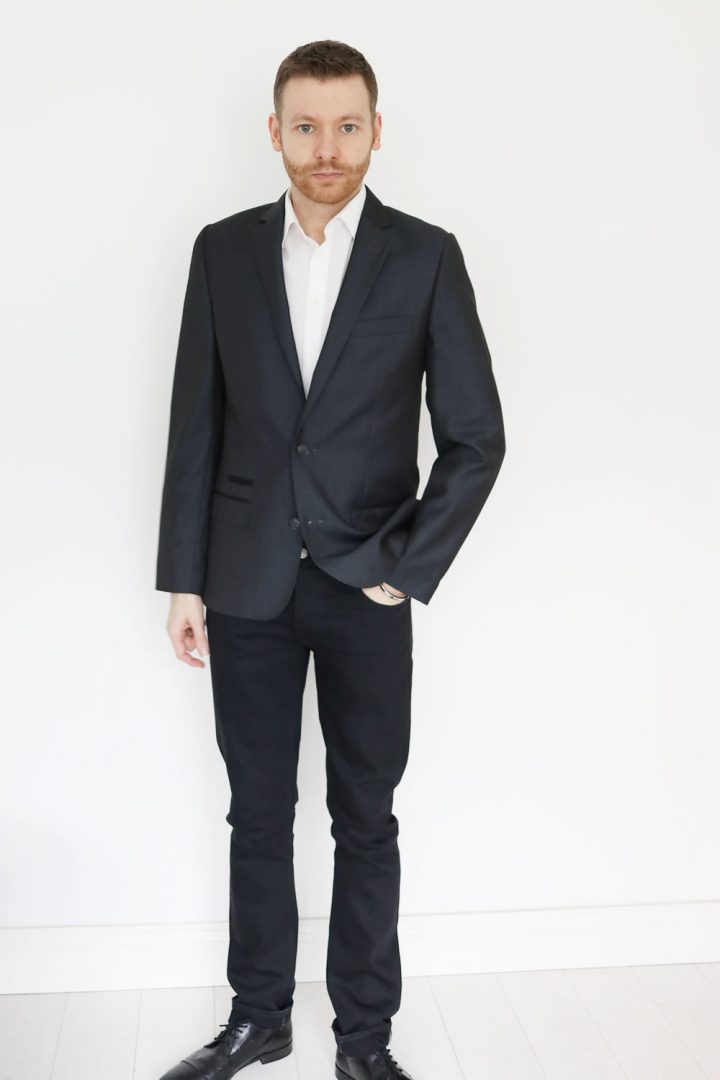 Smart Casual: A White Shirt With A Blazer
For a smart casual look with the smartest edge, wear a white shirt with a blazer. I have paired it up with a pair of black jeans, and black derby shoes. The open button shirt and no tie keeps the white shirt casual, pairing it with black jeans gives it a smarter edge, and then finishing with some smart shoes as well as the smart jacket gives this kind of look some real style. This outfit choice should be a go to for most guys who are looking to be smart without feeling over-dressed.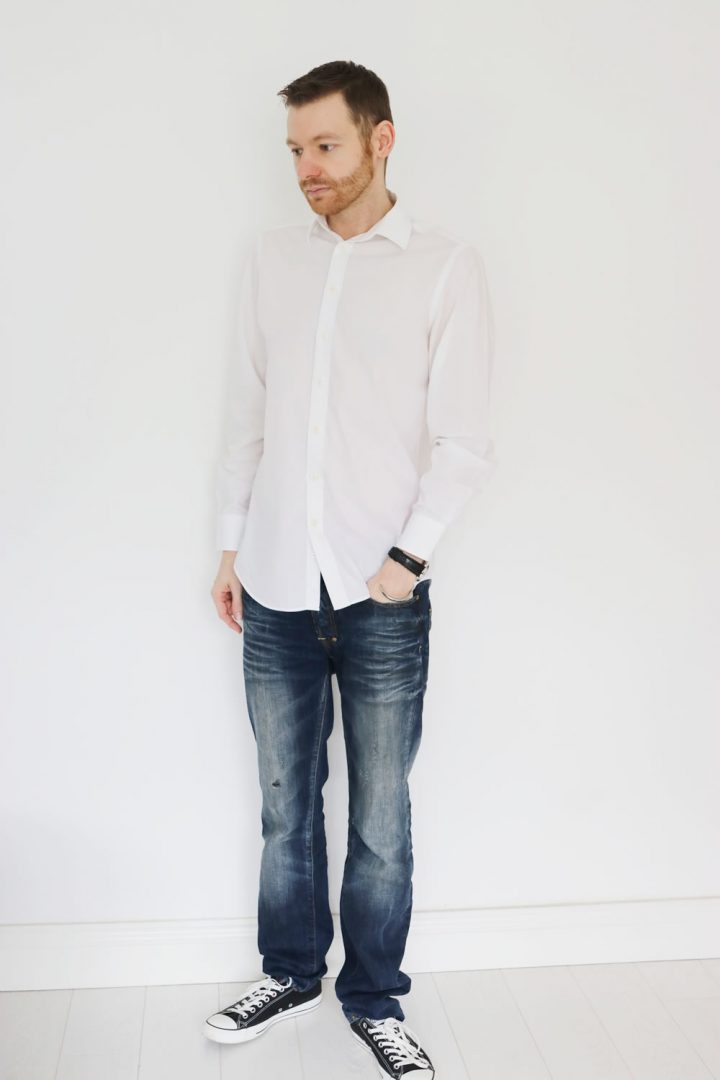 Casual: A White Shirt With Blue Jeans Combination
An absolute classic outfit combination and something you can pair up your white shirt with is a pair of blue jeans. I personally feel that the lighter the denim, the more casual the look. I have went for an un-tucked shirt which some people may not agree with, but the purpose of this look was to be more casual. It works well in most weathers, and is pretty universal. I've worn it with some black and white Converse to keep this as casual as possible.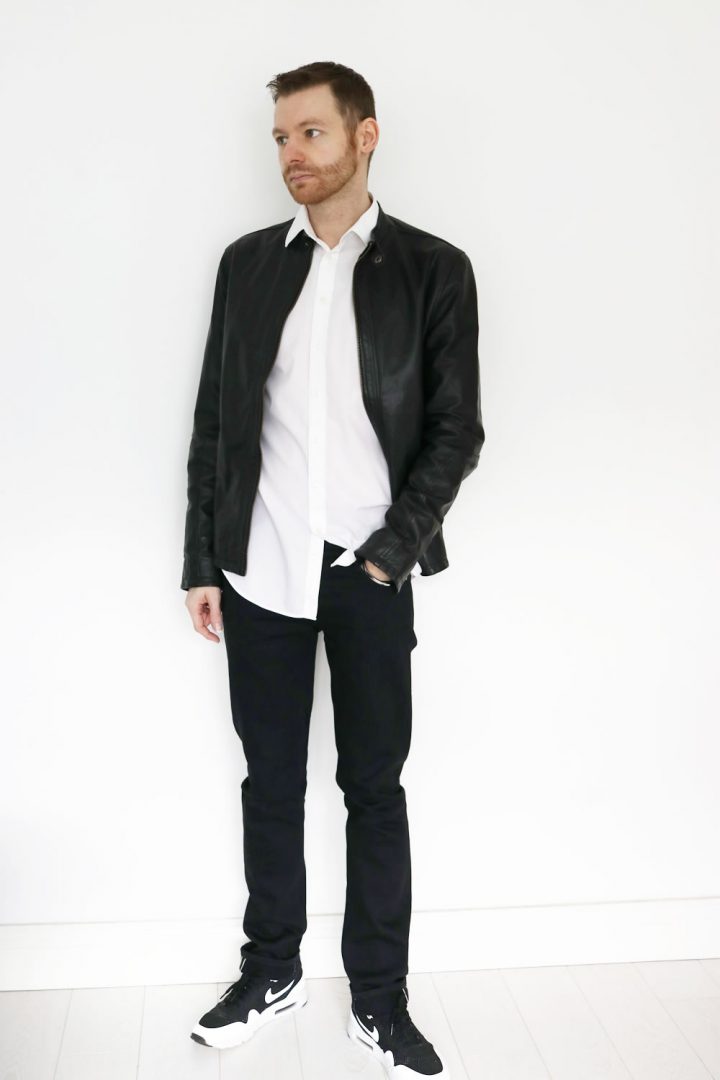 Cool Casual: A White Shirt With A Black Leather Jacket
It's another classic, and they do say that classics are the best. For a monochrome effect I have paired up the white shirt with a black leather jacket. It's a biker style and goes so well with a white shirt. Again I have chosen a pair of black jeans to keep the look monochrome, and to add to it further I've gone for my favourite Air Max 1 Ultra Moire which are black and white as well. Footwear for this look is interchangeable, and I could have gone for any of my other footwear choices for this look.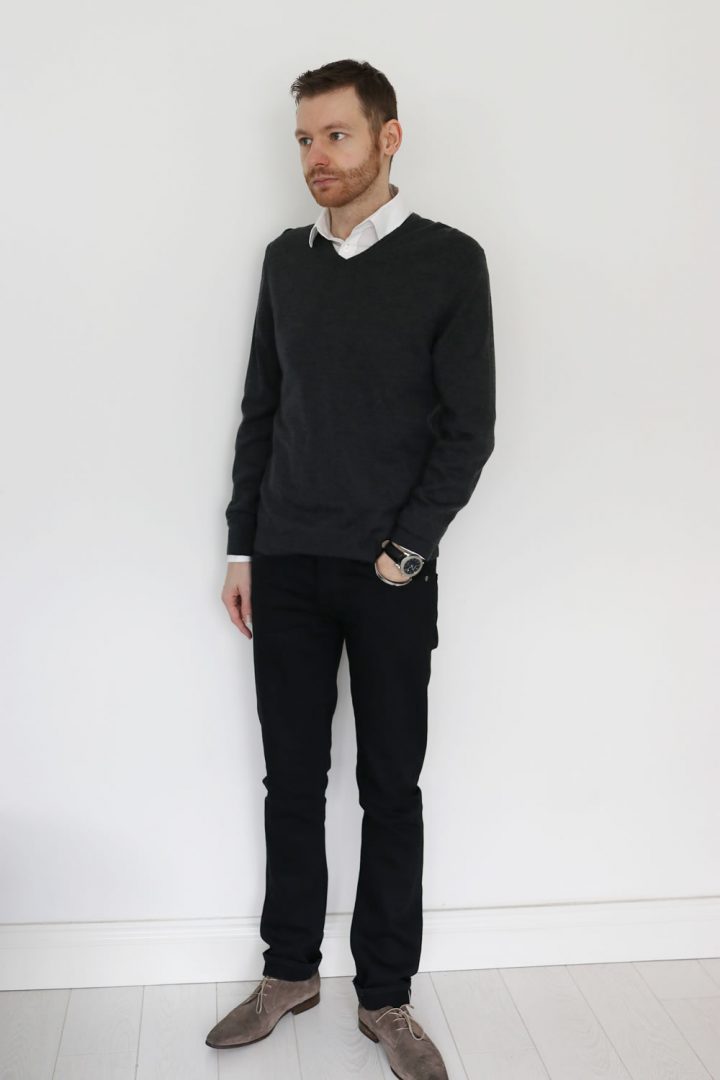 A White Shirt With Grey Jumper – Autumn/Winter Style
When the temperature drops then you'll want to layer the shirt, and what better way than with a jumper. I have chosen a dark grey knit, I really love how a white shirt and grey compliment each other, whether it's a lighter grey or this dark grey which I think works even better. I'm keeping the look dark again with black jeans, and for footwear I have gone for my favourite grey suede Kurt Geiger derby shoes.

Smart Outfit: Suit Up
The smartest way you can wear a white shirt is with a good suit. I have gone for a blue suit, and of course the trusted white shirt. For this outfit I have not went with a tie, but you can button up and go with a tie, add in a pocket square and you're good to go in the ultimate smart outfit. To keep the look smart you have to go with some smart shoes, and I've gone with my black derby shoes from Kurt Geiger.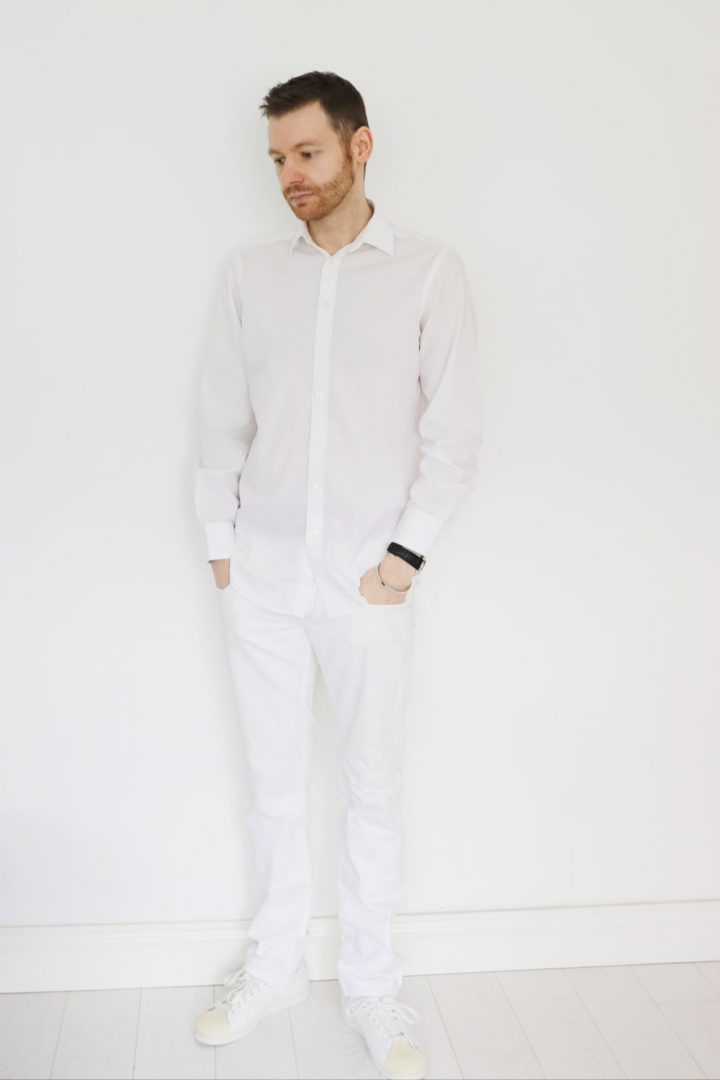 Summer White Party
Do you dare to go all white? A complete white out would be very brave, and it's a look you should only be thinking about if you've been invited to an all-white party, which is entirely possible come the Summer. Not tucking the shirt in keeps it all casual, you may want to roll up those sleeves if the weather dictates too. I've went all white with the shirt, white jeans and matched it up with a pair of white Adidas Superstars.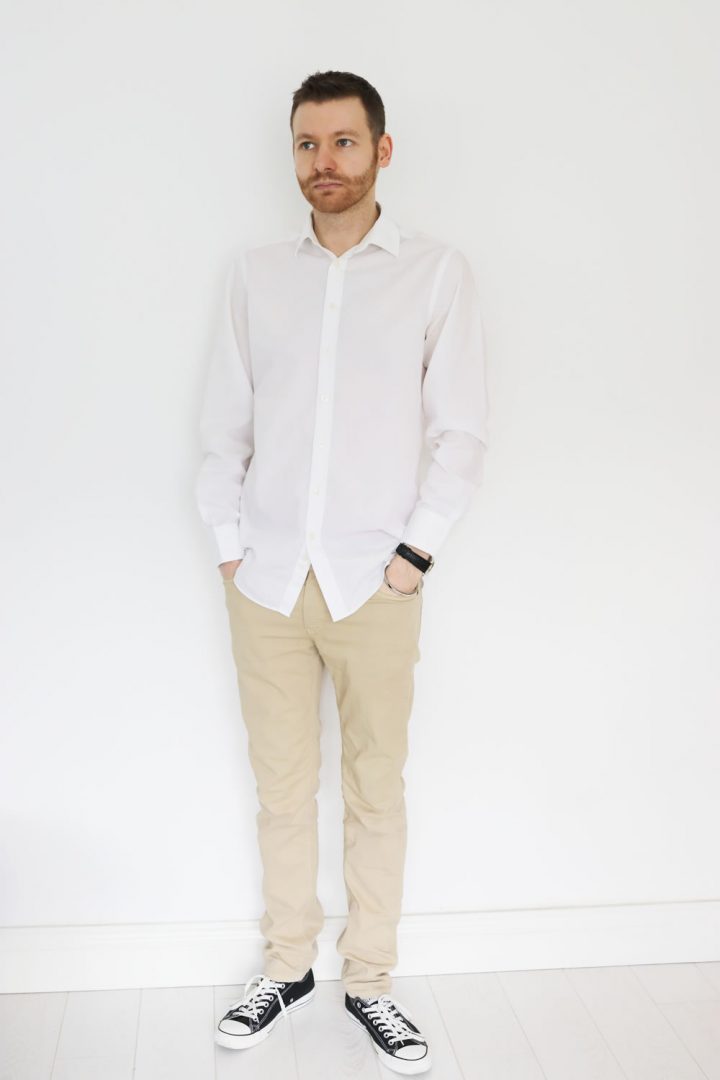 Summer White Shirt: Casual With Chinos
Finally the last Summer outfit with a white shirt is to wear it with a pair of chinos. Since this is for the Summer I've selected a pair of my beige/sand coloured chinos, which really keeps the overall look light and casual. For my footwear I've picked out my black and white Converse.
I have to talk about some essentials to wrap this up, so here we go.
Quick Style Hacks: How A Shirt Should Fit
As always, the fit is key. There's some really easy basic points you can check to make sure your shirt fits. First of all check the shoulders, make sure the fit is good at that point. Next up make sure that there's slight room in the collar, you should be able to fit your fingers around the collar, but there shouldn't be enough room for much else. This ensures a nice fit around the neck, not baggy and not too tight. Lastly make sure the front of the shirt is a nice fit. You don't want the buttons to be bulging, but equally you don't want to be able to grab vast amounts of the shirt and it looking baggy.
There are plenty of different types of fits for shirts, each will fit slightly different. From skinny fit, slim, slightly fitted, tailored and a more classic or traditional fit. For the ultimate in fitting you can of course go to a tailor, but if you're just looking for an off the peg solution, buying the correct size and fit is the usual way for most guys to buy a shirt.
That's my 7 ways to wear a white shirt, with thousands of other combinations, these are just a few I've picked out and try to diversify the looks for something a bit different in each one. As always you can get more of my men's style tips in more detail, covering all aspects of fashion and clothing with plenty of guides.
Which is your favourite? Let me know if it's one of these, or how you like to style a white shirt.
Shopping List – Where To Buy A White Shirt
Now you know what to wear with a white shirt, you're probably looking at getting yourself one, although as mentioned, you probably already have. Here's where you can buy a white shirt, with budget, high street fashion and high end menswear options.
Budget & High Street White Shirts
ASOS – White Shirt – Smart Skinny Shirt – £18 – here
TOPMAN – Button Down Oxford Shirt – £20 – here
H&M Easy Iron White shirt – £12.99 – here
River Island Smart Shirt – £20 – here
High End & Premium White Shirts
Eton Poplin Contemporary Shirt – £100 – here
Hugo Boss Slim Fit Poplin – £109 – here
Thomas Pink Frederick Shirt – £90 – here
Reiss Slim Fit Zinc Shirt – £80 – here
Ted Baker Pheonix Shirt – £69 – here