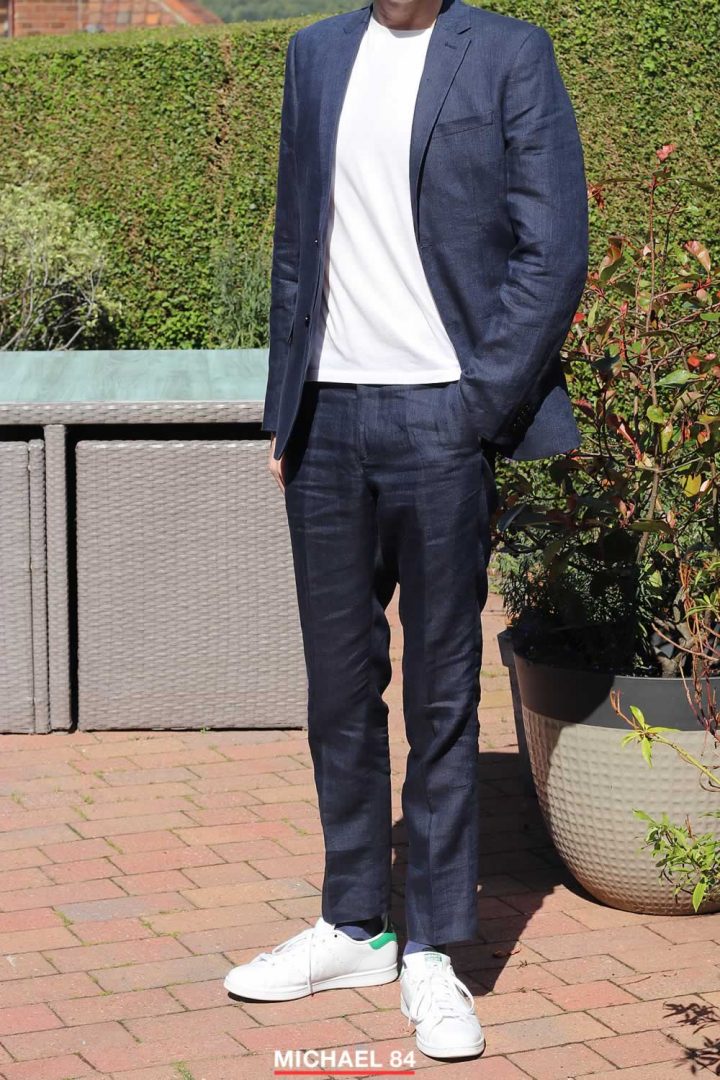 So, trainers with a suit. Can you wear these two pieces of menswear together?
It's a question that a lot of people are asking, and for good reason. A suit is seen as a staple piece of mens formal clothing, it's what you decide to wear when you need to dress up…
The phrase dress to impress comes to mind.
Trainers on the other hand are on the casual side of mens style. They're what you'll wear when you're doing something more casual, and wearing more casual pieces.
There's plenty of guys who'll wear trainers with a suit, and some who'll never wear these together.
Yes, you can wear trainers with a suit, and it can look good in the right setting. You have to understand that wearing a suit is usually seen as a more formal way of dressing.
Choosing trainers over shoes will bring you right down from formal into the smart casual dress code.
Trainers often look better with a suit in the summer. Summer suits are typically lighter in weight, and are often worn in a more casual fashion. Pairing up a linen suit with a pair of trainers can work fine when the weather turns warm.
White trainers with a navy suit looks cool and edgy, but should be worn on the right occasions. i.e. when you want to get dressed up without the need to go full formal.
These are some reasons why you should or shouldn't (depending on the look you're going for) wear your favourite sneakers with your smartest attire.
Here's everything you need to know about the suit and trainers combination.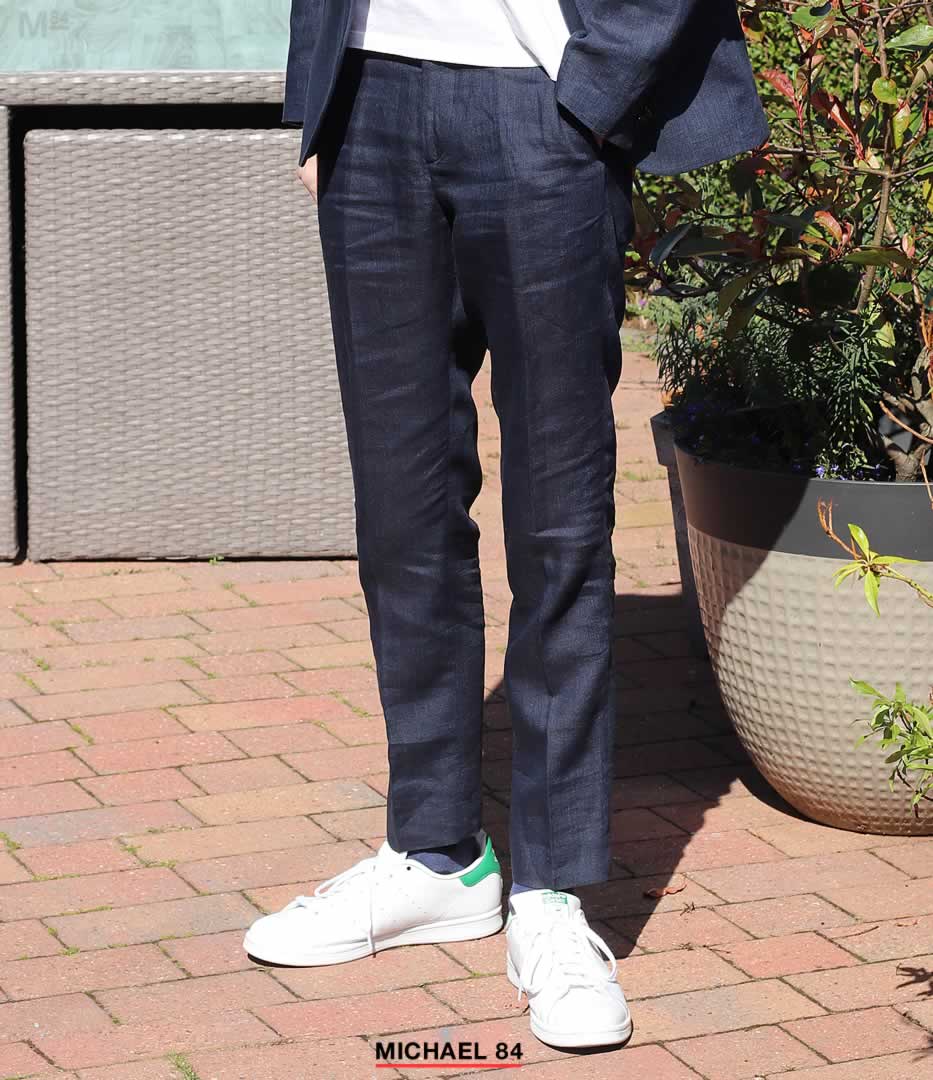 What You Need To Know About Suit And Trainers Combinations
It Will Age You Down
Tailoring is gentlemanly, and it's no secret that it can age you up if you're young.
There's no age where you should be starting to wear suits, but traditionally they're seen as an older guy type of dress. However, if you're wearing trainers, this will age you down.
That can be both a good or bad thing, depending on what you're going for. It will take years off an older guy, but he has to be able to pull off this younger gents style.
Similarly if you're already youthful, it may age you even younger. This should be considered if you're thinking about this look.
It Will Dress You Down To A More Casual Tone
If you're wearing a suit, there's a good chance you want to be dressed up. Wearing trainers will instantly change your smart outfit to smart casual. Once again, that can be both a good thing and bad thing.
If you love tailoring and suits but you're looking for a casual edge, this will definitely get you that.
But, if you've been told there's a semi-formal or formal dress code and you turn up in trainers, this would not be a good thing.
Your Trainers May Not Go With Your Suit
Sometimes mixing and matching two different styles is hard to do, and pairing trainers with a suit can be one of those.
Not all trainers are the same, and some will be OK for pairing with a suit, and some will look out of place.
If you want to wear trainers with a suit, there are some things you have to do. First of all, you have to make sure you're wearing the right trainers.
Here's the rules of wearing trainers with a suit.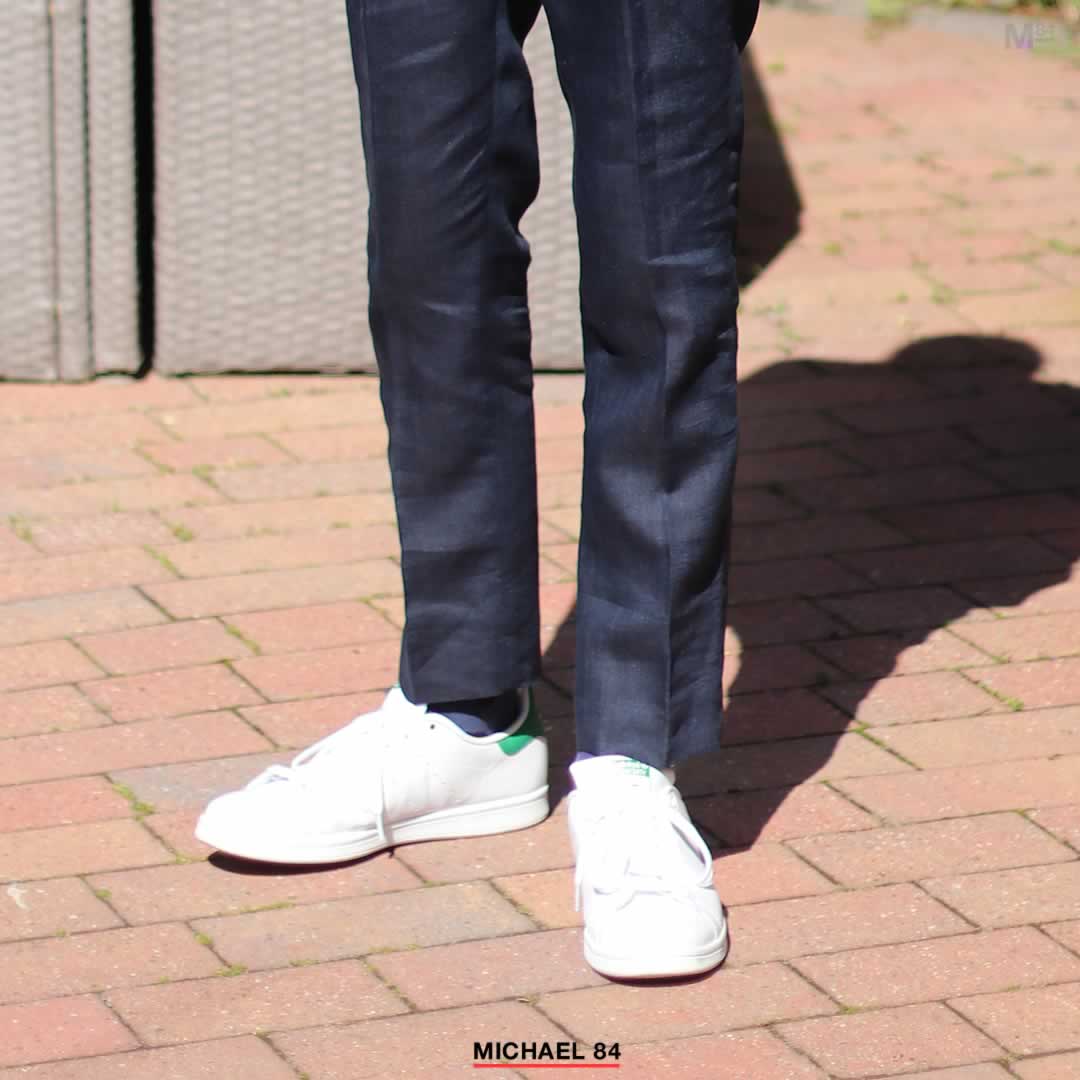 How To Wear Trainers With A Suit
Choose The Right Pair Of Trainers
When it comes to trainers, you have to pick out the right pair. They should be a smart pair of trainers.
These will usually be leather, low-top, all one colour and really look the part. They should compliment your outfit, that means a minimalist design, toned down and refined.
White Trainers With A Suit
Wearing a contrasting colour of trainers is a great choice when it comes to footwear with your suit. Since you're very likely to be wearing a dark colour suit, a clean pair of smart white trainers is going to be perfect.
A pair of Adidas Stan Smith would be my choice, but there's a great deal of smart white leather trainers on the market right now.
If you've got money to spend, Common Projects is one of the go to streetwear brands, Hugo Boss for something contemporary or Kurt Geiger for a sleek design at a reasonable price.
Best Colours Of Trainers To Wear With A Suit
As already mentioned, white should be the first colour of trainers you pull from your wardrobe. But what about other colours?
You should wear trainers which are complimenting to your suit colour. As your suit is likely to be blue, grey or black, that gives a lot of room for trainers when it comes to colours.
You can wear a contrasting colour, or even the same colour. Black leather trainers are going to work well with everything, as are white.
Navy is another great option. Navy leather low top trainers will look the part with any suit colour, including grey, black and all the hues of blue.
Should You Wear Socks With Trainers And A Suit?
So we have established that yes, you can wear trainers with a suit, but should you wear socks?
The simple answer is yes, and it's always yes. You should always wear socks with your shoes. You can wear no-show socks or liners, creating a sockless look.
This kind of look should be reserved for the summer, and would fall under the smart casual dress code. It can be a stylish look if you pull it off right, but the no-show sock look in general is a love-hate relationship for most people.
Take Care Of Your Trainers
It goes without saying that you need to take care of your trainers if you're wearing them with a suit.
The best trainers to wear would be leather material, so you have to ensure that they are absolutely spotless when wearing with a suit. Make sure that you clean them, which is especially true if you're going for a white pair of trainers.
Save The Trainers And Suit Combination For The Right Occasion
You can really make a statement with the suit and trainers combination, and for that reason, you should save this look for the right occasion.
Dressing for the right occasion is always important, even more so when you're trying to pull off this look. As already mentioned this can be the perfect go to outfit when it comes to summer fashion.
If you're going out on an evening for drinks or to a laid back function, this will work.
Verdict
And there you have it, your guide to wearing trainers with a suit. This is a laid back and casual look with a smart and sharp edge, which can look great, if you get the core principles right.
For dressing better for the occasion, make sure you've taken a look through the style guides which will have you looking dapper with every day style.