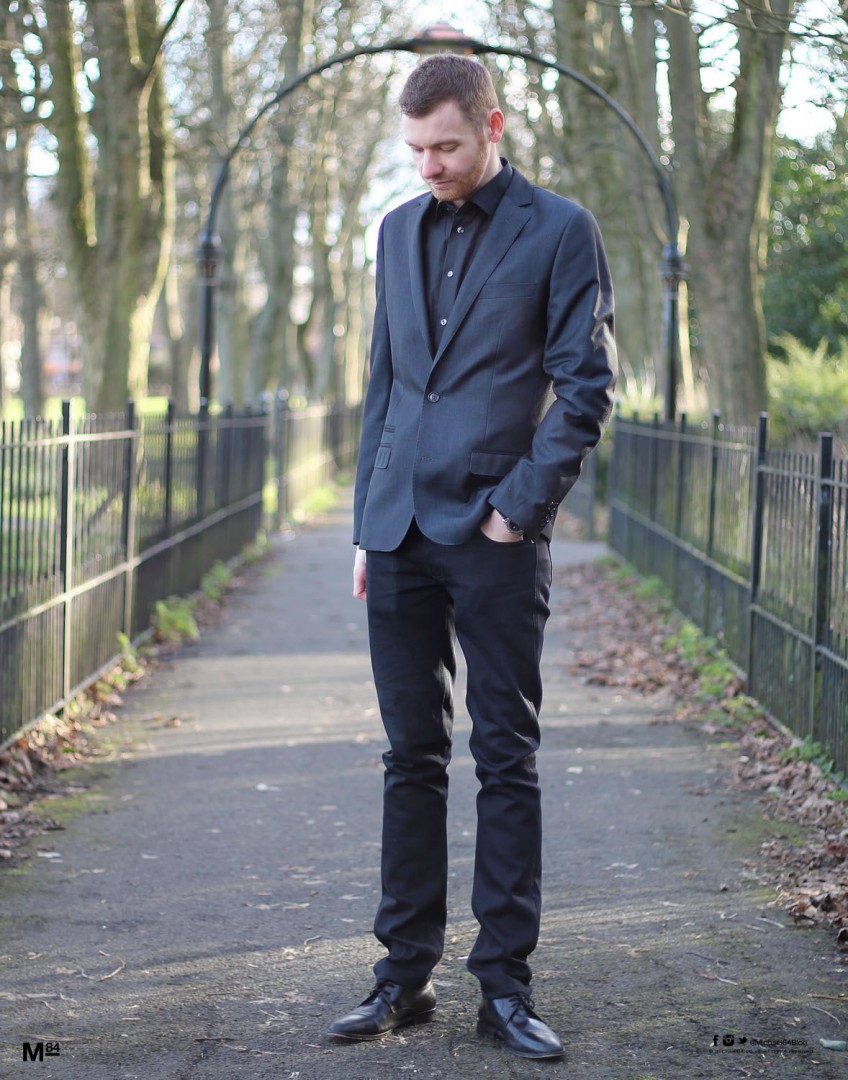 Do you know what size you are? Do you know what you should be measuring and how to measure it?
The golden rule in style is that the fit is king. Getting the right fit is probably the most important style rule.
Get it right and you'll look and feel great. Get it wrong and you'll not look the part, no matter what you're wearing.
A lot of guys don't know what size clothes they are, and don't often measure themselves. We're buying clothes more and more online, and shopping on the Internet.
Since we can't try on clothes when shopping online, it's important to know what size you are. It all starts with measuring your body correctly.
You can measure yourself without any help. All you need is a tape measure and notepad to write down your sizes.
Here's a men's guide on how to measure clothes for your body, so you buy the right size every time.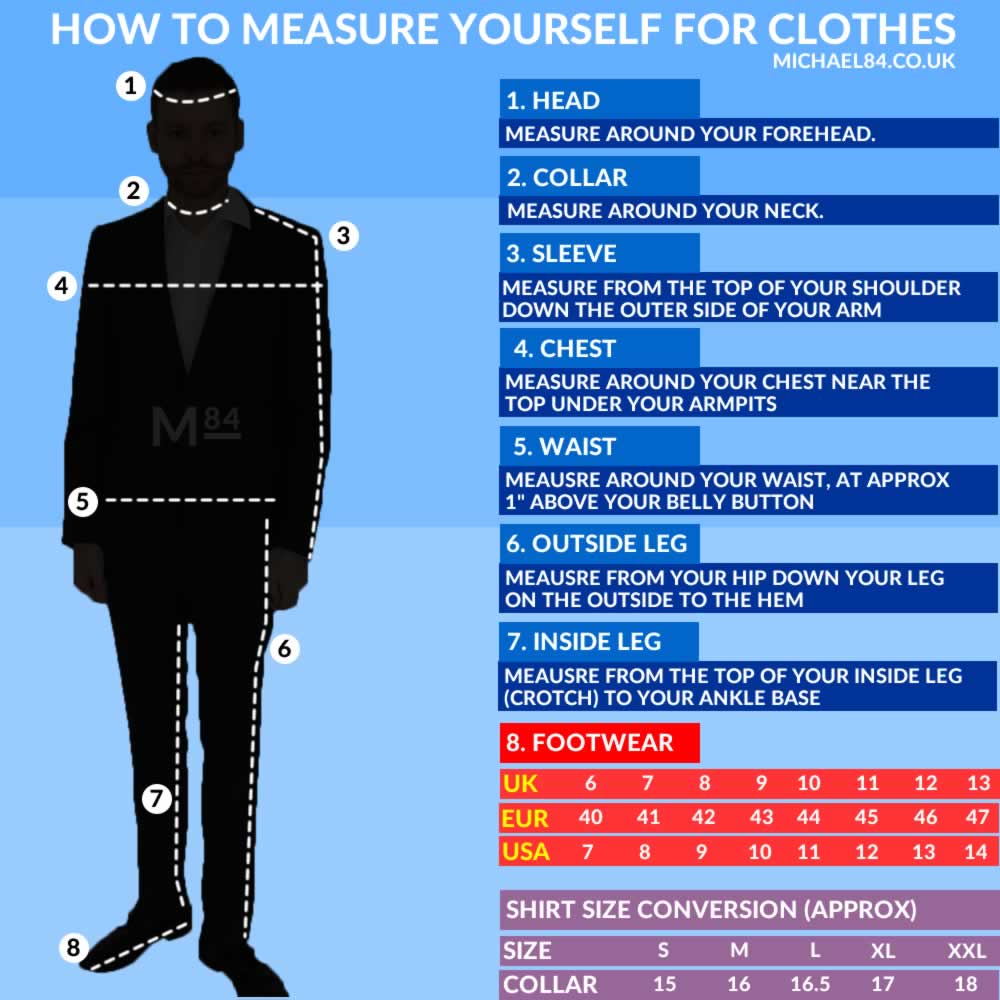 How To Measure Your Size
1. Head
Measure around your forehead.
If you're buying fitted hats, you'll need to know this measurement. They're usually sold in inches and are split into quarters. For example 7 1/4, 7 1/2, 7 3/4.
2. Collar
Measure around the base of your neck.
Collar sizes are usually used for smart shirts and dress shirts, and are displayed in inches.
3. Sleeve
Measure from the top of your shoulder down the outside of your arm to your wrist.
Sleeve measurements are usually needed for tailored or made to measure clothing such as suits and shirts.
4. Chest
Measure the circumference of your chest at the fullest part, under your armpits.
Getting your chest measurement is important for many clothes for your upper half. You can get the right fit of shirt, jacket and t-shirt with your chest measurements.
5. Waist
Measure around the circumference of your waist slightly above your belly button. This gives you to natural waistline.
Waist measurements are used for clothing on your lower half, e.g. jeans and trousers.
6. Outside Leg
Measure from your waist down to your ankle.
7. Inside Leg
Measure at the top of your leg on the inside near your crotch, down to your ankle.
8. Footwear
Footwear is usually done in numbered sizing. U.S. sizes is one number less than the UK. European sizes are bigger numbers. An example can be US 11 UK 10 and EUR 43.
How To Measure Yourself For Jeans
When it comes to jeans, the only measurements you will usually need to know is your waist and leg length.
Use a measuring tape and measure your waist and outside leg to get the measurements. A lot of denim brands will only sell jeans with a choice of waist size and not leg length.
Getting the right fit is important. Check out this guide on the best jeans for your body type.
How To Measure Yourself For A Shirt
Getting the right fit is shirt is very important. Too big and it looks sloppy, too small and it looks really tight.
There are two types of shirts: Dress shirts and casual shirts. A dress shirt is a smarter and more formal shirt. Sizes specified are usually done by collar size, so you'll need to know what size you are.
Casual shirts are often sold in letter sizes (S,M,L,XL etc).
How To Measure Yourself For A Jacket
Just like shirts, there are two types of jackets when it comes to sizing: Smart and casual. Smart jackets use chest sizing in inches, whereas more casual jackets and coats use letter sizing.
Italian Clothing Sizes
A note on Italian clothing sizes: High end fashion made in Italy or from Italian brands may use Italian sizing for items such as jackets. But the conversion is easy, it's just 10 more than the chest sizes.
An Italian 48 size jacket would be 38 in the UK.
What Measurements Are UK Sizes In?
UK Sizes tend to be in Inches for almost all clothes.
You will know this because there is usually two lines (like a quotation mark) after the number. An example can be 32″ which means 32 inches.
In Europe, centimetres are commonly used.
A Rough Guide To Converting Letter Sizes To Numbers For Shirts And Jackets
If you see an item in a particular number size but don't know what that means, you can convert it to a letter size. Note: This is a rough conversion, and since all brands letter sizes can differ, it should only be used as a guide.
| | | |
| --- | --- | --- |
| Letter Size | Collar Size (Inches) | Chest Size (Inches) |
| XS | 14.5 | 34 |
| S | 15 | 36 |
| M | 16 | 38 |
| L | 16.5 | 40 |
| XL | 17 | 42 |
| XXL | 18 | 44 |
| XXXL | 18.5 | 46 |
The problem with letter sizing is that it's not all the same. Letter sizes are supposed to be universal, and they are in the ball park, but they're not always accurate.
That means a Small in one brand could be different to a Medium in others.
Conclusion
Now you know how take body measurements for clothing. You can shop online and get yourself the perfect fit without needing to return anything.
You'll also want to know your body type, so you buy the right clothes along with getting the right fit too.
Check out the best online shops for men's clothing here.
You can check out the full men's style guide if you're looking for tips on how to dress better. Getting the right fit is the first step to take, now you can explore the other topics around style and fashion and how to make yourself look your best.