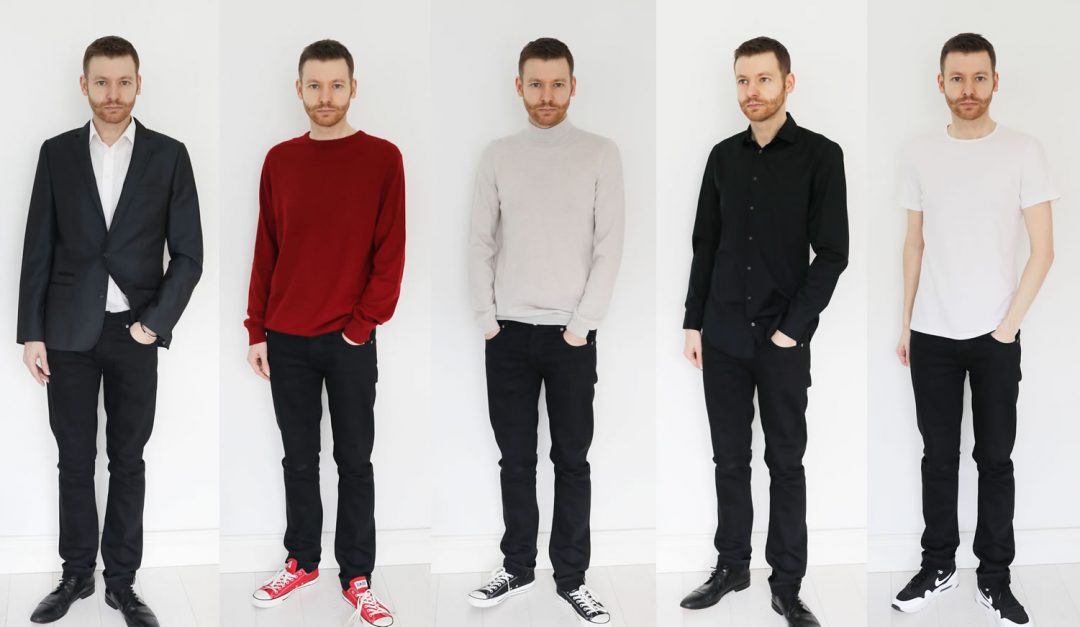 Black jeans are an essential part of any guys wardrobe.
If you don't have a pair in your wardrobe you should, and here's why.
There's no doubt that black jeans are a stylish choice for men when it comes to putting together a smart casual outfit. If there's one thing I love, it's a good quality pair of black jeans.
They are a versatile option when it comes to picking out something for your lower half from your wardrobe. You can dress them up as a smart casual piece, perfect to wear on a night out.
You can also dress them down, making them an option for a casual occasion.
But what do you wear with black jeans?
One of the main benefits of a dark colour denim is that they look classy and upmarket. They can be dressed up and dressed down, depending on what your own style and look is.
I am going to give a couple of ideas on how you can style your pair of black denim for all occasions. From smart to casual.
What Goes With Black Jeans
Black is a timeless colour, and it's versatility knows no bounds. This means that virtually everything in your wardrobe can be worn with black jeans.
You can pair up light colours, whether that's t-shirts, shirts or jackets, as well as darker colours. Wearing an all black combination looks modern. A white combination is a classic look.
Here's some black jeans outfit and style advice on what you can pair them with.
Black Jeans Outfit Ideas For Men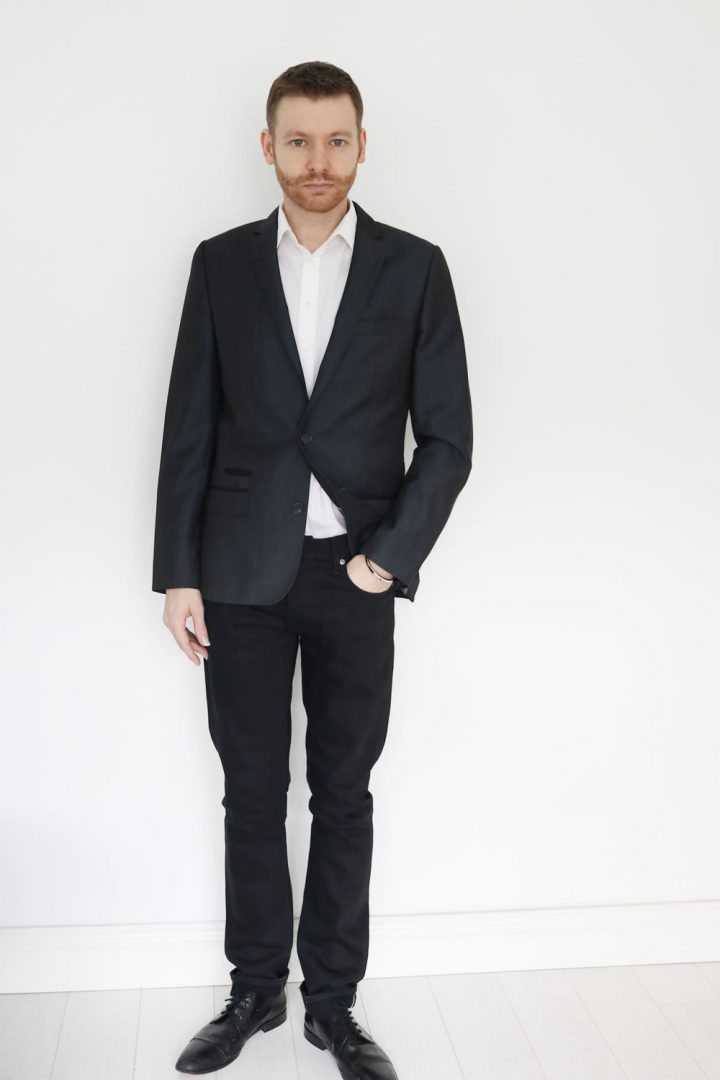 Black Jeans With A White Shirt
A pair of black jeans with a white shirt is the ultimate in a classic look. For a smarter option, you can throw a blazer or jacket over this to create an incredibly dapper look.
It looks completely effortless, and it's an outfit choice which is really safe, but forever stylish. It's a combination that suits all guys, so you know this one works.
If you are going on a night out and don't want to wear a suit, the blazer, white shirt and black jeans option is a good one.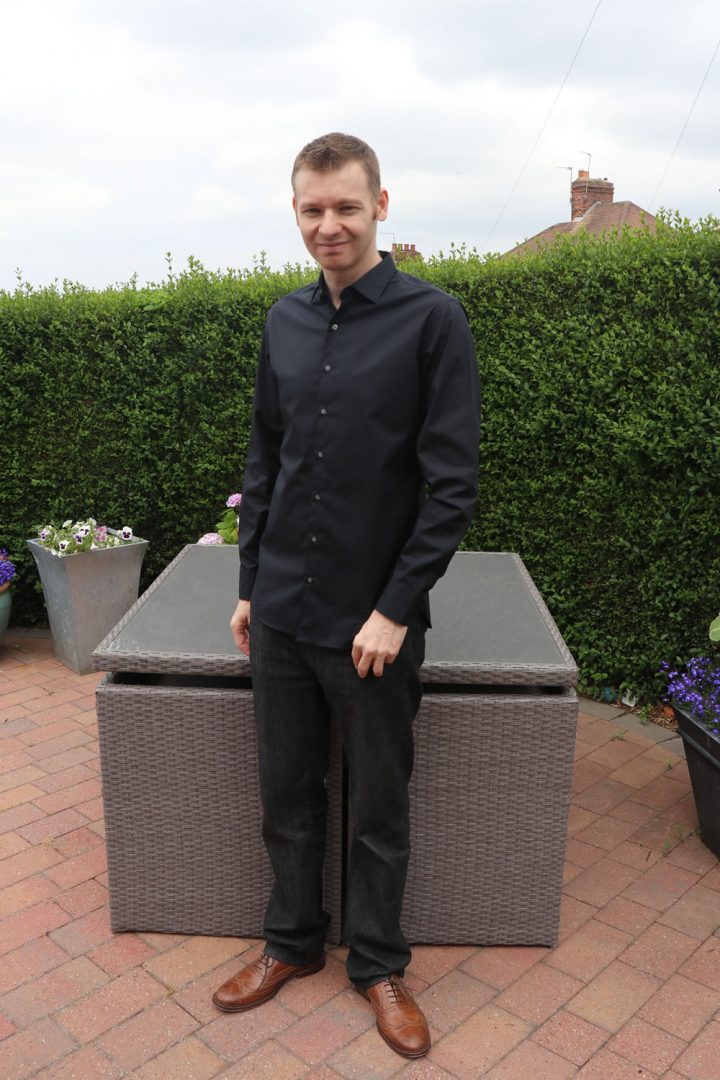 Black Jeans With A Black Shirt
If you want the all black outfit look, teaming black jeans with a black shirt is the best way to go about it.
It's the smartest way of going about it, and is a good idea if you're looking for smart casual options from your wardrobe.
To complete the all black style, opt for a pair of black shoes. My choice is my black derby shoes.
It's a very simple outfit to put together, it looks understated but still has an impact.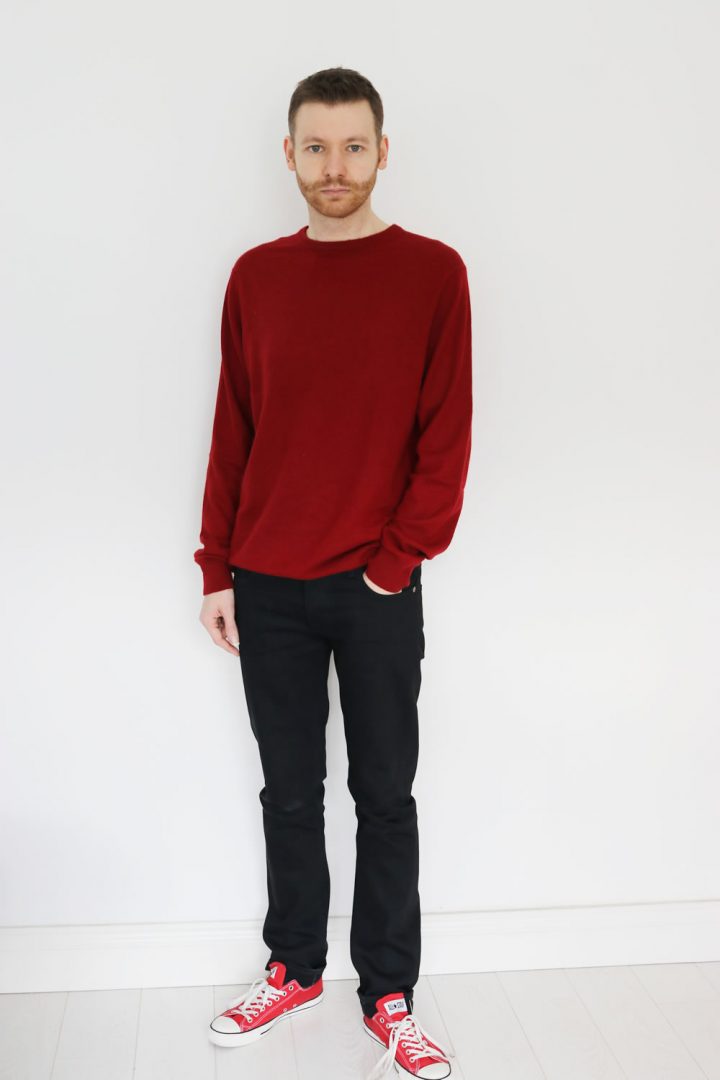 Black Jeans With A Sweater
Since black is so dark wearing a contrasting bright colour will really pop. I've picked out a red sweater and casual trainers to match.
Red is one of those colours which will stand out a great deal. You can keep the look toned down by keeping the colour selection down to a minimum, so this 2 colour look works well.
I love how the red works against the black denim, it really makes it pop.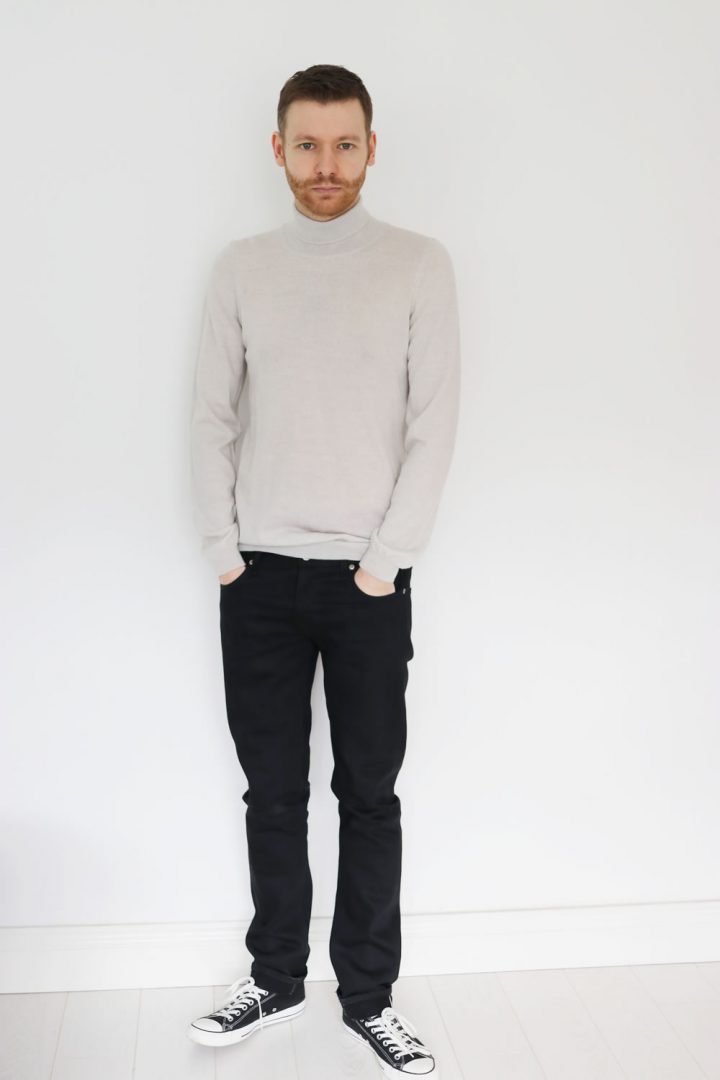 Black Jeans With A Roll Neck Jumper
When the temperature drops, wearing black jeans with a roll neck jumper is another smart casual outfit choice.
The colour is something which you can experiment with. For this one I've gone for a grey roll neck. This is not as bright as white, but is more toned down than a colour which pops.
For a casual edge I've put these together with a pair of converse.
Black jeans make a great compliment to putting together a roll neck jumper outfit.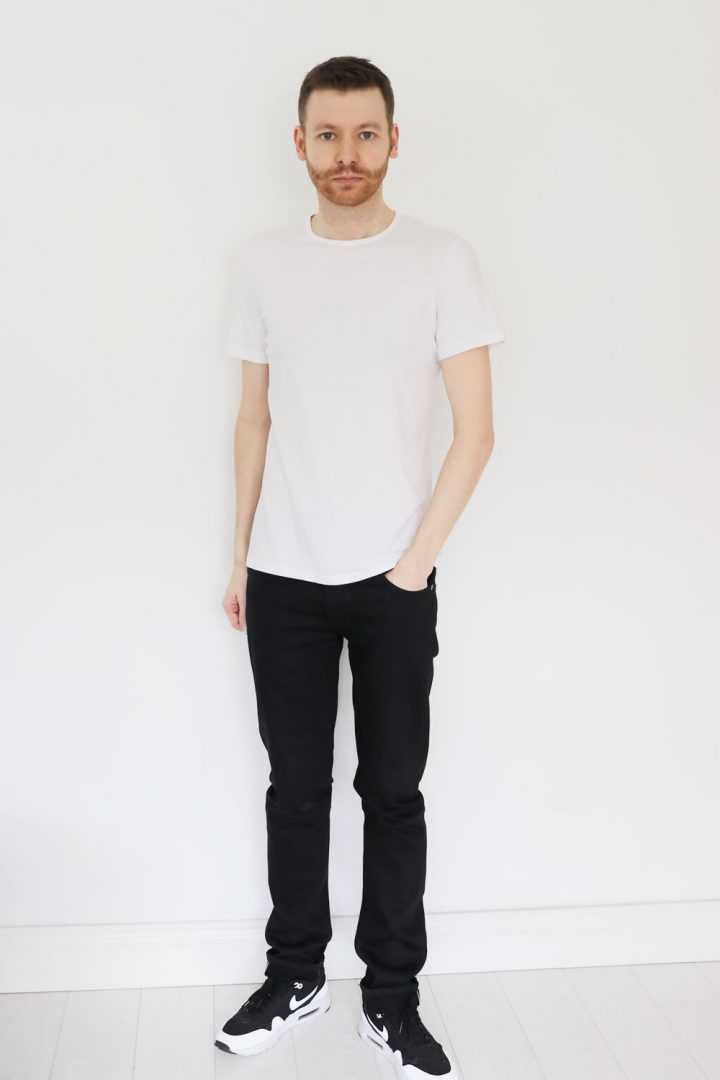 Black Jeans With A White T-Shirt
Black jeans with a white T Shirt is the ultimate classic casual look. This is a monochrome colour palette for a laid back outfit look.
A white tee will go with virtually anything, so will a pair of black jeans, so this is always going to be a good combination.
Everyone loves black and white style, you can do it casually with a tee or smarten it up with a white shirt.
I have went for a more sporty pair of trainers with my Air Max Ultra Moire which are also in black and white.
You can check out the best basic white t shirt guide if you're looking for more information on white tees.
Black Jeans With A Black T Shirt
For a casual all black outfit, pairing the black jeans with a black T-shirt is the way to go.
There's tons of ways to wear this all black look, and it never gets old. Dress it up with a smart blazer, or dress it down with a more casual jacket, or simply wear it as it.
This outfit choice is a casual option, but with the all black silhouette, looks stylish and sharp.
If you like to wear something understated while keeping things relaxed, this is the perfect go to outfit.
Black Jeans With A Black Denim Jacket
A good casual jacket option for summer is a denim jacket. There's a lot of things you can wear with them, and plenty of colours too.
You can continue with the theme of all black, by styling a pair of black jeans with a black denim jacket.
If you want to go a double denim route, this is the smartest way of doing that. A denim jacket is one of the spring and summer essentials, and black always looks stylish.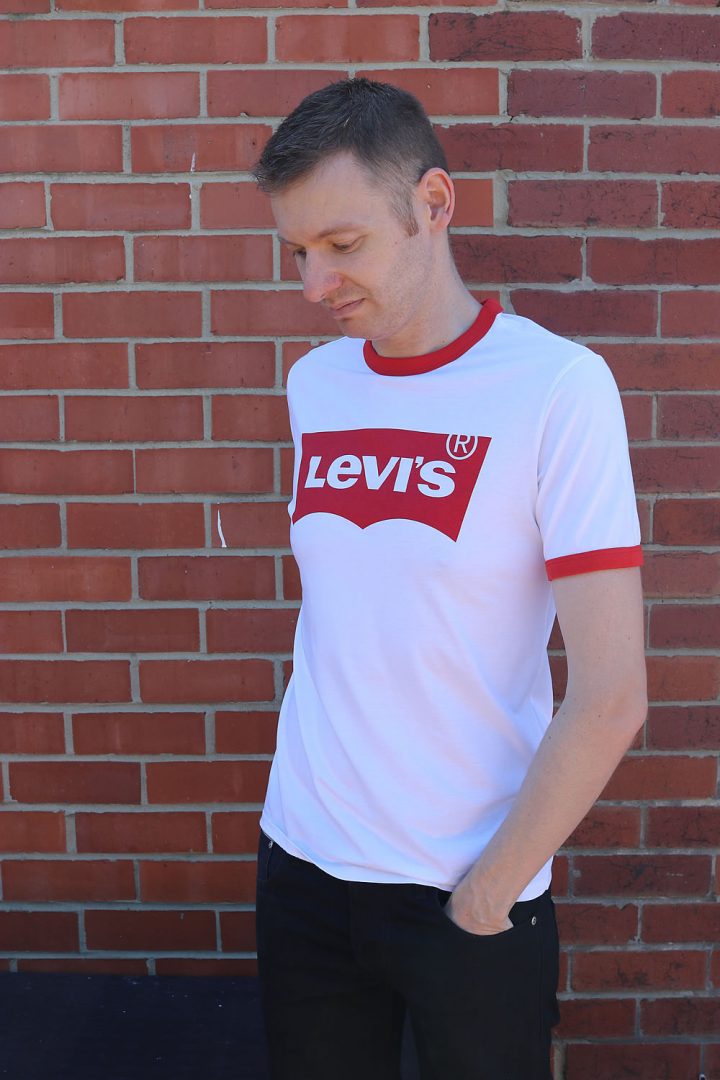 Black Jeans With A Graphic T Shirt
When the warmer months come and you don't need a jacket, a designer or graphic t-shirt is a cool casual piece of clothing to throw on.
Since black denim goes with everything, it doesn't look out of place with a graphic tee. I've picked this Levi's T Shirt which is a ringer style. It combines the clean white tee with red accents, and is set off with the black jeans.
The whole outfit works well for a relaxed style, perfect for summer day wear around the city, to work or at the weekend.
The Right Fit Of Jeans
No matter what you pair with your black jeans, it's important to get the right fit of denim. Slim fit black jeans look good on average, slim and most athletic body types. Skinny Jeans should be avoided, as they are a poor fit.
A straight leg is a good cut of denim
Styles Of Denim
There's two different ways you can wear black jeans: In a smart casual situation, or in a casual setting. There's different styles of jeans which will suit each one.
If you go for a solid plain denim, this will work for every dress code. This is a smart option, and can work as a dressed up or dressed down style of jean.
If you're looking at ripped jeans or a distressed look, this is more suited to a casual dress code.
What Colour Shirt To Wear With Black Jeans
You may be thinking, what shirt should you wear with black jeans?
A button down shirt will look the part with a pair of jeans, as long as you're wearing it for the right occasion. A smart plain shirt will work, and can be worn which will give your outfit a semi-formal kind of look.
As demonstrated above, most colours, if not all, will work with black denim. Once again, it depends on the look you're trying to achieve.
A white shirt will give you a monochrome look. A light or pale shirt will give a large amount of contrast. A bold colours such as red or blue will give a colour blocking effect.
You can always tone down the colour of the shirt by wearing a dark jacket, such as black, dark grey or dark blue. As you can see above, a black shirt with black jeans can work too, and will always look the part.
What Shoes To Wear With Black Jeans
Since you can wear both smart and casual clothing with your black jeans, this also translates to your footwear too. From shoes to boots and trainers, everything is acceptable and will work well, providing it goes well with the outfit.
If you're looking for smart footwear, black shoes are the best option.
Black shoes and black jeans go well together, and always look smart. Brown shoes can be considered, which will create a more distinctive edge to your footwear.
When it comes to casual wear, smart trainers are a good option. These include a pair of Stan Smith's or similar minimalist trainers.
White trainers work with black jeans, but will look extra bright with the contrast. You'll also want to ensure that your trainers are clean.
For a sporty casual option, you can go for a pair of sports trainers. I love my Nike Air Max, and whether it's a pair of white, coloured or triple black, they'll all work for an outfit with a sporty edge.
From my outfits above you'll see the casual styles of Converse and Nike work just as well as derby shoes when you're going more formal. Chelsea boots and brogues will work equally well too.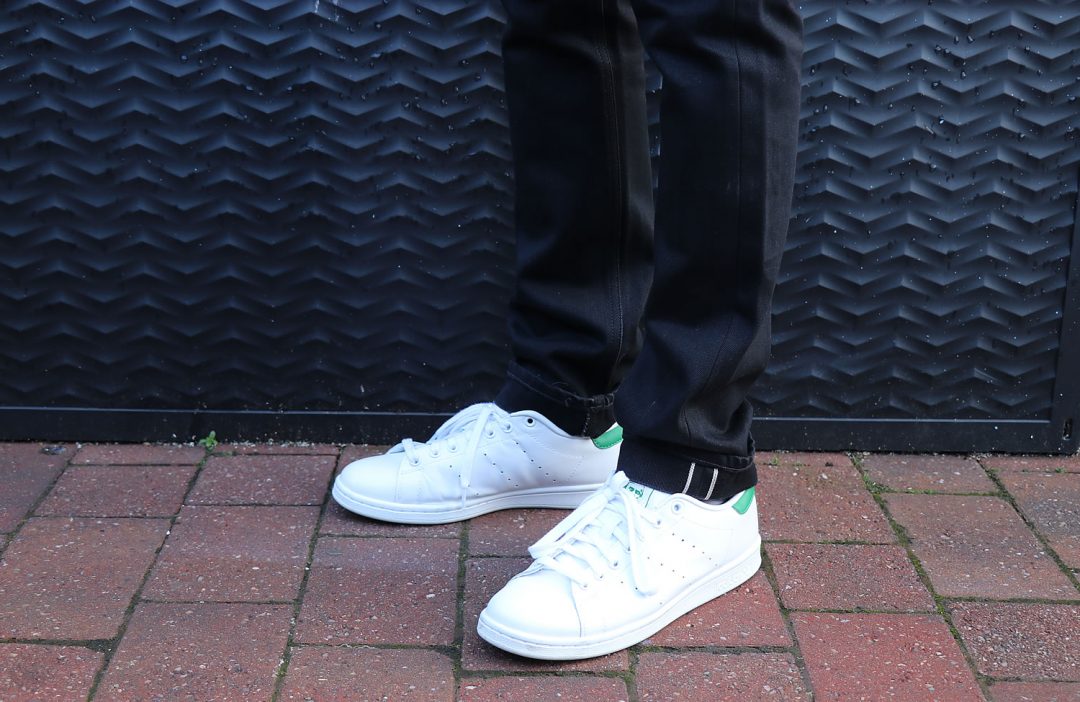 Wearing a pair of white trainers with black denim looks cool. It's really edgy and creates a nice casual look. The bright white and dark black are complete contrasts, and set each other off perfectly.
Above I wore my White Adidas Stan Smith trainers with my black Nudie Jeans.
Why Wear Black Jeans?
Some people may wonder why they'd wear black jeans, and not just chinos, cords or trousers. There's plenty of reasons, and here's a small list of why you need to own a pair of these.
There're casual – They're still denim, so aren't super smart, stuffy and formal. You can dress them down. However…
They're smart – The general rule is the darker the denim the smarter it is. Wear a pair with a shirt or blazer to create a really smart look.
Different styles – You can get some ripped denim, distressed or just plain
Versatility – Black goes with virtually anything. From monochromatic looks to colour blocking and wearing all black. It all works.
Footwear – All kinds of footwear works. From formal oxfords to brogues and trainers.
What To Wear With Black Jeans
For a smart outfit, pick a pair of solid black colour jeans
For a more casual look, distressed or black ripped jeans could be OK
For a smarter outfit, choose a shirt.
For a more casual outfit, pair the jeans with a t-shirt
Wearing a blazer with black jeans will add a more formal element to your look
An all black outfit will look sleek and sharp
A roll neck or jumper makes the perfect partner with black denim in colder months
Smart shoes such as derby shoes will work for smarter outfits
Smart trainers or brogues will give a more smart casual look