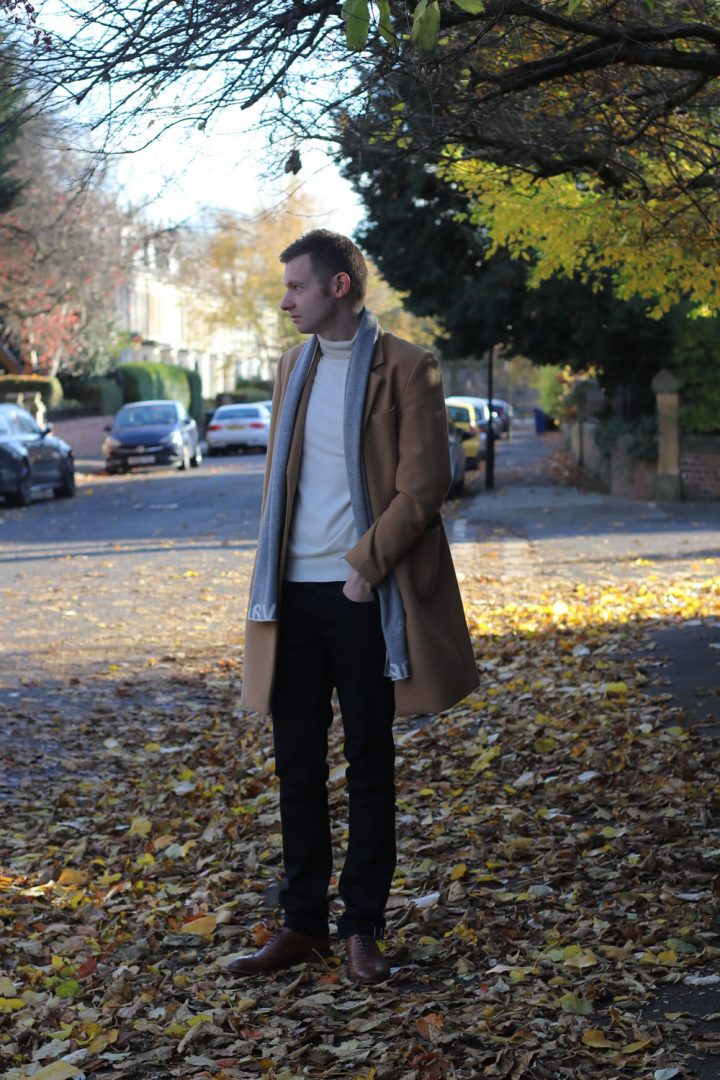 Roll neck jumpers, turtle necks, polo necks…Whatever you want to call them, a roll neck jumper is a stylish piece of knitwear.
They're something you really want to own, and I have grown to love them.
Sure, I will admit, I never really liked them until recently. I got my first roll neck a couple of years ago, and since then, I haven't looked back.
Here's how to wear a roll neck jumper in style, and everything you want to know about them.
Types Of Roll Neck Jumpers
First of all, it's important to understand that there's different types of roll neck jumpers. They're slightly different styles and takes on this piece of knitwear, and they include:
Classic Roll neck
Funnel Neck
Mock Neck
Here's the differences between the three most common types you're likely to encounter.
Classic
The classic roll neck is the best style to have. It's traditional, and the most known of all the types of roll necks.
As the name suggests, there's a long, funnel type of neckline to the jumper, which you style by rolling it back onto itself. You usually roll back the fabric once, hence the name roll neck.
This is by far my favourite style, and what I recommend. You can wear it this season, and know that the timeless piece will last for a long time.
Funnel Neck
A funnel neck differs from the classic roll or turtle neck, as you don't need to fold this one over. The jumper has a high neckline by design, which can be a fitted or more loose style.
This is still a stylish choice, and offers something different to the classic roll neck.
Mock Neck
A mock differs once again, but has the look of a roll neck. It has a high neck line, but usually slightly lower than the classic roll neck. The biggest difference it that the neckline is not rolled over, and just has the look of it being rolled. This is usually done with stitching, so it appears to be rolled.
Types Of Materials In A Roll Neck
When it comes to the materials of a roll neck, they're similar to that of any old sweater. You can get wool, cotton and man made fibres such as acrylic and mixes of polyester. If you've read my best mens jumpers guide, then you'll know what they are already.
The materials you'll find for roll necks include:
Fine Merino Wool
Lambswool
Heavy Knits
Polyester, Mix Material & Man Made
Cotton
Fine Merino Wool
Fine merino wool is a really nice fabric for a knitted jumper. As the name suggests, it's very fine, tightly knit and can be light weight. It's the perfect wool for when you want to layer. Since you won't see what's under your roll neck, you can wear a T-shirt as a first layer, if you're feeling the cold.
Lambswool
Lambswool is usually thicker than merino, and once again is a really nice wool. If you want something a little thicker than merino, this would be the choice to go for. It's usually more affordable, and tends to be more robust.
Cashmere
When money is not an object, cashmere is the choice of wool. You'll have to decide yourself if cashmere is worth it, but I think it is. Whether that's in a roll neck or other sweater will depend on how much you intend on wearing them.
Chunky Heavy Knits
If you prefer your knitwear chunky and cosy, a heavy knit might be something you are looking for. There's plenty of roll necks in a chunky style, usually made from wool and other fabrics, with cable knit being a popular choice.
Polyester, Acrylic & Mixes
For more affordable options, acrylic, polyester and other mixes are the fabrics you'll come across. Not as good as wool or natural fibres, but usually cheaper alternatives. If you want to join the roll neck trend without spending a lot, this is usually the material.
Cotton
I have a cotton roll neck, and I love it. It's a thick cotton, which is really soft to touch. Think of this like a long sleeve T Shirt with roll neck. They are really nice, but in terms of style, are more of a long sleeve tee than a sweater.
If you want the roll neck style without the wool feel, this is the way to go.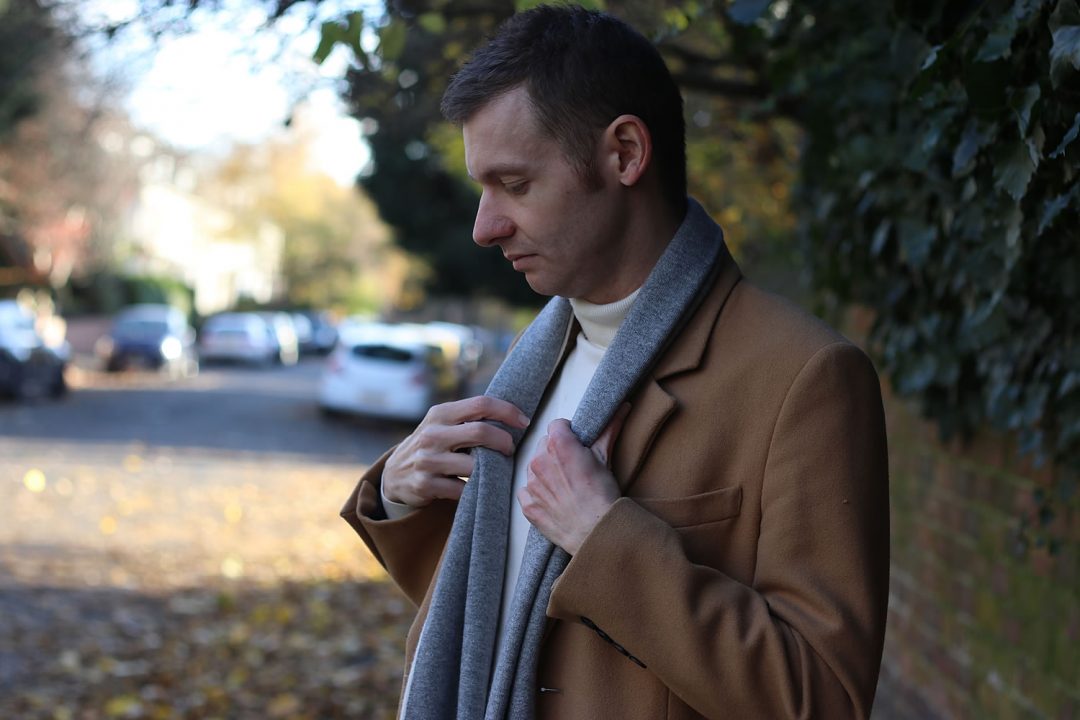 Layering A Roll Neck With An Overcoat
Wearing a roll neck under an overcoat is such a great style. I love this look, and wear it a lot. I have lighter colour knits including an off white cream colour, and it works perfect with my camel coat.
This is by far my favourite outfit. It's smart casual, but edges into the smart style, and always looks stylish.
Roll Neck With a Suit Jacket
When the temperature drops and you are thinking about what to wear under a suit jacket or full suit, a roll neck is one of the stylish options. When it comes to layering for a suit, a shirt is the obvious choice. But in the colder months, a roll neck is a fantastic and stylish alternative.
A roll neck and suit jacket or blazer go well together. Not only does it look stylish, but it will keep you warm, so is a functional choice too.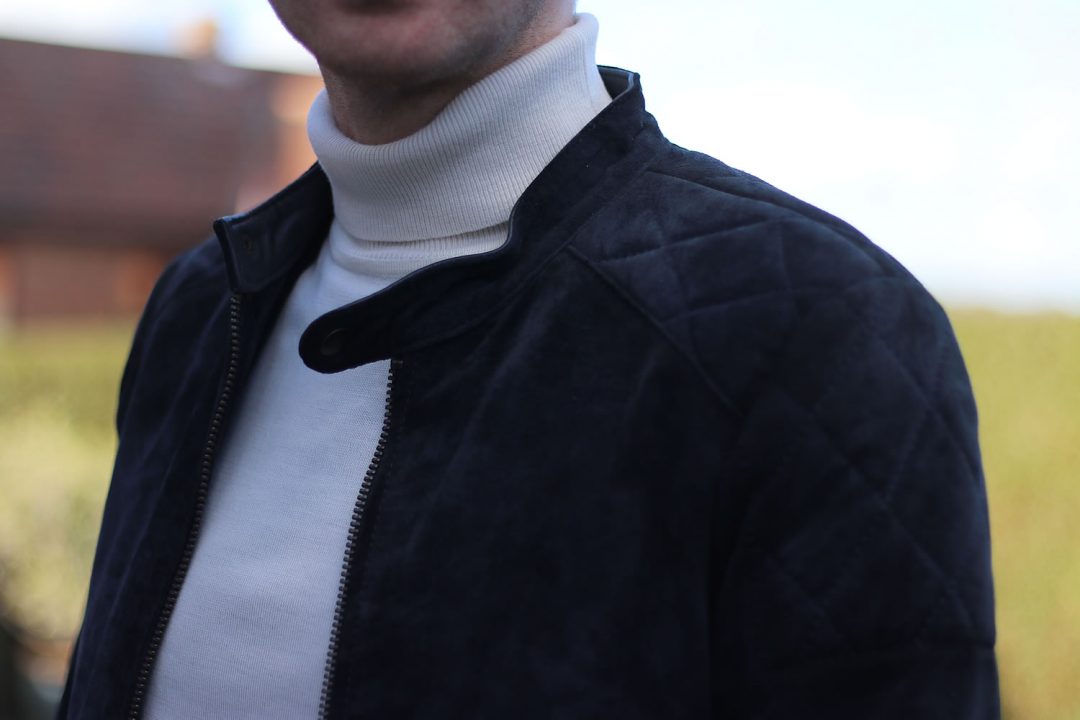 With A Suede Jacket
A suede jacket is one of my favourite things to wear when the temperature drops. They're really thick and heavy, and are a good option for a shorter jacket when the temperature drops (Just be careful it doesn't rain).
I wore my navy suede jacket with my merino wool roll neck, and think it's a good outfit choice. The light cream colour of the knit is complimented with the jacket, and it's warm enough to wear in the crisp spring, autumn and winter.
Under A Leather Jacket
Another good choice of jacket is a leather jacket. If you're looking for something to wear under your leather jacket in the colder months, the roll neck suits it well. A leather jacket is usually a more casual item, so the turtle neck knit will dress it up, giving the overall outfit a smarter edge.
Layering With Other Pieces
The versatility of the roll neck is pretty cool. You can wear it with almost anything, and it will look good. I even layered one of my roll necks with a football shirt, usually a sporty and casual piece of clothing. I think it gave the look some individuality, and looked perfectly fine.
On It's Own
You can wear the roll neck on it's own perfectly fine. Knitwear is usually a cold weather option, so you'll usually be wearing some form of outerwear with it. If, however, you're indoors, you can wear a roll neck perfectly fine without an additional layer.
How To Wear A Roll Neck Jumper
Wear it as a smart casual piece with an overcoat
Dress it up with a suit
Go for merino wool if you're looking to layer
For a timeless look, choose a classic roll neck over a mock neck
Pick a colour palette which works well together
Enjoy The Post? Let's have a drink 🍻
Hi Guys! 👋 If you liked this and would like to show your appreciation, you can buy a (virtual) beer by clicking below. You can buy anonymously or send a message, I'd love to hear from you. As always thanks for the support, Cheers! 😊