Party season is upon us, and there's no doubt that you'll be going to an office party or two over the festive period. Dressing the part and knowing what to wear can sometimes be a tricky issue, should you go super formal or super casual, or somewhere in-between?
Here's some tips and advice along with some inspiration to get you going on deciding what to wear at your office Christmas party.
Dress For The Occasion
A no brainer and the key piece of fashion advice when dressing, you should wear what the occasion dictates. If there is a dress code or theme to the party, then stick to that.
If you're going to a sit-down in a posh restaurant, or a formal night out, you'll want to keep it classy and suit up.
If it's a more informal function or just your average night out with work, then you can tone it down with smart casual.
Wear Something Different Than What You Do At Work
The office Christmas party is that one night where people make the effort and go out. It's synonymous with lots of things. All kinds of antics and when the alcohol starts flowing separates the lightweights from the seasoned drinkers.
You'll want to stand out without standing out, and wearing something you'd wear to work everyday just won't cut it. If you job means you've got to wear a suit and tie all day every day, then go for something more casual while staying smart.
You can try some smart jeans with a shirt and jacket, or a good merino knit with a shirt.

Ted Baker | Zara | Reiss
Men's Christmas Party Outfit Ideas
The Velvet Blazer
A jacket you'll probably only wear once, or at the most a handful of times. I'm talking about a velvet jacket. They feel really nice, look smart and are definitely seasonal and great for Christmas time.
A drawback could be that you'll only be wearing this once or twice, but it could create that look you're going for. But for a work Christmas party outfit, it's a good item to wear as a one-off.
The Office Party Suit
If you don't usually wear a suit to work this is your chance to dress up, fix up and look sharp. A classic black suit with white shirt and tie is never going to go out of fashion and will forever look smart.
If you want to go for something other than black dark blues and greys work well. If you're feeling a bit experimental very dark shades of purple, burgundy and wine can work well without looking too exuberant.
You can use separates as you would do with summer fashion too. Dress down a smart jacket with some colour complimenting smart jeans or chinos, for a more edgy smart look.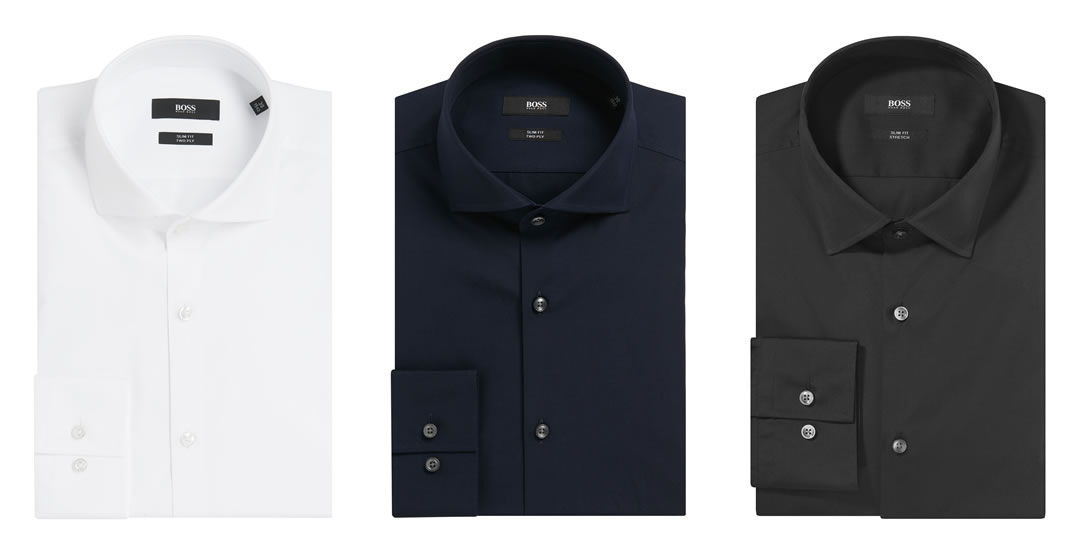 The Shirt
For your choice of shirt it depends on a few things; What you are going to wear with it, and what your own personal tastes are.
The plain options are always going to look smart with a jacket, they'll add a little bit of style when wearing with a knit or cardigan too.
You can try something a little different, I like these all over prints with dots, spots or other small patterns. They stand out for a stylish Christmas outfit.
It's also easy to tone them down. You can wear a cardigan, which will show off just the right amount of the pattern of the shirt.
You should also avoid check patterns as they are most often seen as a casual shirt.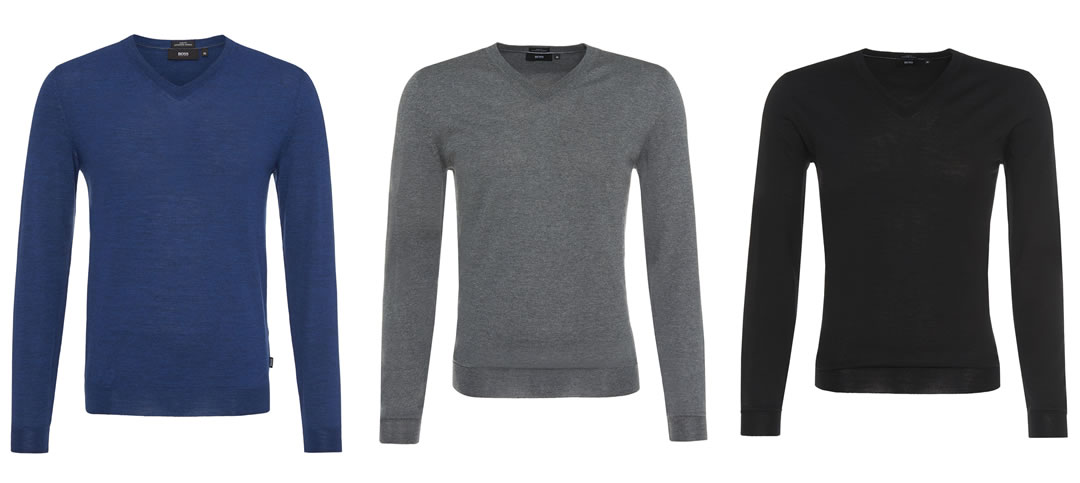 Knits, Jumpers And Cardigans
Plain knits are always smart and a good choice. You can go for a round neck collar you can wear a shirt under it without worrying about that too much.
Make sure it's of a colour which suits the knit.
Cardigans are a great thing to wear with a blazer to create a smart look. You can add colour to your outfit with a bold or patterned shirt, and as long as you button up with a toned down cardigan it will keep the outfit looking sleek.
Choosing a quality piece of knitwear will not only look the part, but will make you feel good wearing it too. Check out the guide on sweaters for styling tips, including types of fabrics and different variations of knitwear.


Shoes
You should already have a good pair of shoes, so you'll want to make sure they're in tip top condition.
Give them a polish and make sure they're looking good. If your shoes aren't looking the best, do yourself a favour and buy yourself an early Christmas present.
Smart shoes are the way to go. A pair of oxford or derby shoes are forever smart, brogues will add some edge to the look.
A Coat
When it comes to your office Christmas party, since it's the winter, you'll probably want to wrap up. But how do you do this in style?
If you're already read the winter coat guide you'll know that one of the most stylish coats to wear is an overcoat. As the name suggests, this can go over virtually anything your wearing, giving you an additional outer layer which will keep you warm during the night.
An overcoat is a good item to own as they're versatile and are pretty timeless. If you haven't already got one, pick out a black, grey or navy option, or to stand out, a camel coat is a very stylish choice.
Accessories And Details
You can go for an otherwise plain looking outfit such as a black suit, but adding some finishing touches can really make an outfit go from being your average white shirt and black suit to something which stands out.
Adding small details can work wonders. This includes a tie and pocket square, cufflinks and watches which can all add a little bit of elegance or colour which could set you apart from everyone else.
Get The Grooming Right
A good grooming regime should already be adopted, but if it's not, get this right for the party. Get a haircut in good time but not too early, at the most a week before the day, and style it the way you like.
On the night have a shave or if you have facial hair make sure it's smartened up, select a fragrance and before you head out put it on.
Don't forget things like face scrubs, moisturisers and under eye products. These will not only make you look better but give you that all important confidence.
When picking a scent I would choose something masculine which stands out. Creed Aventus, Tom Ford Noir, Tom Ford Grey Vetiver, Issey Miyake Pour Homme do this well, Boss Bottled and Armani Acqua Di Gio are less intensive but amazing scents too.
Remember not to use too much, a couple of sprays at the most should do (remember EDP is stronger than a standard EDT).
No Novelty Dress
It's not a good idea to go in novelty dress i.e. a Christmas jumper, unless you know others are doing so. Otherwise you'll forever be known as "The Christmas jumper guy".
Save your best Christmas jumper for Christmas Jumper Day (Yes, it's a thing now!).
On a casual situation you can opt for a Fair Isle knit which is festive but can be kept looking fairly decent. You can even wear it with a shirt and tie, providing you can find a cardigan or V-neck style, most are round neck collar jumpers.
How To Dress For Your Office Party When You Have No Idea What To Wear
If you're really unsure of what to wear, stick to the classics. A dark pair of jeans or trousers will look good with a dress shirt, a jumper for layering, clean pair of shoes and a smart jacket.
Pick a colour which you don't wear in the office, hues of blue and even light pink will work well here.
Since it's cold, you can layer the shirt with a jumper on the top. Pick out a colour which goes well with your shirt, staple colours such as grey, navy and black are easy options.
Speaking of the jacket, you can go for a blazer to match up to your shirt and/or jumper you're wearing.
Don't forget the shoes, which should be clean.
Verdict
And there you have it, helpful advice and a guide on what to wear to your office Christmas party. These tips should have you looking the part at your works do, whether it's a formal or smart casual affair.
Remember to plan what you're going to wear before the day, try on outfits and make sure everything fits and looks good, and you'll be good to go.
Related: What To Wear On New Years Eve
Thanks For Reading...Want More? 🙌
Hi, I'm Michael 👋 I'd love you to subscribe to my newsletter for exclusive content & updates on my blog straight to your inbox. (No spam, I promise!)