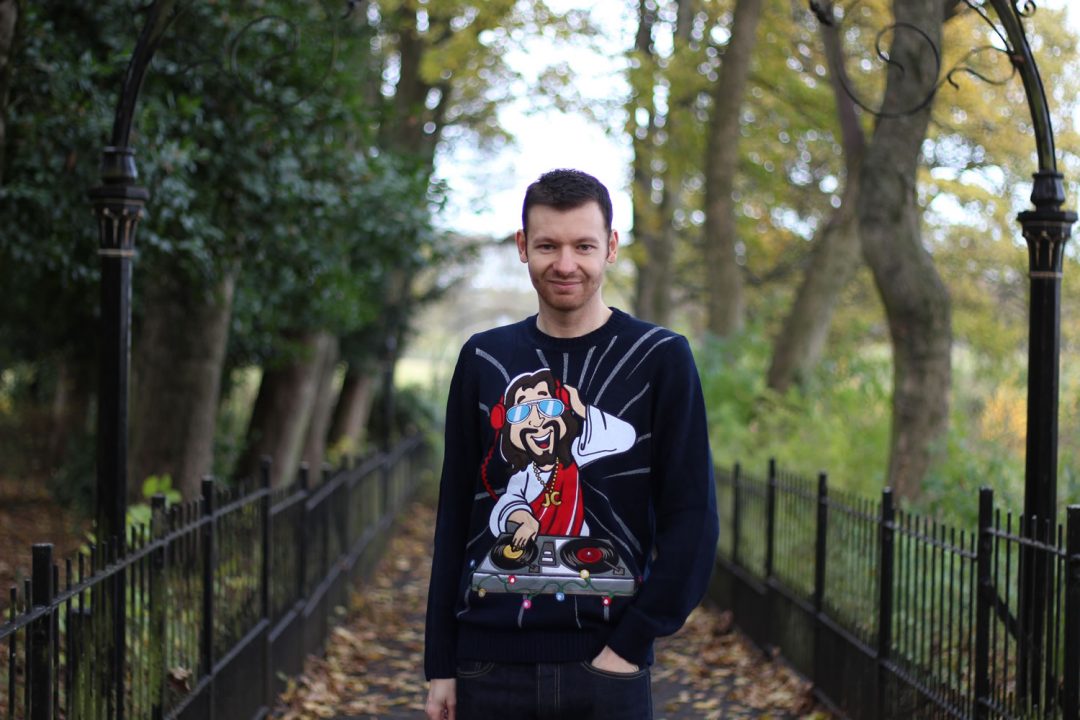 It's that time of the year again, it's time for Christmas Jumpers!
Whether you love them or hate them, you'll have an opinion on Christmas Jumpers. I've loved them over the past few years, and they've really taken off and increased in popularity among most people. You have to have at least one jumper, whether it's just for a one off occasion, or you want to wear them throughout the festive period, it's a really easy way to get into the Christmas spirit. It also doesn't have to be expensive, with some options coming in at well under £20, with super expensive ones with cashmere over £100; Not that you'll find those in this guide!
You can check out my older guides from Christmas past in the 2016, 2015 and 2014 guide, but this is all about 2017, and so here's my guide and tips for this year!
What Day Is Christmas Jumper Day?
Christmas Jumper Day is Friday 15th December 2017, where you can not only wear a cheesy novelty jumper, but also you can donate to Save The Children if you want to show your support to the charity.
There's plenty to choose from, here are my favourites from different brands and shops; From cheap budget to high street,  there's one for everyone 🙂
ASDA
This year ASDA has a great selection of cheap Christmas jumpers, some with novelty characters, patterns and graphics. These three are my favourites. A white jumper with festive graphics in a old school Christmas kind of way. There's snow, candy canes, snowmen and Christmas trees in a repeat pattern. The second is a more tasteful option, with the third being pure novelty, a Winter scene with a snowman.
Snowy Christmas Jumper £14 – Here
Fairisle Knit – £14 – here
Snowman Jumper – £16 – here

Funky Christmas Jumpers
Funky Christmas Jumpers have done it again! They've got some brand new designs, such as the DJ Jesus jumper which I'm wearing, as well as a couple of other new designs too. Not only that, but they're classic which they've been doing for years are back, and they're brilliant. Here's a couple of my favourites which you'll love. All jumpers are great quality and priced at £39.99, and if you prefer a T-shirt rather than a knitted sweater, there's a few of those available too.


DJ Jesus Christ – here
Jesus, Mary & Joseph Selfie – here
Santa Unicorn – here
Naked Santa – here
Happy Birthday Jesus – here
Elf Costume Jumper – here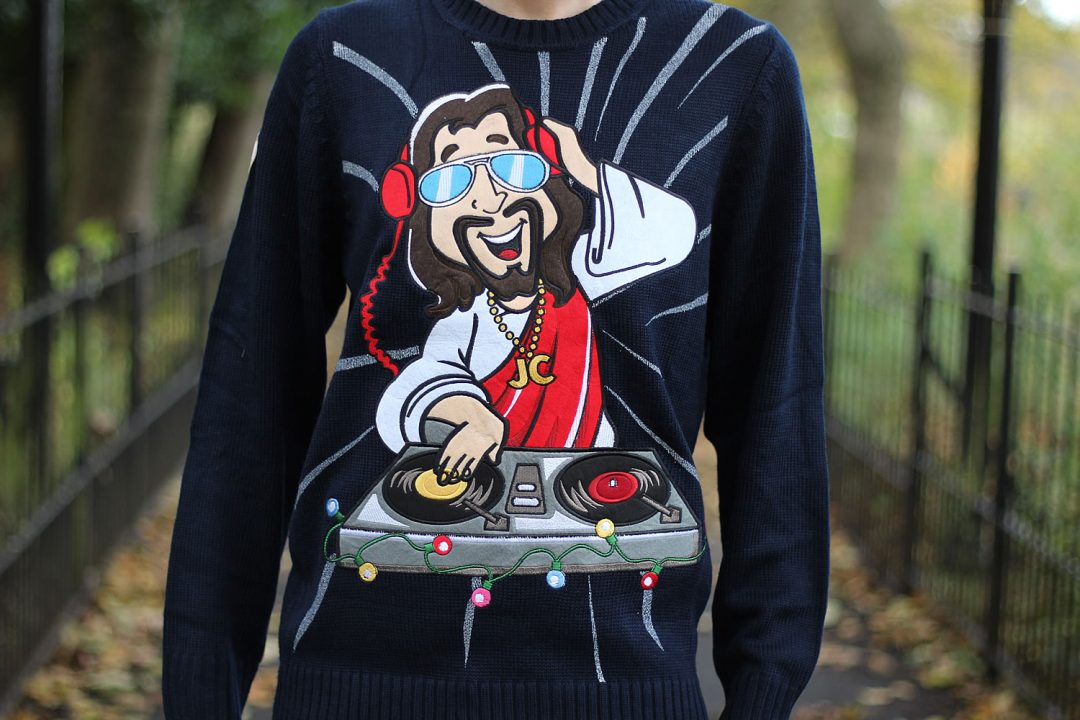 Marks And Spencer
Marks and Spencer jumpers are slightly more expensive, and have some very tasteful designs, as well as some cheesy graphics for Xmas. First is a blue colour knit with snow repeat style of pattern, it comes with a funny penguin graphic. Second is a large reindeer logo along with some festive greenery. If you love mince pies then you'll love the last design, which is a 3D style jumper.
Pengiun Jumper – £29.50 – here
Reindeer Jumper – £25 – here
Mince Pies Jumper – £25 – here

Tesco
F&F at Tesco has a smaller range of knitwear for this season, but there's still a couple of really good designs for the festive period. The red reindeer jumper is light up, along with the ho ho ho knit. In the middle is a repeat pattern knit in navy, along with holly, turkey, mince pies and snow graphics.
Red Reindeer Jumper – £20 – here
Christmas Dinner Jumper – £20 – here
Ho Ho Ho Jumper – £20 – here

TOPMAN
This year Topman have another great little collection of jumpers for this season. First up is the cheeky Well Hung design which comes with printed baubles. The middle is a tasteful large geometric pattern knit with reindeer pattern, and finally a fair isle style of knit with repeat festive patterns.
Well Hung Jumper – £24 – here
Green Xmas Jumper – £28 – here
Fair Isle Knit – £24 – here

River Island
From River Island I have selected a few less cheesy or novelty designs, apart from the middle one which is simply a cute polar bear wearing a scarf. The first is a cable knit style jumper with pattern, the colours in this is so simplistic, I really like it. The final jumper is a limited edition red knit with oversized lettering spelling out Xmas party.
Cable Knit Jumper – £35 – here
Polar Bear Jumper – £28 – here
Xmas Party Jumper – £28 – here

Next
Next have a collection of traditional style Christmas jumpers, including some I have selected above. First up is a novelty pattern knit, which is primarily red and features ho ho ho text, trees, candy canes and everything else Christmassy and even lights up. The second is a red and ecru top with snowflake pattern, and third is navy with a classic reindeer repeat graphic.
Light Up Christmas Jumper – £34 – here
Snowflake Jumper  – £32 – here
Navy Reindeer Crewneck – £32 – here

Burton
Burton have a few funny novelty jumpers for 2017, as well as more traditional prints. I'm sexy and I snow it is the first novelty item up, with snowman graphic alongside the quote. Second is a repeat Xmas pattern style knit, and finally a more tasteful and classic pattern which covers the top third of the knit.
I'm Sexy And I Snow It – £20 – here
Christmas Spirit Jumper – £28 – here
Navy Reindeer Jumper – £28 – here