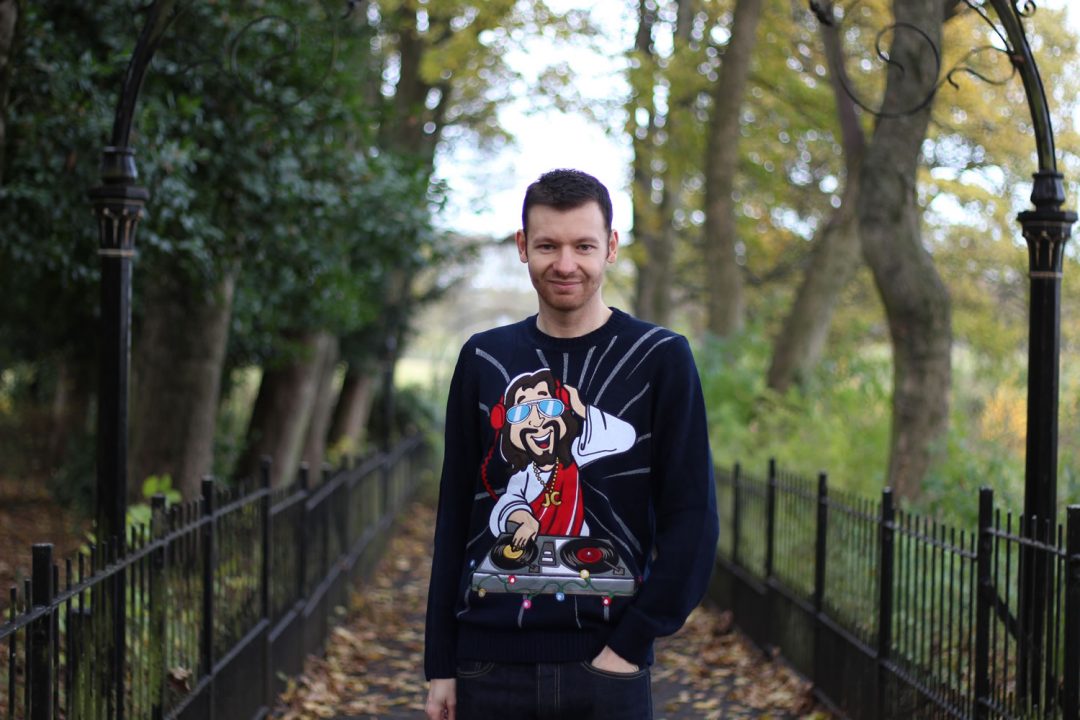 Here you'll find the best festive jumpers that 2018 has to offer. If you're looking for the current year, you can find the best Christmas Jumpers this year, which has the latest and most up to date designs you can find this season.
You can check out my older guides from Christmas past in the 2017, 2016, 2015 and 2014 guide, but this is all about 2017, and so here's my guide and tips for this year!
Here's the best 2018 has to offer for Christmas jumpers.
ASDA
This year ASDA has a great selection of cheap Christmas jumpers, once again offering a nice range of different designs. From novelty outfit styles of jumpers to characters, there's also some traditional fairisle jumpers which will keep you festive but toned down.
Grey Fairisle Jumper £14 –
Santa Repeat Pattern Jumper – £14 –
Rudolph Knitted Jumper – £16 –
Funky Christmas Jumpers
Funky Christmas Jumpers have done it again! They've got some brand new designs, such as the DJ Jesus jumper which I'm wearing, as well as a couple of other new designs too. Not only that, but they're classic which they've been doing for years are back, and they're brilliant. Here's a couple of my favourites which you'll love.
All jumpers are great quality and priced at £39.99, and if you prefer a T-shirt rather than a knitted sweater, there's a few of those available too.
DJ Jesus Christ
Jesus, Mary & Joseph Selfie
Santa Unicorn
Naked Santa
Happy Birthday Jesus
Elf Costume Jumper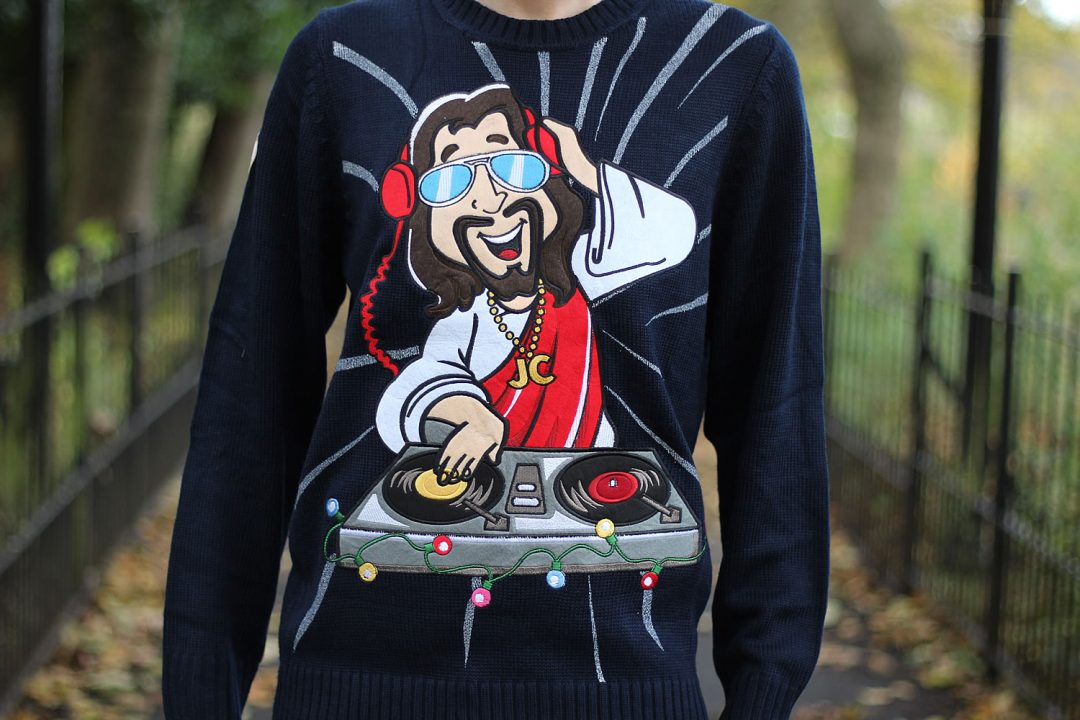 Marks And Spencer
Marks and Spencer jumpers are slightly more expensive, and have some very tasteful designs, as well as some cheesy graphics for Xmas. First up is a fairisle design which also has LED lights built into the jumper, along with a Santa and sleigh design. Next is the traditional Christmas pattern around the neckline, and finally the design is all about sprouts and a Christmas party, which comes with some LED lights built in.
Reindeer Sleigh Jumper – £29.50
Traditional Jumper – £35
Brussels Sprouts Jumper – £29.50
TOPMAN
This year Topman has a smaller collection than usual when it comes to Christmas jumpers, but there's still a few good ones. At the moment they're on sale, so it's the perfect time to get one. First up is a Santa and present repeat pattern top in green and white. Next is a roll neck style jumper in a festive fairisle pattern knit, and lastly there's a graphic jumper with Christmas crackers and the you've pulled slogan.
Christmas Santa Jumper – £15
Blue reindeer roll neck – £15
Pull My Cracker Jumper – £15
River Island
This year River Island only has a couple of offerings when it comes to Christmas Jumpers. I've selected three which are the best on offer, and can be bought on sale at the moment.
Jingle Bells Jumper In Green – £20
Red Reindeer Jumper – £20
Ecru Fairisle Jumper – £20
Next
This season Next have a really nice range of Christmas jumpers for the whole family, including plenty in the men's clothing section. It was really easy to pick up some distinctive designs from them. First up is an elf snowball fight scene jumper which is pretty original. Second is a brilliant and familiar Holidays Are Coming design complete with the Coca Cola van. Last Up I chose a reindeer thumbs up design jumper.
Elf snowball Fight Jumper – £35
Coca Cola Holidays Are Coming Jumper  – £36
Red Reindeer Jumper – £35
Burton
Burton have a few traditional style Christmas jumpers this season, as well as some novelty ones. First up is a traditional scene in a pattern which has reindeer across the upper chest. The second is another repeat pattern, with white and red offset on a royal blue jumper which lights up. The last one is a special Prostate Cancer design, which has the trademark prostate cancer man logo within the design. £5 goes to charity if you buy this jumper.
Navy Reindeer Jumper – £20
Blue Light Up Jumper – £30
Prostate Cancer Christmas Jumper – £25
What Day Is Christmas Jumper Day?
Christmas Jumper Day is Friday 14th December 2018, where you can not only wear a cheesy novelty jumper, but also you can donate to Save The Children if you want to show your support to the charity.
There's plenty to choose from, here are my favourites from different brands and shops; From cheap budget to high street,  there's one for everyone 🙂
Thanks For Reading...Want More? 🙌
Hi, I'm Michael 👋 I'd love you to subscribe to my newsletter for exclusive content & updates on my blog straight to your inbox. (No spam, I promise!)