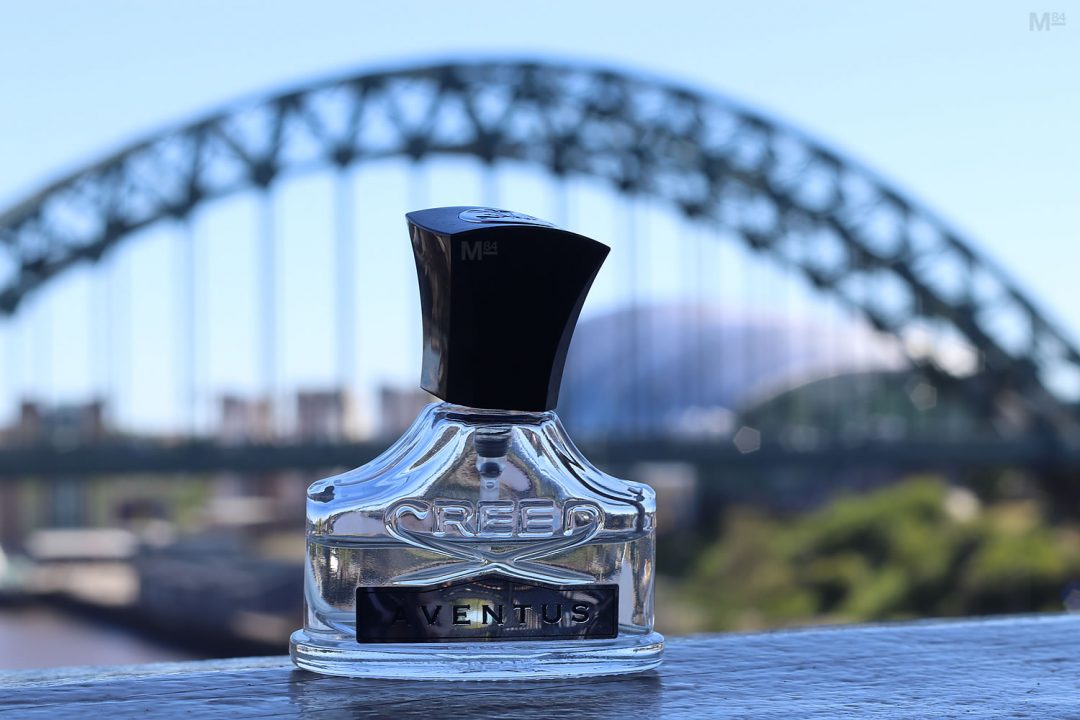 I got Creed Aventus back in 2014, and I still have the same bottle, and it's still going strong in every sense of the word. It's still a firm favourite, so is it worth getting?
It may not be cheap, but it could be your go to bottle and your own signature scent.
Here's why you should be wearing Creed Aventus.
Creed Aventus – Worth The Hype?
Is Creed Aventus worth the hype? In my opinion, yes. Here's why.
It's a very expensive men's fragrance, especially if you're not into scents and fragrances as I am (check out all my men's fragrance reviews). Having said that, it's not just a scent for fragrance aficionados.
What Does Creed Aventus Smell Like?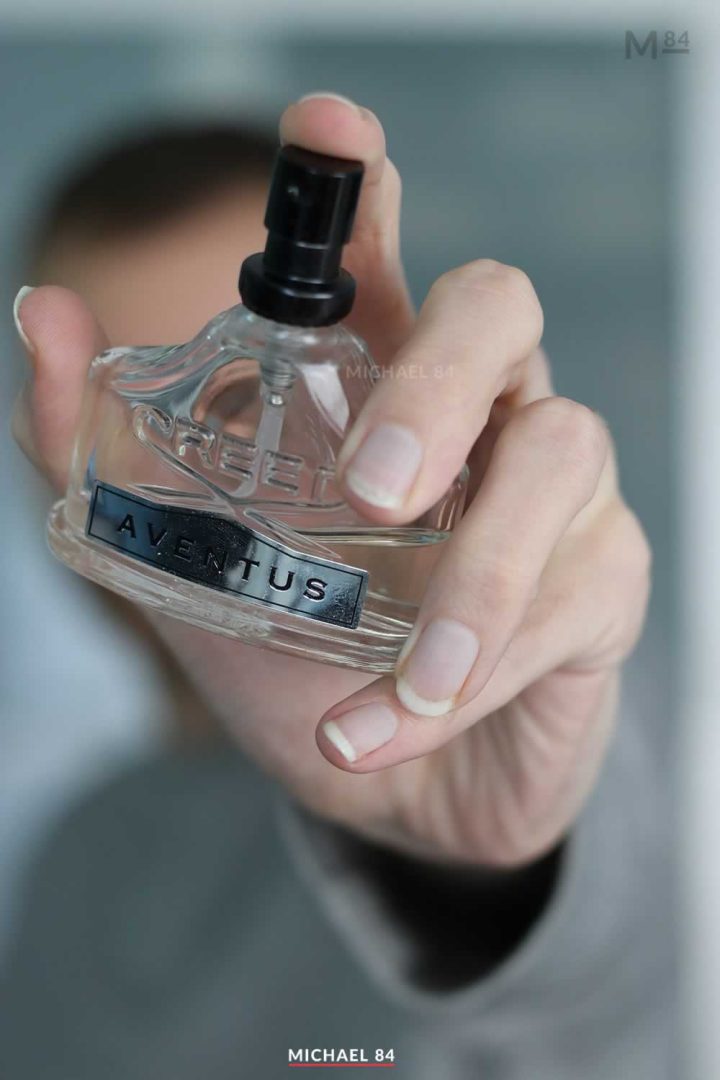 If there's one word to describe this scent, it's beautiful. It really is that nice.
A blend of a fruity and woody scent, Aventus is an interesting and amazing smell. Aventus fragrance notes include pineapple, bergamot, apple and blackcurrant at the top, rose, dry birch, moroccan jasmine and patchouli in the middle and musk, oakmoss, ambergris and vanilla in the base.
The fragrance combines an inviting fresh and citrus scent with a woody smell, the combination of this produces a really alluring scent, smokey and well rounded.
It's distinctive and you can really smell it, and it has very good projection. But saying all of that, it's completely inoffensive. You're not likely to hear someone complaining of this being over-bearing, quite the opposite.
It's well known for getting compliments, and since it's well rounded you can wear it during the day around town or to the office, or on an evening or night out.
The biggest problem these days is that the secret of Creed Aventus is out. It's reputation has preceded it.
That means there's a lot of guys wearing it. When I first got this back in 2014, it was known to a lot of the fragrance community, and those who were into scents.
Fast forward a few years, and now it's in the mainstream.
This is not an accident. It's popularity speaks for itself when it comes to a really nice smelling scent.
So you have the balance of having a brilliant fragrance, however it's not as rare as it once was. I really like to smell different to other guys, so when fragrances get incredibly popular in the mainstream, it does take that little special something which the scents bring with it.
There was that, "Hey what are you wearing" moment, that's kind of been replaced with "Are you wearing Aventus".
Although it's not as exclusive as it once was, it still has a killer smell, and therefore is recommended. Aventus is one of those scents that women like to smell on men.
Creed Aventus is a great all rounder fragrance that smells epic. It can be worn day or night, but because of it's price tag, I would reserve this for special occasions or a night out.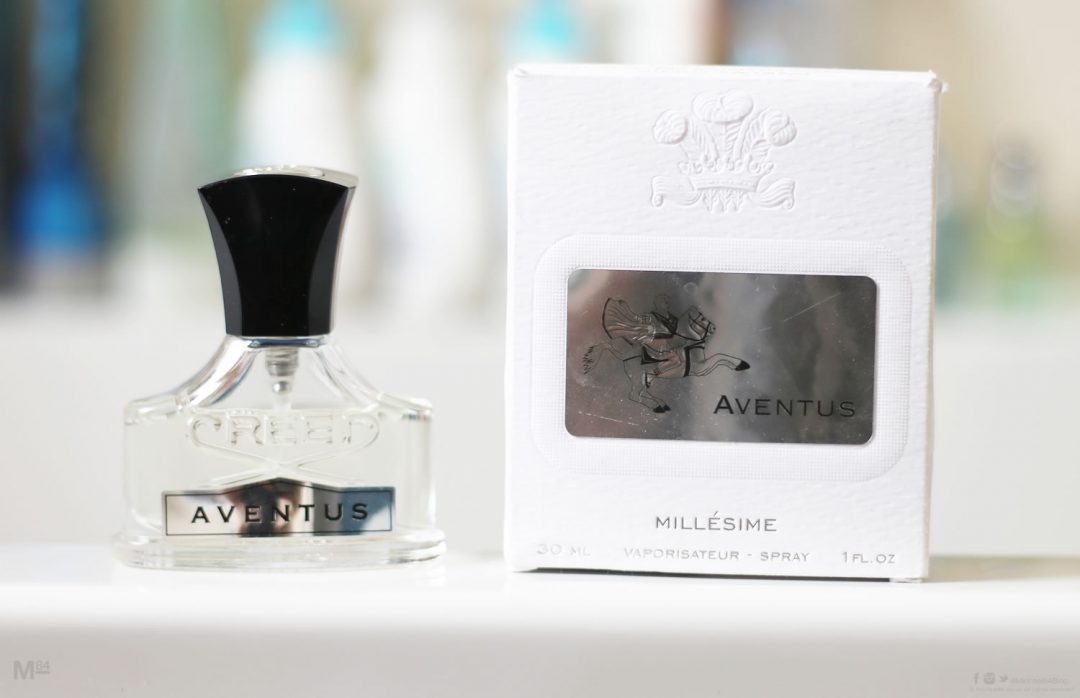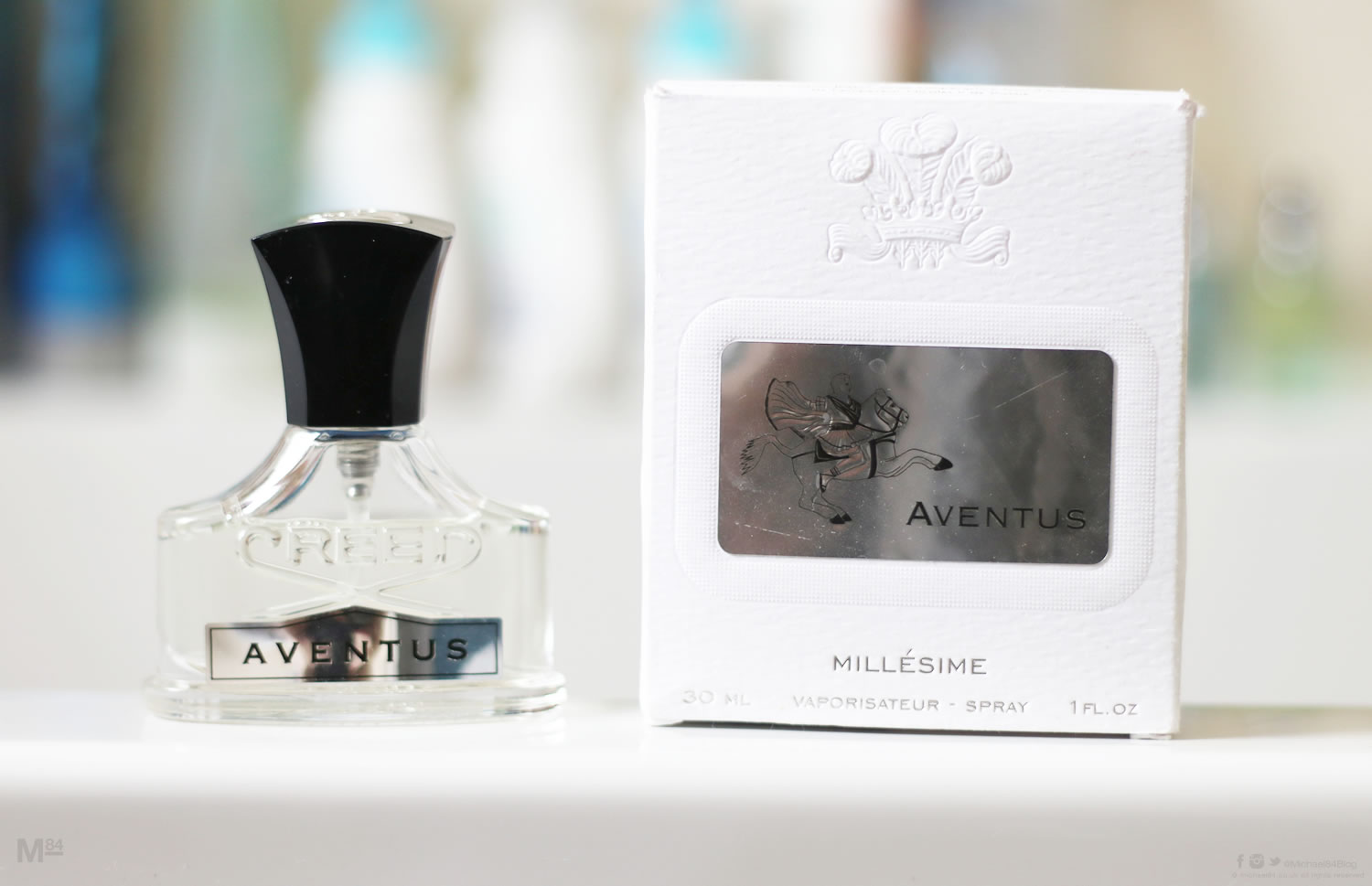 Creed Aventus Pros And Cons
Pros
Incredible smell
An all rounder fragrance (all seasons, casual and formal, day and night)
Fantastic longevity, performance and projection
Cons
Now costing over £200 (RRP for 50ml), it's a very expensive fragrance
Plenty of similar smelling and cheaper alternatives
Has lost some of it's exclusivity with lots of guys wearing it
Creed Aventus Bottle
As always, I have to start off talking about the bottle. Now my bottle is one of the old 30ml bottles, which Creed discontinued a few years later. But there's good news, it's now back!
The 30ml bottle in it's original shape as you can see above is back in 2023! The label has changed, but the good old bottle style and shape has returned.
I really like the shape of this bottle. It's a kind of triangular shape, almost like some kind of wide and weird pyramid, and certainly stands out a lot.
The larger bottles are also pretty nice, but come in a more standard rounded rectangular design, with branding to the front.
The top on both bottles is a fairly large black plastic top with a silver logo on the top of that. The atomiser is good, giving a large wide spray.
Creed Aventus Longevity
How long does Creed Aventus last?
Well in every sense of the word, it does. First of all the longevity of the scent from spraying, it will go all day or all night, depending on when you put it on.
It stays with you a long time, several hours, a few sprays is all you will need. This is due to the fact it's an EDP, Eau De Parfum, which is stronger than an EDT or cologne, so less is definitely more.
Side Note: Here's the differences between EDT EDP and Cologne.
It also lasts a long time in the bottle. I've owned this for around 6 years and it still smells as good now as it always has, and there's no noticeable difference in how long it lasts.
This is partly due to how I store my scents, in a draw, and this one in particular, in it's own box.
Verdict
Creed Aventus is a really nice fragrance for men if you can afford to own a bottle. It's a great all rounder, meaning that it can work in all situations, formal, casual and all weather types.
If you are looking for a signature scent and you're looking to only buy 1 or 2 bottles for your collection, Creed Aventus should be considered.
Do you own Creed Aventus or have you tried it, and do you think it lives up to the hype.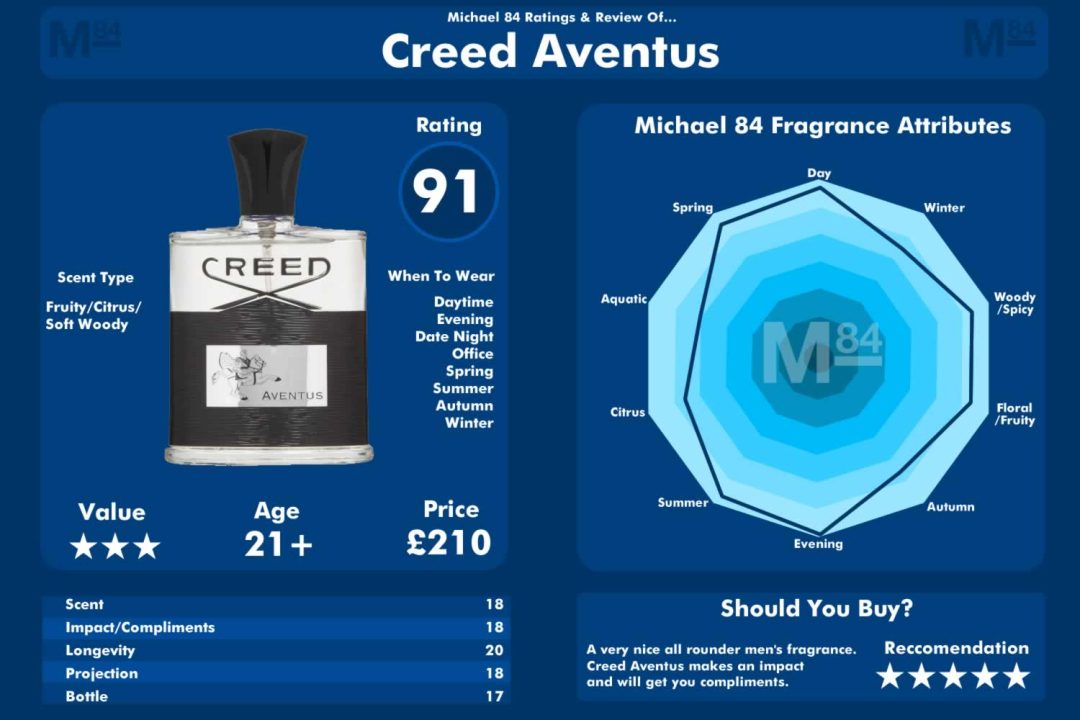 Top Notes – Blackcurrant, Italian Bergamot, French apples, Pineapple
Middle Notes – Rose, Dry birch, Moroccan jasmine, Patchouli
Base Notes – Musk, Oak moss, Ambergris, Vanilla
Creed Aventus Unboxing Video
Creed Aventus – Everything You Need To Know
Why Is Creed Aventus So Expensive?
Unlike other designer brands which licence their name to a mass producer and may use cheaper ingredients, Creed use a lot of natural ingredients in their products.
They're also a genuine perfume house, and produce the fragrances in house, rather than licencing out their name to a mass manufacturer. My Creed Aventus was made in France.
Creed Aventus 30ml 75ml 120ml Bottles
Creed Aventus comes in a variety of bottle sizes, including 30ml, 50ml, 75ml and 120ml spray bottles, as well as larger 250ml and if you're feeling baller a 500ml splash bottle. If you're just getting started then a 30ml bottle will do fine, this currently costs around £115. If you want the best value, a 100ml bottle comes in at £230. The bottle shapes vary depending on the size, with my bottle being a 30ml bottle it's a distinctive shape. Larger bottles are a more regular shape.
UPDATE: Creed Aventus Bottle Sizes 2017 Onwards – Creed Discontinued 30ml, 75ml & 120ml Bottles
From 2017 going forward, Creed has new bottle sizes. They have discontinued the 30ml and 75ml bottles of Aventus. The standard size bottles for Creed Aventus are now 50ml and 100ml bottles for the spray, along with the 250ml and 500ml bottles of the splash.
That means there's no small 'starter' bottle available which was just over £100. If you want a bottle of Creed the 50ml bottle will now set you back £170, with the 100ml bottle being £230.
The 100 ml bottle represents the best value, but this of course means you have to splash out over £200 for a bottle of Aventus now, rather than the £115 which would have given you a nice introduction to the scent.
UPDATE: Creed Aventus 30ml Bottles Are Back For 2023!
You can now get Creed Aventus 30ml bottles once again. It appears they have made a return in 2023, which is good news if you'd like to try Aventus at the cheapest price point. The biggest drawback is these currently rrp at £165. The best deal is still the 50ml bottle, or possibly the 100ml bottle if you have the money to spend.
Creed Aventus Free Samples
Samples of Creed Aventus, especially free samples, are hard to come by, but you may be able to get one from an authorised retailer. If not, you can always go into the shop and try it.
Authorised retailers in the UK include the major department stores such as Fenwick, John Lewis, Selfridges and Harrods.
Check out everything else you need to know from the official UK site here.
Creed Aventus Copy, Clones & Alternatives
You may have heard the phrase dupe or clone when it comes to aftershaves and fragrances, and may not know what they mean. As you may guess a dupe is a duplicate, the same as a clone, and it means a scent, usually from an unknown or lesser know brand, which smells exactly or as close to another.
Clones and Dupes usually exist for 2 reasons; The original scent no longer exists, or it's very expensive. In the case of Aventus, it's because of the high cost.
You shouldn't really buy a clone, for so many reasons. When you buy a fragrance you are not only buying the great smell but the brand which goes with it, if you buy a dupe and someone asks, "You smell fantastic, what scent is that?"
You'll have to explain it's a copy of a more expensive fragrance. There can also be questions of quality, longevity and strength of the scent if you buy a dupe. If you want to smell like Aventus the advice is to buy Aventus, if you need to save up it will be worth it in the long run.
If you're looking for a big night out scent or something that oozes masculinity, there's plenty of alternatives to Creed Aventus you could try.
Fake Creed Aventus
As it's not cheap but coveted, there's fake bottles which are sold online. To be sure of getting the genuine product, always buy from an authorised retailer (see above).
Creed aftershaves and perfumes are not as widely available as other high street brands, and you'll find it is sold for the RRP in most places, you'll not find this one being sold by Amazon (beware of 3rd party Amazon sellers and stay away).
If you've seen it for cheap at a discount shop, the advice would be to stay clear.
There's the obvious signs of non-genuine products, the usual things to look out for are the quality of the smaller things including the logos, graphics and style, the bottle top and box. Don't go for a copy or a clone, you'll more than likely be disappointed.