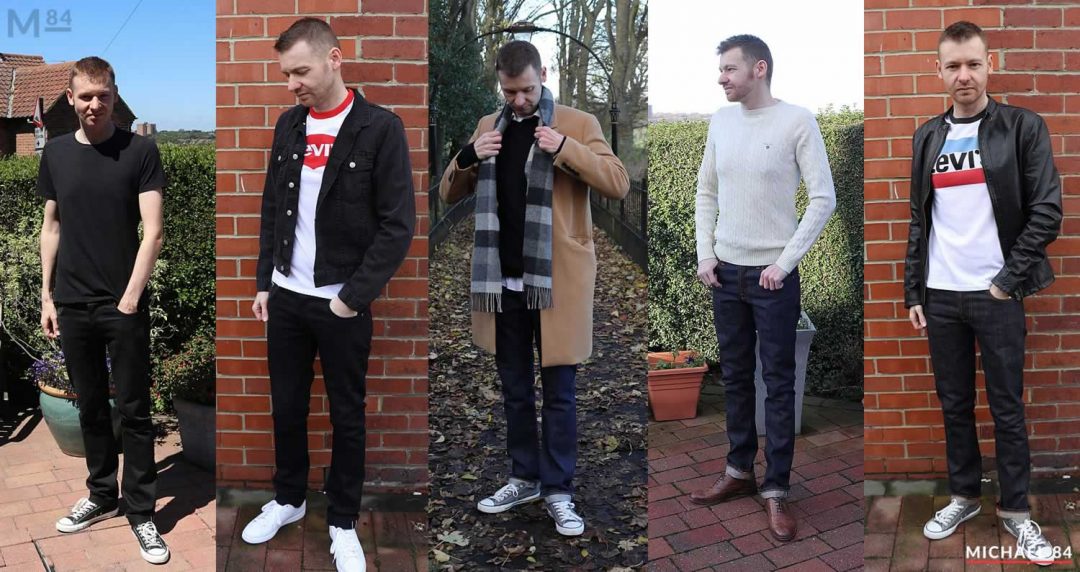 When it comes to wearing jeans, there's only one particular type of denim I love, Selvedge denim.
There's a ton of different clothing you can wear with it, depending on the colour and style of jeans I go for. They can be dressed up or down, and there's just no limits on what to wear with selvedge jeans.
You might be wondering what selvedge is and why it's so special. Don't worry, I've already wrote a guide on what selvedge denim is and why it's so coveted and expensive. Basically it's denim made from old shuttle looms manufactured from a process which creates a "self-edge".
That means no fraying or unravelling, giving it a better denim. You can always tell the difference between selvedge and regular denim with on the inside – Check out the taping and the stitching which is often a red line.
Now we've got that little explanation out of the way, you're wondering what you can wear with the jeans. As mentioned there's so many different pieces of clothing to wear.
Since I like to show off my selvedge with the cuffs rolled up, I air on the side of casual usually. But I can equally wear them with something a little more formal, giving that smart casual look that everyone loves.
Here's some outfits I put together wearing selvedge denim.
Selvedge Jeans And A T Shirt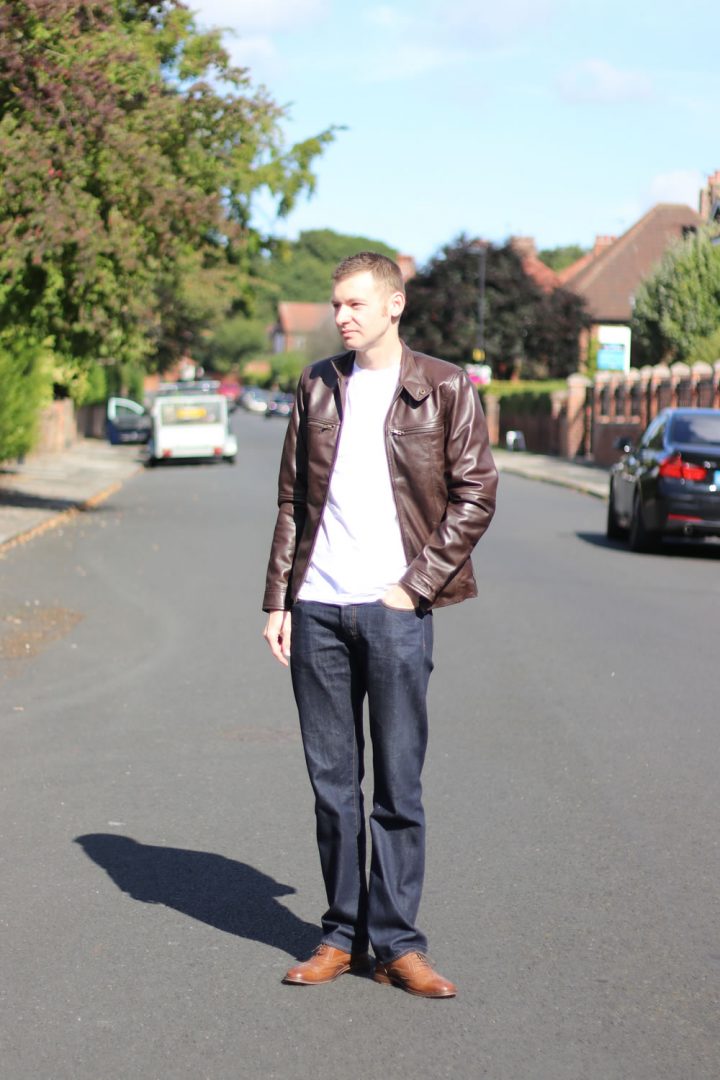 For this look I have gone for a classic: Jeans and a T Shirt. But of course not just any pair of jeans, a pair of selvedge jeans.
The white T-shirt and jeans combination is classic and never goes out of style. I've gone for a pair of dark indigo jeans with my white t shirt, wore it with a brown leather jacket and finished it off with my brown brogues.
I really like this outfit and think all the pieces compliment each other well.
Levis 511 Selvedge Denim With A T Shirt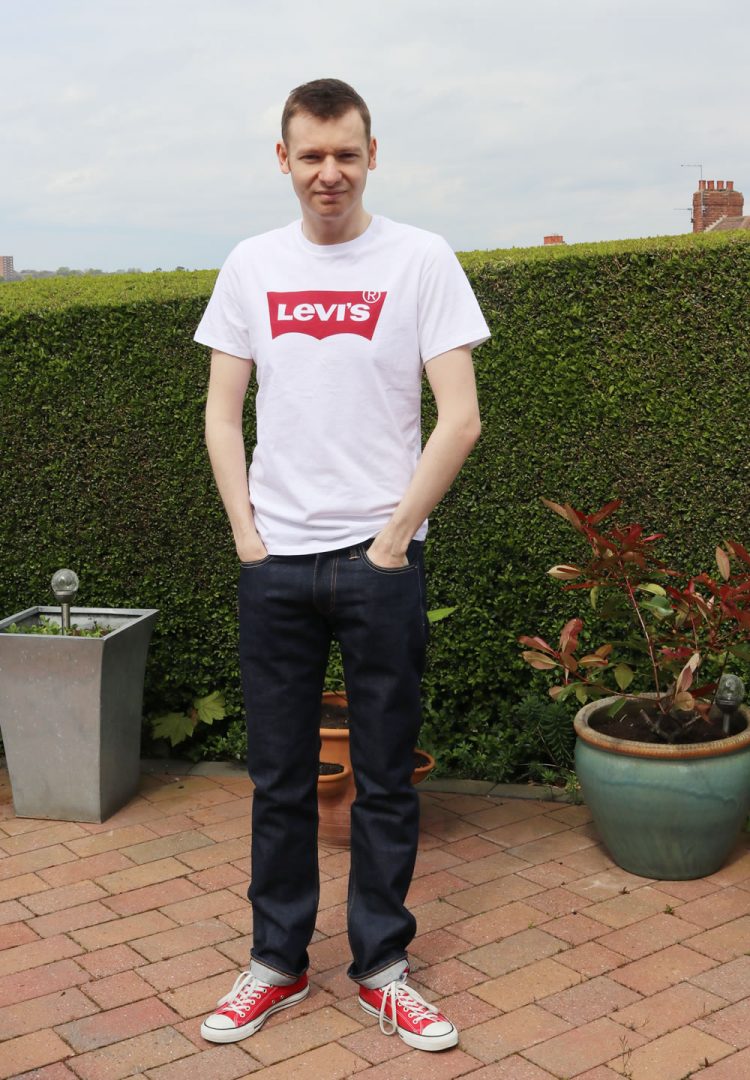 One of the most recognised denim brands in the world are Levi's. They have their iconic 501 jeans, but I prefer the 511.
I got this pair of Levi's 511 jeans which are selvedge denim, and they're great.
I got a dark indigo colour which I think are timeless, and paired it with a classic white Levi's T Shirt which has the trademark logo on the front.
To complete the outfit, I wore my red Converse trainers.
Black Selvedge Jeans, Denim Jacket, T Shirt & White Trainers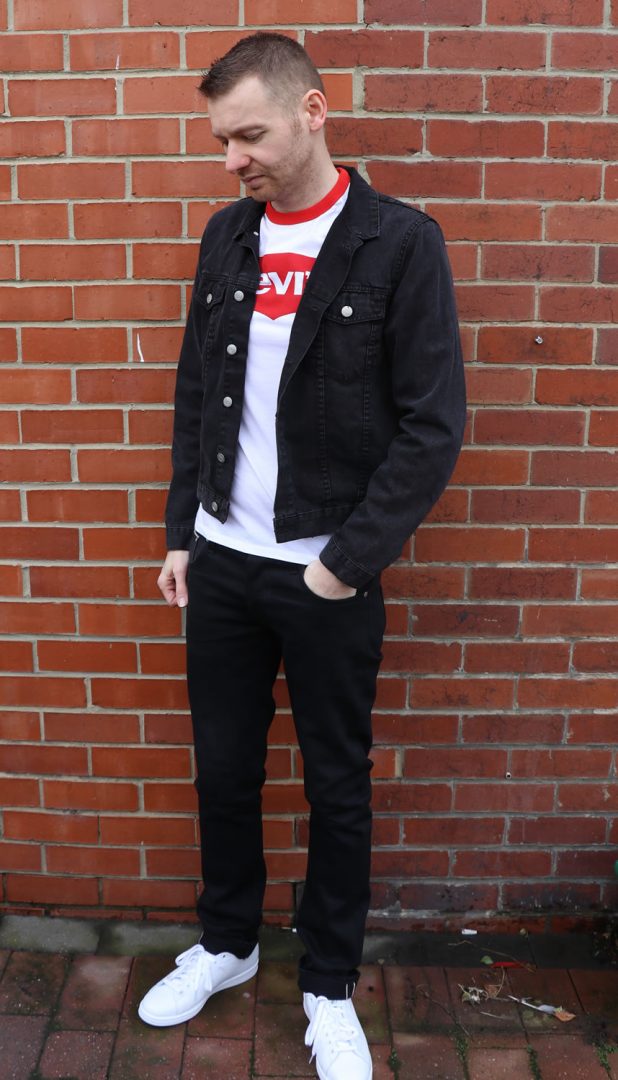 Here I have pair my Nudie Jeans black selvedge denim with a black denim jacket, white Levi's T Shirt and finished if off with my white Nike Air Max 90 trainers.
This is definitely a cool edgy casual look. The double denim works well with the black jeans and denim jacket and doesn't give off the overly double-denim vibes from the 90s.
These are Grim Tim Nudie Jeans which is a slim fit. They're my favourite cut and fit of denim.
Roll Neck Jumper With Selvedge Jeans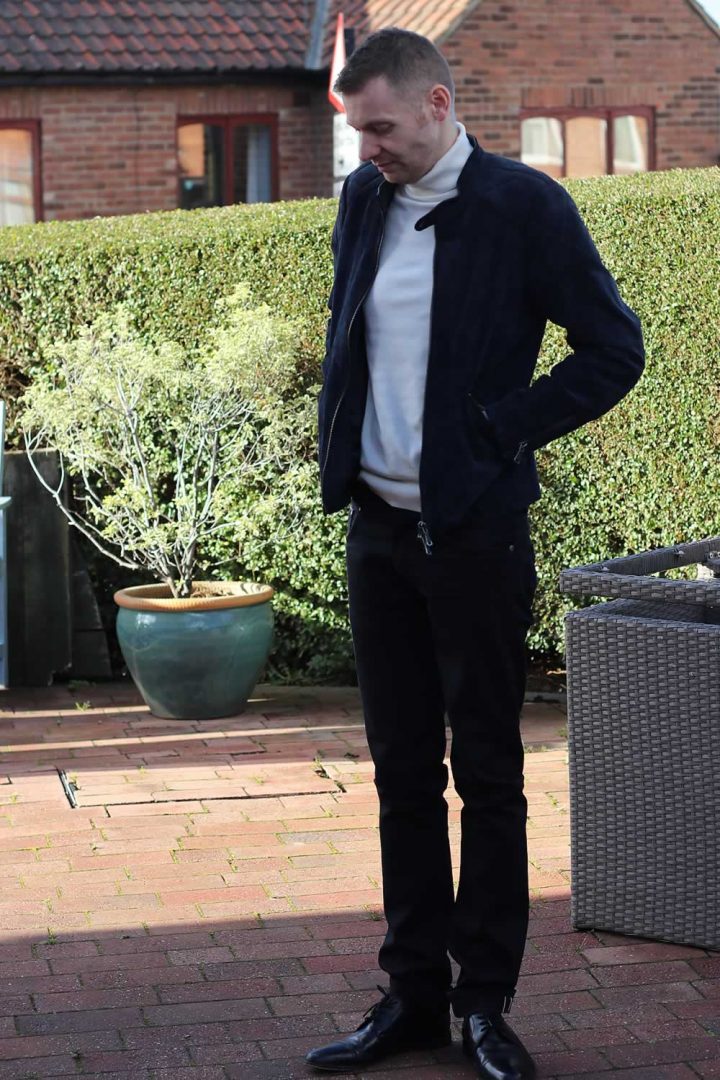 I love wearing a roll neck jumper, and in this outfit I paired it with my black selvedge jeans.
I went for a smarter outfit with a casual edge to it. The cream colour roll neck works well with the black denim, and I threw my navy blue suede jacket over the top of it. When it comes to footwear, I chose my black Derby shoes.
Selvedge Jeans With A Leather Jacket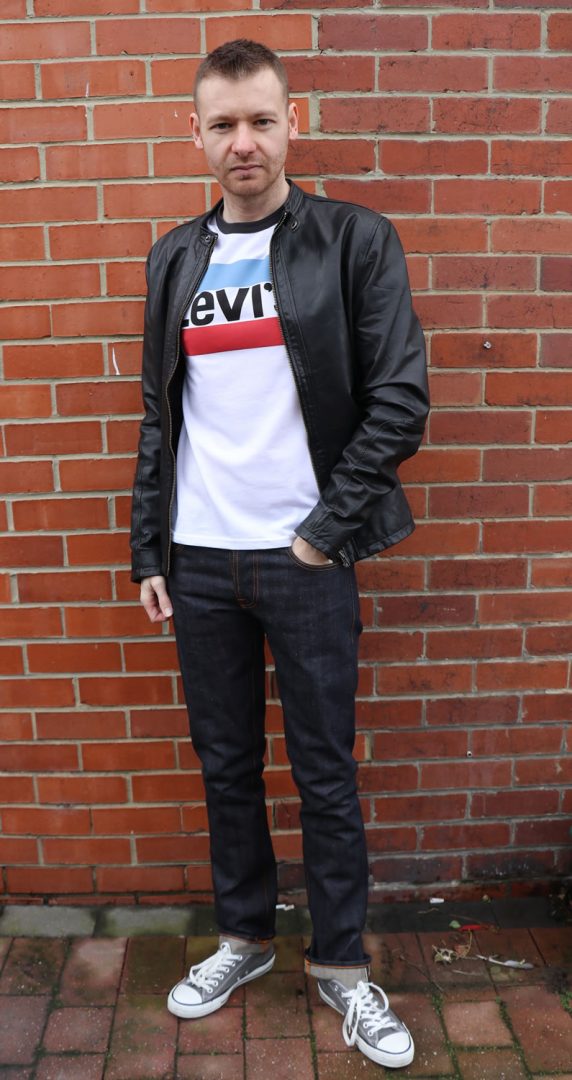 For a more rugged outfit, I chose to wear my selvedge jeans with a denim jacket.
This is quite an edgy look, with the black leather jacket working well with a Levi's graphic t shirt, loose fit selvedge denim and finished off with a pair of Converse trainers.
Black T Shirt With Selvedge Denim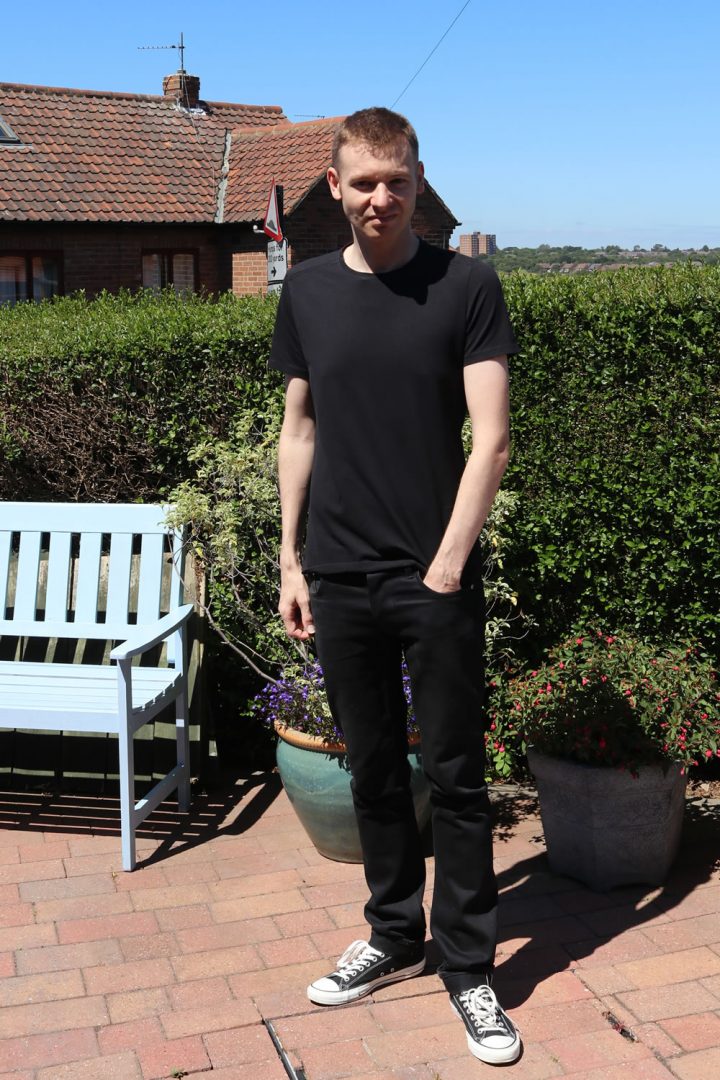 Another sleek all black outfit, this time right on the side of casual. I wore my black selvedge jeans with a simple black T Shirt, along with a black pair of Converse Chuck Taylor All Stars.
This is a really easy outfit to put together, and looks cool in the summer. I love an all black outfit, and this one works well for every day wear.
Dark Blue Selvedge Jeans Autumn & Winter Outfit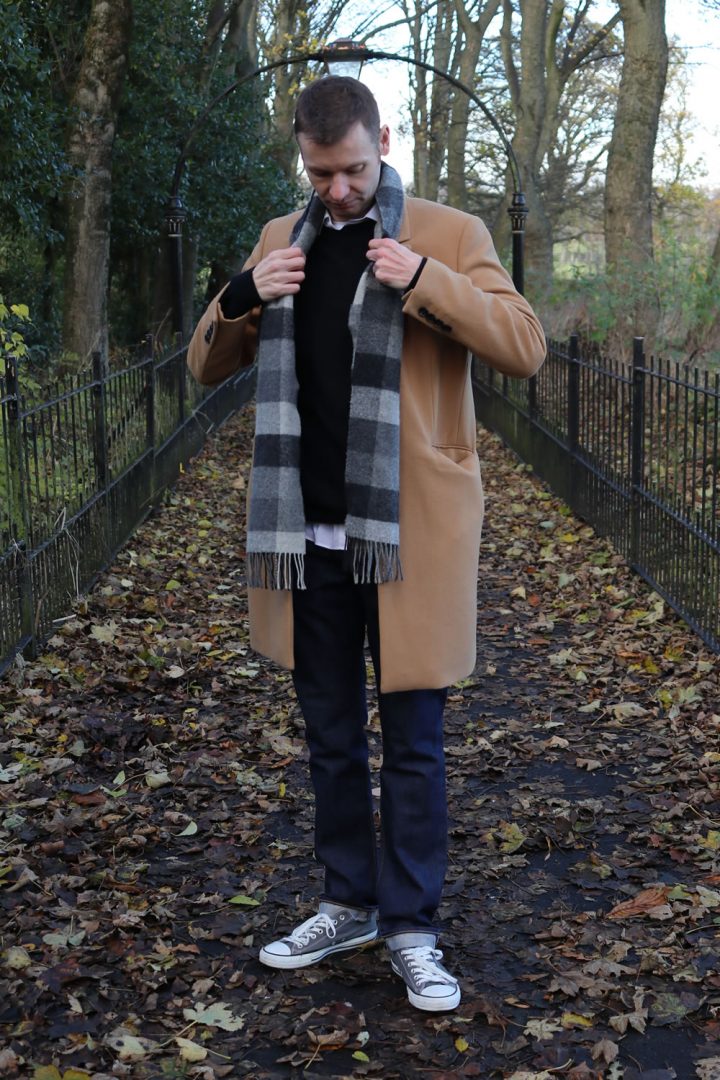 When it comes to dressing for the autumn and winter, selvedge jeans come in well.
In this outfit, I have gone for a more casual tone. I'm wearing selvedge jeans with a jumper and shirt, a pair of grey Converse and a camel overcoat.
This time these are my PRPS selvedge jeans which are a regular fit. They're soft, nice and comfortable to wear with plenty of room in them (more on how to get the best fit of jeans here).
Wearing A Jumper With Selvedge Jeans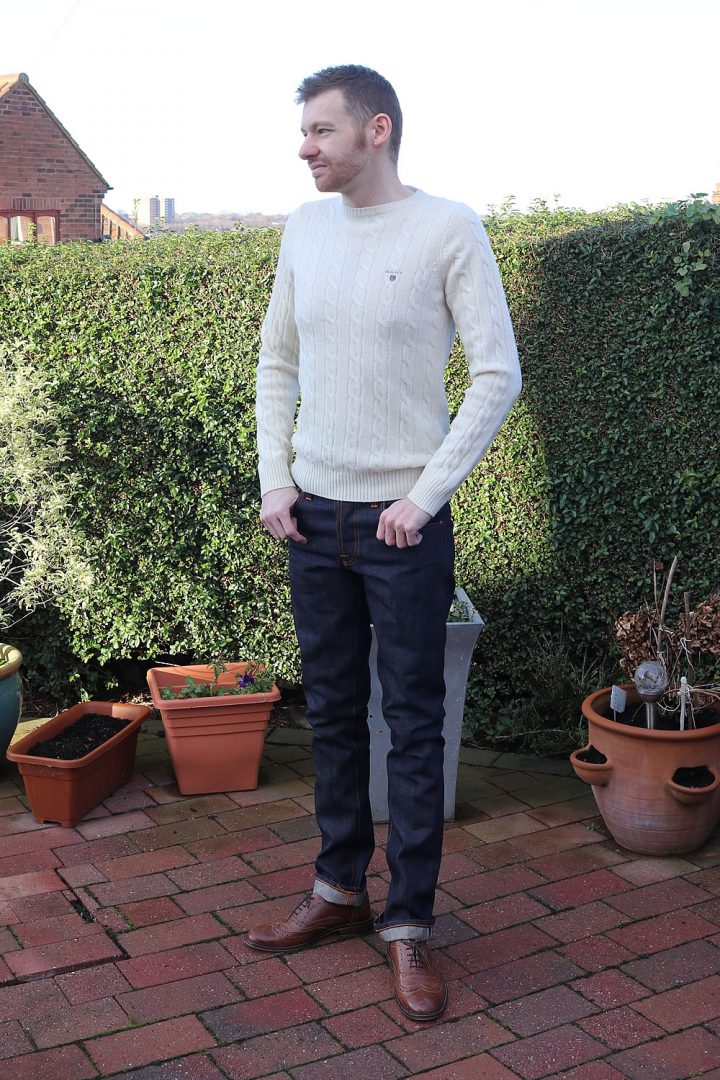 One of my favourite looks I put together was wearing a jumper with a pair of selvedge jeans.
In particular, I went for this cream cable knit jumper from Gant, with my pair of Grim Tim Nudie Jeans in indigo colour. They're slim fit which matches up with the fit of the jumper.
I think it gives off a very slim cut silhouette, which in turn makes my frame look narrower, but look taller too.
I finished off this look with my Kurt Geiger brogues which are brown. A really nice colour palette which works well together.
A Cardigan With Selvedge Denim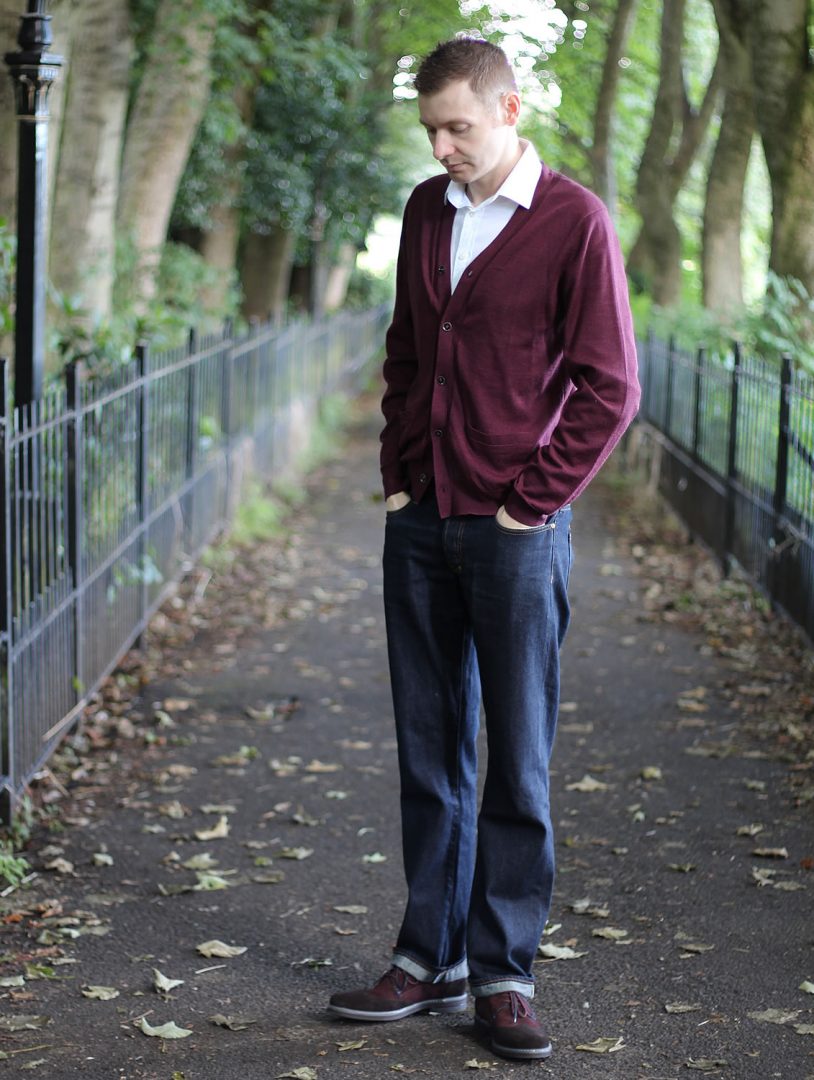 For an alternative style, I went for an outfit combining a cardigan and a pair of selvedge denim.
In this one, I wore my burgundy cardigan from Mango MAN with a pair of dark blue selvedge jeans, along with a white shirt.
For the footwear, I went for a suede pair of brogues from Ted Baker. These were shades of dark burgundy, which complimented the cardigan well.
What Shoes To Wear With Selvedge Denim
When it comes to footwear, there's plenty of choices for picking shoes to wear with selvedge denim. Trainers will usually give off a more casual look, while shoes will often look smarter.
I have paired both, and like wearing each of them. It all depends on the occasion and the other clothes I wear with them, so here's some tips and ideas.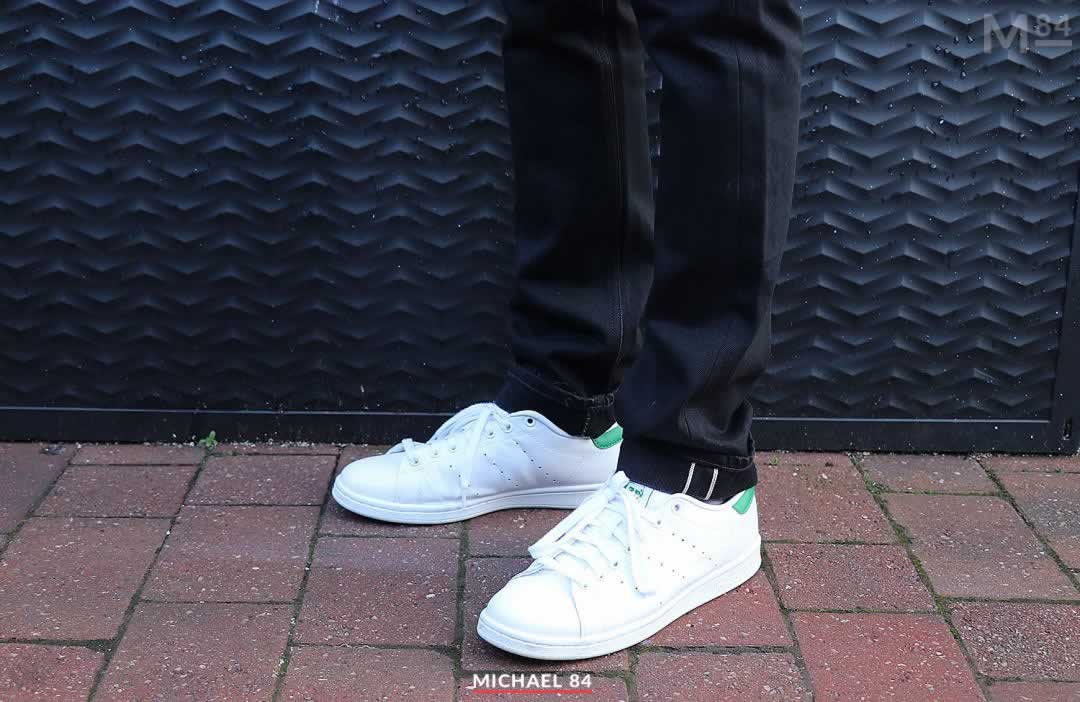 White Trainers With Black Selvedge Jeans
You've already seen above my white Air Max trainers, and here's some more. These are my white Adidas Stan Smith trainers which I have paired with my black pair of Selvedge Nudie Jeans.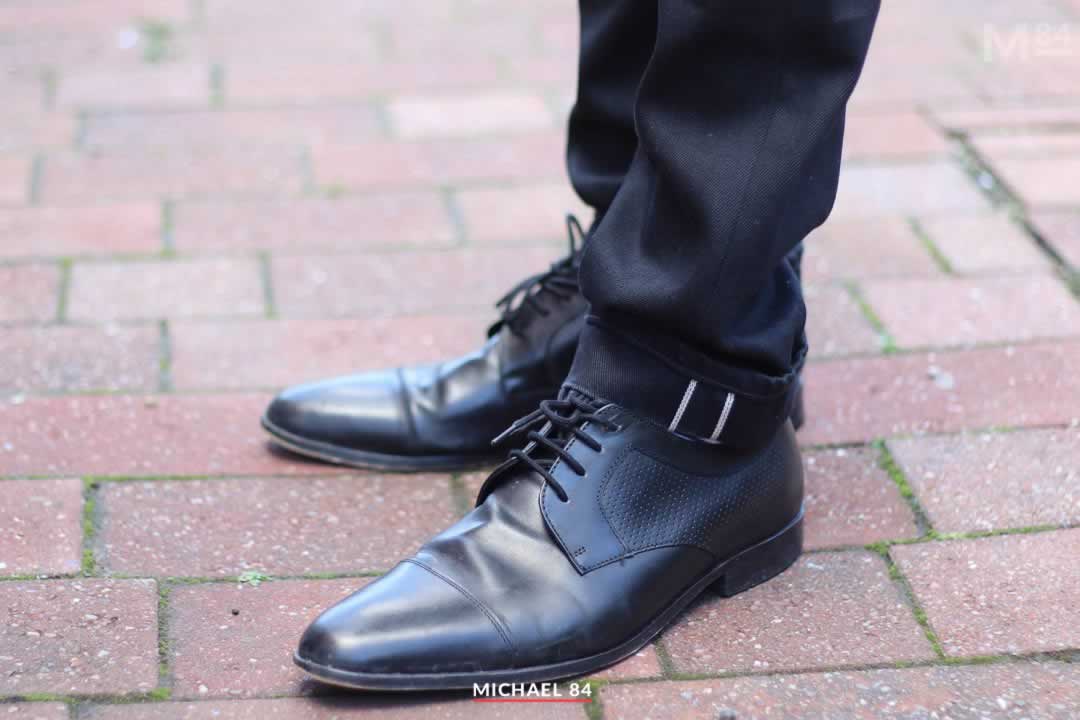 Black Derby Shoes With Selvedge Jeans
Here you can see I have paired up my black derby shoes with black selvedge denim jeans. Having all black on the bottom half creates a nice sleek silhouette, and keeps everything smart.
I rolled up the cuff to show off the red line stitching but it still looks fairly smart and really breaks up the shoes and jeans nicely.
This is one of my favourite combinations to go for which has a nice balance of smart and casual.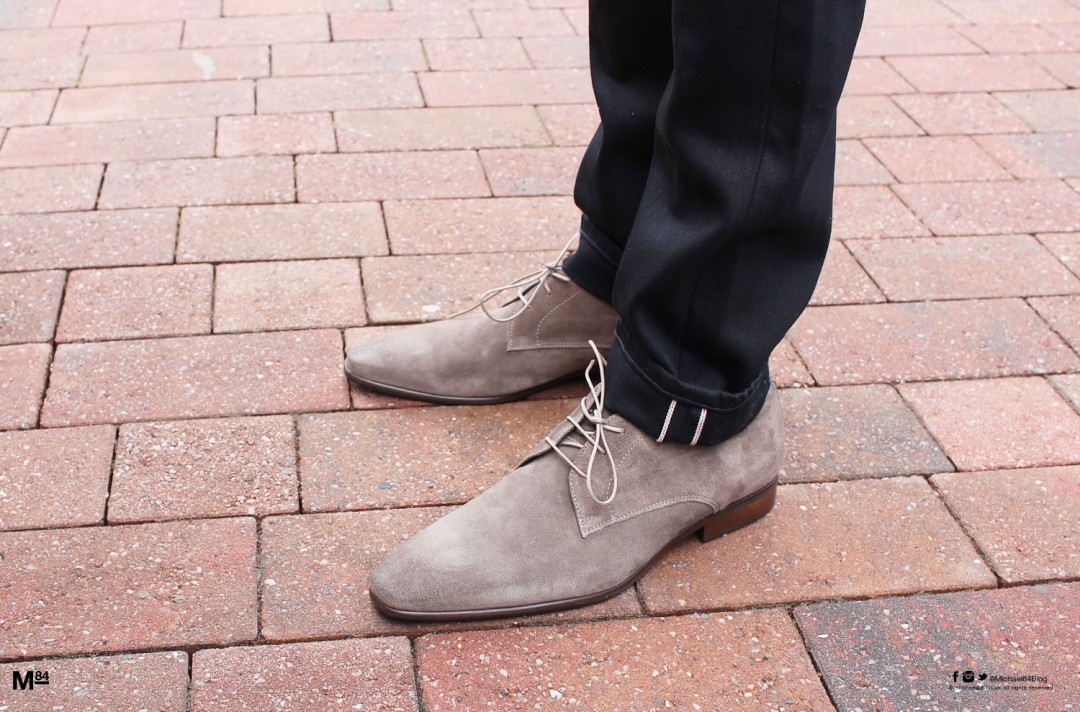 Grey Derby Suede Shoes
I really like these grey Derby shoes which I got from Kurt Geiger, and wore them with a pair of black selvedge denim.
I think the two colours go well together. The darkness of the black is offset with the light grey brownish colour which I really like.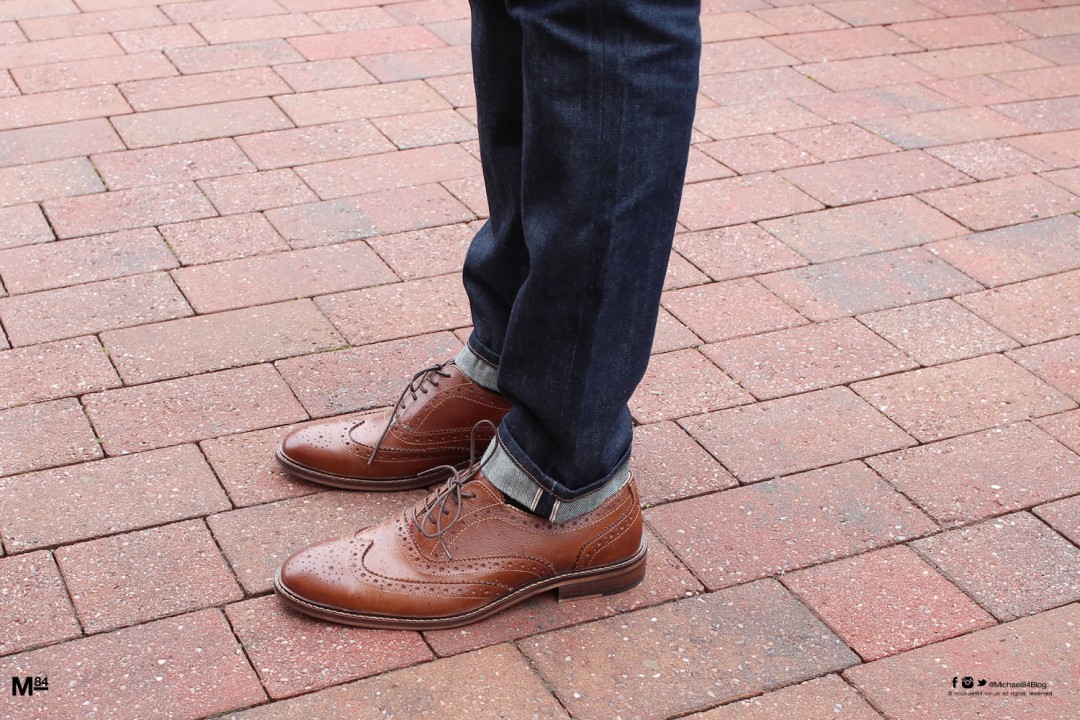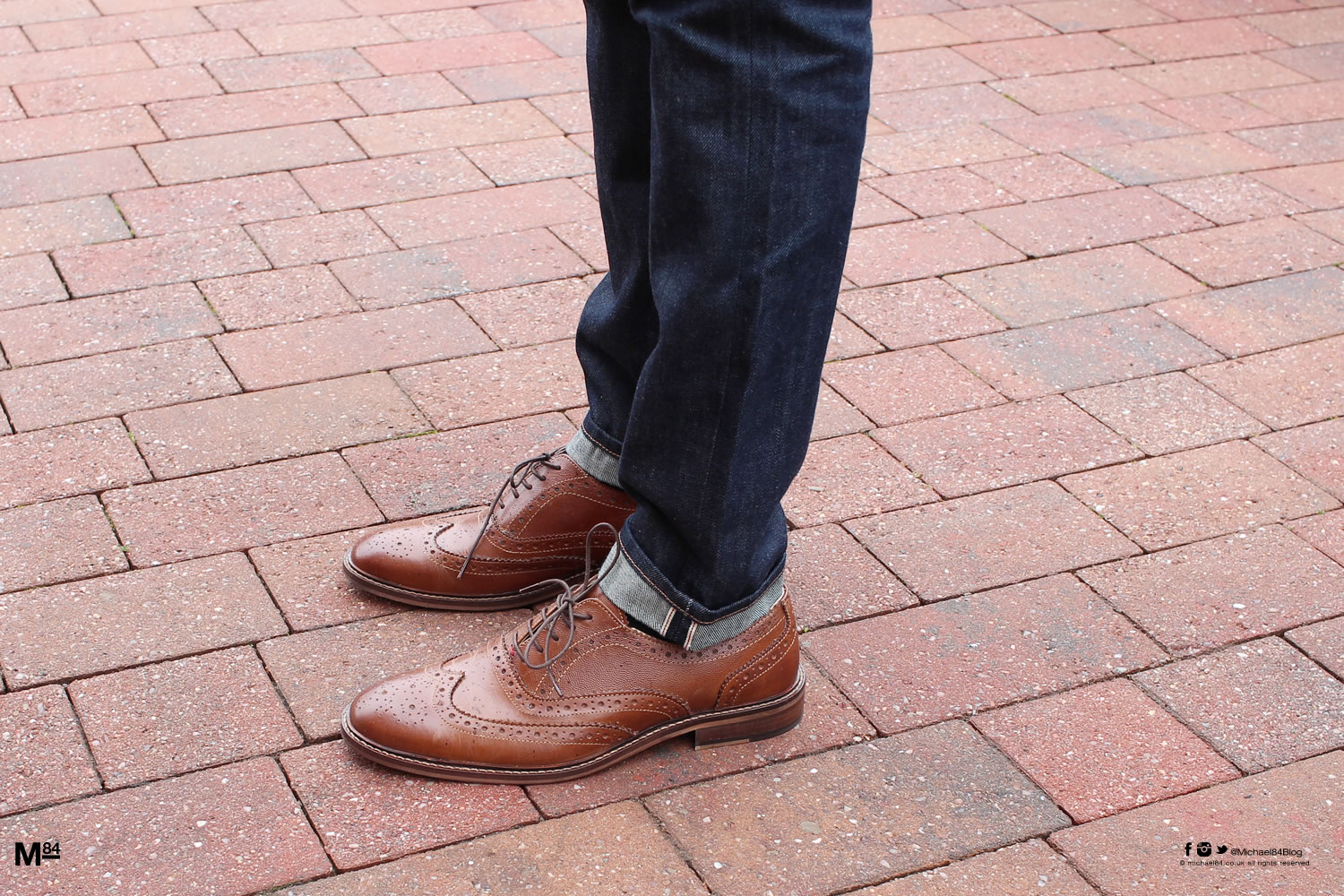 Brown Brogues With Selvedge Jeans
Wearing brown shoes is such a stylish option, and wearing them in an outfit that consists of selvedge jeans works so well.
In this outfit, I paired by brown brogues with a pair of indigo colour selvedge denim. I think that every guy should have a pair of brown shoes in their wardrobe. They're versatile, and can be dressed up and down very easily.