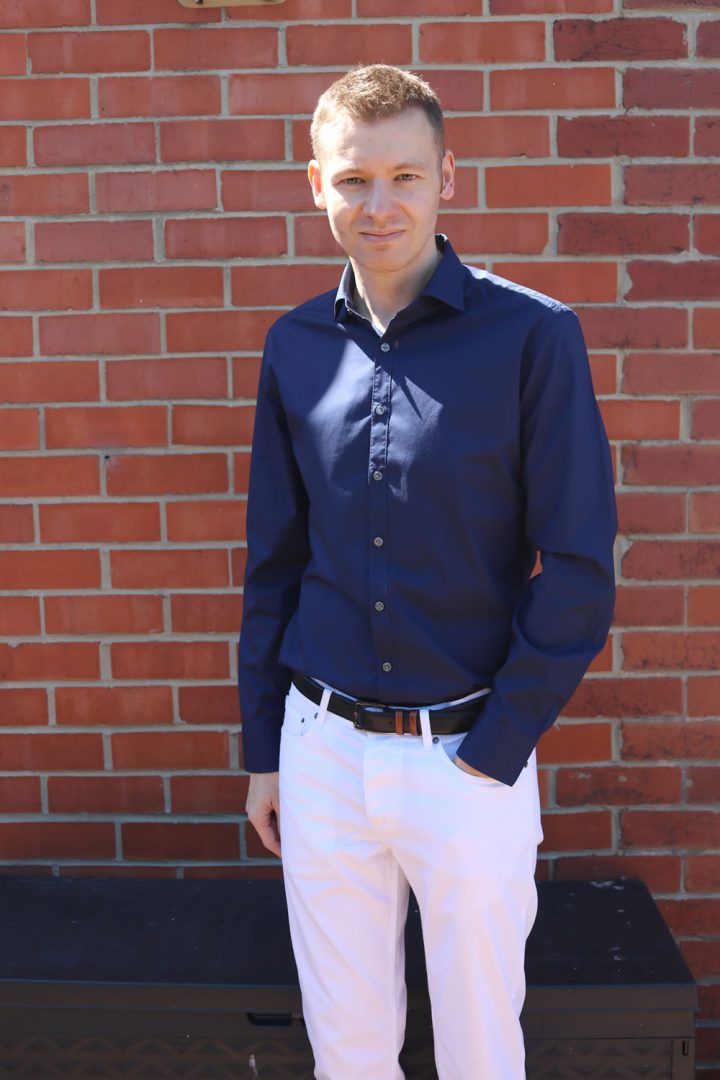 Happy Friday guys!
It's the end of August and so it's officially the end of Summer, but we can wait for the weather to really turn before we call it a day, right? 😀
One of my favourite looks for Summer actually works in any season. You've seen me wearing this before but I don't wear it too often, it's the navy shirt and white jeans combination.
Since I got this brand new Mango Man navy shirt a few weeks ago I had to show at least one style idea using it, and like I said the navy and white look is one of my favourites, you can check the full outfit below.
I love the combination of navy and white, and it works perfectly with white jeans and a navy blue shirt.
Most of the time guys will flip this around, wearing a white tee with blue denim, chinos or something else on your legs. This is the go to outfit for so many guys, and there's no wonder why, because it's timeless and it works.
But when you want a change, and you want to style your outfits differently, white jeans are a great option. There's plenty that you can wear with them, I think a contrasting colour such as this works so well.
So the shirt – As I've already said, it's from Mango Man, I got this and a few more from them several weeks ago, and there's not much I don't like about them.
The quality is really good for the price, but it's all about the fit. For a lot of my shirts I've went for a regular fit, and it doesn't really do much for me. It doesn't look or feel too bad, but it always feels like it's a bit too baggy for what I'd like. [Here's some tips on getting the perfect fit]
With that said, this is a slim fit shirt, and I think that the fit is much better. For a lot of my shirts I've decided to retire them and replace them with better fitting options.
This is kind of sad because I've got a few shirts which I like in terms of quality and style, but the fit isn't quite there.
Another thing I love about this is the little details, and that is the belt. Since it's a smart plain shirt I usually go with tucking it in, so a belt is a nice accessory which I've used in this outfit.
A belt helps break up the two pieces, the black colour works really well against both the shirt and jeans.
As for the denim, there's not too much to say about them. I have a few pair of white or grey jeans or chinos, these are from H&M. I think that for a statement piece such as these, there's no need to spend a huge amount of money.
I only wear them a few times a year, and they do get dirty a lot! Having said that, I did see that Nudie Jeans were doing a high quality pair, so I may make the investment in the future.
When it comes to choosing shoes with white jeans, there's plenty of options, and most colours will work, it's just a case if they'll work with the outfit overall.
I could have gone black, but I've went for the brown brogues which I've been wearing a lot which are from Kurt Geiger.
Let me know what you think of this look, and have a great weekend 🙂
As always if you're looking for more smart outfit ideas you can find those here on the blog with pictures for you to get some inspiration from.