Where did the Summer go?!
It's just crossed into September, but I'm still in a bit of a summer mood.
For today's outfit I have decided to make the most of my linen and wore my blue linen shirt for maybe the last time this year. I've paired it up with a pair of navy chinos.
This is one of my favourite blue shirts for summer style. Partly because it's linen so really light to wear when it's warm and stuffy, and also because I just love this colour.
I've had a blue linen shirt this colour before, but sadly it was a bit too big for me. I wanted to get one which was a better fit, so I got this from Uniqlo a while back.
In terms of the quality it's really good for a 100% linen shirt. It's a regular fit which is pretty generous, something that you'd want in a summer shirt.
For the vast majority of my clothing I prefer a slim fit, because it's a much better fit. But when it's really warm and humid it's much better to have clothing that doesn't hug the skin so much.
The worst thing about linen is the wrinkles! I had ironed this shirt but you still still see that it creases up pretty bad. That's the worst property of linen, it creases so easily.
Since this is just a casual style of shirt the creasing doesn't matter so much, but I always iron it before wearing.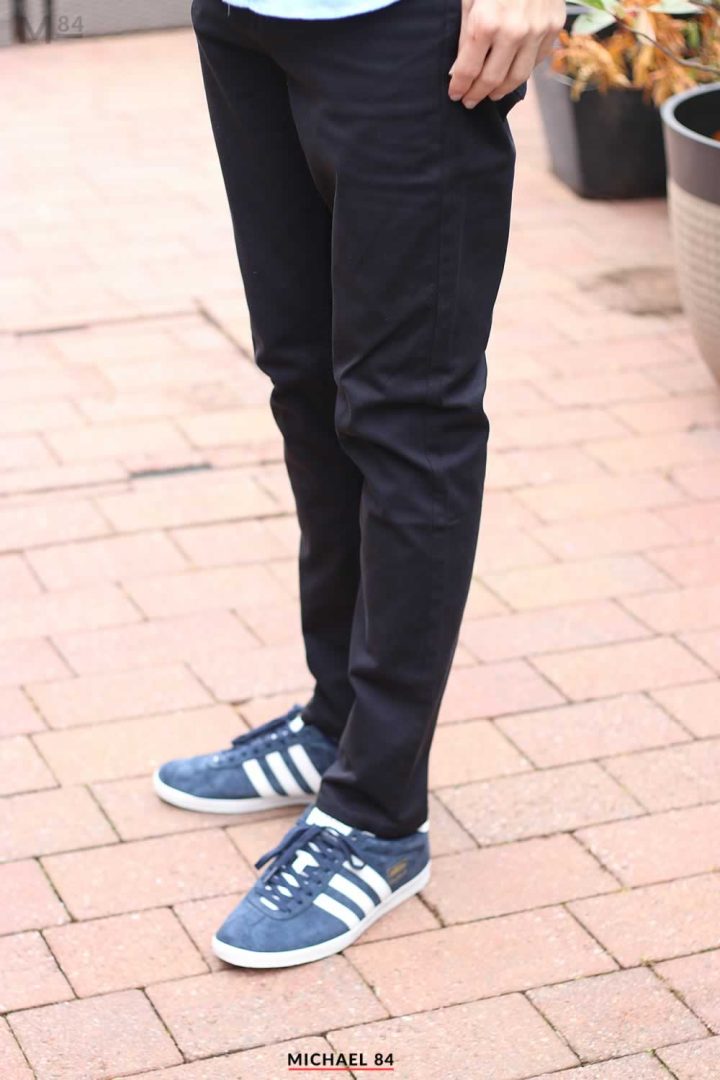 For the chinos these are actually a brand new pair which I got a while back but have never wore.
I do love my chinos, and had a navy pair I got from Mango MAN a while back. I wore those so much they look really worn out, so needed a new pair.
When it comes to chinos I am very picky. I like trousers with a straight cut pocket, 5-pockets in the style of jeans.
Most chinos are slit cut pockets like you'd get in trousers, and I try to avoid these when I can. Not for any style purposes, but because things tend to fall out the pockets way too easily.
I found these navy chinos from H&M and think they're great.
They are slim fit too, which as mentioned is my favourite fit.
As for the footwear, I went for my navy blue Adidas Gazelle's. They always look the part, and make the whole outfit look great keeping it a more edgy casual style of outfit.
Colder weather soon which means more from the knits and sweats part of the wardrobe which I do like, but it will be sad to leave the summer wardrobe behind.