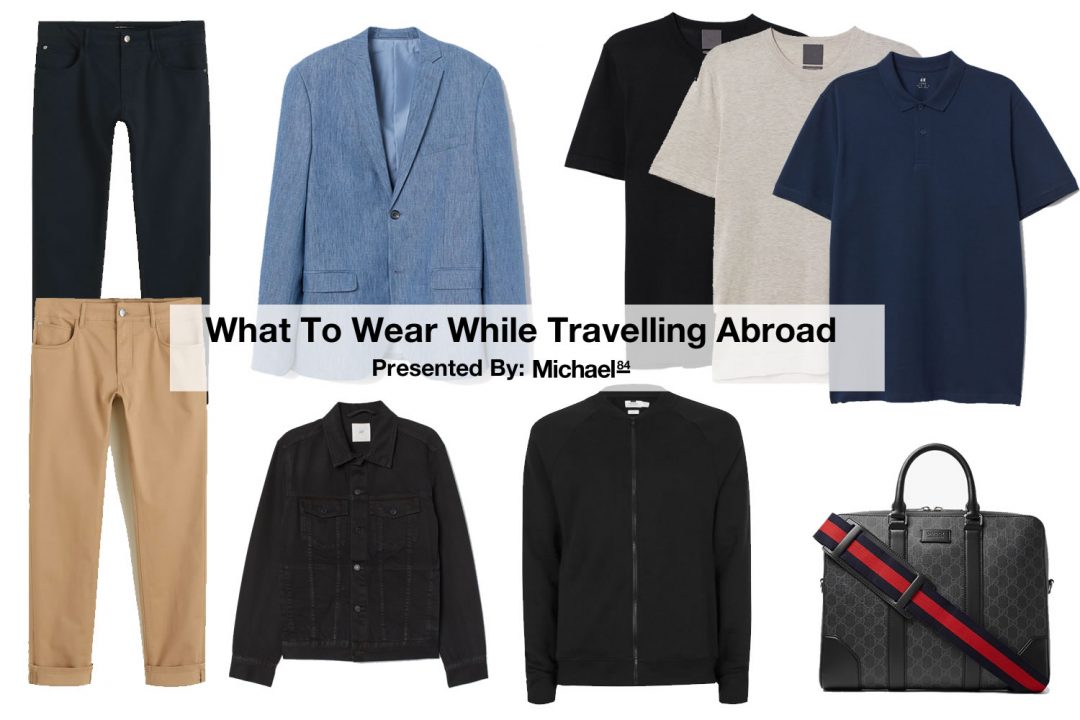 When holiday season arrives you'll be going to the airport. You're probably thinking of one thing:
What should you wear to travel in?
It can be a fine balance of picking an outfit which is going to be comfortable, stylish and work in the UK weather as well as abroad, whether that's the middle of Summer of Winter.
Here is how to pick the perfect outfit when travelling, and how to nail airport style.
1. Preparation: Pick Your Outfit Before Travelling
First of all, you've got to think about what you're going to wear.
Preparation is the key, and you should think about this before you pack any of your holiday clothes away. The days leading up to your holiday can be stressful, especially the day or night you're set to fly, so don't leave it until the last minute.
Pick out your entire outfit, make sure it's clean and ironed, and lay it out ready for your flight.
2. Think Of The Weather
When it comes to picking something out, the biggest challenge is the weather. Typically in the Summer, you'll be going from the usual gloomy skies of the UK to a hot country.
So what do you wear?
Taking a look at my summer fashion clothing essentials is a good starting point. You've got to think about the journey to the airport in the UK, as well as getting off the plane in the summer sun.
You've got to pick something which is versatile enough to get you from cool to warm.
3. Smart Comfort Is Key
The best way to travel is to be comfortable, as well as looking smart. There's some items which don't don't work when it comes to these characteristics.
Smart plain shirts are one, which will get creased really easily and will not give the smart look you'll be looking for.
4. Practical Clothing aka Pockets
If there's one thing you'll need, it's pockets. You'll have your hand luggage which will have pockets of it's own, but sometimes it's better to keep things on your person, so you know you've got them.
You'll need cash, cards, keys, flight documents and of course that all important passport.
Have a dedicated pocket for your passport, or at least make sure it's a pocket you're not going to go into a lot. You'll know it's there, and you'll not lose it or have to rummage around to try to find it.
Wear something you feel comfortable in, which isn't too sporty. There's a lot of some comfortable outfits you can wear, and ensure you consider practicality such as pockets to store important items.
5. Lightweight Clothing & Minimal Layers
Lightweight clothing is the best for moving around, and you want to make sure you keep the layers to a minimum. If it's a warm day, you can wear a T-shirt with a jacket which should be fine. You'll still want a jacket, for reasons we'll get onto below.
6. The Perfect Travel Outfit For Men
When it comes to guys picking an outfit from your wardrobe, it's actually pretty easy to do. There's only a few items of clothing you'll need, with the best of them being:
Underwear & Socks
T-Shirt or Polo Shirt
Chinos or Soft Jeans
Smart Casual Trainers
Smart Casual Light Jacket
Let's take a look at each piece of clothing which you can choose to wear.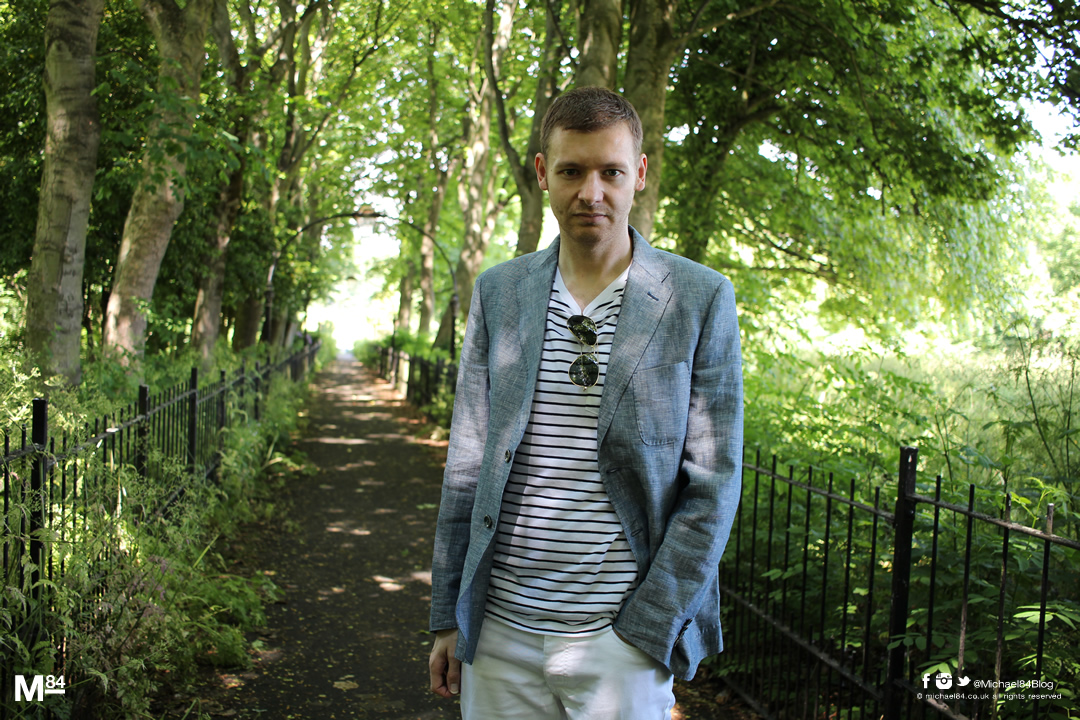 T-Shirt
The T Shirt is a staple item, you'll undoubtedly already own a ton of them, so it's a really easy piece of clothing to go to. They're also easy to wear with other clothes, comfortable, and since you'll own a lot, you'll have a lot of choice.
Go for something which is plain, with a small amount of branding, if any. Logos could be OK, depending on your age, but to keep things smart, you'll want to stay away from anything with large graphics or vivid images.
Dark greys, blues and black are some good colours to go for. We'll look more at colours below.
Polo Shirt
Do you want something smarter than a tee but not as restricted as a shirt? Here's where the polo shirt comes in. It's quite possibly the smartest most comfortable option you'll have, with a nice button placket, collar and of course that slightly smarter edge over a simple T-shirt.
Chinos Or Light Jeans
When it comes to your lower half, chinos are a great choice, or failing that, comfortable soft jeans. When it comes to chinos, they're usually worn when you want something lighter in colour, something different to that traditional blue or black of your denim.
You can opt for a navy or grey pair of chinos, keeping your outfit dark and toned down, while changing it up from jeans.
You can also go for beige, white or off white when it comes to colours if you're really careful, but you may want to avoid those colours, as I'll get into below.
When it comes to jeans, some can work, others don't. For the style, you'll want a solid colour which are smart; No rips or distressing.
Most importantly you'll want a soft pair, aka washed denim, rather than dry denim. Dry denim is tough and rigid, which is cool, but not something you want to be wearing sitting on a plane.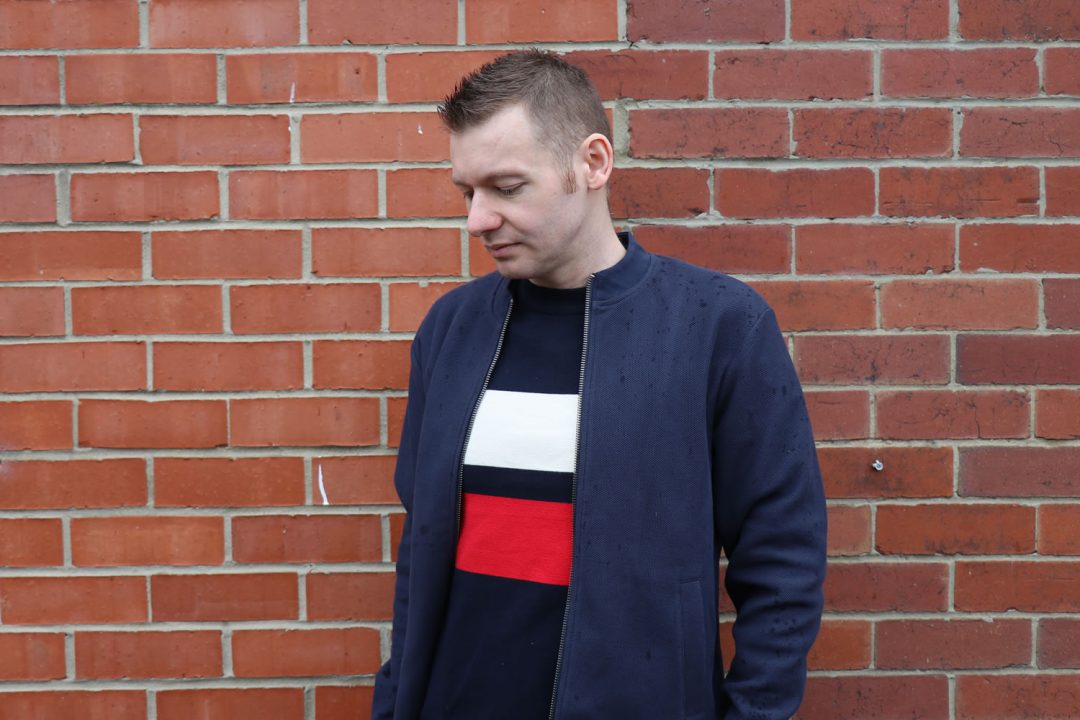 Smart Casual Jacket: Blazer, Bomber Or Denim
When it comes to picking out a jacket, my favourite three going from the smartest to most casual are blazer, bomber and denim. A blazer is going to give you instant smart appeal, providing it goes with your outfit. Wearing a blazer with a T-shirt works so well, especially with a plain tee.
A smart bomber jacket is next on the list, and would be my go to if you want the easiest jacket to wear. It's by far the most versatile, and I would go with a plain cotton option which works well in most climates.
The most casual but still stylish is the denim jacket. The only thing you have to bear in mind when choosing a denim jacket is that you'll want your lower half different to the jacket, especially if you're wearing jeans.
You'll not want to go down the double denim route, which was a trend, and kind of cool, but this guide is to be timelessly stylish, not to follow a trend.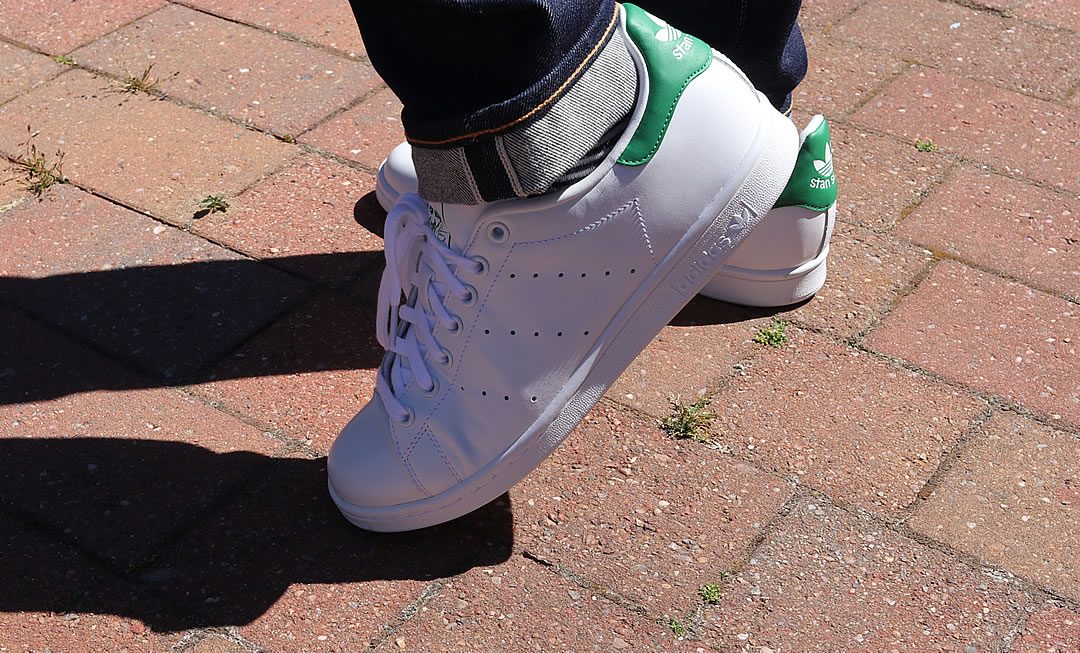 Smart Casual Trainers
Getting the footwear right is crucial if you want to be stylish and comfortable. Dress shoes and other smart but hard shoes should be avoided. If you want to arrive smart, you'll also not want to be wearing sports shoes.
A good option is a pair of smart casual shoes or smart trainers.
Good options include Converse, Vans or something minimal such as Stan Smith. Adidas do a lot of trainers which are great for wearing around the airport, including the Gazelle, Samba and Superstar models along with the Stan Smith.
Smart casual trainers are sleek, minimal and will compliment your outfit well. If you plan on wearing shoes when you arrive at your destination, you can pack those away.
Underwear & Socks
There's really not a lot of detail which goes into these. When it comes to underwear, you obviously want to be wearing your most comfortable. As for socks, you'll want a pair which are nice, clean and you can also opt for a light pair, which will be airy on your feet.
7. Dark Colours Over Lights
You may be thinking light colours are perfect, right? Well they are, if you're careful. What you don't want is to wear something light, and then spill something on your clothing, for it to get dirty, or other mishaps which can happen.
You'll then look a bit of a mess, and since you can't change, you'll look sloppy for the duration of your travel until you reach your hotel.
The safer option would be to pick out colours which are darker, such as black, darker shades of reds, blues and greys. These colours will be also be easy to compliment each other, wearing navy with a mid grey will work fine.
What To Avoid
There's a few things you'll want to avoid too. These include:
Full Suits – You don't want to be wearing a suit and tie with a shirt when you're going on holiday. This is overdressed, and you'll not be comfortable. Even when travelling on business, you should opt for business casual, and lose the tie.
Complicated Clothing & Accessories – At times you may have to take off clothing, such as a belt and other accessories. Wear something which is super easy to wear and to take off if you have to. Less is more, and 99% of the time you're only going to have to remove your belt, watch and shoes at the most.
Irritating Clothing – If you don't like a particular fit or fabric of clothing, the worse thing you can do is travel wearing it.
Sportswear – Sportswear is casual and comfortable, but too sloppy to be stylish.
Heavy Clothing – Avoid clothing which is heavy, such as big bulky jackets or coats, or leather jackets.
Conclusion
Getting the balance right between style and comfort is always a tough one, but picking out the right pieces is not as difficult as you may think. Choosing the safest options is always the best bet, you'll look great in the airport, and feel comfortable when on the plane.
Follow the simple rules and you'll jet off in style and comfort.