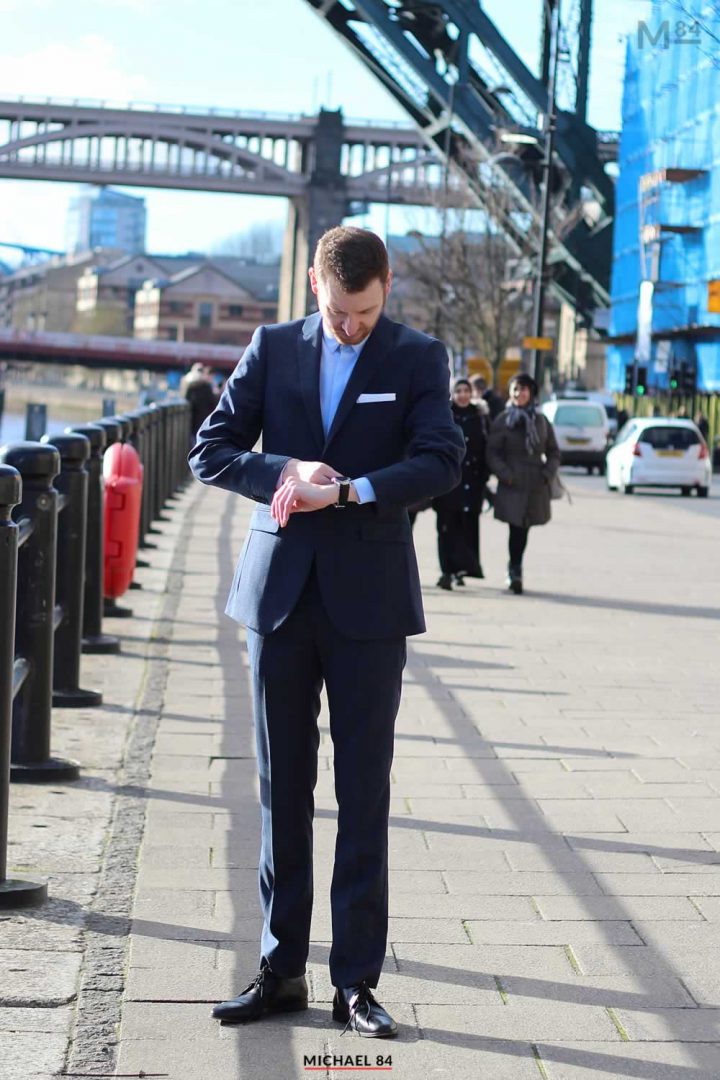 Are you going to the races, but have no ideas what to wear?
Don't worry, this style guide will make sure you're looking the part for the big day out.
Gentleman, having a day at the races is not just about putting a few bets on the horses anymore, well, has it ever been?
Fashion at the races is almost more important than the horse racing itself, and has been known to take centre stage.
It doesn't matter if it's the first time you're going, it's an annual tradition for you and your friends or if you're a seasoned veteran, this is one event where nailing the style is key.
There's always been a lot of emphasis on what the ladies are wearing, and who'll have the best or most outlandish hat, but men's style is just as important.
Knowing what to wear to the races is important, and you should be as stylish as your female counterpart.
Let the ladies bring the glamour, and the gents bring the style.
It's time to get suited and booted!
The Dress Code At Horse Racing Festivals
I'm not talking about the fashion rules just yet, I'm talking about the actual dress code or guidelines different festivals and events have in place.
They will differ, they can even differ on the day you go, or even the enclosure you are looking to enjoy your day at.
Some are a bit dressier, some a bit more casual, so to get the anxiety out of the way it's best to check their own fashion advice on what is and isn't allowed.
Going to the races has always been a bit of a fashion event in it's own right. There's ladies day for the girls, with the best dresses, outfits and of course hats of fascinators.
When it comes to men, it's time to suit up and dress to impress.
What To Wear At Royal Ascot
One of the most important horse racing meetings in the calendar, and has a dress code to match. This very much depends on which enclosure you will be going to, with some having more strict and traditional dress codes than others.
If you're going to the Royal enclosure, gentlemen are required to wear a black or grey morning suit which includes a waistcoat and tie (no cravat), a black or grey top hat, black shoes with socks.
The Queen Anne enclosure dress code requires a suit with tie, shoes and socks, with the village enclosure requiring a smart jacket, collared shirt and tie.
The Windsor enclosure is the least formal but still requires you to be smart, with a jacket, shirt and trousers, but there's no formal dress code.
It goes without saying that sportswear such as football shirts are not allowed anywhere, along with fancy dress. You can read more on the Royal Ascot dress code here.
What To Wear To The Cheltenham Festival
The Cheltenham Festival is one of the key dates in the racing calendar, and with it being in March, weather can play a part in your clothes.
The good news is there's no formal dress code, but if you want to look the part, men usually wear suits around the club enclosure and hospitality areas.
Fancy dress is permitted in March but you can be turned away at their discretion. This is however a guide to looking your best, so a suit is always going to be advised around here. You can find out more on the official Cheltenham website here.
What To Wear To The Grand National
If there's one day in the racing calendar which everyone looks out for, it's the Grand National. The race at Aintree is the jewel in the horse racing crown, even if you're not a racing fan, it's tradition to have a bet every April.
The weather can be as unpredictable as trying to pick out a winner, but there's plenty of ways you can keep stylish. The televised event means that all eyes could be on you, so it's even more important to look your best, as everyone else will be.
There is no formal dress code at the Grand National at Aintree, but sports clothing and fancy dress is not permitted. Wearing a really good fitting suit is something you should definitely be thinking about, the classic colours of grey or navy will never go wrong.
If you're into pea-cocking this is one of the events to do it at, wearing patterns or colours could be considered, with stand outs such as greens, reds or beige. Another option could be separates, which is wearing a different colour blazer to the trousers, just make sure they compliment each other.
You can read the official dress code guidance here on the Grand National website.
Suits For The Races
When it comes to horse racing attire, the most obvious thing to wear is a suit. A day at the races should be fun, and you don't want to look like the same as you do every day in the office.
You can wear something which is a little more bolder or brighter than your usual black suit you may wear at work.
It's the perfect opportunity to show off your own personality and add a bit of style and colour to an outfit, and a great excuse to get dressed up.
You can try different colours such as plum, light or dark blues, cream or beige colours will also work well in the summer and give you more of a lighter look.
You can look at something patterned, rather than a plain grey colour, try a modern check pattern in a mid grey colour.
In the Summer and warmer months, you can opt for wearing a linen suit, which will keep you cool while still looking effortlessly stylish. If you're buying for versatility, a 100% wool suit is the perfect fabric to select.
Mix And Match Jacket And Trousers Colour Combinations
Separating the colour combinations is something which is really exciting and could very well set you apart from the rest of the crowd. It means exactly what you think it does, simply wearing a different colour bottom to top.
So that's a different colour jacket to the trousers. This type of tailoring and fashion has become increasingly popular and is a trend I personally love, especially for the summer seasons.
For this to work you have to make sure that you find trousers, a shirt and a jacket which compliment each other well, which is not always an easy task.
Using core colours is a good way to make sure everything matches up well; Dark blue or navy trousers should work with a grey jacket, to finish off with a light blue shirt.
On the flip side, some light beige trousers with a navy jacket and a classic white shirt will work well too.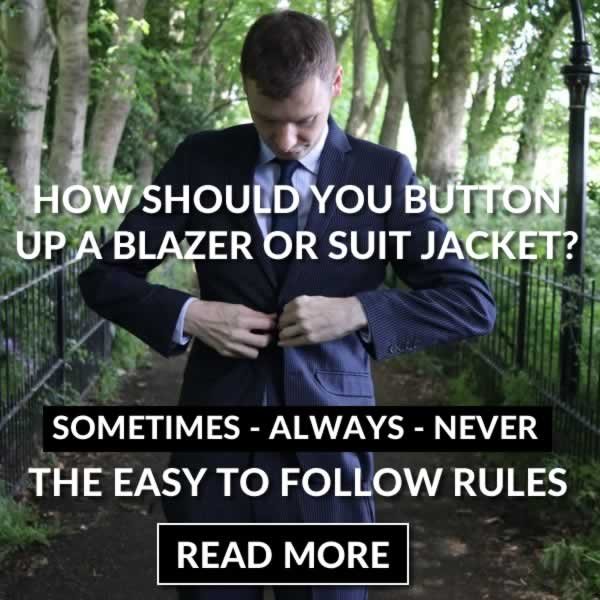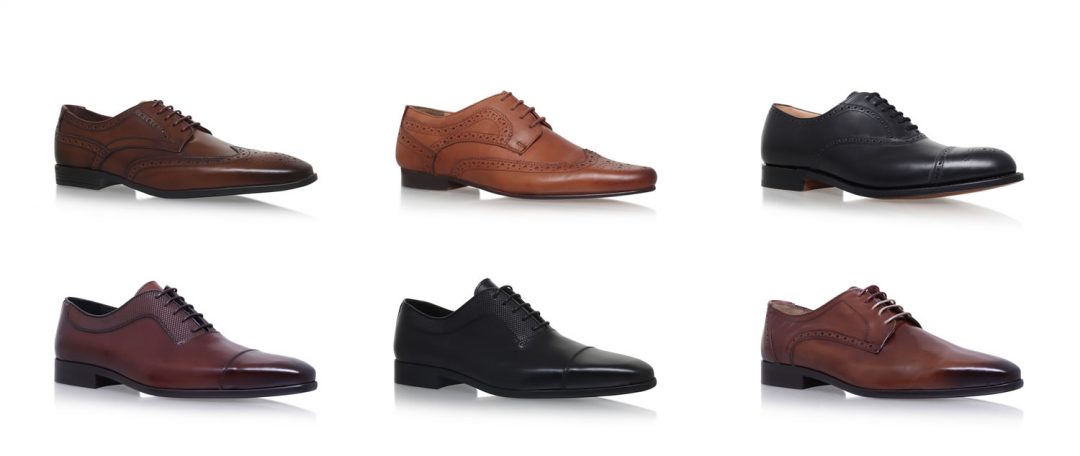 Smart Shoes from Kurt Geiger
Footwear – Keep It Smart
Your footwear should be smart, so we're talking shoes, not trainers, not even smart ones. That said, it doesn't mean they have to be boring. In terms of colour and style they should be fitting with the rest of your outfit.
If you're wearing a suit you may want to keep it smart with a pair of plain black or brown Oxford's or Derbies which will keep the tone of the outfit smart and slick.
If you're going for a more colourful look with separate jacket and trousers or chinos, you could try a pair of brogues which can still be smart but inject some colour into your footwear, or a pair of smart suede shoes.
Read the guide on men's shoes.

Shirts – Stick To Timeless Colours
If you're going to inject some colour into your look with the suit/jacket/trousers, you'll want to calm down the colour palette and neutralise your look with a shirt in a timeless colour which will keep you looking distinctive but not like you're over doing it.
Timeless colours include white, greys and blues, match these up with the rest of your outfit. A bright white shirt will go with almost anything, if you have any doubts, and it will set it up nicely for a tie.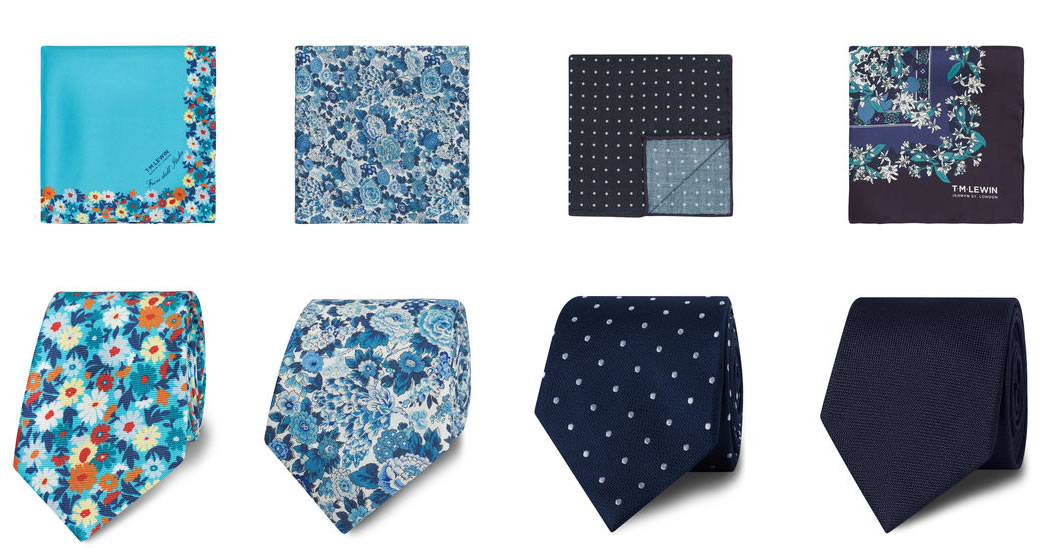 Don't Forget A Tie And Pocket Square
Being smart is all in the little details, so you should not neglect them. You'll want a tie to go with your shirt and jacket combination, so make it a good one. Again, just because it's quite a formal piece that doesn't mean it has to be plain and boring.
Go for something with a colour which compliments the shirt and jacket, inoffensive patterns and stripes are a really good idea and add more of an edge than a plain tie would.
You'll want a pocket square too, depending on the rest of the outfit you can go for the simple but classic square fold, which is as easy to do as it sounds.
If your outfit is understated you can dress it up with a distinctive pocket square, which can create a real talking point and add a touch of uniqueness.
Remember that you can go for a matching tie and pocket square, or for even more individuality, you can get two which compliment each other (as well as the suit) but don't match.


Accessories – A Watch And Sunglasses
Watches are for men what a diamond ring or expensive handbag is to a woman. It's one of the only pieces of jewellery or accessories we wear, and I think some investment should be made in getting a really good, man's watch.
The choice to make when it comes to watches, is to wear a dress watch to go with your smart suit. These come with a leather strap more often than not, with a simple and classic face.
You can spend as little as £100 on a nice minimalist watch, a few hundred on a good watchmaker, with prices going up to the sky for a luxury timepiece.
When it comes to sunglasses, a good pair of Ray Ban are timeless and will last for years to come. A good pair of aviators or clubmaster sunglasses could be worn, and always look stylish.
Can You Wear Shorts?
One of the biggest questions is can you wear shorts to horse racing events? It's a good question, the short answer is it depends.
Shorts can sometimes be permitted, but this depends on a few factors, those being: The race event venue, the paddock you're in, the weather and of course the dress code.
If there is a dress code then you must adhere to that. Many race meetings will have different dress codes for different paddocks and enclosures, some more strict than others.
There has been a more acceptance of less formal clothing over the years at some events. Some, such as York Racecourse, do permit men wearing shorts.
But don't just turn up wearing a pair of swim shorts. You should wear smart shorts such as tailored shorts which compliment the rest of your outfit well. You can read my guide on the best shorts for men, and head to the smart shorts section for some tips.
What To Wear To The Races When It's Cold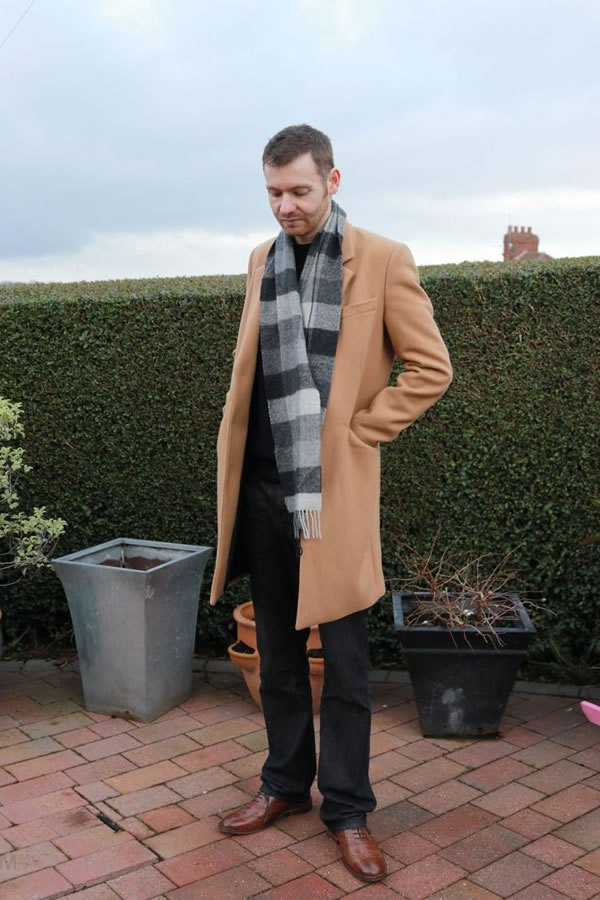 If you're going to the races when it's cold, you might be wondering what to wear. In the horse racing world there's plenty going on in Spring and Winter, and these months can get a bit chilly to say the least. It could be raining, windy or just freezing cold.
For example the Cheltenham festival takes place in March, which can have unpredictable and variable weather conditions. With that said, the dress code is more relaxed, and you'll be able to wear something more appropriate, if the weather conditions are a bit on the cold side.
To maintain a smart look, you can go for an overcoat. This will keep your look smart while also keeping you warm.
Go for an overcoat which compliments your suit colour, you could  wear a camel overcoat, or choose something a bit darker such as black, grey or navy blue.
For footwear, it could be preferable to go for a pair of Chelsea boots. These are the smartest boots you'll find, and are almost like shoes, but are ankle length.
You can keep yourself warm by wearing a scarf along with the suit, which will add some detail to your overall look, and will not look out of place in the Winter.
What To Wear To The Races Casual Outfit
You want to go to the races but you're not a formal dress kind of guy? There could be some more casual outfits you can wear to the races.
Casual is of course subjective, and as already mentioned throughout this article, it's always best to check the dress code of any horse racing meeting you're going to.
Having said that, there could be more casual options for you to choose from.
The key here is to get the basics right. To fit in with a more casual look, you can opt for a simple outfit, which could be the following:
Clean plain shirt
Blazer jacket
Pair of trousers or dark jeans
Smart or casual shoes (Derby, Oxford, brogues or similar)
Some race events will even allow fancy dress, but this is at their discretion, and only certain meetings in certain places/paddocks.
Verdict
Whether you choose to play it safe and elegant with a nice fitting blue suit, or you go down a more colourful look with separates, remember you're there to have fun.
Think about the outfit as a whole rather than single pieces, making sure the colours of different pieces work well with each other.
Men's Race Day Outfit Ideas And Inspiration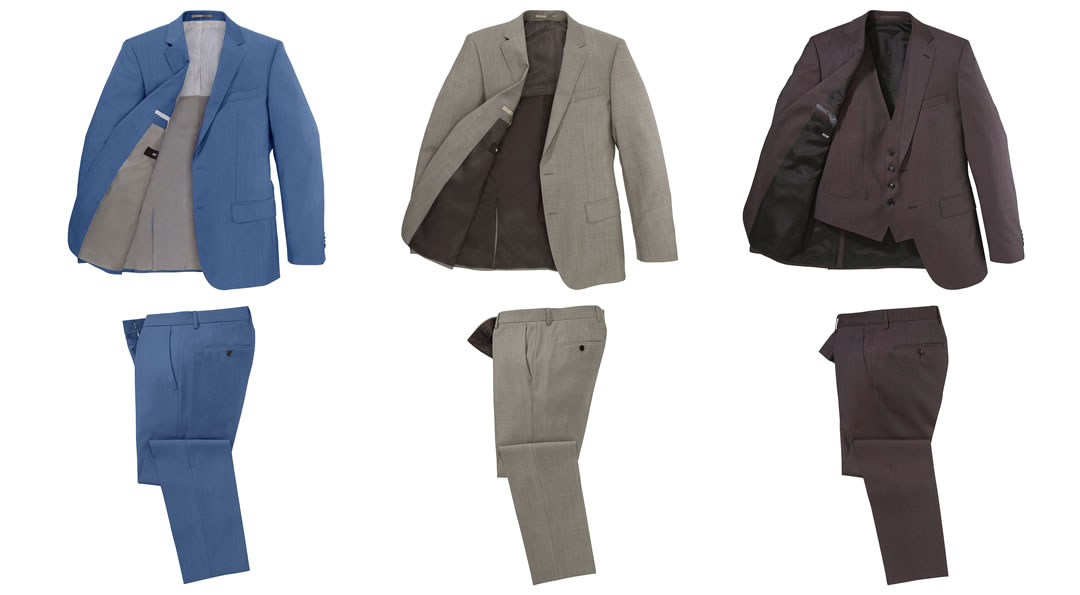 What To Wear To The Races: Men
Fix up look sharp – Wear a suit
Make sure you're grooming is on point
Make sure you're smelling good with your best scent
Winter racing event? Wear a smart jacket or overcoat
Get the details & accessories right: Watch, cufflinks, tie, sunglasses
Summer Horse Racing Event? Wear a lighter colour suit, or wear "separates", different colour trousers & jacket.
In summary, the perfect outfit to wear while going to watch the horse racing comprises of:
A suit – Any colour, or if it's the summer, separates which consists of a blazer and complimenting trousers
A smart shirt
Smart shoes – Oxford or derby shoes (Chelsea boots acceptable in Winter)
A dress watch
Tie
Pocket Square
Sunglasses – if you need them
A pea coat or overcoat in the Winter if it's cold
The Major Horse Racing Events In 2023
Now you know what to wear, here's a rundown of the biggest horse racing events for 2023. Remember that different festivals, meetings and events may have different dress codes, so it's better to check up before you go.
March
Tuesday 14th March – Friday 17th March: The Cheltenham Festival. dress code
April
Friday 7th April – All Weather Championships Finals Day, Newcastle
Thursday 13th April – Saturday 15th April – Randox Health Grand National, Aintree. dress code
Friday 21st April – Saturday 22nd April – Coral Scottish National, Ayr
Saturday 29th April – Bet365 Jump Finale, Sandown Park
May
Wednesday 10th May – Friday 12th May – Boodles May Festival, Chester
Wednesday 17th May – Friday 19th May – Dante Festival, York
Saturday 20th May – Al Shaqab Stakes Day, Newbury
Friday 25th May – 27th May – Summer Social, Haydock Park
June
Friday 2nd June – Saturday 3rd June – The Derby Festival, Epsom Downs. dress code
Thursday 22nd June – Saturday 24th June – Royal Ascot, Ascot. dress code
Thursday 29th June – Saturday 1st July – Northumberland Plate Festival, Newcastle. dress code
July
Friday 7th July – Saturday 8th July – The Summer Festival, Sandown Park
Thursday 13th July – Saturday 15th July – Moet & Chandon July Festival, Newmarket
Friday 28th – Saturday 29th July – King George Weekend, Ascot
August
Tuesday 1st August – Saturday 5th August – The Goodwood Festival, Goodwood
Thursday 24th August – Saturday 26th August – Welcome To Yorkshire Ebor Festival, York
September
Thursday 7th – Saturday 9th September – Sprint Cup Festival, Haydock Park
Wednesday 14th September – Sunday 17th September – St. Leger Festival, Doncaster. dress code
Thursday 21st – Saturday 23rd September – Ayr Gold Cup, Ayr
Thursday 28th – Saturday 30th September – Cambridgeshire Meeting, Newmarket
October
Friday 13th October – Saturday 14th October – Dubai Future Champions Day, Newmarket
Friday 20th October – Saturday 21st October – British Champions Day, Ascot
Friday 27th October – Saturday 28th October – Autumn Afternoon Meeting, Doncaster
November
Friday 17th November – Sunday 19th November – The Open, November Meeting, Cheltenham
December
Friday 1st December – Saturday 2nd December – Winter Carnival, Newbury
Friday 8th December – Saturday 9th December – Tingle Creek Christmas Festival, Sandown Park
Tuesday 26th – Wednesday 27th December – Christmas Festival, Kempton Park
Sunday 27th December – Welsh Grand National, Chepstow