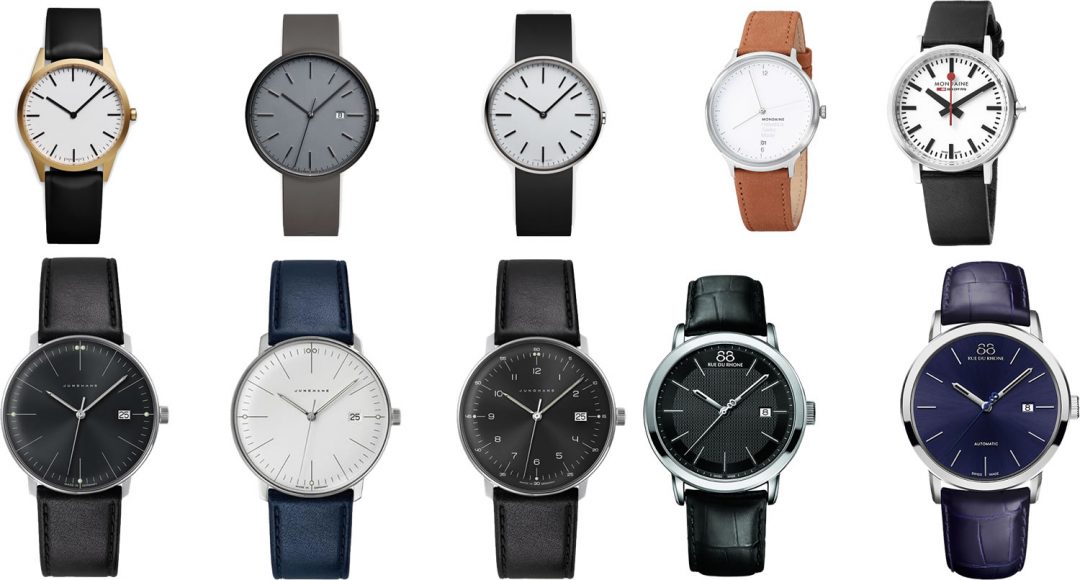 Minimal style and minimalist fashion has become increasingly popular over the past several years, and it's something I do love too.
Minimalism is all about clean lines, clutter free and monochromatic aesthetics. It's all about a minimal and simple but brilliance of design.
Minimalist watches has taken on a whole new market, with some start up brands moving into this market, and other's capitalising on it's popularity.
What are the best minimalist watches in 2021? Here's my guide to what you should be looking for.
Minimalist Watch Brands
There's a whole lot of brands selling watches with a minimalist design aesthetic. These come in at different price points as well as different types of brands.
From the indie start ups to the fashion brands, then you've got the traditional watchmakers and finally the luxury timepiece brands.
Some of the minimalist watch brands we're looking at are:
Daniel Wellington
MVMT
Larsson And Jennings
Timex
Skagen
Shore Projects
Tissot
Mondaine
Uniform Wares
A minimalist watch is a watch with a basic, clean and simple design which is very elegant to wear. They are available at different price points, with different brands putting their own take on minimalism for timepieces.
Cheap Minimalist Watches – Under £100
Cheap is a subjective word, and so is affordable, let's take a look at some of the minimalist watches you can own without breaking the bank. You'll not be getting anything spectacular for your money in terms of Swiss build or movement, but it will look the part.
If there's one thing I've learned while writing this lifestyle blog it's that people love a bargain if they're getting the same or similar style.
Something to mention is that all cheap watches are more or less the same. A bold statement to make, when I say that I am talking about the fundamentals including the materials and workmanship which goes into the watchmaking.
So it doesn't matter too much whether it says Armani, BOSS, DW, D&G etc. you are really paying for that name or design, the actual quality will be more or less the same, which isn't really bad at all.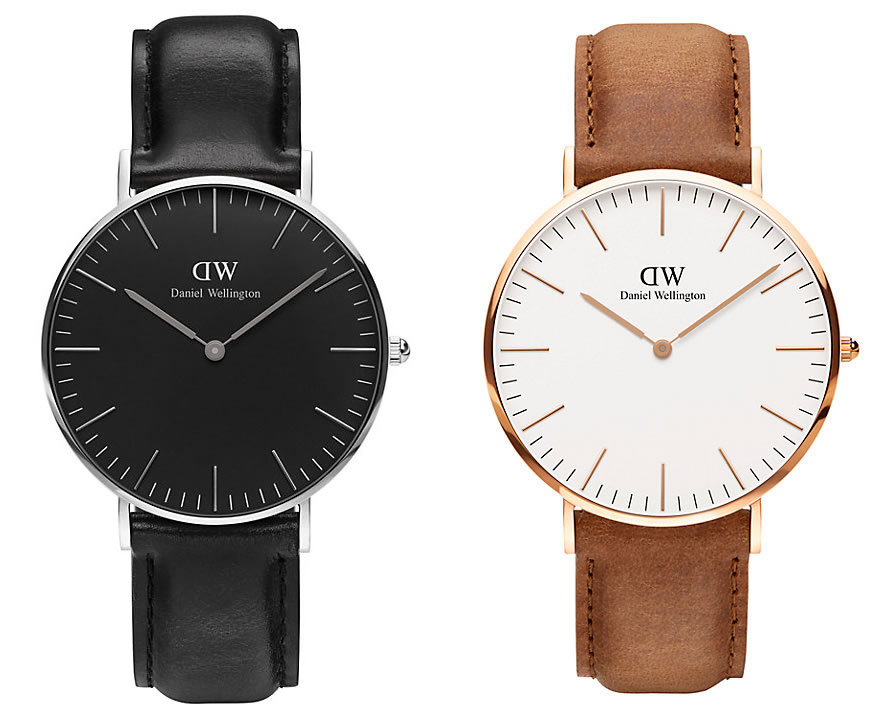 Daniel Wellington
There's probably no better way to kick off this list with the brand that is Daniel Wellington. From Sweden, it oozes that Scandi-Style which is all about simplicity and minimalism.
They've gained popularity over the past 4 or 5 years, and last year launched their black edition, which looks every bit as good as the original.
With various case sizes for men and women, you can pick up one of these for around £80 if you shop around. As the black models are newer they'll be slightly more expensive, expect to pay around £130.
If you like this style but want a different brand, there's plenty of alternatives to Daniel Wellington you can choose from.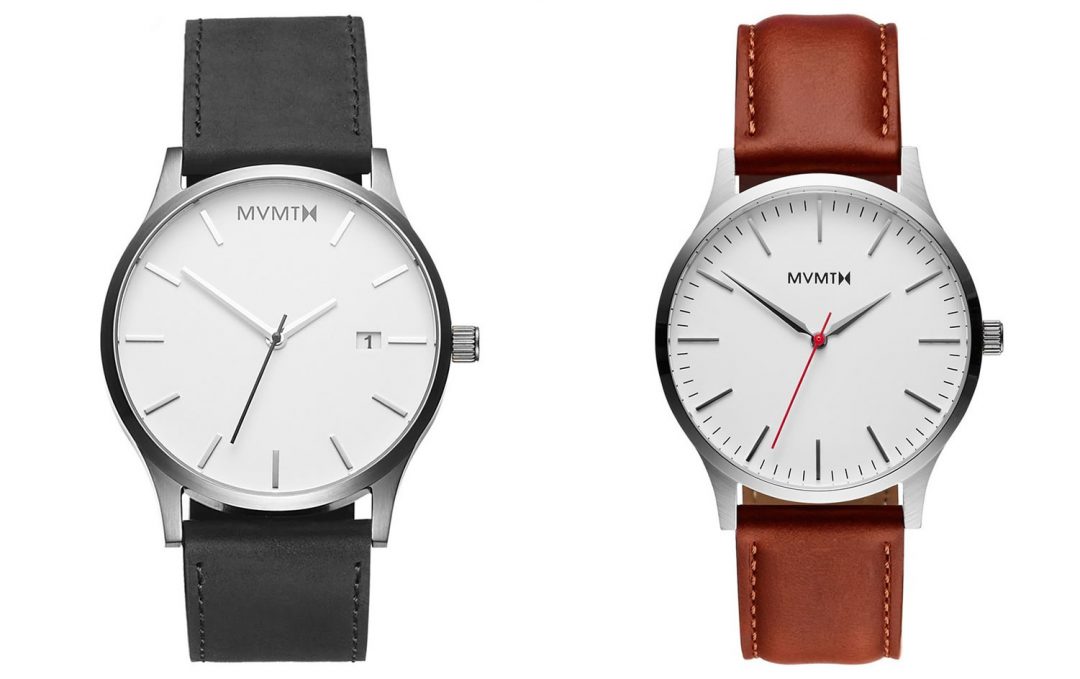 MVMT
MVMT aka Movement are a brand from the USA which was started on the crowd funding site, IndieGoGo. Their watches come in a variety of styles and watch straps, including genuine leather, and come a with Japanese Miyota quartz movement.
The watches start at £95 and go upwards to £120.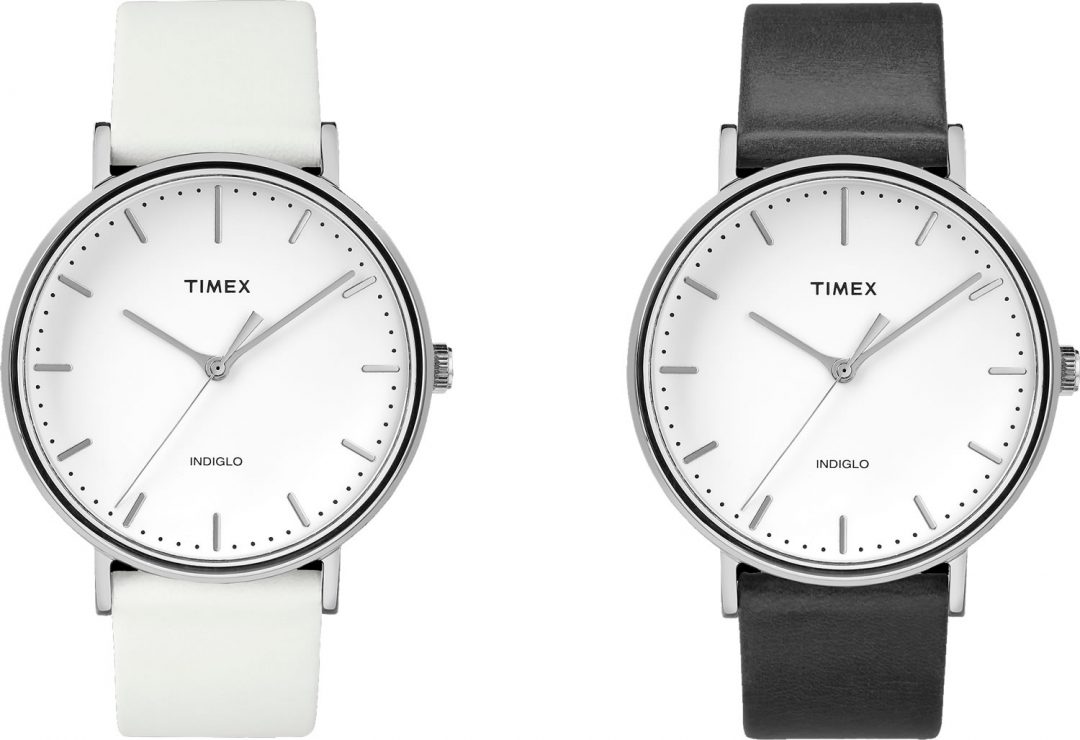 Timex
Timex is a brand you will have heard of, they have plenty of history when it comes to watches, and as for minimal design at an entry level price, they have plenty on offer. The Fairfield is a watch which I really like the look of, and it has everything covered when you're looking for a watch with no fuss.
In a range of different colour options, I really like the all white version, as well as the watch coming with either a black or blue leather strap. It's a very reasonably £69.99.
Minimalist Watches Under £150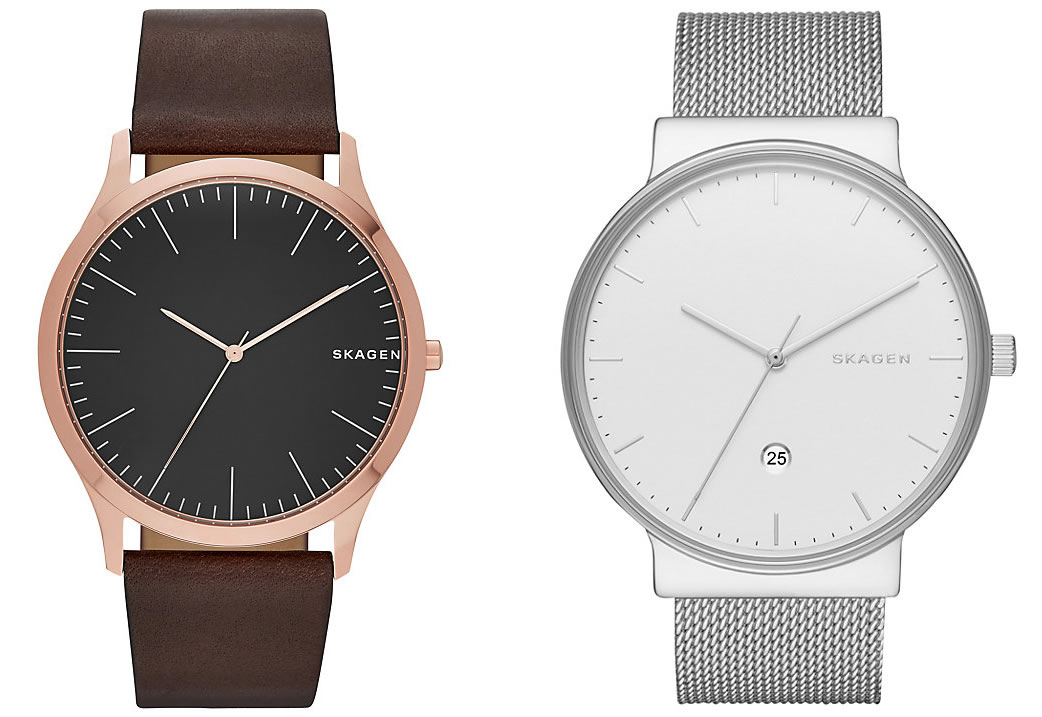 Skagen
Skagen is another brand from Scandinavia, this time from Denmark, and it shows. The clean and no-nonsense design can be found in a large selection of their watches, including the two I've picked out above.
The first one is the Jorn with a classic leather strap, rose gold coloured case and black dial, which comes in at around £100. The second is the Ancher date and stainless steel strap, white face with date window and silver hands. This one comes in at around £132.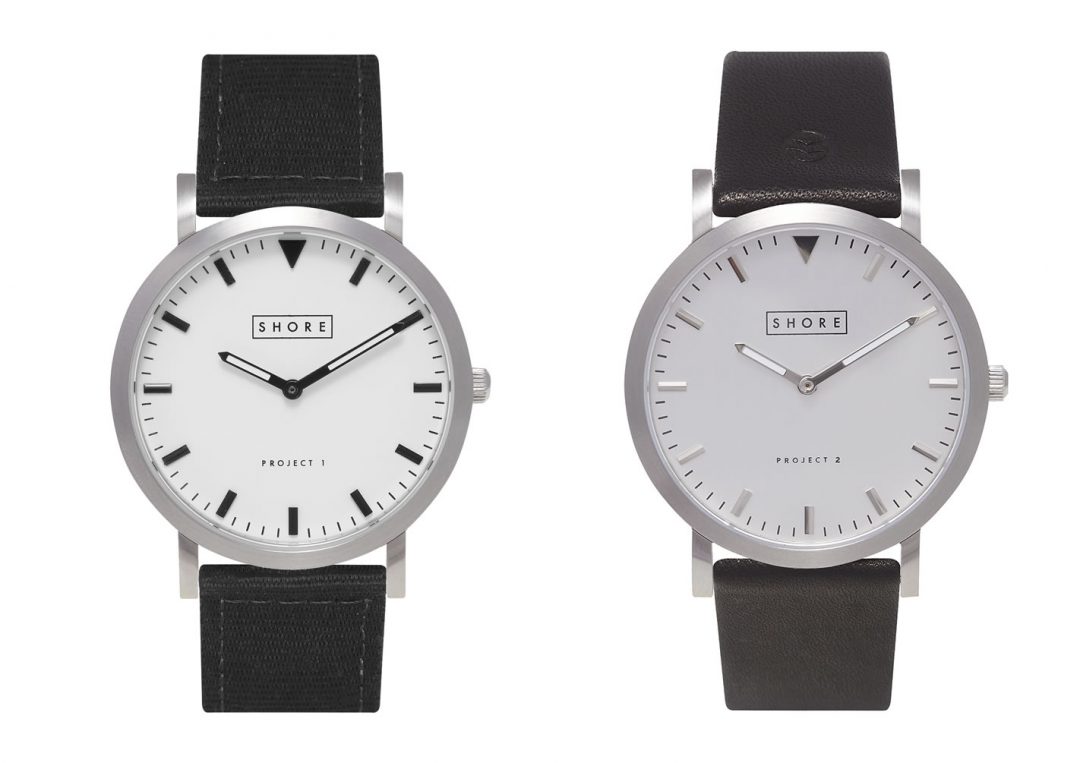 Shore Projects
Oh I do like to be beside the seaside…Shore Projects message is watches made inspired by the British Seaside, and they feature a strap which can be easily changed which include some classic and traditional watch colours, as well as pastel hues which remind me of the beach, ice cream and everything Summer.
These watches not only look the part, but come with Sapphire crystal glass along with a Miyota movement. The Project 1 Poole is on the left and comes in at £115, while the Project 2 model, the Cowes comes in at £125.
Minimalist Watches Under £200
Tissot
Tissot is a watch maker with a fantastic history of crafting fine timepieces using the best materials. They're Swiss made, so have all the hallmarks of quality.
Some of their watches are very expensive, however if you want to get into the luxury watch market and like a minimal style, they have a few great pieces to get you started.
My pick is the Tissot Everytime Large, which is a nice 42mm in size. It comes with a Swiss Quartz movement, ETA 902.101, and has a leather strap. You can pick one of these up for £200 here.
Larsson And Jennings
With a combination of English heritage and Swedish style, Larsson and Jennings has found a formula which epitomises minimalism watch style. They've been on my radar for a few years, the clean style and branding is backed up with Swiss movements, including a line of their watches with an automatic movement.
For a smaller budget, you can get the same style with a Swiss quartz movement, the Lugano 40mm watch is my favourite style, and comes in at £215.
I got myself a Larsson And Jennings, and you can see it in action here.
Seiko
Seiko is another great watch brand with a lot of history when it comes to watches. If you've ever searched for a watch, you've probably come across Seiko. As with many brands, they have a lot of watches at different price points.
This one is not the most minimalist in terms of design, but still has a clean look. It uses a Japanese movement, has a metal strap and can be yours for £179 here.
Citizen
Citizen is another name in the watch game you're probably familiar with. They make reasonably affordable watches with their Eco-Drive technology. This one looks pretty minimal and decent, with it's silver face, markets and pointers. You can get it for only £139 here.
Minimal Watches Under £300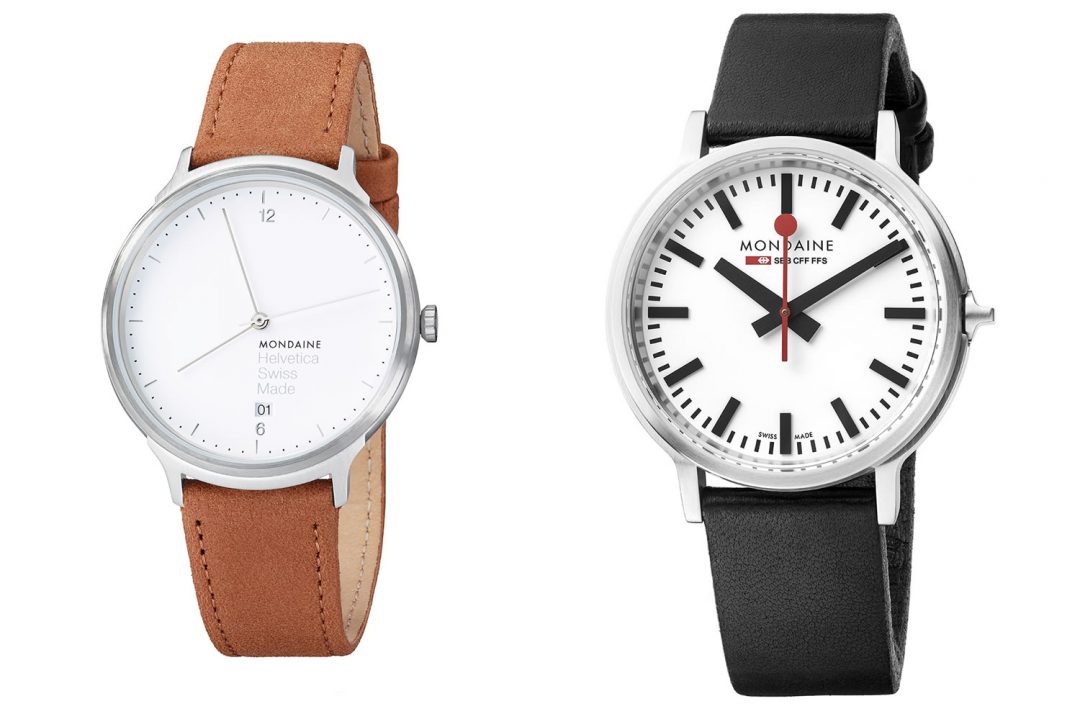 Mondaine
With designs inspired by Swiss clocks, Mondaine make exquisite timepieces which are expertly crafted and a thing of beauty to look at. With clean and simple design and Swiss movement and craftsmanship, it's a watch brand you should take notice of.
I really like the Helvetica watch, with a white face and silver detailing giving it a minimalist look, it comes in at just under £300 from John Lewis. The Swiss clock face watch, which is called simply elegant gives your wrist a uniqueness and sense of familiarity, the large version comes in at £285.
Minimalist Watches Under £500
Frederique Constant
Frederique Constant is a Swiss watchmaker with a lot of heritage in timepieces and watch making. They are considered a luxury watch supplier at quite an affordable price point. If you're looking for some Swiss quality, this is one to consider.
This piece fits in with the minimalist style perfectly. It is quartz but made in Switzerland, and comes with a leather strap. You can get this for only £395 here.
Tissot Carson Premium Powermatic 80
I had to include this brand new watch from Tissot, the Tissot Carson Premium Powermatic 80. I love the simplicity of it, but it still makes a huge statement. It has the powermatic Swiss made movement Tissot is famed for, a leather strap and sapphire crystal glass.
I love the black on black face and leather, with the details in silver which really stands out. The date window is centred at the bottom which is another feature I love.
It comes in at £495 which is a good price for a watch of this calibre. Check it out here.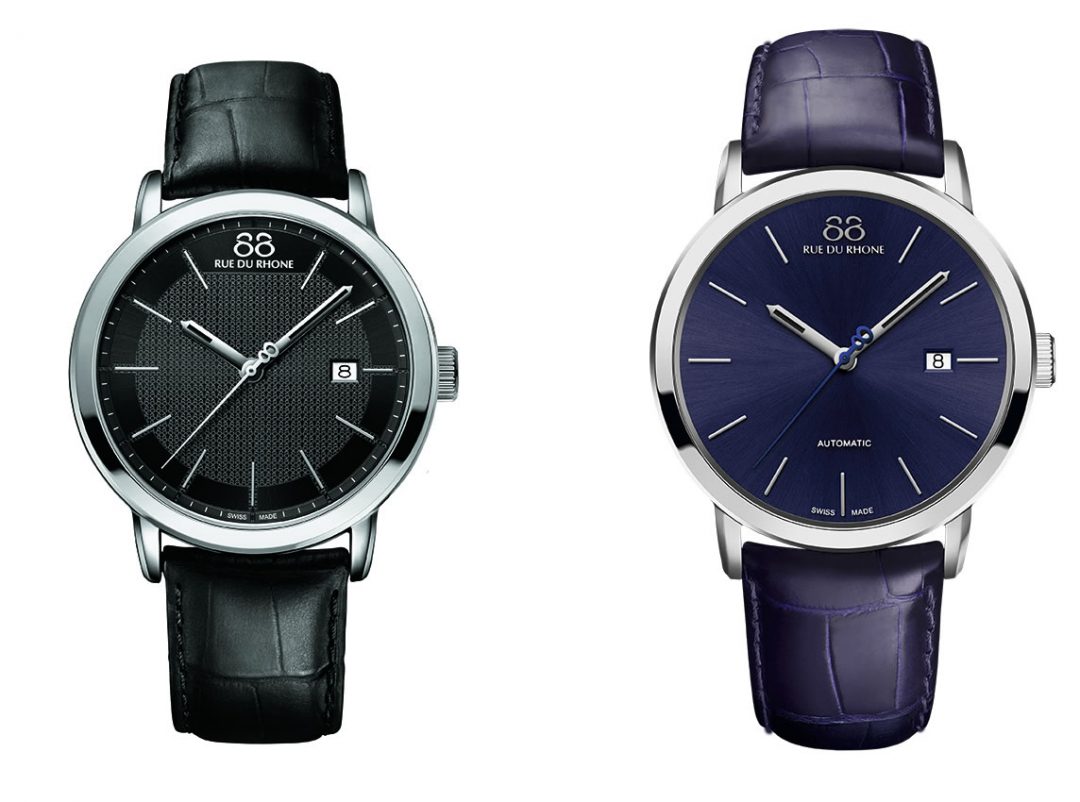 88 Rue De Rhone
Swiss brand 88 Rue De Rhone has tradition and watch background, and was founded by grandson of the famous Swiss watchmaker Raymond Weil, Pierre Bernheim along with Juliane.
A newcomer in the Swiss watch scene, it's all about entrepreneurship, risk takers and creators, and the result is some seriously good looking timepieces.
My favourites from their collections include the Double 8 origin 87WA130010 in black which comes in at around £340, and if you want to push the boat out, the Double 8 Origin 87WA154210 comes in blue and silver, with a Swiss automatic movement and will set you back just over £700.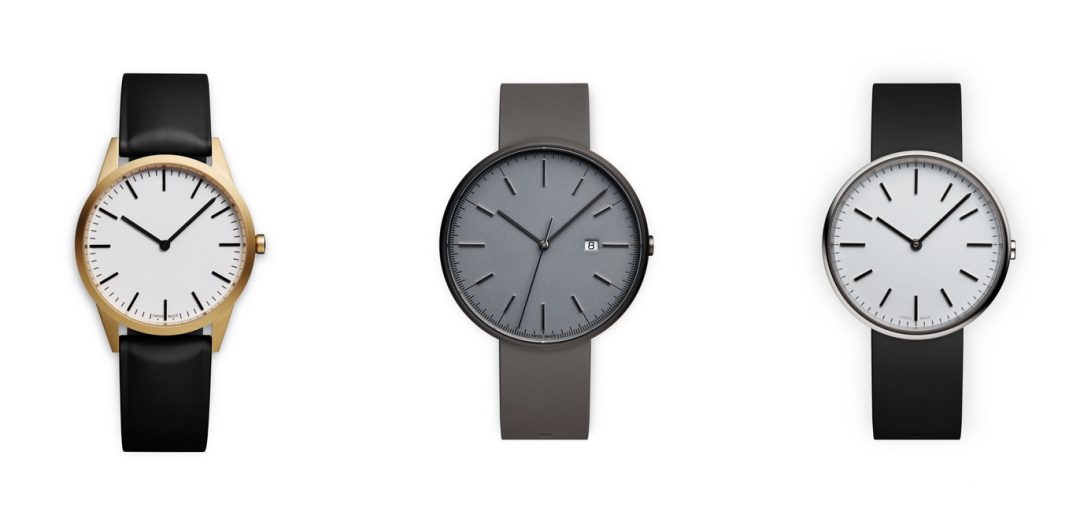 Uniform Wares
Assembled in Switzerland, hand finished in London, Uniform Wares are a watch brand which really do optimise simplistic style and minimalism. Unlike many of the other brands, the watches come with rubber straps, which are premium Italian Nitrile rubber, durable and perfect for any wrist.
The design are simple but striking, once you see one you know you're looking at a Uniform Wares watch.
I have picked out the C35 which is a smaller case watch, coming in at £325. Second is the M40 with a 40mm case in PVD grey, this comes in at £325. Finally the M37 is 37mm in size and is a monochromatic black and white style, priced at £225.
Minimalist Watches Under £1000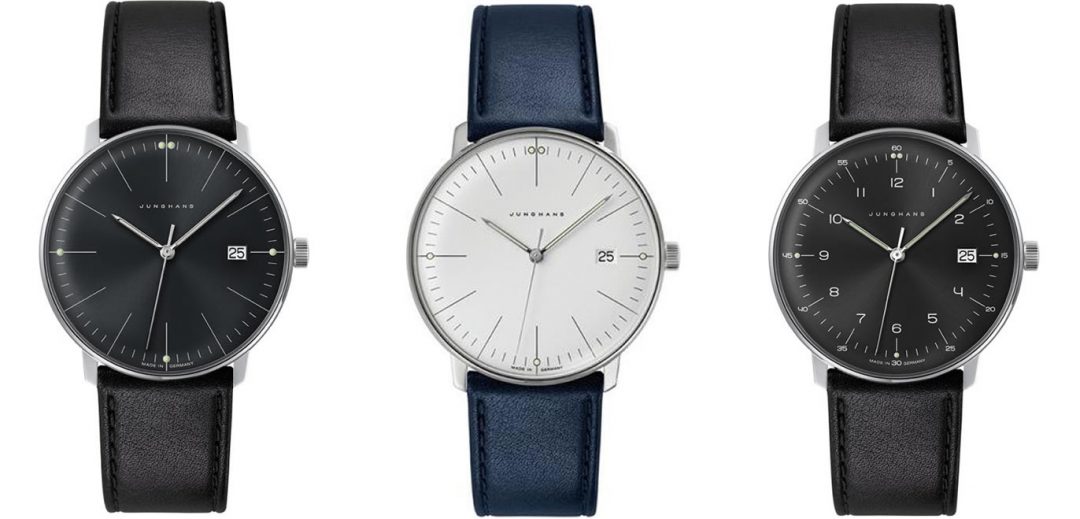 Junghans
German precision and craftsmanship, Junghans has been in business since 1861 producing the finest watches which go way above £2000. The good news is that the entry level watches are a minimalist style, you get this high level of workmanship and a traditional watch company in a timepiece starting at £500.
The models you need to keep an eye out for are the Max Bill which come in at around £500. Other watches are available with automatic movements, which are more expensive.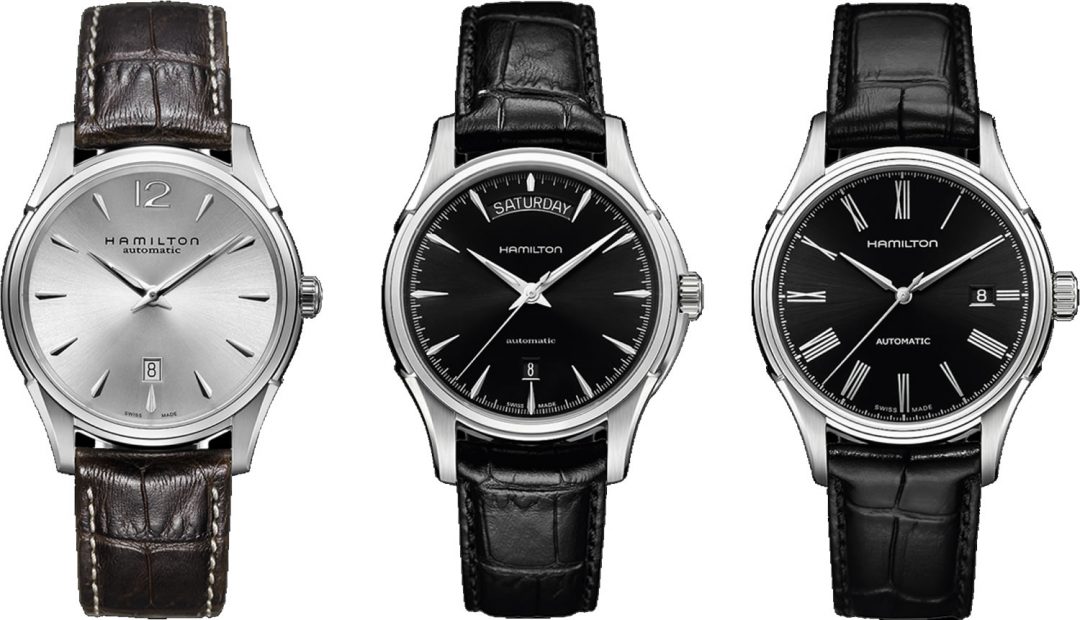 Hamilton
Coming from Pennsylvania in the USA back in 1892, Hamilton is a classic watch brand which has some great traditional timepieces, alongside some more modern and up to date designed watches. Another genuine watch brand with history and heritage, quality is the key, with pieces starting at around £400 rising to around £1500.
Three which caught my eye were the Jazzmaster Slim Auto which comes in at around £600, the Jazzmaster Day Date which is around £600, and finally the American Classic Valiant Auto which is around £500.
Fashion Watches With Minimal Style
There are some mainstream fashion brands which you'll have heard of which don't focus on watches and offer a wide range of clothing, fashion and accessories, including watches. Here's a few brands which have some really nice affordable options if you're looking for a more fashion-known brand for your wrist.
If you prefer a well known name in the world of mainstream style over a classic watch brand, here's a few which are putting out some nice minimal watch designs.
Fossil
Fossil are a mass manufactured watch brand, and have some nice minimalist watches at an affordable price. This brown watch comes with a brown leather strap, and a nice healthy price at £139. Check it out here.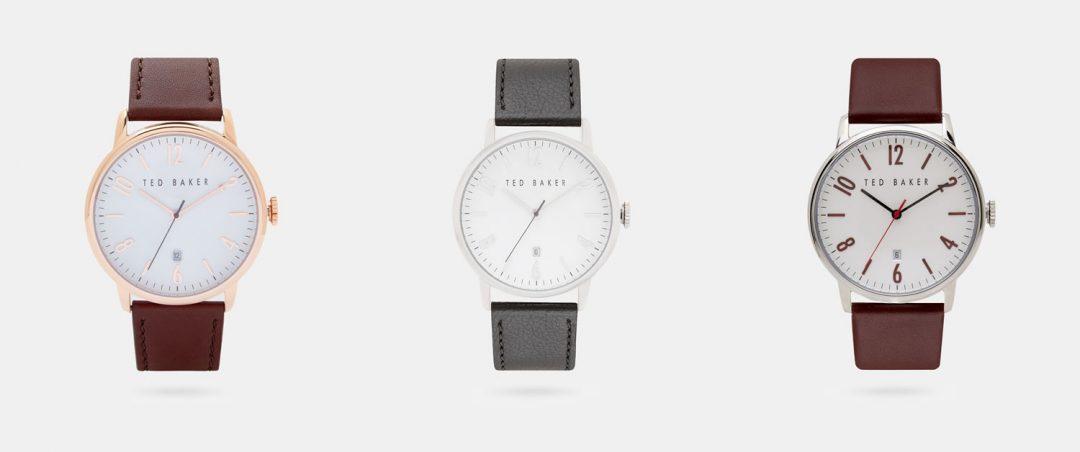 Ted Baker
Ted Baker has some really nice watches with a simple style, and these are all at a really good price point. First up is the Matthew which is £135 and comes with a white face, gold bezel and brown leather strap.
The Adie comes in at £125 and has a white dial with silver detailing and a black leather strap. Finally there is the Clifton for £125 which has a brown strap and brown detailing to match, and has a white round face giving it a crisp look.

Hugo Boss
From mainstream fashion to a higher end style label, Hugo Boss has a large collection of watches from their BOSS range which could fit the minimalist ascetic. The first watch has a Swiss made quartz movement and is a sleek black colour. You can pick this up for £375.
The second has a white face with silver detailing and a brown strap, and comes in at a reasonable £150. Finally the third watch comes with a metal mesh strap with silver detailing and a white face, and costs £139.
Armani Exchange
Armani is split up into so many sub-labels and subsidiaries, there's Exchange, Giorgio, EA, and more, this watch comes from the Armani Exchange line, and I think it's great.
It doesn't get more minimalist then this. The watch comes in a blue stainless steel case which looks great with it's offset white detailing. It has a nice 42mm case which is on the large side, perfect for guys. It only comes in at £149, which is a good price for an Armani piece with this design. Get it here.
What Is A Minimalist Watch
First of all you should understand what this watch type is. For the most part they're usually inexpensive and affordable, and the style is all about the face of the watch. It's plain, with only markers or numbers, simple pointers and sometimes a date window.
Essentially, only the basics you need, definitely nothing technical looking, no chronograph or special divers markings on the bezel. Of course this means they're always analogue, and usually use a quartz movement, as that's the cheapest option (but there's different qualities of quartz movements).
It is definitely style over substance, for the non-watch-snobs at least, movement and build is second or even not considered, it's all about the design. They are versatile, you can wear these on formal occasions, but usually you'll find these who love a bit of Scandi-Style and a smart-casual fashion sense.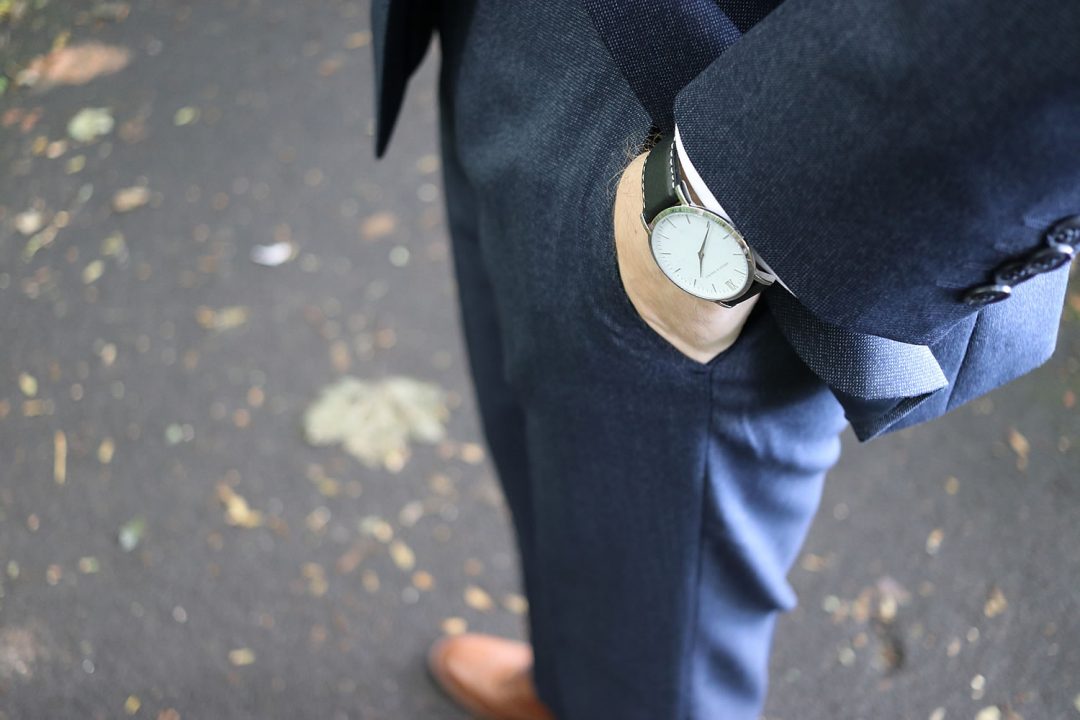 Understanding The Minimalist Watch Brands
Before buying a minimalist watch, you have to understand the brands. This is especially important if you aren't familiar with watch manufacturers, or much about the watch brands in this niche.
You can put them into three categories. These are:
Minimalist start-up watch brands
Fashion watch brands
Traditional watchmakers
Here's what you need to know:
Minimalist startup watch brands can vary greatly in quality. They have been set up in the last 10 years or so, and are more about selling the asthetic and lifestyle of minimalist design. In terms of quality components, they can differ.
Some will offer Swiss or Japanese movements, in some cases, automatic movements. Others may only have Chinese or other cheap quartz movements, and are only selling based on design and branding.
These brands rely heavily on marketing on social media (more on this below).
Next up would be the fashion watch brands. These are household names which you have heard of before. Usually, these fashion brands don't manufacture the watches themselves, and are mass produced, a similar way to other clothes and accessories.
Last up are the proper traditional watch makers. These are watch brands who specialise in watches. They make watches, in some cases movements, and are famous for making watches.
If you're looking to spend a lot of money, these are the brands to go with. Even if you don't have the largest of budgets, if you can get a watch from a heritage watch brand, it's likely to be of better quality. If you're spending a lot, it will also hold it's value more.
Minimal Watches On Social Media – The Social Media Superstars
There's a few brands which are the darlings of social media, they're the social media superstars of the watch industry. This does not necessarily equal quality, but it doesn't mean they're bad either.
You will know I am talking about brands such as Daniel Wellington and MVMT which are synonymous of simple style and people love them for that very reason.
However watch snobs criticise brands such as these as well as the fashion brands, for selling what is basically a cheap watch for a relatively expensive price.
MVMT actually started for this exact reason, and was setup to sell watches without the mark-up on IndieGoGo but you can get watches from the big fashion brands for around the same price-point which it originally tried to bridge the gap in.
However I am not personally condemning these or any of the other fashion watches, in fact I've featured Daniel Wellington on the blog before and considered getting one. I think they are what they are; A nice accessory for a man to wear.
They look the part, and as long as you have an understanding of what is on your wrist, and like it, there should be no problem with owning one of these time pieces.
Verdict
No matter what you're budget, if you're in the market for a minimalist watch there's a brand and style out there for you.
There's plenty of reasons to wear a watch, and a timepiece with a minimalist style is something you can wear every day with almost any outfit.
You can pick up something which looks the part for under £100, and go up to the more expensive timepieces which will get you the same design along with better craftsmanship and Swiss movements.