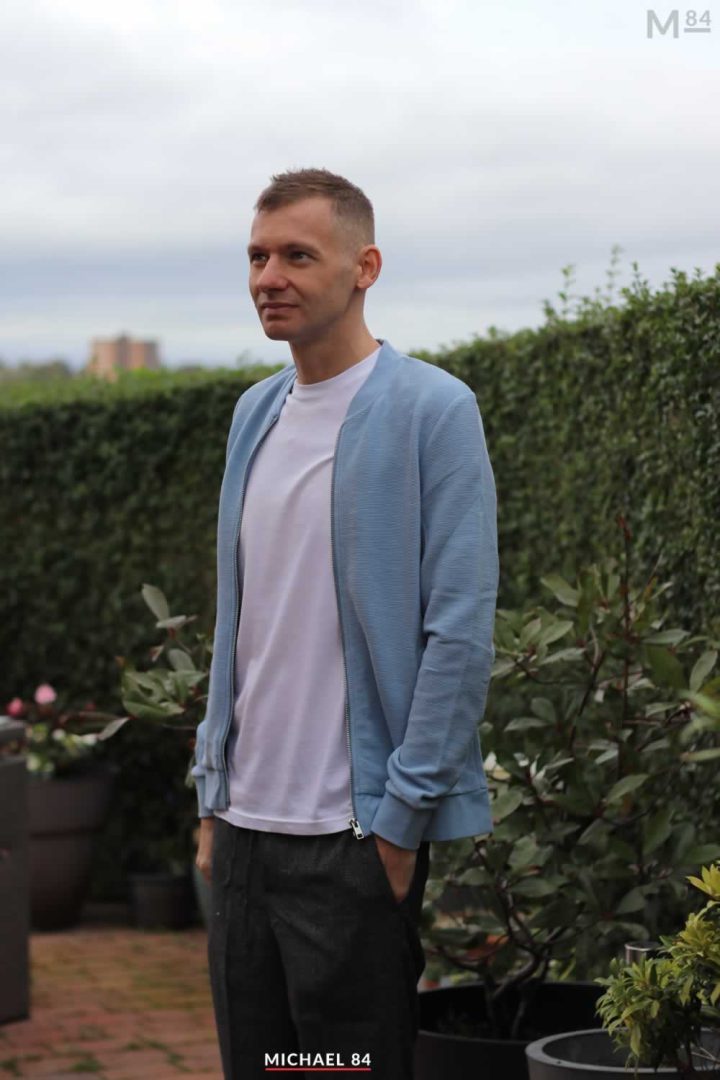 If there's one trend that every guy can jump on right now, it's the joggers style trend. They're super comfortable, casual and are definitely fashionable right now.
Of course it wasn't always like that. Joggers and tracksuit bottoms are often thought of as sloppy, even chavvy, and not something to wear outside of sports.
But, times have changed, casualwear is being embraced more and more, and joggers have been redefined.
If you're into more casual clothing but the baggy sweatpants aren't for you, modern joggers are something you'll want to look at.
What Are Joggers?
Joggers are pants or trousers that are usually made from fine cotton, sometimes sweatshirt material (again cotton) or polyester. They come with an elasticated drawstring waistband, with open or cuffed ankles.
They can be seen as a basic item of clothing. As guys, we've always had a few options when it comes to what we wear on our lower half for our daily outfits. These have largely been jeans and trousers.
We then seen an emergence in wearing chinos, and tracksuit bottoms have usually been reserved for leisurewear.
Joggers are not new, but they have definitely got a new lease of life. They can now be worn as part of an everyday casual outfit without looking sloppy.
If you don't want to wear formal trousers, but want something different to denim, this is wear joggers can come in.
Slim Fit Joggers
I think the best introduction to joggers have been the slim fit joggers. When you think of casual trousers, you'll probably think of baggy, ill fitting pants that look far too big for whoever is wearing them.
Slim fit joggers solves that problem.
Just as other slim fitted clothing has helped a lot of people get better fit clothing, slim fit joggers have brought that to the world of casual trousers.
Patterned Joggers And Printed Joggers
If there's one style of joggers that's really blown me away, it's the patterned joggers.
They look almost like a pair of formal trousers, but of course have that casual edge to them. They're fun and can inject something different into an everyday outfit.
There's some subtle check patterns, monochromatic checks and other prints which look stylish without being over the top.
What To Wear With Joggers
There's plenty of clothes to wear with joggers. You have to get your outfit right, and for that, know the dress code.
We already know that athlesiure is fashionable right now, which means you'll be stylish and on trend with this look.
Joggers are a casual dress code piece. You might be able to get away with wearing them in a smart casual setting, but you'll have to wear the right joggers with the right pieces.
When it comes to dressing for staying in the house, joggers are comfortable clothing to wear at home too. Lounge around in the house in a pair of your favourite sweat pants.
Here's some joggers outfit ideas to get you started on your laid back style journey.
Men's Jogger Outfit Ideas
T Shirt And A Pair Of Joggers
The absolute basic when it comes to pairing joggers, a T Shirt is the way to go. This outfit works best when the temperatures are reasonable, so you'll want to save this look for the spring and summer.
Go for a classic plain T Shirt which could be black, white, navy or grey, and pair with a complimenting colour jogger. Or be bold, go for a bright colour tee along with a pair of black or grey joggers to keep the outfit looking on point.
Sweatshirt With Joggers
When the weather is not great, and in the UK that's most of the time, wearing joggers with a sweatshirt is going to be the go to style.
There's plenty of ways to wear a sweatshirt, and pairing it up with a modern pair of jogging bottoms is a good way to go.
You can create a luxe sportwear look by wearing a designer logo sweatshirt with the joggers.
Alternatively you can go for a plain luxurious style of sweatshirt. This will give you all the style and comfort of a sweat, along with the smarter aesthetic of an unbranded and minimalist sweatshirt.
Hoodies And Joggers
Two items which are often thought of as sloppy, but you can wear them with style. I'm talking about hoodies and joggers. You can dress up a hoodie in a number of ways, and a pair of tailored joggers is one of those ways.
Wear a tailored slim fit pair of joggers alongside a simple hoodie in all black for a smarter take on athlesiure.
Denim Jacket With Joggers
When you need to layer up, wearing a denim jacket with joggers could be the jacket you go for.
When you think of a jean jacket, you'll probably think of a mid blue colour traditional jacket. There are, however, plenty of types of denim jackets to wear.
Swap that for a black denim jacket, team it up with a black T Shirt and wear it with a pair of grey joggers for a casual but contemporary outfit.
Joggers With A Bomber Jacket
If there's a jacket which goes hand in hand with a pair of joggers, it's a bomber jacket. If you're wondering how to style a bomber jacket, this would be a casual option. Putting it together with a pair of slim fit cotton jogging bottoms just seems so right.
Combine a pair of grey joggers with a white T-shirt and finish off with a navy bomber. This outfit choice looks very smart while still being a casual dress code.
Casual Shirt With Joggers
If you prefer a button up top to wear with your joggers, a button up shirt is an option. You'll want to make sure that this is a casual shirt, in-keeping with your lower half.
Wearing a plain shirt is never going to be un-stylish, so is definitely an option. You can also opt for a check shirt, giving the relaxed style a bit of an edge.
Jogger Co-Ords Outfits
Do you want to pair up the same colour joggers with a sweatshirt? This is the co-ords trend you're talking about.
It has gained popularity more and more, and is now seen as a perfectly fine way to put a casual outfit together. It simply means putting together two pieces which are the same colour, mostly casual wear or sports luxe.
You can wear grey joggers with a grey sweatshirt, navy joggers with a navy T-shirt, or other pieces. The key to the trend is making sure that your upper and lower half have the same colour.
Shoes To Wear With Joggers
What shoes do you wear with joggers? Put simply, you don't. You should wear trainers with joggers.
There's plenty of smart trainers to wear these days. For this reason, you should go for a pair of minimalist trainers which look the part. They're usually leather and mostly one colour.
A good guide would be a pair of Stan Smith's from Adidas. They're usually all-white, but they do have other options available. There's plenty of other smart trainers and brands available too.
There's a possibility of wearing more casual shoes such as loafers. However I think that this is a more casual trend, and your footwear should match. I think in the name of casual style and joggers, you should complete the comfort look with some nice trainers over shoes.
How To Wear Joggers
Wear joggers as part of a casual or smart casual outfit
Pair with alternative colours to colour block
Wear with the same colour for a co-ords look
Wear with other casual clothing such as sweatshirts, T-shirts and cotton jackets
When it comes to footwear, wear smart trainers or sports trainers.
Verdict
If you're building a modern smart casual wardrobe with a variety of clothes, a pair of joggers would definitely be a good investment at this stage. You can wear them around the house to lounge around, and wear them out and about in town.
You'll be looking the part while having the ultimate in comfort.