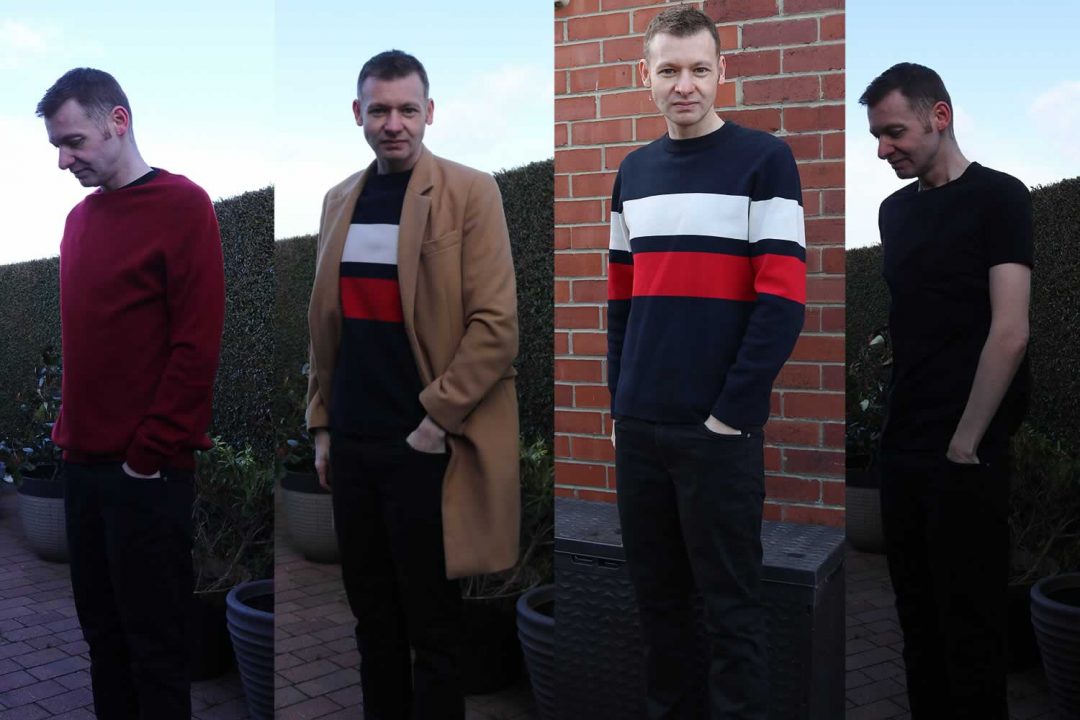 Some people love them, and others think they have no place in a man's wardrobe. I am talking about a good pair of black chinos.
Chinos are a more casual form of trousers, and the good thing about them is that you can get a huge array of chinos in different colours. Therefore wearing a black pair might not be desirable, some even suggesting that you shouldn't own a pair.
Depending on what you wear with black chinos, they could have a point. There's plenty that suggest that pairing black chinos with a white shirt will make you look like a waiter or schoolboy, and I can see where that comes from.
However I like black chinos, and there's plenty of clothes you can wear with them to make sure you look the part.
Here's what you can wear with black chinos which will ensure you pull off this look and look stylish.
Black Chino Outfit Ideas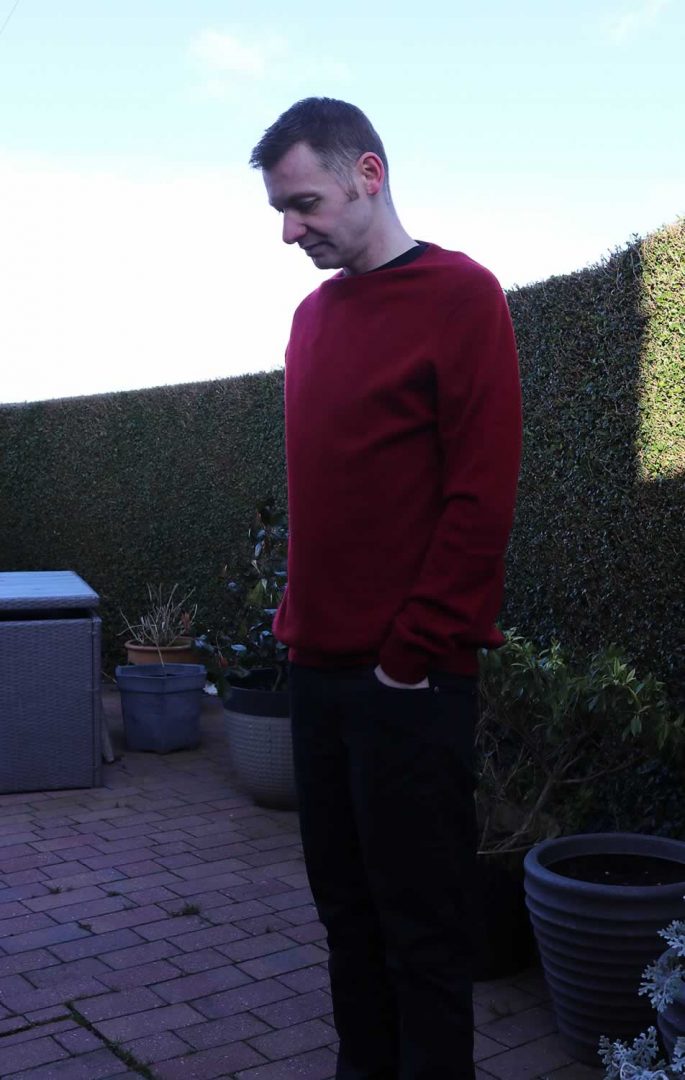 Black Chinos With A Red Sweater
Wearing a red sweater with a pair of black chinos is a colour combination which is really going to work. Red is a very bold colour, and pairing this with the contrast of the black will make the red pop, without standing out too much.
Keep the overall look smart casual by wearing a pair of black brogues, or create a casual edge with a pair of black trainers.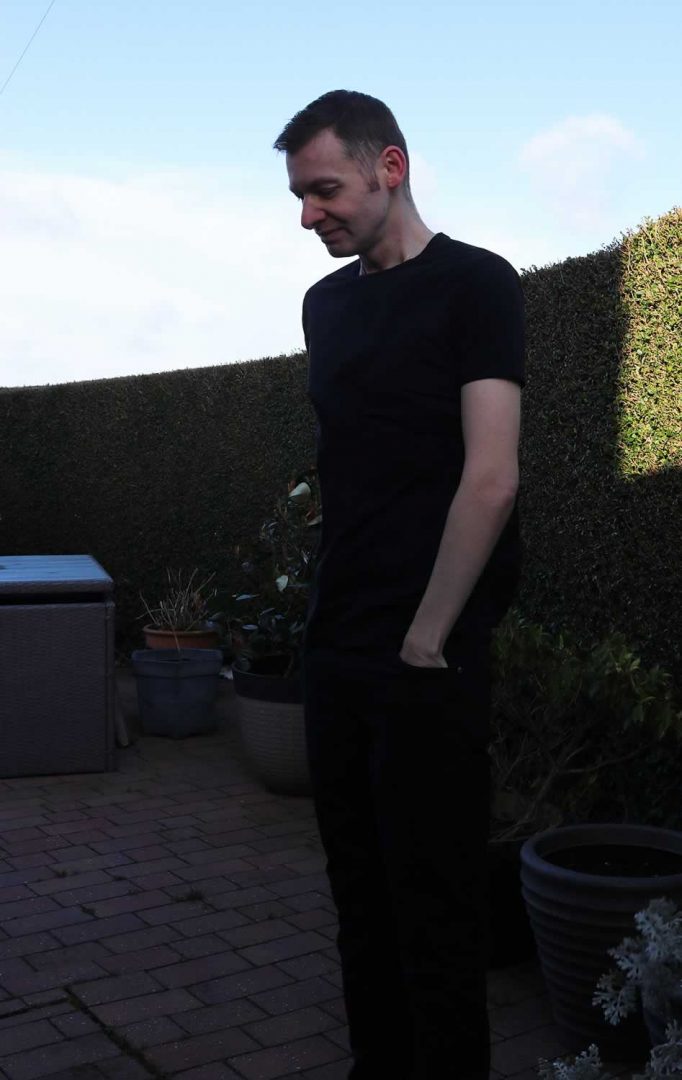 Black T Shirt
If you want an all black outfit, pairing up black chinos and a t-shirt is a casual way of doing it. All black outfits create an appearance of a slimmer silhouette, and if you're looking for short man style tips, this would be a way of elongating your body too.
Finish off the look with a pair of black trainers to complete the all black look, or opt for a white pair of sneakers for the ultimate in contrast.
Red T Shirt
As already mentioned, red is a really good colour which is bold and stands out. When the temperatures go up, you can wear a red T-shirt with your black chinos for a bold summer outfit.
The T-shirt keeps things on the casual side, and if it begins to get cold you have the option of throwing over a dark colour jacket to keep the colour palette tasteful.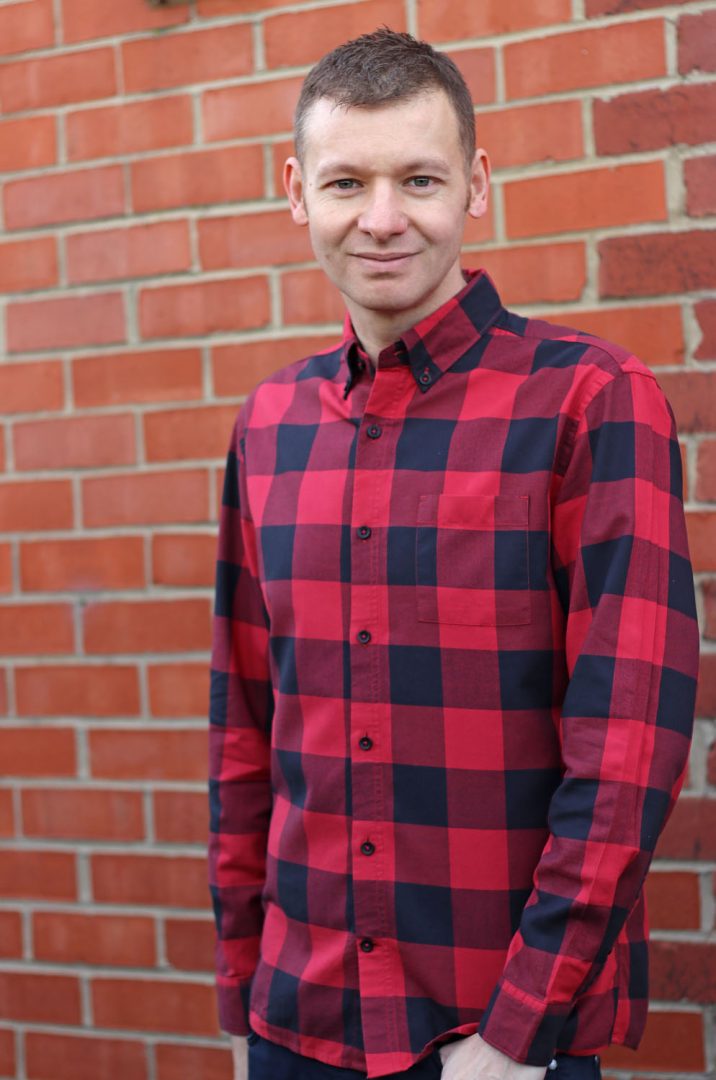 Check Shirt
I love a good check shirt. Virtually all patterns and combinations of checks will work with a black pair of chinos. Personally I really like a red and black check in a buffalo print style.
Casual shirts like a check are a really good option when it comes to choosing a shirt combination to go with black chinos. It gives off a laid back style, while being smarter than a standard T-shirt.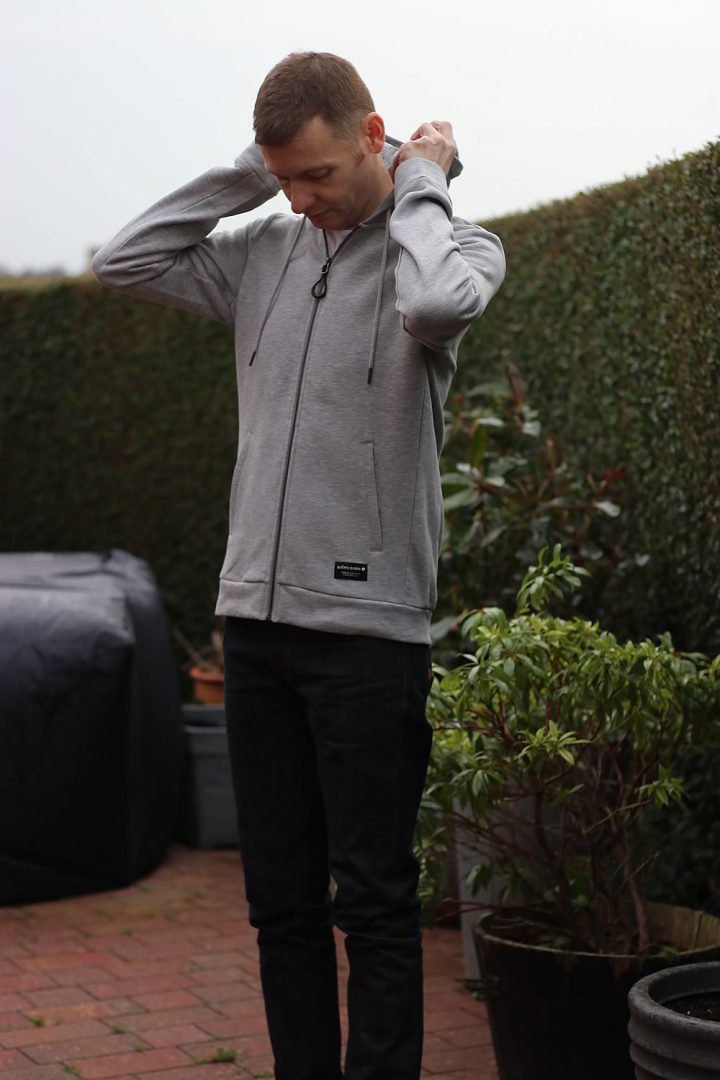 Grey Hoodie
One of my favourite items to wear on a weekend is a grey hoodie, and it can be combined with a pair of black chinos for an easy to wear laid back look. A light grey hoodie works well with the black, not as bright as white, but still giving a lot of contrast to your outfit.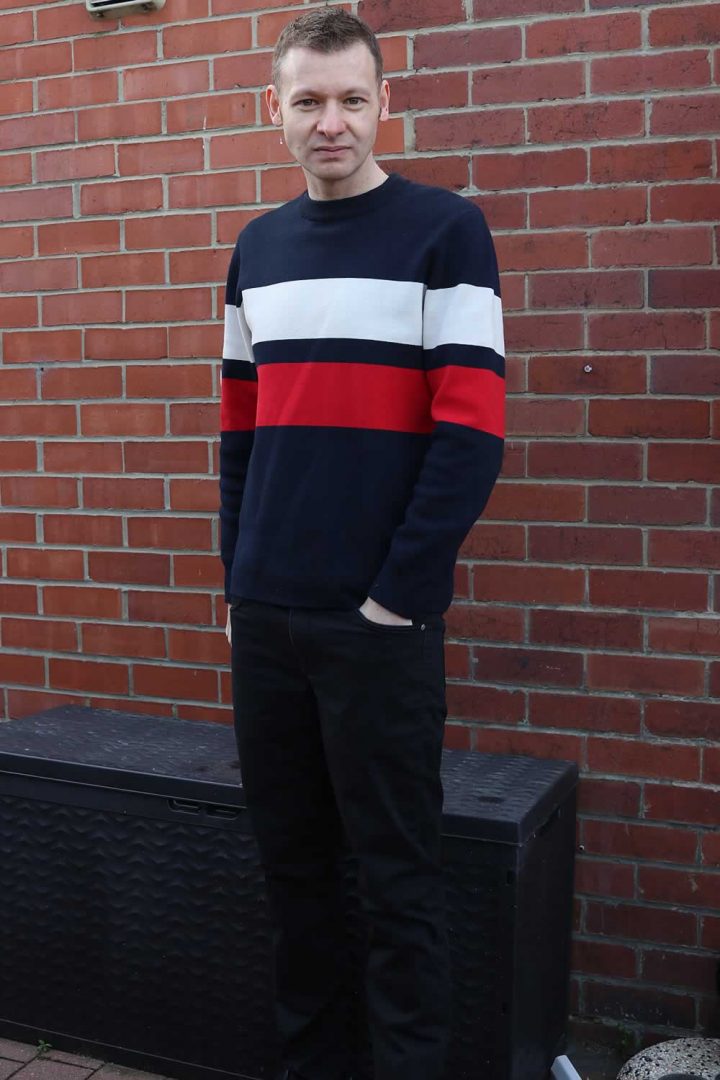 Stripe Sweatshirt
A solid coloured sweatshirt can work well with anything, but for something different, throw in stripes. I've got this striped sweatshirt which I think goes well together with my black chinos.
The sweatshirt itself is navy in colour, and it's designed with red and cream stripes to give it some life. I think this works well with virtually anything, and certainly with black chinos.
Grey Roll Neck
If you want to take things up a notch and create something perfect for a smart casual outfit, pairing with a grey roll neck is one way of going about it. Keep things on the smarter side by wearing some smart shoes. I would recommend a pair of tan or dark brown shoes which work well with these colour combinations.
White T Shirt
For the ultimate in contrast, pairing up the black chinos with a white T Shirt is a way to go. There's nothing like black and white, and for a monochromatic outfit, this would be a good choice.
A good idea for casual style, this is a really easy to wear outfit choice, and there's not too much to think about. You have a pretty much unlimited choice of footwear, I'd go with black or white trainers to keep the aesthetic going, but adding a pop of colour could be an option.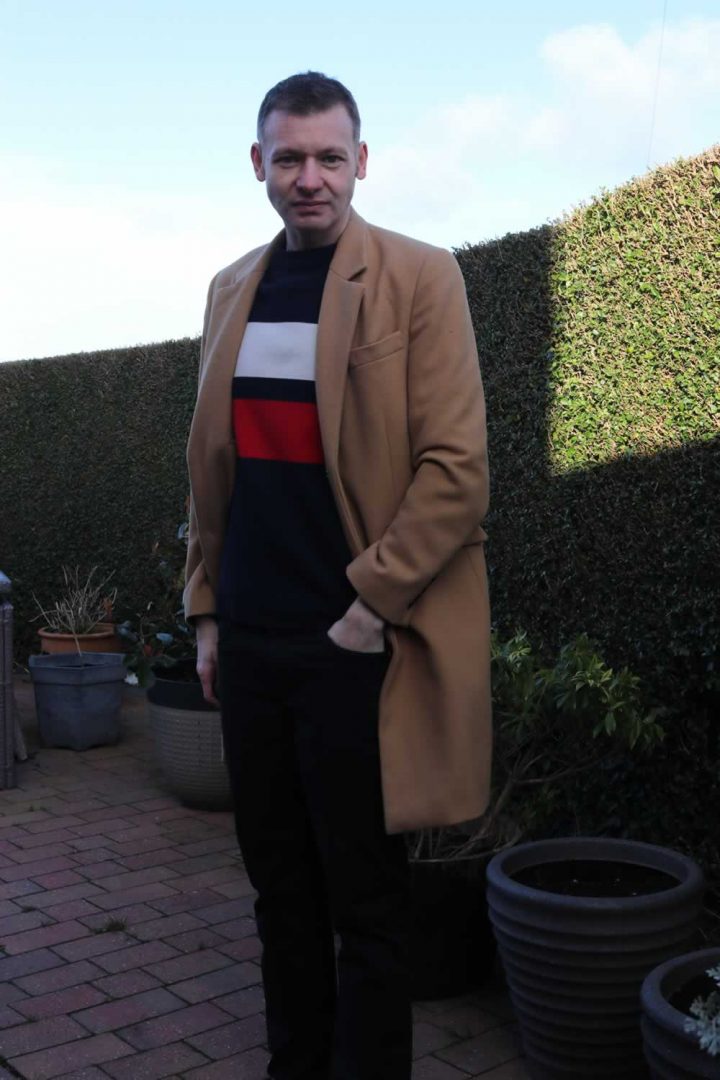 Camel Overcoat
If you're looking for casual winter outfit choices, layering a camel overcoat with black chinos is going to be a good choice.
The camel colour of the overcoat is going to be the statement colour, so be careful when matching up with your top half. You're going to want to wear a jumper or sweatshirt which is a neutral colour to prevent a clash.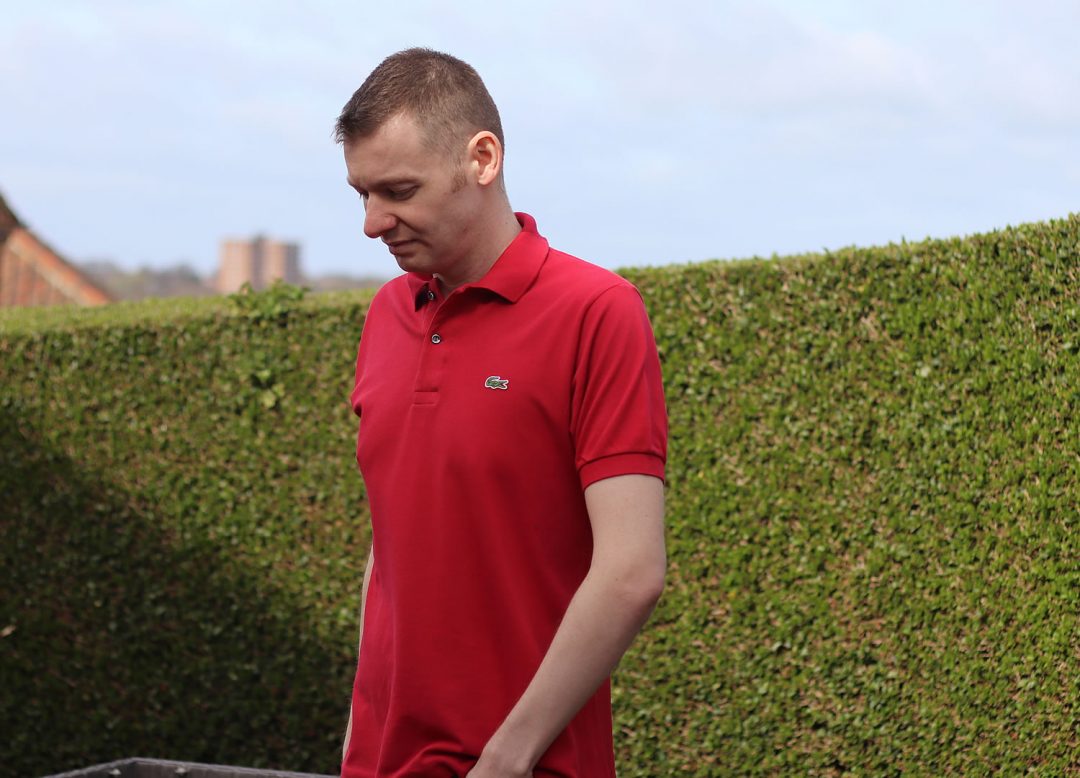 Red Polo Shirt
Red makes it's third appearance in this guide, this time in the form of a polo shirt. If you're looking for something in between the relaxed nature of a classic T-shirt and formality of a shirt, a polo is a good option.
The pop colour of red works well, and I am a fan of the colour. It can sometimes be misplaced, but when it comes to black chinos, it's going to work.
Footwear
When it comes to footwear choices with black chinos, you've got a few when it comes to what to wear with chinos. Since you can dress up or dress down chinos, you'll have the option of both shoes and trainers.
Shoes
Since chinos are more of a smart casual option, I would probably forget about black shoes. black shoes are seen as a more formal affair, and pairing up black with black in this setting doesn't go well in my opinion.
However, there's plenty of other options. A pair of light brown or tan shoes will work, and when it comes to style, I think that brogues are the go-to for a smart casual outfit.
Trainers
If you're looking to takes things down a notch and keep things on a more causal setting, trainers are a good option. They're still going to look smart, as far as trainers go at least, providing you pick the right pair.
A pair of white Stan Smith's or Converse will keep things looking reasonably smart, with a casual edge. You can go for a pair of black trainers which will keep an all black silhouette on your lower half.
Finally you can add in a dash of colour with a different colour of trainers. This is where something like Converse can come into play, with an array of different colours being available.
How To Style Black Chinos
For a smart look in winter, wear a roll neck jumper
Add in a dash of colour in colder months with a red sweater
If your going monochromatic, pair with a white t-shirt
Wear black chinos with a black T-shirt for an all black outfit
For a more relaxed look, wear a grey hoodie
In the winter months, layer with a camel overcoat
For shirt combinations, wear a check shirt for a smart casual look
Wear brogues for a smarter footwear option, or smart clean trainers for a more casual approach