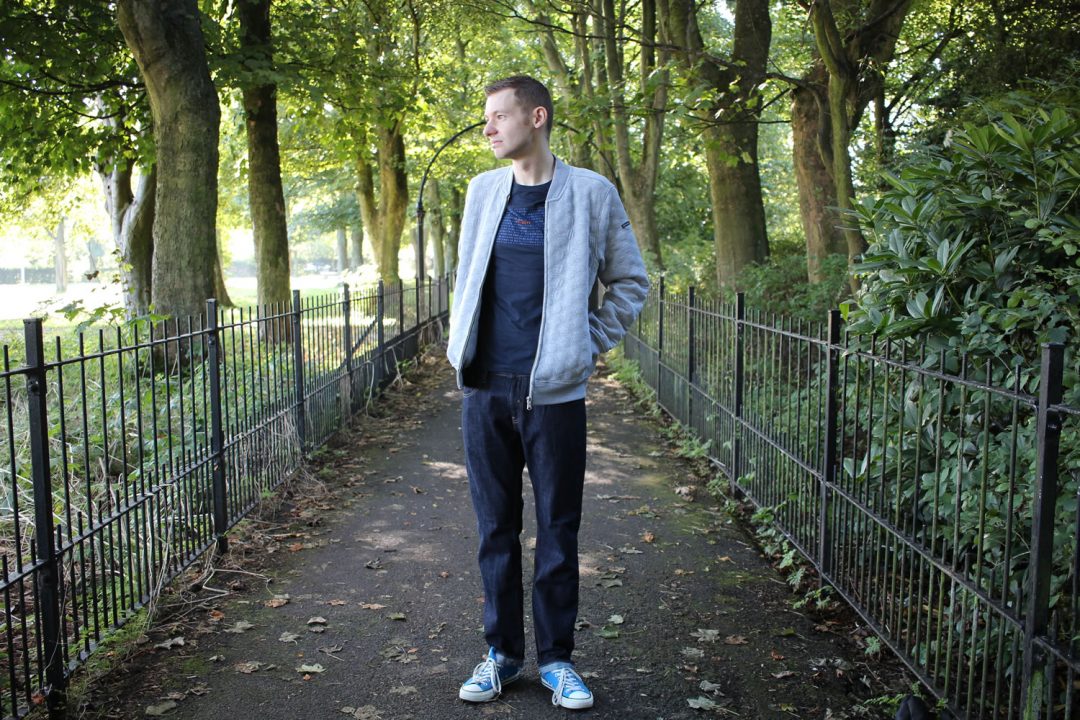 I love bomber jackets. They are perhaps one of the most versatile pieces of outerwear you can own, with plenty of styles and colours available. If you're looking for an all round jacket that you can wear to work, around town and just about every other occasion, this is the one.
With a vast array of styles, colour and materials, it's a piece of clothing which can be worn as a casual piece. In my opinion, it's a great choice when you need to wear an extra layer, but not cold enough to warrant wearing a fully blown 'big' coat.
In this guide you'll see how to style a bomber jacket, and everything else you need to know about them.
What Is A Bomber Jacket?
The modern day bomber jacket is a hip length jacket which is usually worn in the Spring, Summer and Autumn months as part of an every day outfit.
A bomber jacket has a few characteristics. These include:
Hip Length – It should generally be short – It should come no further down than the top of your legs; In some cases you can get slightly shorter options
The neckline – This is usually a round neckline, similar to a crew new T-shirt.
The cuffs, neckline and ribbing at the base should be elasticated and knitted.
The fit should be close to the body – This is helped by the elasticated cuffs, neckline and ribbing.
Zip Fastening – Usually zip fastening.
The history of bombers can be traced back to the war where pilots wore them in World War II. This is where the alternative name of flight jacket comes from.
Length
Typically in menswear the term 'bomber' is applied to any jackets or coats of hip length. They'll be called bomber length or something similar. While it could be considered to be true, this guide is talking about the staple jackets we see in fashion today, rather than just the length of fit.
Bomber Jacket Materials
What is a bomber jacket made from?
A bomber jacket is either made from Cotton, Polyester, Nylon or a mix. As mentioned above, you can get them made of all materials.
From leather to wool. But we're looking at the classic variety which you may want to buy, rather than variants mentioned. There's a few materials you'll come across.

Cotton
The first thing to know about cotton is that it's not all created equally. There's a huge variation of the textures and types of cotton which can be used. A great example of typical material used is what's know as "sweatshirt material".
This is exactly how it sounds, the same cotton used in sweatshirts. Fairly heavy, it's a really nice material for this.
Pros
It's light and soft
It has a smarter finish
Good for layering
Cons
It's not waterproof
It could be too light
Cotton Jackets Above
Nudie Jeans Alexander Bomber In Yellow – £230 | Tommy Hilfiger Cotton Twill – £130| PS By Paul Smith – £295

Polyester/Poly-cotton
Polyester or a Poly-cotton blend is a great choice for a bomber. These are usually water resistant, and it's a mix of materials which you'll find a lot of menswear brands use in their options. It's still light, but not as soft as the sweatshirt material option, but is seen more of an outdoor kind of jacket thanks to it's properties.
Pros
Quite light and quite soft
Can be more on the casual side
Water resistant
Cons
Not as soft/smart as cotton
Not completely waterproof
It's usually not something you'd layer
Products Shown Above
Armani Exchange – £165| Ted Baker OHTA – £199| Mango MAN Pocket Bomber – £70

Nylon
This is just a personal style kind of thing, but I hate nylon! Nylon is great if you're looking for a casual look and want something waterproof, they are the perfect choice. But for me, they are just too casual, and I don't like that shiny finish they have to them.
They are the lightest options of them all, and I think they feel quite cheap.
Pros
Waterproof
The lightest option
Very casual
Cons
Not very smart
A really thin and cheap feel
Products Shown Above
H&M Nylon Jacket – £35| Burton Nylon Bomber – £40 | Zara MEN Lightweight jacket – £60
What To Wear With A Bomber Jacket
The bomber is the perfect jacket to wear in the Spring, and when the weather cools down, the Autumn too. Since they're so light they are such an easy piece to style with just about anything you already have in your wardrobe.
If you're going for a smarter look, a plain white T-shirt or plain white shirt will work wonders, and keep you looking nice and tidy with this fresh look. It's not uber smart, but since it's form fitting, teaming it with plain clothing will keep your overall appearance fairly sharp.
When it comes to the bottom half of your outfit, dark denim would be the way to go if you're looking to keep everything at the sharper end of the smart casual scale. For footwear, it's completely up to you.
Smarter trainers like Stan Smith's in the warmer months or other smart trainers will work fine, as will brogues and other more casual shoes.
For the look and what to wear, the colour will play a big part.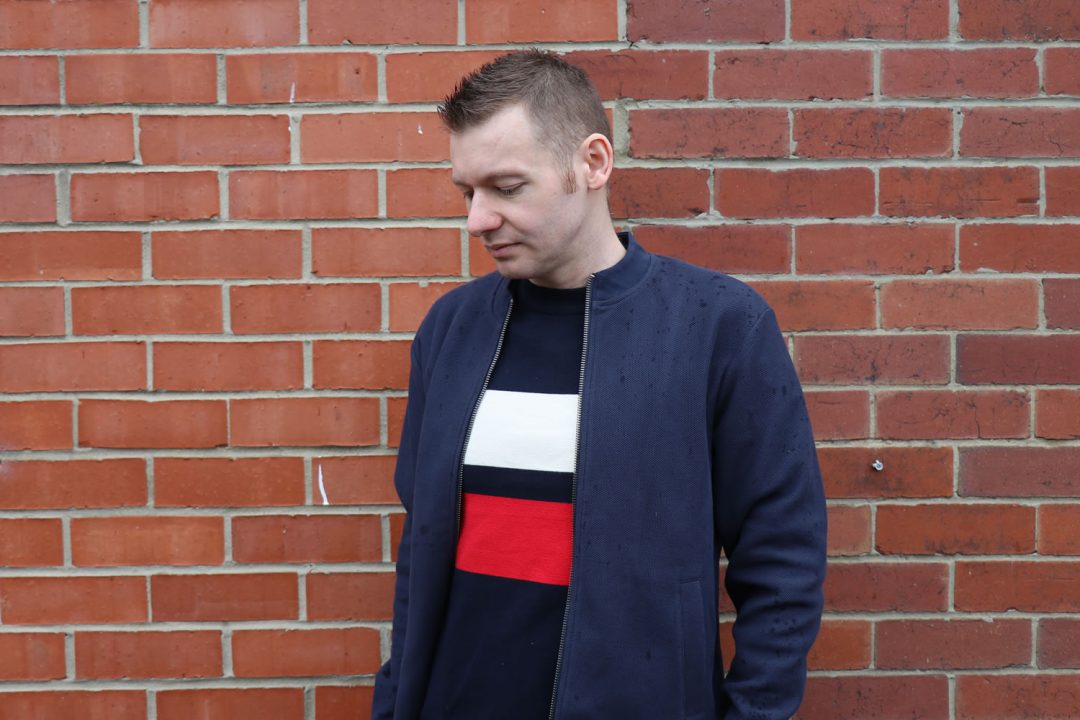 Navy bomber jacket outfit: Wearing Navy jacket with striped sweatshirt and jeans
Bomber Jacket Colours
There's a huge number of options when it comes to the style of the jacket along with it's colour. For the most versatile option, plain styles are the way to go. They're both smart and casual depending on what you choose to wear with them.
If you want to make a statement you can go for a pattern or graphic, but generally it's better to stick to the classics.
This is where the staple colours come into play. Black, grey, navy and other blue hues are perfect and will go with practically anything you can throw at them. Other colours such as greens and reds will also work, but you may have to may more attention to the colours you're wearing with them to avoid a clash.
I've already mentioned a navy bomber jacket, but I think it's possibly the best colour. It's dark but not black, and will go with everything. For a casual outfit I would go for a plain white tee, make sure the fit is good.
To smarten things up a shirt will not look out of place, white would be good, but a light blue is an alternative options which would still work well.
Black Bomber Jacket
Another easy colour to wear, a black bomber will work with anything once again. You can go for a contrasting colour such as white, or go for a more tonal outfit choice and go for the all black look with a black tee or shirt, and black jeans.
Grey Bomber Jacket
Different shades of grey work well with a nice number of colours. There's the choice of wearing the classic staple colours with the grey to keep the look low key, with all colours working well.
Green Bomber Jacket
Wearing a green colour bomber jacket could get some heads turning, it can be a powerful colour. You can opt to go for a more neutral green such as a military green or pastel hue, which is toned down but still a stand out colour.
Wearing this with a neutral palette will keep the outfit looking sleek.

Layering
Layering is a definite possibility when the weather is a bit on the cold side. Teaming with a tee, sweatshirt and on the lower half pair of neutral colour chinos will work extremely well, or for an even more casual look, a hooded top.
Frequently Asked Questions
Is A Bomber Jacket Warm?
Yes and no. It will depend on what it's made from. A thicker material is obviously warmer, while the thinner nylon material ones aren't. They're usually suitably warm enough for most weather in the UK, excluding Winter.
How Should It Fit?
They are short and have a hip length, they should be hug and be semi fitted, opposed to larger jackets which have a loose, baggy fit.
How To Wear A Bomber Jacket
A bomber jacket can be worn as a smart casual, or casual piece
Wear colours which compliment your bomber jacket
Staple colours such as grey, black and navy bomber jackets are more versatile
T-Shirts, Sweatshirts, Shirts, And Jeans are great pieces to style with a bomber jacket
A Bomber jacket should fit close to the body, with a hip length
Verdict
If you're looking for a transitional jacket from season to season, something to keep you warm or dry, or something comfortable which can be edging on smart casual, the bomber is for you. It's a Swiss army knife of outerwear, and it's an item of clothing you should have in your wardrobe.
With so many styles, colours and menswear brands available, there's never a shortage of choice for this much loved and essential piece of menswear.