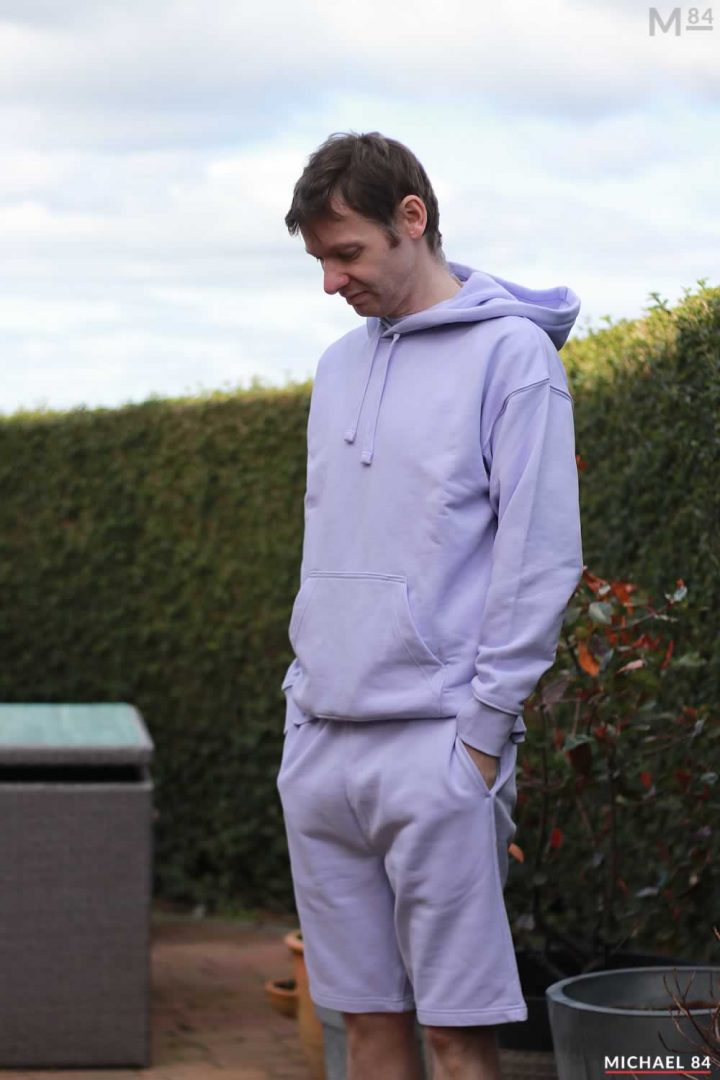 Are you looking for a pair of comfortable casual shorts you can wear inside and out?
Sweat shorts are the answer.
Sweat Shorts, also known as sweatshirt shorts are what you're probably looking for, and they're a great choice to wear when the weather gets warm in the Summer.
Sweatpants have been thought of for a long time as super casual, and of course they can be worn for a laid back and chilled out style.
But more recently we've seen a resurgence in sport luxe fashion, with higher end menswear brands showcasing their take on the trends.
There's been an increase on casual tops and bottoms including more stylish, better cut sweat pants and joggers.
From that comes the summer trend of sweat shorts, and it's something I really like and have embraced.
You may remember I got a few pair of sweat shorts from H&M a short while ago, and I really like them. At only £8 a pair you can't go wrong, and they are good quality with a really nice fit.
The summer season is here, and other fashion labels and brands have an array of sweat shorts ready for you to buy, in a range of colours and styles.
Sweat Shorts – The Fit
The fit is always important, and with this type of shorts you're only likely to find 2 leg lengths; regular and long.
Shorter lengths are usually reserved for chino, denim or more commonly swim shorts.
A good rule of thumb is that the length should never go past the knee, anything else and they are getting a bit too long.
Since these are sweat shorts they will almost certainly come with an elasticated waistband, so you can cheat a little on the waist size if you're an odd shape and need to compensate for leg length.
Sweat Shorts Are So Versatile To Wear
I love chino shorts, they are super smart and when you want to wear something cooler in the summer or on holiday but want to keep it looking stylish, chino shorts are the way to go.
However they're never going to have the comfort of the relaxed fitting sweat short.
That makes sweat shorts, or jogger shorts as they're also known, really versatile.
Wearing them out and about in the city in the middle of the summer, relaxing by the pool or at the beach, and chilling out at home on a summer's evening.
Sweatshorts With Pockets
Super comfortable and stylish, but practicality should not be overlooked. A lot of shorts do not come with pockets, and for guys that usually carry a lot of things around, pockets are a necessity.
When picking out a pair of sweat shorts, make sure you remember this small but crucial detail, as many pairs will not come with pockets.
How To Style Sweat Shorts
Sweat shorts will always be seen as a casual piece of clothing. That doesn't mean they can't be stylish. There's a lot of different styles out there, from plain to patterned in a vast array of colours which you can dress up with different items of clothing.
Wear them with a plain white tee for a classic look, or go for a smart casual look with a pain tee with a buttoned down shirt. Make sure you co-ordinate the colours so they go well together, wearing contrasting bottoms and top can look great.
When it comes to the ultimate in comfort, casual style and practicality, sweat shorts are one of the best options for summer. With smarter styles and an increasing acceptance to casualwear, they're a good option to have in the summer.
Men's Sweats Co-Ords
Speaking of co-ordinating, one of the styles men have adopted in recent times has been the men's co-ords trend. This came from the women's side of fashion with playsuits and twin sets, and has been embraced by guys and menswear brands in recent times.
It's very easy to do, and self explanatory. You can get yourself a co-ords twin set in sweatshirt material, with the sweatshorts being the piece of clothing for your lower half, paired either with a lightweight sweatshirt, or most probably in the summer, a T-shirt.
There's plenty styles on offer, with two of the biggest being the nice and easy plain style, along with the more flamboyant floral and printed pattern options if you're looking to be unique.
Related
Verdict
Sweat shorts are never going to be a formal statement of a refined gentlemen, but they aren't supposed to be.
They are, however, a great piece of clothing to have in your armoury for the summer, when you want to kick back and relax or have a more casual look.
If you're going casual, then do it right.
Let me know what you think of sweat shorts, you can find more of this season's must have items over in the men's summer fashion trends section.
Find out which events and occasions you want to be wearing these at.
The Best Sweat Shorts Brands
H&M
H&M Shorts come in a variety of colours and styles, and start at £9.99 each.
Bershka
This season Bershka have a nice selection of sweat shorts available online, with prices for these three being £16.99 each. The shorts come in a range of colours, I've picked out grey, pink and blue.
Pull And Bear
Pull and Bear have some great Bermuda style joggers this summer which are incredibly bright and electric. If you're looking for bold colours that really pop, you can't go wrong with these. They're priced at £25.99 each, and I've picked out red, blue and yellow.
Uniqlo
Uniqlo's call their joggers Easy Shorts, made from Jersey cotton and polyester. They come in a couple of colours, and one which caught my eye is the blue which I think works really well. These cost £12.99.