Got A Black T Shirt but don't know what to wear with it?
When it comes to wearing a black T-shirt, there's plenty of other clothes which goes with it to make the perfect outfit.
One of my go to pieces in my wardrobe has to be a classic black T Shirt.
It's an item which is forever stylish, can be worn really casually or dressed up for a smarter edge, and for my money, is a must have item for any man's wardrobe.
So, what goes with a black T Shirt?
Well the answer is virtually anything. That's kind of the point and the good thing about a plain black tee.
Whether you're looking to dress one up or wear it casually, here's 9 ways you can wear a black t-shirt.
Black T-Shirt With Black Jeans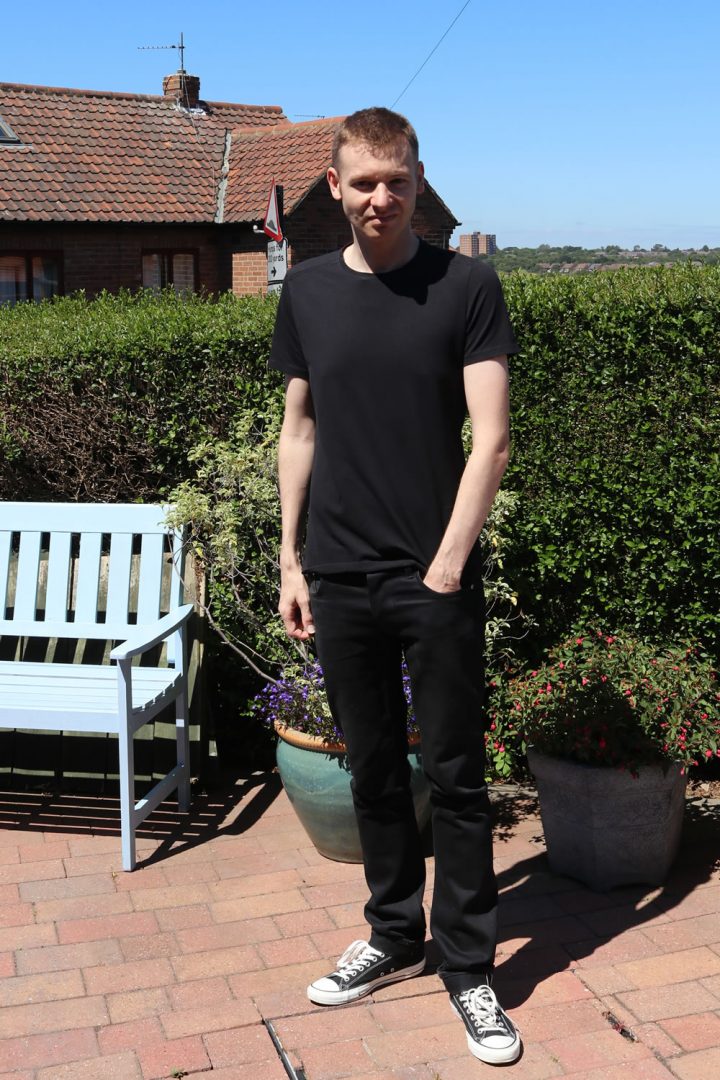 If you want to create a sleek looking outfit and sport a slender silhouette, black on black is the way to go. Wearing a black t-shirt with black jeans looks really good.
You can accomplish this by pairing some black jeans with your black T Shirt, and there you have it.
There's nothing at all to this outfit, and will always look the part. For a triple black look, you could take it a step further with a black leather jacket. Or go down the smart route with a black blazer.
Wearing all black will also make you look taller and slimmer, with an all black silhouette.
This makes the all black outfit choice perfect for guys of any shape and size.
Black T Shirt With Dark Wash Jeans
If you're looking for a smart casual pair of denim and don't want to go for a blackout, then indigo is the colour to go for.
The darkest of blues is very dapper, and will be a perfect offset to the black T Shirt.
Black T-Shirt With Light Blue Jeans
For a more casual and laid back look, light blue denim is the way to go.
The light blue of the jeans is a great contrast of the sheer darkness of the tee.
For an even more casual look, you can go for a distressed pair, or keep it tidy with a solid pair of denim.
Black T-Shirt With Beige Chinos
If you're looking for an alternative to jeans for your lower half, a pair of chinos or trousers would be a good place to go.
A lot of colours would work perfectly well, but I've picked out beige. Whether it's light or dark, any shade of grey is going to work with the black.
The darker you go, the smarter the overall outfit will look. Lighter colours work best in the warmer months.
Black T Shirt With White Jeans
When the Summer comes, the white jeans come out. White or off white is definitely a favourite colour of mine when it comes to denim.
The clean looking white against the black is perfect if you're looking to colour block. You can separate the two by wearing a belt, adding a touch of class.
Layer With A Check Shirt
You can add a layer over the black T Shirt with a check shirt. For a cool casual look this works brilliantly, wearing it open giving off one of the best laid back looks.
When it comes to checks, almost any colour will work with black since it's such a staple colour.
Black T Shirt With A Blazer

For the ultimate in looking sharp, a blazer or suit jacket is the way to go.
Wearing a blazer with a T Shirt is such an easy process, and the simple act of throwing a smart jacket over the tee instantly gives your outfit a sharper edge.
Black on black works well, with grey being a good alternative.
A Bomber Jacket
When it comes to putting a smart casual jacket over the tee, a bomber jacket is possibly my favourite piece of clothing.
Whereas a blazer will add a smart edge, it could be quite stuffy, and that's where the bomber comes in.
It's a casual piece but doesn't look sloppy, providing you get a good fit and colour. The staple colours of grey, navy and even black on black will be suited best here, but you could go for a splash of colour. Wearing a jacket in yellow, green or red will brighten up your outfit.
Black T-Shirt With A Denim Jacket
When it comes to adding an edge to what you're wearing, a denim jacket will do exactly that.
Once again you can go for black denim, doubling up on the colour. Or pick out a more traditional blue denim jacket or go for something more vibrant such as a coloured denim.
It's important to note that if you go for the denim jacket along with jeans, they should not match in colour. That will give you a double denim look, probably not what you're looking to achieve in this particular outfit choice.
Style Rules For Wearing A Black T Shirt
The usual style rules apply when wearing a black T Shirt, how you style it and what to wear with it. These are:
Make sure the fit is good – More fitted means smarter, less fitted and loose and you're leaning more casual
Plain T Shirts are at the smarter end of the scale, but not the only option
Logo T Shirts can be good if you're going for the street style look
Buy better quality and it will last longer
When to Wear A Black T Shirt
Since this is pretty much a universal outfit, it can be worn at almost any time, for any occasion. From a night out with the lads to going to work, college or uni, or simply just an everyday look for day to day life.
A black t-shirt can be used with a casual outfit, or as part of a smart casual outfit. This will depend on the pieces worn with it.
Stop Black T Shirts Fading
One of the problems with black T Shirts is that the more you wash them the more they will fade. The black stops looking like that fresh black edgy item you once had, and looks washed out.
To stop this happening, there's a few things you can do.
First of all, buy a good quality T Shirt. You can try only washing black things together, on a cold wash, which should help preserve the colour.
You can also try washing the tee inside-out, in the washing machine. Lastly, there's products on the market you can buy such as a dye pod which will rejuvenate your old black wears.
Verdict
Wearing a black T Shirt is an effortless way to stay stylish, and can be worn with a huge number of different clothes. If you don't already have one in your wardrobe, it makes a great investment.
It truly is an item you can use to build your outfit the next time you're out.
Check out even more in the men's style guide if you're looking for fashion tips to dress better.
Let me know the way you'd style a black T Shirt and when your favourite occasion is to don the black tee.