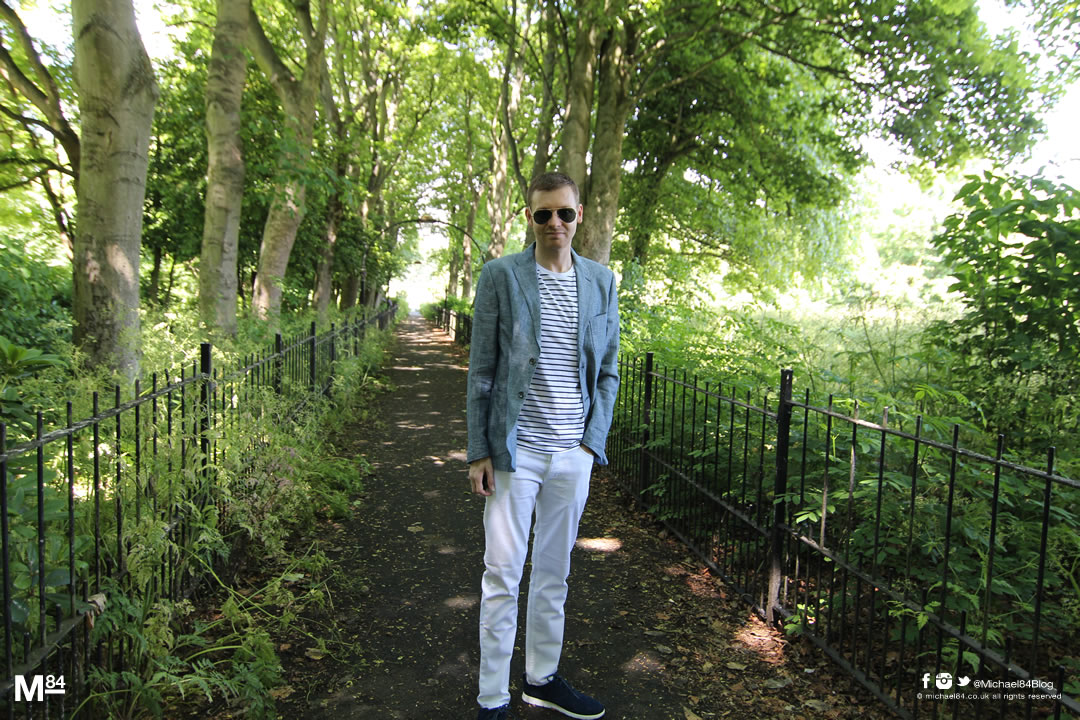 What Should You Wear To A BBQ Party?
The Summer is here which means that it's barbecue season! If you go out on a Summer's day, then you've probably experienced the smell in the air, it's something I love and you can always identify it with the Summer.
Even though we don't get much Sun here in England, and especially in Newcastle, there's still plenty of times to either invite your mates round and host a BBQ, or you'll be invited to go to one.
But what should you wear, what is the BBQ dress code?
Just like any function or party, you really want to look the part, so here's some tips on what to wear wear so you look as good as the food (hopefully) tastes.
The BBQ Dress Code Is Smart Casual
Usually when you're going to a BBQ you'll find that the dress code is smart casual. What does smart casual mean?
Well it means out goes the sportswear and formal suits that sit on opposite sides of the spectrum, and in comes a huge range of clothing.
In essence it means you'll want to look smart without looking like you're over doing it. You're not going to the football, but you're not going to a wedding either.
Here's some ideas on what to think about when picking out pieces for an outfit.
Dare To Wear Light Colours
When it comes to Summer clothing, light coloured clothing is the obvious choice, but the natural enemy of light clothing is present at a barbecue – Food.
There will be plenty of foods, drinks and sauces which will be ready to mess up your clothing and make you look like a small child who still hasn't mastered the art of eating a burger without dripping sauce on themselves.
You should not let this stop you wearing light colours, as this palette is perfect BBQ attire – just take extra care when eating, and make sure you have a napkin on hand.
If the worst should happen remember the key is to dab, not rub or scrub.
Plain White Or Light Blue Shirt
A shirt is so versatile, it's really easy to dress up and down, so I would pick out a light coloured shirt to start. White is the obvious choice, and can be worn with almost anything.
If you want to wear something more coloured, I think that a light blue shirt is the perfect choice, and should be something you already own, and if not, it's the perfect excuse to buy one.
Roll up the long sleeves for a more relaxed look, great for the casual occasion.
Layer A Pattern Shirt With Plain T-Shirt
For a more casual and relaxed look, you can consider a casual patterned shirt with a plain tee. I personally love buffalo stripe shirts with plain white tees, and think it's a really great choice.
Other check shirts, or even wearing a plain shirt open will keep your outfit looking casual without it being sloppy.
A basic white T-shirt is a great starting point and is a timeless item which will work with everything you already have. (Read my guide on the perfect white t-shirt.)
Polo Shirts Are a Smart Casual Outfit Option
If you prefer wearing just a T-shirt rather than a shirt, a polo shirt is a nice compromise between the two. The button up style and collar will keep your outfit on the side of smart, without the need for a shirt.
When it comes to colours and styles, there's plenty to choose from, with staple brands such as Henri Lloyd, Ralph Lauren and Lacoste all offering a huge range of polo shirts.
Chinos Over Jeans
Jeans are perfectly acceptable, but if you can, you could go for a pair of coloured chinos instead.
Once again, this will inject a bit more Summer style into your look. Colours such as off-white, camel, beige, sand and khaki being some good colours.
Remember to make sure your chino colour compliments the shirt and the rest of your outfit. If you opt for jeans, try going for a light or mid wash.
If you're going light, make sure you've read my what to wear with white jeans guide, and you'll be looking stylish for Summer at the BBQ.
A Smart Blazer
A barbecue is usually an all day affair, and sometimes it can spill over into the evening. If you think that's going to be a possibility, and even if it's not, a jacket can be added into your outfit.
A smart Summer blazer will work during the afternoon and into the evening, with linen being the preferable material to go for.
Linen – The Summer Fabric
Speaking of linen, it does not just come in jacket form, but also shirts and trousers too.
Linen is a very light and fine fabric, so the biggest difference from that and cotton in this situation is that linen will look more relaxed, whereas cotton will look sharper.
Both are perfectly fine, it will come down to preference and whether you're planning on going for that smarter edge or relaxed look with your outfit.
Don't Forget The Sunglasses
You'll want to wear sunglasses, since it will hopefully be sunny. They are the must have accessory for Summer if there ever was one, even if you're not wearing them they're always good to have on you.
Footwear
You should wear footwear which compliments the rest of your outfit, which could be some casual shoes, brogues could work well, as will boat shoes.
If you want to air on the side of casual, a pair of Converse will not look out of place.
If you're not sure on what to put on your feet, have a read of my shoes every man should own guide and you'll see whether you own the perfect pair of shoes, or you need to invest in a new addition.
BBQ Outfit Ideas For Men
Navy blue long sleeve shirt with white T-shirt under, beige chinos and white trainers.
Light pink check shirt open with white T-shirt under, dark slim fit jeans and white trainers.
Navy blazer with white shirt, smart dark blue jeans and brown loafers.
Long sleeve check shirt with white t-shirt, dark slim fit jeans with white trainers.
Striped polo shirt with light blue jeans
V Neck grey jumper with beige chinos
Fine knit sweater in white with beige trousers
Bretton stripe long sleeve fine jumper with light blue denim
Madras pattern check shirt, apricot orange t-shirt with white jeans
Sky blue long sleeve shirt with stripe t-shirt underneath and blue jeans
Button down pattern shirt with dark blue denim
Navy blue shirt with beige trousers
What You Shouldn't Wear TO A BBQ
A Full Formal Suit
A full suit will be far too formal and stuffy, not to mention a hazard around the food and drinks. Leave the suit for a more formal occasion.
A BBQ will be a smart casual occasion, so you will look and feel completely over-dressed in a formal suit.
Sportswear
Sportswear is just too casual for something like a BBQ, which is usually associated with a grown up thing to do. Dress like a grown up, and leave the sportswear for, you know, sports.
Be A Good Guest
And finally, be a good guest! That means taking some drink.
If you're going to someone's house for a BBQ and it's a mixed affair with men/women/husbands/wives/boyfriends/girlfriends then be classy and take a bottle of wine.
If it's more of a party for the boys then grab some beer. The same rules apply to taking alcohol to a party as does taking some to a BBQ. It's about the thought rather than anything else.
Summary: What To Wear To A BBQ – Summer Barbecue Outfits For Men
Those are my style tips to have you looking your best at the BBQ, and as always you can check out more style tips for all the other events you'll be going to this season and next.
Let me know what you think in the comments, and if you have any other questions of advice, please let me know.
Eat plenty burgers, don't make a mess, and have fun 🙂