Off to uni but don't know what to wear?
Or maybe you're already a student at Uni, but want to upgrade your outfits?
Going to University can be expensive, but fortunately your style does not have to be. You can get some really great basic and staple pieces ready to wear at university, even if you're on a budget.
From going to lectures to roaming around campus and nights out, there's plenty of clothes you can wear without spending a fortune.
Here I'll go through some basic fashion essentials for guys which you should be buying and wearing at uni or college.
University/College Student Budget
It's really easy to go shopping for clothing and getting home having spent hundreds on pretty much the same style of types of items. You don't need 5 pairs of the same jeans in the same wash, especially when you're on a budget.
You need to create a streamline wardrobe, a capsule wardrobe, with a variety of key pieces, rather than a lot of the same fashion.
There's two ways you can go about this: You can buy yourself a lot of essentials in one go, saving yourself a lot of shopping trips. Or, you can buy pieces as and when you need them.
Fortunately whichever you decide, you don't need to spend a whole lot of cash to get that uni look.
Underwear & Socks – The Bare Essentials
These are quite literally the bare essentials, but something you need. Socks and underwear are quite obviously very essential, and don't have to be too expensive. There's plenty of great deals out there on socks, you can buy packs of 3, 5, and even 10 from retailers such as H&M, John Lewis and Marks & Spencer.
A plain pack in navy, dark grey or black will always work well with everything you wear, and you can expect to pay under £15 for a 3 or 5 pack, depending on if you're going for a brand or own-brand pack.
As with underwear you can also expect to pay around £10 for a pair of name brand boxers or briefs. a 3-Pack of Calvin Klein's will set you back around £35, you can save money on some own-brand, which will cost around £20 for a 3-pack.
Footwear – Trainers & Boots
Your footwear will come down to your own style and the look you're going for. Footwear is important, you'll probably only need one or two pairs, for formal and casual occasions. You can leave the formal ones alone until you need them for a posh night out, they're not really essential items for university life.
Since you're only going to have one or two pairs, it's a good idea to spend a bit of money in this area, along with a winter coat this is where most of your money may go.
The obvious choice for a casual pair of kicks is a pair of Converse All Star Chuck Taylor. There's plenty of colours available, and if you shop around you'll be able to get a pair for under £30.
If you're looking for a safe colour combo, the black/white, navy/white and red/white have been around forever and are iconic.
Another favourite pair of trainers for lads at Uni are a pair of Vans. They are classic, and you'll be able to wear them in lectures, as well as on a night out.
Other options available can be a good pair of boots, Clarks, Timberland, DR Martins and Toms are some good brands which are not too expensive, make sure you try them on and they feel comfortable as well as looking the part, you'll have a lot of walking to do in these.

Converse All Star | Adidas Superstar | Air Max 1

Farah | TOMS | DR Martin
Sweats – Joggers, Hoodies & Sweatshirts
The pinnacle of University and College fashion is made for the laid back lifestyle, so some sweats are key items to wear for downtime and those lazy days.
If you're going branded then the choice of many University students is Jack Wills. They used to use the tagline University Outfitters, and even though they've changed things up a bit, it's still a firm favourite for Uni life.
There's plenty of brands which stock affordable sweats, with the high street H&M, Pull & Bear and Zara being up there with the best of them for price.
You should check out my latest sweatshirt guide for how to style up your sweatshirt, or wear as a laid back piece.
To stick to a budget I recommend getting only one or possibly two branded sweats, and mix it up with more affordable plain styles. You'll find some great deals from brands such as UNIQLO too.
Jack Wills
Shirts – Plain Oxfords & Patterns
If you're attending uni and want to wear a smart plain shirt but are on a budget you're in luck, because it's one of those items which is very affordable and there's plenty of options out there.
It's not a stereotypical kind of style for a student, but if you want a smarter edge, a good plain shirt is definitely going to give you that. If you're looking to go out for meals at nicer restaurants in the evenings, a plain button up shirt can be your go to shirt.
Since they're plain even the label whores will not notice what brand you're wearing. With a huge number of brands offering great shirts, you'll be able to get a nice shirt for under £20 each, from brands like Mango, Zara, H&M, UNIQLO and John Lewis.
Remember that the key to a shirt is the fit, rather than the label on the inside.
For layering with a tee a patterned shirt will keep your look casual with just a touch of smart. Again, there's plenty of choices from the brands mentioned above, with a buffalo print being my own personal favourite, there's gingham and more broad checks available too.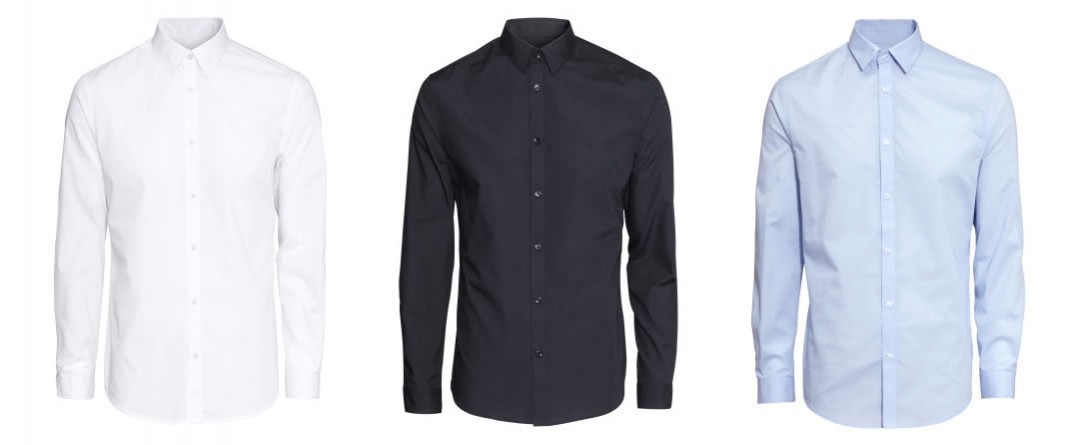 H&M
Basic T Shirts
Basic T Shirts are one of the most versatile garments you'll own.
They're also really cheap, if you shop around. For a high street basic you can expect to pay under £10 for a tee, with a lot offering packs with great discounts. You may be able to get a decent 3 or even 5 pack for around £20.
The top brands to look for in this for value are H&M, Uniqlo, ASOS, Mango and Zara. Also look to department stores like John Lewis as well as Marks And Spencer for value.
If you want a more brand for your buck, there's a way to do this too. If you're looking at wearing these as undergarments, for instance under a shirt or knit, you can get specialised underwear T-Shirts which are finer but really soft. Armani, Ralph Lauren, Calvin Klein and Hugo Boss do really good ranges of these, and you can pay £30 – £40 for a 2-pack.
Check out my comprehensive guide on basic T-shirts.

BOSS | H&M
Denim
There's a huge number of denim brands, each with their own styles and fits of jeans.
From the high street you can get a pair of jeans from H&M, River Island, and expect to pay anything from £20 to £40.
If you want to spend more and go with a high street designer brand, there's a few options out there. You can look towards Tommy Hilfiger, Levi's and Calvin Klein if you want to spend more on a pair of denim.
Expect to pay anything from £50 – £100, with some styles, fits and cuts coming in at over £100.
If you want to splash out even further but you don't want to spend a small fortune, the best denim brand is Nudie Jeans. You can pay anything from £90 upwards, with huge range of fits and washes, not to mention they use organic cotton.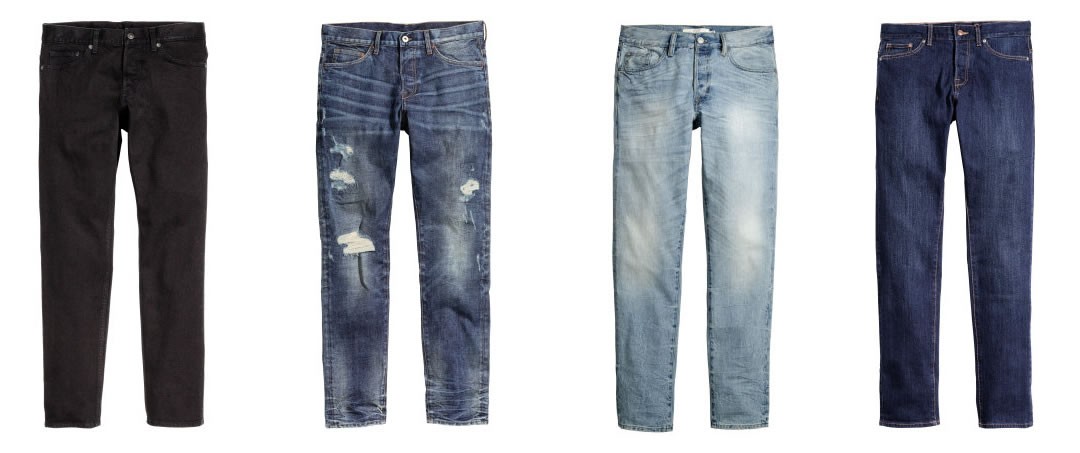 Jackets
Jackets really depend on what type of style you are going for. They'll be the choice to wear when it's not cold enough for a winter coat but still cold enough to warrant wearing a jacket.
My tips for a jacket are a classic bomber style jacket. There's plenty out there, you'll find a lot to choose from at Topman, ASOS, Burton, River Island and the rest of the high street.
You can go for a polyester jacket which will do better in the rain, or my personal favourite is sweatshirt material blazers, which are really soft to touch and super comfortable to wear.

Winter Coat
Along with footwear, this is where most of your money should go.
A good winter coat will last a fair few years, and as long as you buy something classic and timeless you'll want to wear it winter after winter. For style I recommend a parka; Think faux-fur lined hoods, both button and zip-up options, and enough pockets to keep most of your life in.
They're warm and waterproof, and they'll always be in style every winter. The advice is to pick a colour which is classic, so the recommendations would be to get a coat in grey, black or dark blue.
These colours will also be easier to clean and maintain. High street prices will be anywhere from £50 – £150, you'll find brand such as Selected Homme, French Connection, Fred Perry and a whole lot more with some great selections during the winter months.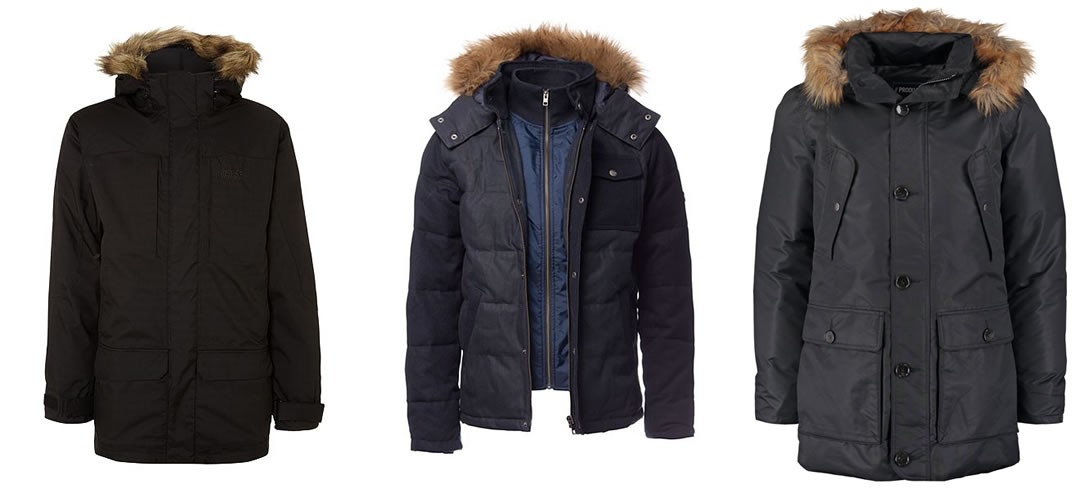 Jack Wolfskin | Tommy Hilfiger | Jack & Jones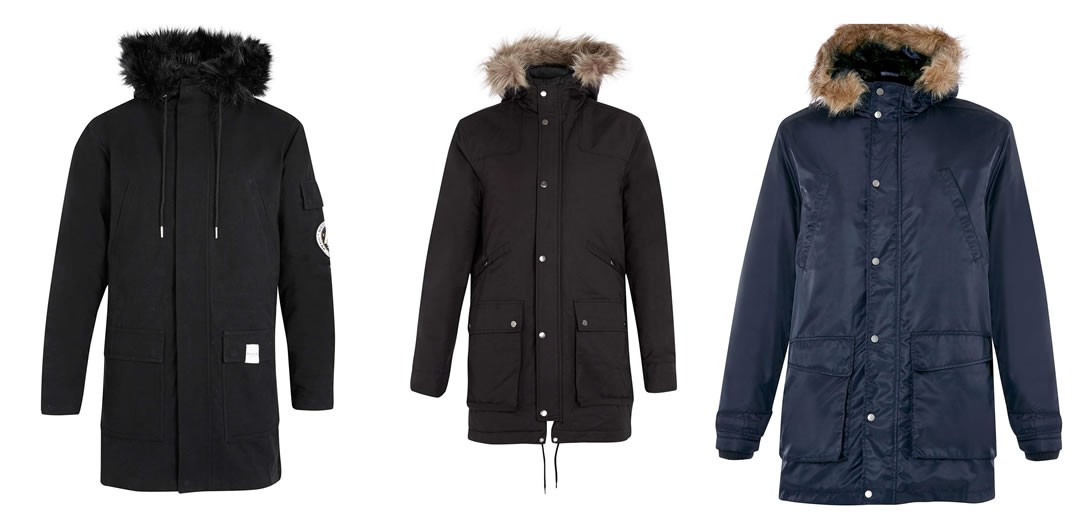 NICCE | Topman | Topman
Backpacks
You'll need something to put your books in, or more likely, laptop and other gadgets.
The traditional backpack has once again become fashionable, and will usually give you more space than a messenger bag would. The usual high street brands are doing various different styles and come in at around £30.
If you're sporty then Adidas will have your back, but if you want something at the cutting edge and super fashionable then a backpack from Herschel Supply Co. will be the bag to go for, which start at a reasonable £40.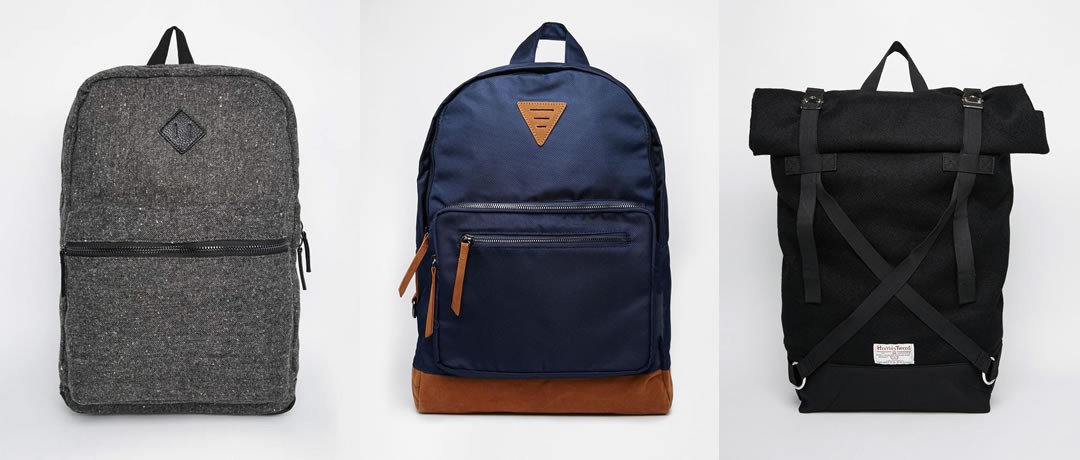 New Look | River Island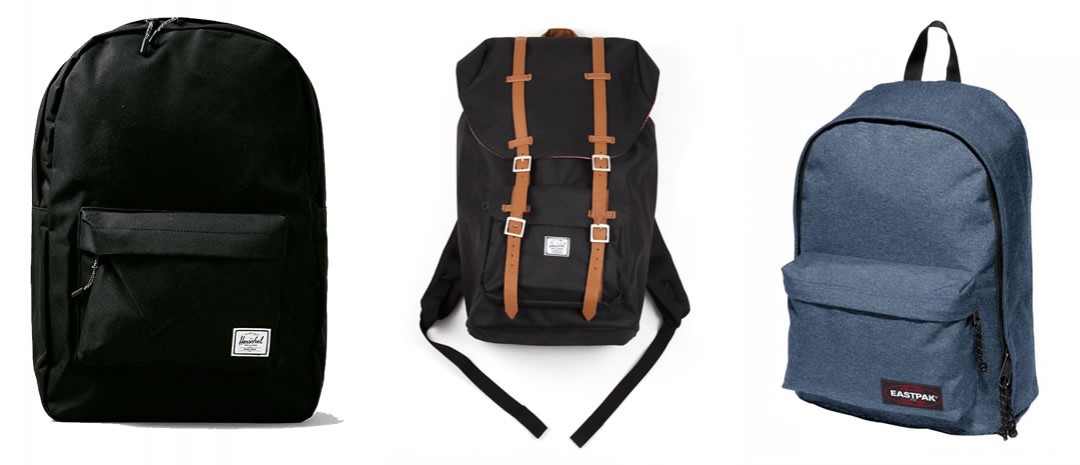 Herschel Supply Co. | Herschel | Eastpak
Guy's University Style Ideas
If you're looking for an idea of an outfit you can put together, check out the clothing I have put together below. The T-shirt, shirt and sweatshirt are interchangeable and can be worn depending on the weather and the look you're trying to achieve.
Each piece can be worn on it's own or in a combination; Shirt with Tee, Sweatshirt with Shirt, or each piece individually.
Verdict
Clothing does not have to be expensive to be stylish or fashionable, and you can spend a lot on key pieces, while saving money on those which are not so important, or wasting money buying several of the same types of item.
You should be able to completely kit yourself out for £500, which may sound like a lot, but if you factor in that you've probably already got some of the fashion pieces, that number will come down.
If you can't bring yourself to spend all that cash at once, utilise the clothing you already have in your wardrobe, and buy each piece as and when you need it.
If you're looking for how to dress for any occasion, check out the what to wear style guide. It's packed with information and tips on what to wear to any occasion.