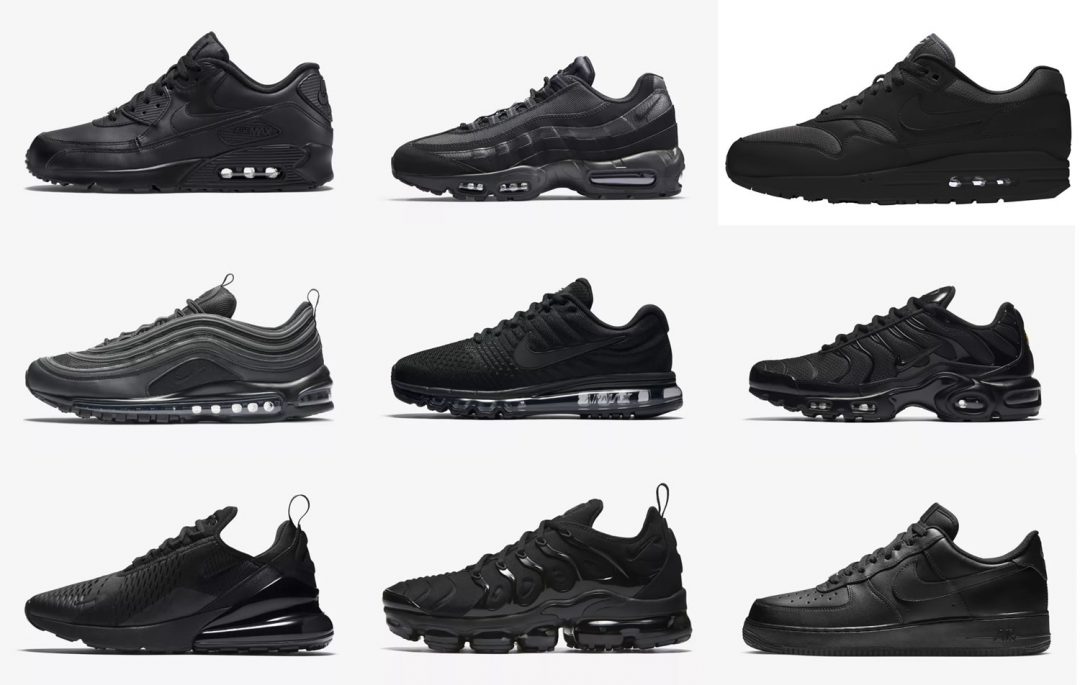 If there's one style of trainers which every guy needs to have, I think it's got to be the triple black.
I myself have a few pairs, and of course one of the pioneers of the term triple black has been Nike. I love my Air Max, but they're seen as a sports shoe, a casual trainer, and something you should wear only on really casual occasions. But what if you can't actually tell it's a sports trainer? That's where the triple black comes in.
What Is Triple Black?
If you've never heard of the term, it's pretty self explanatory. It simply means all blacked out trainers. Why the word triple? This could be to do with the trainers construction, with the main parts of the shoe being the upper, mid-sole and outer sole. These 3 parts should all be black, hence the name, triple black.
Here are the best Nike triple black trainers you can buy.
Air Max 90 Triple Black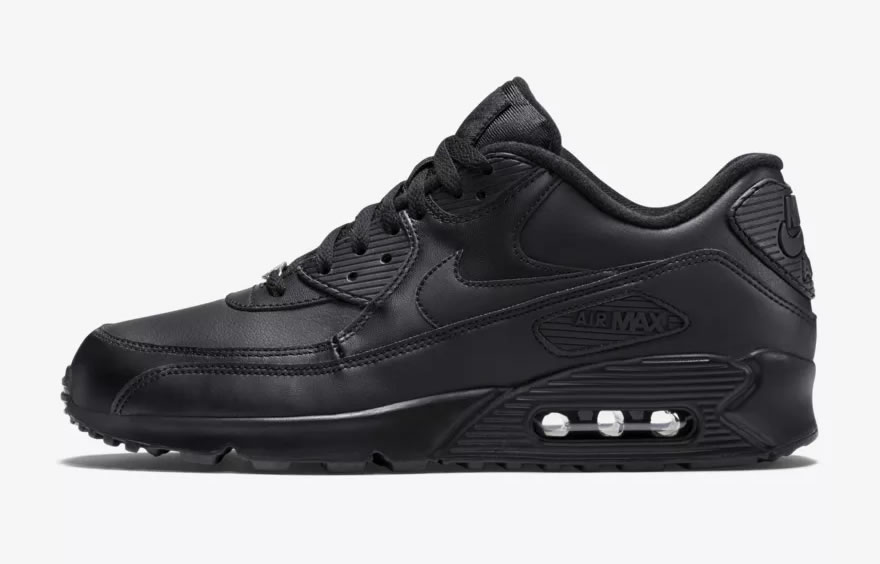 I bought a pair of Air Max 90 triple black, and they are probably my most worn trainers. I've worn them so much, I took them to Iceland with me, and they're great. They've lasted for such a long time, and only now they're looking a little bit worse for wear. What will I do when I have to get rid of them? Buy another pair of course.
These ones come with a leather upper, with the Nike swoosh in black, completely toned down trainers.
You can pick them up for around £100 at Nike here.
Air Max 95 Triple Black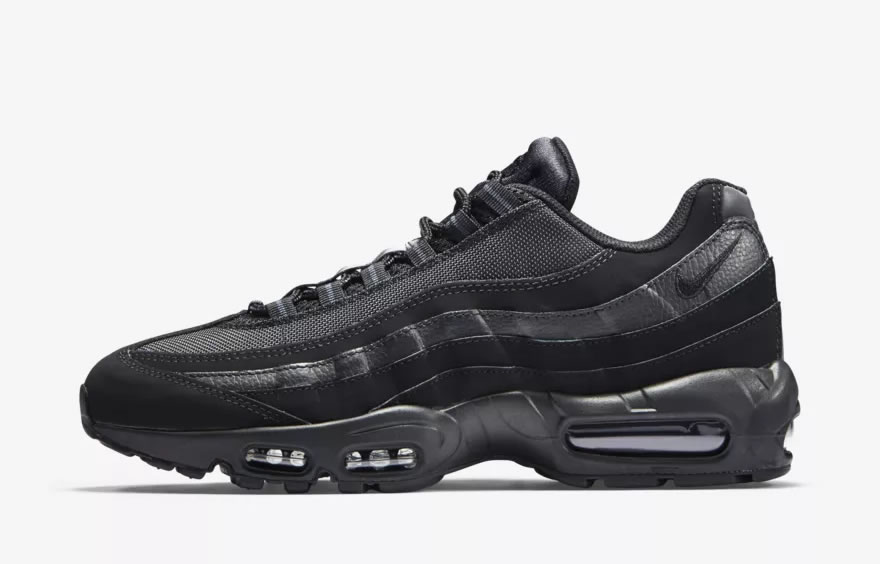 Another pair of trainers I've previously owned, the Air Max 95 are a really nice silhouette, and usually come in some vibrant colours. They also come in the triple black colourway, so you can wear this super comfortable trainer as sleek as possible.
The black comes with very dark grey tones which give the trainers some contrast while still remaining sleek.
They're around £130 at Nike here.
Air Max 1 OG iD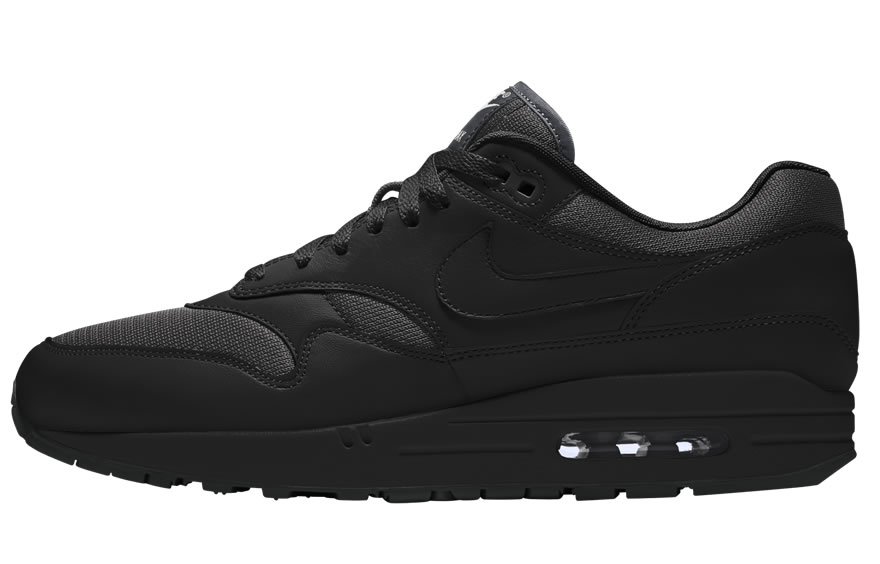 The Air Max 1 is one of my favourite trainers, they they did a triple black version, however it's no longer available, as a stock shoe. However, if you want to create your own, you can via Nike's iD system. I have created these using their build your own trainer section of their site, and really love them.
Get these black everything design, £115 at Nike here or create your own.
Air Max 97 Triple Black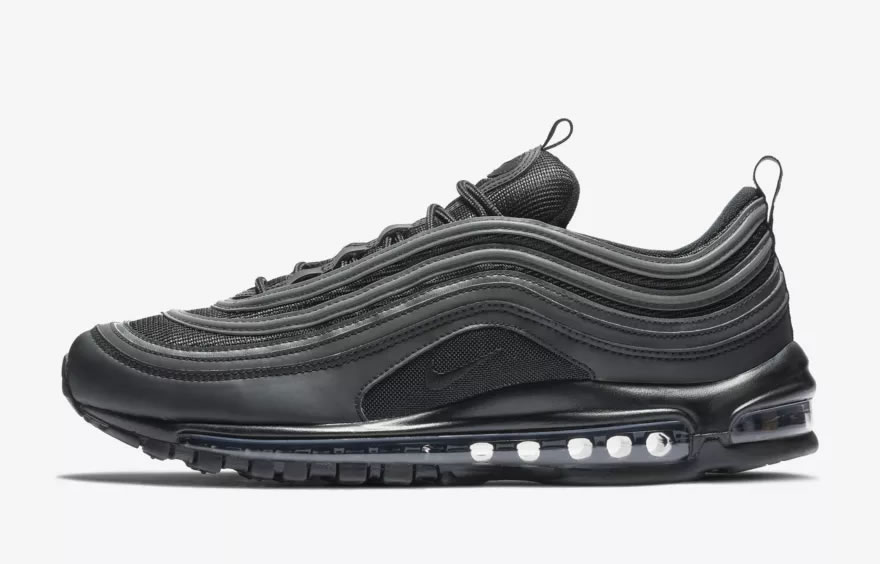 When you want an air unit almost all the way around the trainer, you'll be taking a look at the Air Max 97. The uppers of these trainers come with beautiful sweeping lines throughout the sides of the trainer, which look really good. They give designers the chance to add dashes of colours which always look spectacular, but when it comes to a tonal black version, it looks sexy and sleek.
During the day those sweeping lines remain subtle, but hit them with a light in the dark and they'll glow as they're reflective, great for running in the dark.
You can pick up a pair for around £145 at Nike here.
Air Max 2017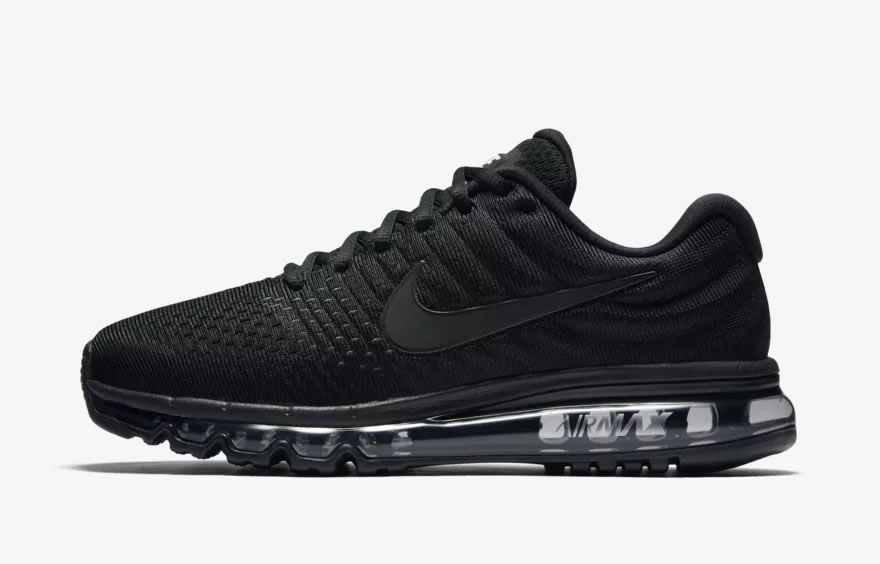 I own this pair of triple black Air Max 2017, and have to say they are one of the most comfortable trainers I've bought. They are great for running, and I think would work for any sport or activity. With flymesh uppers they're light, and the large air unit keeps you in comfort as you run or walk.
Now 2 years old, you can still get them, a bargain at only £98 at Nike here. Be quick as they may go and not come back.
Air Max Plus
Back from 1998, the Air Max Plus are a pair of trainers with multiple air units which are tuned for each part of the foot. The uppers are made from synthetic leather and mesh, with that super sleek all black design you need for a triple black trainer.
You can get a pair for £135 at Nike here.
Air Max 270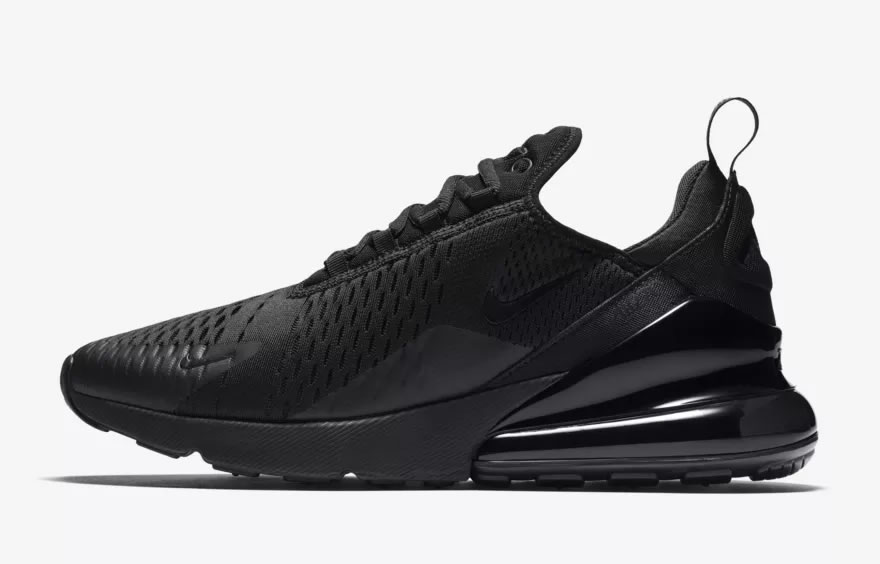 When it comes to futuristic looking trainers, the Air Max 270 is right up there. It has the biggest air unit which Nike has put in a sole, and is inspired from a 180 and Air Max 93 trainer. They come with knit uppers for breath-ability, and a heel pull tab for easily putting them on and off.
You can get a pair for £115 at Nike here.
Nike Air Vapormax Plus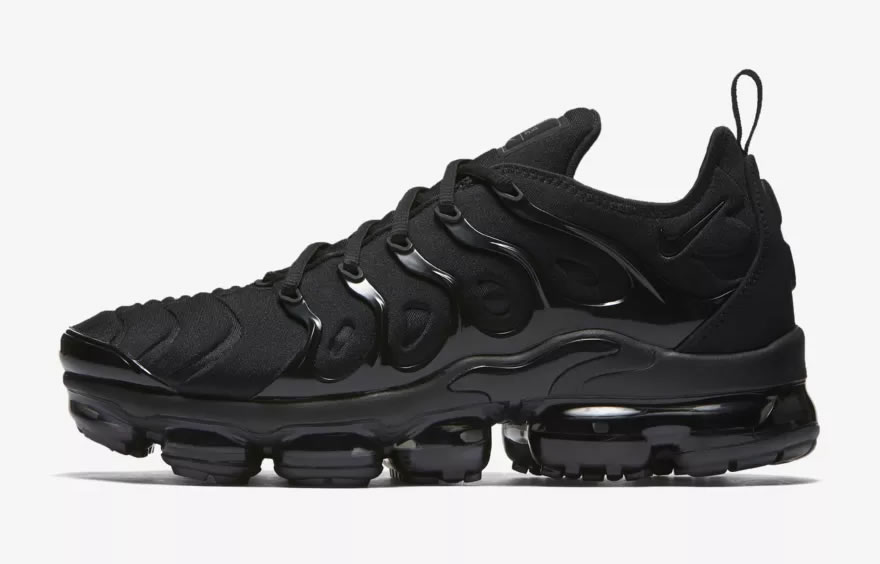 The Nike Air Vapormax Plus come with a fresh new idea and take on air, with some serious looking cushioning on the outsole. The floating cage design is unique to this shoe, but inspired from a 1998 original. The all black colours keep it toned down so you'll go unnoticed while still making a mark.
You can pick up a pair from Nike for £169 here.
Air Force 1 '07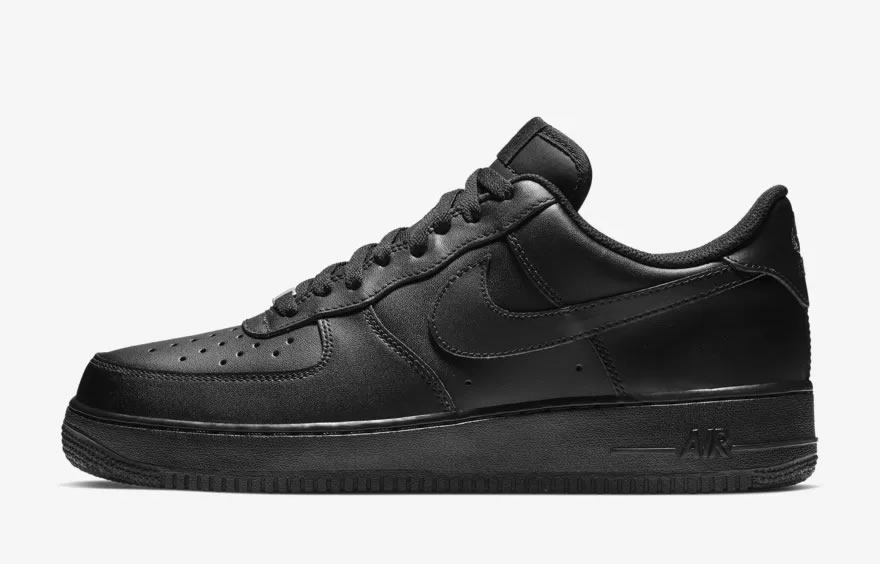 I have never been a fan of the Air Force 1 personally, but I know that they've got a big fan base and are loved by many, so I have to include them in the guide. Taking a step back from the Air Max these are less sporty, despite being originally created for basketball, they've found a new scene in street wear and urban fashion.
Grab a pair for £75 at Nike.
Those are the best 9 Nike Triple Black trainers which you can buy today.
How To Style Triple Black Air Max
Styling these trainers are pretty easy. They are perfect for:
Casual wear
Smart casual
Sport & activity
All Black Outfit – Wear a pair of Air Max 90 triple black with a pair of black jeans and a black T-shirt creating an all black outfit. I've done this several times, the all black look works well for a casual look.
Sports Look – Wearing a pair of Air Max 95 or 2017 are perfect for running, and that's where I wear my 2017 Air Max. Pairing them with a pair of track trousers and a T-shirt, they look the part for a good day running, no matter what the weather.
Sports Luxe – Wearing the pair of Air Max 1 with a good fitting pair of jeans, jumper with a shirt under it will create a nice sports luxe look, throwing a bomber jacket over it to complete the look.
Street Style – A favourite for street style when it comes to Air Max has got to be the 97. Pairing the triple black Air Max 97 with a pair of selvedge or rolled denim and an oversized top will give a nice street style look.
Find the coolest trainer releases right now if you're looking to upgrade your sneakers to one of the latest styles of the year.