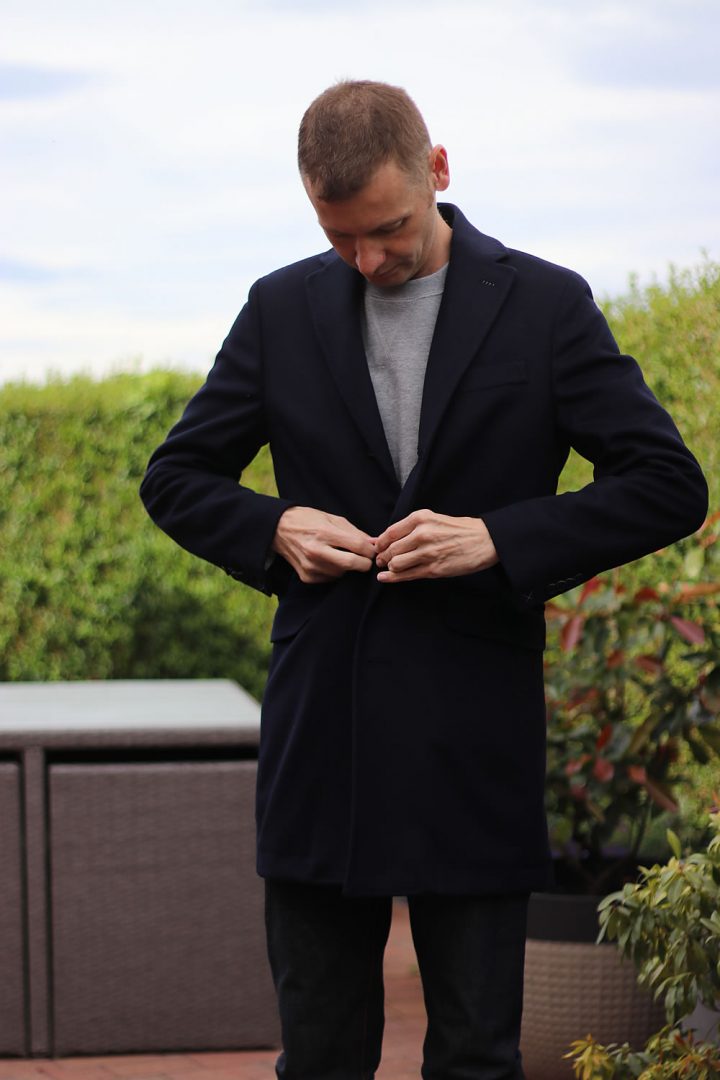 We're now well into Autumn, and I wanted to get myself a new smart coat.
I wanted something which was a little bit more versatile, something I could wear through the day, on a night out, and generally wear at any time.
I was looking for a navy overcoat, and I settled for this Massimo Dutti navy overcoat, and I really like it.
This is definitely one of those Autumn wardrobe essentials which I can see myself wearing for years to come.
I was so excited to share this straight away, so I haven't even removed the tack stitching yet!
Here's everything you need to know about this overcoat.
As you know, I already have a camel overcoat, and I love it. One of the problems with the colour is that at times it can be hard to pair with something.
It's quite a seasonal colour, and will only look right with certain colours.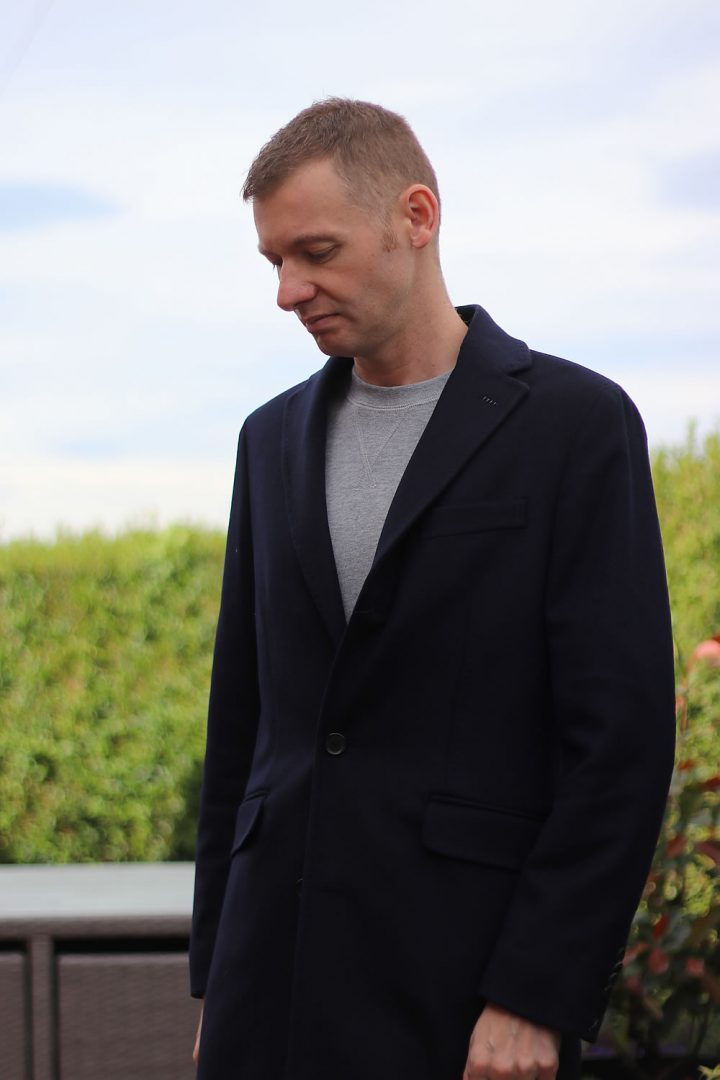 So this time round, I wanted to go for a staple colour. I love grey as well as navy, but for this coat, I decided to go the navy route.
I have other grey clothes such as my grey ARKET sweatshirt which you can see here, as well as a grey roll neck and other lighter colours which will go with this.
Dark colours will also work, giving any outfits an overall dark look, which works in Autumn and Winter. I think picking out navy as the colour for this coat was a good choice.
When it comes to the brand, I picked Massimo Dutti. If you've never heard of the brand, it's owned by the same company who owns the likes of Zara and Bershka, but this one takes a more premium name.
Even though the name is Italian, the brand is Spanish. It's more of an upmarket and higher end of the high street fashion, with better fabrics and materials being used, with more of a contemporary feel to them.
I did consider a few other brands, namely H&M and Uniqlo, which offered cheaper alternatives. However I decided to spend more and went for this.
What's the quality like?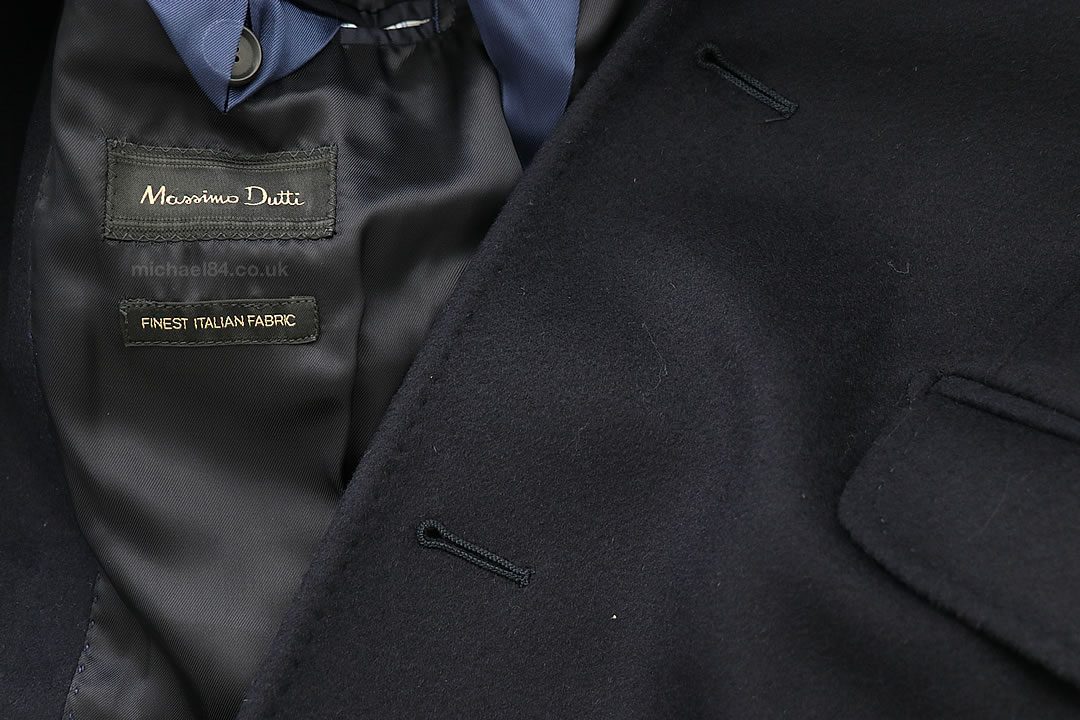 The coat is all wool, with 95% being wool and 5% cashmere. It's made from fine Italian wool, and is made in Egypt. I can honestly say that the quality is really good.
First of all it's super soft to touch. This is really noticeable, and in comparison to my camel overcoat, has a superior feel.
It is also lined. Generally speaking I have found that most overcoats are lined rather than being unlined, so this is not a surprise, but the lining is also good.
As you know, the fit is everything when it comes to style. This was actually one of the reasons why this coat swayed me over the other brands. This is a slim fit, which is my preferred fit for most things.
In outerwear you can get really big and oversized clothing, which kind of spoils your overall look if your other clothing is more fitted. Sometimes that can be a good thing.
I like a winter coat which is substantial, putting function before everything else.
For this coat, I wanted something smart with a more formal look. I am happy to say that this overcoat does that, and I think it really cuts a nice silhouette.
In terms of functionality, the coat has a lot. A button hole close to the notch lapels, two pockets to each side of the jacket as well as the breast pocket which could be used for a pocket square, and internal pockets too.
And there you have it, my Massimo Dutti navy overcoat.
The coat is high in quality, and has a really nice fit. I can see this being one of my wardrobe essentials for years to come. It's definitely going to be a coat I wear a lot this season, more so when the temperatures drop.
You're likely to see this coat a lot on the blog going forward. For me, an overcoat is essential and part of fashion basics when it come to dressing for the colder weather.